UPDATE May 2017: All locations of Po Dog have closed up shop. Sadness.
Do you ever look at the conveyor belt in the grocery checkout line to see (read: peer at, pass judgment on, or have a self-righteous giggle about) what the person behind you is buying? I do. And if I run into anyone who happens to know what I do for a living, you can bet they're conducting a hard-target search of the choices in my cart, too: the good, the bad and the ugly. It's like bumping into your veterinarian at the pet store and trying to sneak a peek at what she's buying for her dog.
The eating life of this dietitian is most certainly not faultless. I'm fond of sweet things. Sometimes I crave junky food from my childhood. And, I suffer from the holiday and vacation food rationalizing that goes something like this: "I don't normally get to come to Hot Cakes Molten Chocolate Cakery in Ballard and eat a grilled chocolate sandwich. This is special!"
I have a friend who makes fun of me, kindheartedly, when I eat cotton candy. She delights in the fact that a dietitian will stray from the straight and narrow for an occasional sugary treat. Right there, out in the open, in front of the stadium full of baseball fans, without trying to hide it. Spun sugar is one thing, but hot dogs are another matter entirely. I don't think I've had a regular dog for at least 20 years and it's rare that I go to a fast food place, even if they serve veggie franks. But, I was in Seattle last weekend and after an invigorating, calorie-burning 2-mile walk to Capitol Hill, I'm not ashamed to say that I proudly patronized a hot dog joint and I'm willing to come clean about it.
In a couple of previous "on location" posts (Vancouver, BC and Honolulu, HI) I've alluded to my quest to find restaurants that will please vegetarians and meat eaters alike, so everyone in my family can enjoy a meal together. On this weekend away I was with my vegetarian husband and my omnivorous sister and niece. It was Friday night and we were hankering for a reasonably priced dinner in the big city.
We were considering Po Dog on a recommendation from Michael Natkin's Herbivoracious App that highlights Seattle's best vegetarian food. We decided to peruse their website to be sure, and what we saw made up our minds. How can you not try out the place whose menu instructs you to (1) Pick Your Wiener, (2) Accessorize Your Wiener, and (3) Wash Your Wiener Down?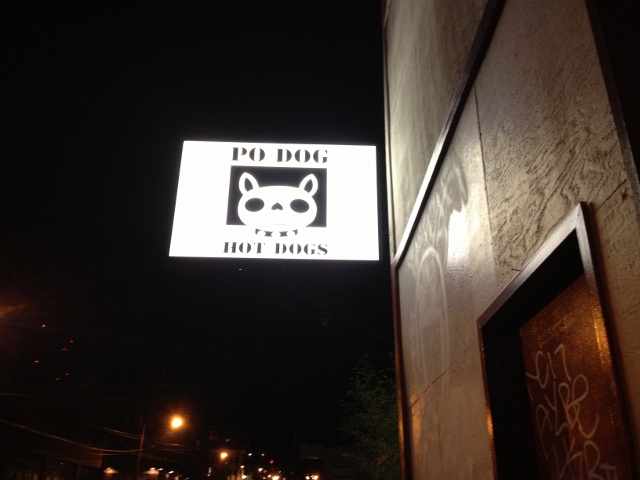 My meatless meal was made possible by two other local companies. Po Dog has selected my beloved Smoked Apple Sage sausage link from Field Roast Grain Meat Co. for their vegetarian alternative and Macrina Bakery and Cafe provides the buns which are fresh, buttery and tender. (I'm hoping they consider adding a whole grain version at some point in the future.) You can order some pretty creative wiener accessories to customize your dog, from cabbage and cucumber to cilantro and cream cheese; and that's just the Cs.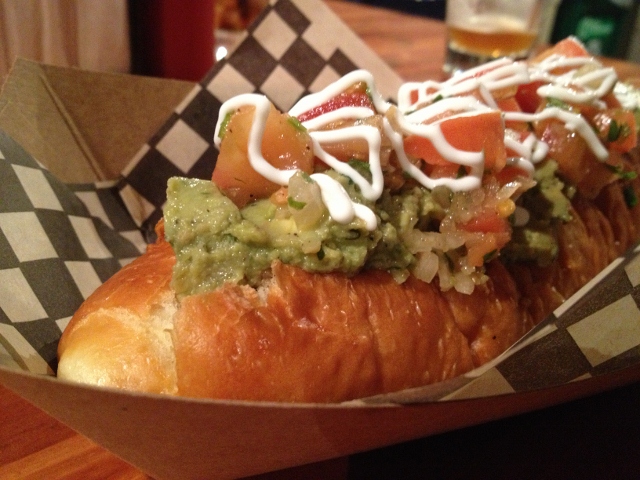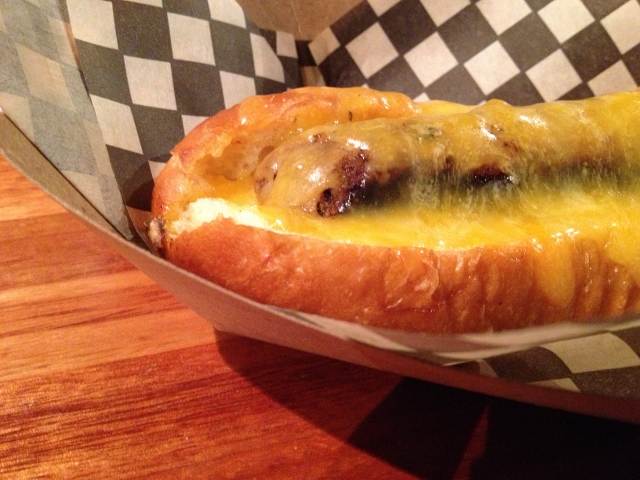 My sister and niece happily chomped down on their all-beef Koshers right alongside us. Po Dog really delivered; we were all raving about our hot doggitty feast.
I'd recommend giving the place a try, for several reasons: they've got 2 locations, they're open really late, the food is scrumptious and you could do a little food snooping of your own. While you're enjoying your vegan grain meat with a good conscience, you can smugly glance over and see if your neighbor ordered a Mac n' Cheese Dog or a Deep Fried Danger Dog. Right there, out in the open, for everyone to see.
Do you have a local joint where vegetarians can happily break bread, or buns, with meat eaters?