An often repeated quote by John Godfrey Saxe warns:  "Laws are like sausages – it's best not to see them being made." I couldn't disagree more, but since this a food blog and tomorrow is election day, I'll tackle the less controversial of the two for now:  sausage (meat-free, of course). My belief that it is best to see how a local company makes their sausage took me to the Field Roast Grain Meat Co. in Seattle for a little tour.
And I do mean little. I was in and out in less than 20 minutes and I was a tour group of 1 (until they invited a couple of new hires to join me and my guide). There was a lot of activity in the building on South Jackson Street, as production is racing to prepare for the upcoming holiday season. Extruders were stuffing stuffing inside of, and workers were hand-wrapping puff pastry around, Field Roast's unique "wheat meat".
My love of their Smoked Apple Sage Sausage Links inspired this recipe and I'm in good company. It's a staff favorite at my local food co-op.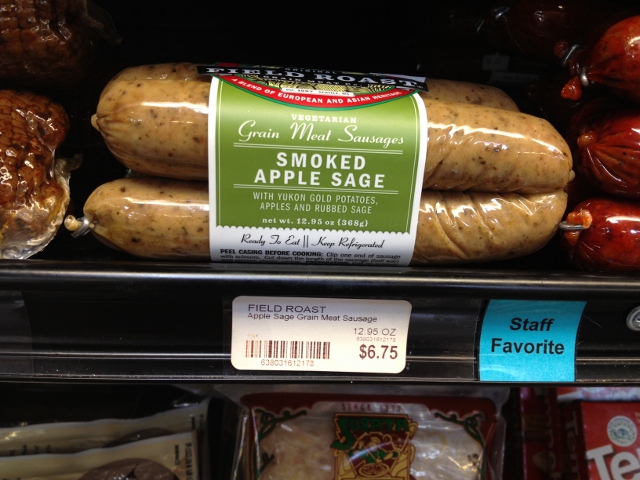 If I don't let my love of the yukon gold potato chunks and garlic blind me, I can look at the product objectively and a short pro/con list comes to mind.
Cons. It takes a little finagling to get each link out of the package (a scissor slice up the side does the trick) and one link is pretty high in calories as meat substitutes go:  a comparable serving of MorningStar Farms Sausage Links is 160 calories vs. 240 for the Apple Sage.  The cost is another factor:  4 links cost me $6.75, unless I get lucky and find them at Costco. I must be a glass half full kind of person, though, because none of this keeps me from buying them! (Actually, I'm quite sure I'm a glass half empty kind of person. So this sausage must be somehow transformational. Can you say the same about Lit'l Smokies?)
Pros. It's vegan, it's made with normal, natural ingredients, and for spending a few more calories you're rewarded with a fantastic dose of protein – 26 grams in one serving. An equivalent portion of the other brand would provide just 18 grams. And you can't deny that it's a convenient and easy choice to eat; you get a lot of flavor without much prep work.
Neutrals. It gets its meaty texture from the protein in wheat, i.e. gluten. So, it wouldn't be an acceptable choice for anyone following a gluten-free diet.
Sage, Apple and Sausage Sandwich with Field Roast
For this recipe, I repeated the flavors in the sausage by adding fresh sage leaves and a honey crisp apple to the sauce. There are a couple of ways to serve up the final product, with varying calorie levels, which I'll describe below.
Makes 4 2/3 cups of sauce, enough for two hoagie sandwiches plus leftovers
One 12.95-ounce package Field Roast Smoked Apple Sage Sausage (4 links)
At least 2 hoagie rolls, 3.5 ounces each, split lengthwise horizontally to make a top and bottom bun, lightly toasted (I got mine from the Breadfarm)
Apple Sage Sauce
1 tablespoon olive oil
2 yukon gold potatoes, cut in 1/4-inch dice (about 2 cups)
2 leeks, white and green parts, quartered lengthwise and sliced (about 1 cup)
One 14.5-ounce can diced or crushed tomatoes
1/2 cup water
1/2 teaspoon salt
1/4 teaspoon black pepper
2 teaspoons minced garlic
1 teaspoon onion powder
1/4 teaspoon celery seed
1/4 teaspoon cumin
1/4 teaspoon coriander
2 cups diced red cabbage
1 large honey crisp apple, cored and diced (about 2 cups)
3 fresh sage leaves, chopped
Optional:  sharp cheddar cheese, mustard
1.  Cook sausage according to package directions.  I like to do mine in the toaster oven, turning several times to get each one brown and crispy all over.  While sausages are heating, make apple sage sauce.
2.  Heat oil in large skillet over medium high heat.  Add potatoes and cook several minutes, turning occasionally until nicely browned.  Add leeks and cook for 1 minute or until leeks are softened.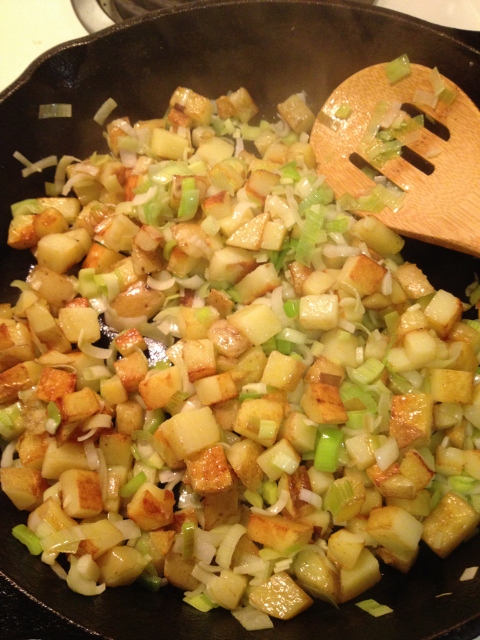 3.  If using diced tomatoes, puree with a blender or immersion blender.  Add pureed or crushed tomatoes, water, salt, pepper, garlic, onion powder, celery seed, cumin and coriander to skillet.  Cover and bring to a boil.  Reduce heat and simmer, covered, for 3 minutes.  Add cabbage and continue to simmer, covered, for 6 minutes or until potatoes are tender.
4.  Add diced apple and simmer 3 to 5 minutes more, uncovered, until apples are heated through and most of the liquid is gone.  Stir in sage.
5.  Cut 1 sausage in half lengthwise and lay on bottom of hoagie.  Cover with 1/3 cup apple sage sauce and place the other half of the hoagie on top.  Repeat for second sandwich.  If desired, add 1 ounce sharp cheddar cheese and/or 2 teaspoons of mustard to each sandwich.
6.  Slice last 2 sausages into 1/2-inch rounds.  Stir into remaining apple sage sauce and enjoy as leftovers tomorrow.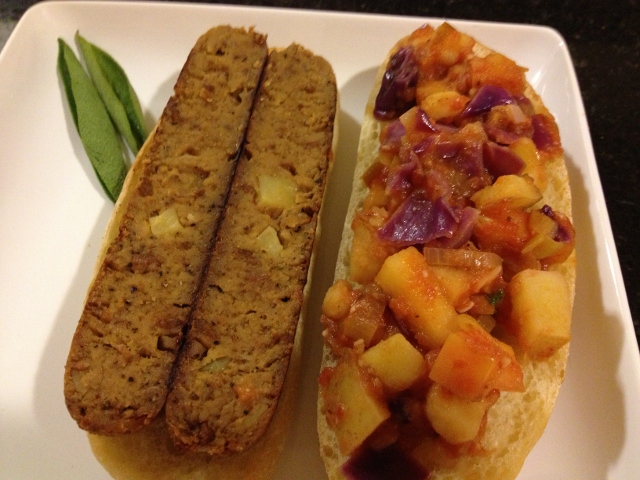 This recipe makes a lot of sauce.  You could make more sandwiches like these with the leftovers, but you'd need another 12 hoagie rolls and 12 sausages to use it all up.  So, cutting up the last two links and adding them to the remaining sauce works great and gives you 5 cups of leftovers to use on open-face sandwiches or to eat as a lower calorie option without bread.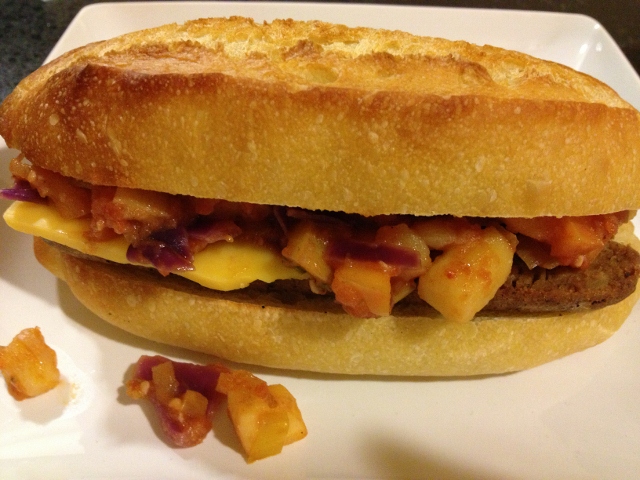 Variations:
Basic Recipe Sandwich with Cheese:  1 whole hoagie, 1 sausage link, 1/3 cup apple sage sauce, 1 ounce sharp cheddar cheese
Nutrient content per serving: 650 calories, 24 g fat, 7 g saturated fat, 25 mg cholesterol, 1330 mg sodium, 67 g carbohydrate, 7 g fiber, 8 g sugar, 43 g protein, 300 mg calcium, 3.6 mg iron
Basic Recipe Sandwich without Cheese:  1 whole hoagie, 1 sausage link, 1/3 cup apple sage sauce (vegan)
Nutrient content per serving: 550 calories, 14 g fat, 1.5 g saturated fat, 0 mg cholesterol, 1150 mg sodium, 67 g carbohydrate, 7 g fiber, 8 g sugar, 36 g protein, 80 mg calcium, 3.6 mg iron
Open-Face Sandwich with Cheese and Fewer Calories:  1/2 hoagie, 1 cup apple sage sauce with sausage chunks, 1 ounce sharp cheddar cheese
Nutrient content per serving: 490 calories, 18 g fat, 6 g saturated fat, 25 mg cholesterol, 1000 mg sodium, 57 g carbohydrate, 7 g fiber, 11 g sugar, 25 g protein, 350 mg calcium, 5.4 mg iron
Apple Sage Sauce with Sausage with Even Fewer Calories (no bread):  1 1/2 cups apple sage sauce with sausage chunks (vegan)
Nutrient content per serving: 350 calories, 10 g fat, 1 g saturated fat, 0 mg cholesterol, 870 mg sodium, 45 g carbohydrate, 9 g fiber, 15 g sugar, 20 g protein, 200 mg calcium, 8.1 mg iron
Note:
At the end of my visit, the kind folks at Field Roast sent me on my way with a few free samples.  I was a happy customer before my tour and will remain one going forward.  Normally, with their products I love them, use them and pay for them myself.
Do you have a favorite meat substitute that comes in handy when you're short on time?
If you liked this post, you may also enjoy: