I'm going to assume you're like most people and love bread, especially freshly baked bread. But if you're like me, the thought of blooming yeast and babysitting rising dough feels like a long, fussy commitment. Luckily, I found an easy way to enjoy the tender buttery pleasure of fresh naan bread without all the work: I use my bread machine.
I consider this a workhorse recipe because I make it on repeat, probably twice a month. It's also essentially a failsafe recipe. I've switched up the ratio and types of flours; used every possible permutation of a yogurt-like substance including Greek yogurt, almond milk yogurt, coconut milk yogurt, and sour cream; and subbed soymilk, oat milk, and cashew milk, all with perfect results.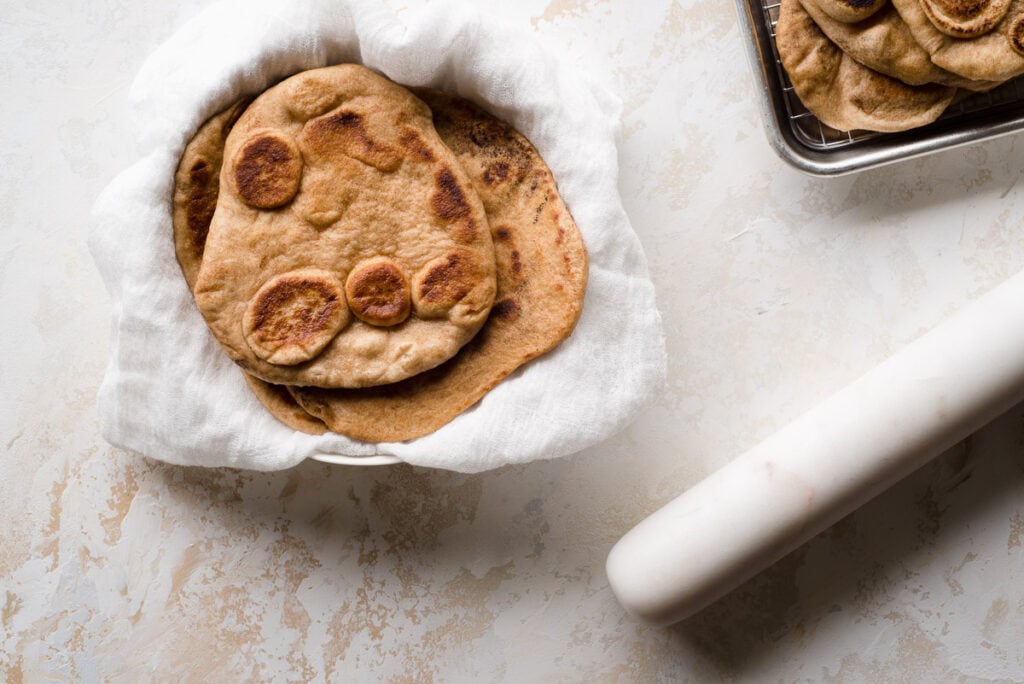 The credit goes to Carey Nershi and her Homemade Naan recipe on Food 52. It's the one I started with many years ago, and eventually made it my own. Today I'm sharing my favorite and most used permutation which happens to be vegan.
I know it's very 90s but I have a bread machine. My first one croaked during the pandemic, so I quickly replaced it with another one I found on Facebook Marketplace for super cheap. The main thing I use it for is making naan. (Know what else is very 90s? Me, buying tickets to a Backstreet Boys concert this summer.)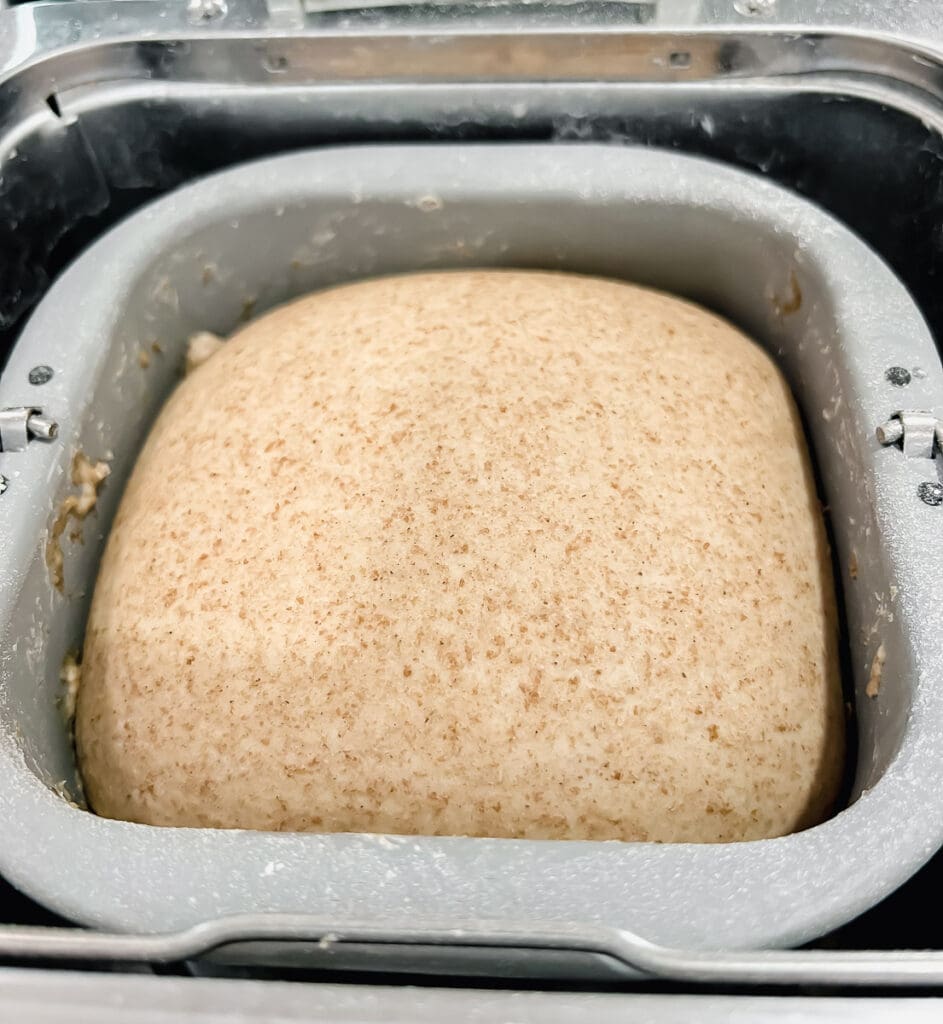 This throwback appliance just streamlines the first few steps of making bread into something I can set and forget, which I love. I load in the ingredients which takes only a few minutes, start the dough setting, and walk away for 90 minutes.
The other thing I love about this is that I don't necessarily have to cook the naan once the dough is ready. It can last for days in the fridge in a zippered bag. It's such a forgiving, user-friendly process that I can make it fit into my busy schedule without it feeling like a time-sucking chore.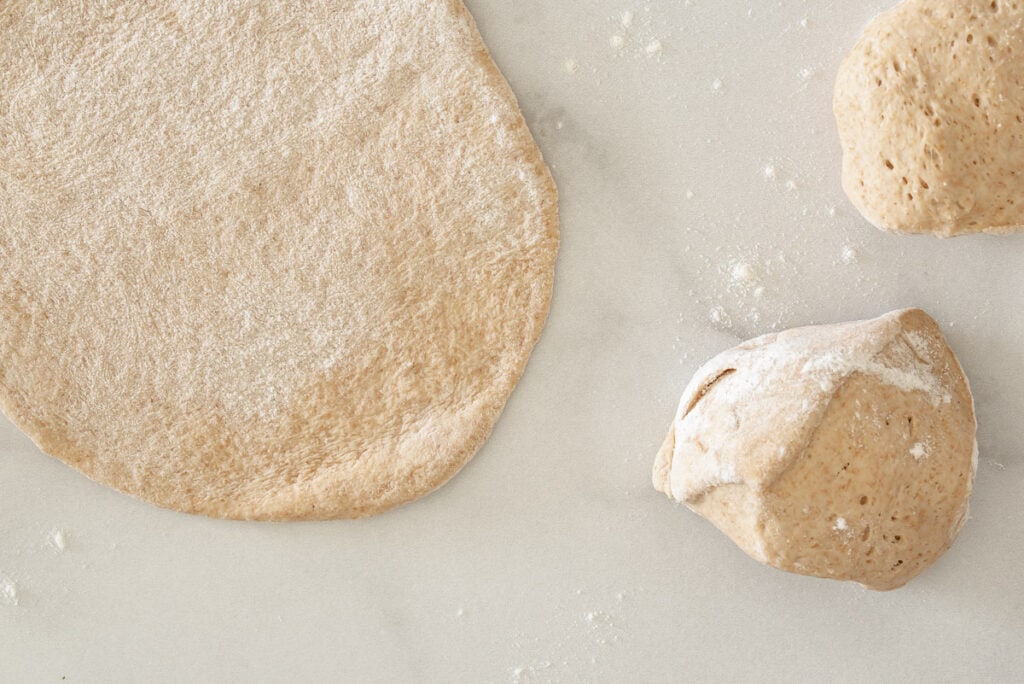 And the naan isn't just beloved by me. It's become an expected item at Thanksgiving dinner. In fact, in an effort to give homemade Christmas gifts last December, family members were asked if they'd like to receive ready-to-eat naan in the mail or a blob of dough they could cook themselves. This naan, in all its forms, was priority mailed to households all over the state.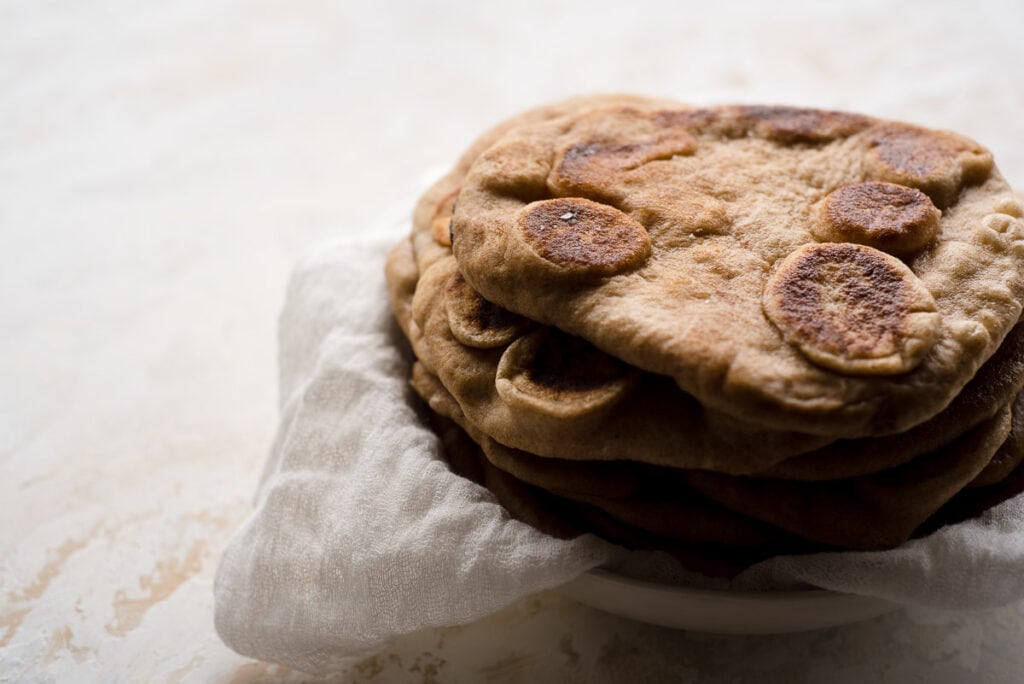 The reason they are such a staple in this house is that they are so incredibly versatile and they last for weeks in the fridge. It's so worth putting in the time to batch cook them on a weekend or a weeknight and reap the benefits for a long while.
These are the ways mine most often get used:
Pizza crust
Replacement for toast at breakfast
Side dish for soup or daal
Covered with melted cheese
Cut up and dipped in hummus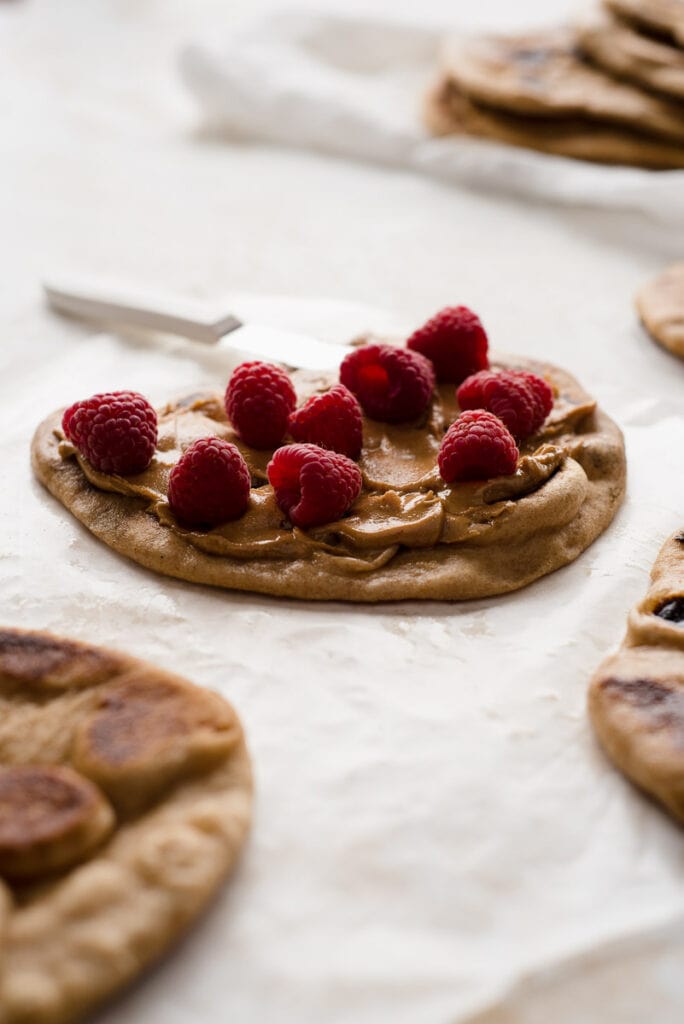 Let's talk nutrition for a moment. If your family isn't too keen on whole grain foods, this is a very accessible way to try adding them. These are darker brown than typical naan bread made entirely with all-purpose flour, but they're soft and tender and not at all heavy or dense. I'd go as far as to say they're downright pillowy.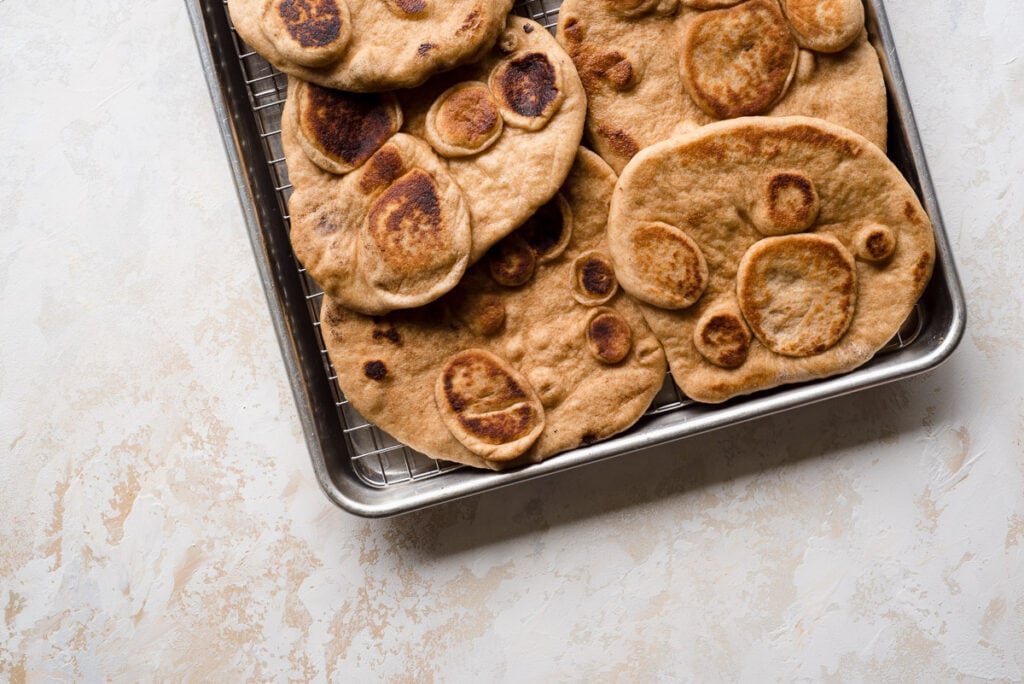 When choosing a vegan yogurt to use in the recipe, ideally you'd look for one with a reasonable protein contribution to boost the overall protein content of the finished product. The same is true for non-dairy milk. Soy is typically the highest in protein compared to oat milk or almond milk. As I make them with this recipe, each naan has 5 grams of plant protein.
You might notice there is no salt in the dough itself, but if you sprinkle a tiny bit on top it packs a flavor punch without adding a ton of sodium.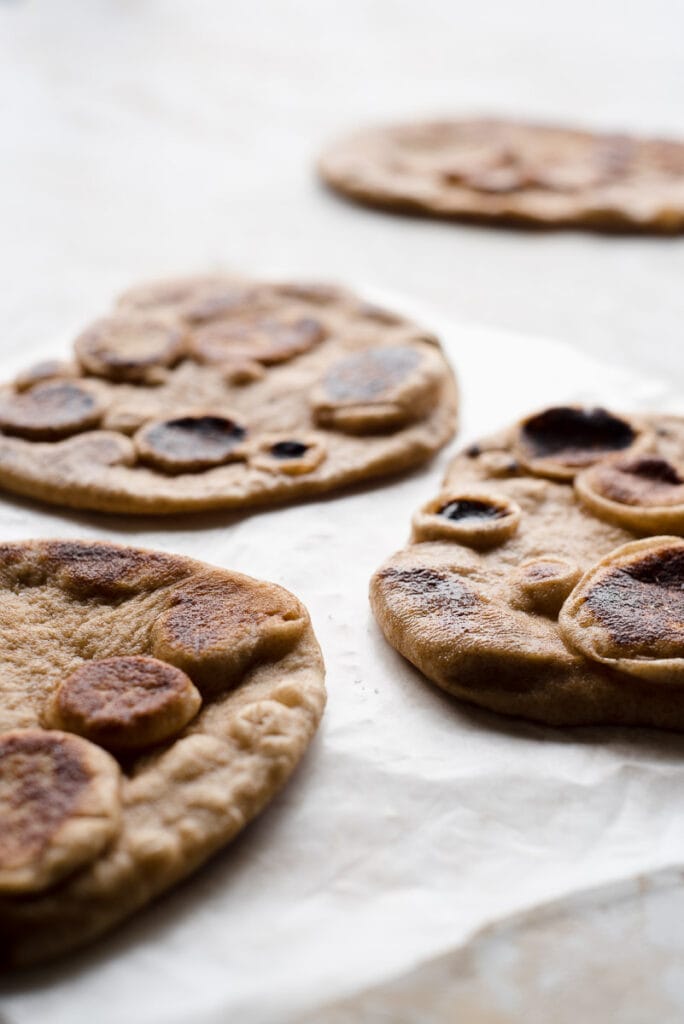 Print
Vegan Whole Wheat Naan
Versatile, easy, tasty, and healthy. These naan are a weekly staple in my kitchen. I bet after you make them once, they will be in yours too.
Author:
Prep Time:

20 minutes

Wait time:

90 minutes

Cook Time:

20 minutes

Total Time:

2 hours 10 minutes

Yield:

1

6

1

x
Method:

Bread machine
Ingredients
1 cup plain, vegan yogurt (I like Kite Hill plain, unsweetened, almond milk yogurt)
3/4 cup soy milk or oat milk
1/4 cup warm water
2 cups whole wheat flour
2 cups all-purpose flour
1 teaspoon baking soda
1 1/2 teaspoons baking powder
1 tablespoon sugar
3/4 teaspoon active dry yeast
1 1/2 sticks vegan butter (I like Miyoko's European-style cultured vegan butter)
Salt
Instructions
Add all of the ingredients from the yogurt through the yeast into a bread machine. Select the dough setting and press start. Cycle times will vary; mine takes 90 minutes.
When the dough is finished you have a choice. You can cook the naan straight away, or toss the dough in a gallon zipper bag and refrigerate for 2 to 3 days until you have time for cooking.
When you're ready for the next step, divide the dough into 16 equal pieces. My full batch of dough weighed 37 ounces, which meant 2.3 ounces for each piece. I used a bench scraper and a food scale to make this work out but I've also just eye-balled it before. Since they're cooked one at a time, the bread will come out perfectly even if they're slightly different sizes.
Roll each piece into a ball with your hands. Or don't. It can be roughly a circle, teardrop, or oval once it's rolled out. Whatever you like.
With a rolling pin, roll out the balls, one at a time, on a generously floured surface, to about 1/8-inch thickness. If you use enough flour, you can just stack the uncooked naans on a plate to carry over to the stove and they'll come apart easily.
Melt butter in a small bowl in the microwave or in a small saucepan over medium heat.
Heat a skillet or griddle over medium-high heat. I like using a cast-iron skillet or cast-iron griddle. For my stove, medium-high is at 6 or 7 out of 10.
Using a heat-resistant pastry brush, cover the center of the skillet with a thin coating of melted butter, about the size of one naan bread. Carefully lay the first piece of naan dough over the melted butter. Quickly brush (or dab if the dough is too soft for brushing) the top of the dough with melted butter. Flip the dough after 45 seconds or after you can see it puffing up. Brush the cooked side of the naan with butter and sprinkle with salt while you're cooking the second side. It will cook faster, in about 20 seconds this time. Remove from skillet and repeat with remaining dough.
I like to place a cooling rack on a cookie sheet, and place the naan on the rack to cool. To fit 16 naan, it takes two racks and two cookie sheets.
See notes for storing suggestions.
Notes
When I've made this with regular butter, I just stick 8 naan each in a gallon zipper bag and toss them in the fridge. But when I switched to the vegan butter they stuck together with this method. So your best bet to is slip a piece of parchment or wax paper in between each piece before refrigerating.
The prep and cook times are hard to clarify. It takes about 5 minutes to put the ingredients in the bread machine, followed by 90 minutes of waiting. It takes about 15 minutes to divide up and roll out the dough, and another 20 minutes to cook.
Nutrition
Serving Size:

1 naan

Calories:

200

Sugar:

2 g

Sodium:

180 mg

Fat:

9 g

Saturated Fat:

6 g

Trans Fat:

0 g

Carbohydrates:

23 g

Fiber:

3 g

Protein:

5 g

Cholesterol:

0 mg
Keywords: naan, whole wheat naan, vegan naan, vegan, bread machine naan, vegan naan recipe, whole wheat naan with yeast, dairy free naan, whole wheat naan recipe, whole wheat naan bread machine recipe, whole wheat naan bread nutrition facts
When you're rolling out the dough, go easy on yourself. The naans don't have to be any particular shape. Oval or teardrop is traditional but I just roll and go. Mine are usually imperfect and wonky with wavy edges and that's OK.
I cook mine on a cast iron griddle but a regular skillet works too. Watching them puff up and blister is so satisfying. They cook fast, so I'd recommend rolling them all out first before you heat up the griddle/skillet and start cooking.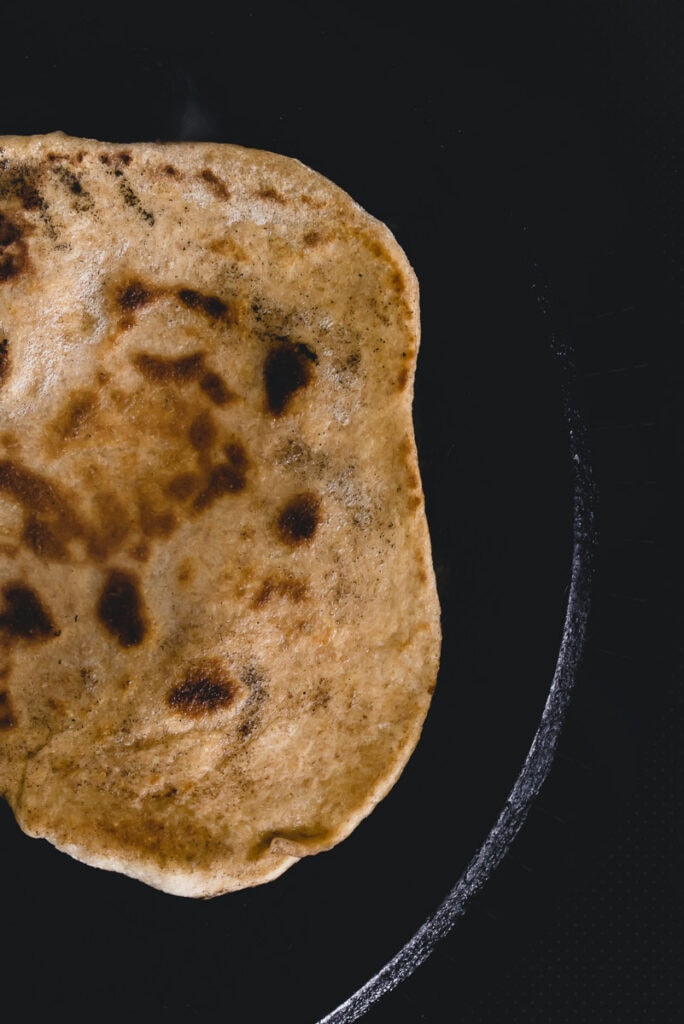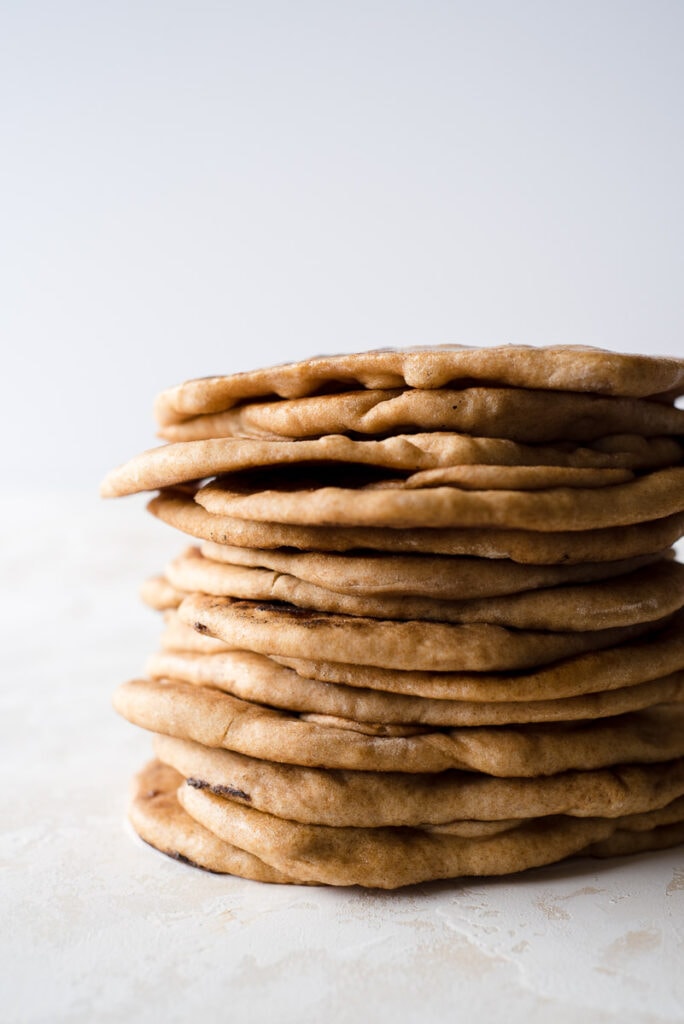 This really is one of my most beloved recipes of all time. If you decide to make them, stack them, store them, refrigerate them, dip them, spread on them, rely on them, and fall in love with them, I'd love to hear what you think.
If you liked this post, you may also enjoy: