My friend Karin makes the best Easter dinner on record. We've been friends since high school and have continued to live relatively close together, so I've been lucky enough to sit at her Sunday table many times. The menu has changed through the years, but I have distinct memories of fresh rolls, roasted asparagus, rice pilaf with peas and Parmesan, and peach pie. Everything is homemade and she's a fantastic cook, so every bite is delightful. As you know, another Easter is on its way, so I was thinking about what I would make if I was hosting the holiday meal myself. Embarrassingly, I came up with only one idea: ambrosia salad.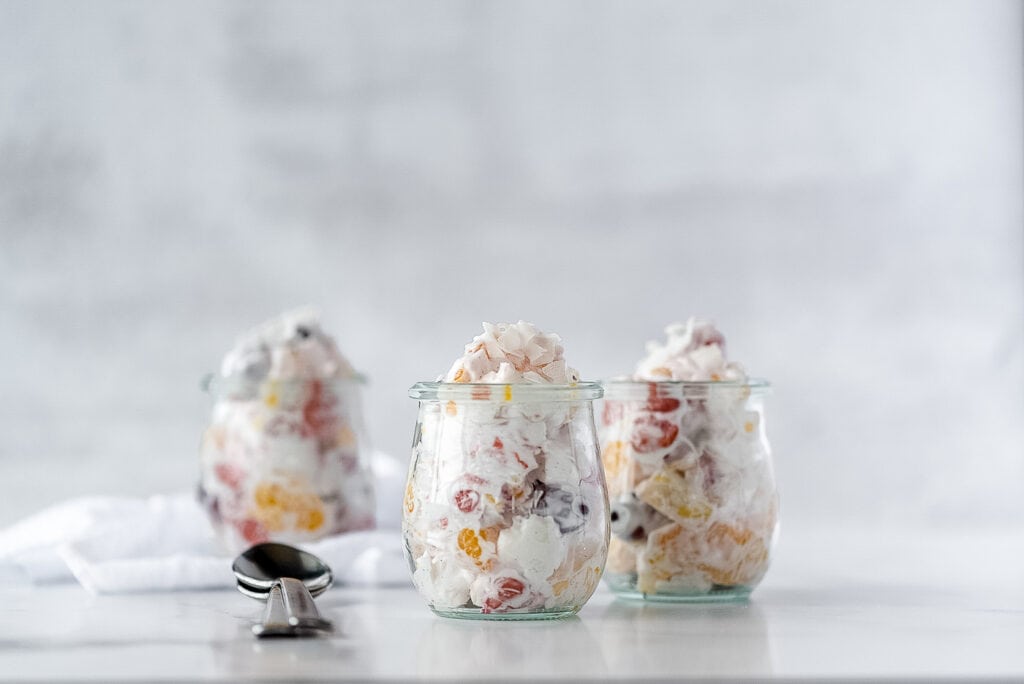 Yes, I know, it's usually made with fruit cocktail coated in sickeningly sweet whipped cream (or whipped topping). And sour cream sometimes shows up in the mix. But it's technically a fruit salad, so starting with that as the base, I thought it could be made better.
I admit, I still enjoy sickeningly sweet white fluffy treats when the mood strikes, but I tried to improve on the ingredients a bit and also make it dairy-free so I could feel a little better about eating a whole yummy cup of it this weekend. (Truth be told, I tested the recipe several times, so I've already eaten a whole lotta cups of it.) I opted for mostly fresh or unsweetened fruit and tried to reduce the sugar overall, but because the recipe uses coconut and coconut milk the saturated fat is still pretty high.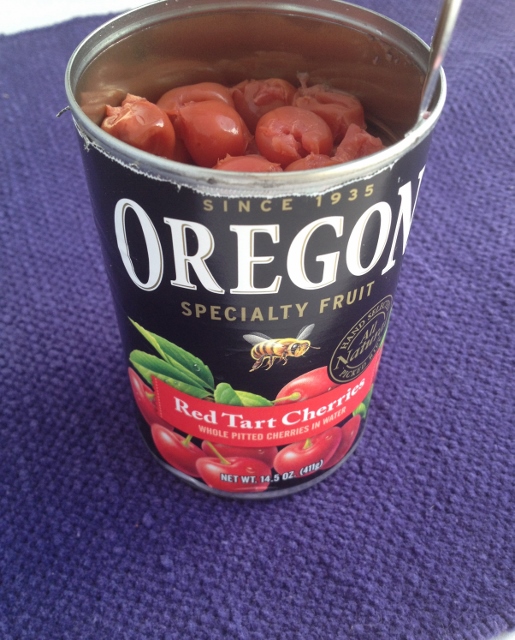 I was inspired to revamp this favorite salad when I saw instructions for making whipped cream from canned coconut milk on the Happy Healthy Life and Oh She Glows blogs. It's pretty clever, actually, and it gives real whipped cream a run for its money. There's one other ingredient that needs a substitution to make the salad vegan, too, and that's the marshmallows. There are a couple of different brands of vegan marshmallows, but my local co-op had Dandies. If you can find the minis, use them to save yourself the time and effort and stickiness of cutting up the larger ones. But either size is delicious.
Print
Vegan Ambrosia Salad
A twist on the classic fluffy, white salad; heavy on the fruit but without dairy.
Author:
Prep Time:

30 mins

Total Time:

30 mins

Yield:

6

1

x
Category:

Salad
Ingredients
1 cup

red or green seedless grapes

1 cup

mandarin orange segments (from

3

to

4

fresh mandarin, satsuma or clementine oranges, peeled and segmented; or one 15-oz. can of mandarin oranges, drained)

1 cup

canned red tart cherries in water, drained

1 1/4 cups

fresh pineapple, chopped (about

1/4

of a pineapple)

1 cup

large flake unsweetened coconut

1 cup

vegan mini marshmallows, or regular-sized vegan marshmallows cut into sixths (it takes about 10 regular-sized mallows to make

1 cup

once they're cut up)

13.5

-fluid ounce can full fat coconut milk, refrigerated (you'll only be using the solid part that separates out when it's chilled)

6 tablespoons

powdered sugar
Seeds from

1

scraped vanilla bean or

1/2 teaspoon

vanilla extract
Instructions
Put a medium-sized mixing bowl in the freezer to chill for 5 minutes.
In a large bowl, combine grapes, orange segments, cherries, pineapple, coconut and marshmallows. I patted the oranges, cherries and pineapple dry with paper towels to help avoid the problem of fruit juice diluting the "whipped" dressing after it was stirred together. If you're cutting up the larger marshmallows, kitchen shears work great. I cut the mallows directly over the bowl of fruit and stir them in after each few. This helps coat the pieces in fruit juice and reduce the stick-to-each-other factor. I also washed the shears halfway through the process which made for easier and less sticky cutting.
Remove chilled bowl from the freezer. Turn the can of coconut milk upside down and open from the bottom. Carefully pour off the cloudy liquid and set aside. Spoon the thick white solid stuff that's left behind into your chilled bowl. Using a hand mixer, beat for about 1 minute. Add the powdered sugar and vanilla and continue mixing for another 2 minutes until it increases in volume and looks "whipped". (Since you're starting with a fairly small volume, I had better luck using a hand mixer and a high-sided bowl than the wire whip attachment on my stand mixer.)
Gently fold the whipped coconut cream into the fruit mixture. Chill for 1 hour.
Nutrition
Serving Size:

1 cup

Calories:

310

Sugar:

34 g

Sodium:

0 mg

Fat:

16 g

Saturated Fat:

14 g

Carbohydrates:

40 g

Fiber:

3 g

Protein:

2 g

Cholesterol:

0 mg
There are so many ways to make this salad your own by switching up the ingredients. I tried several variations, so be sure to keep reading for suggestions and tips.
A few notes on ingredient selection:
Orange segments: I tested the recipe with fresh and canned orange segments and was happy with both options. But there is a difference in moisture, so the result will be a more "dry" salad with the fresh and a bit more "wet" with the canned.
Cherries: I've made a similar version of this salad in the summer and used fresh cherries. The texture and flavor are perfect. If cherries are in season, there's just nothing better.
Pineapple: I used fresh, but of course you could substitute canned pineapple tidbits or chunks, drained.
Coconut: In an effort to reduce the sugar, I used unsweetened coconut. But the widely available sweetened shredded would work too. And, I love the texture that the large coconut flakes from Bob's Red Mill add to the salad, if you can find them.
Marshmallows: Dandies Vegan Marshmallows makes the standard size and the minis. I could only find the larger ones locally when I original wrote the recipe, and it worked just fine to cut them into smaller pieces. But, if you can find the minis, it will save you time and sticky scissors, as it did for me when I made it recently and decided to update the photographs.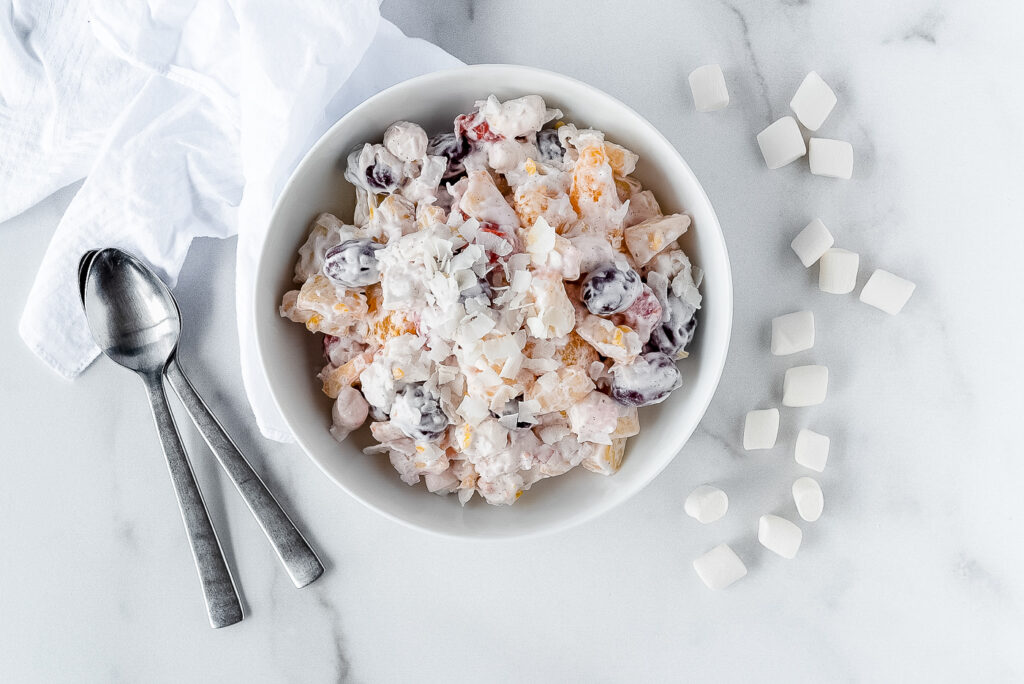 Coconut milk: There is quite a difference in the amount and consistency of the coconut cream you'll find in cans of coconut milk. I was happiest with A Taste of Thai because there was more to work with and it whipped up soft and fluffy. I also tested Thai Kitchen, but it made much less and the result was denser which made for a somewhat thicker ambrosia salad. The two bloggers who introduced me to the idea of whipped coconut cream in the first place used Native Forest brand.
UPDATE 2021: Another option for vegan whipped cream is Silk Non-Dairy Heavy Whipping Cream Alternative, which is now more available in grocery stores. I've had success using it with other recipes, like Vegan Cherry Berries on a Cloud but haven't tried it with this ambrosia recipe yet.
Powdered sugar: For this salad to be truly vegan, you'd want to be sure to use powdered sugar not filtered with bone char. You can find acceptable brands in this article from the Vegetarian Resource Group.
Well, I'm pretty sure I can't serve an Easter dinner with just one dish, so I'd better get cracking on the rest of my menu planning. I bet Karin's doing the same right about now…
Have you succeeded in vegetarianizing or veganizing a favorite Easter dish of your own?  How close did you get to imitating the original?
If you liked this post, you may also enjoy: