Creamy, crumbly, sweet, and tangy. When your mouth wants cheesecake, nothing else will do. But if you're vegan or trying to eat less dairy, cheesecake would be sort of, you know, off-limits. Unless of course, you get creative and make some easy substitutions. Turns out there is a vegan version of every single ingredient you need to make this crowd-pleasing dessert. It's a super simple, no-bake recipe, because when your mouth wants cheesecake…it wants it now!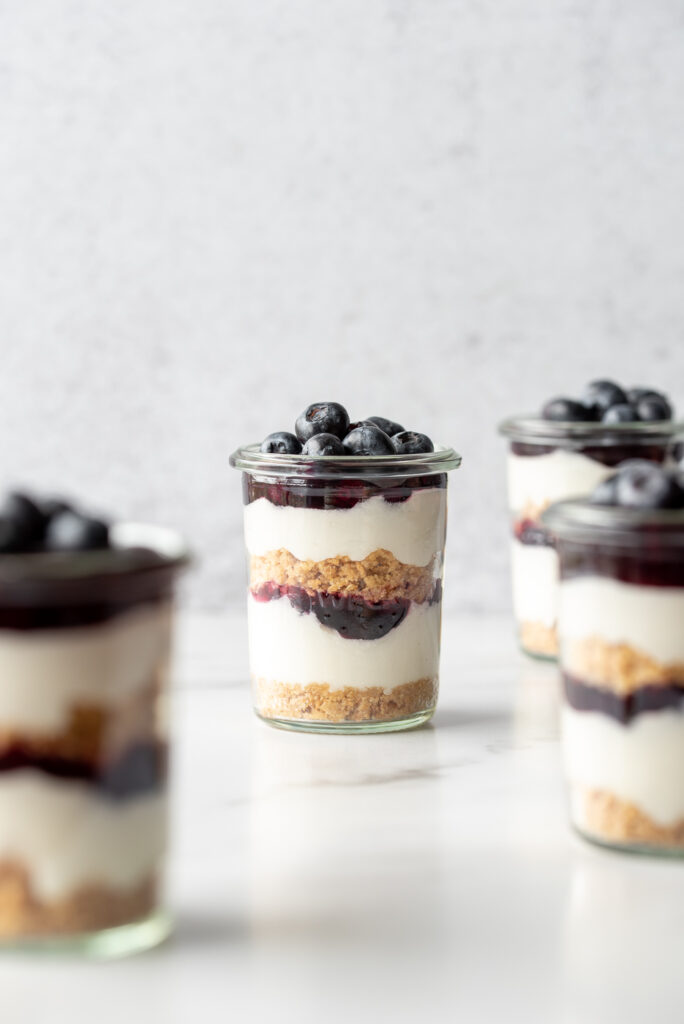 This recipe is based on a family favorite birthday dessert that I've been eating for over 20 years. I figured it was about time to see if I could make a vegan version that tasted just as good. That is, once I noticed that dairy-free versions of the two key ingredients were a thing and available at my store: sweetened condensed milk and cream cheese.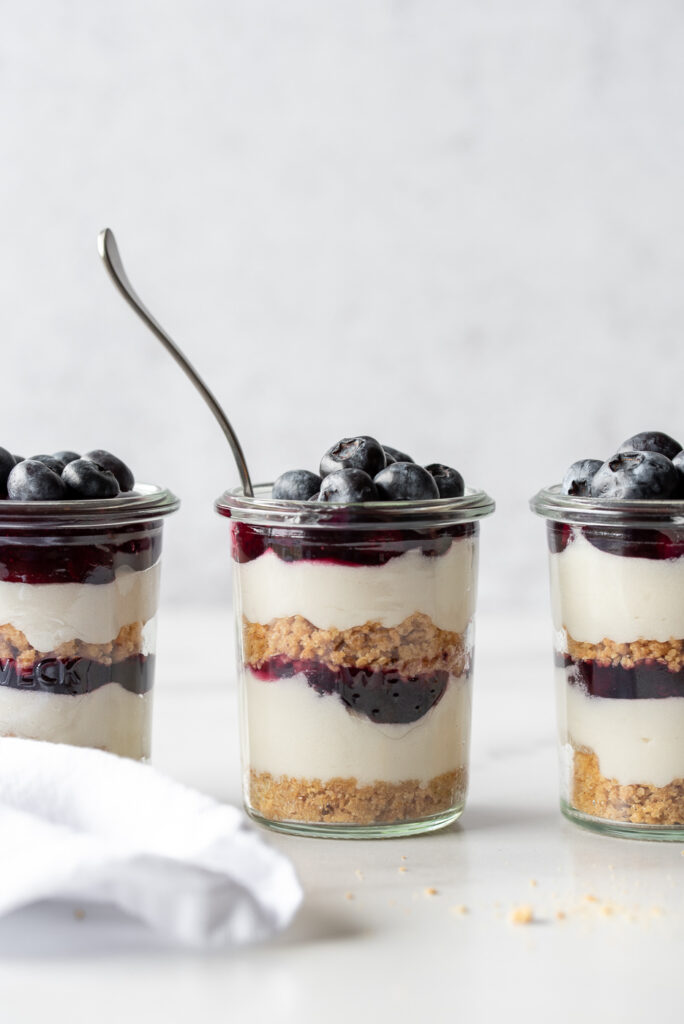 The only brand I've seen for sweetened condensed coconut milk is Let's Do Organic. But let's face it, one is better than what I used to have which was zero. But for vegan cream cheese there are several options. I perused this review by Spoon University and this one by The Beet and ended up using Daiya Plain Cream Cheeze Style Spread.
Print
Vegan Mini No-Bake Blueberry Cheesecakes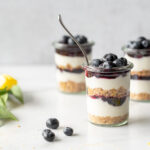 A super simple dessert that's perfectly portioned. It makes everyone happy, vegan or not.
Author:
Prep Time:

30 minutes

Cook Time:

0 minutes

Total Time:

30 minutes

Yield:

11

mini cheesecakes

1

x
Category:

Dessert
Ingredients
1 1/2 cups

graham cracker crumbs

1/3 cup

sugar

6 tablespoons

melted unsalted vegan butter sticks

8 ounces

Daiya Plain Cream Cheeze Style Spread, softened

2

7.4 ounce cans sweetened condensed coconut milk

1/3 cup

lemon juice (about

1

large lemon)

1 teaspoon

vanilla extract

1

21-ounce can blueberry pie filling and topping
Instructions
To make the graham cracker crust: mix together graham cracker crumbs, sugar, and melted butter sticks with a fork until all the crumbs are moist. Set aside.
To make the cheesecake filling: using a stand mixer or electric mixer beat cream cheese until smooth and fluffy, about 2 minutes. (I've successfully used the paddle or whisk attachment for this. Both work great.) Scrape down the sides of the bowl at least once.
Add sweetened condensed milk and mix until smooth, about 30 seconds.
Add lemon juice and vanilla and mix until smooth, about 30 seconds.
Fill jars with alternating layers of graham cracker crust, cheesecake filling, and blueberry pie filling/topping. Piping will give you a cleaner look, but spooning it in goes a bit faster.
Refrigerate at least 2 hours before serving.
Notes
Tips for making these mini. I used Weck 760 Mini Mold Jars. They are 5.4 ounce or 160 ml. It takes a bit of time to layer in the ingredients in these teensy jars to make them look pretty and consistent. I used a piping bag for the cheesecake filling and the blueberry topping. If you're in a hurry, they work great in a muffin tin as well. I just spray it with non-stick spray first, and just do 1 layer each of crust and cheesecake filling. This will fill the muffin cups to the rim. Then when I serve them, I add the blueberry topping. They are soft, so won't set up extra firm like a regular cheesecake. You could use any small Mason or Ball jars as well. Of course the size of the container you choose will affect the nutrition numbers per serving.
The crust makes 2 cups total, the cheesecake filling makes 2 1/2 cups, and the can of blueberry topping is about 2 cups if that helps you figure out which of your own mini containers to use.
Inspired by this No Bake Blueberry Cheesecake recipe.
Nutrition
Serving Size:

1 mini cheesecake

Calories:

430

Sugar:

35 g

Sodium:

260 mg

Fat:

24 g

Saturated Fat:

15 g

Trans Fat:

0 g

Carbohydrates:

49 g

Fiber:

1 g

Protein:

5 g

Cholesterol:

0 mg
Keywords: vegan, blueberry cheesecake, vegan cream cheese, no-bake cheesecake, mini cheesecake
Ingredient notes:
Let's talk about the nutrition facts, specifically saturated fat. There is a lot of coconut in this recipe. Besides the coconut milk itself, the vegan cream cheese is made out of coconut oil and coconut cream. And the main ingredient in the Flora vegan butter is palm kernel oil.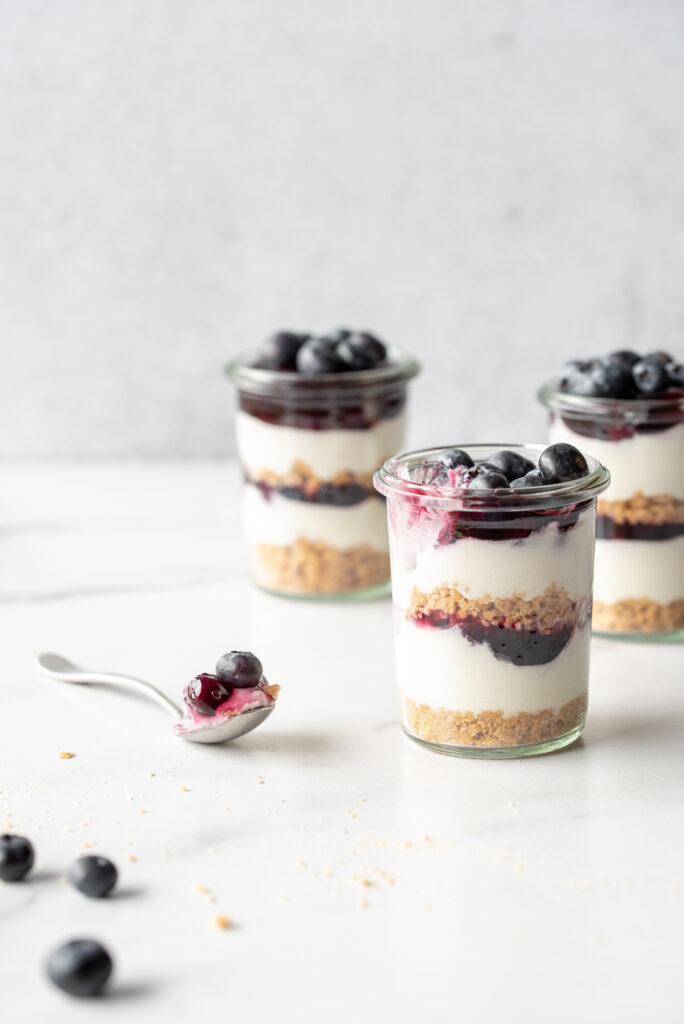 Coconut and palm are two foods in the plant kingdom that rival animal foods (like beef, cheese, and butter) for their saturated fat content. Saturated fat is a solid fat and we generally caution people to minimize their intake for optimal health. It's possible we'll find out with more research that the body responds differently to saturated fat from plants than to saturated fats from animals, but we're not there yet.
So, while this recipe is vegan and dairy-free, it's by no means low-fat, low-calorie, or low in saturated fat. For reference, the target is to keep saturated fat below 22 grams a day for most people, and one serving of this cheesecake has 15 grams. So, it can fit but should be a special treat food instead of an everyday food.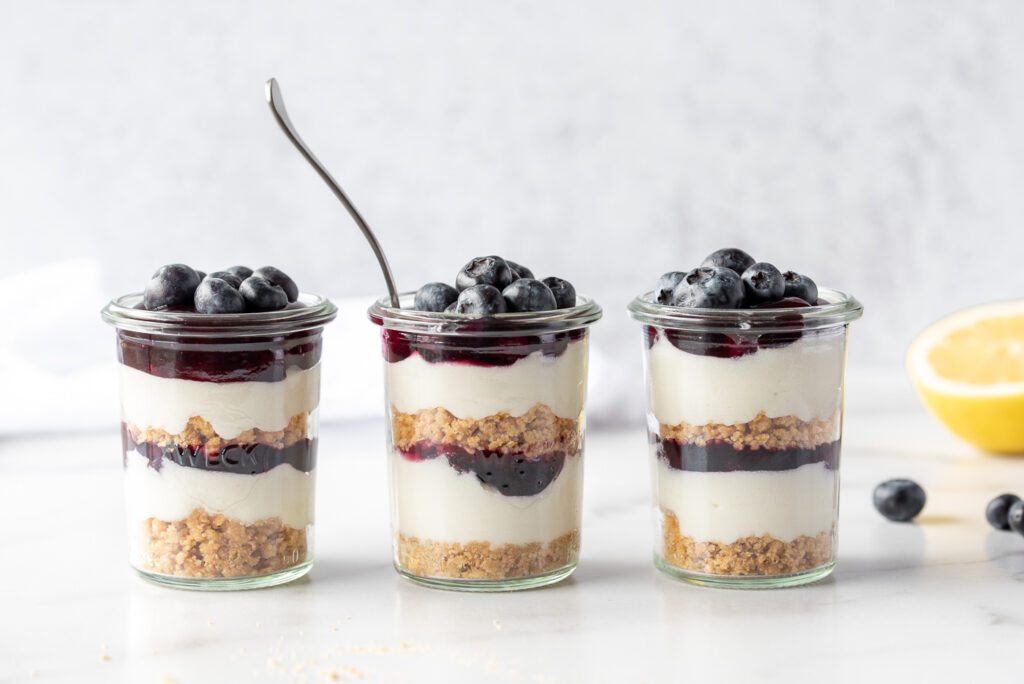 This last statement makes me feel like I need to explain something. Why am I sharing this kind of recipe on a nutrition blog?
I don't have many dessert recipes on my site. As a dietitian, I figure decadent, sugary recipes are everywhere. No one needs my help finding them. But healthy stuff that tastes good is a little more challenging and many of us didn't grow up knowing how to cook plant-based recipes. So, I enjoy helping people with these ones, and nearly all my recipes fall into the category of healthy and good for you. But vegans and health-conscious folks eat dessert, too. And I most definitely do. So I decided to share the results of my "can I veganize this family recipe" challenge, and the joy that came with accomplishing it. (I call this paragraph my Dietitian Dessert Disclaimer. What do you think?)
So if your mouth is in need of a perfectly-portioned, creamy, crumbly, sweet, tangy, dairy-free special treat, this dessert-eating dietitian has got you covered.
This is not a sponsored post. I bought all the ingredients myself and happily whipped them into sweet creamy goodness and layered them in adorable jars.