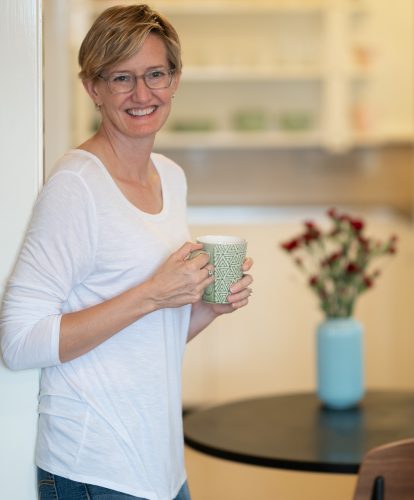 I'm a vegetarian and a Registered Dietitian which probably helps explain the name of the blog. I'm also a nutrition instructor at a community college, which works out nicely since I love talking about food for a living. I have a BS in Food and Nutrition and an MS in Nutrition, and I am credentialed as a Certified Diabetes Care and Education Specialist (CDCES).
My favorite ways to spend time are feeding people, hiking, practicing food photography, playing pickle ball, having lap time with my kitty, struggling to understand and participate in Fantasy Football, connecting with family and friends, and traveling. I try to fit dark chocolate and plant-based ice cream into my day whenever possible.
Professionally, I've had some super cool jobs in my 25 years as a dietitian. I worked at a local hospital as a clinical dietitian and as a nutrition counselor. I also taught for a corporate wellness company and provided nutrition information for a coffee shop/bakery and several cookbooks. When I get the chance I also enjoy writing professionally about nutrition for books and magazines. On this site you can expect simple meatless recipes to try at home, reviews of healthy products that I think you might like, and tips on finding veg-friendly restaurants when you're out and about.

We don't have to choose between health and enjoying our food. I certainly don't!
I think about food and eating a lot, from a nutrition perspective, so I'm always searching for new restaurants and reading labels on interesting products because it's fun for me. I figured that type of information might be useful for other folks on their healthy eating journey. Following me will help keep you up to date with my latest dietitian-approved shortcut or hack for conveniently getting plant-based food in your face.
Also, please know that if you aren't following a vegetarian diet, but want to incorporate more plant-based foods into your diet, much of the information that I share will be helpful for anyone with leanings in this direction… omnivores, flexitarians, VB6ers, semi-vegetarians, etc. Everyone benefits from more plants on their plate.