When it's time to think about planning meals for the week, sometimes it pays to add in some simple, familiar dinners that don't take a lot of creative brainpower to prepare. You know, julienning, braising, and deglazing is fun but some nights you end up much better equipped to just, like, you know, stir and heat. That's where quesadillas come in. Pretty much everyone likes them, you can pack them full of nutrition, and they're straightforward to make. This recipe is optimized for fiber and protein because…that's what dietitians do.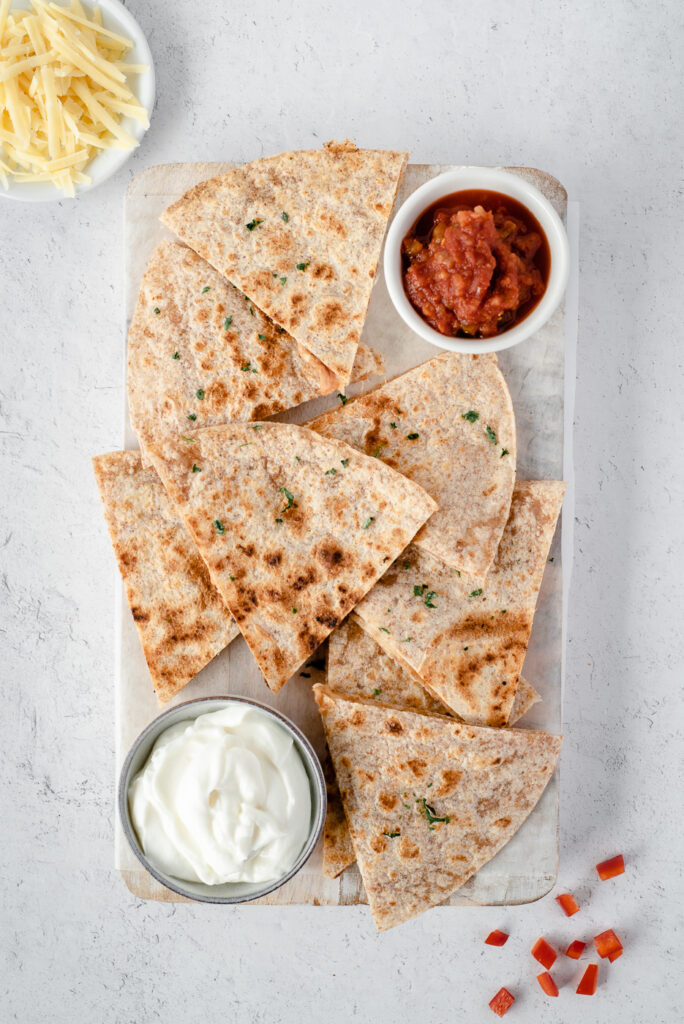 If you'd like to see how this recipe fits into a full week's menu from Trader Joe's, take a peek at A Week's Worth of Trader Joe's Dinners for Less than $100. And for help with shopping, you'll find a grocery list included below the recipe.
Print
Quick Quesadillas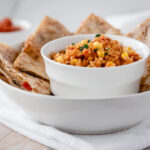 A crowd favorite, with a focus on protein and fiber.
Author:
Prep Time:

5

Cook Time:

25

Total Time:

30 minutes

Yield:

4

1

x
Category:

Dinner
Ingredients
8 whole-grain or whole wheat tortillas
1 1/3 cups seasoned refried beans
6 oz. sharp cheddar cheese, grated
1 red pepper, finely diced, about 1 cup
1/2 cup light sour cream
Instructions
Preheat large skillet or cast iron griddle over medium-low heat. (For my cast iron griddle the quesadillas cook best at a setting of 3 on a scale of 1 to 10.)
Spread 1 tortilla with 1/2 cup seasoned refried beans.
Sprinkle ¼ cup red pepper and 1½ ounces grated cheese evenly over the top.
Top with second tortilla.  Cook until brown and crispy, about 3 minutes on each side.
Cut into quarters and serve each quesadilla with 2 tablespoons light sour cream.
Notes
Nutrient content per serving with a recommended accompaniment: 750 calories, 26 g fat, 11 g saturated fat, 50 mg cholesterol, 1740 mg sodium, 100 g carbohydrate, 11 g fiber, 11 g sugar, 31 g protein
Nutrition
Serving Size:

1 quesadilla

Calories:

500

Sugar:

4 g

Sodium:

1000 mg

Fat:

21 g

Saturated Fat:

10 g

Trans Fat:

0 g

Carbohydrates:

52 g

Fiber:

9 g

Protein:

25 g

Cholesterol:

50 mg
Keywords: refried beans, quesadillas, vegetarian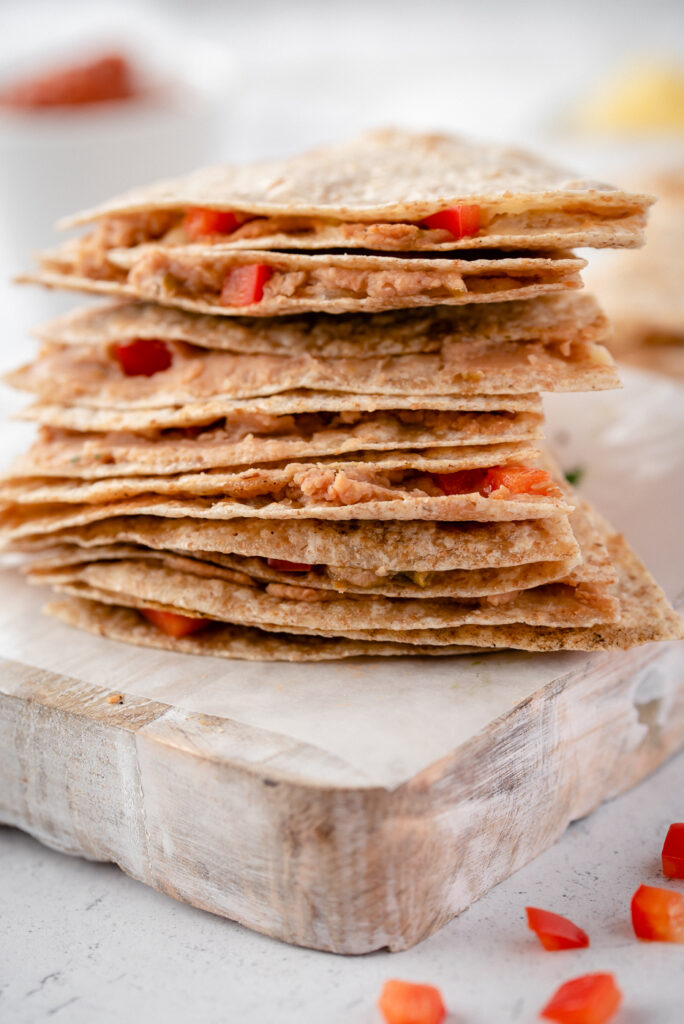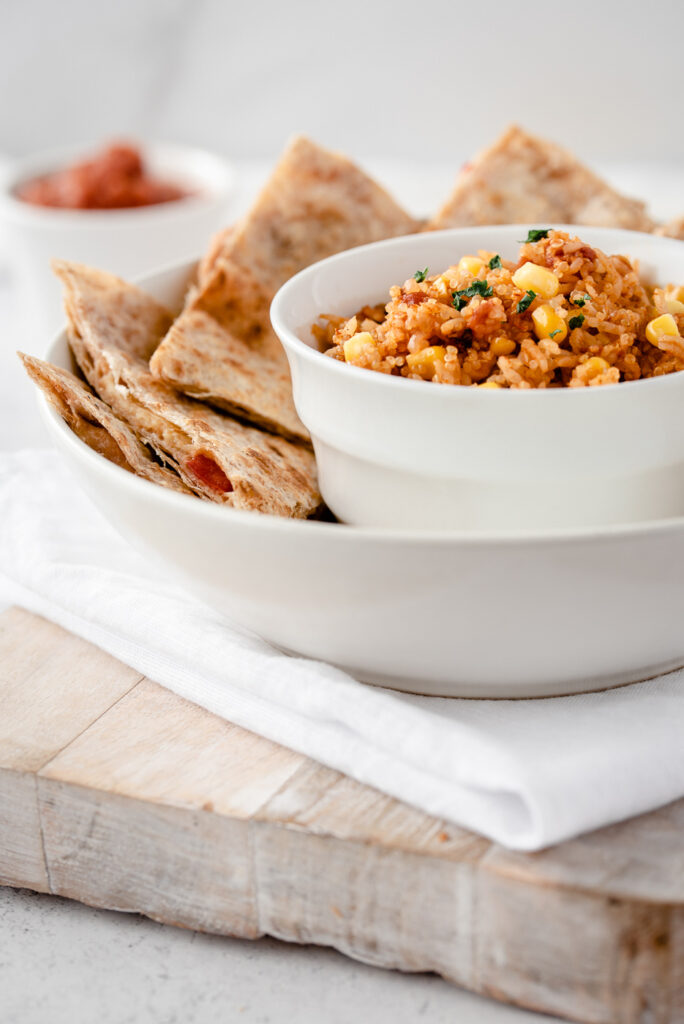 Print
Red Rice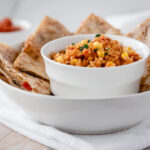 Dump it all in and let the rice cooker do the work for you.
Author:
Prep Time:

5

Cook Time:

45

Total Time:

50 minutes

Yield:

4 cups

1

x
Ingredients
½ cup long grain white rice
½ cup quinoa, rinsed
1 tablespoon olive oil
12 oz. mild salsa (feel free to use medium or hot if your taste buds can handle it)
1 cup frozen super sweet corn
½ teaspoon cumin
½ teaspoon salt
black pepper to taste
1¼ cups water
Instructions
Put all ingredients in a rice cooker and stir.
Set to white rice setting.
When finished, fluff with fork.
Notes
This recipe is inspired by the San Antonio Rice is from a booklet that came with my Aroma rice cooker.
Nutrition
Serving Size:

1 cup

Calories:

250

Sugar:

7 g

Sodium:

740 mg

Fat:

5 g

Saturated Fat:

1 g

Trans Fat:

0 g

Carbohydrates:

48 g

Fiber:

2 g

Protein:

6 g

Cholesterol:

0 mg
Keywords: red rice, salsa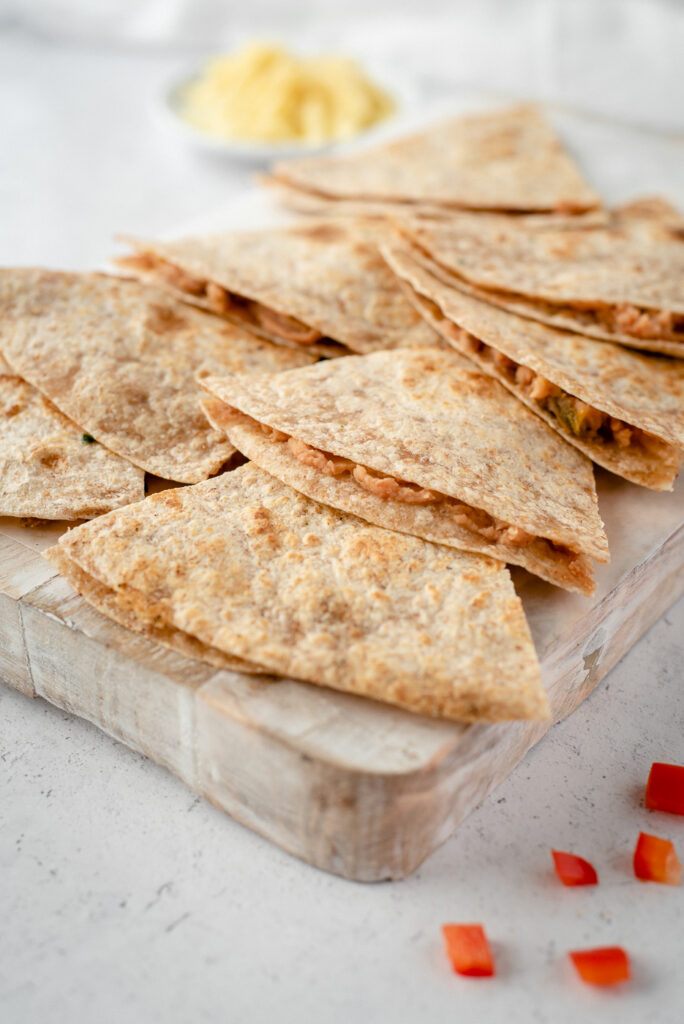 This shopping list was prepared for a trip to Trader Joe's, but any grocery store should have similar items. It's been updated in 2020 with current prices and product names.
Quick Quesadillas and Red Rice Shopping List
Two 14.4 oz. TJ's Organic Wheat Tortillas ($3.69 x 2)
16 oz. TJ's Organic Refried Pinto Beans Salsa Style ($1.29)
6 oz. Kerrygold Dubliner Cheese ($2.99)
1 Red Bell Pepper ($0.99)
16 oz. TJ's Light Sour Cream ($2.19)
Recommended Accompaniment:
32 oz. Trader Joe's (TJ's) Basmati Rice From India ($2.99)
16 oz. TJ's Organic White Quinoa ($3.99)
16 oz. TJ's Chunky Salsa ($1.99)
16 oz. TJ's Organic Super Sweet Cut Corn ($1.79)
Pantry Staples:

16.9 fl. oz. TJ's Organic Extra Virgin Olive Oil Mediterranean Blend ($3.99)
Cumin
TOTAL $25.60 with accompaniment
TOTAL $29.59 if you need to buy pantry staples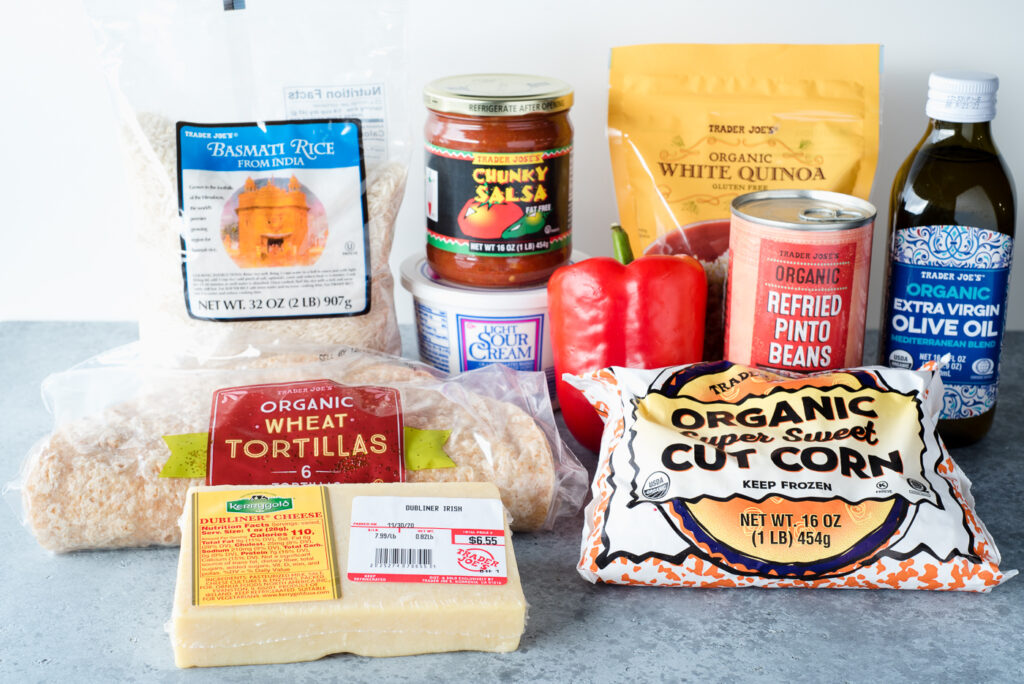 Nutrition notes:
 – Don't I need some fat in the pan to get a crunchy quesadilla? My opinion is that you don't. When I use a non-stick skillet or a cast iron griddle pan, I find that the tortillas crisp up nicely without any added oil. This saves significantly on calories and fat.
 – The rice recipe is vegan?  You probably wouldn't think of it that way, but all of the ingredients in the rice recipe are plant-based, so officially it's vegan.
 – The sodium content seems high. That's for sure. I didn't get everything (i.e., every nutrient) to come out just right with this meal, mostly because I used some convenient convenience foods. While the sodium and carbohydrates are high, the fiber and protein contributions are pretty great.
 – The calories seem high. An easy way to lower the calories is to use smaller tortillas (Trader Joe's has lots of options) or reduce the portion of rice from 1 cup to 2/3 cup.
 – There's a whole grain in there? I replaced half the white rice with quinoa to bump up the whole grain and protein content; the texture it creates is quite nice. And, because quinoa is pale in color, you could sneak this whole grain past any of your picky eaters.
– What about protein? The combination of beans and cheese boosts the protein content of 1 quesadilla to 25 grams. When you add the rice, it pushes that over 30 grams. Not bad for a meatless meal!
Together, these recipes have it all. The level of cooking skill required is low but the nutrient content is high. Give your brain the night off.
Do you have a favorite filling for quesadillas?
This is not a sponsored post. I bought all the groceries on my own and happily consumed them.
If you liked this post, you may also enjoy: