Jeff is fond of easy meals and this is definitely one of them.   It's actually one of our favorites because it's so quick to pull together and yummy to boot.  The San Antonio Rice is from a recipe book that came with my Aroma rice cooker.  The only change I made was to replace half the white rice with quinoa to bump up the whole grain and protein content; the texture it creates is quite nice.  And, because quinoa is pale in color, you could sneak this whole grain past any of your picky eaters.
Quick Quesadillas
Makes 2 quesadillas, or 2 servings of 1 quesadilla each
4 whole grain tortillas
½ cup seasoned refried beans
3 oz. sharp cheddar, grated
½ cup diced red pepper
¼ cup light sour cream
Spread 1 tortilla with ¼ cup seasoned refried beans.  Sprinkle ¼ cup red pepper and 1½ ounces sharp cheddar evenly over the top.  Top with second tortilla.  Cook over medium-low heat in skillet or on cast iron griddle until brown and crispy on each side.  Cut into quarters and serve each quesadilla with 2 Tbsp. light sour cream.
Nutrient content per serving: 527 calories, 23 g fat, 13 g saturated fat, 55 mg cholesterol, 901 mg sodium, 60 g carbohydrate, 14 g fiber, 9 g sugar, 6 g protein, 383 mg calcium, 2.5 mg iron
Recommended accompaniments:  1 cup Aroma's San Antonio Rice
Aroma's San Antonio Rice
Makes about 4 cups, or 4 servings of 1 cup each
½ cup long grain white rice
½ cup quinoa, rinsed
1 Tbsp. olive oil
12 oz. fresh mild salsa (feel free to use medium or hot if your taste buds can handle it)
1 cup frozen super sweet corn
½ tsp. cumin
½ tsp. salt
black pepper to taste
1¼ cups water
Put all ingredients in a rice cooker and set to white rice setting.  When finished, fluff with fork.
Nutrient content per 1 cup serving: 231 calories, 5 g fat, 0.5 g saturated fat, 0 mg cholesterol, 529 mg sodium, 43 g carbohydrate, 2 g fiber, 6 g sugar, 6 g protein, 3 mg calcium, 1.8 mg iron
Nutrient content per serving with recommended accompaniment: 758 calories, 28 g fat, 13 g saturated fat, 55 mg cholesterol, 1430 mg sodium, 102 g carbohydrate, 16 g fiber, 15 g sugar, 27 g protein, 386 mg calcium, 4.3 mg iron
Quick Quesadillas and Aroma's San Antonio Rice Shopping List
16.5 oz. TJ's Whole Grain Flour Tortillas with Rolled Oats and Flax Seed* ($2.79)
16 oz. TJ's Lowfat Vegetarian Refried Pinto Beans Salsa Style* ($1.09)
12 oz. TJ's Wisconsin Sharp Cheddar Cheese* ($3.13)
2 Count TJ's Red Bell Peppers* ($2.29)
16 oz. TJ's Light Sour Cream* ($1.79)
Subtotal   ($11.09)
Recommended Accompaniment:
32 oz. Trader Joe's (TJ's) Genuine 100% White Basmati Rice From India* ($2.99)
16 oz. TJ's Organic Quinoa* ($3.99)
12 oz. TJ's Mild Salsa ($2.29)
16 oz. TJ's Organic Super Sweet Cut Corn* ($1.79)
Olive oil**
Cumin**
TOTAL with Accompaniment  ($22.15)
*Will have some left after using for this meal
**Assumed to be a pantry staple, but available for purchase at TJ's if needed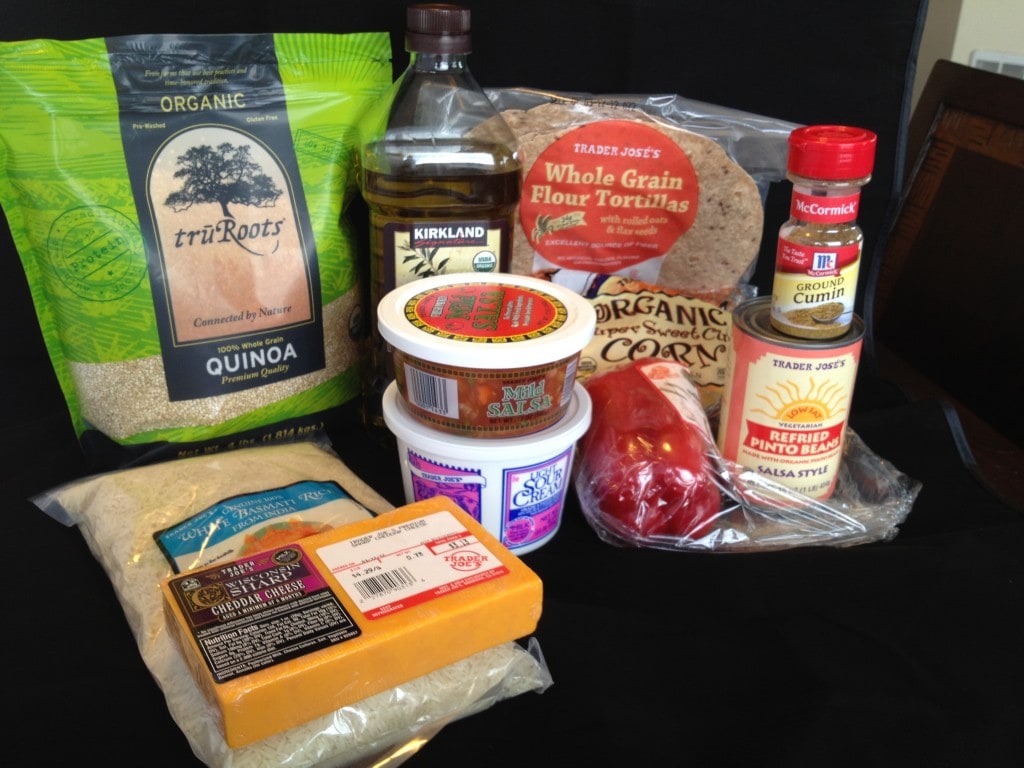 Additional notes:
Don't I need some fat in the pan to get a crunchy quesadilla?  My opinion is that you don't.  When I use a non-stick skillet or a cast iron griddle pan, I find that the tortillas crisp up nicely without any added oil.  This saves significantly on calories and fat.
The rice recipe is vegan?  You probably wouldn't think if it that way, but all of the ingredients in the rice recipe are plant-based, so officially it's vegan.
You can toss in leftover ingredients.  If you're following the week's menu from Trader Joe's, you will likely have leftover sliced black olives and lowfat cheddar cheese from the other recipes.  Both would work nicely in the quesadillas if you want to use them up.
The sodium content seems high.  That's for sure.  I didn't get everything to come out just right with this meal, mostly because I used some convenient convenience foods.  While the sodium and carbohydrates are high, the fiber and protein contributions are pretty great.
Do you have a favorite filling for quesadillas?