You've been weirded out by tofu. I know you have, at least once. That's understandable. Tofu is jiggly, pale, and unfamiliar. Luckily, I've got a solution to all three problems. First, this recipe makes tofu that's crispy on the outside and firm and chewy on the inside instead of soft or squishy. Second, after spending some time in your oven, this tofu effortlessly comes out browned to perfection. And lastly, this recipe tastes like foods you already like. The soy sauce gives it a pleasant savory, sometimes called "meaty" flavor (known as umami), along with a familiar saltiness. Essentially, this 3-ingredient No-Fail Salty Baked Tofu Bites recipe is engineered to create tofu you'll love.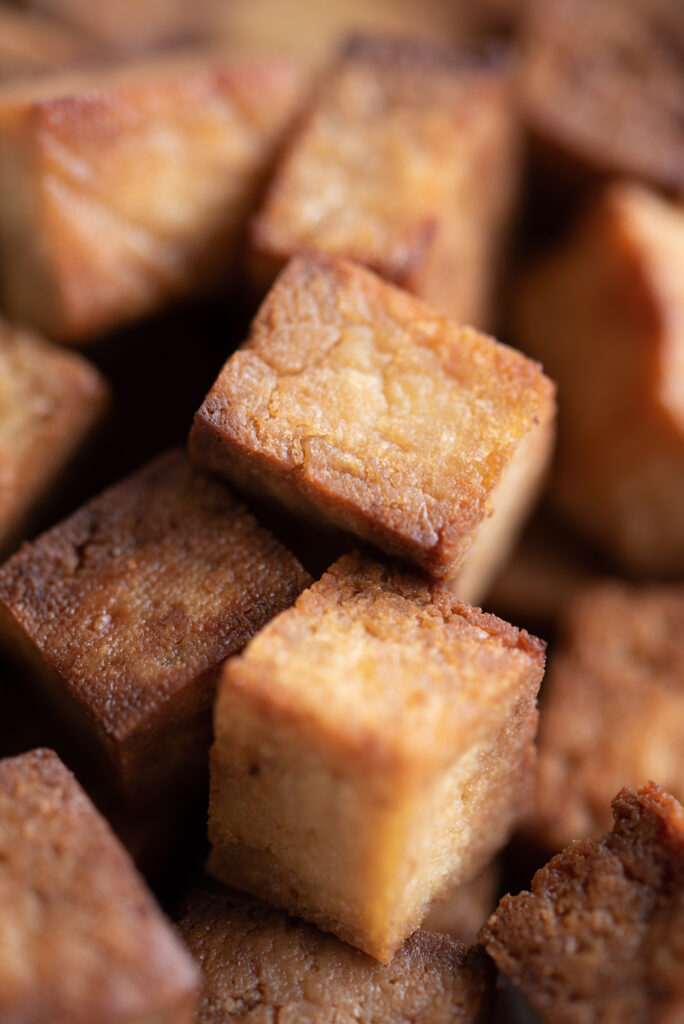 Print
Salty Baked Tofu Bites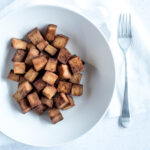 A no-fail recipe to get you introduced to tofu. Just 3 ingredients and a bit of time in the oven and you'll be rewarded with chewy, salty protein goodness.
Author:
Prep Time:

5 minutes

Cook Time:

25 minutes

Total Time:

30 minutes

Yield:

3

servings

1

x
Category:

Dinner
Ingredients
2 tablespoons toasted sesame oil
2 tablespoons soy sauce
10 ounces extra or super firm tofu, frozen and thawed, cut into 1/2 inch cubes
Instructions
Preheat oven to 425 degrees.
Mix sesame oil and soy sauce together in a 13 x 9-inch baking dish.
Add tofu cubes and stir until well coated. Alternately, you could mix the soy sauce, sesame oil, and tofu in a bowl and then pour it into the baking dish.
Bake for 25 minutes, stirring once or twice during baking.
Enjoy warm or cold.
Notes
My favorite brand of super firm tofu is Wildwood.
I find that freezing and thawing tofu before cooking improves the texture pretty significantly. You can certainly skip this step if you're pressed for time, but I think it's key to the final texture.
If you're trying to limit your sodium intake, you could opt for low sodium soy sauce in this recipe. I do think the saltiness makes a difference in optimizing palatability, but it would still taste delicious.
Nutrition
Serving Size:

3 ounces

Calories:

230 calories

Sugar:

0 g

Sodium:

680 mg

Fat:

17 g

Saturated Fat:

2.5 g

Trans Fat:

0 g

Carbohydrates:

4 g

Fiber:

1 g

Protein:

17 g

Cholesterol:

0 mg
Keywords: tofu, baked, umami, easy, soy sauce, toasted sesame oil, low carb, high protein
While this recipe works great as a replacement for meat at the evening meal, tofu's not just for dinner. My favorite way to enjoy these is fresh out of the fridge as a snack or packed in my bento lunchbox. They're even firmer when they're cold but still salty and flavorful, sort of reminiscent of lunchmeat or beef jerky.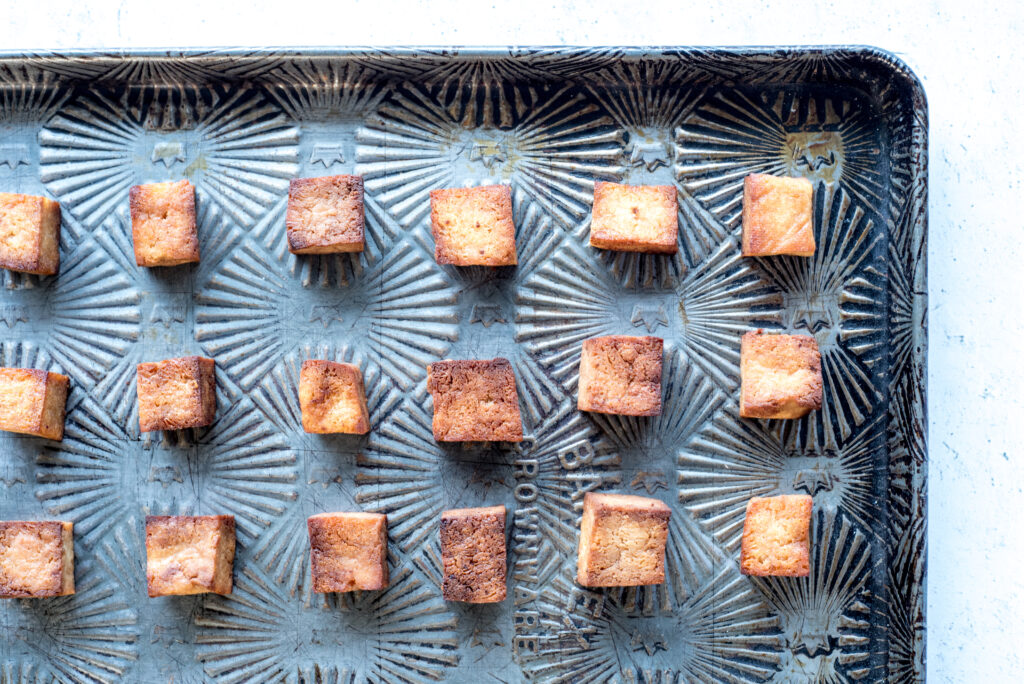 Nutritionally, these little nuggets are high protein superstars. One serving has 17 grams. They're versatile and keep in the fridge for quite a while, so they make a welcome plant-protein addition to salads, stir-fries, wraps, or hash all week long. You might even be tempted to make a double batch!
Besides texture, you might be weirded out by tofu for other reasons. I know a lot of people have heard negative things about soy foods with regard to health. I'm here to tell you they're unfounded. In fact, your ideas about soy might need an update based on current science. This fantastic article, The Truth About Soy, is written by a dietitian who interviewed other dietitians including the nutrition advisor for the American Institute for Cancer Research and it addresses many of the myths that abound on the internet about the humble soybean. I can tell you that I don't have concerns about soy's safety and I eat it every single week at my house.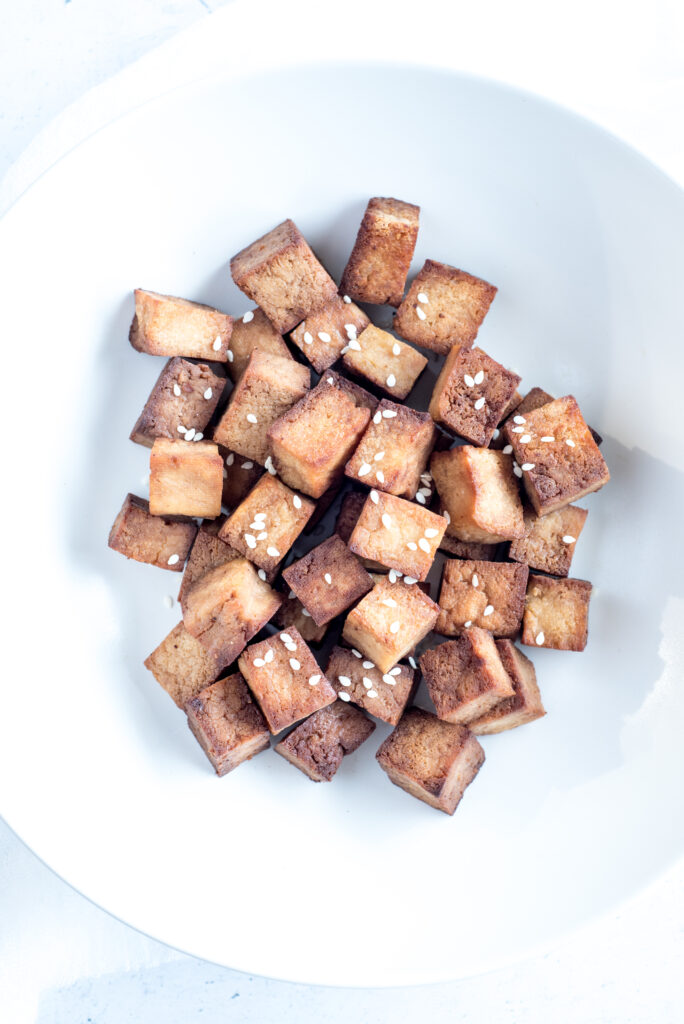 If you've been curious about tofu, now's your chance. If you already love tofu, here's yet another tasty way to enjoy it. Give this recipe a try and you'll be rewarded with chewy, satisfying, golden brown morsels of protein, and absolutely no weirdness.
If you had a tub of these tofu bites in your fridge at the start of the week, how would they get used?
If you liked this post, you may also enjoy: