Are you one of those people who actually reads a whole post on a food blog? Do you want to know the complete story about how the recipe came to be or do you jump right to the essentials: ingredients list and instructions? As a blogger myself, I probably shouldn't admit this but I usually skim the text and then head directly to the recipe itself.
I ask because if you're like me you're often in a hurry. That's the case today. I'm headed to a conference this week and I'm planning for two upcoming presentations to dietitians and other healthcare providers. So in addition to teaching, grading, and home responsibilities my To Do list is long and my time is short. 
What this means is that I'd like to share some of my recent bento lunches with you for inspiration, but I'm going to trim back on the commentary. Descriptions and links for the foods filling the bento compartments? Check. Entertaining, sometimes educational, paragraphs explaining each bento in depth? Not today. I think we'll both be grateful I'm just getting down to business. I'll rely on the pictures to do the heavy lifting for this post.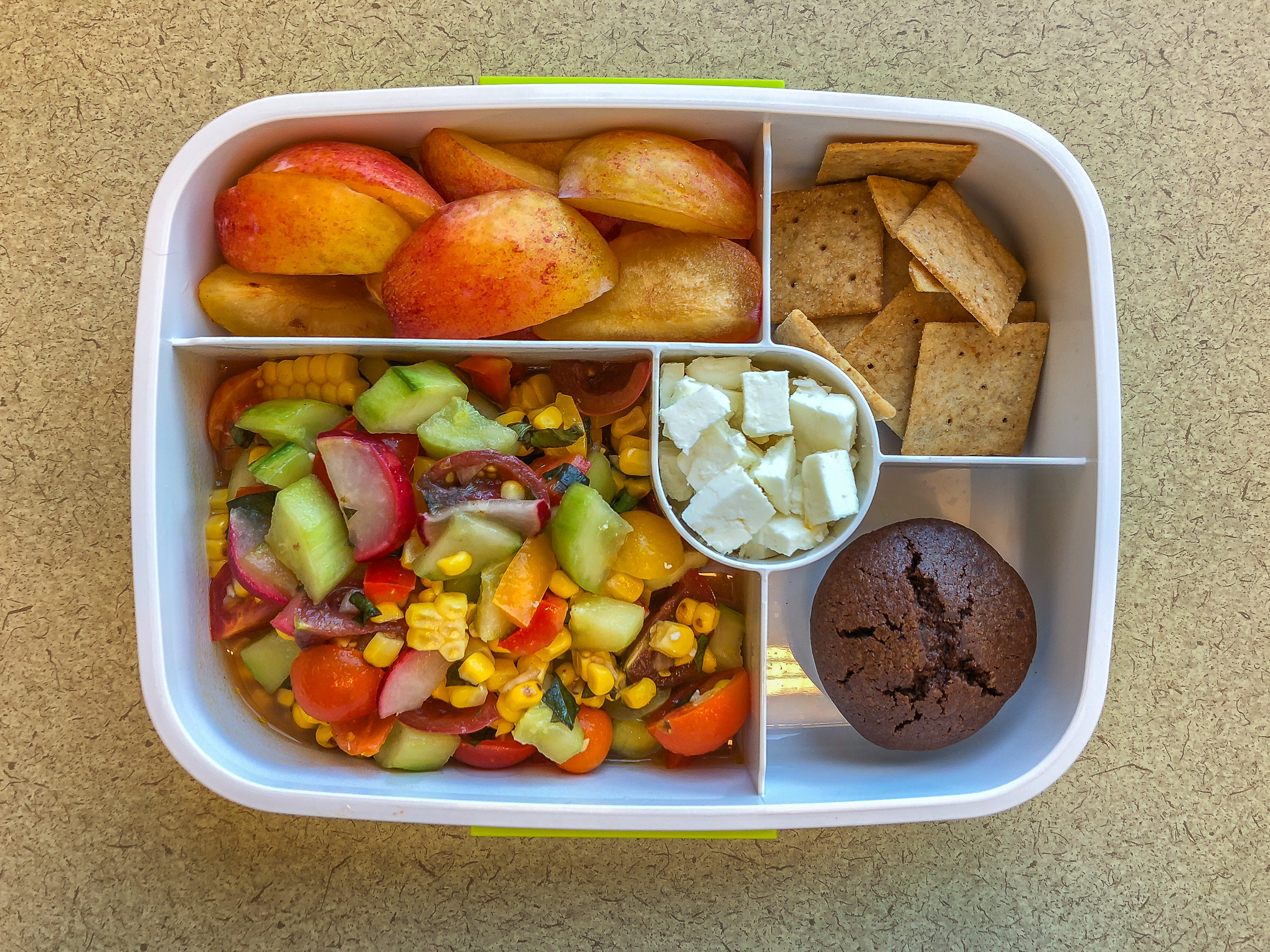 Flavor Grenade plum
Feta cheese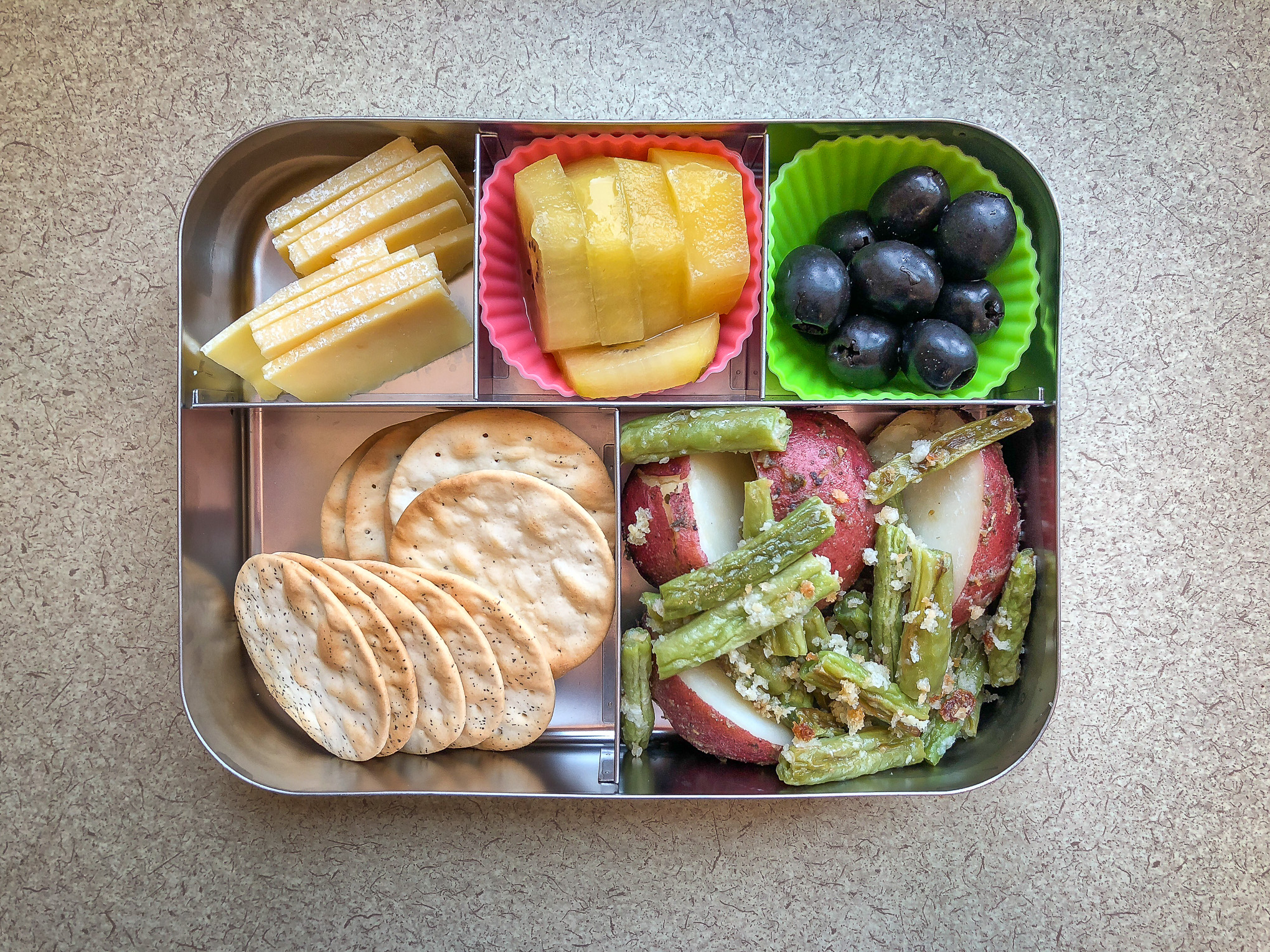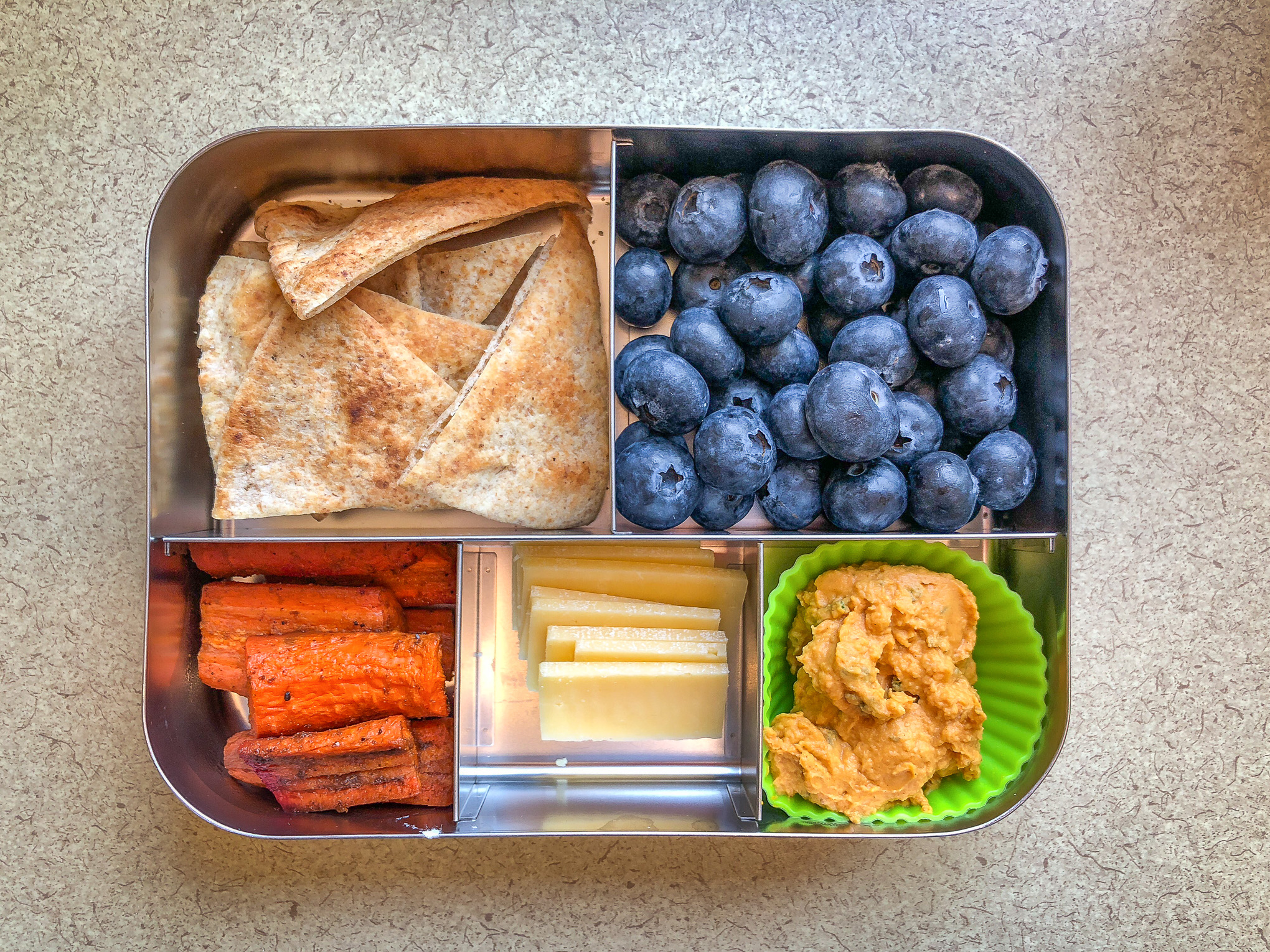 Whole wheat pita chips (recipe included with hummus link)
Blueberries
Leftover roasted carrots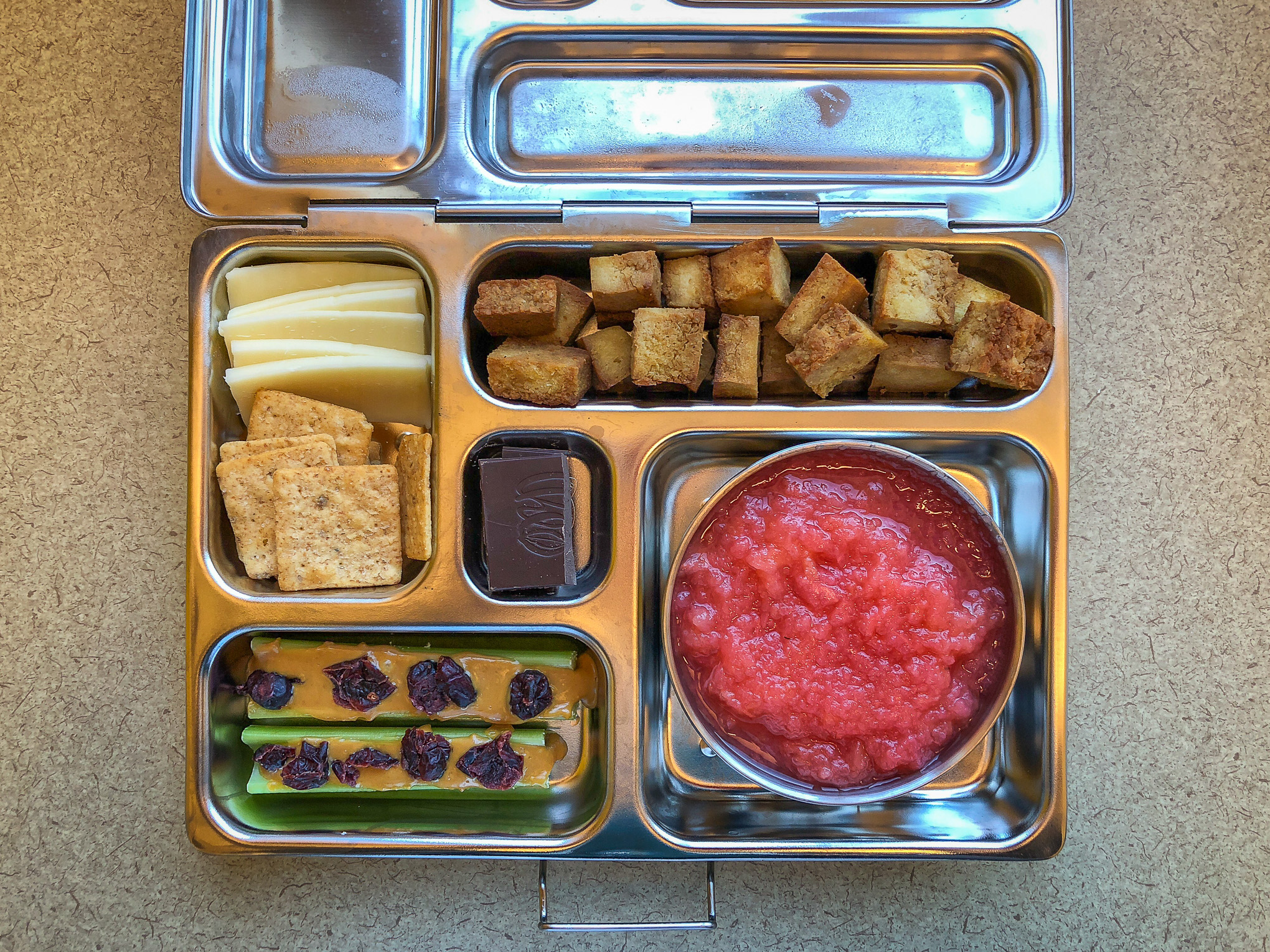 Wheat Thins
Part skim mozzarella cheese
Salty Baked Tofu Bites (scroll down once you click this link to find the recipe)
Homemade applesauce 
Celery with peanut butter and dried cranberries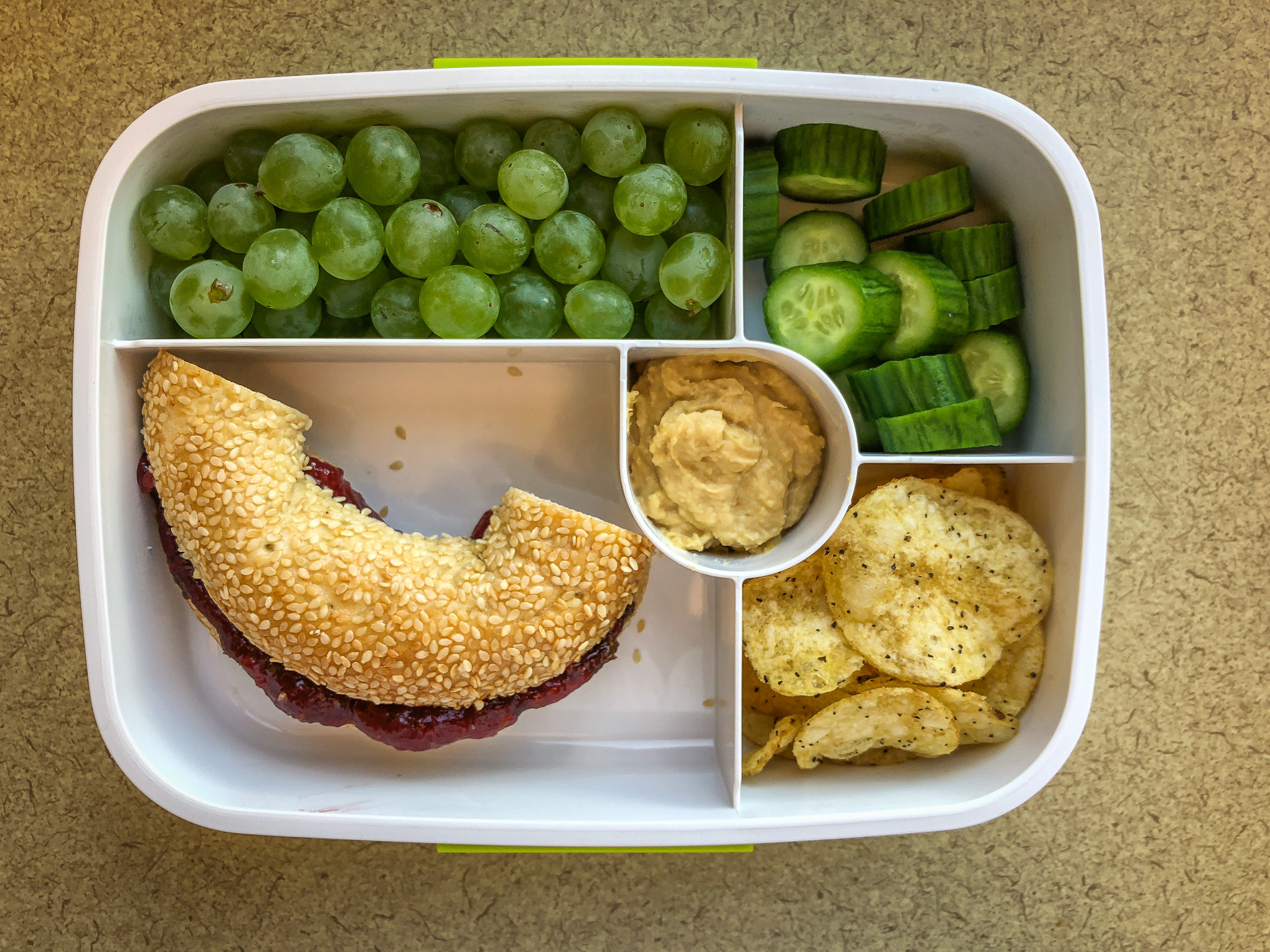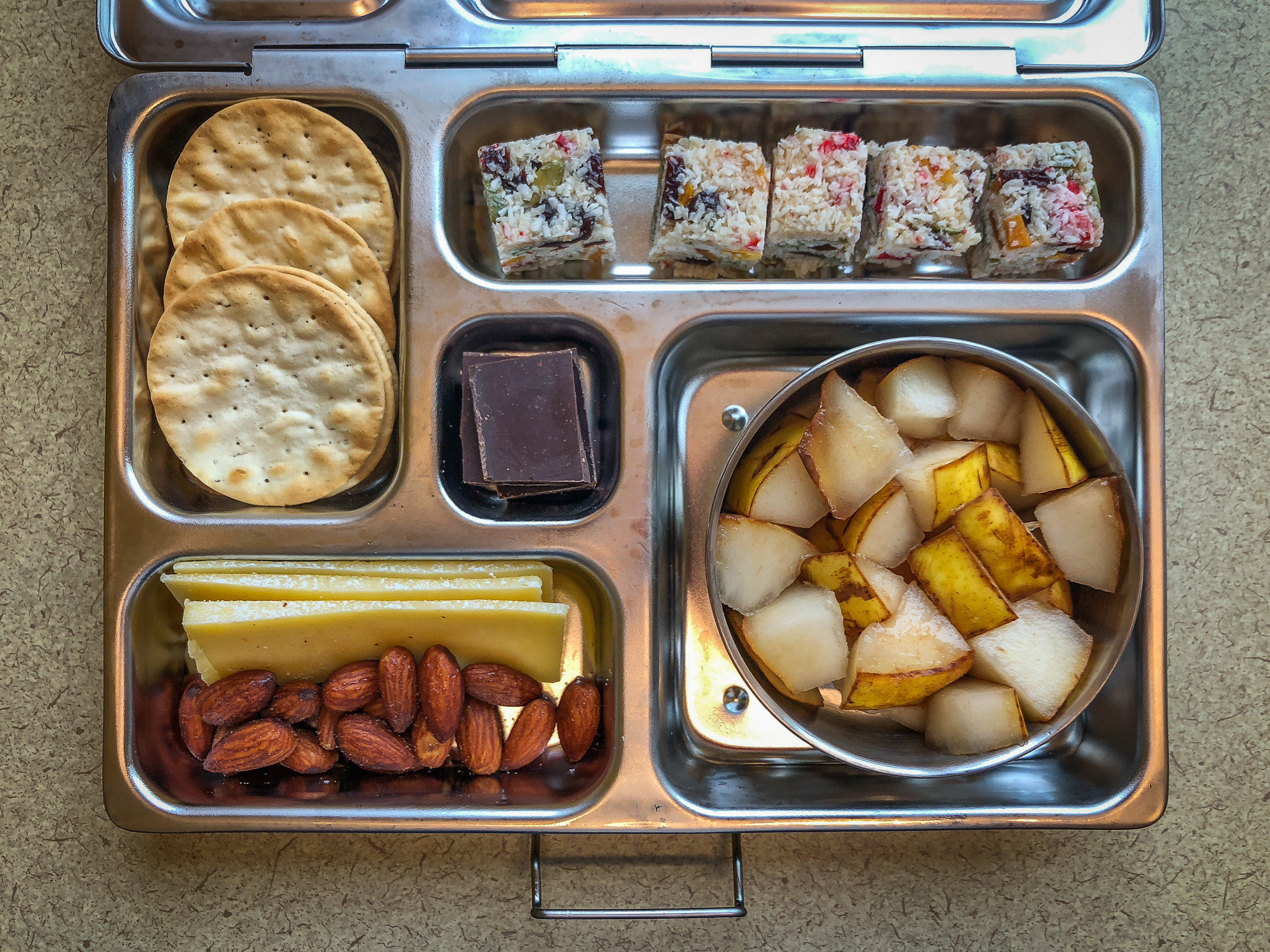 365 Organic Cracked Pepper Water Crackers
Bartlett pear
Dark chocolate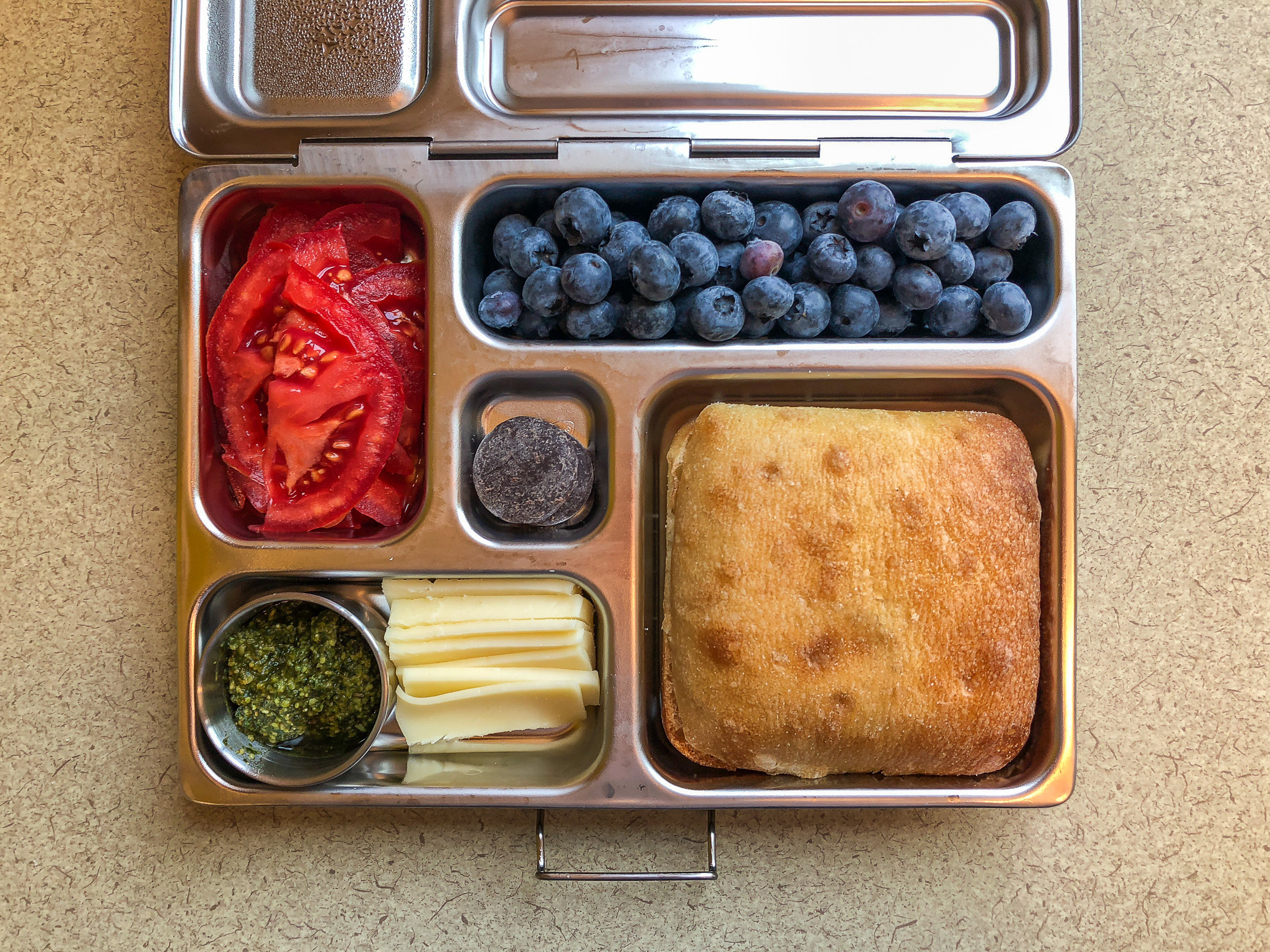 Sliced tomato
Blueberries
Ciabatta roll (which I filled with pesto, tomatoes, and mozzarella to make a sandwich)
Part skim mozzarella cheese
Homemade pesto
Dark chocolate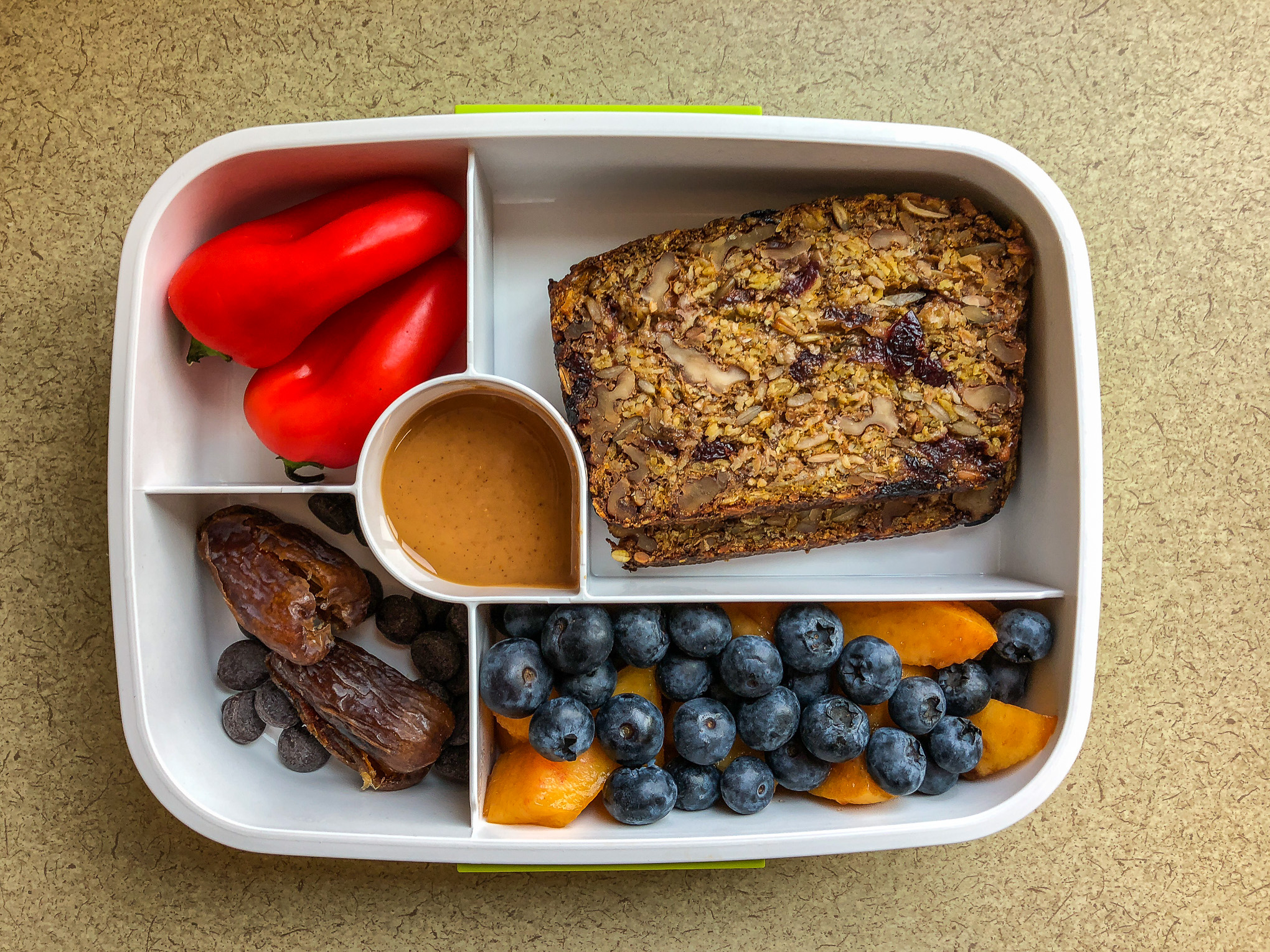 Mini peppers
Fresh peach and blueberries
Dates with 66% cacao chocolate chips
Natural peanut butter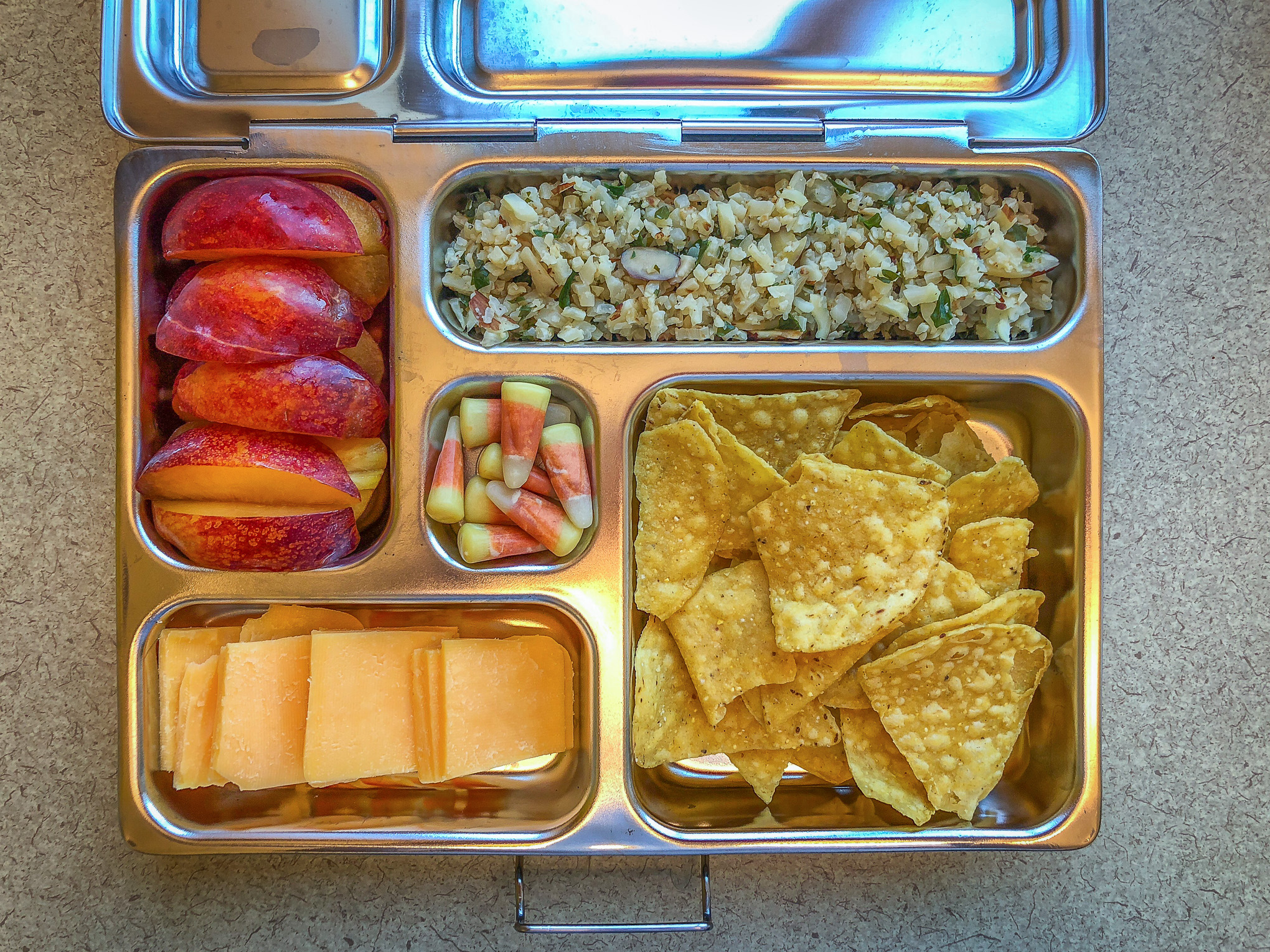 Flavor Grenade plum
Tortilla chips
Sharp cheddar cheese
YumEarth Organic Candy Corn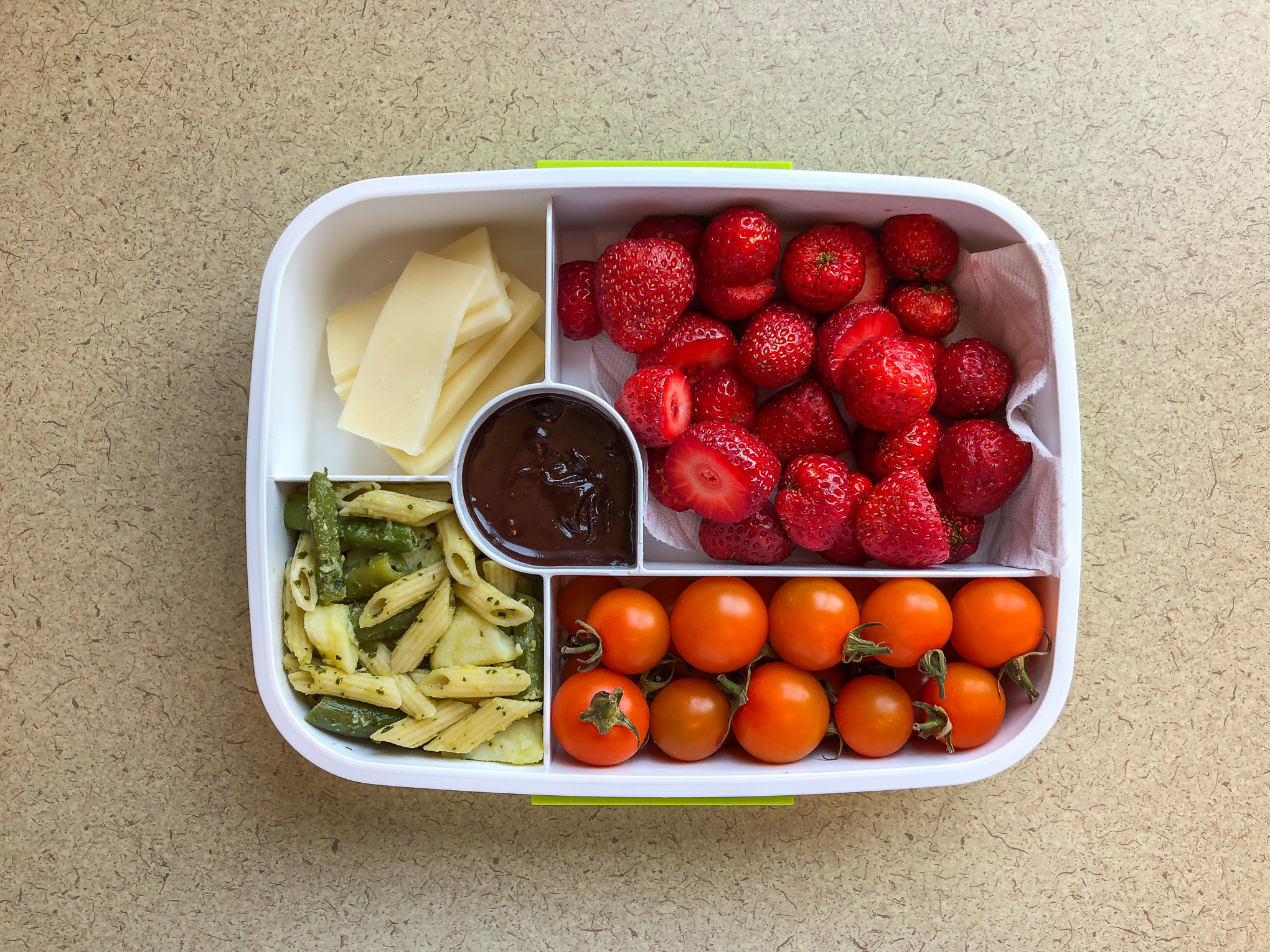 Part skim mozzarella cheese
Strawberries
Sungold cherry tomatoes
Pesto pasta salad with green beans and potatoes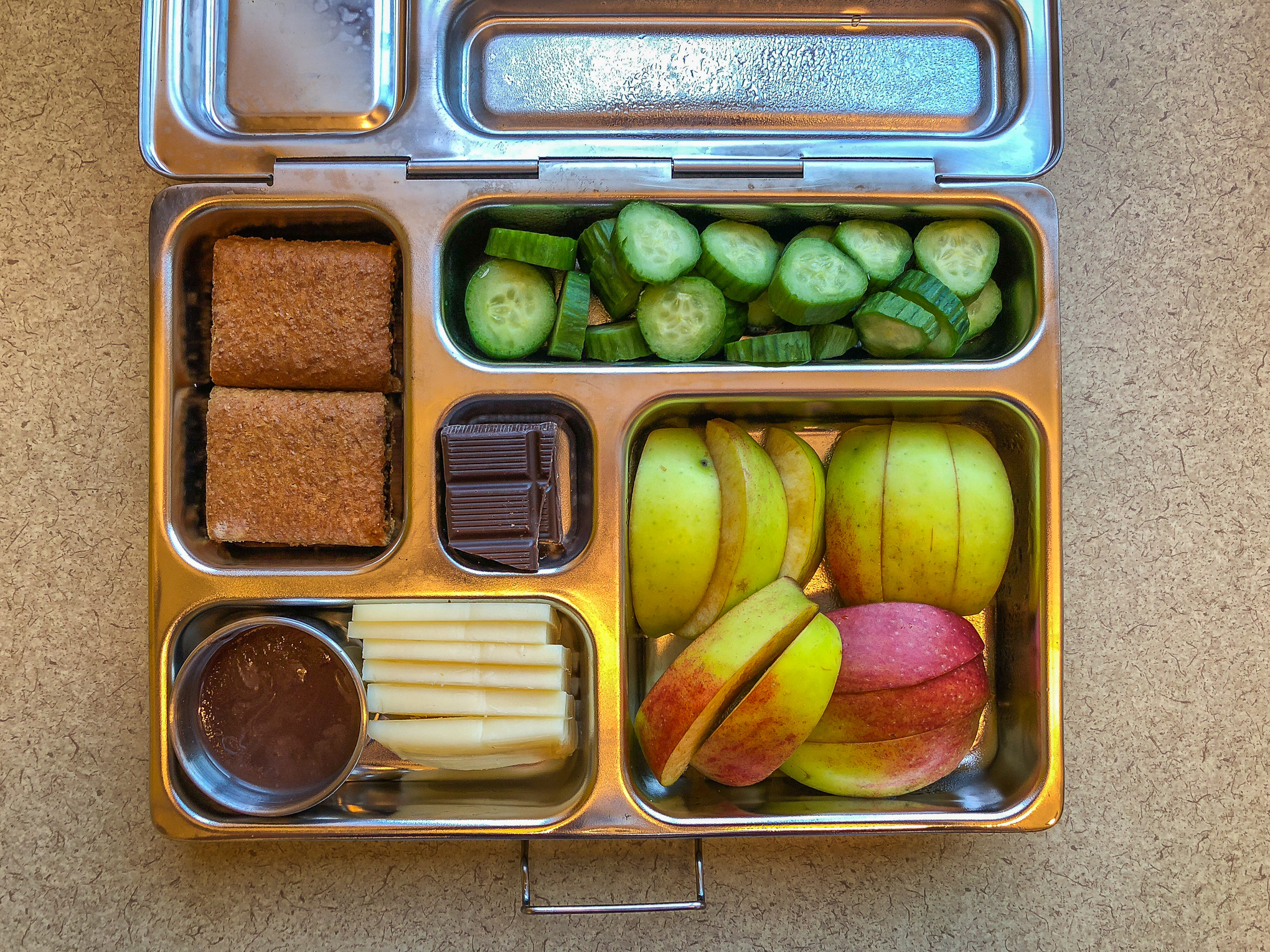 Mini cucumbers
Honeycrisp apples
Park skim mozzarella cheese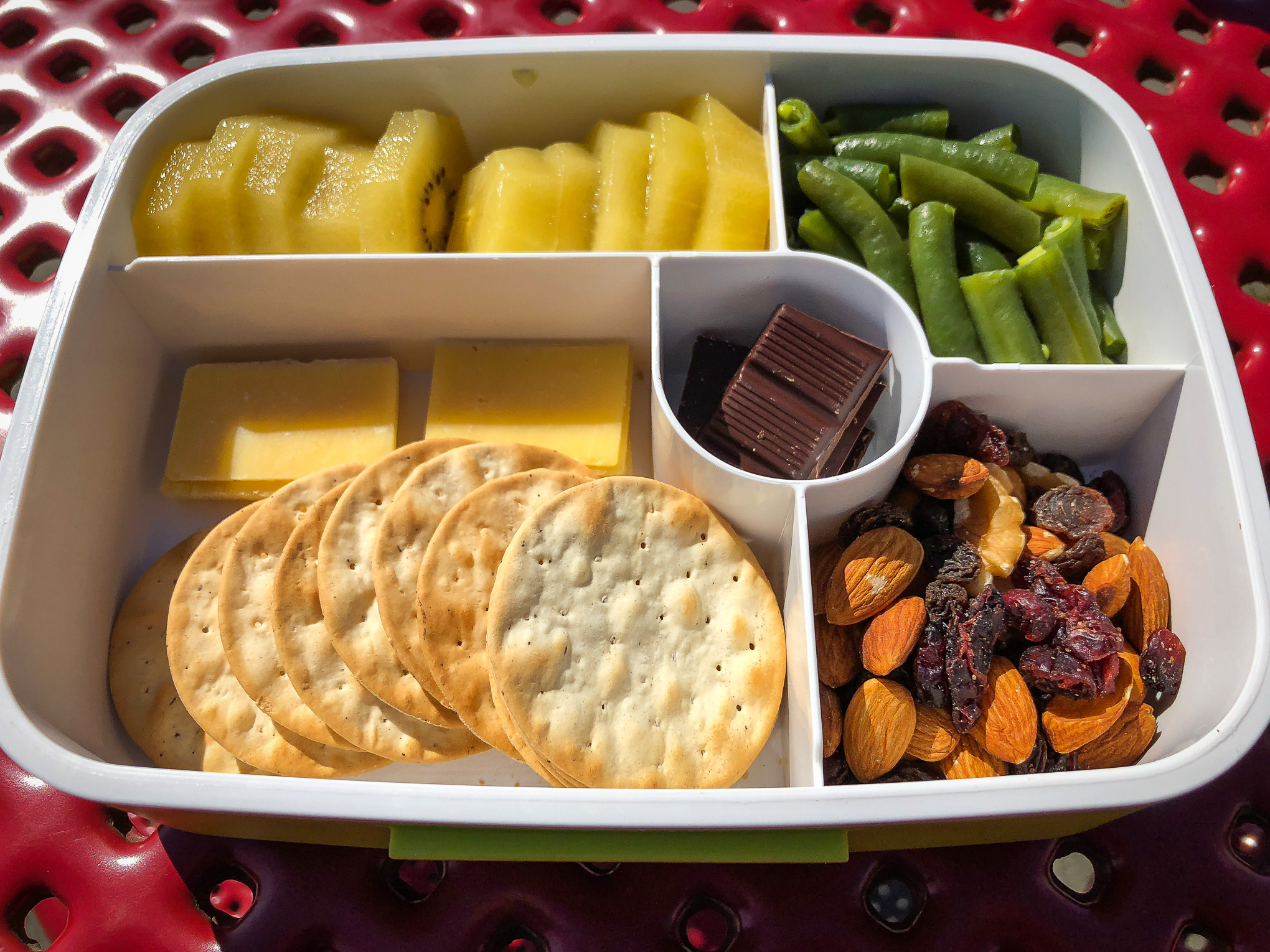 Golden kiwi
Steamed green beans 
Safeway Select Strawberry Patch Trail Mix
365 Organic Cracked Pepper Water Crackers
Dark chocolate
There you have it. 12 glorious days of lunches, neatly packed in my favorite compartmentalized traveling boxes. Just the basics. No fluff. No dietitian trying to teach you something this time in her long-winded way. Just pure, healthy, colorful food photography to (quickly) feast your eyes on. Hopefully this will help with the next task on your To Do list: making a grocery list for your own bento lunches!
If you liked this post, you may also enjoy: