I think I'm ready. After purchasing 20+ jars of chocolate-hazelnut spread over the last 3 years to review on the blog, and trying a handful of recipes for the stuff, I've gone ahead and made my own version. (You can stroll down memory lane with the 20+ jars here, here and here.)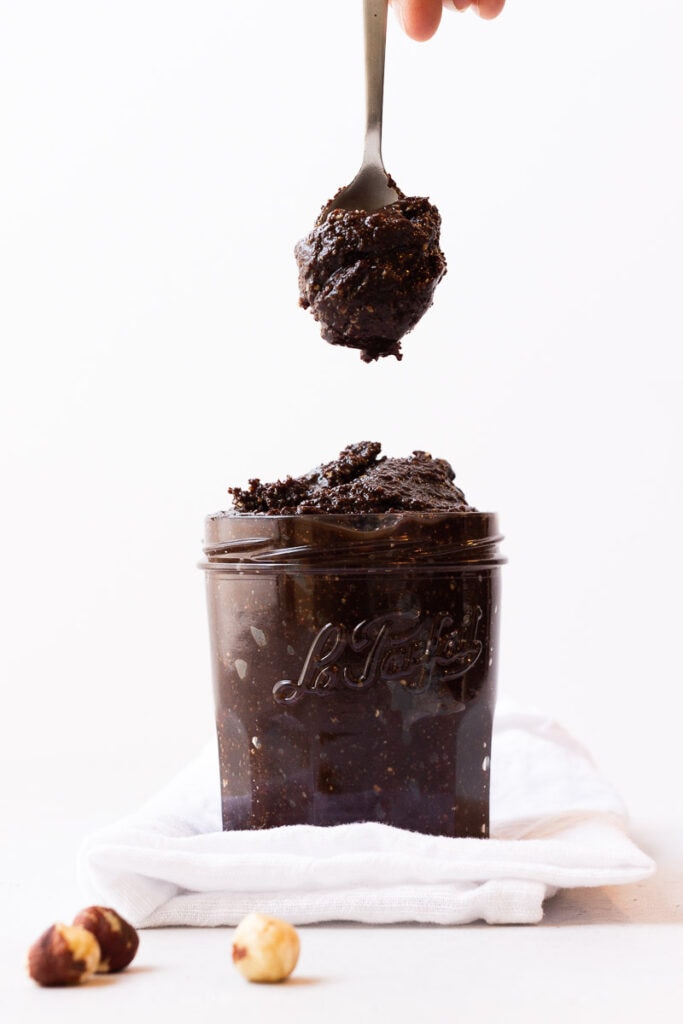 I'm lucky enough to live in a region where they actually grow hazelnuts. And I'm nerdy enough to enjoy touring farms and food factories (Bob's Red Mill, Aplets and Cotlets/Liberty Orchards, Perugina Chocolate Factory) because I have a genuine interest in seeing where food comes from and how it's made.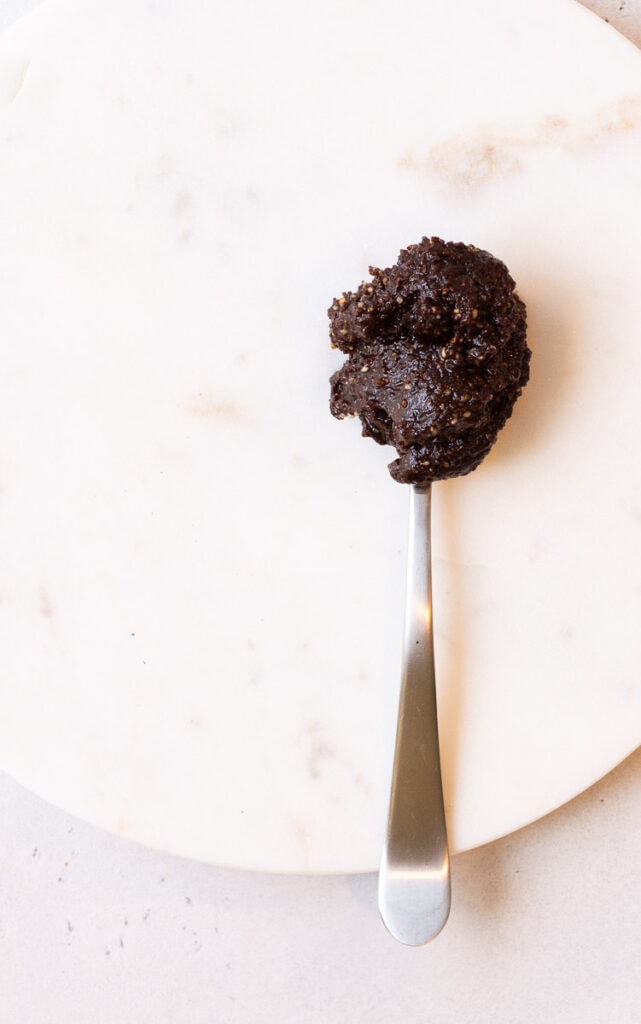 So last fall I headed to Outer County Farm to get my hazelnuts directly from the source. I chatted with farmer Mark for quite a while and came home with a ginormous bag of Butler hazelnuts.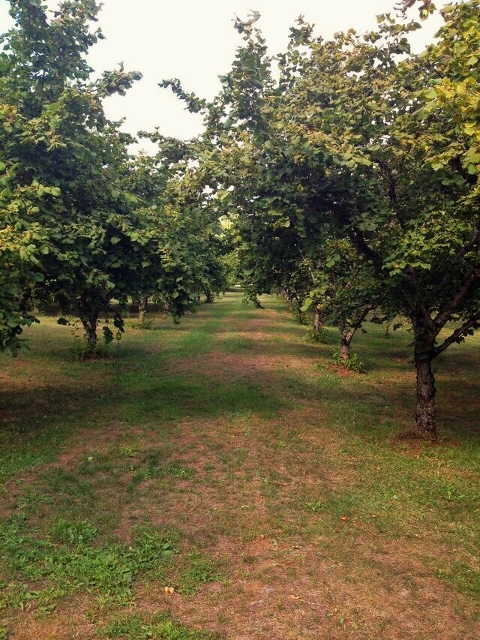 Hazelnuts, like other nuts, are pretty fantastic nutritionally. They offer:
protein
fiber
healthy monounsaturated fat
a nice allotment of minerals and vitamins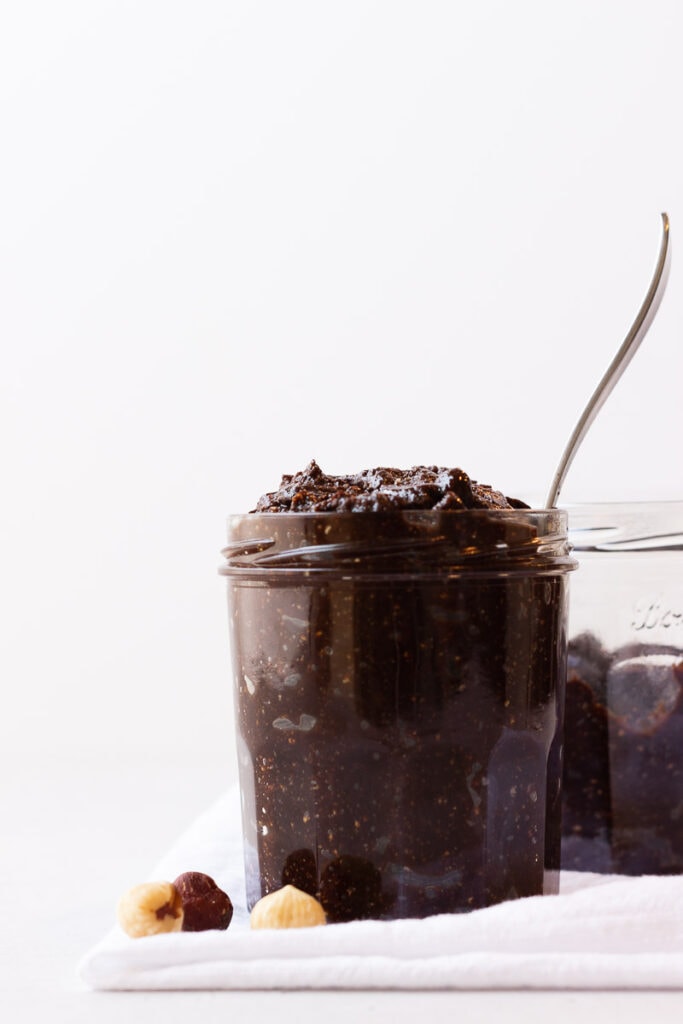 Since they're a plant food, they're cholesterol-free of course but they're also incredibly energy-dense, so just 21 crunchy nuts in your mouth gives your body about 180 calories. And while many of us were introduced to them in a sugary spread, straight-up hazelnut butter would be similar to almond or peanut butter in terms of nutrients, and while not as widely used, roasted hazelnuts are a wonderful addition to salads, granola, or trail mix.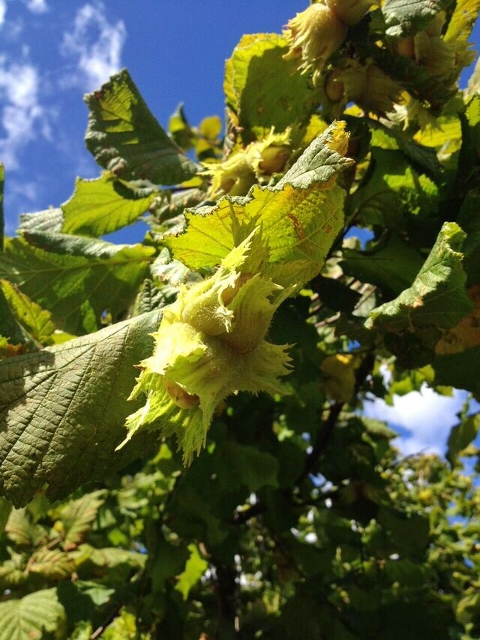 My version of America's favorite spread was inspired by the Not-Tella recipe in the Veganomicon cookbook, Charlotte Ryan's Cleantella, and Homemade Chocolate Hazelnut Spread from the Pastry Affair blog. I opted for olive oil for its outstanding nutrition profile, and because I liked it so much in the Il Colle Del Gusto spread from Italy I recently sampled and wrote about. I added dark chocolate for good measure and a little hazelnut milk to smooth things out.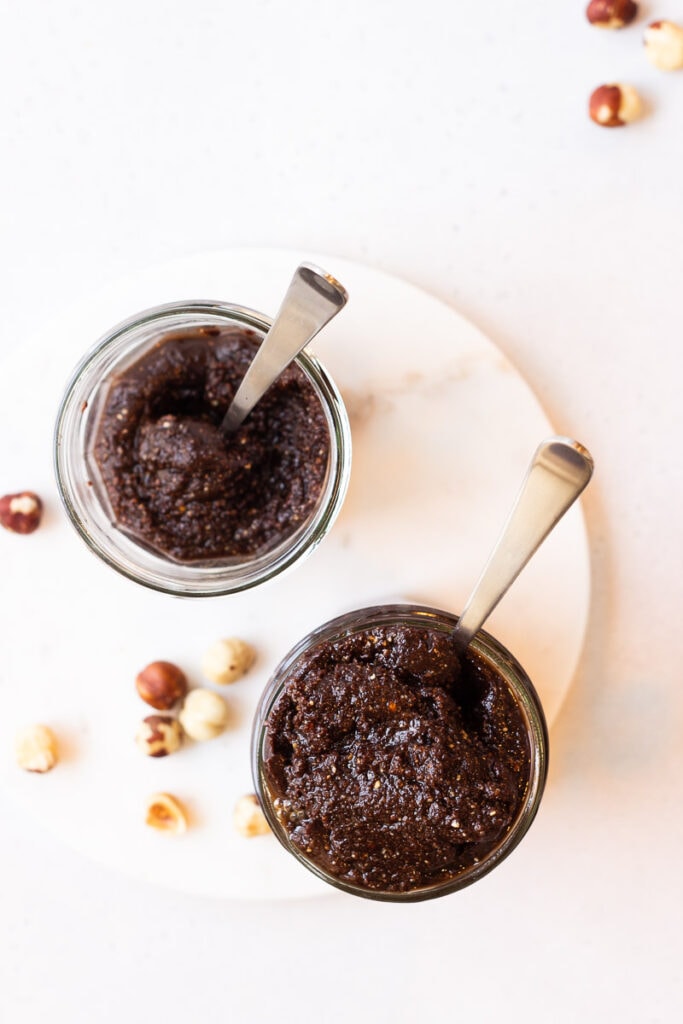 As you can tell from the photos, my chocolate-hazelnut spread is thicker and more rough around the edges than the original, but I like knowing exactly what went into it and where it came from. And I know for sure that it's a few steps in the right direction from a nutrition label perspective (since palm oil and sugar aren't the predominant ingredients).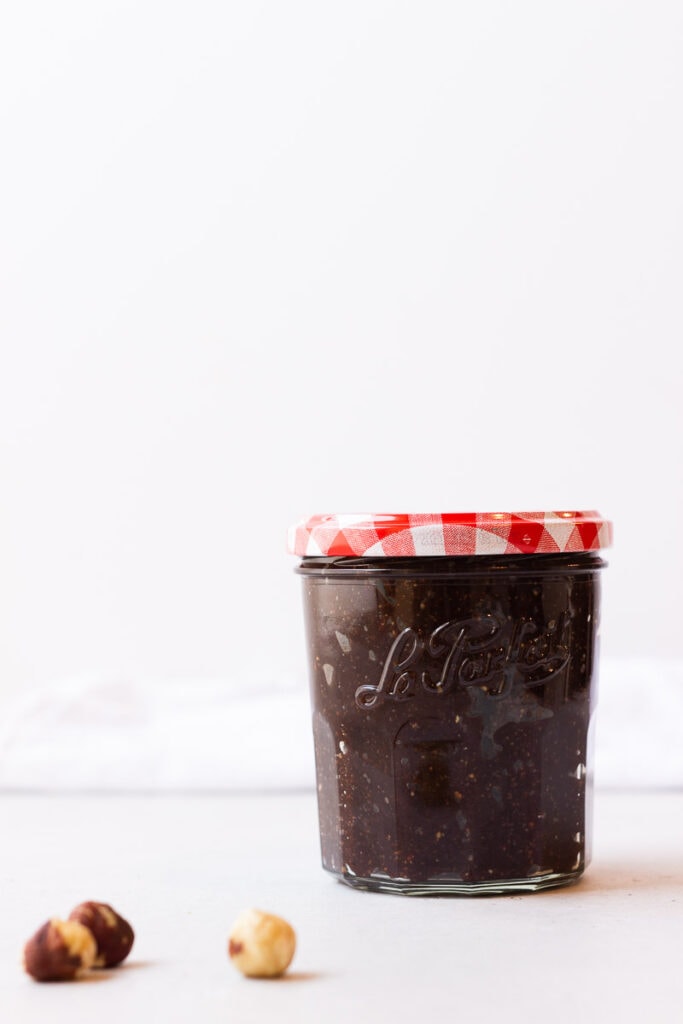 So, when you're ready for a homemade alternative to Nutella, please find your own hazelnut farmer or grocery store/mail order nut source (Look first at Trader Joe's or the bulk section of your local food co-op.) and get busy roasting, pulverizing, scraping, melting, pulsing, and spreading…and then let me know what you think. I'm hoping that having a couple of jars of my very own stuff in the fridge might cut down some spending in my Ooooooo-That-Looks-Like-A-Brand-Of-Chocolate-Hazelnut-Spread-I-Haven't-Tried-Yet-Better-Throw-It-In-The-Cart budget. We'll see.
Have you ever been inspired to make your own version of a favorite boxed, jarred, or bagged product? Is it worth the effort to have a healthier alternative on hand?
This post was originally published in 2015. It has been updated with new photos and recipe tweaks in October 2022.
Print
Homemade Nutella with Olive Oil and Dark Chocolate
After trying countless homemade and jarred spreads, I'm finally ready to make my own. Instant coffee and olive oil may not be in the original, but they pump up the chocolate and hazelnut flavors and make for a nice spreadable consistency.
Author:
Prep Time:

10 mins

Cook Time:

10 mins

Total Time:

20 mins

Yield:

2 cups

, or

16

servings of 2 tablespoons each

1

x
Ingredients
2 cups

shelled and skinned hazelnuts (see notes below)

2 tablespoons

extra virgin olive oil

2 ounces

dark chocolate (66% cacao) chips, discs or drops (about

1/3 cup

)

7 tablespoons

hazelnut milk, or other plant milk like soy or oat

1/4 cup

good quality cocoa powder (I like Dagoba or TCHO)

3/4 cup

powdered sugar

1 1/2 teaspoons

vanilla extract

1 teaspoon

instant coffee powder or granules

1/4 teaspoon

salt
Instructions
Preheat oven to 300 degrees. Roast hazelnuts for 9-11 minutes, shaking the pan once or twice during roasting, or until fragrant.
Once cool, whiz nuts in the food processor, stopping occasionally to scrape down the sides. For me this takes anywhere from 3 to 7 minutes. Sometimes I get to the nut butter stage no problem, but other times I only get tiny pulverized crumbs of nuts. Ideally, it will let you know it's ready for the next step by balling up and clinging together around the blade.
Put olive oil and chocolate in a small bowl and microwave 15 seconds at a time until melted, stirring in between, for about 45-60 seconds altogether. Add this to hazelnuts and pulse a couple of times.
Add remaining ingredients (hazelnut milk through salt) and pulse until incorporated and spreadable. You can try adding 3 to 4 tablespoons of milk first, and then adjusting as needed to get the texture you'd like. Once everything is blended in, it should be glossy and spreadable.
Spread and scoop to your heart's delight. Store in the refrigerator.
Notes
I followed Charlotte Ryan's instructions for skinning the hazelnuts. You can watch the charming video here: https://www.youtube.com/watch?v=fXKeK0yT4_I
To save yourself a step you can buy roasted unsalted hazelnuts. I find these most reliably at Trader Joe's.
If you have a favorite dark chocolate bar on hand, just coarsely chop it and use as a replacement for the chocolate chips.
Nutrition
Serving Size:

2 tablespoons

Calories:

170

Sugar:

8 g

Sodium:

40 mg

Fat:

13 g

Saturated Fat:

1.5 g

Carbohydrates:

12 g

Fiber:

2 g

Protein:

3 g

Cholesterol:

0 mg
If you liked this post, you may also enjoy: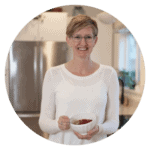 Kristine Duncan, Registered Dietitian
I'm a Registered Dietitian, the author of Veg Girl RD, and a vegetarian who loves to eat. I'm a nutrition nerd who teaches at the University of Washington and Skagit Valley College. I also write about nutrition professionally for magazines and books. If you want to know more, check out my About page.