I've got a thing about jars. Ball, Kerr, pint, jelly, quart, half-pint, regular mouth, wide mouth;  I love them all. I'm not sure how something so boring can make me so happy, but such is the life of a food nerd. Maybe it's the possibilities of what could go in them. Of course, my favorite activity is using them for their intended purpose and actually canning cinnamon applesauce or raspberry-rhubarb jam. But, they're so handy for other things, too, like mixing homemade salad dressing or storing leftover pancake batter. And, I just discovered a very practical way to use them for a portable morning meal:  breakfast in a jar.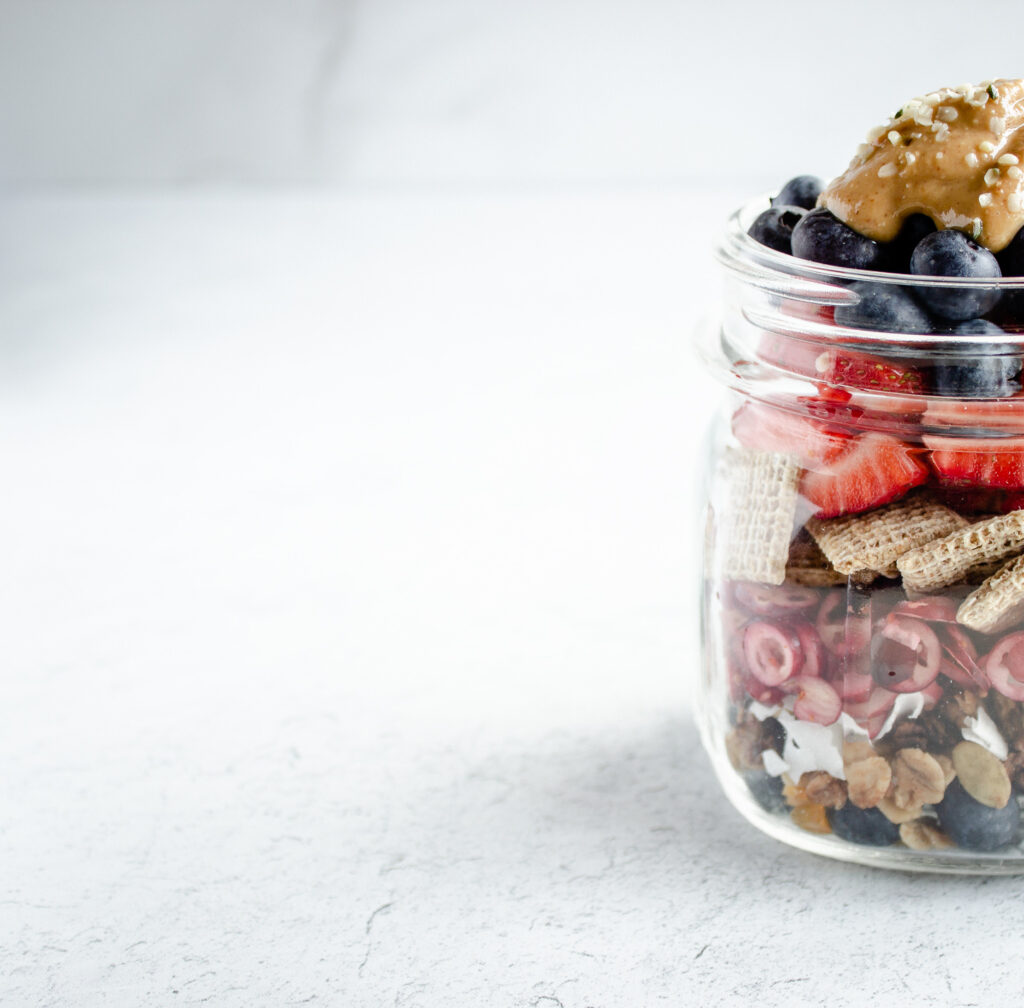 At a recent conference, the Chobani yogurt people thrilled the food-crazed attendees by offering up a build-your-own-breakfast-parfait buffet. (Again, the simplicity of the idea pales in comparison to the enthusiasm it generated.) You start with an empty jar, make your way through their delightful assortment of "fillings" and layer yourself a breakfast. Then, screw on the cap, grab a spoon and you've got a portable, potentially healthy meal or snack that you can take with you.
Some yummy ideas:
– Strawberries, raspberries, blackberries, or blueberries
– Diced kiwi, apple, banana, pear, or peach
– Granola
– Cut up pieces of leftover pancake, waffle, or muffin
– Sliced or chopped almonds, pecans, or walnuts
– Ready-to-eat or "cold" cereal (preferably whole grain)
– Shredded or flaked coconut (preferably unsweetened)
– Raisins, currants, or other dried fruit
– Crumbled rice cakes or graham crackers (preferably whole grain)
– Dairy, soy, or coconut milk yogurt
– Honey
– Lemon or lime juice
– All-fruit jam or apple butter
– Peanut butter, almond butter, or chocolate-hazelnut spread
– Wheat germ, hemp seed, chia seed, or flax seed
Of course, if you aren't going to eat it within an hour or so, you should most definitely refrigerate it or toss it in an insulated lunch bag with an ice pack. And, for calorie control, you'd want to go heavy on the fresh fruits, yogurt, and ready-to-eat cereals, and light on most of the other toppings.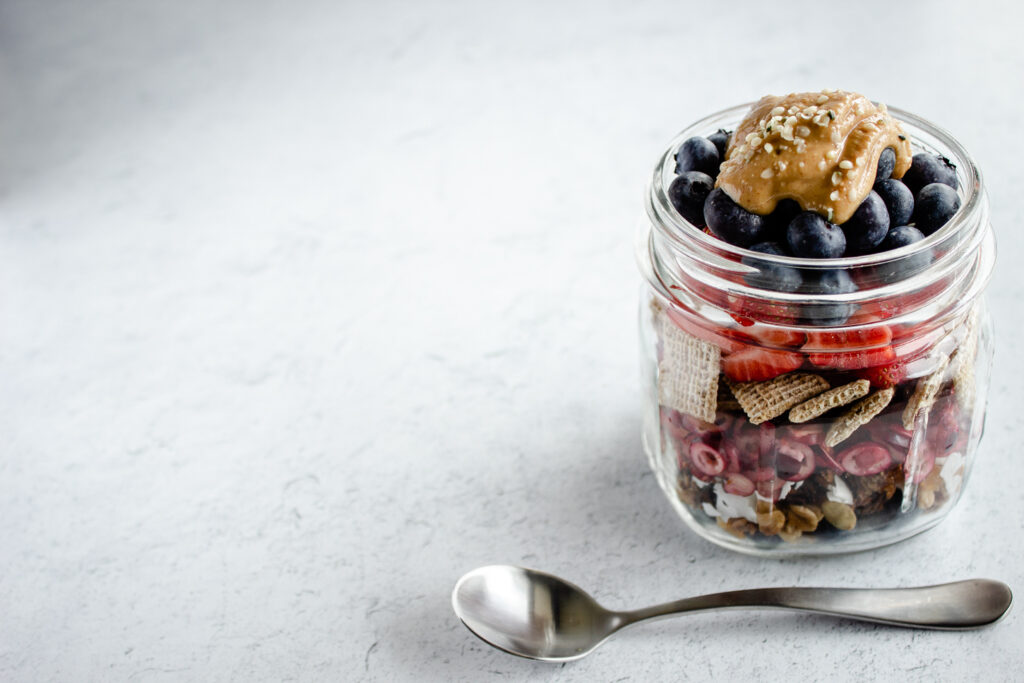 This fun idea just proves how terribly handy empty jars are to have around, and my search for interesting glass cylindrical containers continues. Reluctantly, I bought a gallon behemoth of a jar. I haven't found a use for it yet, but it makes me feel better knowing it's in the pantry, available at any moment.
What's your favorite way to fill up a jar?
If you liked this post, you may also enjoy: