Are you looking for a creamy, dessert-like breakfast that's easy to pull together and just happens to be good for you? Are you a lover of black tea, specifically the quintessentially British Earl Grey? Then this tea-infused chia pudding recipe is worth a try. You can prep it once and be set for several days worth of protein-rich, fiber-filled morning meals. It's so versatile, this Earl Grey pudding is the perfect base for your favorite fruit or other yummy toppings.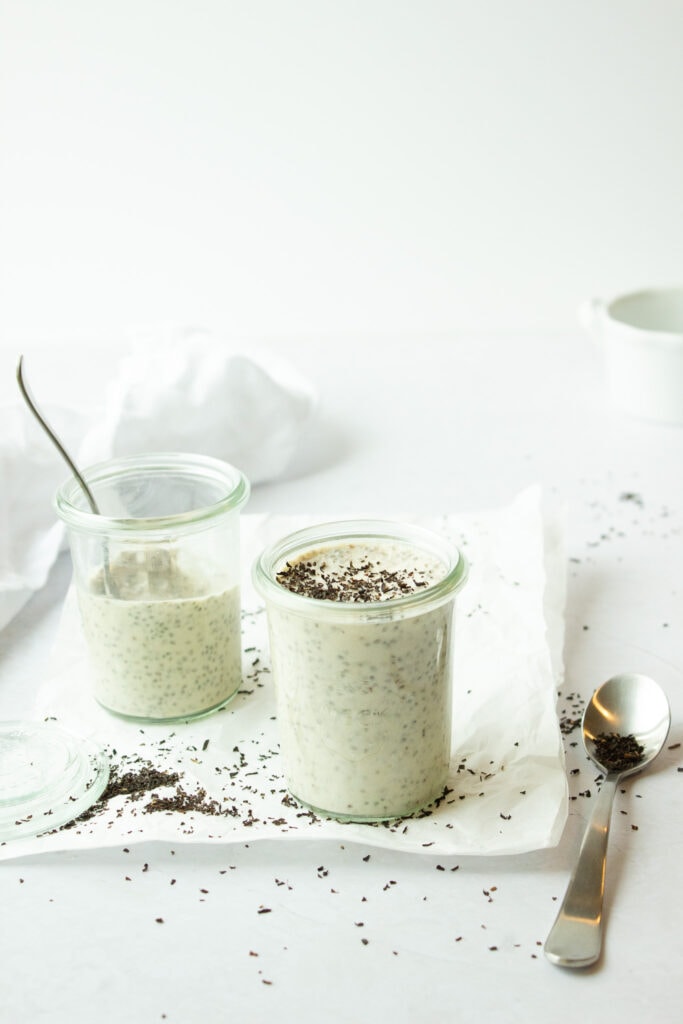 Have you seen a London Fog Latte on your favorite coffee house menu? That's the inspiration for this recipe. It's basically a latte made with tea instead of coffee, steamed milk, and a hint of vanilla.
In case the ideas of (1) eating chia seeds or (2) having pudding for breakfast are new to you, I've answered some common questions below: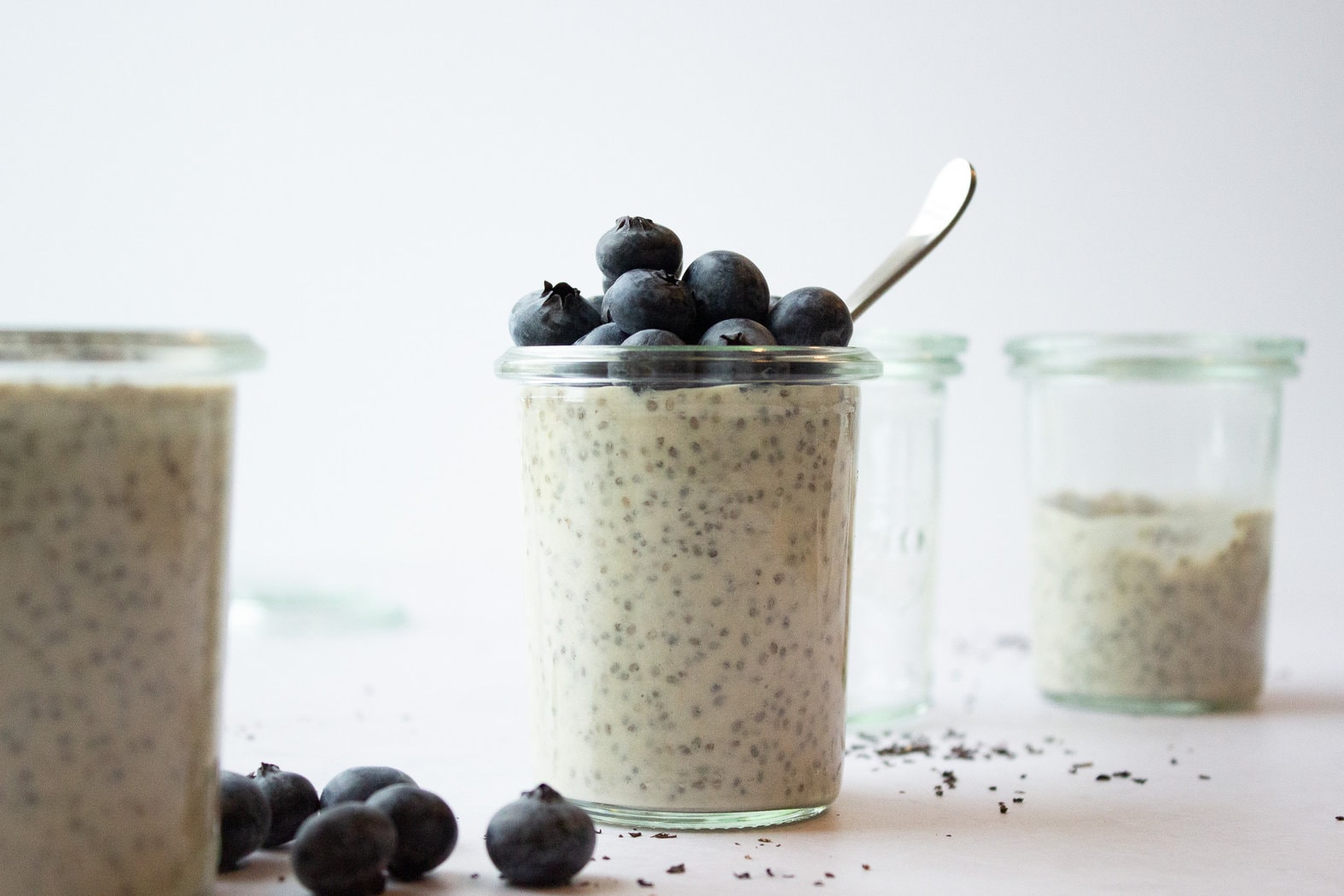 How do I make chia pudding?
It's really straightforward and you don't need to do anything harder than boil water and steep tea. Basically, you:
Make a creamy tea-infused base from coconut cream, cashews and soymilk.
Stir in chia seeds.
Give it some time to set up.
You can portion it into individual containers like I did (Weck 760 Mini Mold Jars) or just pop it in the fridge in one larger serving container.
What ingredients do I need to make chia pudding?
Raw cashews:
When soaked in hot water, cashews can be blended into a silky cream that rounds out the texture of the pudding and boosts the nutrition. Including nuts in your diet regularly is encouraged, as they add healthy fats, fiber, and important minerals.
Plain soymilk:
I used soymilk because it has more protein that most other non-dairy milks like almond milk or oat milk, but I think you could likely substitute you favorite milk and get good results.
Earl Grey tea bags:
I chose Numi Organic Aged Earl Grey tea bags, but feel free to use your favorite brand of Earl Grey.
Canned coconut cream:
This is different than canned coconut milk. It's got more of the solid coconut cream and less of the liquid in traditional cans of coconut milk. It's a beautifully creamy base for the pudding and gives it a luxurious mouthfeel. My favorite brand is from Whole Foods but you can find it at most grocery stores, including Trader Joe's.
Vanilla extract:
This is traditional ingredient in a London Fog Latte and it lends a smooth flavor to the pudding.
Salt:
You don't need much, but it brightens up the other flavors for your tongue.
Maple syrup:
I use real maple syrup, not imitation. I haven't tried the recipe with honey but my guess is it would work just fine.
Chia seed:
These used to be harder to find, but now they're available everywhere. You can even find them in giant bags at Costco, so you know they've gone mainstream. If you only want a small amount for this recipe, check your store's bulk section.
How long does chia pudding take to set up?
It depends, but usually only 1 to 2 hours, or you can just leave it overnight.
Is Earl Grey Chia Pudding a healthy breakfast?
Yes! I primarily chose the coconut cream to give a rich creaminess and mouthfeel. From there I added nutrient-dense ingredients like cashews and soymilk to boost the overall protein content, and the chia seeds are a wonderful source of fiber and omega-3 fatty acids. This recipe even provides 20% of the daily value for calcium.
One quick note: many of us are used to having caffeine in the morning, but it typically comes from our beverages, not food. As you're building your morning meal, keep in mind that one serving of this chia pudding has about 1 tea bag worth of caffeine, or about 50 mg.
For most people, the FDA has set an upper limit of 400 mg/day but if you're sensitive to caffeine or pregnant or taking certain medications, you likely want far less than this, or none.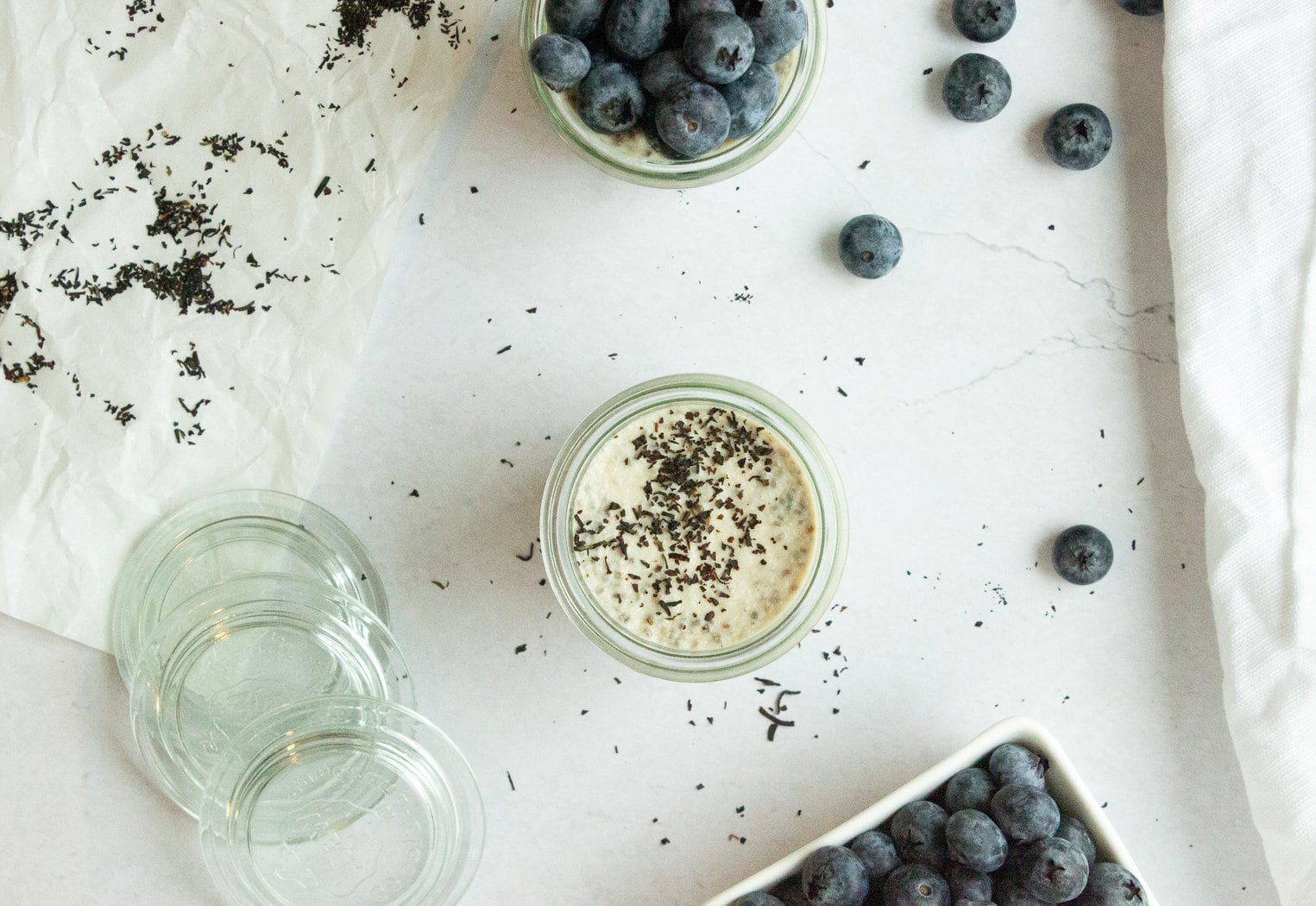 Is this chia pudding recipe vegan?
Yes! All of the ingredients are plant foods.
How strong is the Earl Grey tea flavor?
It's mild and pleasant, but not overpowering. One of the characteristics people like about the experience of drinking black or green tea is the astringency. It creates kind of a drying sensation on the tongue that's enjoyable, and I get that same feeling from this London Fog Latte-inspired pudding. I used 4 tea bags. If you wanted a stronger overall kick from tea, you could use more tea bags which would infuse the milk with more flavor.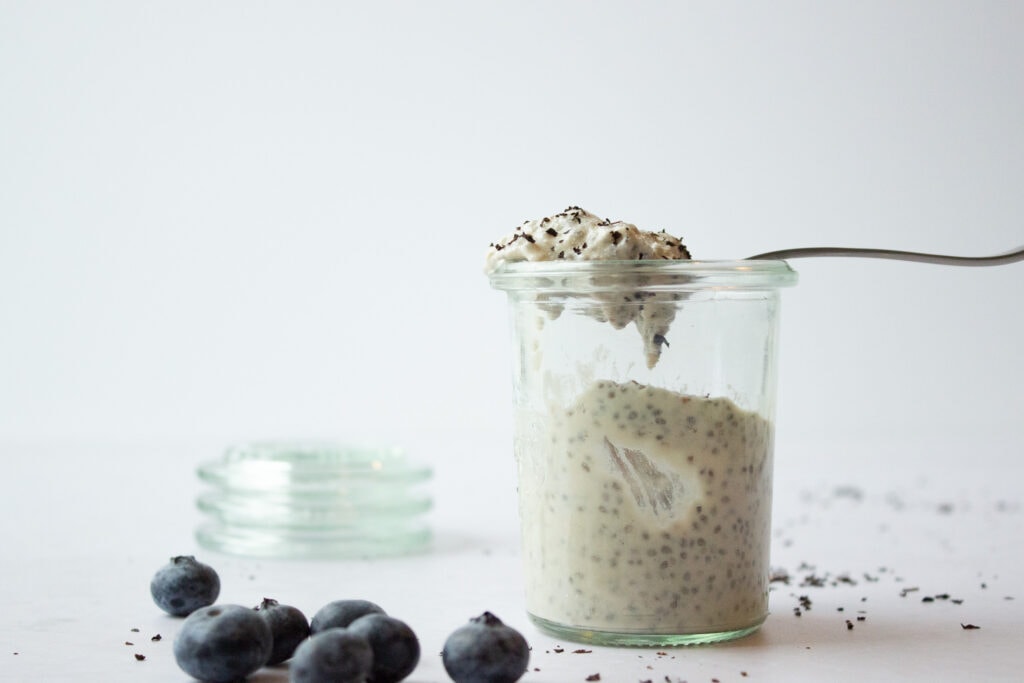 Could I use a different kind of tea for this recipe?
I didn't test out any teas besides Earl Grey but I think it's an adaptable recipe. The other ingredients basically provide a white creamy canvas to build flavors on top of. I would think matcha or your favorite black tea could easily stand in for the Earl Grey in this recipe.
What's the serving size for this chia pudding?
The recipe makes 3 servings of 2/3 cup each, but that's easily adjustable depending on your appetite. I find it to be so rich, that I don't need a larger portion for a satisfying breakfast. Also, this recipe is easily doubled, so you can make 6 servings at a time to keep you fed for a whole week.
What kind of toppings can I add?
It's completely up to you. My favorite are blueberries or strawberries, shredded coconut, and mini dairy-free chocolate chips.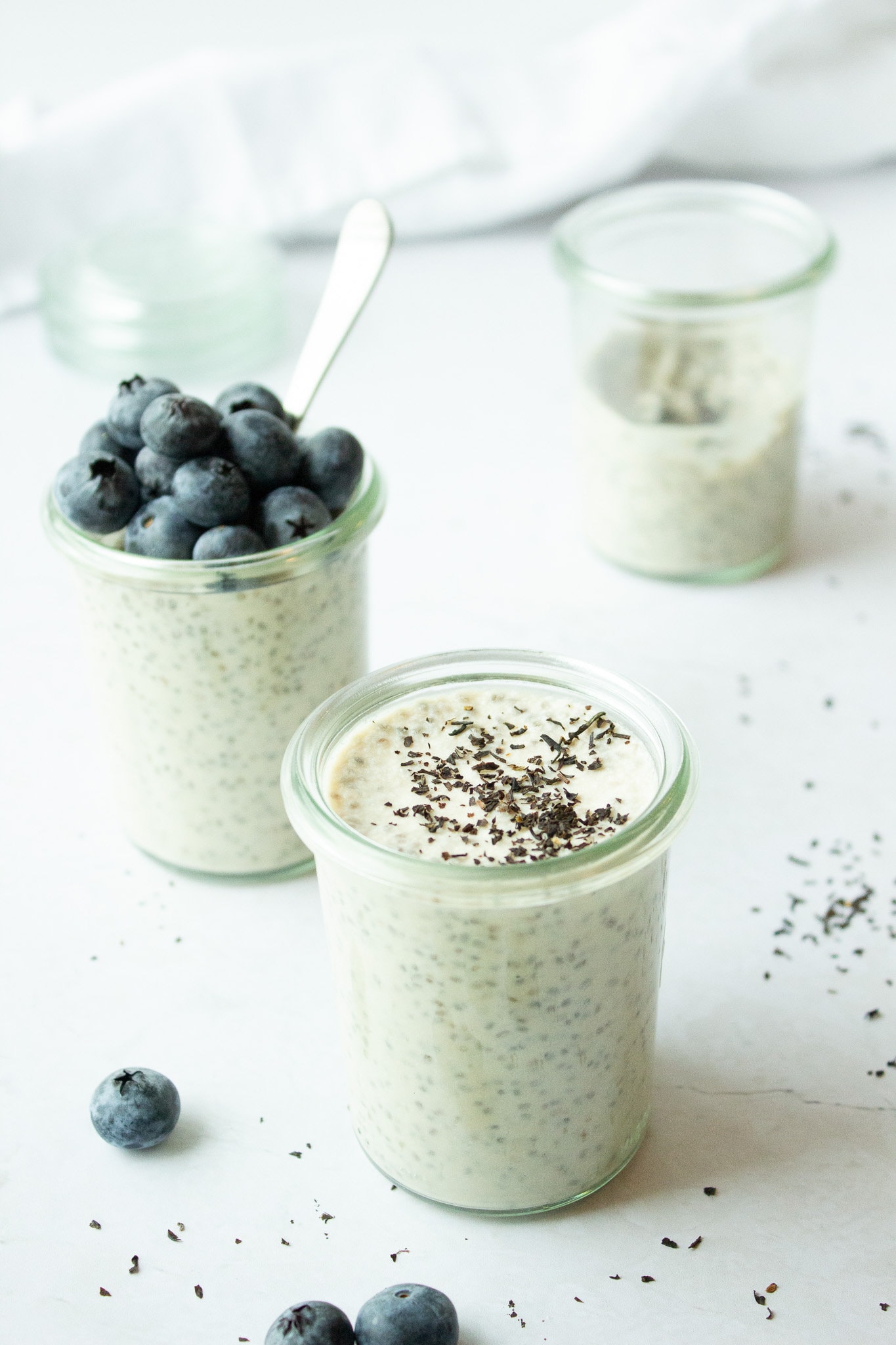 Print
Earl Grey Chia Pudding
Creamy, dessert-like breakfast that's actually healthy for you!
Author:
Prep Time:

10

Hands-off waiting time:

2 hours

Cook Time:

5 minutes

Total Time:

2 hours 15 minutes

Yield:

3

1

x
Category:

Breakfast
Ingredients
6 tablespoons raw unsalted cashews, soaked in boiling water for 1 hour, and drained
1 cup plain soymilk or your favorite milk
4 Earl Grey tea bags
1/2 cup canned coconut cream
3/4 teaspoon vanilla extract
1/8 teaspoon salt
2 tablespoons maple syrup
1/4 cup chia seeds for a firmer pudding, or 3 tablespoons for a softer pudding
Instructions
Get the cashews soaking by covering them in boiling water. Set aside for 1 hour.
Heat soymilk in small saucepan over medium or medium-high heat until just below boiling, about 200 degrees if you're using a thermometer. Remove from heat, add tea bags and steep for 4 to 5 minutes. Before you remove the tea bags press carefully (they'll be hot) with a spoon against the side of the pan to extract as much flavor as you can. Set tea-infused milk aside to cool for 15 minutes while you gather the rest of the ingredients.
In a small blender (I use a NutriBullet) combine coconut cream, drained cashews, tea-infused milk, vanilla extract, salt, and maple syrup. Alternately you could put these ingredients in a straight-sided liquid measuring cup or tall bowl and use an immersion blender.
Blend until very smooth. I find it works best if you blend for 20-30 seconds, let it sit for a minute or two, and blend again.
Stir in (don't blend in) chia seeds. Let sit for a few minutes before portioning or storing and stir gently as needed to make sure the seeds don't all fall to the bottom.
Divide among 3 individual containers or pour into one larger container and refrigerate 1-2 hours until firm, or overnight.
Serve with your favorite toppings.
Notes
Inspired by Vegan Richa's Vegan Lemon Pudding: https://www.veganricha.com/lemon-pudding/
Nutrition
Serving Size:

2/3 cup

Calories:

320 calories

Sugar:

11 g

Sodium:

130 mg

Fat:

21 g

Saturated Fat:

10 g

Trans Fat:

0 g

Carbohydrates:

27 g

Fiber:

7 g

Protein:

8 g

Cholesterol:

0 mg
Keywords: chia pudding, chia pudding with milk, london fog chia pudding recipe, earl grey chia pudding healthy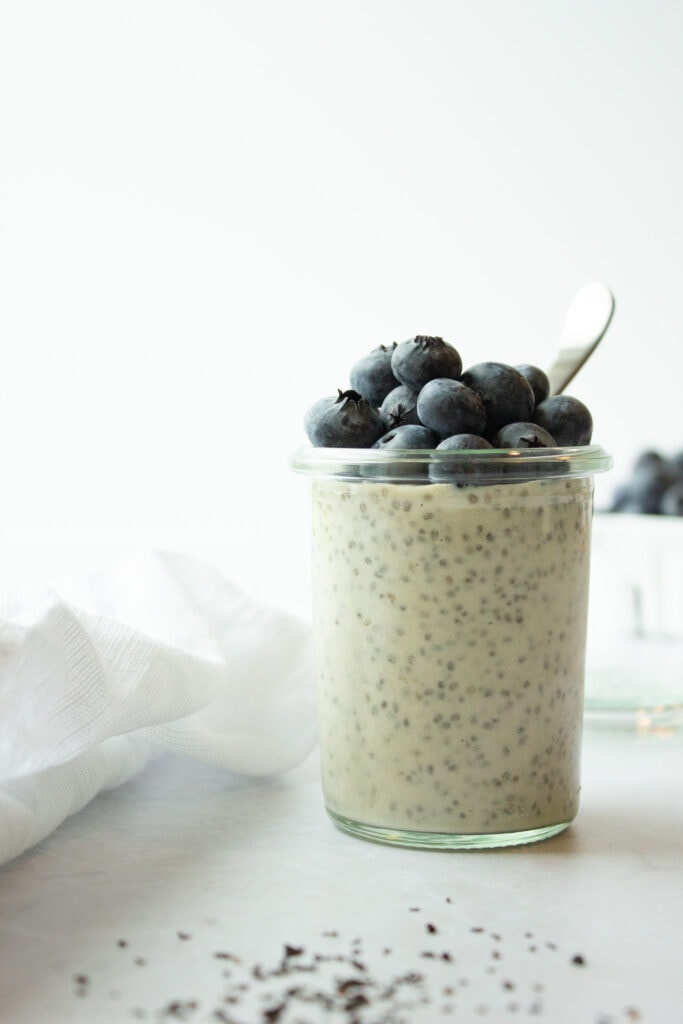 If you liked this post, you may also enjoy: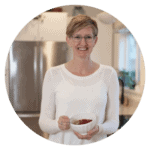 Kristine Duncan, Registered Dietitian
I'm a Registered Dietitian, the author of Veg Girl RD, and a vegetarian who loves to eat. I'm a nutrition nerd who teaches at the University of Washington and Skagit Valley College. I also write about nutrition professionally for magazines and books. If you want to know more, check out my About page.