My favorite bento lunch box has been getting a lot of use lately. Every day, in fact. You could call it a healthy habit, or a rut. I've nattered on about the benefits of this lunchtime strategy in previous posts (here, here and here), so I'll spare you the soapbox this time. Today I simply have 6 more compartmentalized rectangles to share with you, filled up with all manner of fruit, vegetable, and assorted summer snacks.
Glo Bar Bento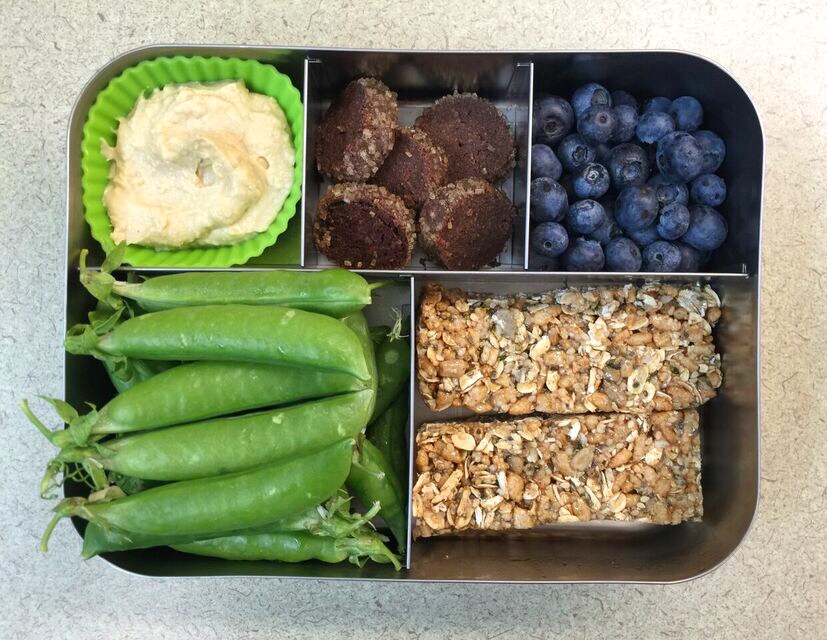 Top Row:
Bottom Row:
If you're a fan of the Oh She Glows blog (and you should be) you might know that she came out with a wildly successful cookbook a couple of years ago. It's been on my wish list for a while and I received it as a gift for my birthday a few months ago. One of the first recipes I made was her famous Classic Glo Bar granola bar, which was the basis (the inspiration?) for this bento.
I should take a moment to sing the praises of the Breadfarm, while we're at it, who is directly responsible for one of the smaller squares in this bento. First of all, coolest name for a bakery ever, am I right? See those tiny brown circles, with sugar on the edges…those are cocoa nib shortbreads….and my bento dessert for the day. The Breadfarm is sort of local for me. It's one of what feels like four businesses total in Edison, a tiny town (population 133) that hugs exactly two S-curves of Farm to Market Road in northwestern Washington. Their bread is what brings people through their old, bangy wooden screen door and into the fresh-baked aroma of the place, but their shortbread is worth a taste too.
Salt and Pepper Tofu Bento
Top Row:
Bottom Row:
Seems like there's always leftover tofu in our refrigerator, and it makes a perfect, sturdy protein to pack in a lunch. Luckily, it tastes just as good cold as warm, especially when you dip it in peanut sauce.
In a hurry on the morning when constructing this bento, I haphazardly tossed together plain raw almonds and some sweetened coconut strips. It turned out to be a surprisingly pleasing combo that I've repeated several times since.
Mango Energy Bites Bento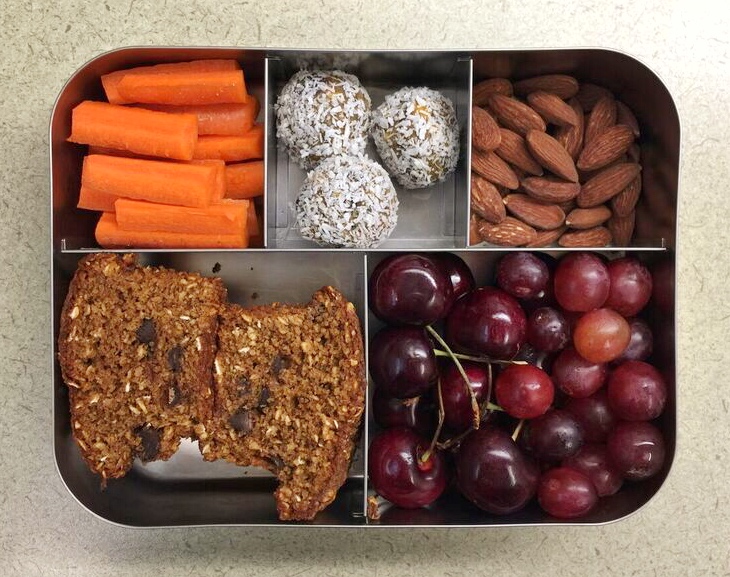 Top Row:
Carrot sticks
Tamari almonds
Bottom Row:
Probably the two noteworthy items in this bento are the Mango Energy Bites and the Flax4Life muffin. (I'm pretty sure you don't need me to explain any interesting details about carrot sticks or grapes.) The energy bites were super easy to make and I just happened to have all the ingredients on hand, which was rather convenient.
On this morning, I had all the other little squares already accounted for except one large one. I stood in the kitchen, immobile, for several minutes trying to come up with something to fill the 3.5 x 4-inch void. I saw the muffins on the counter, but then had to debate with myself a little while about whether a muffin was lunch food. Because of my desire to complete tasks and my disinterest in finding something that actually needing preparation, I muffined it. When noontime rolled around I was quite satisfied. FYI – muffins are a dandy lunch food.
Chocolate and Almonds Bento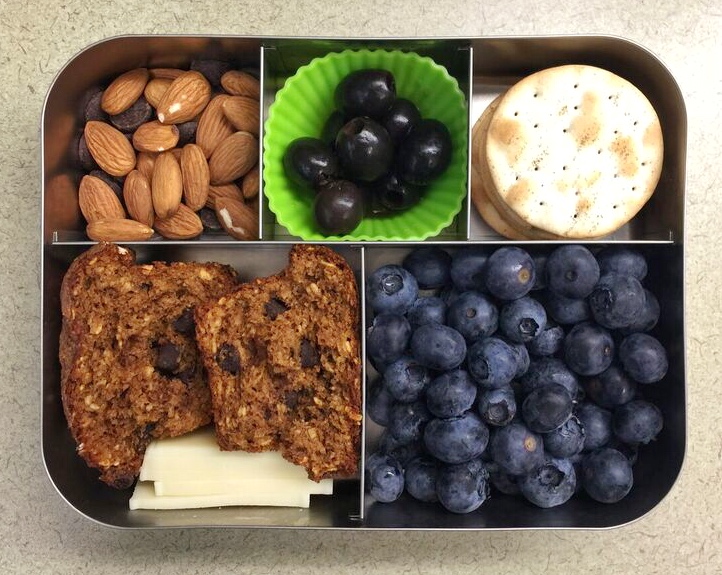 Top Row:
Black olives
Water crackers
Bottom Row:
OK, now we're starting to repeat. I'm not just in a rut with the bento box, I'm apparently in a rut with my filler-inners too. For this one I'll just say the almonds and chocolate chips taste wonderful together and completely satisfy my need for a sweet nothing on my tongue after my salty olives and savory cheese.
Cherries and Cheese Bento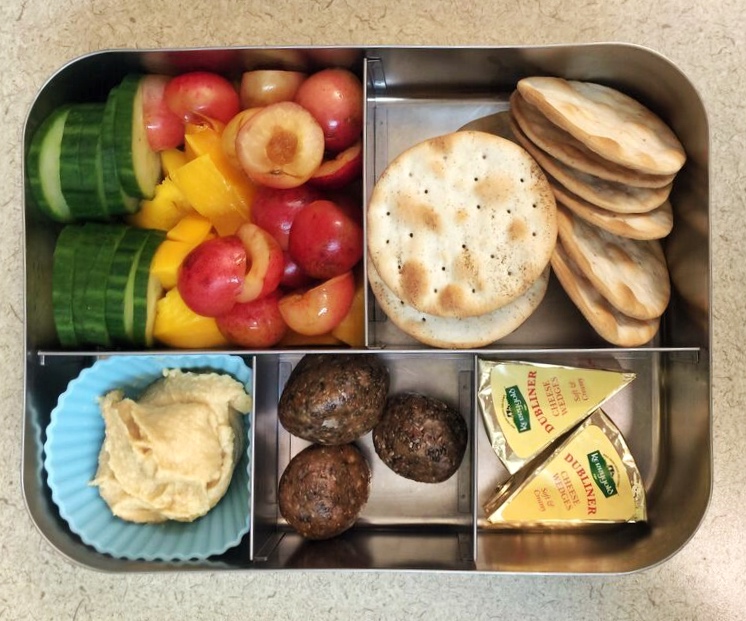 Top Row:
Cucumber + mango + cherries
Water crackers
Bottom Row:
Homemade energy bites (after you follow the link, scroll down to the section on Chia, Flax and Hemp seeds for the recipe)
This bento doesn't need much explanation, except to say that I broke the rules a bit and put more than one item in a compartment. It felt reckless, but thankfully there were no serious repercussions. I've been incredibly grateful for fresh summer produce like cherries the last few weeks. You've got to take advantage of those sweet little orbs while they're here.
Squares and Circles Bento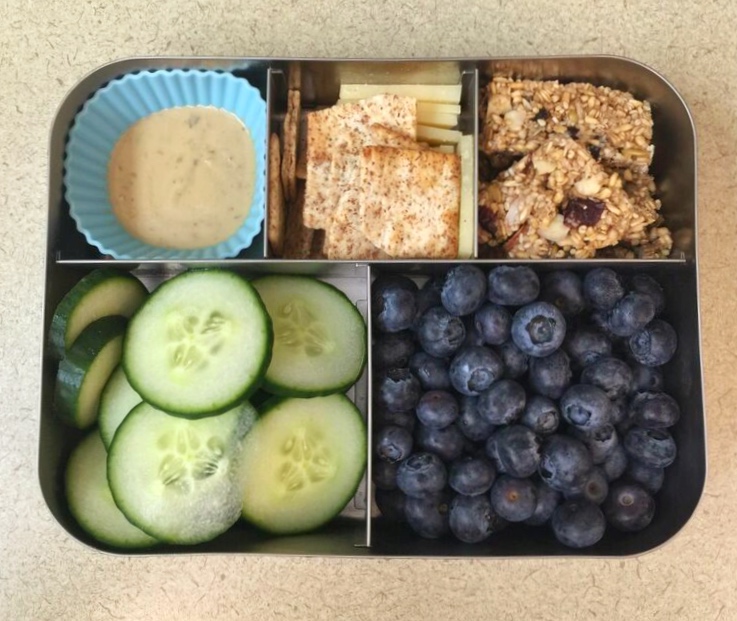 Top Row:
Bottom Row:
Annie's Goddess Dressing is perhaps the best bottled salad dressing you can buy. My sister-in-law first introduced me to it many years ago and I've been hooked ever since. Turns out, its thick deliciousness works just as well as a dip for veggies so it makes regular appearances in my bentos.
And it may sound like I've gone homemade granola bar crazy, but trust me, the effort is worth it. These Whole Foods Homemade Granola bars are spectacular. I'm not the only one who thinks so. They have wowed several diverse palates in my immediate circle including my teenage niece, my senior citizen dad, and my middle-aged colleagues at work. Everyone asks for the recipe…and they don't even know they're full of protein and fiber!
If you need to get out of your lunchtime rut, hopefully you saw something here that caught your eye and stirred a new lunchtime brainstorm . We all need to mix things up every once in a while, including our favorite mealtime habits. Clearly after looking at these pictures I realized I've got a blueberry situation; they figured prominently in 4 out of 6 boxes. It's a good thing blackberry season is just around the corner.
Tell me about your latest eating rut. Do you have a routine you need to break out of, to spice things up a bit?
If you liked this post, you may also enjoy: