Since I don't have kids of my own, I probably shouldn't give out too much advice about packing lunches; for children anyway. But on occasion I do pull together lunches for myself and the other adult in our family, and my new favorite tool is a bento box-style lunch container.
In case you haven't heard of it before, bento is a style of serving food common in Japan, often used for packing lunches. Some people take it very seriously, creating cartoon characters and nature scenes by cutting and placing different colored foods just so, but the common thread is generally a cool-looking box divided into sections.
What's so great about little divided boxes? Well, they encourage portion control, they're reusable, and they don't require a lot of sandwich bags or plastic wrap like traditional lunch packing. And I happen to think they're visually appealing, which is a plus for any meal. Mine came with a flowery insulated lunch bag, and fits in a zippered compartment in the bottom. But when Jeff uses it, he goes old school with a brown paper sack. I've since bought a couple of new segmented containers so we can both use one on the same day.
Also, I find that trying to fill up all the spaces increases the variety of the meal by default, which is important nutritionally speaking. You could even set a little goal for yourself to get all the food groups represented. In my examples below you'll see I followed a pattern of fruit, vegetable, grain, and protein (sometimes represented by cheese, a dairy food) which follows the MyPlate meal-planning tool. Best of all, I think young and old can enjoy the novelty of a bunch of little receptacles stuffed with different kinds of food.
And if we can make lunch packing a little more fun, it can help us eat better. A big piece of a healthy diet is planning ahead. So, it makes sense to find 5-10 minutes in your morning routine to get yourself set up for success later in the day. If I know that a (highly organized and compartmentalized) lunch I'm looking forward to is waiting for me when the clock strikes noon, I'm far less tempted by drive thrus or vending machines, and I have absolutely no excuse for skipping lunch altogether.
With the hopes that it might get you in the mood for your own orderly and nutritious meal, here are five delightful bentos I've had lately.
1. Hummus and Dippers Bento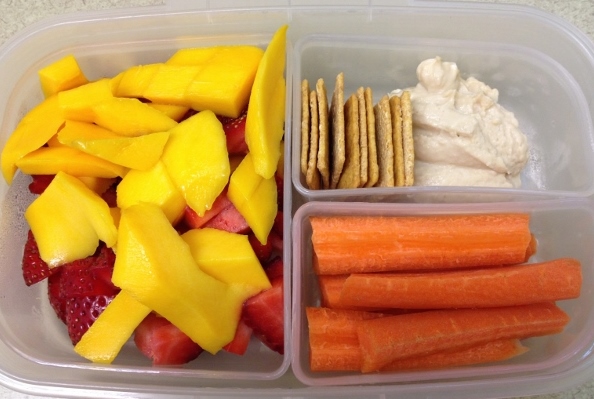 I started with hummus for a little plant protein, with carrots and whole grain crackers for dipping. Then, for color and a little sweetness I added strawberries and fresh mango. There is definite portion control with the 10 crackers and 2 tablespoons of hummus, but I went larger with the veggie and fruit sections.
2. Fattoush Salad Bento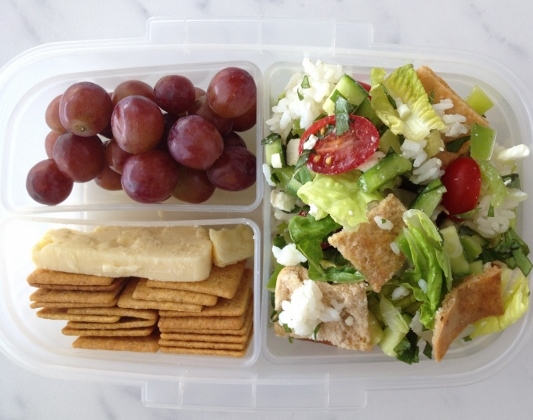 This boxed lunch was based on leftovers from the previous night's dinner: Fattoush Salad with whole wheat pitas, mixed with a little cooked rice and feta. The salad pretty much took care of the veggie requirement with cherry tomatoes, lettuce, cucumber and green pepper. For sides I added some crunchy red grapes, sharp cheddar and whole wheat crackers.
3. Curried Quinoa Salad Bento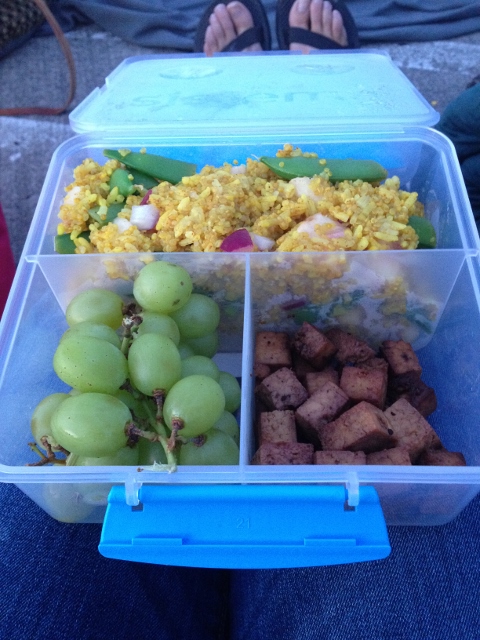 One of my favorite summertime recipes is this Curried Quinoa Salad with Nectarines and Sugar Snap Peas. The dressing is genius, using mango chutney as the base. (This picture does not do it sweet and spicy justice.) On this gorgeous August evening, the salad accompanied us to the outdoor Rooftop Cinema. We sat in lawn chairs on the top of the downtown parking garage with other Bellinghamsters and enjoyed a screening of Breaking Away.
As you can see, the portions here are a little larger, but Jeff and I shared the bento snackies for our dinner. (Who says highly sensible food arrangement is limited to lunchtime?) Besides the salad we had grapes and Salty Baked Tofu Bites for some finger food.
4. Kale and Blueberry Salad Bento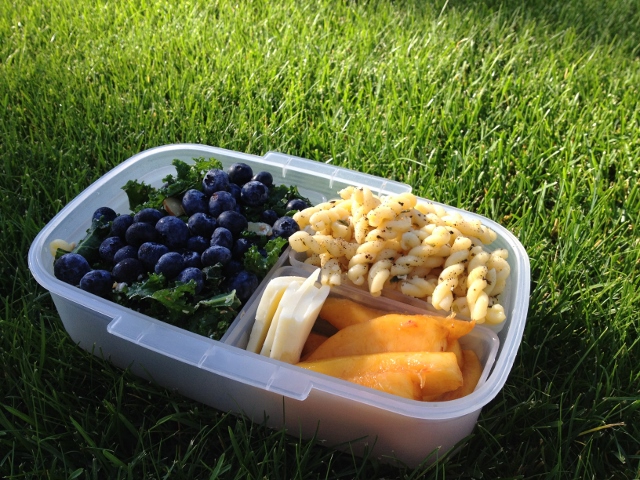 This lunch made me SO happy. I was working at a health fair from 6:00 am until 2:00 pm, so I most certainly needed to refuel partway through. I didn't use a real recipe for the salad, just threw together what I had: I massaged some kale with lemon juice, coconut oil and salt, then added sliced almonds, shredded coconut, and blueberries. I heaped some leftover pasta into one of the small sections and sliced up a fresh nectarine. To boost protein without adding too many more calories, I opted for part skim mozzarella slices.
5. Basic Bento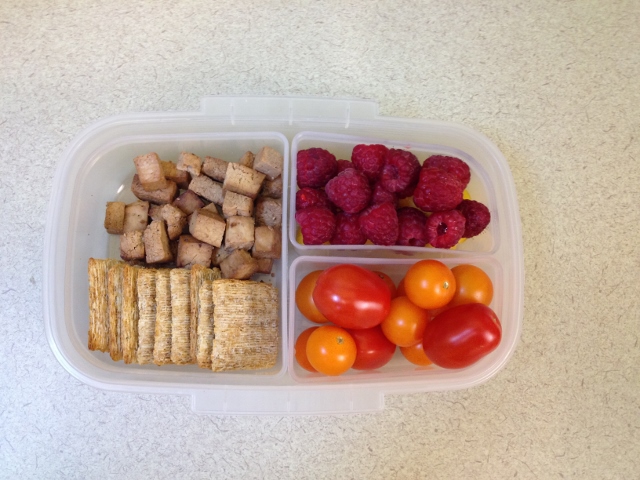 I was really in a hurry on this day. So I grabbed the easiest options from the fridge to fill my sections: raspberries, tomatoes, whole grain crackers and Salty Baked Tofu Cubes. (As you can see, these soy bites show up quite often. They're an easy item to batch-cook and then rely on all week long.)
The options for filling a bento box are really endless, especially if you have just a little bit of something that won't quite make a meal by itself: a spoonful of leftover roasted veggies, a single raw carrot that didn't make it into the soup, a bit of cooked quinoa or couscous that was left in the pan, a handful of extra toasted nuts from the morning oatmeal, or that last inch of a brick of cheese. So I guess another benefit could be that bento lunches use up what needs using up.
While I'm completely sold on this idea of bento lunches, I don't want to go overboard and start a collection of boxes…at most we need just two a day. (Jeff is already very understanding about my mason jar addiction, so I don't want to push him over the edge.) But now that I'm in the habit, I have been eyeing the stainless steel ones from PlanetBox and LunchBots for a possible upgrade from plastic. Guess it depends on whether or not adults without children can use the "back to school" excuse to justify new purchases…
Have you jumped on the bento bandwagon? What are your tips for a fun, healthy and partitioned lunch?
If you liked this post, you may also enjoy: