It's been a busy quarter. And I've got 6 more weeks ahead of me before the school year is over. I know wherever you are, whoever you are, chances are you might be in the middle of a busy time too. Having more tasks on your to-do list certainly contributes to that overwhelmed feeling, but I keep "pack a lunch" on my morning task list regardless. Why? Because eating poorly makes me feel like I'm falling behind in an important area of my life, but also because I find some comfort and order in the packing process.
I know; it's completely dumb. But filling the little empty compartments in my bento lunchboxes and tucking the box into my bag/basket on my way out the door makes me feel just a tiny bit like I've got my shit together. Like I'm starting the day off on the right foot. Of course I'm also thrilled when I get out of my morning class knowing there are 5 deep pockets of food I get to devour.
I've been in a lunch-packing groove the last few months and thought I'd share 7 of my latest successes with you. Here is a week's worth of organized food (lunches anyway) to hopefully either inspire your lunchtime endeavors or at the very least give you pleasing pictures of neatly arranged food to look at. I've found some new favorite products which have been on repeat in my bentos so some of these are going to look similar. (Maybe the repetition and predictability is somehow comforting too? Who knows. My brain is a complicated place, especially the food-related regions.)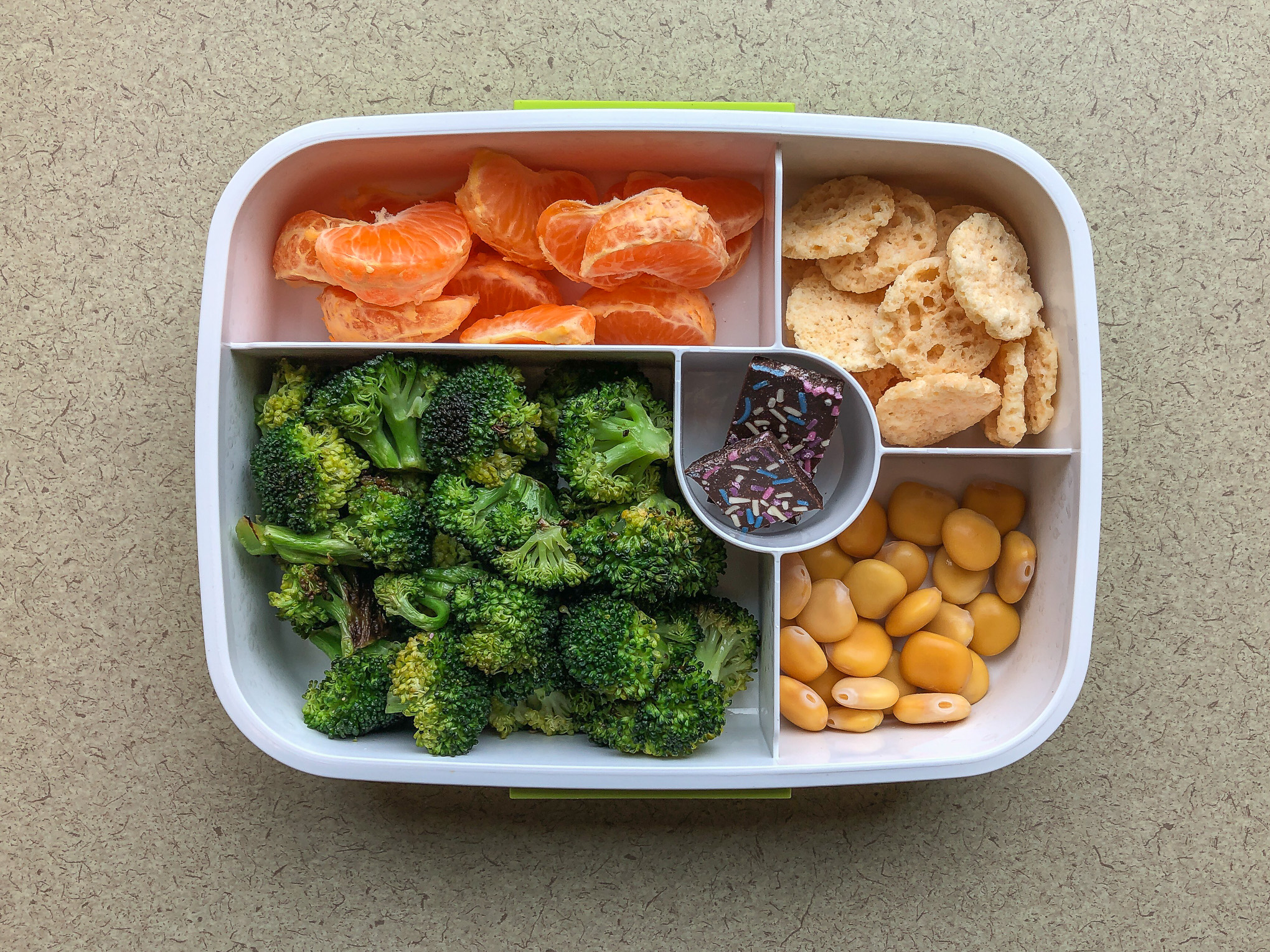 Mandarin orange segments
Broccoli roasted with olive oil, salt and pepper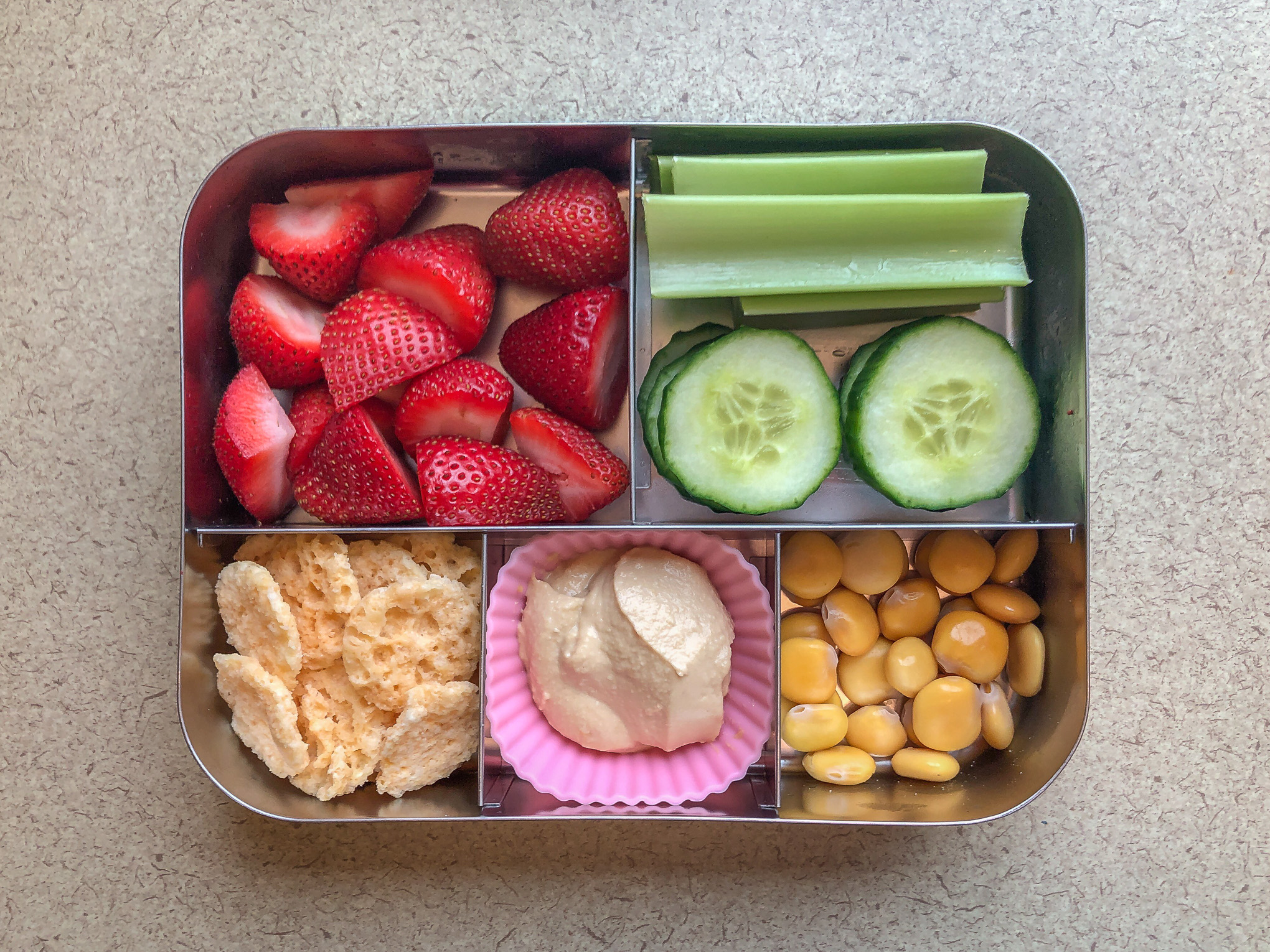 Strawberries
Celery and cucumber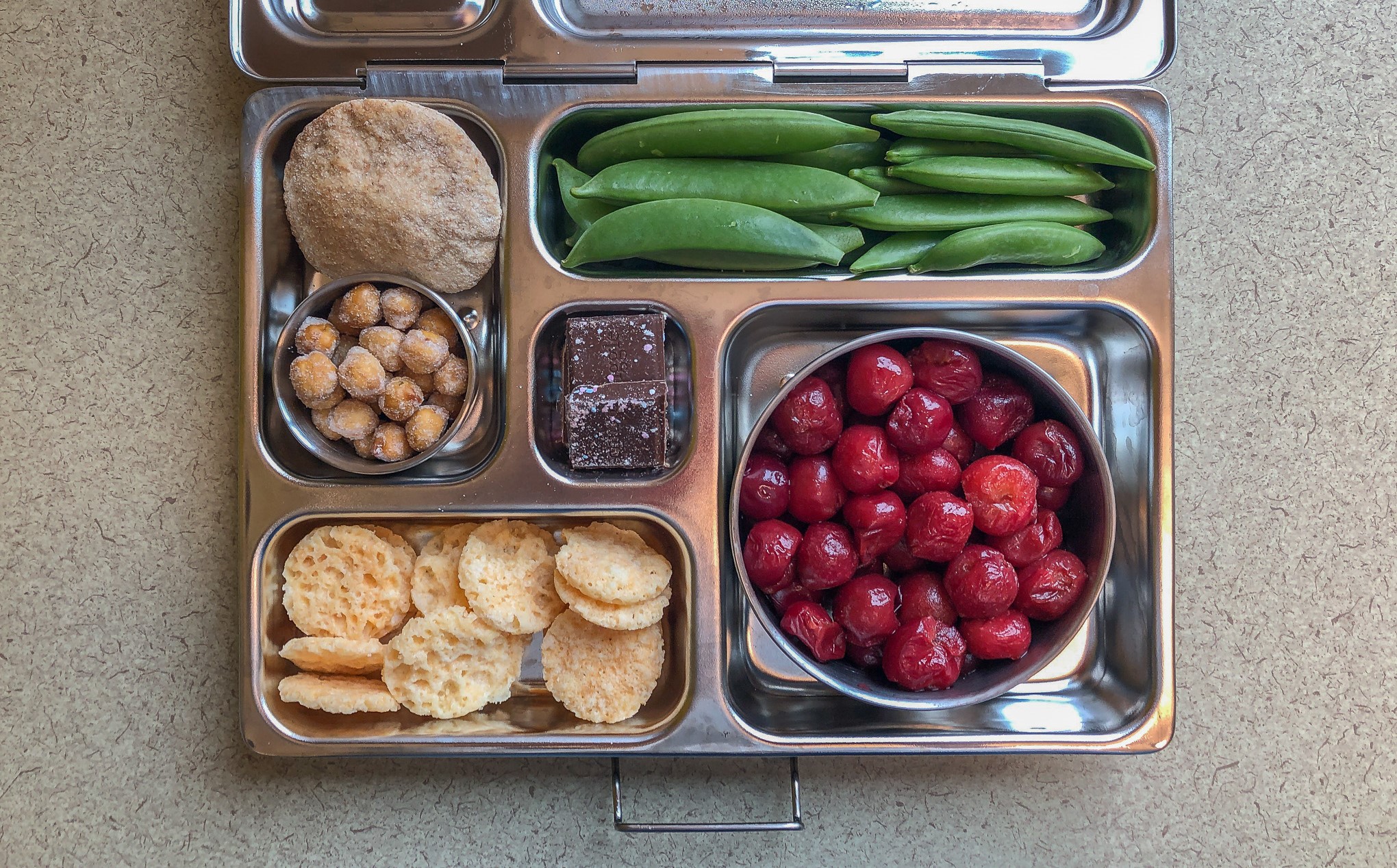 100% whole wheat mini pita bread
Sugar snap peas
Frozen tart cherries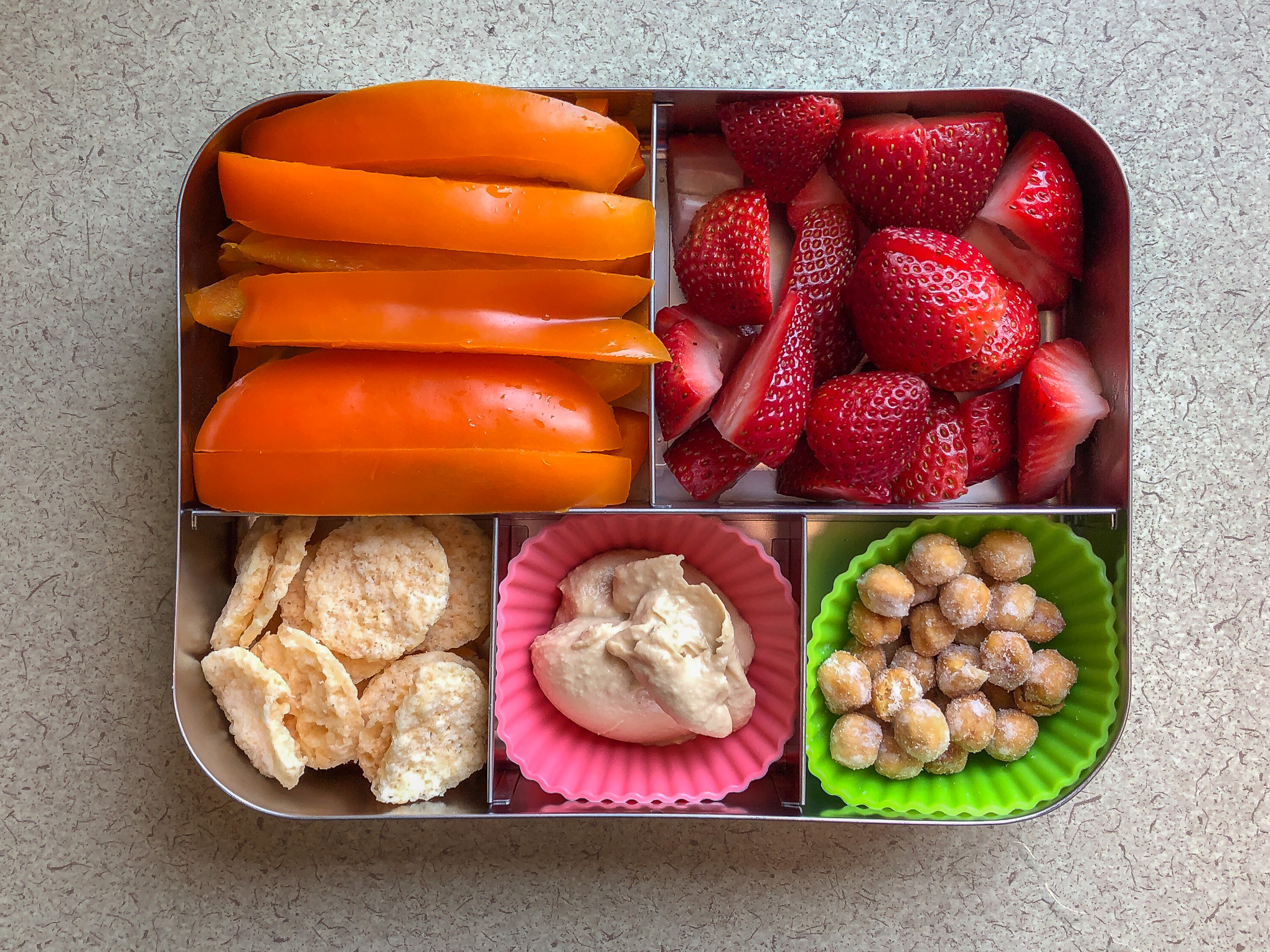 Orange bell pepper
Strawberries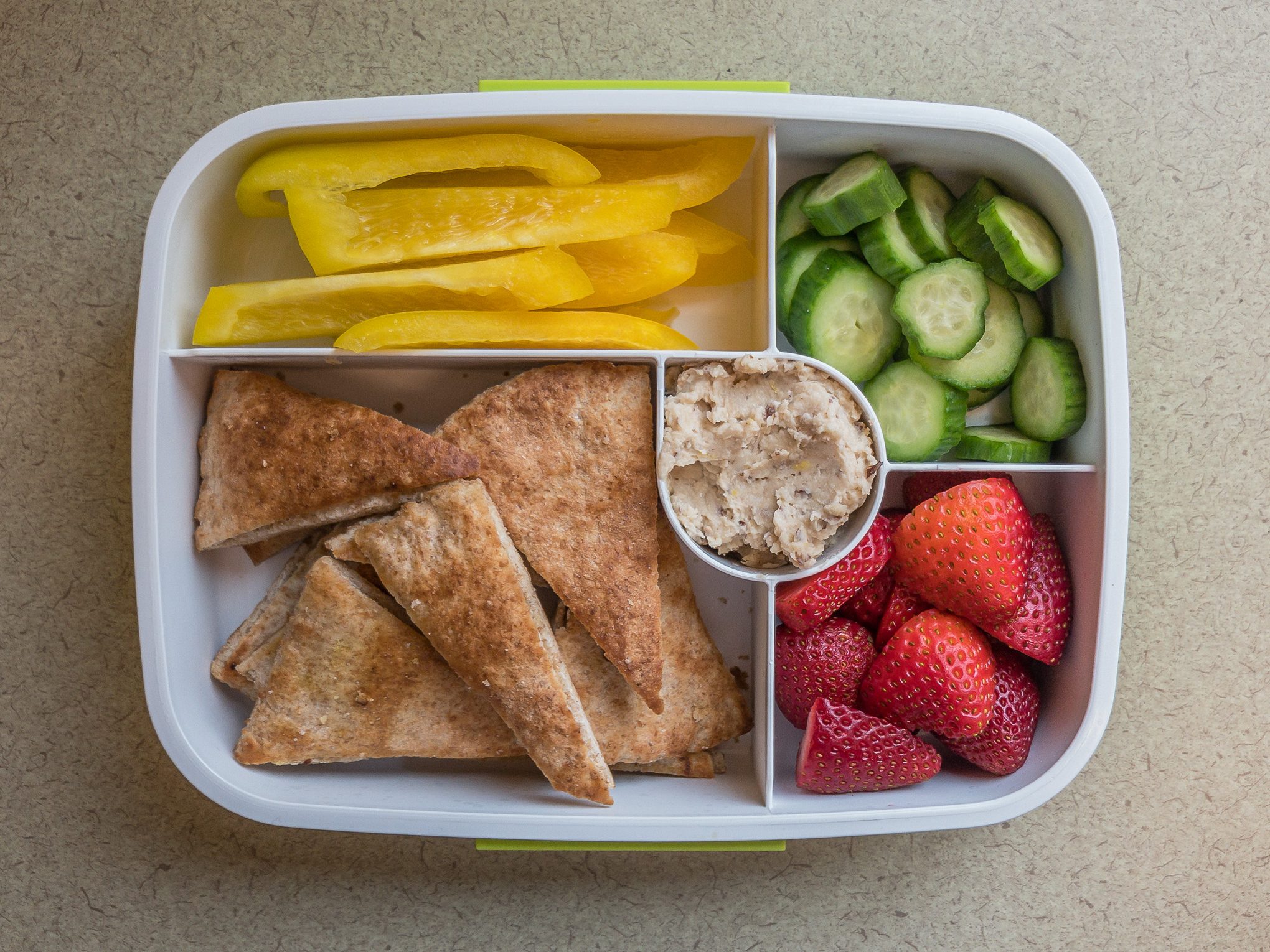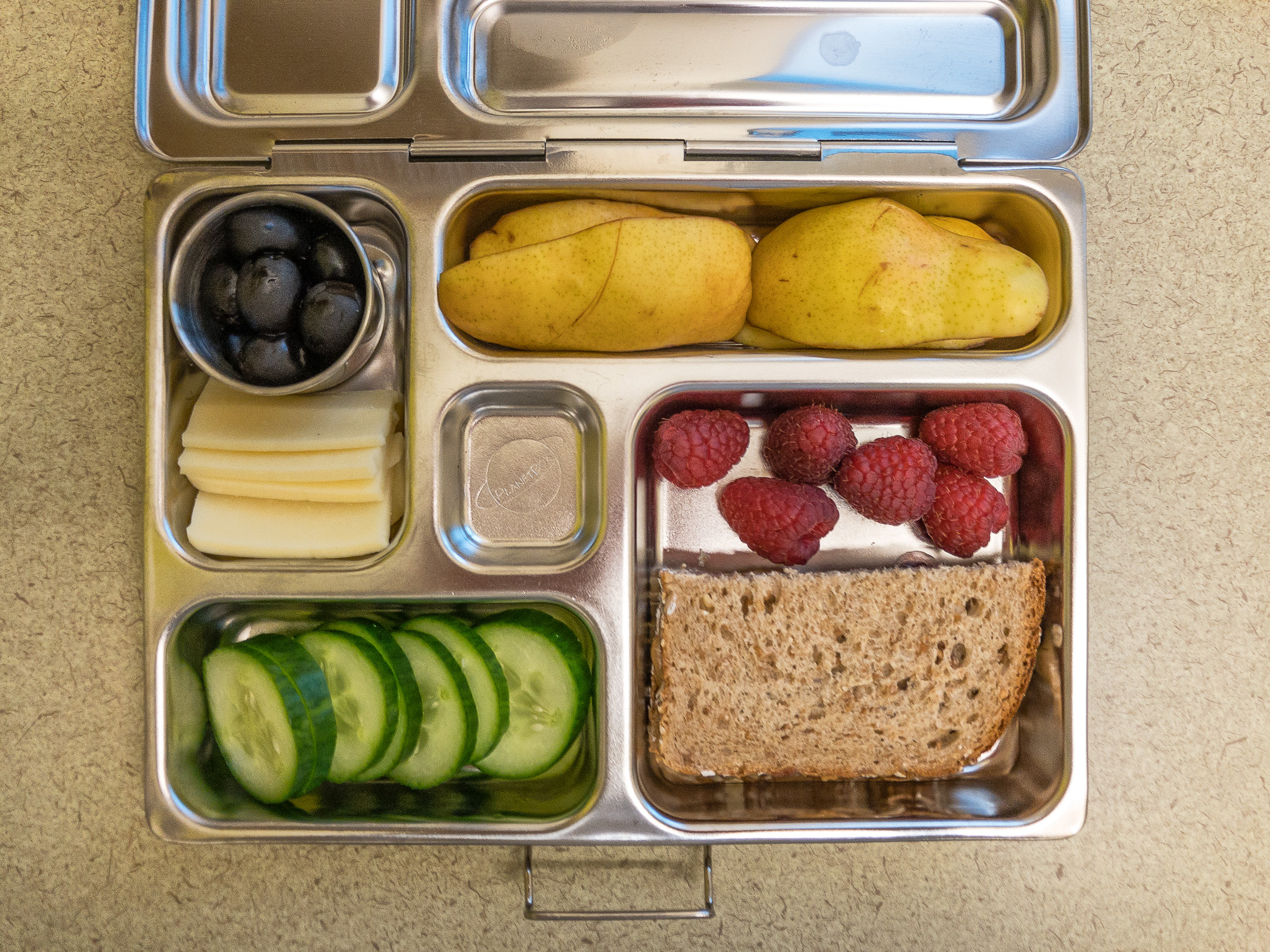 Black olives
Bartlett pear
Raspberries
Half a peanut butter and jelly sandwich
Cucumbers
Part skim mozzarella cheese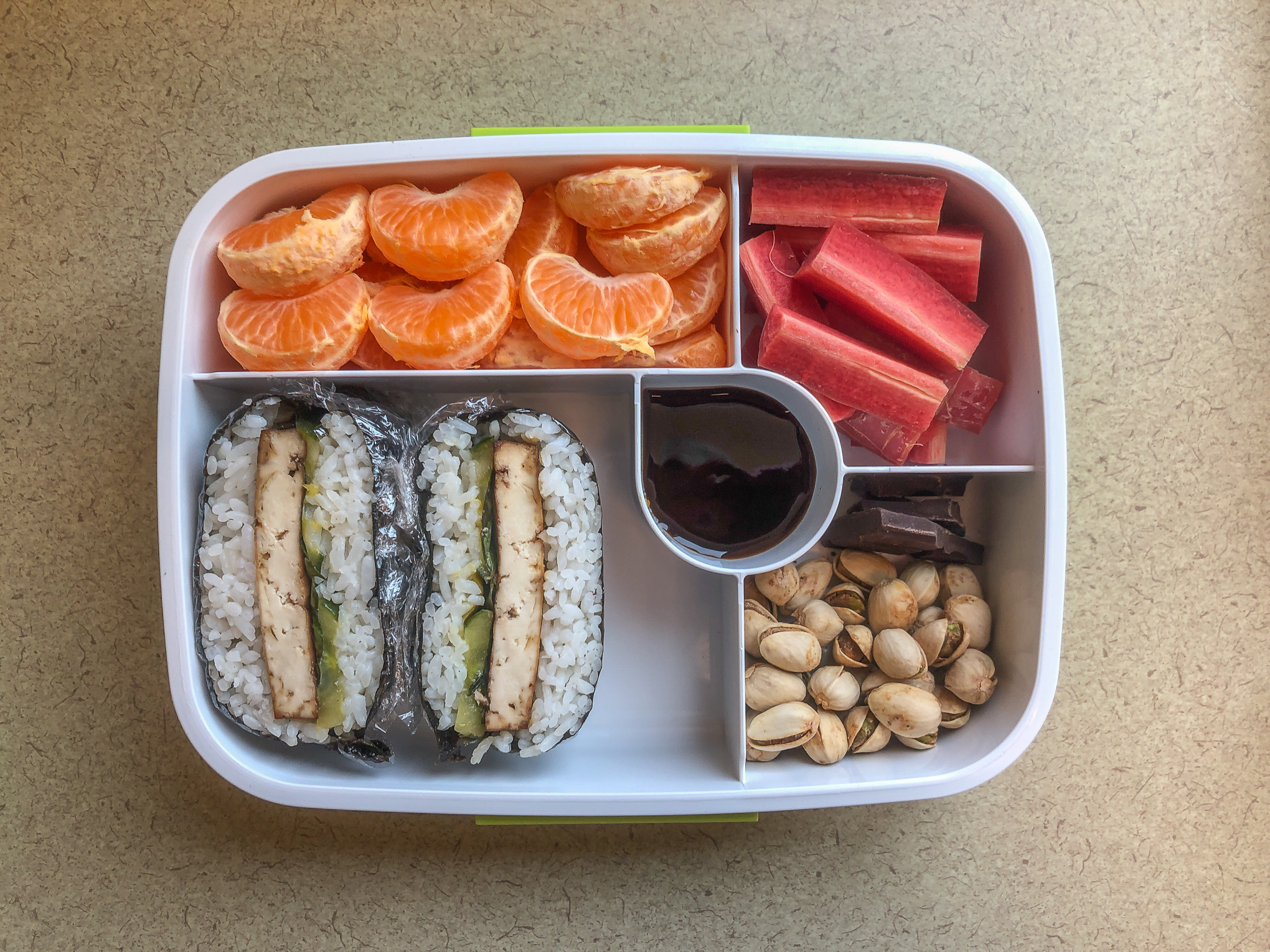 Mandarin orange segments
Red carrot sticks
Madecasse 70% Pure Dark Chocolate Bar
Sushi sandwich with marinated tofu, bell pepper, and basil
Low sodium soy sauce
A couple of notable mentions for protein contributions to these vegetarian lunches: one cheese and two beans. The Parmesan crisps are quite satisfying. For 23 crisps you get 13 g protein and 50% of your Daily Value for calcium, and this cheese requires no refrigeration. Next, snacking beans. What the heck? I discovered them at Whole Foods and was intrigued. They come in a little zipper pouch that doesn't need to be refrigerated until after opening. A serving size is 25 beans, and yes, I counted them out. For a mere 60 calories you get 7 g protein and 7 g fiber. Fantastic! Lastly, the honey roasted chickpeas. They essentially taste like candy and for 1/4 cup you get 5 g plant protein and 6 g fiber. All three of these novel products are tasty and portable and will definitely be added to my lunchtime bento arsenal.
Hopefully, if you're also in a bit of a busy period right now, there's an end in sight. For me, summer quarter will mean a lighter load. In the meantime, find little bits of comfort and solace where you can, even if it's in the redundant patterns of your lunchbox.
This is not a sponsored post. I paid for all pictured lunch items myself. Just found some neato products and wanted to share them.
If you liked this post, you may also enjoy: