One of my favorite sites for recipes, and the first blog I fell in love with, is Heidi Swanson's www.101cookbooks.com.  Virtually everything I've ever made from this site, and let me tell you there have been dozens of dishes, I've absolutely adored.  In this instance I'm using her Caramelized Tofu recipe but I've made a couple of modifications.
I've called it a "cover" because it's Heidi's recipe;  I didn't come up with the scrumptious idea of combining Brussels sprouts with tofu in this way and I don't feel like I've really changed it significantly.  It's sort of like I took something great and made my own arrangement (like a cover of a popular tune on YouTube).  The bag of Brussels sprouts at Trader Joe's is 16 oz. so I started by doubling up her original and went from there.  (This recipe is #4 from a week's worth of meals, all using Trader Joe's ingredients.)
Print
Caramelized Tofu Cover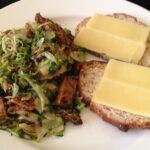 An easy way to get anyone to enjoy tofu.
Author:
Prep Time:

10 minutes

Cook Time:

30 minutes

Total Time:

40 minutes

Yield:

5

servings of 1 1/2 cup each

1

x
Cuisine:

Dinner
Ingredients
2 Tbsp

. plus 1 tsp. olive oil, divided

16 oz

. extra or super firm tofu, frozen and thawed, cut into

1

-inch long planks

2 Tbsp

. low sodium soy sauce

4

cloves garlic, minced

2/3 cup

chopped pecans

½ cup

dark brown sugar

1

lb. Brussels sprouts, shredded in food processor, using blade attachment

½ cup

chopped basil
Instructions
Heat 1 Tbsp. olive oil in large skillet over medium heat. Add half of the tofu planks and brown on all sides. Remove from pan.
Add remaining 1 Tbsp. olive oil and remaining tofu. Brown on all sides. Add first batch back to pan and sprinkle tofu with low sodium soy sauce.
Reduce heat a bit and add garlic, pecans and dark brown sugar. Stir together until sugar has melted and everything is starting to clump together. Remove from pan.
Raise heat to medium-high and add remaining 1 tsp. olive oil. Toss in Brussels sprouts and cook until slightly wilted and browned.
Stir in basil and tofu/pecan mixture and cook until heated through.
Nutrition
Serving Size:

1 1/2 cups

Calories:

380

Sodium:

255 mg

Fat:

21 g

Saturated Fat:

3 g

Trans Fat:

0 g

Carbohydrates:

34 g

Fiber:

5 g

Protein:

18 g

Cholesterol:

0 mg
Recommended accompaniments:  2 oz. Trader Joe's Millet Bread, 1.25 oz. Trader Joe's Light Sharp Celtic Cheddar
Nutrient content per 1½ cup serving with recommended accompaniments: 601 calories, 28 g fat, 6 g saturated fat, 13 mg cholesterol, 764 mg sodium, 59 g carbohydrate, 6 g fiber, 24 g sugar, 33 g protein, 371 mg calcium, 2.6 mg iron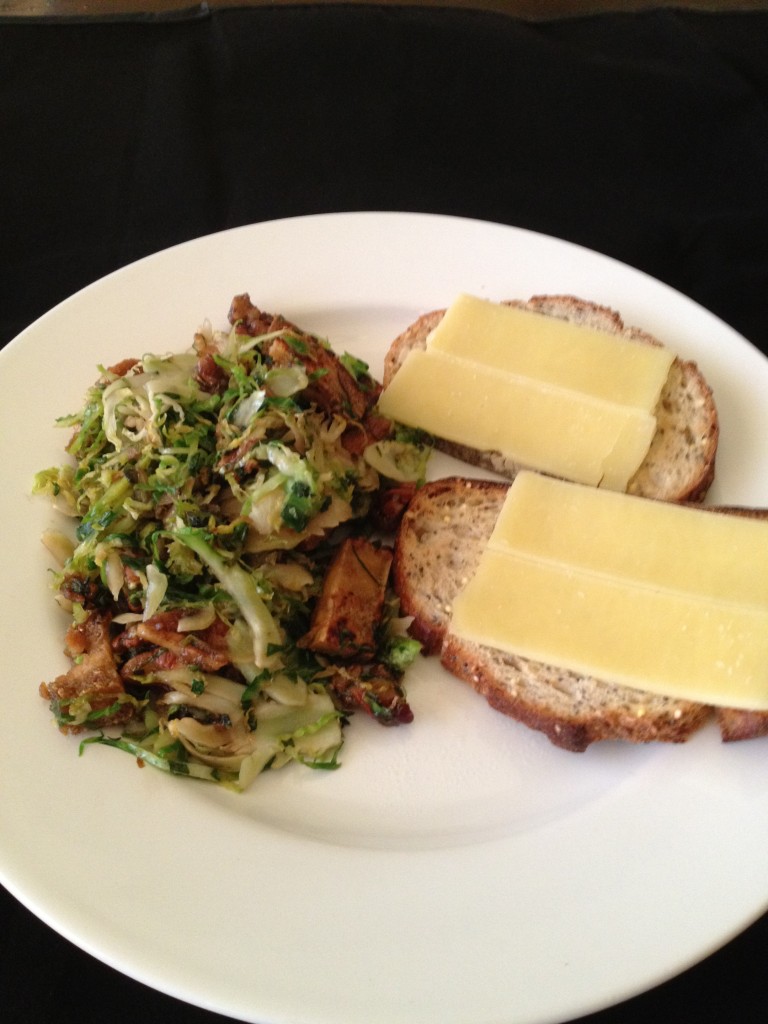 Caramelized Tofu Shopping List
16 oz. Trader Joe's (TJ's) High Protein Organic Tofu Super Firm ($1.99)
16 oz. TJ's Brussels Sprouts ($2.29)
4 oz. TJ's Organics Organic Fresh Basil* ($2.79)
8 oz. TJ's Raw Pecan Pieces or Raw Pecan Halves* ($4.99)
Olive oil**
Garlic**
Reduced sodium soy sauce**
Dark brown sugar***
Subtotal   ($12.06)
Recommended Accompaniment:
13 oz. TJ's Light Sharp Celtic Cheddar* ($4.73)
16 oz. TJ's Millet Bread* ($3.69)
TOTAL with Accompaniments  ($20.48)
*Will have some left after using for this meal
**Assumed to be a pantry staple, but available for purchase at TJ's if needed
***Assumed to be a pantry staple; unfortunately only regular brown sugar is available at TJ's, not the dark brown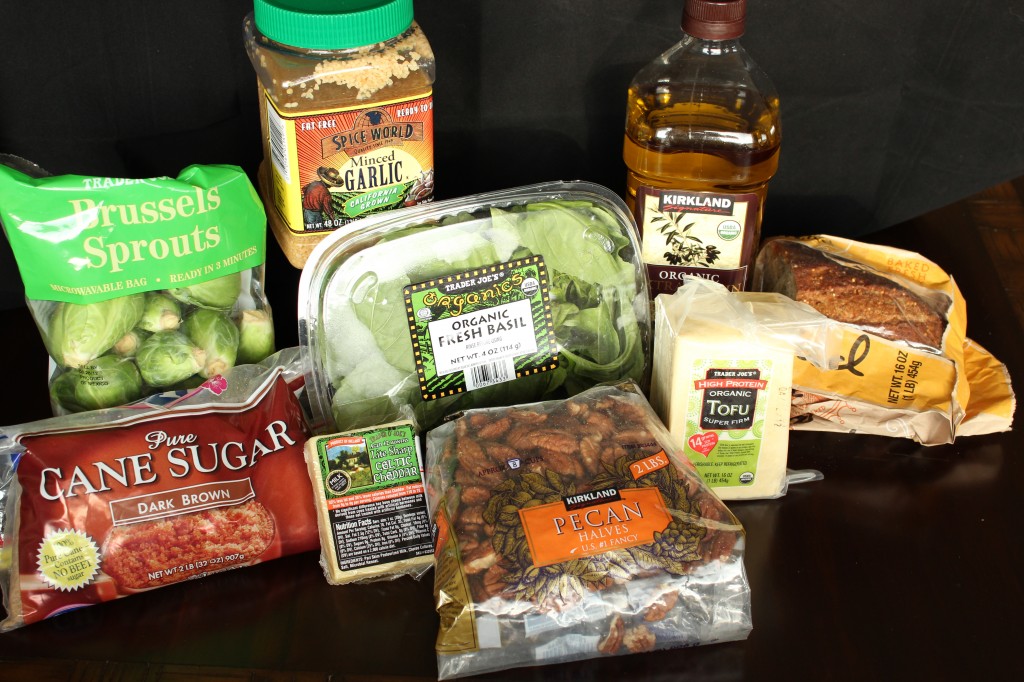 Additional notes:
Does it really matter if the tofu is "frozen and thawed" before I use it?  Only if you're "texture-sensitive" like I am.  Actually, for most people, I think the texture of soft tofu can be a turn-off in the beginning.  So, it's worth it to me to choose the super firm tofu and then take the additional step of freezing and thawing because I feel like it makes the texture even more "meaty".  It goes straight from the grocery store into the freezer, then gets a quick defrost (in the microwave or for a day in the refrigerator) before I use it.
It seems like this recipe has a lot of sugar.  For sure; 1/2 cup is a lot.  It ends up being about 1.5 Tbsp. in each serving.  But, in this case it seems like a good compromise if it gets someone to try tofu and Brusssels sprouts for the first time and think that they're delicious!
How do you feel about seeing Brussels sprouts on your plate? 
If you liked this post, you may also enjoy: