How do you feel about Brussels sprouts? A little hesitant? How about tofu? A lot hesitant? Do they conjure rebellious emotions of being forced to eat something you didn't like or strong aversions to squishy textures? From a nutrition perspective, they are both amazingly healthful and versatile foods. You don't have to like them or eat them, of course. There are lots of other wonderful foods to put on your plate. However, if you're interested in expanding your diet repertoire, or someone else's, I'd encourage you to give Brussels sprouts and tofu another try, and this is a great starter recipe for both. It's salty, it's sweet, and it's got loads of texture.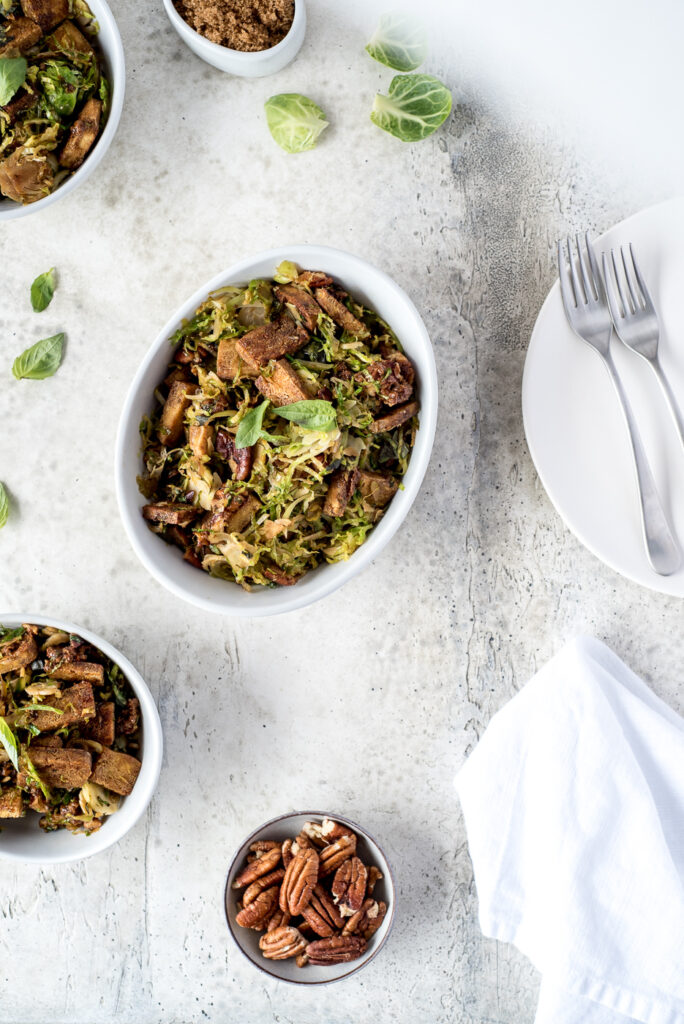 If you'd like to see how this recipe fits into a full week's menu from Trader Joe's, take a peek at A Week's Worth of Trader Joe's Dinners for Less than $100. And for help with shopping, you'll find a grocery list included below the recipe.
Just in case it might help, I'm sharing a few suggested strategies to help people warm up to eating tofu:
– First, buy extra firm or super firm tofu. It holds its shape better and it acts more like meat in recipes.
– Second, freeze it, then thaw it, and then cook it. For some reason, this really improves the firmness and gives the cooked tofu a nice chew.
– Lastly, make sure to brown it well before mixing it with anything else, sort of like how you brown ground beef first before adding the other ingredients. Crispy brown tofu is much more appealing to most people than soggy crumbled or cubed tofu.
Print
Brown Sugar Brussels Sprouts with Tofu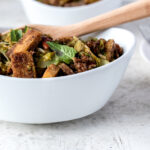 A sweet and salty way to get anyone to enjoy tofu.
Author:
Prep Time:

10 minutes

Cook Time:

20 minutes

Total Time:

30 minutes

Yield:

4

servings

1

x
Category:

Dinner
Ingredients
2 tablespoons

plus 1 teaspoon olive oil, divided

16 oz

. extra or super firm tofu, frozen and thawed, cut into

1

-inch long planks

2 tablespoons

low sodium soy sauce

4

cloves garlic, minced

2/3 cup

roughly chopped pecans

½ cup

dark brown sugar

14 oz

. Brussels sprouts, shredded in food processor, using blade attachment or thinly sliced by hand

½ cup

chopped fresh basil
Instructions
Heat 1 Tbsp. olive oil in a large skillet over medium heat. Add half of the tofu planks and brown on all sides. It will likely take about 8 minutes. Remove from pan.
I use this time, while the tofu is cooking, to prep the Brussels sprouts.
Add remaining 1 Tbsp. olive oil and remaining tofu. Brown on all sides. Remove from heat.
Add the first batch of tofu back to the pan and sprinkle with low sodium soy sauce. I like to do it in 2 batches because otherwise the pan is too crowded and you don't get good crispy sides.
Reduce heat a bit and add garlic, pecans, and dark brown sugar. Stir together until the sugar has melted and everything is starting to clump together about 8 minutes. Watch carefully. It's a delicate balance between melting the sugar and burning it. I find it helps to push the mixture around the pan, using the flat end of a utensil to keep the sugar from resting too long on the bottom of the skillet. Remove from pan.
If there is a coating of sugar left in the pan, remove the pan from the stove, and carefully wipe sugar off with a wet paper towel.
Raise heat back to medium and add the remaining 1 tsp. olive oil. Toss in Brussels sprouts and cook until slightly wilted and browned, about 5 minutes.
Stir in basil and tofu/pecan mixture, breaking up clumps with a spoon or spatula, and cook until heated through about 3 minutes.
Notes
To prep the Brussels I cut off any discoloration on the stem end, and removed any outer leaves that weren't fresh and green. Then fed them through the food processor blade. This recipe comes together even faster if you can find already shredded or shaved Brussels sprouts.
Inspired by Caramelized Tofu from Heidi Swanson.
Nutrient content per 1½ cup serving with recommended accompaniments: 760 calories, 40 g fat, 11 g saturated fat, 31 mg cholesterol, 800 mg sodium, 66 g carbohydrate, 7 g fiber, 31 g sugar, 36 g protein
Nutrition
Serving Size:

1.5 cups

Calories:

500

Sugar:

29 g

Sodium:

275 mg

Fat:

29 g

Saturated Fat:

3 g

Trans Fat:

0 g

Carbohydrates:

41 g

Fiber:

6 g

Protein:

23 g

Cholesterol:

0 mg
Keywords: tofu, brown sugar, Brussels sprouts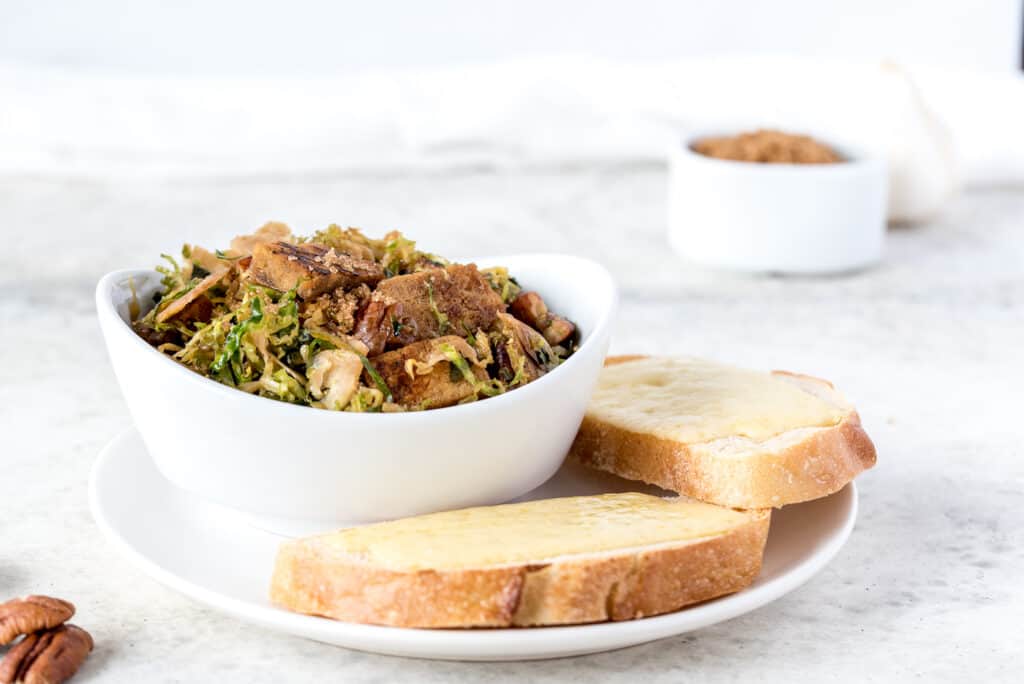 This shopping list was prepared for a trip to Trader Joe's, but any grocery store should have similar items. It was updated in 2020 with current prices and product names.
Brown Sugar Brussels Sprouts with Tofu Shopping List

16 oz. Trader Joe's (TJ's) High Protein Organic Tofu Super Firm ($2.49)
14 oz. TJ's Organic Brussels Sprouts ($3.49) or two 10 oz. bags TJ's Shaved Brussels Sprouts
4 oz. TJ's Fresh Basil ($2.79)
8 oz. TJ's Raw Pecan Pieces or Raw Pecan Halves ($4.99)
1 head garlic ($0.49)
Recommended Accompaniments:
5 oz. Kerrygold Dubliner Cheese ($2.49)
14 oz. TJ's Sourdough Batard ($2.29)
Pantry Staples:
16.9 fl. oz. TJ's Organic Extra Virgin Olive Oil Mediterranean Blend ($3.99)
17.6 fl. oz. TJ's Reduced Sodium Soy Sauce ($2.99)
24 oz. TJ's Organic Brown Sugar ($3.49) (The label says brown sugar but I feel like the product inside is much closer to dark brown sugar, which is what I've listed in the recipe.)
TOTAL $19.03 with accompaniment 
$29.50 if you need to buy pantry staples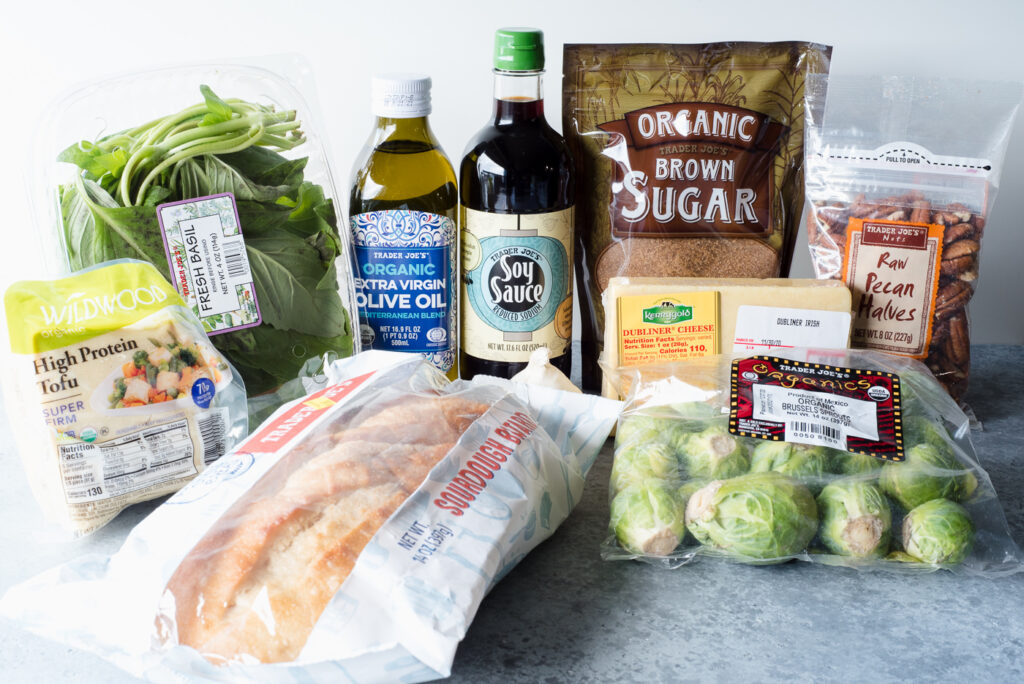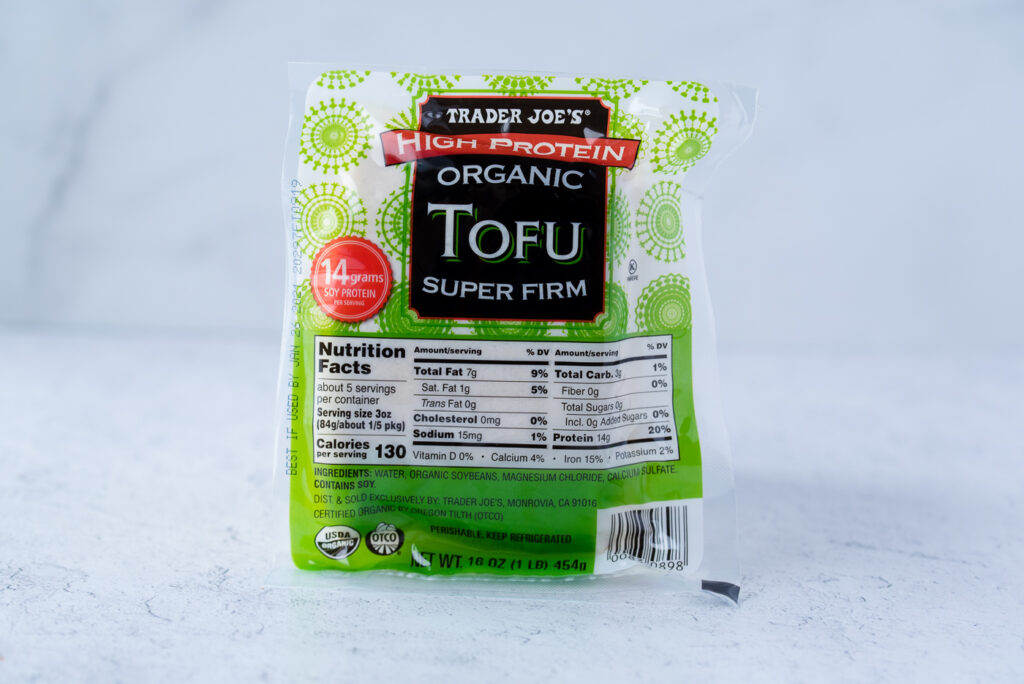 Nutrition notes:
 – What about protein? This recipe has 23 g per serving on its own, and 36 if you make the suggested sides. That's primarily coming from the pecans and the tofu, which are wonderful sources of plant protein. For reference, a woman who weighs 175 lbs. needs about 64 g of protein per day.
 – It seems like this recipe has a lot of sugar. For sure; 1/2 cup is a lot. It ends up being about 2 tablespoons in each serving. But, in this case it seems like a good compromise if it gets someone to try tofu and Brussels sprouts for the first time and think that they're delicious!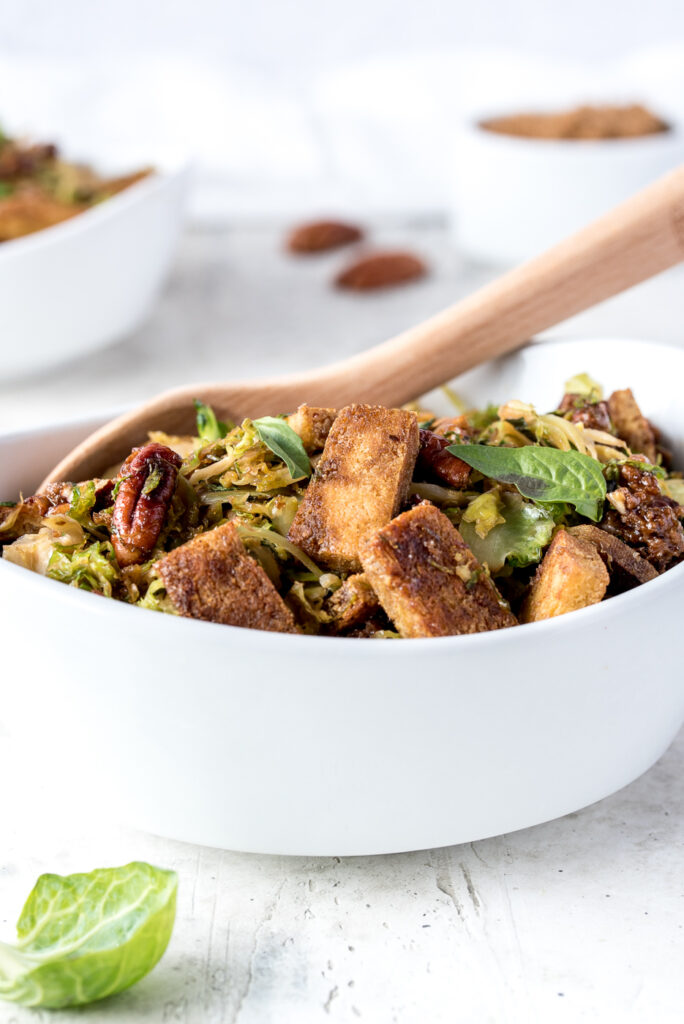 If you give this a try, either with your own tastebuds or someone else's, I'd really love to hear about it. I expect it will conjure only happy emotions and strong taste satisfaction.
How do you feel about seeing Brussels sprouts or tofu on your plate? 
This is not a sponsored post. I bought all the groceries on my own and happily consumed them.
If you liked this post, you may also enjoy: