Did your family let you pick your birthday dessert when you were growing up? At some point, after I'd tasted Cherry Berries on a Cloud for the first time, it was always my choice over cake. And the love persists. I just turned 50 and I think my mom made it for me like two years ago. It is THE perfect mix of sweet, creamy, crunchy, chewy, and yummy. It has everything. So how could I improve on perfection? Only one way I could think of: veganize it!
It occurred to me that making my favorite dessert vegan was actually possible now because there are so many new dairy-free products available, like cream cheese and whipping cream. Hooray for the companies who are developing these creative substitutes for the veg-heads and dairy-free among us. More on that later.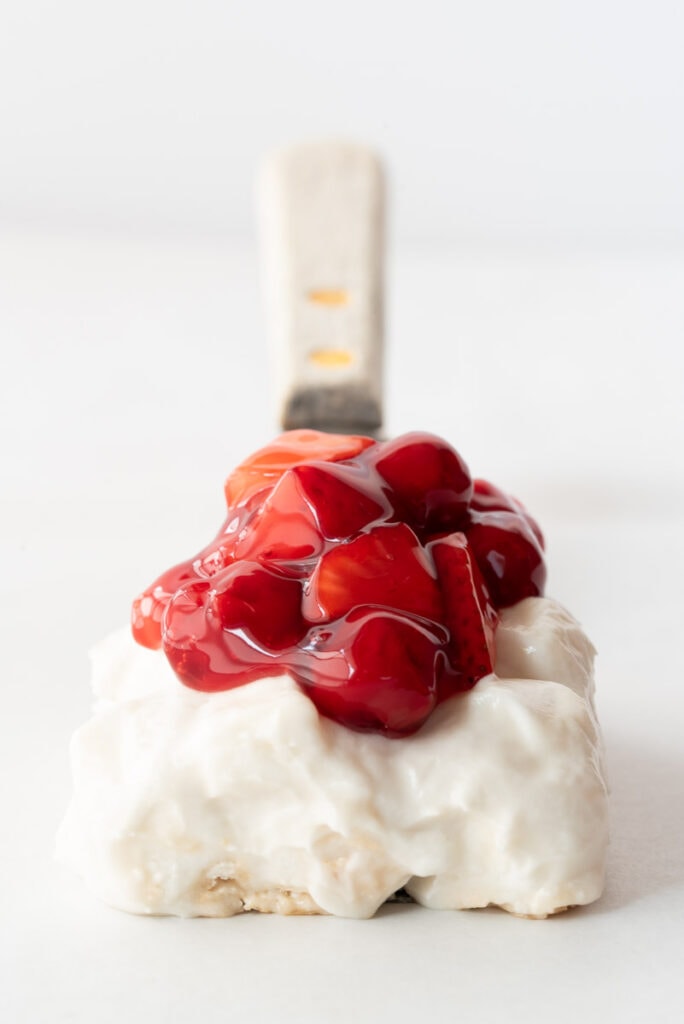 Some of the original ingredients just required swaps straight across with their plant-based versions (like cream cheese), but Cherry Berries on a Cloud starts with a meringue, which is traditionally made with egg whites. I knew a fairly recent discovery that was popular on plant-based blogs was using aquafaba to mimick egg whites. Simply put, aquafaba means "bean water" and the easiest way to get it is to drain a can of garbanzo beans. It's a viscous liquid with some starch and protein, and darn it if it doesn't look like egg whites and whip up like them too.
If you want to learn more about this unusual ingredient, check out these articles written by Registered Dietitians:
Aquafaba: an egg and dairy substitute worth trying?
Aquafaba: what is it and is it healthy?
I did a little recipe development research and found a couple of different techniques for making reliable aquafaba meringues. After experimenting, I found the one that worked consistently for me was to reduce the liquid first before whipping. I used the steps laid out by Baked By Clo. I started with 1 1/2 cups of aquafaba from two 15.5-ounce cans of chickpeas, and after simmering for 20 minutes I had about 2/3 cup left.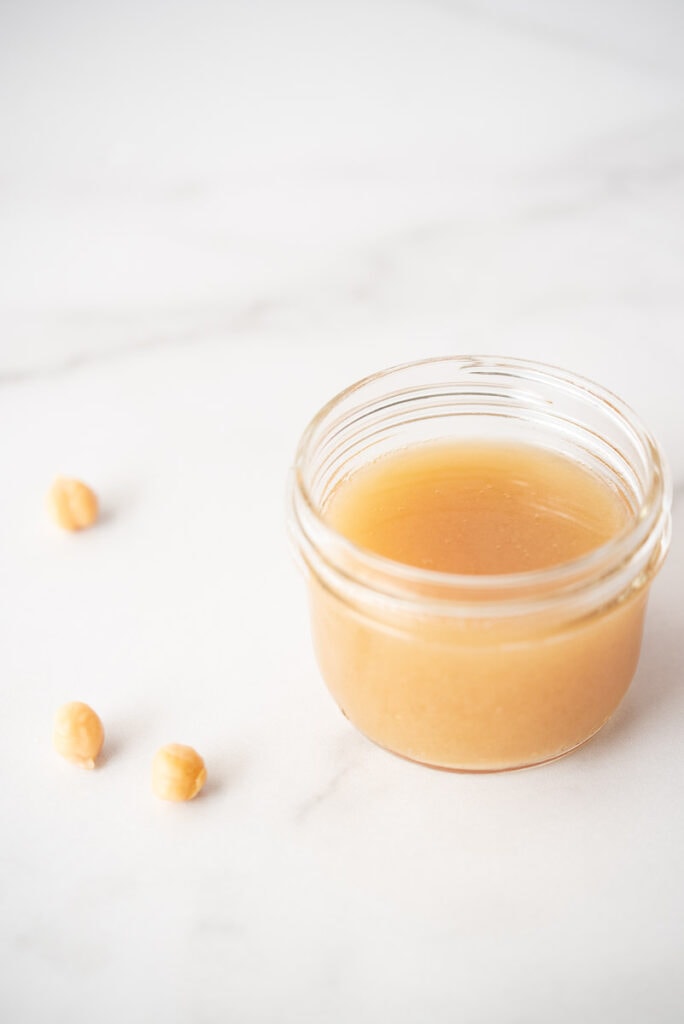 Baked by Clo suggested adding cream of tartar and xanthan gum (learn more about the health effects of xanthan gum here) to the aquafaba to get the best meringue. So I did. Just look at the beautiful result: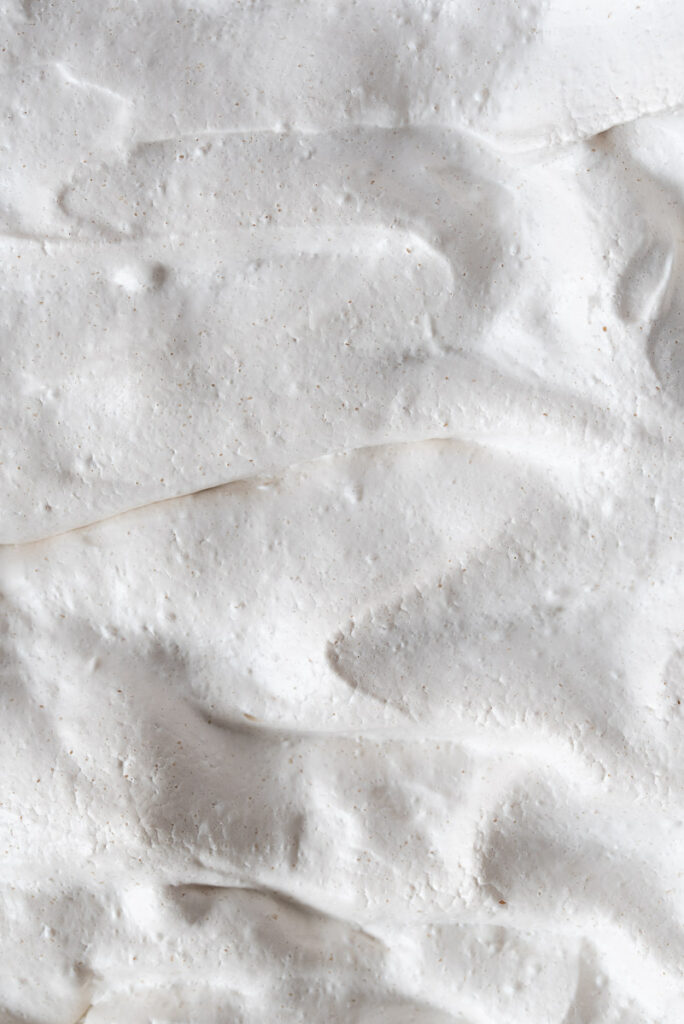 Print
Vegan Cherry Berries on a Cloud
A perfect mix of crunchy meringue crust, creamy tangy middle, and sweet fruit topping. Your mouth will be so happy.
Author:
Prep Time:

50 minutes

Cook Time:

9 hours

Total Time:

9 hours 50 minutes

Yield:

10

servings

1

x
Category:

Vegan
Ingredients
Meringue
2 cans (15.5 ounce each) no-salt-added garbanzo beans, drained to get approximately 1 1/2 cups canning liquid (aquafaba)
1/2 teaspoon cream of tartar
2 teaspoons vanilla extract
1/4 teaspoon xanthan gum
1 1/2 cups sugar
Filling
6 ounces non-dairy plain cream cheese, softened
1 cup sugar
1 teaspoon vanilla
2 cups non-dairy heavy whipping cream alternative
2 cups vegan miniature marshmallows
Topping
1 can (21 ounces) cherry pie filling
1 teaspoon lemon juice
2 cups sliced strawberries
Instructions
Meringue
Heat aquafaba in small saucepan over medium heat until it begins to gently simmer. Reduce heat, stir, and let simmer. You want to reduce it to 2/3 cup or 160 g and for me this took about 20 minutes. Keep a scale handly. Remove aquafaba from heat every few minutes to pour into measuring cup or container on scale (after hitting "tare" or zeroing out scale) until you get to 2/3 cup or 160 g. Cool briefly at room temperature, and then refrigerate at least 2 hours.
Preheat oven to 265 degrees. Spray bottom and sides of a 13×9 pan with pan spray.
Put reduced aquafaba in bowl, along with cream of tartar, vanilla, and xanthan gum. Beat on speed 6/10 with whisk attachment of stand mixer or electric mixer for about 1 minute or until it turns thick, frothy, and kind of pale.
Stop to scrape down bowl. Begin adding sugar, 2 tablespoons at a time, over a 3-minute period mixing at speed of 6/10. Stop to scrape down bowl. Increase speed to 8/10 and continue whipping for 3-4 minutes.
You may not get stiff peaks that release from the whisk and stand on their own, but you will get a stiff, stretchy consistency kind of like marshmallow cream. And when you spread it in the pan, it will be thick, shiny and luxurious like traditional whipped egg whites.
Spread meringue evenly into 13×9 pan. Bake for 60 minutes. Turn off the oven but don't open the door. Leave meringue in the oven for at least 8 hours or overnight.
Filling
Put mixing bowl and whisk attachment in the refrigerator for 10 minutes.
In small bowl, mix cream cheese, sugar, and vanilla until incorporated.
Add whipped cream to chilled bowl. Beat until soft peaks form on a speed of 6/10, about 2 minutes.
Fold cream cheese mixture and marshmallows gently into whipped cream.
Spread over meringue and refrigerate.
Topping
In medium bowl, mix pie filling, lemon juice, and strawberries until combined.
Store separately from the rest of the dessert.
Serve over cream-topped meringue.
Notes
You've got a couple of options for texture, depending on storage. Fresh out of the oven, the meringue bottom is crisp on the outside, chewy on the inside. To keep it that way, you can store the meringue separate from the filling and topping until right before you serve it. Keep the meringue at room temperature and refrigerate the filling and topping. However, if your meringue turns out a bit tough or you'd prefer a softer, more tender, marshmallowy bite, go ahead and top the meringue with the filling and stick in the fridge. Then, when it's time to serve, add the topping. 
Nutrition
Serving Size:

1/10 recipe

Calories:

520

Sugar:

72 g

Sodium:

110 mg

Fat:

21 g

Saturated Fat:

11 g

Trans Fat:

0 g

Carbohydrates:

83 g

Fiber:

1 g

Protein:

2 g

Cholesterol:

0 mg
Keywords: vegan cherry berries on a cloud, aquafaba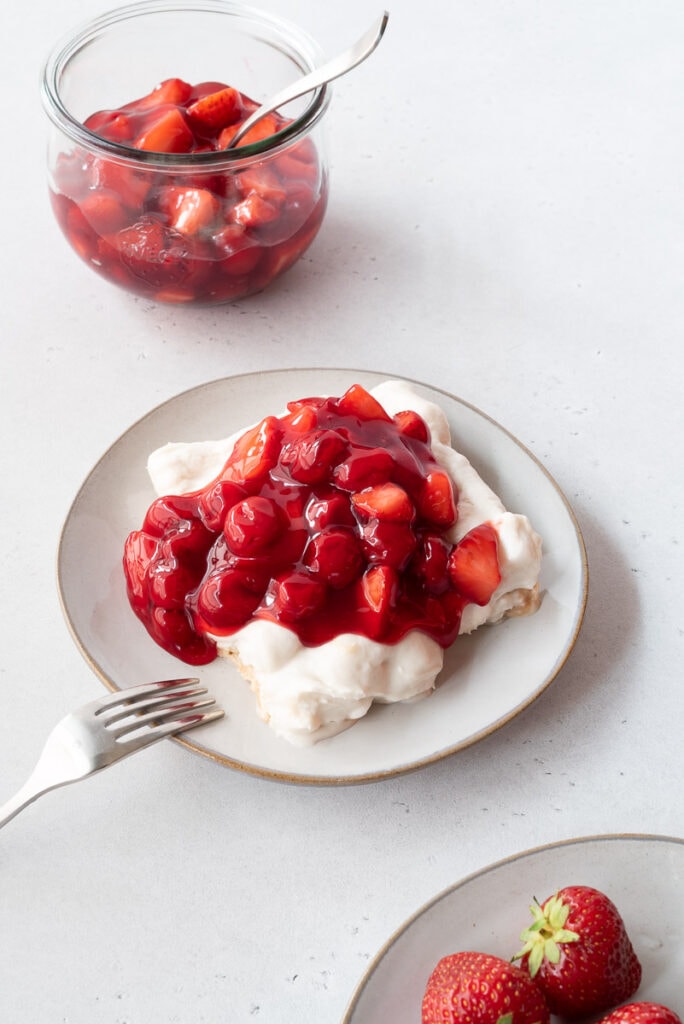 There are a lot of substitutions in this version, compared to the original Cherry Berries on a Cloud recipe. Let's talk ingredients and options for each:
Whipping Cream/Non-Dairy Heavy Whipping Cream Alternative
My first thought was to use a standard substitution I'd seen before which was canned coconut cream in place of whipping cream. It's thick and creamy and whips up beautifully thick. When I tested this, the Cherry Berries on a Cloud result was really good, but somehow not close enough to the original recipe for my palate.
What ended up working exquisitely was Silk Dairy-Free Heavy Whipping Cream Alternative. It's creamy, neutral-flavored, and whips to soft peaks quickly and easily. It definitely tasted the most like traditional whipping cream. However, for me, it was hard to source. Despite using Silk's online product locator tool, they didn't have it at my local food co-op, Whole Foods, or Target. The only place that had it was, weirdly, Walmart. And not even my local Walmart, but the Walmart 20 miles away.
It may have been a teensy bit over-the-top to drive there and buy 4 pints and drive home, but we're talking about my favorite dessert of all time, right? In a pinch or if you didn't want to drive 40 miles for vegan whipping cream, I'd use the coconut cream option mentioned above. (If you go this route, I'd recommend the well-tested and highly rated recipe from Minimalist Baker for coconut whipped cream.) In a pinch, I bet you could also use a tubbed whipped topping product like vegan truwhip or cocowhip original.
Cream Cheese/Vegan Cream Cheese
I've sampled the varying brands of vegan cream cheese before and ended up opting for Daiya Plain Cream Cheeze Style Spread for my Mini Vegan No-Bake Blueberry Cheesecake recipe. But this time, the best fit for Cherry Berries on a Cloud was Miyokos Organic Cultured Vegan Cream Cheese, Classic Plain. It's made out of cashews and coconut cream, and is a wonderfully smooth, rich product. And I didn't have any trouble finding it; hopefully the same will be true for you.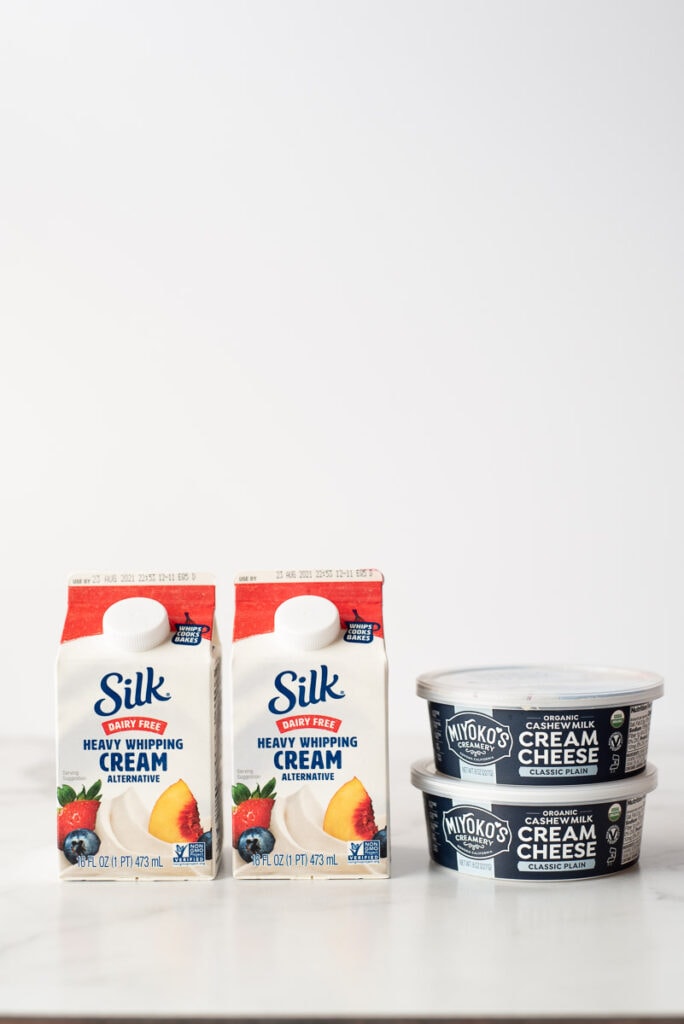 Sugar/Vegan Sugar
Sugar probably already seems vegan, right? There is actually an issue with some sugars being filtered through bone char. It's not all companies so it's not all sugar, but it can be hard to make the determination when you're buying it. So, you can learn more about it and figure out which companies disclose this information, or you can buy sugar labeled organic, which the USDA (United States Department of Agriculture) says can't be filtered this way.
Cherry Pie Filling/Cherry Pie Filling?
In theory, based on the ingredient list, canned cherry pie filling appears vegan: cherries, sugar, modified food starch, citric acid, and red 40. But the brand I used, Duncan Hines Wilderness Pie Filling, doesn't claim to be vegan on their label and it's hard to know if they use bone-char-free sugar in their product.
So, if this is a worrisome choice for you, I'd suggest making Cherry Berries on a Cloud with fresh fruit instead of the pie-filling-based topping. (Wait a minute. This mouthful of a recipe name deserves an acronym: CBOAC.) Another benefit of that would be that it would decrease the overall sugar in the dessert. Or, you could make your own cherry pie filling using vegan sugar.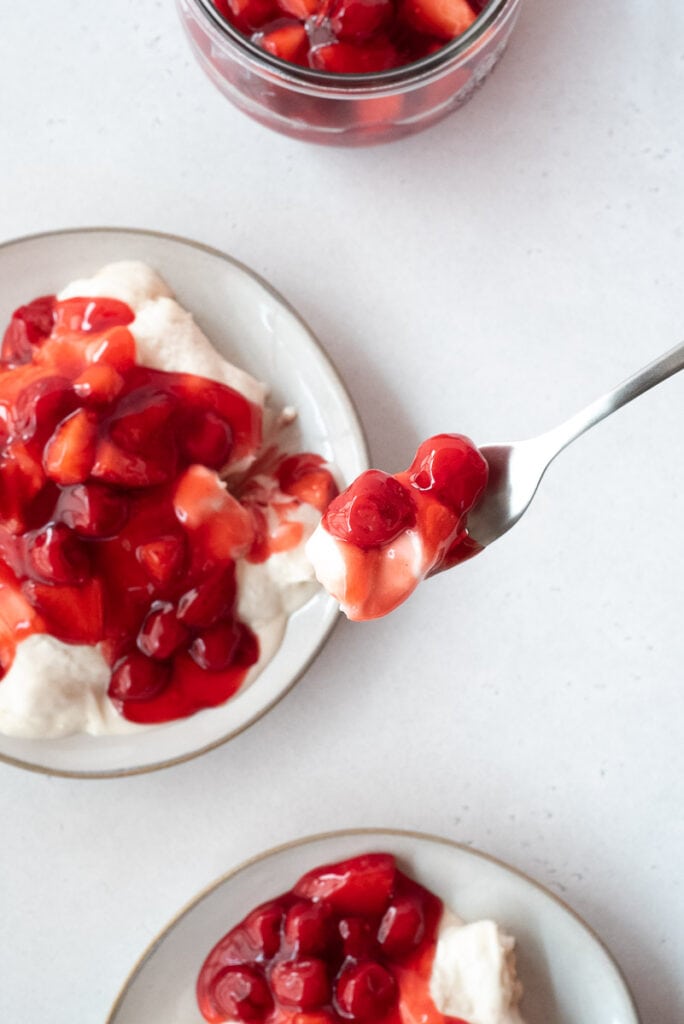 Egg Whites/Aquafaba
I had success with several different brands of canned garbanzo beans, depending on which store I happened to be at. The only real variable I see is sodium. You can buy no added salt beans and "regular" beans canned with salt, and both will whip up for a nice meringue. It will just change the taste slightly (more or less salty) and the sodium content of the dessert slightly.
I'm sure you'll find a use for the unused chickpeas on your own, but I'll suggest my recipe for Warm Red Garbanzos anyway.
There are a couple of options for buying straight aquafaba liquid now, without the beans. Oggs makes a shelf-stable product, but it appears to only be available in the UK and Vor makes an aquafaba powder which is listed as "currently unavailable" on Amazon. Of course, you could always cook your own garbanzo beans from scratch and save the cooking liquid. However, I haven't tested this recipe with any of these alternatives.
Marshmallows/Vegan Marshmallows
Traditional marshmallows are made with gelatin and gelatin comes from animals, so vegans put them on the "no thank you" list. Happily, Dandies makes a vegan version in regular size and minis of this favorite dessert ingredient and they're a great quality product so they make for an easy-cheesy swap.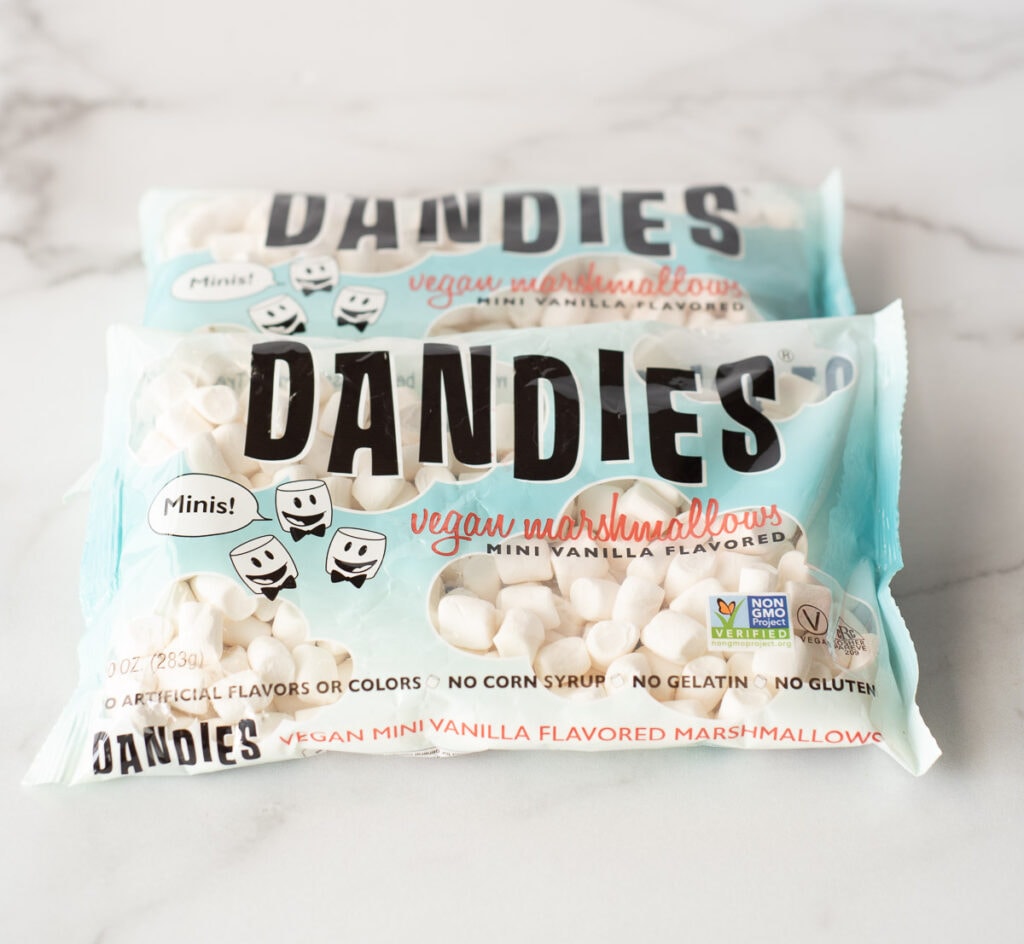 One important consideration if you decide to try this recipe:
This is not a last-minute dessert. You have to know ahead of time that you want to make it because you have to allot time for reducing and cooling the aquafaba before you begin whipping, and because the meringue itself sits in the oven overnight. For me, of course, this level of forethought and planning is worth every bite.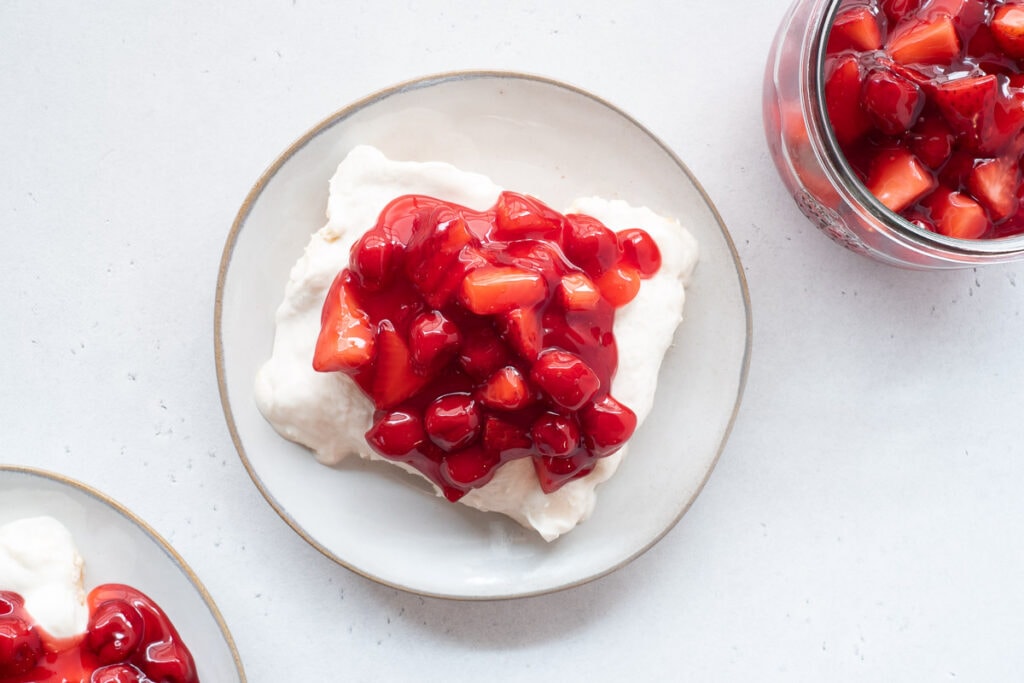 A note about portion size. So that I could compare the nutrition facts side-by-side with the original Betty Crocker CBOAC recipe, I set my number of servings at 10 to match theirs. However, I think a bigger slice, and therefore getting only 8 servings per recipe, is more reasonable and more realistic for what would typically be eaten. But here are all the numbers, so you can consider your options:
Original recipe (10 servings per pan): 530 calories, 21 g fat, 13 g saturated fat, 70 mg cholesterol, 170 mg sodium, 82 g carb, 2 g fiber, 5 g protein.
My recipe (10 servings per pan): 520 calories, 21 g fat, 11 g saturated fat, 0 mg cholesterol, 110 mg sodium, 83 g carbohydrate, 1 g fiber, 2 g protein.
My recipe (8 servings per pan): 650 calories, 26 g fat, 14 g saturated fat, 0 mg cholesterol, 140 mg sodium, 104 g carbohydrate, 1 g fiber, 3 g protein.
The original has a bit more protein, from the eggs, but mine has the benefit of being cholesterol-free and entirely plant-based. If you brought this dessert to a potluck, not only would you make the vegans happy, you'd also delight the dairy-free, egg-free, and gluten-free guests as well.
From a nutrition perspective, clearly, with over 500 calories and over 20 g fat, this is not a healthy dessert. It's a "sometimes" treat. Unfortunately (or fortunately?), when I was recipe testing for this post, I made CBOAC several times in a row…and it became a daily treat for me for a while. Needless to say, I ended up eating a lot of bean water and sugar.
From a food science perspective, I find it interesting that we look to beans and nuts to replace the characteristic functions of dairy and eggs in our favorite recipes, and they do a fantastic job. And while I'm not claiming this Vegan Cherry Berries on a Cloud is a health-promoting food choice, I do like that I succeeded in recreating a nostalgic treat from my childhood, entirely of plant foods. Is there anything they can't do?
This is not a sponsored post. I bought all the specialty ingredients myself (and logged the ridiculous miles on my car) to bring you this recipe. 
If you liked this post, you may also enjoy: