Have you ever liked a food, craved a food, so much that you could eat it on repeat and still want more? Somehow, magically, you just never get tired of it? For me, that food is veggie mole. But I didn't know this until my fourth decade of life.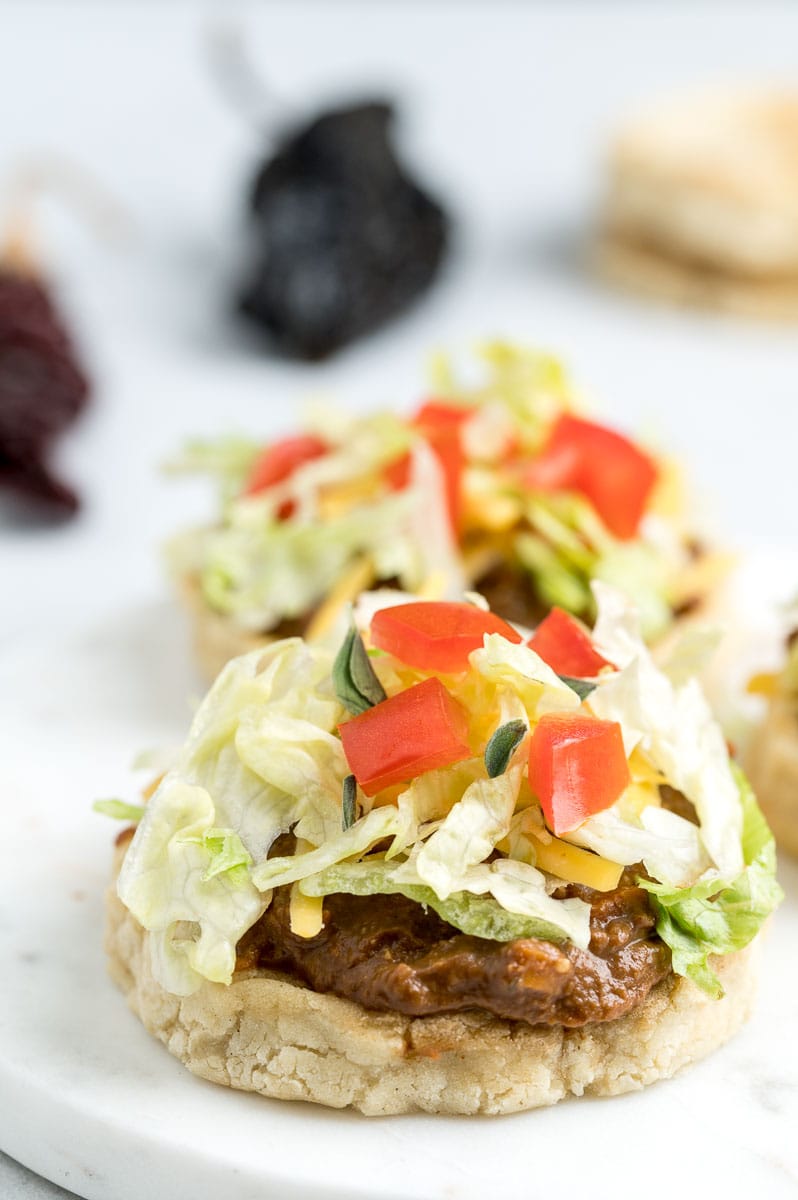 I found it out unexpectedly on a trip to Victoria, BC. You typically don't expect to eat savory dishes when you sign up for a chocolate-tasting tour, but that's exactly what my tour guide asked me to do. After noshing on chocolate ice cream and chocolate truffles, as part of a Chocolate and Churches food tour, we stopped in at La Taquisa and were served a veggie mole sope: a thick, chewy corn-tortilla-style base, topped with deep, dark brown sauce and all the traditional, colorful, fresh taco toppings like cheese, lettuce, and tomato. It was a revelation.
It took me until the age of 49 to have my first mole, and I fell in love instantly. I was only in town for 3 days and I went back 2 more times. I pretty much became a La Taquisa regular over a weekend. And I didn't stray from the original order: veggie mole sope every time.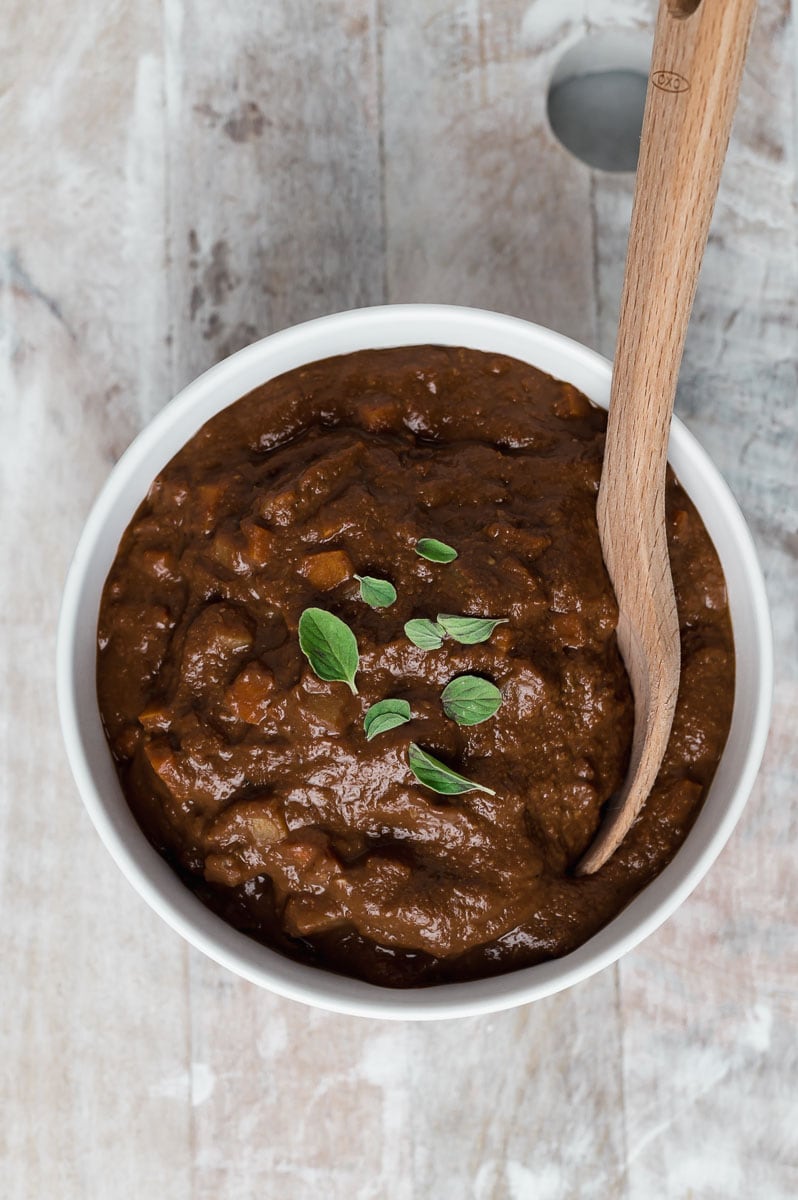 I've been wanting to recreate the experience at home ever since, and I finally got the recipe right. It's definitely a long and eclectic ingredient list but so worth the effort. The flavor is unrivaled, and the sauce is so versatile. I can eat it days and days in a row and still want more. This recipe makes a ton and it freezes well, so once you whip up a batch, you'll be sitting pretty for a while.
What is mole?
It's a traditional type of Mexican sauce, but the name can describe a family of sauces, all made in different ways. Nearly all moles begin with chile peppers, and often also include nuts, spices, and fruit. My recipe is a version of a mole negro since it contains chocolate.
What are the main ingredients in this mole?
It's a weird and wild list of things that I don't normally cook together, but boy does it work. And from an efficiency perspective, and with hopes of making your mole experience a pleasant one, my one piece of advice is: it really pays to prep all the ingredients first before you start.
Dried chiles:
Together, chipotle, guajillo, and ancho give the sauce a nice depth of flavor and spice without being too fiery. I was able to find them at my local grocery store and didn't need to visit a specialty store. The good news is that since they're dried, they'll last in the pantry for a long time, so you'll have them on hand the next time you make mole, and the time after that.
Quick note for safety: I'd recommend wearing gloves when you cut and deseed them, or at least be extra careful to wash your hands immediately after and keep your hands away from your eyes and nose.
Vegetable broth:
You can use your favorite here. I like Better Than Bouillon or homemade vegetable bouillon cubes.
Bread and tortillas:
These serve to thicken and flavor the sauce. I used Sara Lee Artisano Bakery Rolls and La Burrita corn tortillas. It's sorta strange to only use one roll for the whole recipe. I just buy a bag and keep it in the freezer, pulling one out at a time when mole madness strikes.
Tomatoes and tomatillos:
I prefer Roma tomatoes, but really any tomatoes will do including cherry tomatoes or beefsteak tomatoes. If you haven't seen them before, tomatillos look like little pale green tomatoes wrapped in leaves.
Their acidity is key for flavor and the pectin they provide helps thicken the sauce. They used to feel like a specialty ingredient but they're pretty widely available in produce departments these days. If they're new to you, you read more about them here.
Vegan butter:
I used Earth Balance Vegan Buttery Sticks, but you could use your favorite butter-style spread and even olive oil in a pinch.
Onion and garlic:
To save yourself a few minutes of prep time: don't spend too long cutting the onions into small, perfect pieces. They're going to cook a bit but then ultimately get blended up.
Peanuts:
I used raw Spanish peanuts, but this recipe is pretty forgiving. Any version of peanuts would work, and I think you could likely get away with subbing peanut butter too.
Dried cranberries:
Some mole recipes call for raisins, but I like the tartness of dried cranberries instead.
Herbs and spices:
The cumin seed and thyme are pretty straightforward, but let's be honest, using whole spices for cinnamon, clove, and allspice ends up being a bit fussy. The original recipe asks you to add all spices whole but then you need to dig them out a few minutes later before blending and it's awfully tedious.
So I opted for my own solution, which was using the tea bag to infuse some flavor from the tiny cloves and allspice berries but is much easier to fish out a few minutes later. The whole cinnamon sticks are pretty easy to locate and remove.
However, you could make your life even easier by using ground spices instead. I'd recommend adding very small amounts, like 1/8 teaspoon each of cloves and allspice, and 1/4 teaspoon cinnamon. Then, taste the mole at the end of cooking, and add more if needed.
Chocolate:
I like using slightly bitter or dark chocolate, specifically the Ghiradelli Bittersweet 60% Cacao Baking Chips, but you could use your favorite milk or dark bar or chips here instead. This is one of the ingredients to keep a careful eye on if you're hoping to make the mole vegan. If so, I'd recommend Enjoy Life Dark Chocolate Morsels.
Salt and sugar:
If you're concerned about sugar and salt intake you could cut back on the amounts in the recipe, taste it at the end, and adjust as needed.
Vegetables:
I used yam, carrot, and potato to mimic the recipe at La Taquisa. But you could use different veggies I'm sure, utilizing whatever you have on hand. I'm thinking cauliflower, jicama, or corn would all work nicely.
Is mole spicy?
Typically, yes, because of the chiles. But I cut back on the amount so I'd consider this recipe "mild."
Can mole be vegetarian?
Absolutely. Traditionally, it's often made with animal-based ingredients like beef broth, lard, etc. But there are vegetarian options for all the ingredients, so this recipe is completely vegetarian and still very complex in flavor.
Can this recipe be vegan?
Yes, with two easy swaps. Make sure to use vegan chocolate (like Enjoy Life Dark Chocolate Morsels) and vegan dinner rolls. Otherwise, the rest of the ingredients are already vegan.

Is mole healthy?
Yes. This vegetarian mole recipe is made almost entirely of plant foods, which offer excellent health benefits. Although not traditional, I've packed it with plenty of vegetables (yam, carrot, and potato) to maximize nutrient density.
Not surprisingly, because of all the plant-based ingredients, this recipe is high in fiber. It's got 6 grams of protein in a half cup, but if you wanted to boost that higher you could add cooked kidney, pinto, or adzuki beans.
Does mole taste like chocolate?
A little bit, but it's not easily identifiable in the final product. The chocolate contributes just one of the many layers of flavor, in a kind of savory way. The sauce doesn't taste sweet or at all like dessert.
How can I use mole sauce?
It's so versatile! My favorite way is to top homemade sopes, using this recipe. But it could also be used as a:
taco filling
enchilada filling
taco salad topping
nachos topping
quesadilla filling
topping for beans and rice
topping for roasted vegetables
sauce for a burrito bowl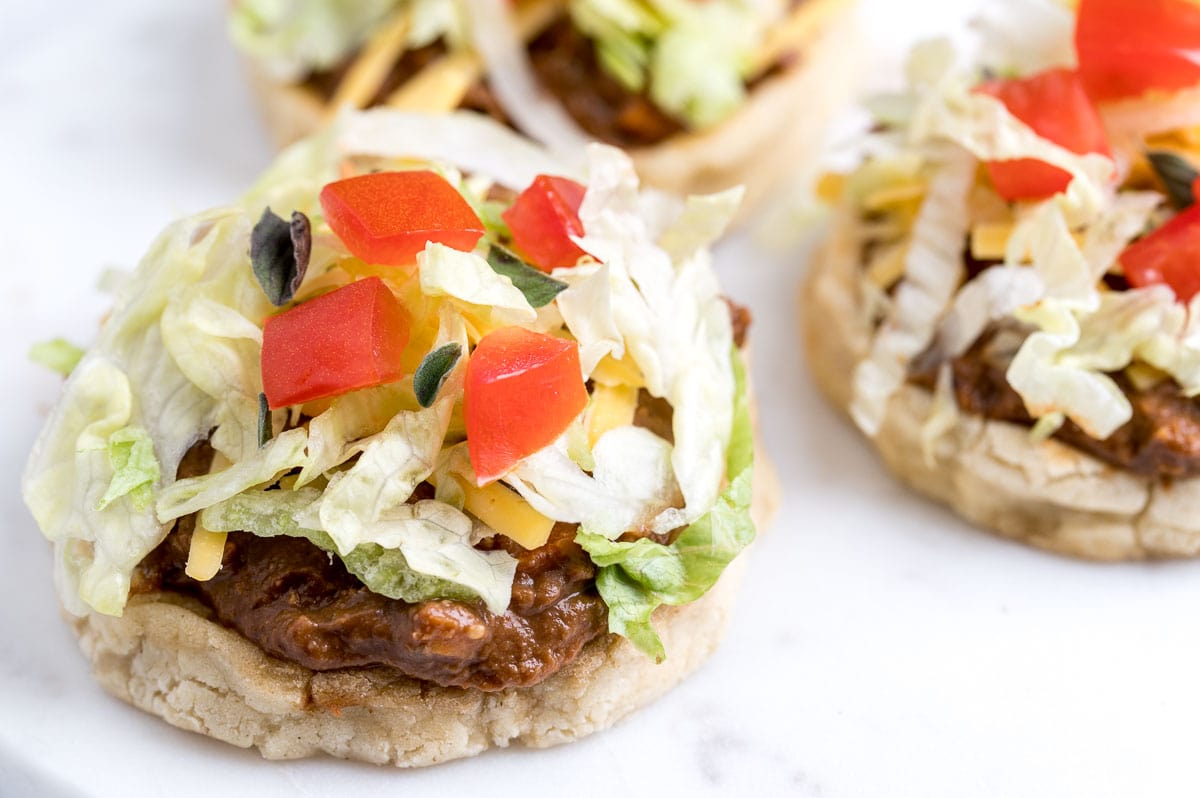 What can I do with the leftovers?
Based on my experience I don't think you'll have any. But if you do, the sauce freezes very well.
The batch I made to photograph for this post? I've eaten it 4 times this week, and I will eat it again tomorrow with no hesitation. I'll actually be sad when the tastiness comes to an end.
I hope you'll give this recipe a try. It has a completely different flavor than other taco fillings you're used to. I think you'll find it's a nice alternative for tostadas or burritos to have at the ready that's absolutely worth the meal prep ahead of time.
Print
Perfect Mole with Veggies
A thick and delicious mole with deep, rich flavor and no meat in sight. Lots of added vegetables for texture and nutrition, it's wonderful in tacos, over enchiladas, or my favorite, as a topping for sopes. And just the right about of spice: mild.
Author:
Prep Time:

30 min

Cook Time:

75 min

Total Time:

1 hour 45 minutes

Yield:

8 cups

1

x
Category:

Dinner

Cuisine:

Mexican
Ingredients
1/2–1 dried chipotle chiles, stemmed, seeded and cut into 1-inch pieces with scissors
2 dried guajillo chiles, stemmed, seeded and cut into 1-inch pieces with scissors
1–2 dried ancho chiles stemmed, seeded and cut into 1-inch pieces with scissors
3 cups vegetable broth, divided
1 fluffy dinner roll, torn into pieces (about 1 1/2 ounces)
2 10-inch or 4 5-inch corn tortillas, cut or torn into 1-inch strips
5 tomatillos, cut in half crosswise
2 Roma tomatoes, cut in half crosswise
1 tablespoon vegan butter
1 onion, halved and thinly sliced
6 cloves garlic, peeled and diced (about 1–2 tablespoons)
1/3 cup roasted or raw peanuts, chopped
¼ cup dried cranberries
2 tablespoons cumin seeds
1 tablespoon dried thyme
3 cinnamon sticks
6 whole allspice berries
5 whole cloves
1 individual tea bag, any flavor
5 ounces dark chocolate (shy 1 cup of chips or chopped chocolate bar)
3 tablespoons white sugar
1 teaspoon salt
1/2 yam, peeled and finely diced (about 1 1/2 cups)
1 carrot, peeled and finely diced (about 1/2 cup)
4 small Yukon Gold potatoes, peeled and finely diced (about 3 cups)
Instructions
Prep all ingredients so they're at the ready.
Heat medium-sized skillet over medium heat, dry. No oil is needed. Add chiles, keep them moving often, and cook until you can smell their aroma, about 3 minutes. Transfer to a blender.
Heat 2 cups vegetable broth over medium-high heat in a small saucepan until it just begins to bubble. Pour broth into the blender.
Return skillet to heat, add dinner roll pieces and tortilla strips over medium heat, cooking until lightly browned and aromatic, about 5-7 minutes. Transfer to the blender with vegetable broth and chiles. Make sure to submerge chiles, toasted bread, and tortillas and let soak in the broth until softened, about 10 minutes. This is about how long the next step of cooking the tomatoes and tomatillos will take.
Return skillet to the stove increase heat to medium high, add tomatillos and tomatoes, and cook until softened and with a few good charred spots, about 3 to 4 minutes per side or 10 minutes total. Remove from heat.
Now that the ingredients in the blender have had time to soak, blend the mixture until smooth. Add the tomatoes and tomatillos to the blender with the chile puree.
Now you'll need a large skillet. Melt vegan butter in a large skillet over medium heat. Stir in onion, garlic, peanuts, dried cranberries, cumin seeds, thyme, and cinnamon sticks. Cut the corner off the tea bag, empty out the tea and discard, and add allspice and cloves. Tie the tea bag with kitchen twine. Use something hard to give the tea bag a few good whacks, to crack the whole spices into some smaller pieces. Add tea bag to skillet.
Make sure the tea bag gets some moisture on it to extract the flavors. I like to pile onions on top of it and let some of the steam and liquid permeate the bag. Cook and stir until onions are soft and translucent, 5 to 8 minutes. Remove the cinnamon sticks and tea bag of whole spices; add the onion mixture to the blender and blend until smooth.
Pour chile puree into a very large soup pot over medium heat. Stir in the remaining 1 cup vegetable broth, chocolate, sugar, salt, yam, carrot, and potato. Bring mixture to a simmer and stir until the chocolate is melted. Cover and cook until sauce is thickened and slightly reduced, and vegetables are soft, about 15 to 25 minutes. You might need to stir occasionally so the veggies don't stick to the bottom of the pan.
Serve over sopes or in tacos or burritos, topped with your favorite toppings like shredded lettuce, shredded cheese, diced tomato, sour cream, and guacamole.
Notes
Inspired by Authentic Mole Sauce and La Taquisa in Victoria, BC. Freezes well.
Notes on equipment:
To save on dirty dishes, you can just use one large skillet throughout, for each step of the recipe instead of 1 medium skillet and 1 large skillet. It just might feel odd when you put such a small volume of food into the big skillet in the earlier steps.
I used a Vitamix blender but think a regular blender could handle this recipe as well.
Nutrition
Serving Size:

1/2 cup

Calories:

240 cal

Sugar:

11 g

Sodium:

320 mg

Fat:

8 g

Saturated Fat:

3 g

Trans Fat:

0 g

Carbohydrates:

43 g

Fiber:

12 g

Protein:

6 g

Cholesterol:

0 mg
Keywords: veggie mole, vegetarian mole, mole sauce recipe, vegetarian mole recipe
If you liked this post, you may also enjoy: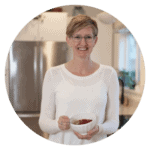 Kristine Duncan, Registered Dietitian
I'm a Registered Dietitian, the author of Veg Girl RD, and a vegetarian who loves to eat. I'm a nutrition nerd who teaches at the University of Washington and Skagit Valley College. I also write about nutrition professionally for magazines and books. If you want to know more, check out my About page.