Pantry meals. You know, the ones you can pull together on short notice, with essentially no forethought, by grabbing a few canned goods out of the pantry. They've saved the day on many occasions when the family needed to get fed. Here's another recipe that fits that bill: Bruschetta Pasta. You need just 6 ingredients, most of which you probably already have on hand. If so, you can have a tasty Italian dinner in 20 minutes flat.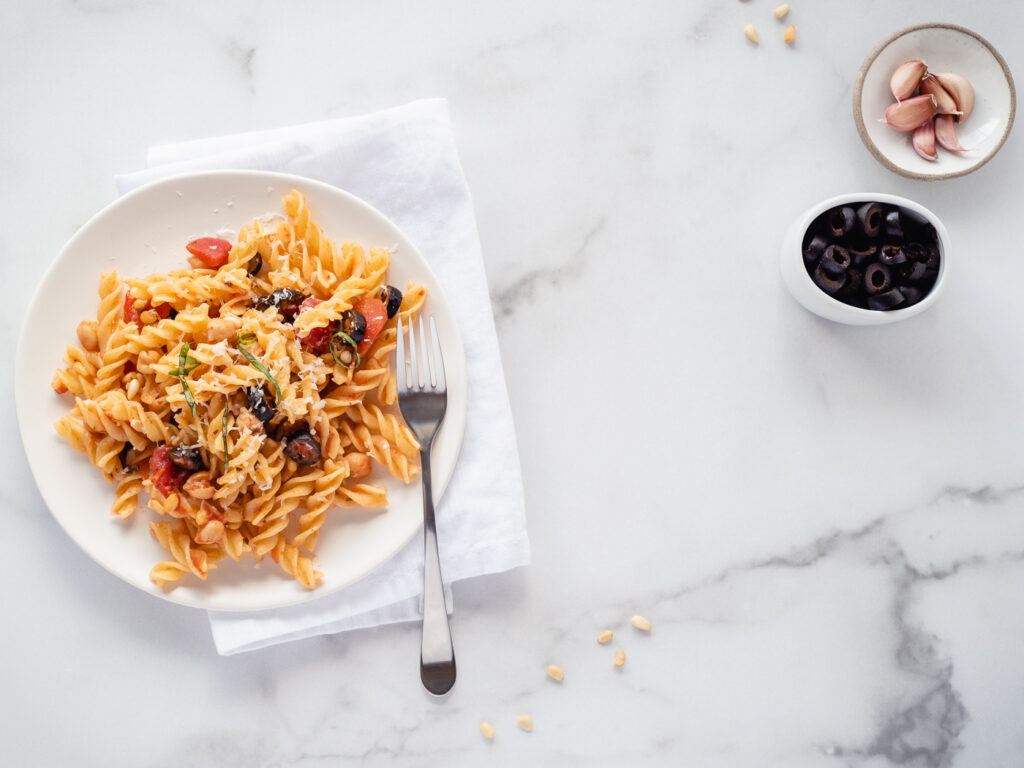 If you'd like to see how this recipe fits into a full week's menu from Trader Joe's, take a peek at A Week's Worth of Trader Joe's Dinners for Less than $100. And for help with shopping, you'll find a grocery list included below the recipe.
Print
Bruschetta Pasta
One of my favorite meals that I go to over and over again. It's fast, easy, and tasty.
Author:
Prep Time:

5 mins

Cook Time:

15 mins

Total Time:

20 mins

Yield:

6

1

x
Category:

Main Dish
Ingredients
16 oz

. fusilli pasta

¼ cup

pine nuts, toasted
Half of a 3.8 oz. can sliced black olives, drained
Half of a 15 oz. can garbanzo beans, drained

12 oz

. jar bruschetta topping or sauce
Salt and pepper to taste

2 oz

. Grana Padano or good Parmesan cheese, grated
Instructions
Bring a large pot of salted water to a boil. Add pasta and cook according to package directions.
While pasta is cooking, toast the pine nuts (or skip this step if you bought already toasted nuts). I like to do this in a small (6-inch) cast-iron skillet, but any small skillet will work. Toast them on low heat until lightly browned, watching very carefully to be sure they don't burn.
In a small saucepan, combine pine nuts, black olives, garbanzo beans, and bruschetta sauce, with salt and pepper to taste. Heat sauce to boiling; then reduce heat to low and simmer until pasta is ready.
Drain cooked pasta and toss with bruschetta sauce and half of the grated cheese. Use remaining cheese to garnish each serving.
Notes
Nutrition Information Per Serving with suggested accompaniment of 4 oz. green beans and 1.25 oz. bread: Calories: 550 Fat: 11 g Saturated Fat: 2 g Carbohydrate: 95 g Sugar: 11 g Sodium: 800 mg Fiber: 8 g Protein: 20 g Cholesterol: 7 mg
The serving size pictured is 1.5 cups.
Nutrition
Serving Size:

1.5 cups

Calories:

440

Sugar:

11 g

Sodium:

540 mg

Fat:

10 g

Saturated Fat:

2 g

Trans Fat:

0 g

Carbohydrates:

71 g

Fiber:

4 g

Protein:

17 g

Cholesterol:

7 mg
Keywords: pasta, bruschetta, garbanzo beans, fusilli, Trader Joe's, vegetarian, pine nuts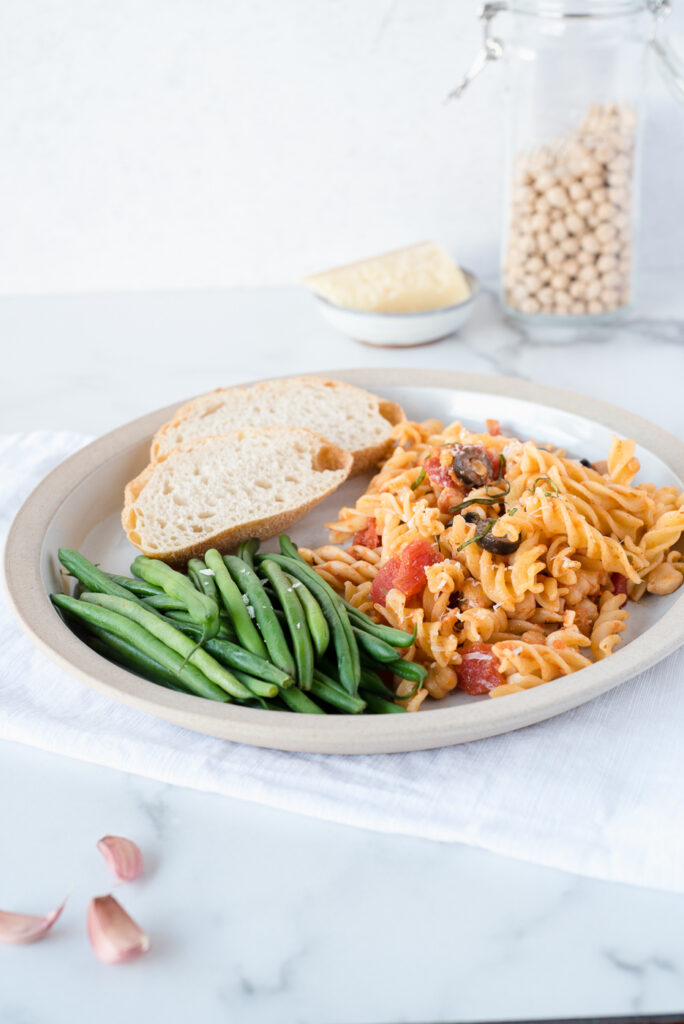 This shopping list was prepared for a trip to Trader Joe's, but any grocery store should have similar items. It was updated in 2020 with current prices and product names.
Bruschetta Pasta Shopping List
16 oz. Trader Joe's (TJ's) Italian fusilli pasta ($0.99)
8 oz. TJ's raw pine nuts ($7.99) or 8 oz. TJ's dry toasted pignolias* ($9.99)
3.8 oz. can TJ's sliced black olives ($1.39)
15 oz. can TJ's garbanzo beans ($0.79)
12 oz. Trader Giotto's Bruschetta (sauce) ($2.69)
7 oz. TJ's Grana Padano cheese  ($5.40)
Recommended Accompaniments:
Two 12 oz. bags TJ's haricots verts ($2.99 x 2)
14 oz. TJ's sourdough batard ($2.29)
TOTAL $29.52 with accompaniments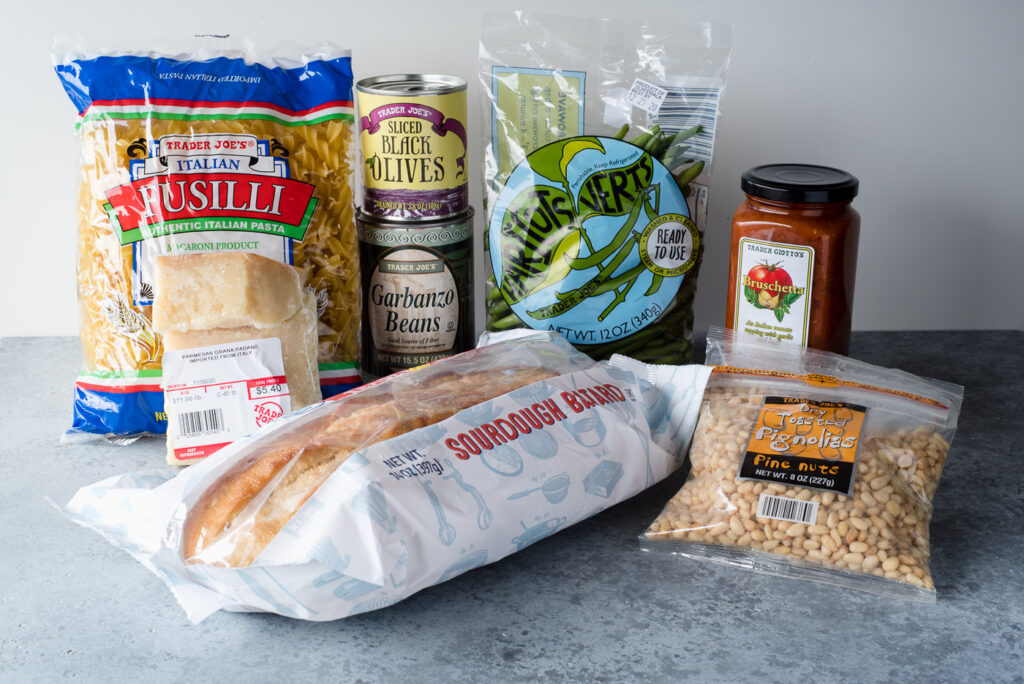 Nutrition notes:
 – Processed foods are high in sodium! I sort of view the way I cook as a compromise between fresh and convenience foods. However, I was a bit shocked by the sodium content of this meal, mostly contributed by all the canned/jarred stuff. I know I generally do well with keeping cholesterol and saturated fat intakes low, but had always suspected I was pushing the upper limit on sodium. Depending on whom you ask, the healthy goal is around 1500-2300 mg/day and one serving of this recipe provides 540 mg, or 800 mg for the meal. Suspicion confirmed.
 – Half a can??? If it will drive you crazy to just use half a can of an ingredient you paid good money for, you could easily toss in all of the beans and olives. But, remember, it will push the sodium and calorie contents up a bit more.
 – Pasta meals are high in carbohydrates! Vegetarians tend to eat a lot of carbohydrates which actually mirrors the recommendation that we should get 225-325 g per day, or the majority of our calories, from these nutritious foods. But, if 95 g of carb for this meal freaks you out, you could reduce your pasta portion to 1 cup or forgo the bread in place of more non-starchy veggies.
– What about protein? The garbanzo beans, noodles, and nuts come together to boost this recipe to 17 grams of protein per serving, or 20 grams for the whole meal with sides. Plant protein for the win!
 – Pine nuts are expensive!  At Trader Joe's the pine nuts are basically a dollar an ounce. And buying a bag of them pushes up the overall cost of this meal. Most nuts have similar nutrition profiles, so you could absolutely use a less expensive nut, without affecting much.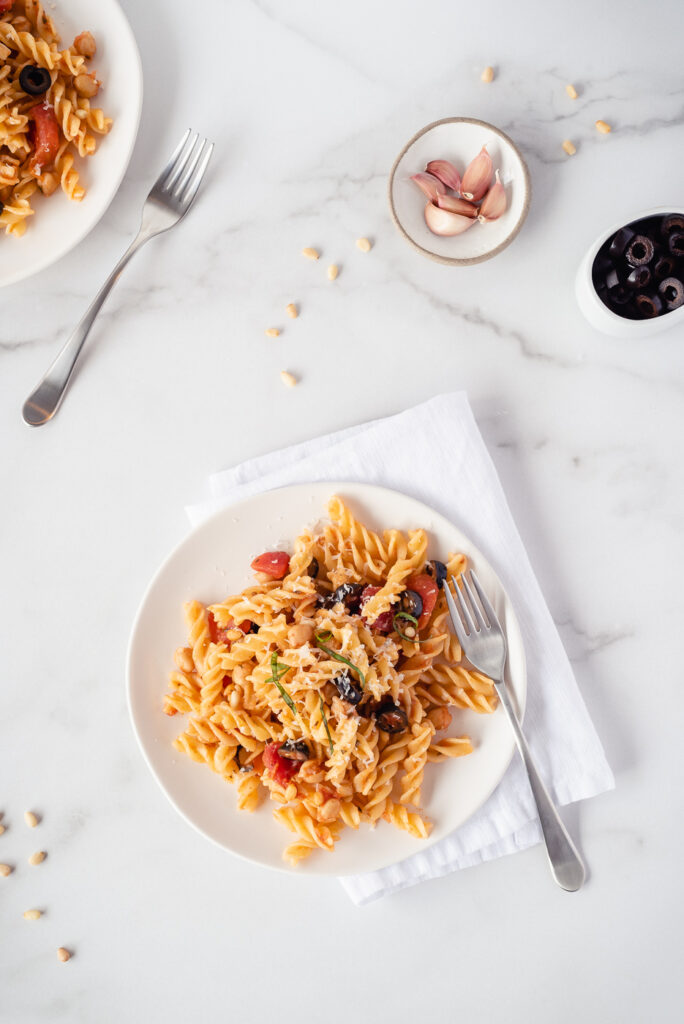 If you get in the habit of keeping noodles, canned beans, olives, and some flavorful tomato canned tomato products on hand, you can be a master of the speedy pasta pantry meal any day of the week.
Let me know what you think!  Buon appetito!
This is not a sponsored post. I bought all the groceries on my own and happily consumed them.
If you liked this post, you may also enjoy: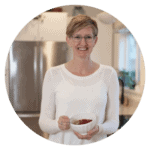 Kristine Duncan, Registered Dietitian
I'm a Registered Dietitian, the author of Veg Girl RD, and a vegetarian who loves to eat. I'm a nutrition nerd who teaches at the University of Washington and Skagit Valley College. I also write about nutrition professionally for magazines and books. If you want to know more, check out my About page.