Thanksgiving gets all the attention in November, understandably. But our 11th month is also World Vegan Month, which is a good excuse to focus on more meals without meat. Who better to advise you on this adventure than The Plant-Powered Dietitian?
That's right, today I'm sharing a guest post from another vegetarian dietitian, Sharon Palmer. (There aren't too many of us, so we gotta stick together!) Once this turkey holiday is over, consider making a batch of these plant-powered veggie burgers to get you through the craziness that is December. Take it away, Sharon!

›››››››››››››››››››››››››››››››››››››››››››››››››››››››››››››››››››››››››››››››››››››››››››››››››››››››››››››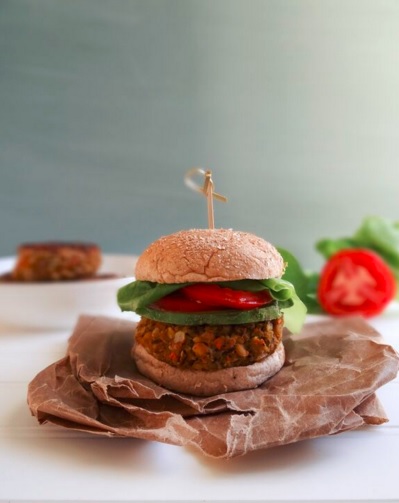 If you stock your plant-powered pantry wisely, you'll be able to pull out fabulous meals every night of the week. Just combine a few staples—canned beans, dried farro, oats, walnuts, herbs, and olive oil—with a few fresh items, including mushrooms, carrots, tomatoes, avocados, and whole grain buns, and you'll have an amazing meal worthy of a special weeknight, weekend party, or celebration. Homemade veggie burgers, such as these savory farro and white bean burgers, are leaps and bounds above frozen varieties when it comes to taste. And they're not as hard to make as you think. Make up this big batch for a large group, or to reheat for lunches and meals during the week.
Star nutrients: Folate (18% DV), Niacin (19% DV), Pantothenic acid (11% DV), Riboflavin (14% DV), Thiamin (30% DV), Vitamin A (53% DV), Vitamin B6 (17% DV), Vitamin C (17% DV), Vitamin K (27% DV), Copper (19% DV), Iron (16% DV), Magnesium (26% DV), Manganese (84% DV), Phosphorus (26% DV), Potassium (18% DV), Selenium (52% DV), Zinc (17% DV)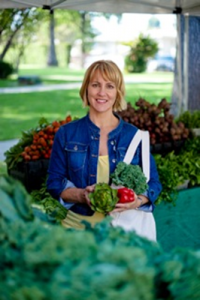 Sharon Palmer, The Plant-Powered Dietitian™ is a writer and author of The Plant-Powered Diet. Over 850 of her articles have been published in national publications, including Prevention, Better Homes and Gardens and Today's Dietitian. She is also the editor of the award-winning publication Environmental Nutrition and writes for her blog, The Plant-Powered Blog. Her specific expertise is in plant-based nutrition, including Mediterranean, vegetarian and vegan diets. Her second book, Plant-Powered For Life: Eat Your Way to Lasting Health with 52 Simple Steps and 125 Delicious Recipes, was published in 2014.
Print
Farro and White Bean Veggie Burger
From Plant-Powered for Life: Eat Your Way to Lasting Health with 52 Simple Steps and 125 Delicious Recipes Copyright © 2014 Sharon Palmer
Author:
Prep Time:

30 mins

Cook Time:

30 mins

Total Time:

1 hour

Yield:

1

0

1

x
Ingredients
¾ cup

uncooked farro

3 cups

water

1 teaspoon

reduced sodium vegetable broth base
One

15

-ounce can cannellini beans, no salt added, rinsed and drained (liquid reserved), or

1 ¾ cups

cooked

1

medium onion, finely diced

1 cup

finely chopped mushrooms

1 cup

grated carrots (

2

medium)

¼ cup

chopped walnuts

¼ cup

chopped fresh oregano, or

1 teaspoon

dried

2 tablespoons

minced fresh chives

1/3 cup

uncooked old-fashioned oats

½ cup

whole grain bread crumbs (see note)

1 teaspoon

low-sodium herbal seasoning blend

¼ teaspoon

freshly ground black pepper

¼ teaspoon

turmeric
Pinch of sea salt, optional

3 tablespoons

extra virgin olive oil
Ten

1 ½ ounce

whole grain buns

10

lettuce leaves

3

medium tomatoes, sliced into

20

slices

2

avocados, sliced into

20

slices
Instructions
Place the farro in a pot with the water and broth base. Stir well, cover, and bring to a boil over medium-high heat. Reduce the heat to medium, cook for 35-40 minutes, and drain any leftover liquid.
Place the cannellini beans in a mixing bowl and mash slightly with a potato masher, until thick and lumpy. Mix in the cooked farro, onions, mushrooms, carrots, walnuts, oregano, chives, oats, bread crumbs, herbal seasoning, black pepper, turmeric, and sea salt, if desired. Combine the ingredients using clean hands, then add 2 to 3 tablespoons of the reserved bean liquid to make a thick yet moistened mixture that sticks together. Chill for about 1 hour.
In a large skillet, heat 1 tablespoon of the olive oil over medium heat. Form patties out of ½ cup of the bean mixture with your hands, mashing the ingredients together so that they do not crumble. Carefully place 3 to 4 patties at a time into the hot oil and cook for 6 minutes on each side, turning carefully. Repeat, adding 1 tablespoon of olive oil to the skillet with each batch of patties, until all the patties are done.
Serve each patty with 1 bun, 1 lettuce leaf, 2 tomato slices, and 2 avocado slices.
Notes
Whole grain bread crumbs: To make your own bread crumbs, toast whole grain bread (gluten-free, if desired) for 10-15 minutes in a 400 degree F oven, until dry and brown (use 1 slice to make about ¼ cup of crumbs). Remove and let cool slightly, then place in a blender or small food processor and process into crumbs.
If you don't want to serve all of the burgers at once: prepare and cook them according to the directions and refrigerate in an airtight container up to 3 days. Reheat in the microwave or in a skillet and serve as directed.
Variation: Substitute 2 ¼ cups cooked brown rice for the farro. This version is gluten-free (provided that you use gluten-free oats, buns, bread crumbs, and other ingredients).
Nutrition
Serving Size:

1 patty, bun, and lettuce leaf, and 2 tomato and avocado slices each

Calories:

354

Sugar:

6 g

Sodium:

378 mg

Fat:

15 g

Saturated Fat:

2 g

Carbohydrates:

50 g

Fiber:

11 g

Protein:

11 g

Cholesterol:

0 mg
If you liked this post, you may also enjoy: