You have to work a little harder to eat enough fruit in the winter. At least I do. Fresh citrus is available, but I find myself relying on frozen fruit at breakfast more and more, especially since I'm in a smoothie routine. Even if I don't get a workout every morning, my blender sure does.
Frigid temperatures are the norm in Bellingham this week, courtesy of an air mass from the Yukon. So, sharing recipes for cold drinks might seem a bit out-of-place. But what better time to dream of summer and sunshine and lemonade and fresh peaches? My wishful thinking and I are about 6 months ahead of schedule, I know, but maybe I can get myself to August one day at a time with the help of this summery concoction: Peach Lemon Cream Smoothie.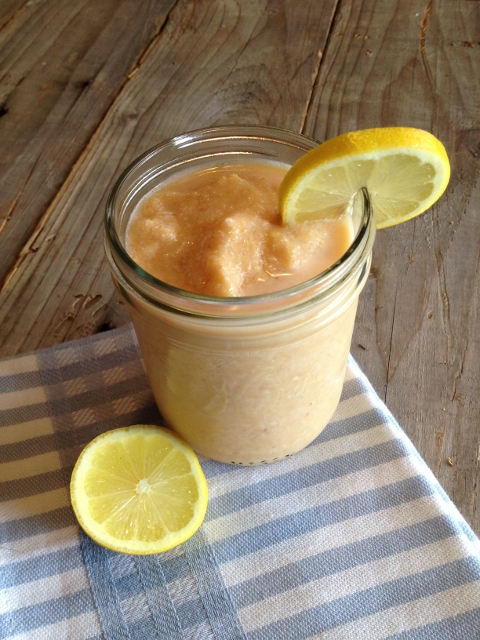 Peach Lemon Cream Smoothie
Reminiscent of summertime lemonade and August peaches, but you can enjoy it year-round.
Ingredients
2 tablespoons cashews, soaked in water (in the refrigerator) overnight
½ cup water, divided
3 tablespoons freshly squeezed lemon juice (from 1 lemon)
1½ cups frozen unsweetened peaches
1-2 tablespoons sugar or maple syrup
¼ cup soymilk
½ teaspoon vanilla extract
Instructions
Add soaked cashews and ¼ cup water to blender. Blend for 15-30 seconds at a time, stopping to scrape down sides, until smooth or until cashews are really whizzed up and you've got a creamy liquid.
Add remaining ¼ cup water, lemon juice, peaches, sugar or maple syrup, soymilk, and vanilla.
Blend for 15-30 seconds at a time, stopping to scrape down sides, until smooth.
Nutrition Information Per Serving
Serving size:
1.75 cups
Calories:
320
Fat:
9 g
Saturated fat:
1.5 g
Carbohydrates:
57 g
Sugar:
47 g
Sodium:
35 mg
Fiber:
4 g
Protein:
6 g
Cholesterol:
0 mg
You might notice there's sugar in this recipe. I was going for a true lemonade flavor which is typically achieved with lemon juice, water and sugar. I did experiment. One tablespoon left the smoothie a bit puckery and 2 was the perfect balance, so you might be OK with 1 1/2. I also tried maple syrup with good success if that's more your style.
I feel like alongside the other nutrient-dense ingredients, the sugar isn't too concerning. And, you're still coming out ahead compared to more common breakfast choices like sugared cereal, toaster pastries or a frothy 20-ounce cup of mocha breve madness. But feel free to play around with your favorite sweetener. Start with a little, blend, taste and you can always add more. That's the beauty of smoothies – the possibilities are endless.
They really are endless, once you start searching for smoothie recipes online. I've been sampling a lot of them lately, which means I vary my nutrient intake each morning…spinach, apple and walnuts on Monday; banana, cherries, kale and cinnamon on Tuesday. I have noticed that some recipes are lacking protein, though, which is important at breakfast. This is especially true if the smoothie is mostly vegetables and fruit in a base of coconut water or almond, rice, or coconut milk (the thick canned kind normally used for cooking or the thinner beverage kind in a refrigerated carton or shelf-stable box). I know some folks have moved away from soy to try other non-dairy milks, but it wins the protein contest every time. Check out the chart below.
| Product | Serving Size | Grams of Protein |
| --- | --- | --- |
| Kirkland Signature Organic Plain Soymilk | 1 cup | 8 g |
| Pacific Organic 7-Grain Vanilla Non-Dairy Beverage | 1 cup | 3 g |
| Almond Breeze Refrigerated Original Unsweetened Almond Milk | 1 cup | 1 g |
| Rice Dream Classic Original Rice Drink | 1 cup | 1 g |
| Coconut Dream Enriched Original Coconut Drink | 1 cup | 0 g |
For the 6 grams of protein in my recipe, 3 are from the cashews, 2 are from the soymilk and 1 is from the peaches. You could bump the protein up in any smoothie with protein powder, but whole foods are preferable, like nuts, nut butters, seeds, oats, tofu, yogurt (dairy or otherwise), or milk.
My intent with blending the soaked cashews and water first was to make a sort of cashew cream, but the volume was so small my blender didn't do a great job of creaming anything. Still, the result of starting this way was that I got smaller bits of cashew than when I just threw all the ingredients in at once together. I happen to enjoy the texture of the nut pieces in the final product, but you may disagree, so here's a tip: as I suspected, when I made a double batch during recipe testing I had more success achieving true cashew creamery because my blender had more to work with. (Valentine's Day is coming up, which would be a good excuse to make this smoothie for two…)
If you're lucky, you and your valentine live somewhere that has shining sun in February instead of wind chills and blustery cold. Either way, smoothies can help you both sip your way to the recommended fruit and protein intakes in the tastiest and creamiest way possible.
How do you keep your fruit intake up to par during the winter months?