I forget what's in my fridge. Do you? I'm great at eating leftover dishes for lunches and dinners, but leftover ingredients often get forgotten. Rediscovering these lost treasures either results in pangs of guilt over how soon it might become food waste or instead sparks an idea for how it could lead a new life in a new recipe. For example, recently I was confronted with a lonely little container of leftover cooked barley. Each time I opened the fridge door and saw it I pondered how best to use it up.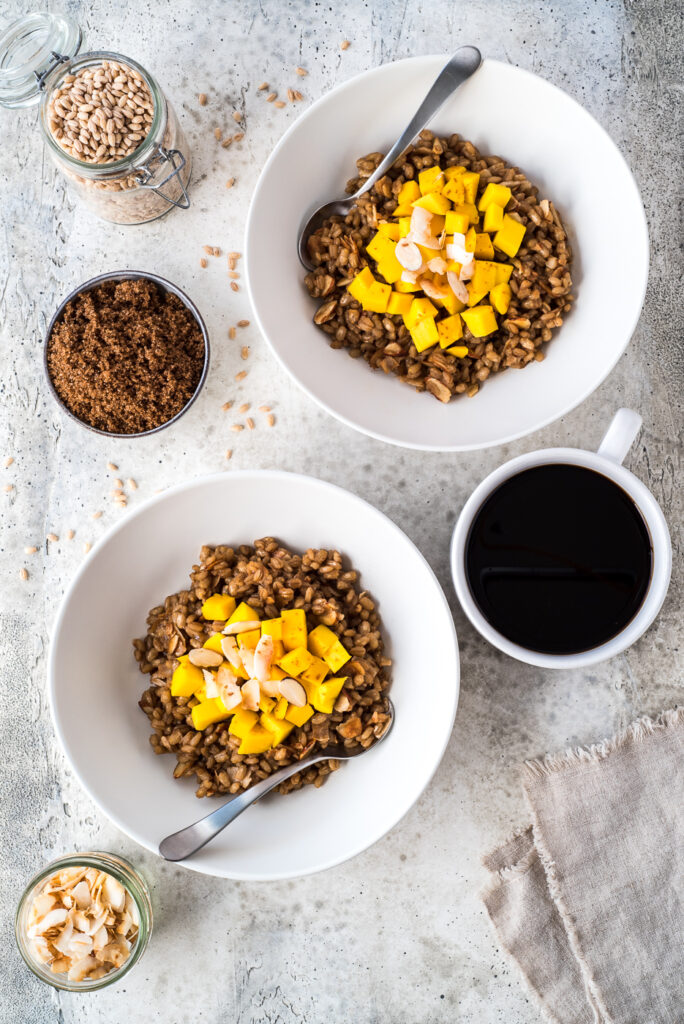 So, on a slightly chilly Thursday morning, as I was surveying the kitchen in search of breakfast, I grabbed the barley and tried to dress it up. Cooked oatmeal has never been appealing to me because of the mush factor, but this chewy whole grain made a sweet, hearty, high-fiber start to my morning when I stirred in the crunch of sliced almonds and toasted coconut.

Additional notes:
 – What is pearl barley? It's barley that's been processed a little more than whole grain barley which is processed a little less. (The names are deceiving because they're both technically whole grain foods.) Pearl barley is more widely available and cooks in less time. They both have health benefits.
 – This recipe is vegan? You probably wouldn't think of it that way, but all of the ingredients in this recipe are plant-based, so officially it's vegan. It is adaptable, though, to any milk you might have on hand, like almond or regular cow's milk.
 – Do I need to use large flake coconut? No, but I especially like the texture it adds to this recipe. If you have regular shredded coconut, that would work, too and you'd get the same tropical flavor.
 – Can I use regular brown sugar? Of course. I just happened to have dark brown in my pantry so that's what I used.
– Do I have to toast the almonds and coconut? No. I do it to add a depth of flavor to the cereal since cooked grains on their own can be bland. (See the recipe notes for toasting instructions.) But if you're pressed for time, it will still be a delicious breakfast if you throw the nuts and coconut in raw.
 – What if I don't have any leftover cooked barley? See the recipe notes for easy instructions on cooking some up. Or use another cooked grain that you have on hand in place of the barley, like brown rice, quinoa, or steel-cut oats.
Do you have a favorite way to use up leftover cooked grains?
Print
Coconut Mango Barley Breakfast
A tropical take on breakfast with a dose of whole grains.
Author:
Prep Time:

10 mins

Cook Time:

5 mins

Total Time:

10 mins

Yield:

3

1

x
Category:

Breakfast
Ingredients
3 cup

cooked pearl barley

6 tablespoons

plain or vanilla soymilk

6 tablespoons

sliced almonds, toasted

6 tablespoons

unsweetened coconut flakes or shredded coconut, toasted

6 tablespoons

dark brown sugar

3/4 teaspoon

cinnamon

3

honey mangoes, diced, or about 1 cup (also called Ataulfo or Champagne mango)
Instructions
Heat barley and soymilk in a saucepan over low heat or in the microwave for 1 minute.
Stir in almonds, coconut, brown sugar, and cinnamon.
Serve topped with diced mango.
Notes
If you don't have any leftover cooked barley you can whip up a batch by using the white rice setting on your rice cooker with 1 cup pearl barley, 3 cups water and 1/4 teaspoon salt. If you don't have a rice cooker, you can do it on the stovetop as well, using the same proportions. Just boil 3 cups of water and add 1 cup of pearl barley and the salt. Cover it, get it boiling again, then lower the heat. Simmer, covered, for about 45 minutes. Both of these options yield about 3 cups cooked barley.
I like Bob's Red Mill Coconut Flakes since they're large and offer amazing texture, but shredded coconut will work quite nicely as well.
I use the same technique to toast coconut or nuts. I use either a small cast iron or medium non-stick skillet over very low heat (This equates to a 2 out of 10 on my electric stove), and I keep them moving so they don't burn.
The serving size in the pictures is 1 1/4 cups, which matches up with the nutrition facts.
Nutrition
Serving Size:

1 1/4 cup

Calories:

485

Sugar:

38 g

Sodium:

132 mg

Fat:

15 g

Saturated Fat:

5 g

Trans Fat:

0 g

Carbohydrates:

85 g

Fiber:

10 g

Protein:

12 g

Cholesterol:

0 mg
Keywords: barley, pearled barley, hot cereal, tropical, breakfast
If you liked this post, you may also enjoy: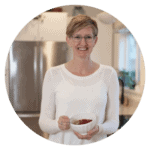 Kristine Duncan, Registered Dietitian
I'm a Registered Dietitian, the author of Veg Girl RD, and a vegetarian who loves to eat. I'm a nutrition nerd who teaches at the University of Washington and Skagit Valley College. I also write about nutrition professionally for magazines and books. If you want to know more, check out my About page.