If you're a regular reader of this blog, you might remember a review of Daily Harvest smoothies a few posts back. My very favorite of the whole bunch I tasted and tested was the Cacao Kapow (now called Cacao and Avocado on their website). That's right. I dutifully sampled 16 smoothies and this was the clear winner.
I carefully measured out all their ingredients and took detailed notes before I blended with hopes of recreating it at some point. We have now arrived at "some point." Here's what I've come up with.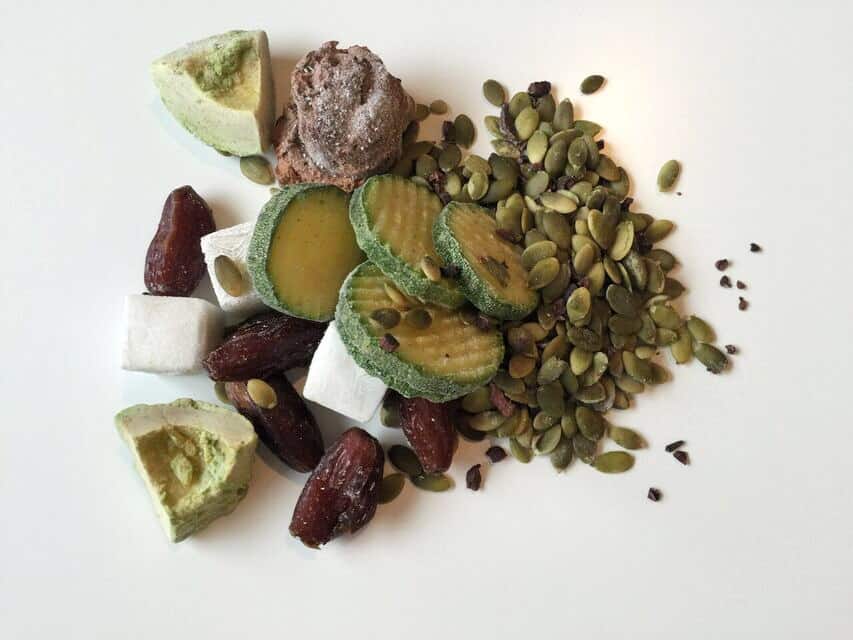 Check out those nutrition facts. Holy geez. Let's break it down.
The coconut manna and the pumpkin seeds are responsible for the bulk of the calories and the fat. For me, 510 calories at breakfast is a little on the high side but still within a reasonable ball park. I have to admit, though, that 38 g of fat is a little crazy considering it's about half the amount most folks need in a day. So if you choose this flavorful and fatty breakfast, lunch and dinner that day might need to be reined in a bit.
Most of the protein is coming from the pumpkin seeds and the soymilk. The original recipe included pea protein powder. I'm generally not a huge fan of protein powders, so I left it out. With nearly 20 g already, I don't think this recipe needed the extra boost or the extra ingredient.
It's definitely nutrient dense with 8% of the Daily Value for vitamin A, 15% for vitamin C, 20% for calcium, and 30% for iron. In just 3/4 cup! (Be sure to sip every last bit, so you don't leave valuable nutrients hanging onto the side of your glass.)
To reduce the calories, you could sub another non-dairy milk like almond or cashew for the soy, but the total protein content will also drop.
11 g of fiber is quite respectable considering most women need about 21-25 g/day and men need 30-38 g.
It's tiny. Really. I know we eat with our eyes and this mini portion size is going to take you off guard. You could blend in a couple of ice cubes if you want to increase the overall volume to a visually acceptable level.
Despite the small volume it's surprisingly filling. (Actually, I guess it's not that surprising with 11 g of belly-filling fiber.)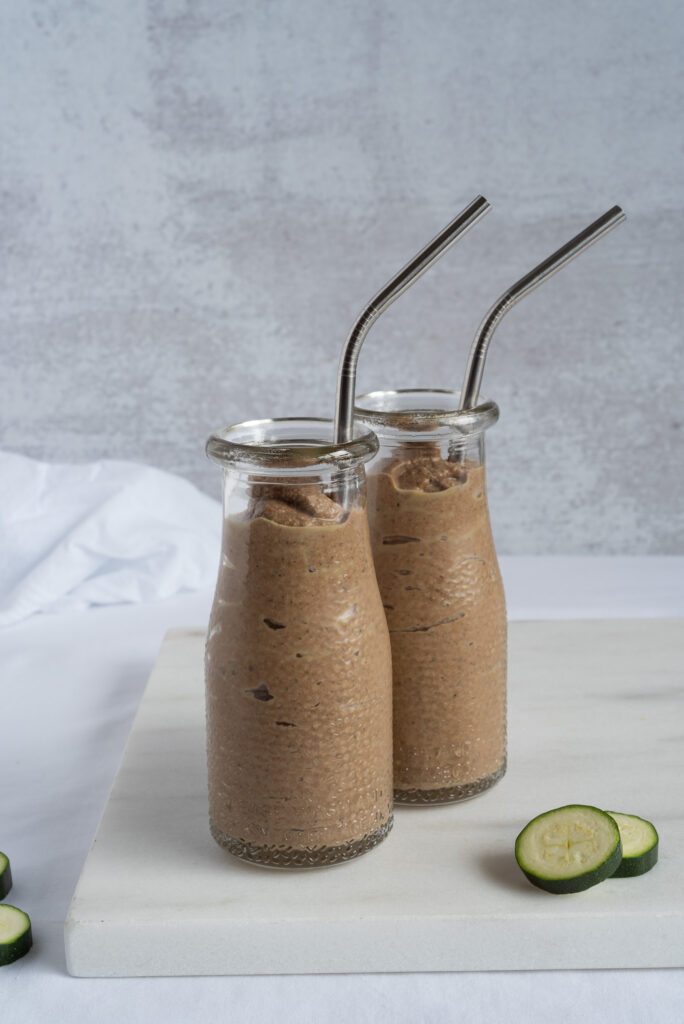 I'm sure you've heard the hype surrounding coconut oil. It's one of the most common questions I get asked when I'm teaching: "Isn't coconut oil healthy?" Well, to start, it's shockingly high in saturated fat, but it differs from most other familiar sources of this solid fat (like butter or the fatty marbling in a piece of meat) because it's a plant food. I think it's possible that as we learn more and the science catches up, we might find out it's a decent choice for fat in the kitchen. But I'm not jumping on the "coconut oil is a miracle cure" bandwagon or recommending it as a "healthy fat" until we know more. (I know, I know. I'm a stick-in-the-mud. And I'm fine with that.)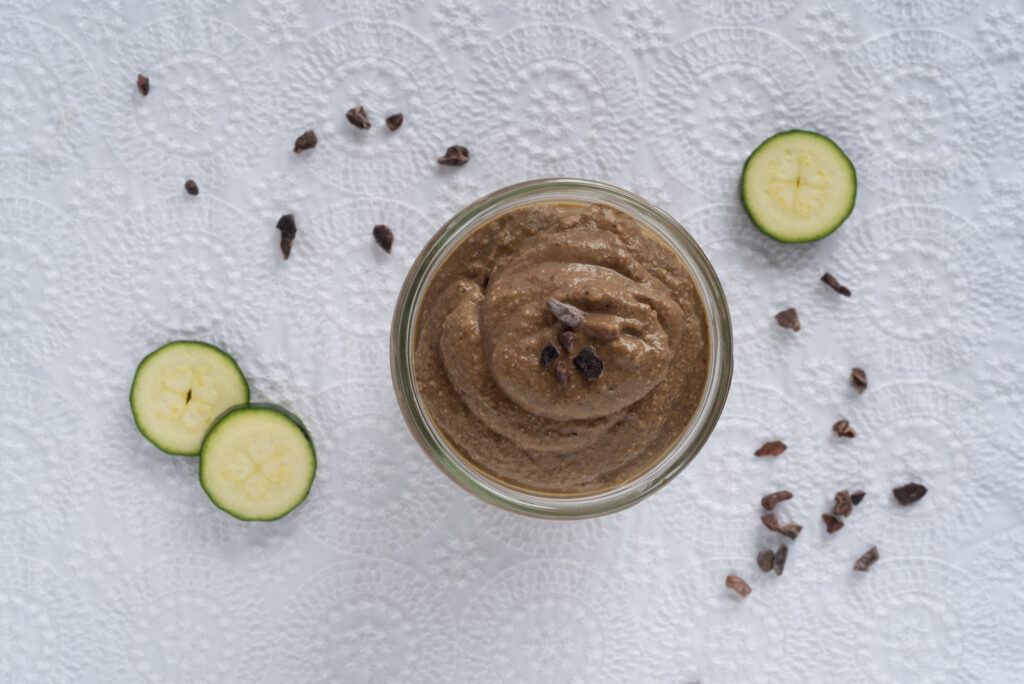 The original recipe called for coconut oil, but I opted for coconut manna. Coconut oil is pure fat extracted from coconut. The manna is actually pureed coconut, so it still contains a little carbohydrate, protein, and fiber.
I very much like their idea of using the frozen zucchini. It's not as packed with nutrients as spinach or kale which seem to be currently reigning in popularity, but could easily be another low-calorie, bland ingredient to blend in and bulk up your smoothies.
Let's be honest. With all the sweetness and chocolate, this could be dessert. And it would make a great one, especially compared to the standard alternatives like cookies or ice cream. So you have official dietitian permission to move it from breakfast to later in the day if it suits your cravings.
If you feel like giving this recipe a try, be prepared for rich, thick smoothie with a mild chocolate flavor that's a little crunchy. It feels like a decadent treat despite being made up of (mostly) real whole foods. Just be sure you have room for the 500+ calories before you indulge.
Can you be happy with teenier portions if each bite (or sip) is rich and satisfying?
Print
Copycat Cacao Kapow Smoothie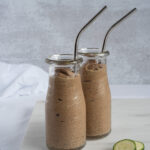 Daily Harvest will deliver smoothies to your door, but this one's easy enough to make on your own. It's thick and rich and a chocolatey way to start the morning.
Author:
Prep Time:

5 mins

Total Time:

5 mins

Yield:

1

1

x
Ingredients
1

large or

3

small Medjool dates

1 1/2 tablespoons

coconut manna

1/3 cup

sliced zucchini, frozen

1/8

avocado, frozen

1 tablespoon

cocoa powder

1 1/2 teaspoons

cocoa nibs

1/4 cup

raw pumpkin seeds

1/4 teaspoon

vanilla extract

1/2 cup

soymilk or other non-dairy milk
Pinch of salt
Instructions
Put all ingredients in a blender.
Blend until well mixed. Smoothie will be thick and chunky.
Notes
I discovered quite a difference in dates when I was recipe testing, specifically in size and calorie contribution. One small date weighed in at 0.25 ounces and one large was 0.7 ounces, which meant a near tripling of calories. So just know there could be wide variation in the final numbers (and final sweetness) depending on the size of the dates you happen to have on hand.
Nutrition
Serving Size:

3/4-1 cup

Calories:

510

Sugar:

19 g

Sodium:

210 mg

Fat:

38 g

Saturated Fat:

17 g

Carbohydrates:

34 g

Fiber:

11 g

Protein:

19 g

Cholesterol:

0 mg
If you liked this post, you may also enjoy: