Does anyone besides me like reading menus? Really reading them…top to bottom? It's one of my favorite parts of going out to eat; I can't get enough of the mouth-watering details and descriptions. I'm always scouting out new restaurants to try, mostly because they offer up new dishes and new reading material. With real literature, getting your hands on the latest and greatest to hit the marketplace is thrilling, but you can't go wrong with the tried-and-true classics either. The same can be said for restaurants and the quintessential vegetarian venue in Seattle for the last 21 years has been Cafe Flora.
As part of a special Restaurant Week menu, I got to sample their 3-course lunch for $15. This included a French Green Lentil and Beet Salad, Poached Pear and Brie Focaccia, and a Bramley Apple Crisp. It was all delicious but I was blown away by the Focaccia. Here's the complete description, for your perusing pleasure:
Clara Frij pears poached in spiced red wine with St. Andre triple cream Brie, red onion confit and pistachio pesto on Columbia City Bakery Focaccia with a red wine reduction drizzle and chopped pistachios. 
I pondered the crunch of the bread, the sweet cinnamon spice of the pear, and the buttery melted brie for the 90 minute ride home to Bellingham. Inspiration had struck and I began piecing together how I could recreate it myself. During the taste-testing, Jeff said the finished product reminded him of savory and sweet French toast.  I think it would be perfect for brunch, but we happily scarfed it down for dinner.
A warning:  this is a time-intensive project, but oh, so worth it. Normally, I'd shy away from a dish that requires three separate recipes to come together just to make one item, but the combination of flavors is spot on. I experimented with a couple of short cuts to save time and they just didn't provide the same results.  So, put on some tunes and get ready to spend a few hours building some pear and brie deliciousness.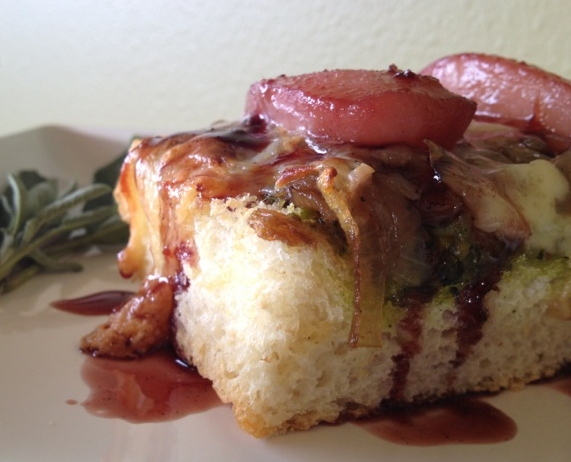 Focaccia with Spiced Pears, Pesto and Brie
Makes 8 servings
20 ounces focaccia bread (I used focaccia from my local bakery, Avenue Bread)
1 recipe Pistachio Mixed Herb Pesto (see recipe below)
1 recipe Onion Confit (see recipe below)
1 recipe Spiced Pears and Mulled Wine Syrup (see recipe below)
3.5 ounces brie, rind removed and cut into several pieces (I used Fromager Daffinois French Brie)
1.  Preheat the oven to 350 degrees.  Cover a large baking sheet with parchment paper.
2.  Cut the top crust (about 1/8 inch) off the focaccia.  This makes a better surface for the toppings, and in some cases, will remove the salt that's been sprinkled on the top.  Then, cut the focaccia, vertically, in half and place both pieces on the baking sheet.
3.  Divide the pesto in half and spread over both pieces of bread.  Then, do the same with the onion confit.
4.  Place 8 pieces of pear on each half of the bread, face down.  Sprinkle the pieces of brie over the top.
5.  Bake for 10 minutes to warm through.  Then, broil for 5 to 6 minutes or until cheese is golden brown.
6.  Cut each focaccia half into 4 pieces.  Serve each piece drizzled with 1 tablespoon warm mulled wine syrup.
Nutrient content per serving: 440 calories, 18 g fat, 4.5 g saturated fat, 15 mg cholesterol, 650 mg sodium, 58 g carbohydrate, 3 g fiber, 28 g sugar, 10 g protein, 100 mg calcium, 1 mg iron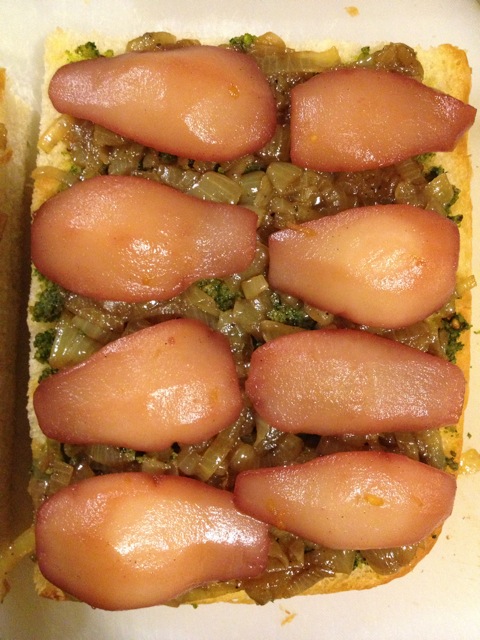 Pistachio Mixed Herb Pesto (adapted from Alton Brown's recipe)
Makes 1/2 cup
1 clove garlic, cut into quarters
1/2 cup flat leaf parsley (it's OK to have a few stems)
1 1/2 teaspoons fresh thyme
2 teaspoons fresh sage, roughly chopped (about 4-6 leaves)
1 teaspoon dried tarragon leaves
1/2 teaspoon dried oregano leaves
1/4 cup grated pecorino romano cheese
1/3 cup roasted, unsalted pistachios, shelled (Once shelled, I quickly toasted the nuts until fragrant. I am aware that this is probably overkill.)
1/8 teaspoon salt
1/8 teaspoon black pepper
1/4 cup olive oil
1.  Put all ingredients except the olive oil in a food processor.  Pulse until coarsely chopped.
2.  With the food processor running, drizzle in the olive oil until incorporated and pesto is thick and spreadable.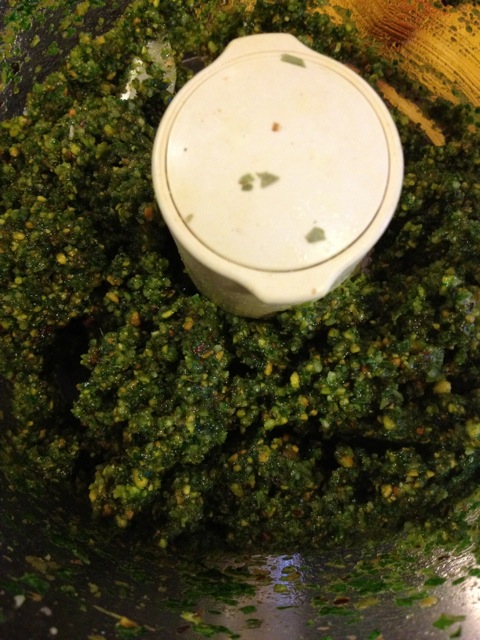 Makes 1 1/3 cups
2 tablespoons olive oil
2 onions, peeled, cut in quarters and sliced thin
1/4 teaspoon black pepper
1/4 teaspoon salt
2 teaspoons white wine vinegar
2 teaspoons balsamic vinegar
1/3 cup vegetable broth
1 1/2 teaspoons sugar
1.  Heat the oil in a large skillet over medium heat.  Add the onions, coat with oil and reduce heat to medium-low.  Season with pepper and salt and break up any big pieces with a wooden spoon.
2.  Cook the onions slowly, until soft, about 30 minutes.  Your goal is keep them over the heat for a long time without letting them get brown.
3.  Stir in the vinegars, broth and sugar.  Cook for another 10 minutes or until the liquid has been absorbed.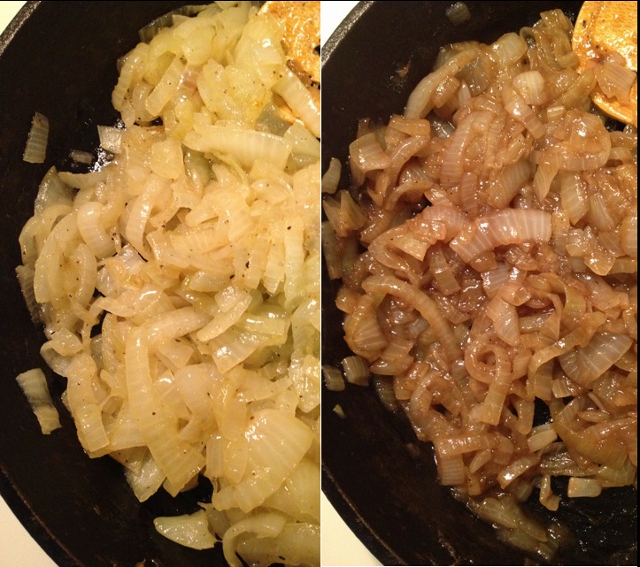 Makes 16 pear quarters and 3/4 cup syrup
1 1/2 cups Cabernet Sauvignon
3/4 cup sugar
1 cup water
1/4 cup fresh squeezed orange juice
1 teaspoon grated orange peel
1/2 teaspoon ground cardamom
1 cinnamon stick
1 vanilla bean, scraped
4 ripe but firm Bartlett pears, peeled, cored and quartered
1.  Combine all ingredients except pears in a large, heavy saucepan over medium heat.  Stir until sugar dissolves and mixture begins to simmer.
2.  Add pears and return to a simmer.  Cook gently for 5 to 6 minutes or until pears are tender.  Remove pan from the heat and let the pears sit in the poaching liquid for 5 minutes.  Remove cinnamon stick and pears and set aside.
3.  Bring the poaching liquid to a boil and cook for 20 to 25 minutes or until it has been reduced to about 3/4 cup.  The syrup will thicken as it cools.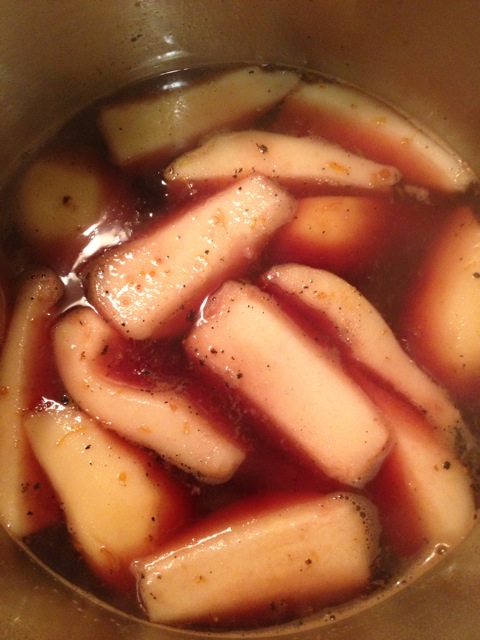 Have you had success recreating a favorite restaurant recipe at home?
If you liked this post, you may also enjoy: