Do you think about food as soon as you wake up? Do you immediately fast forward to the moment you're inhaling the comforting scent of brewing coffee and rejoicing in the sizzling sound of potatoes or eggs on the stove before you've set foot out of bed? If so, you're probably someone who loves breakfast. And eating. And food. But are you stuck in a rut? Do your tried and true breakfasts need a shake-up or even a healthy make-over? If so, I've got you covered. As a breakfast lover and a dietitian, I spend an unreasonable amount of time thinking about what I can eat in the morning that's both good for me and worth getting up for. I've got 5 well-tested, healthy breakfast ideas to share with you today, all 350 calories or under.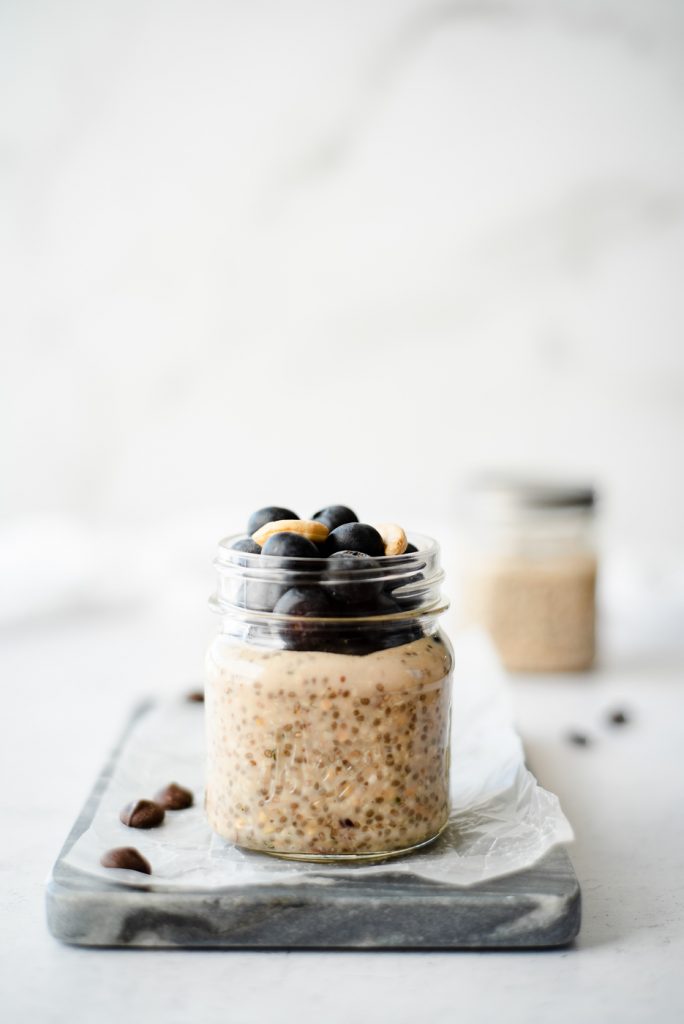 This honestly tastes like dessert. But it's made out of yogurt, milk, nuts, and seeds so it narrowly qualifies as breakfast. At least I think it does. Oh, and it has chocolate, too, which pushes the needle back towards dessert a little bit. But it's dark chocolate, so let's call it this: a healthy, indulgent option to keep in the breakfast rotation.
A few tips for how I follow the original recipe, which you can get to by clicking on the link above:
Qi'a Superfood Cereal – Original
– You can use the Qi'a product, which would be easiest, or you can make your own like I do using this recipe for Crunchy Homemade Buckwheat and Seeds Cereal.
Non-dairy milk
– I use soymilk to get the most protein from a plant-based milk.
Strong coffee or espresso
– I make my own or buy plain, unsweetened bottled cold-brew coffee.
Non-dairy yogurt
– My favorite brand, especially for use in this recipe, is GT's Cocoyo pure (plain).
Dark chocolate
– I like Theo 70% pure chocolate.
Cashews, maple syrup, cinnamon, and salt
– I don't make any changes here.
Granola, for topping
– I top mine with fruit instead, usually about 1/2 cup.
Also, I shrink the serving size from the original recipe so I get 3 servings total instead of only 1 or 2. The pudding itself ends up at 320 calories, and with a little fruit added this breakfast typically comes in under 350 calories.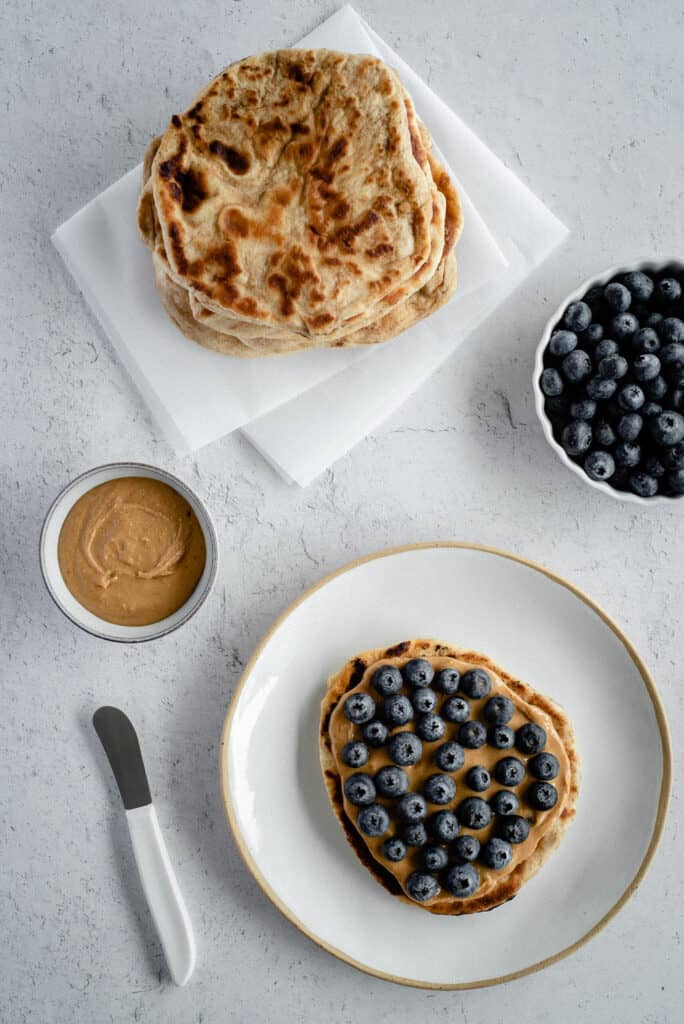 Talk about a breakfast rut. I make this naan dough in my bread machine at least once a month. It's my absolute favorite morning meal lately. I batch cook all 16 naans at once and pop them in the fridge, where they last for a good long time in a plastic bag. Like weeks.
I make a couple of modifications to the near-perfect Food 52 recipe. I replace whole milk with soymilk and I've had success with subbing absolutely any yogurt I have on hand, including Greek, regular, and non-dairy. In a pinch, I've even used sour cream! It's also pretty easy to veganize. The current ratio in the recipe is 3 cups all-purpose flour to 1 cup whole wheat, but I tried half and half and it worked perfectly. Apparently, this recipe is foolproof.
Here are your delicious instructions for breakfast naan:
– Heat up 1 naan bread in the microwave for 15-30 seconds.
–  Spread with 1-2 tablespoons of natural peanut butter.
– Top with blueberries, raspberries, strawberries, pomegranate arils, chopped apples, etc.
It's pretty versatile, as you could add any fruit that's available, but berries are my favorite. And before you spread, you might want to check out my post on tasting and rating natural peanut butters. For a special treat, I sometimes sprinkle on 1 teaspoon dark brown sugar for an amazing, caramelly crunch.
One naan is 175 calories, and a tablespoon of peanut butter adds another 100. Blueberries (about 1/2 to 3/4 cup) brings this breakfast total up to 340 calories.

For many of us, the need for a portable breakfast we can scarf during our morning commute has disappeared. (Our commute is moot!) We're eating breakfast at home these days. But, that doesn't mean it can't be served in a cute container, right? This is the breakfast to make when you're scanning the back reaches of the fridge and pantry in the early morning hours, hoping something will sound good and easy and you can start eating. Like soon.
Just grab hold of some of your favorite crunchy, creamy, chewy, and fruity things and layer them on top of each other. I'm talking: berries, pecans, raisins, leftover pancakes, or the last inch of cereal in the box that nobody will eat because you can't make a full bowl out of it. It's finally stale cereal's time to shine! Boost the protein with hemp seed, chia seed, yogurt, or nut butter. It's virtually impossible to mess this breakfast up. It's been my experience that if it's an ingredient that sometimes gets eaten at breakfast, it tastes good in a jar with other breakfasty foods.
In the picture above I've got:
– granola
– unsweetened coconut flakes
– sliced fresh cranberries
– wheat squares cereal
– strawberries
– blueberries
– peanut butter
– hemp seeds
The calories are really going to vary for this "recipe" depending on your particular concoction but the jar in my picture clocks in at about 350 calories.
(a.k.a. Crunchy Homemade Buckwheat and Seeds Cereal)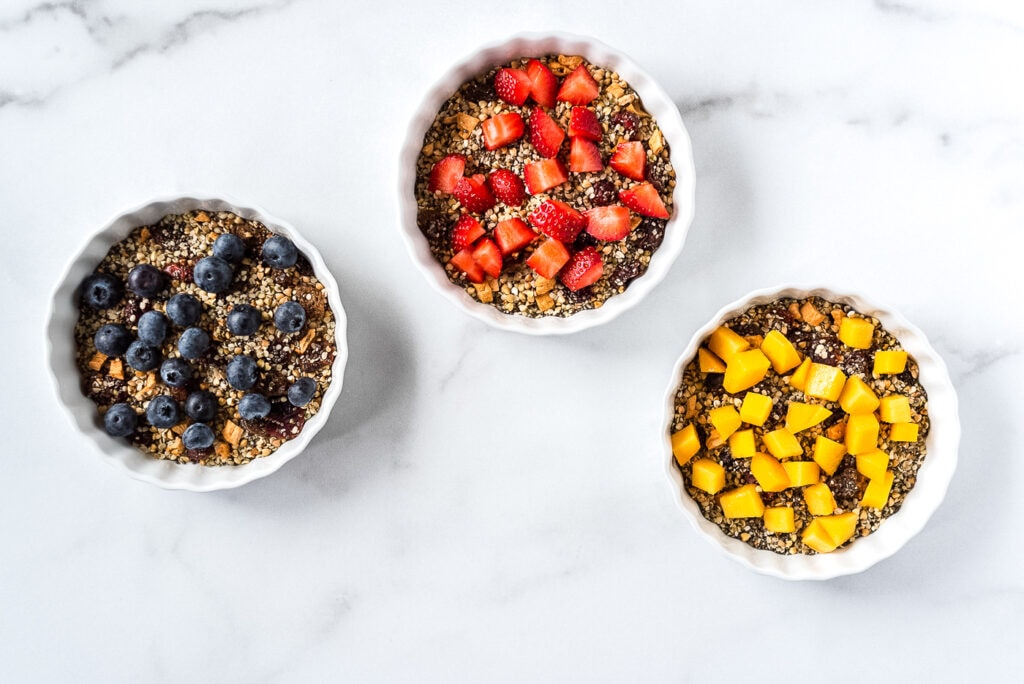 I'd like to introduce you to the most popular recipe on my site. Seven ingredients. No cooking required. All you need to do is stir the seven ingredients together and you're ready to go.
It's a crunchy, high fiber mix of seeds, buckwheat, and dried fruit that looks an awful lot like birdseed. But it is well-suited to almost every fruit you can think of and makes for a satisfying breakfast. I usually eat 1/4 cup, which is 240 calories, before adding fruit and soymilk, so 350 calories is probably a good estimate for this crunchy, healthy breakfast.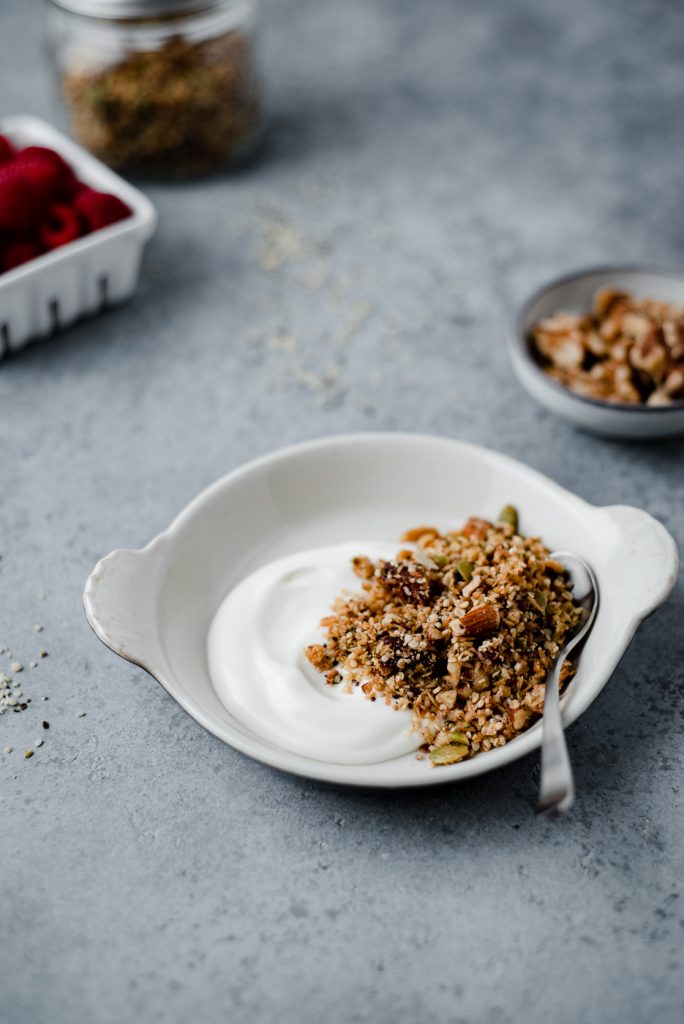 This is a creative take on granola, and I love it: hemp seed, chia seeds, cinnamon, dates, pecans, walnuts, pumpkin seeds, and maple syrup. Despite having a non-traditional look, the taste and texture are wonderful. Similar to the Holy Crap cereal, you don't need a big serving. Pictured here it's paired with Kitehill plain almond milk yogurt. But my standard combo is 1/4 cup of the granola, which has about 235 calories, with a generous cup or more of fruit, and soymilk so the full breakfast sneaks in under 350 calories.
If you're a true breakfast lover, you can probably already feel the creamy chia pudding on your tongue and smell the warm, yeasty naan bread as you pull it, steaming, from the microwave or the toaster oven. Hopefully, at least one of these breakfast ideas sounded to you like it's worth getting up for.
What breakfast do you keep coming back to these days? 
This is not a sponsored post. I happily purchased all the ingredients myself and devoured them in the morning time.