It takes a brave person to be friends with a dietitian, especially when it comes to eating together. Most of the time nutrition professionals are entirely focused on our own plate of food; let's be honest, more than likely hyperfocused. But there's always a chance we'll put down our fork long enough to notice what you're eating, too. When that happens, I make it a point not to freely offer nutrition advice where it's not wanted, but recently I broke my own rule.
A friend at work was unpacking his lunch and pulled out a pb&j. For some reason I asked him what peanut butter he used and he happily responded, "Skippy." Before I could stop myself I told him there were much healthier options available. After claiming he hated natural peanut butter, I posed a challenge: if I could find a yummier alternative, would he be willing to switch? He graciously responded, "Of course!" And my brain immediately started making plans for a natural peanut butter tasting. That's normal, right?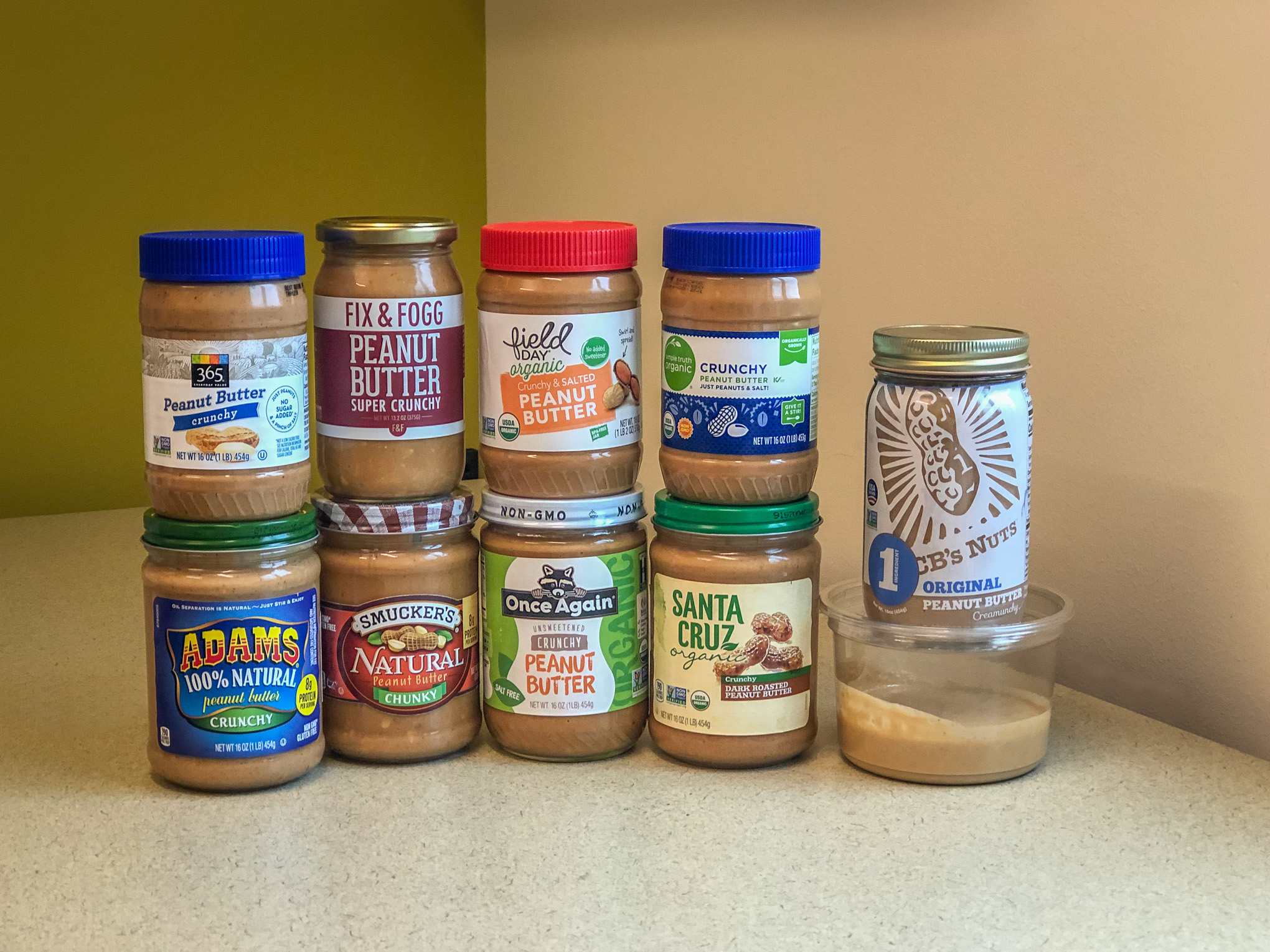 I started by reading other reviews from Cook's Illustrated and Good Housekeeping but I had two priorities they didn't: I wanted natural peanut butters without added sugar or hydrogenated fats and my friend wanted a crunchy alternative, not creamy. So, I gathered jars from everywhere including Fred Meyer, Whole Foods, the Co-op, and Amazon. I didn't include Trader Joe's since there isn't one where he lives and I didn't include Costco because they only sell their natural Kirkland peanut butter in creamy. I ended up with 10 jars for sampling.
I read online about how to set up a semi-scientific tasting from Consumer Reports and Center for Science in the Public Interest. I needed the tasters to be blind to which brand they were tasting while still making sure I knew which pb was which. I assigned each jar a random 3-digit number which was written on the sampling cups. (And get this, which I find fascinating. I was cautioned against using single digits because it would look like I was rating the samples myself and against using two digits because people often have a positive or negative association with months, days, and dates!)
I typed up a rating sheet, bought the cutest tasting spoons you've ever seen, and recruited two additional volunteers for the official tasting. I didn't intend to participate myself, but when the moment came I wanted to join in the eating fun.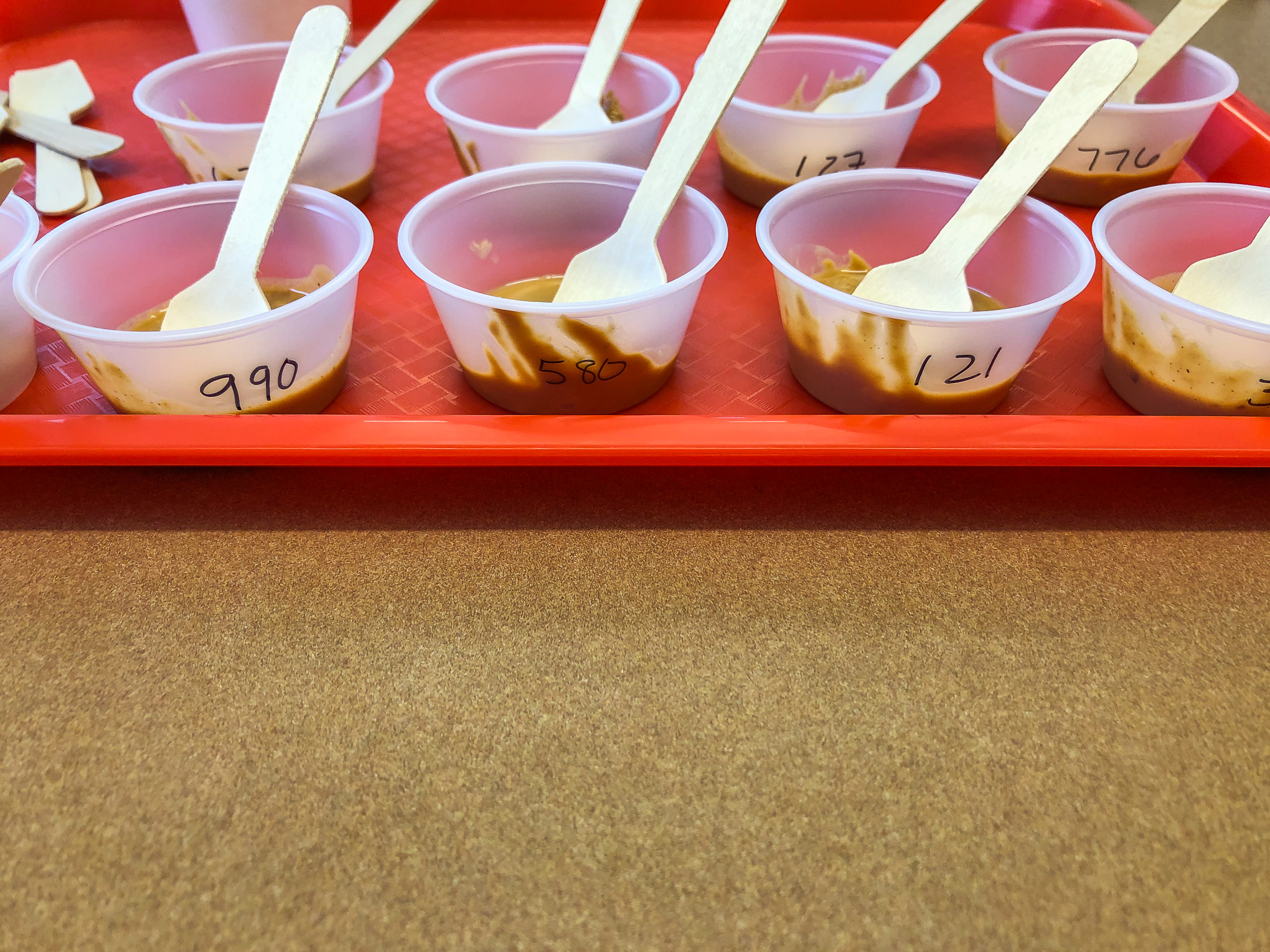 Before we go any further, let's talk about the biggest beef with natural peanut butters: the oil floating on the top. I've had patients and students tell me they assume this can't possibly be the right kind of peanut butter to buy because the visible fat makes it seem unhealthy. It's actually exactly what we want to see! Peanut oil should be the only oil in a jar of peanut butter and peanut oil is naturally liquid. So all you're seeing is the natural separation of oil that ends up on top. Since consumers find this either unsightly or inconvenient, many companies add palm oil (a solid fat) or hydrogenate the liquid peanut oil to make it more solid. In both cases this is replacing or adding saturated or trans fat (both solid) when what we want is the healthy polyunsaturated fat (liquid) in our pb.
These natural brands all handled this issue differently. Many had comments on the label about separation and four recommended stirring before refrigerating: Smucker's, 365, Adams, and Field Day. At our house we have a couple of techniques. We leave the jar upside down on the counter for an hour or so and then stick it in the fridge right side up, or put it directly in the fridge upside down. It sort of depends on the consistency of the peanut butter, but usually this will redistribute the oil and eliminate the need for the often-messy stirring.
We tasted the peanut butters straight, directly from the tasting spoons, and rated them for texture/mouthfeel and taste/flavor on a scale from 1 to 5, with one being "dislike a lot" and five being "like a lot." I also had a question on the evaluation form asking the all important question: would you purchase? As soon as they sat down, one of my tasters asked about rating on appearance as there was a surprisingly big difference between them. But to simplify the form, I'd left that attribute off. In addition to the variation in appearance, there were definitely surprising differences in taste and texture despite every jar containing pretty much the same two things: peanuts and salt.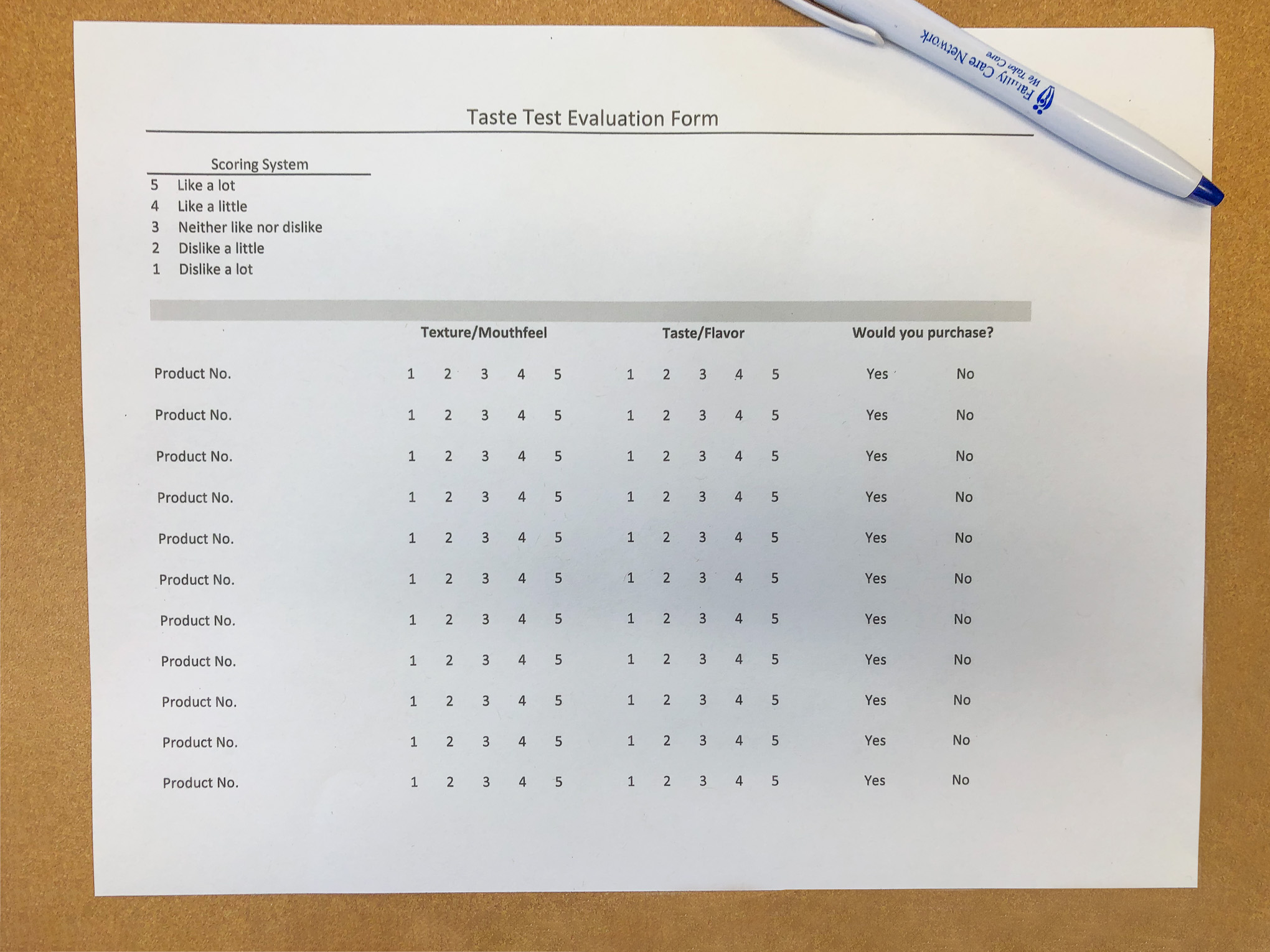 This post is already getting long-winded, and I can't imagine any of you are interested in reading detailed tasting notes for 10 different peanut butters. So let's just cut to the chase. While there were a few differences in preference between tasters, we were all pretty much on the same page, so I feel confident in sharing these recommended brands with you. Here are the peanut butters in order from most favorite to least favorite.
The Top 3
These three got the highest overall scores, were rated essentially equal to each other, and garnered unanimous yes votes for "Would you purchase?"
Smucker's Natural Peanut Butter Chunky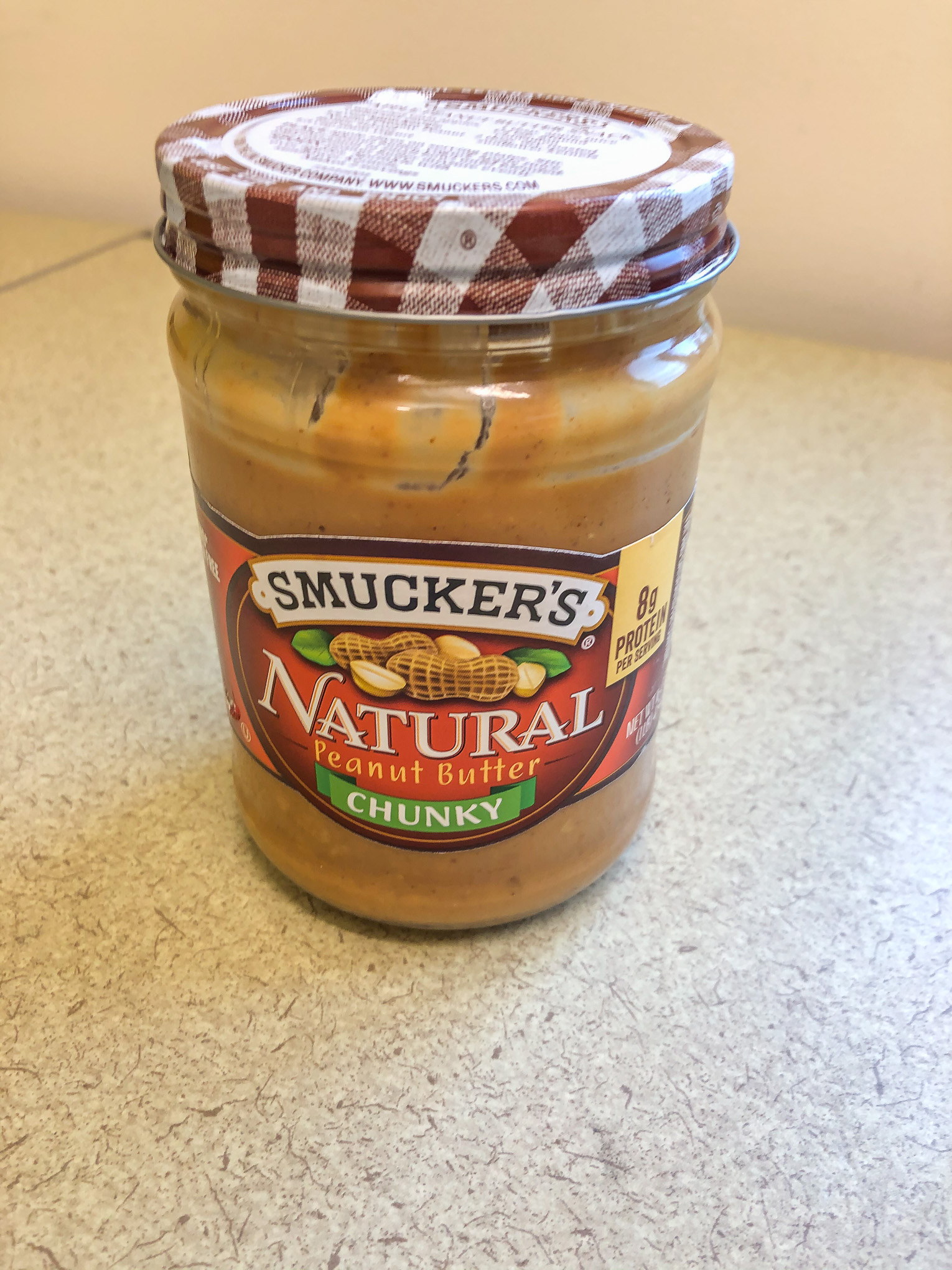 Field Day Organic Crunchy and Salted Peanut Butter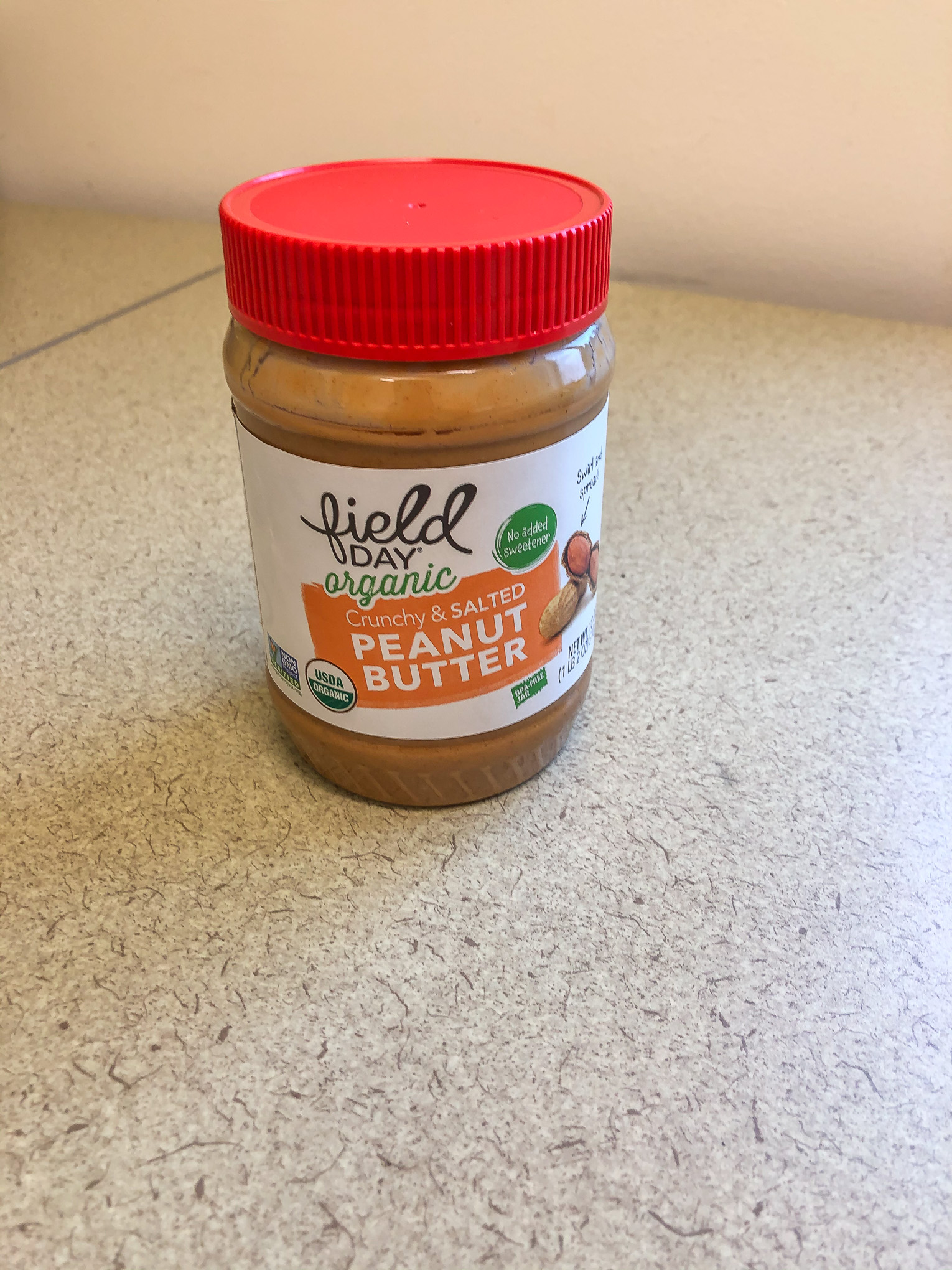 365 Everyday Value Peanut Butter Crunchy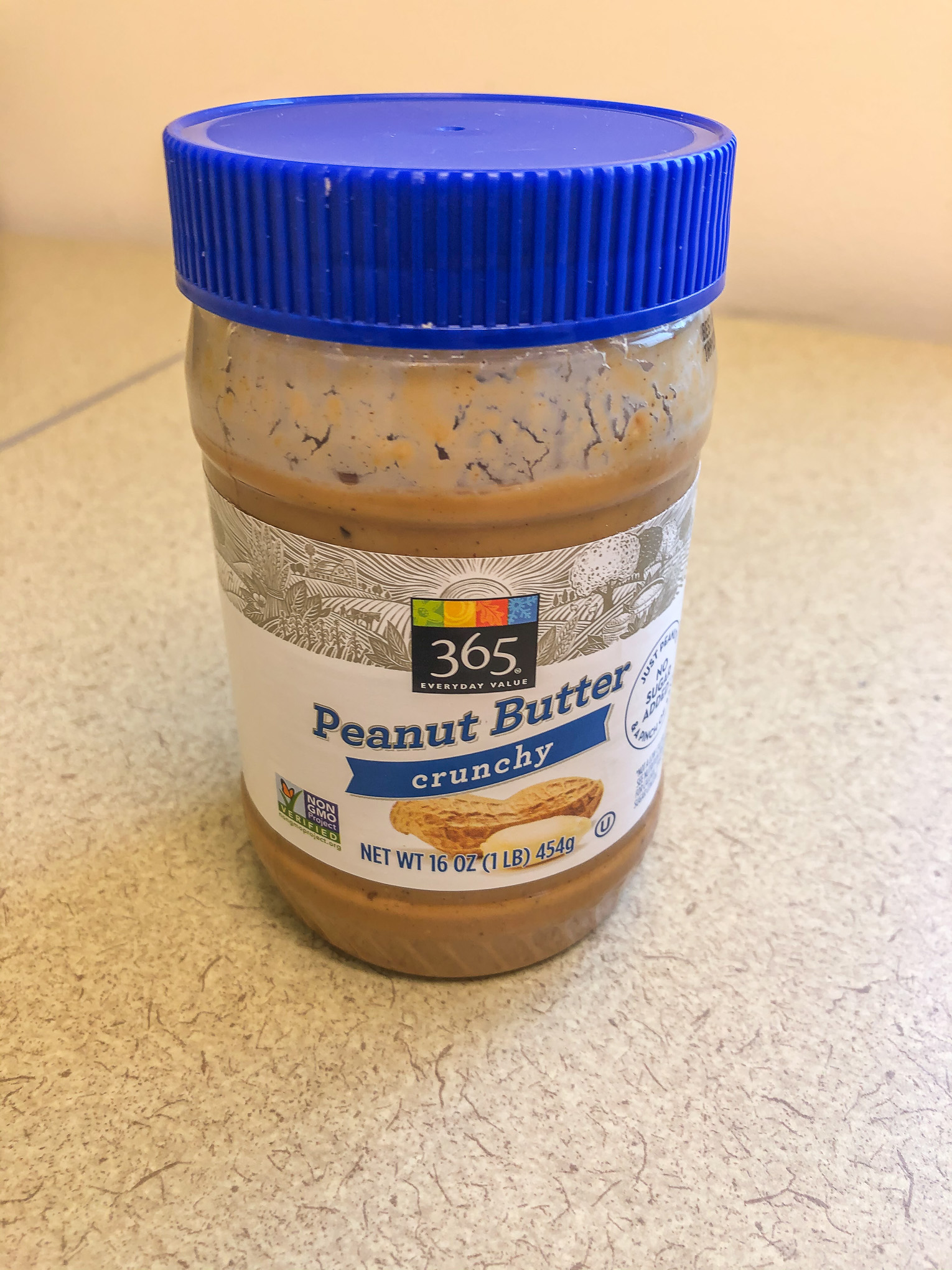 Middle of the Pack
These four got split reactions from the judges but all had similar overall scores I would say were medium, mediocre, or modest.
Adam's 100% Natural Peanut Butter Crunchy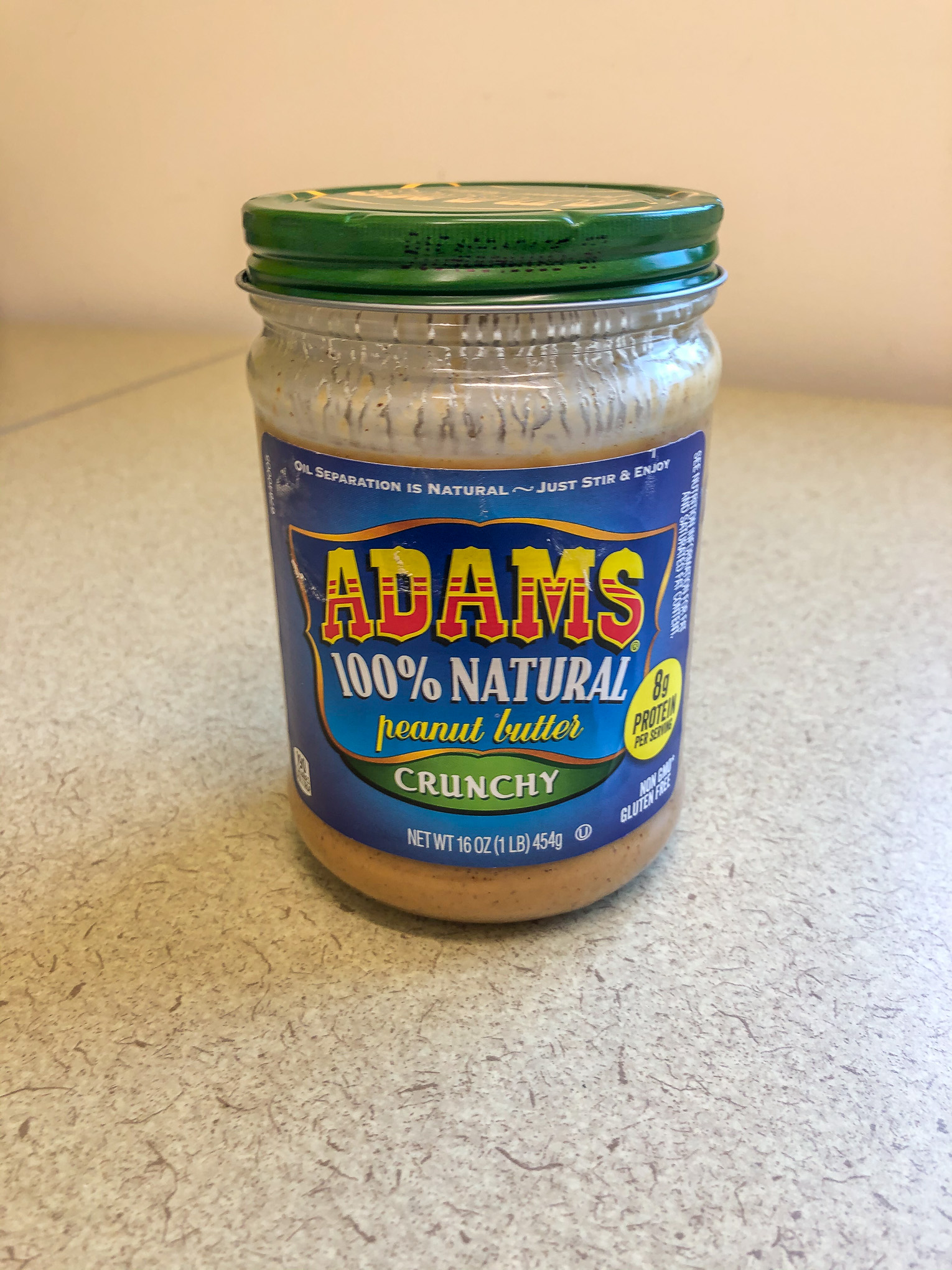 Simple Truth Organic Crunchy Peanut Butter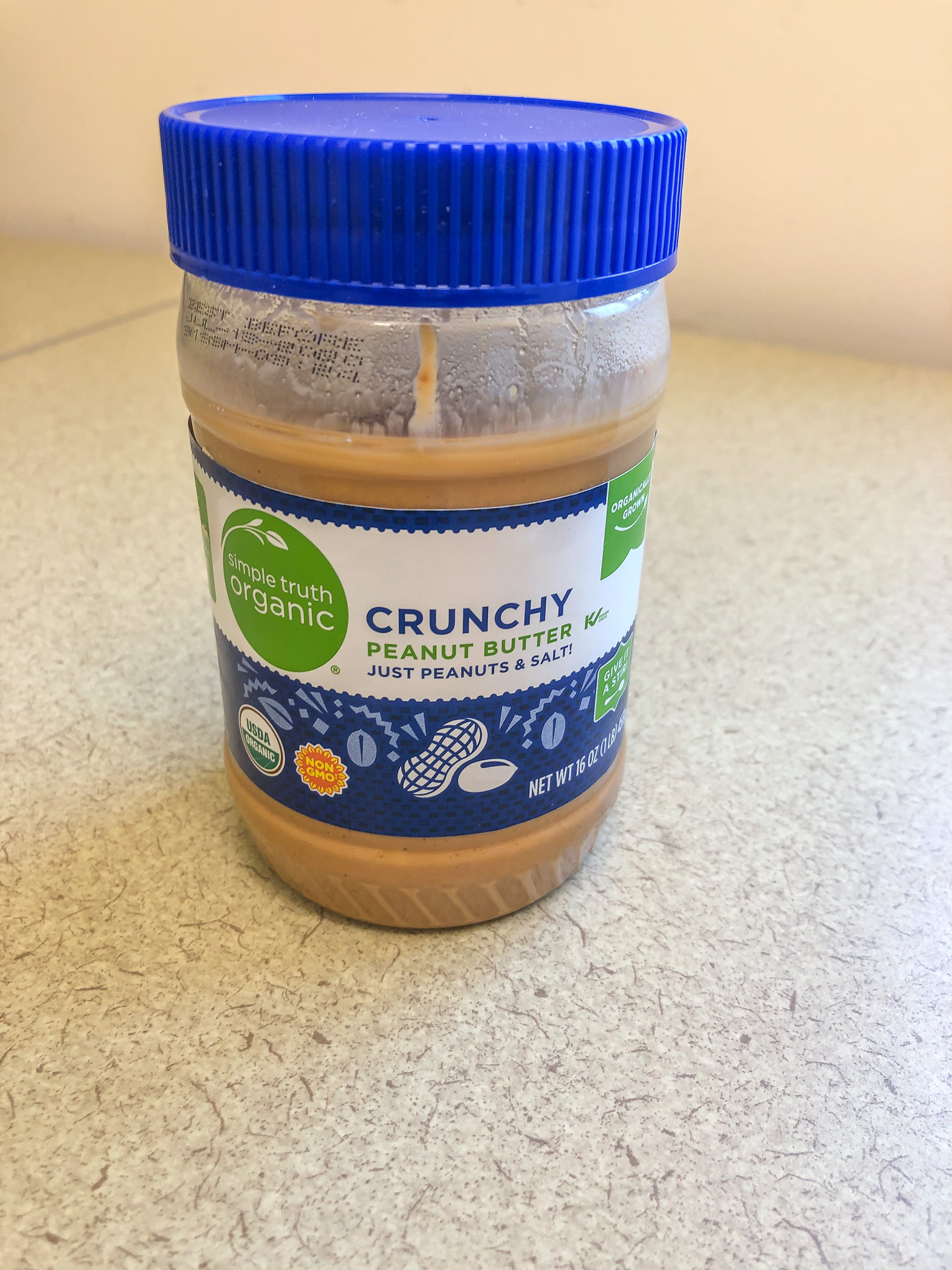 Santa Cruz Organic Crunchy Dark Roasted Peanut Butter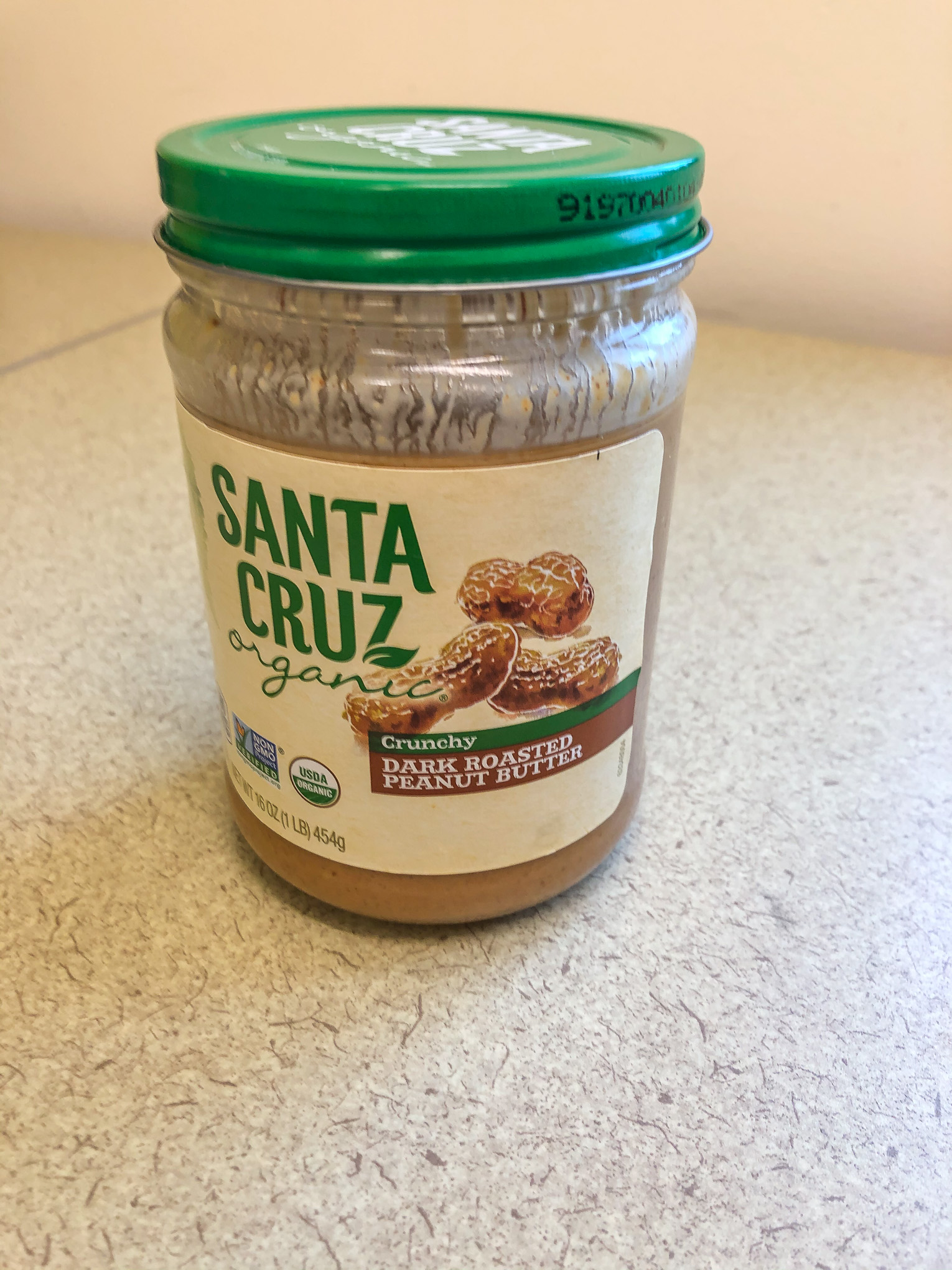 Once Again Unsweetened Crunchy Peanut Butter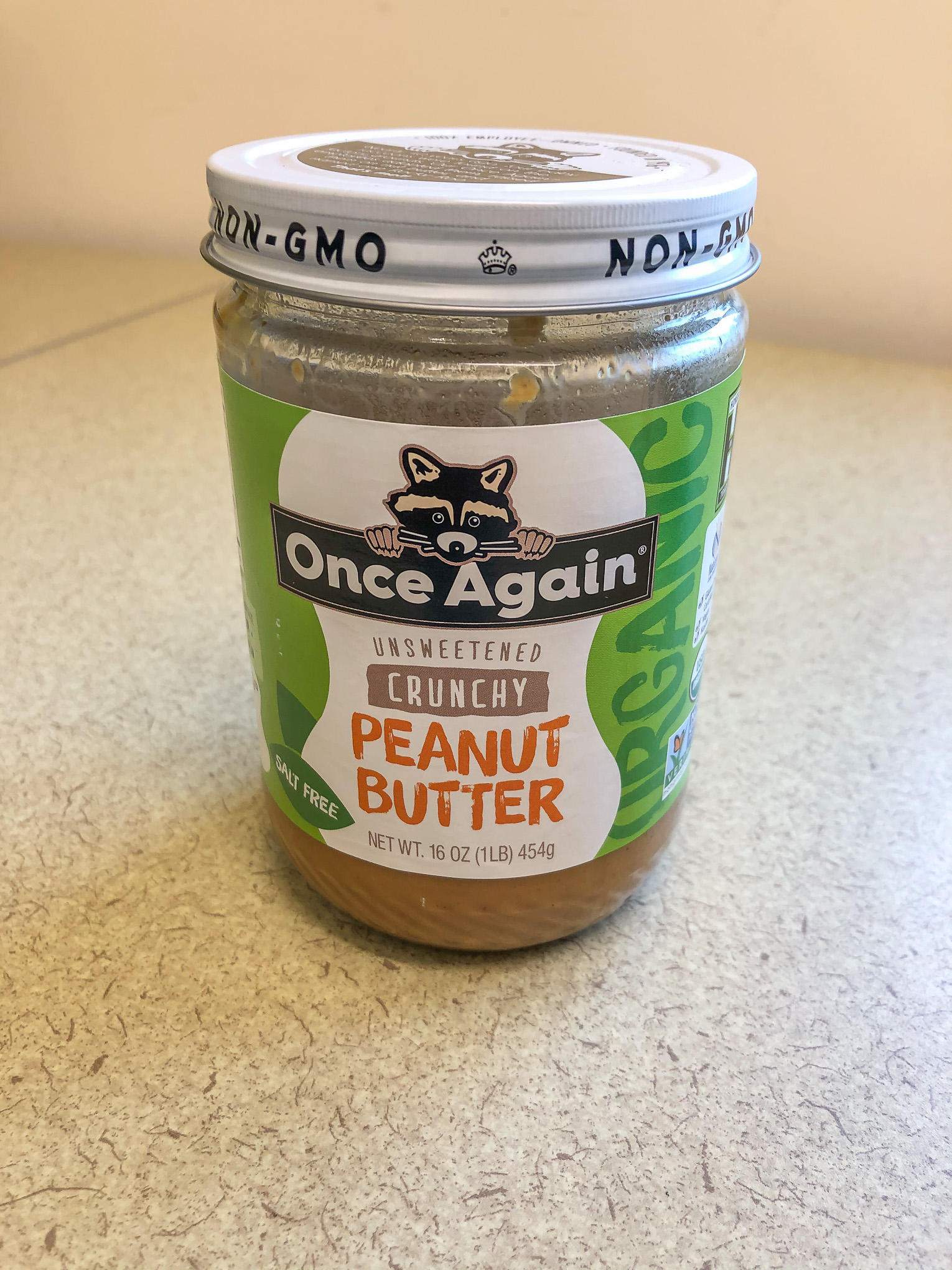 The Bottom 3
These three couldn't cut the mustard. We all rated them low on texture and taste and the majority of us said we wouldn't purchase. Notably, CB's and Grind-Your-Own were two of the ten peanut butters that are made without salt.
CB's Nuts Original Peanut Butter Creamunchy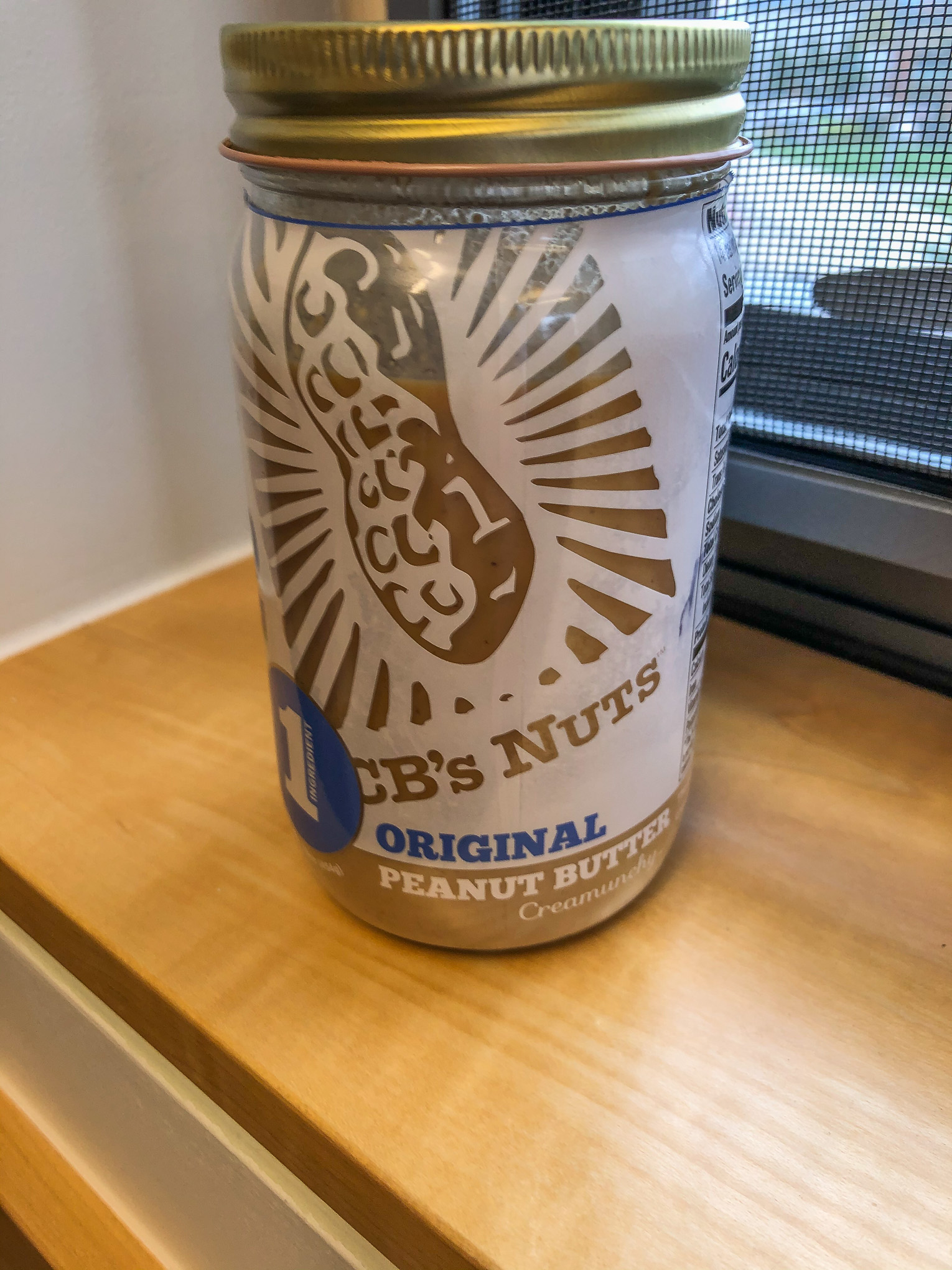 Fix and Fogg Peanut Butter Super Crunchy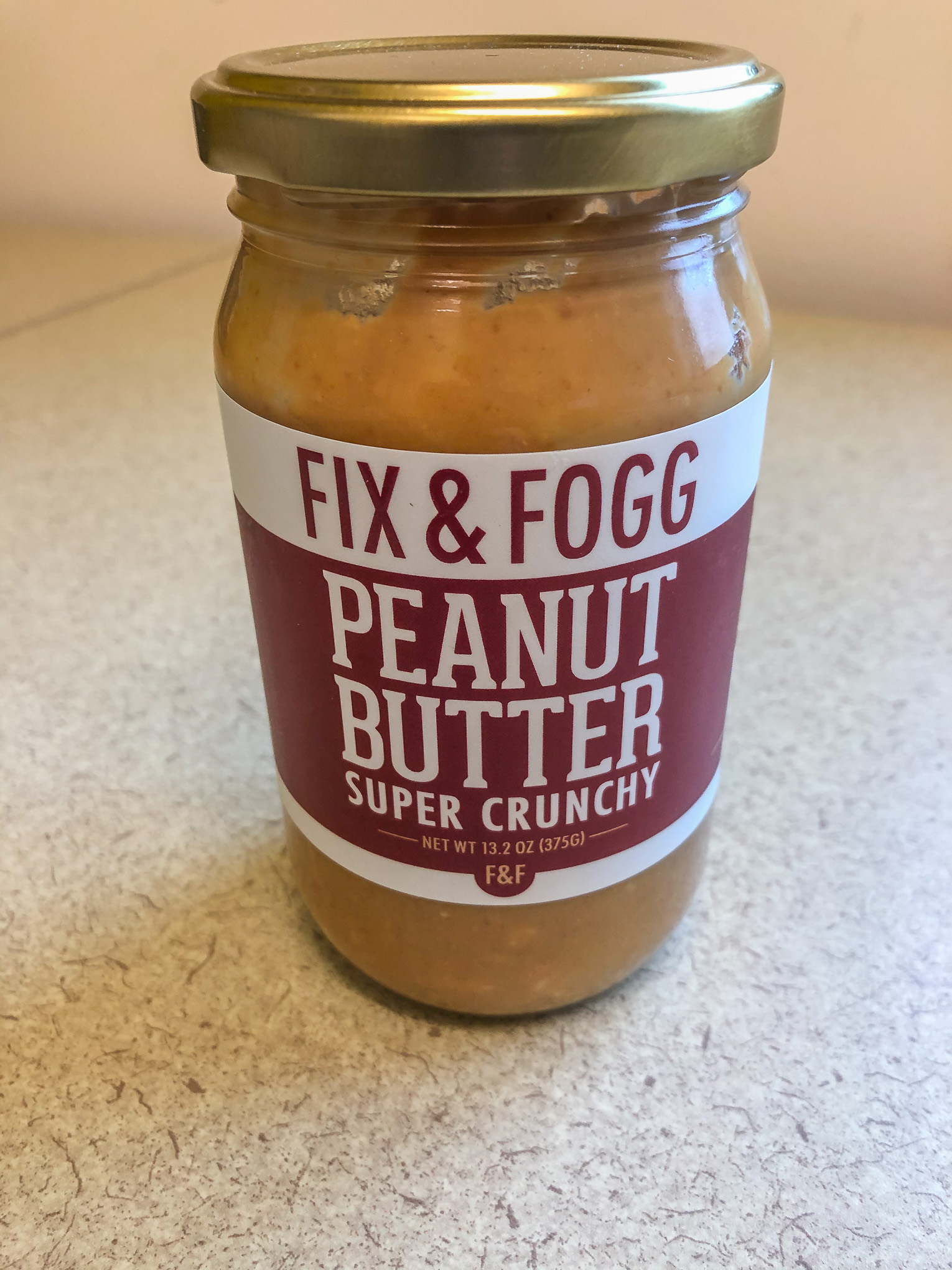 Grind-Your-Own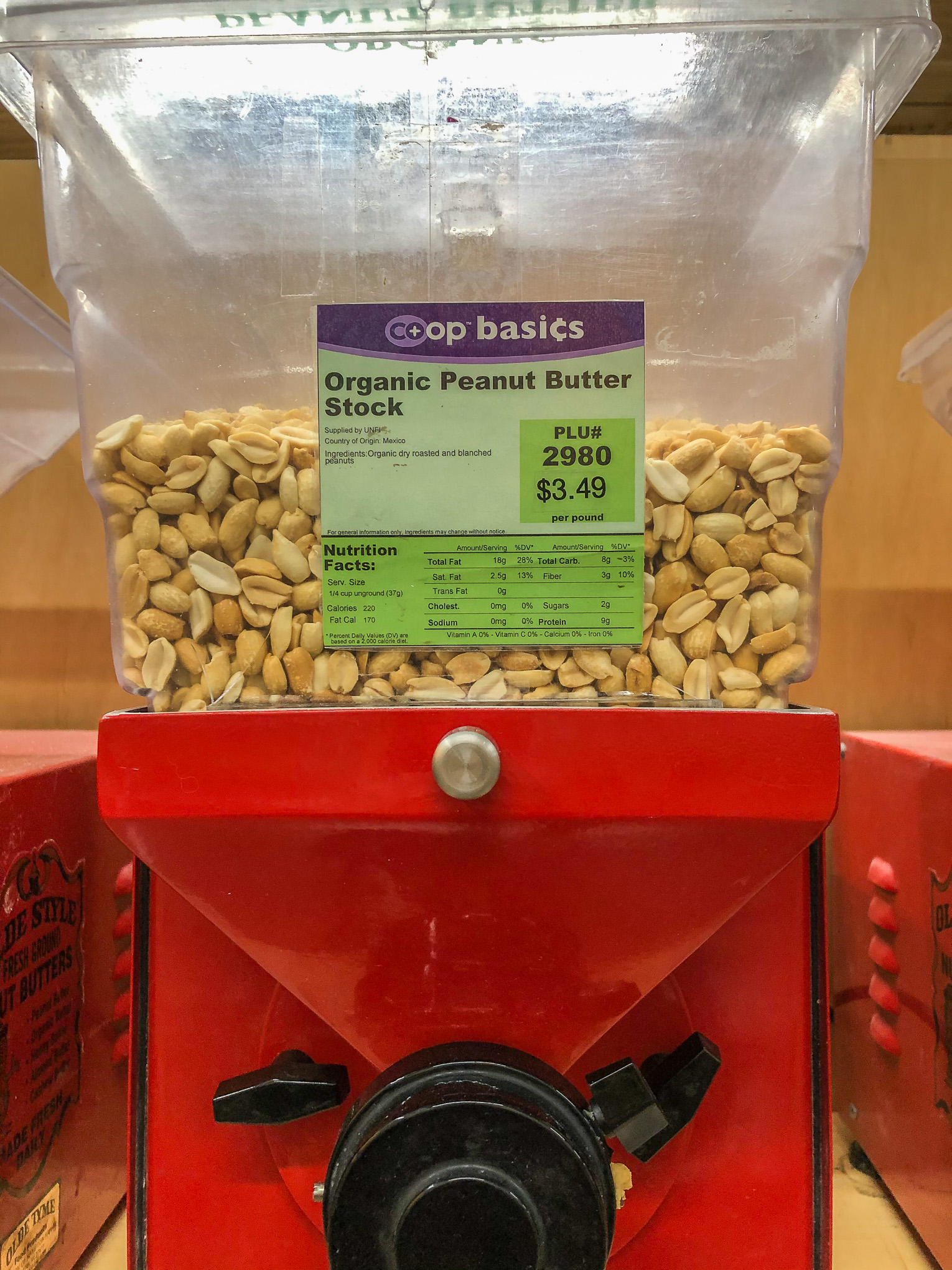 Prices really vary as does availability. You'll have to do a little searching at your favorite stores to see which brands are available and if you're willing to pay the price. And be cautious. Before grabbing a brand that says "natural" on the label and assuming it's a healthier product, read the nutrition facts and ingredient list. Smucker's Natural is just peanuts and salt, but Jif Natural and Skippy Natural have palm oil and sugar added.
Nutritionally, the peanut butters we tested are all similar. Here's a summary of the nutrition facts per serving:
Serving size: 2 tablespoons
Calories: ranged from 180-200
Total fat: ranged from 14-17 grams
Saturated fat: ranged from 2-3 grams
Trans fat: 0 grams
Cholesterol: 0 grams
Sodium: ranged from 0-115 milligrams
Carbohydrate: ranged from 4-7 grams
Fiber: ranged from 2-3 grams
Added sugar: 0 grams
Protein: 8 grams
For some reason planning for and participating in this tasting was great fun for me. I figured after we tasted the samples, which took only 15 minutes or so, we'd have our data and we'd wrap things up. But I'd brought along bread, apple slices, jam, and crackers just in case anyone wanted to taste the peanut butters in a real life situation, like on a sandwich. My friends and I ended up sitting and snacking and chatting about nutrition for about an hour. Not many things make a dietitian happier. And my favorite comment from the tasting party? Upon tasting his first few samples, one taster asked, "What's peanut butter supposed to taste like anyway?" Another taster's response? "Heaven."
This is not a sponsored post. I happily drove all over town and purchased 10 jars of peanut butters on my own. Perfectly normal way to spend free time.