'Tis the season. For berries that is. And strawberries are the first in a long line of sweetness that's coming this summer with several (hopefully) sunny months of raspberries, blackberries and blueberries. I'm excited, but also a little apprehensive. For some reason I feel pressure once the season starts to take full advantage of the flavor, beauty, and nutritional benefits while they're available; desperate even. My mind races with plans for jams, smoothies, salads, and shortcake, worrying that I'll run out of time before I can make and eat them all. (I know, I know…first world problems.)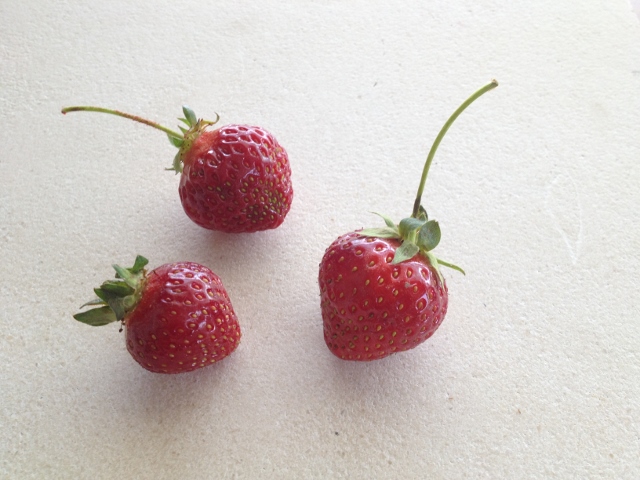 And as if using the strawberries efficiently and to their full tasty potential in a few short weeks isn't burden enough, there's also the issue of procurement. How best to source your strawberries? I decided to do a little food-nerd research and find out.
I'm lucky. I live in a berry paradise. Whatcom County is home to 1483 farms. Our top three commodities? Milk, raspberries and blueberries. (If you're a Washingtonian, you can check out your county on a cool map of the state by clicking here.) And according to Northwest Farms and Food's interactive map, there are 23 farms in Whatcom County growing strawberries. So, I've got options.
One thing that gives me pause, however, is that strawberries are on the Environmental Working Group's list of produce with the highest levels of pesticide residues, called the Dirty Dozen. So, my 9 local certified organic farms are a little more appealing. But there's more to the story, and each sweet and juicy purchase requires you ask yourself some hard-hitting questions.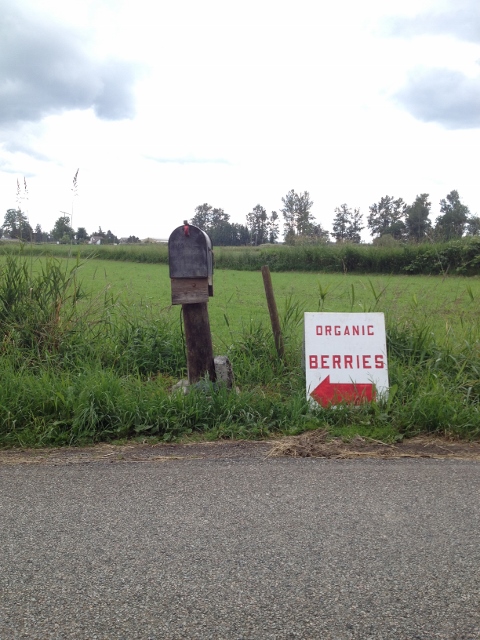 1. Which kind to buy?
Your first determination should likely be whether you're looking for conventional or certified organic berries, or one of the options in between like no spray or chemical-free, since this will probably help you answer question #2. According to the Fraser Valley Strawberry Growers Association, "no spray" means no pesticide has been applied to the crop. However, I overheard a conversation while I was u-picking last week suggesting crop protection products can still be used on the base of the plants, just not applied directly to the berries, and these still qualify as no spray. So it probably makes sense to ask, or do a little website browsing so you know what you're paying for. Boxx Berry Farm notes on their site, "Our berries and vegetables are not organically grown. We do spray for mold and various insects. All sprays are certified and approved."
There's also size and variety to think about. Most of us are used to the big beauties where one strawberry is a mouthful, but most of the berries I've gotten so far this season have been small to medium in comparison. Man, are they cute. And photogenic.
What about taste? I always sort of thought a berry was a berry in terms of flavor, until the woman at Lubbe Organic Strawberries and Veggies invited me to taste one of each of her four varieties before I decided which row to pick. There was definitely a difference, and I went with the Honey Eye. I've also seen Seascape, Rainier and Tristar sold locally, and I've heard great things about Shuksan.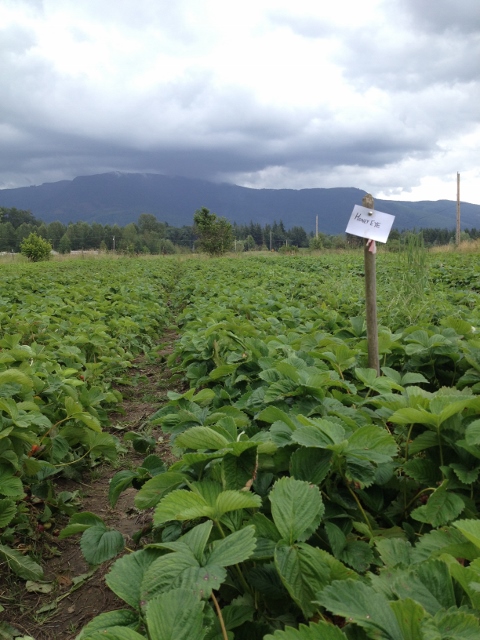 2. Where to buy?
The next step after deciding what kind of berries is where to go. There are a lot of options, all varying in price, convenience, and amount of elbow grease or gas required. Unless you've got a generous neighbor with a strawberry patch, you're probably going to be choosing from the same 4 standard options like the rest of us: the farm, the farm stand, the farmer's market or the grocery store.
At the Farm: If you get yourself to an actual farm, you often have the option of u-pick or already picked. But let's focus on u-pick, since many of the picked berries end up getting transported closer to you and sold at the other 3 location options.
U-pick seems like a more economical choice for sure, but after I drove 40 miles round-trip to an organic u-pick farm in Everson recently, it was probably a wash. Here's a sampling of some local prices for u-pick strawberries from lowest to highest.
Bjornstad Farms: $1.50 per pound
Barbie's Berries: $1.75 per pound for <9 lbs., $1.50 per pound for >10 lbs.
Boxx Berry Farm: $1.95 per pound for <15 lbs., $1.75 per pound >15 lbs.
Kamm Creek Farm: (no spray) $2.00 per pound for <10 lbs., $1.75 per pound for 10-20 lbs., $1.50 per pound for >20 lbs.
Lubbe Organic Strawberries and Veggies: (certified organic) $3.00 per pound
At the Farm Stand: This option is great if you don't have time to pick your own but still want to buy directly from the farmer. The berries are ready to go and the farm stands pop up all around the city and county during the season. Here's what I found for already-picked strawberries; the prices were pretty similar.
Kamm Creek Farm Stand: (no spray) $4.00 per quart
Joe's Gardens Farm Stand: $5.00 per quart
Bjornstad Farms Market Stand: $5.00 per quart
Barbie's Berries Market Stand: $5.00 quart
But how do you compare pints to pounds? My pints averaged about 2/3 lb., depending on how high they were heaped. My quarts weighed about 1 1/3 lbs.
At the Farmer's Market: If this is your destination, you have the opportunity for a little comparison shopping. Browse the vendors and see which berries look the best and who has the most reasonable price. On Saturday, January 21 at the Bellingham Farmer's Market, my berry reconnaissance turned up these facts and figures:
H&P Farms: $4.00 per pint
K&M Red River Farm: $5.00 per pint (sold as 2 half-pints)
Shumway's Berries: (no spray) no pints, but $7.00 per quart
Cloud Mountain Farm, Sumas River Farm, Spring Frog Farm and Growing Washington all had organic strawberries for $5.00 per pint.
At the Grocery Store: This choice definitely wins for convenience, since it doesn't require an extra errand. Here's what Bellingham grocery stores had to offer this week:
WinCo: $1.98 per pound
Fred Meyer: $2.00 per pound
Albertson's: $2.99 per pound
Community Food Co-op: conventional (from Barbie's Berries) $2.98 per pint, organic (from Cloud Mountain Farm) $3.98 per pint
3. How many to buy?
So, you're in the right place with the right strawberries in hand. Now, how many to buy? It depends how fast you can eat them. Once you get them home it's a race against the clock to get them gone before they go moldy or mushy. (Don't worry too much about overdoing the portion, since they've only got 50 calories per cup.) I find myself buying a couple of quarts a couple of times a week, but when I u-picked I got 6 pounds. Can you freeze some? If you have a large freezer, buying in bulk certainly make sense, since prices generally get lower the more you buy.
Bjornstad Farms: $11.00 per half flat, $22.00 per flat
Barbie's Berries: $12.00 per half flat, $22.00 per flat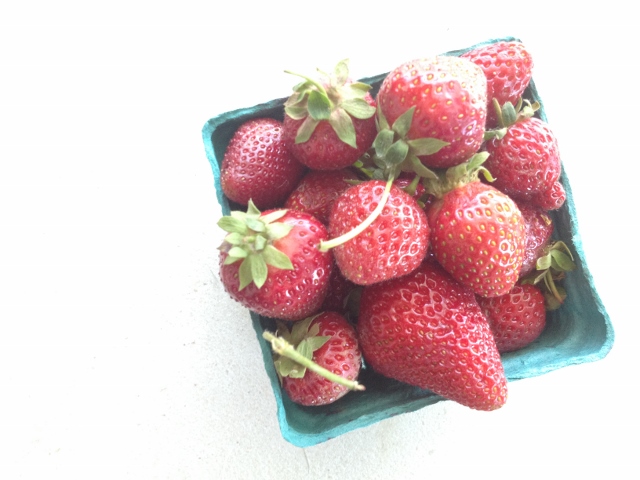 Besides the big three questions, I've got a couple of other quick tips:
Bring your own containers. It saves a lot of cardboard and/or plastic waste if you think to bring your own, especially since the berries often don't stay long in the packaging once they're home anyway.
Find your local farms on Facebook. I've found this to be the most efficient way to stay updated on supply, picking days, and hours of operation. After driving 10 miles to Bellingham Country Gardens last week, I found out they were "all picked out" for the day. Happily, though, they have some everbearing varieties so they'll be back in business again in a few days, and for several weeks to come.
All this driving and picking and comparison shopping seems like a lot of effort, but fresh, local food is what all the experts agree is the goal for a healthy diet. And now's our chance! So, we'll be having strawberries for breakfast, lunch and dinner while it lasts. Then it will be time to start researching those darn raspberries.
What strawberry tips do you have for your neck of the woods?
If you liked this post, you may also enjoy: