Another blogging conference means another weekend of practical learning, carefree and adventurous eating, and connecting with like-minded folks trying to continuously improve their online endeavors.  It's my fourth year in a row to attend, but somehow the International Food Bloggers Conference (IFBC) keeps me coming back.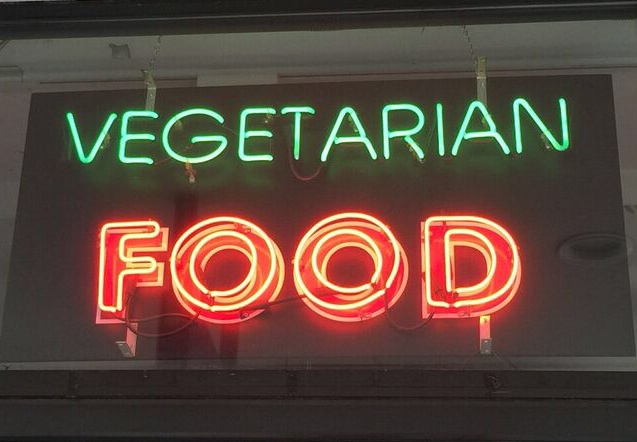 As always, I feel like I have so much blog-worthy stuff to share from these jam-packed 3 days. First I told you all about my informative tea field trip, and today I've got a collection of my favorite "bites" from the conference. I put a lot of things in my mouth in Seattle and these are the 10 most notable.
Vegans like treats too, and the dairy-free crowd can benefit from companies offering more vegan options of favorite foods as well. And while the chefs who attended IFBC to share their tasty samples were asked to provide a vegan/vegetarian option, some seem to have forgotten to pack theirs. So, I was incredibly happy for each additional food I discovered I could eat. Molly Moon's brought several flavors of ice cream including the vegan coconut chunk.
Why I Loved It: Creamy and sweet and decadent. Frosty self-indulgence on a spoon.
Nutrition Notes: Ice cream is not a health food, even if it's made without eggs and milk. My guess is that it's equally high in fat, saturated fat, and sugar but lower in cholesterol. And as with any type of ice cream, it can be enjoyed as a sometimes treat.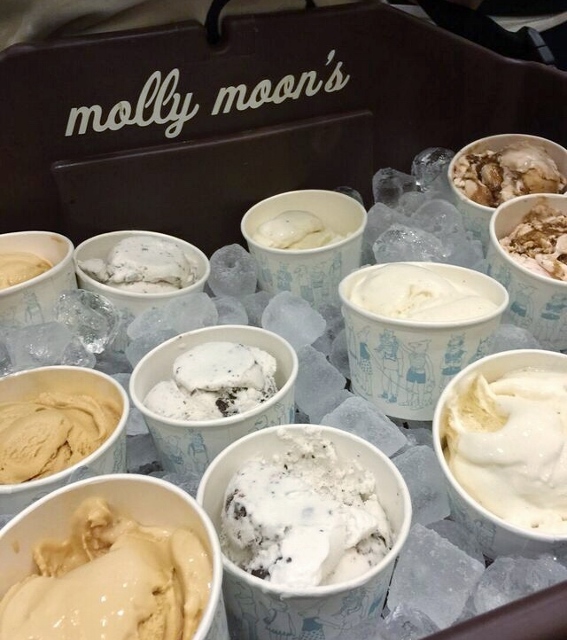 When cooking a meal for vegetarians, many people struggle with the main dish. When we take the chicken breast out of the equation we're completely stumped as to what to replace it with. So, I'm always on the lookout for interesting alternatives for the center of a vegetarian plate. This cute little tart was offered up at a presentation on holiday blogging strategies and I think it would be especially nice at Thanksgiving.
Why I Loved It: Rich, with a real depth of flavor. And normally, with my picky palate I wouldn't choose Swiss chard, gruyère, or eggs as something to voluntarily eat, so this combination was a nice surprise.
Nutrition Notes: Cheese, butter, heavy cream, and eggs do not a healthy entrée make. But in this case I thought the perfect portion size would keep the nutrition facts in check. And to their credit, they used some whole wheat flour and olive oil in the crust.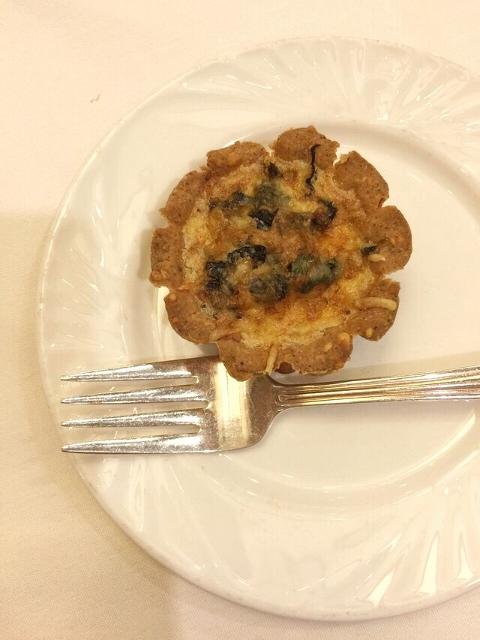 8. Lark's White Peach, Blueberry and Mascarpone Tart on a Shortbread Crust
Don't let the appearance fool you. This messy little piece of cookie and fruit was a sweet and complex mouthful of flavors and textures.
Why I Loved It: The shortbread crust, which just happened to be gluten-free, was delicate and chewy and the ideal vehicle for the creamy, fruity toppings. It's sort of a fancy version of dessert pizza you used to get served at all the Pampered Chef parties. (You know what I'm talking about: sugar cookie base, sugary cream cheese spread, and fruit baked on a pizza stone. It was all the rage in the 1990s.)
Nutrition Notes: Mascarpone cheese is high in fat and saturated fat, but it's got a tiny bit of protein and calcium. That's about the best thing I can say about it. So it's not a food to consume daily or weekly, but nestled under a little fruit and on top of a cookie, it's a step up from frosting, whipped cream, or sugary cream cheese.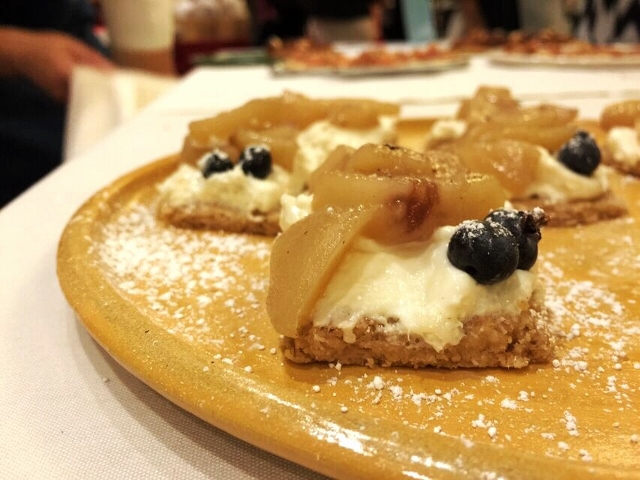 Tom Douglas' restaurants are a big deal in Seattle. And they seem to be multiplying. Serious Pie, Etta's, and Lola are just 3 of the 19 eateries he's created in the Emerald City. So, as I was walking by the Dahlia Lounge during the conference lunch break one day I noticed the Dahlia Bakery and decided to check it out. I wandered in, looked around, and left with a pie; an itsy bitsy key lime pie bite.
Why I Loved It:  Adorable, edible sweetness. And the pastry was so remarkably tender I could easily cut it with a plastic fork.
Nutrition Notes: Again, I should note that pie is not a food group to boost your intake of. But when you need a treat, a pie bite has a more reasonable calorie impact on your day than a regular slice of pie.

Talk about an unexpected mixture of flavors. This burrata (a semi-soft mozzarella-style cheese) was teamed up with chiogga beet, strawberry, basil, pistachio, and maple; all vegetarian and decidedly delectable. (Now was that so hard…other chefs who forgot your vegetarian options?)
Why I Loved It: These are all foods I like, but I'm not sure I'd ever think to pull them together in one dish. Each bite left me pleasantly surprised.
Nutrition Notes: Vegetable, fruit, herb, and nut make for a pretty nutritious combination. Add on a little protein from the cheese and a little sweetness from the maple and it makes for the most respectable dish on my list so far.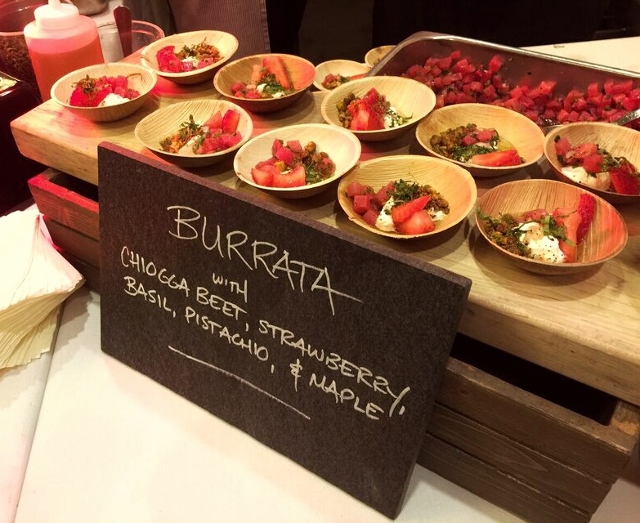 5. Teavana's White Chocolate Peppermint Tea
I already raved about this herbal tea in my tea post, but it deserves double billing so it's on my list of favorites as well.
Why I Loved It: Simple: it puts me in the holiday mood.
Nutrition Notes: You know how when December rolls around and you're drawn to hot chocolate, candy canes, and steaming mugs of hot cider just because they make it feel more like Christmas? I think this tea can do the same for you but it will do far less damage to your nutrient intake for the day. It feels luxurious but it's just tea.
Update 2020: Teavana no longer makes or sells this yummy tea.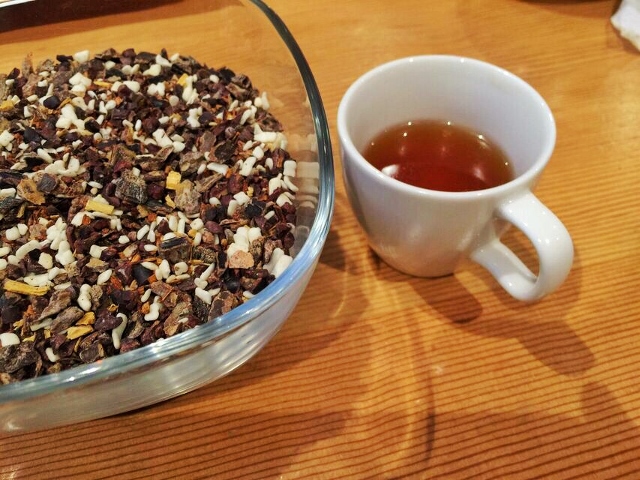 If you ask a skilled and seasoned BBQ man what his secret is, he'll often say it's the sauce. So I'd argue that the sauce is really the key to the whole BBQ experience and the protein you spread it on can vary. A good sauce makes a better pork chop just like it makes a better tofu skewer. And Cafe Yumm has figured this out.
Why I Loved It: Glisteningly sitcky, smoky, and sweet.
Nutrition Notes: I'm sure there was sugar in this BBQ sauce, but I also had protein-packed tofu, rice, and cabbage salad to round things out. I know sugar's getting quite a bit of negative attention lately, and it should. But I feel like if a little bit of the sweet stuff gets people to try healthy foods like tofu or Brussels sprouts for the first time, it's probably a good compromise and a step in the right dietary direction.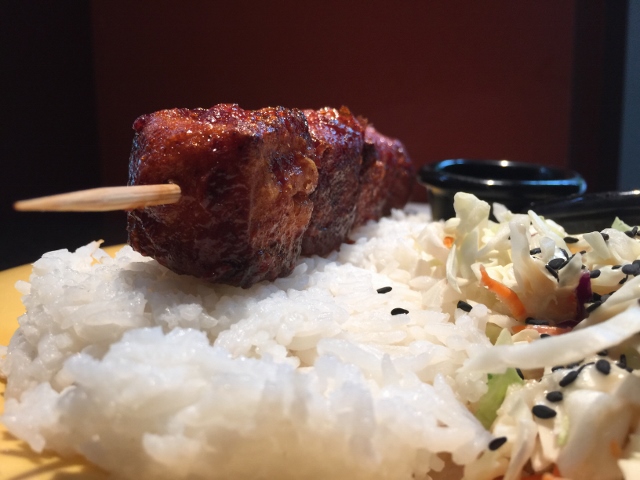 How did so many desserts and sweets end up on this list? Isn't this a dietitian's blog?
Why I Loved It: Impeccably smooth with the beautifully burnt flavor we all love in a good caramel.
Nutrition Notes: Organic coconut milk and hemp milk make it plant-based but unfortunately this doesn't make it low calorie or healthy. The first ingredient is still sugar. The good news is that once you open it, it's good in the refrigerator for 4 months. So you can dole out your caramelly goodness in reasonable portions with responsible frequency.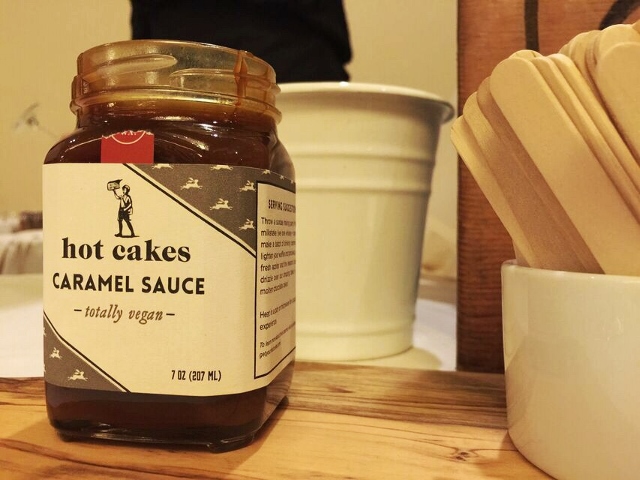 I know people are getting creative with French fries lately. I've seen jicama fries, avocado fries, zucchini fries, green bean fries, and mushroom fries. But I had not yet encountered risotto fries. Even though it's probably just a way for them to use up leftover risotto, I still think it's genius.

Why I Loved It: It was just what you want fries to be: incredibly crispy on the outside, soft and creamy on the inside. And something about the thick "cut" size was very appealing as a finger food.
Nutrition Notes: Fried anything is never something I'd encourage. But they were so rich I only ended up eating 2 of them, and my main dish was a watermelon, arugula, and feta salad so I balanced the friedness with some greens and fruit.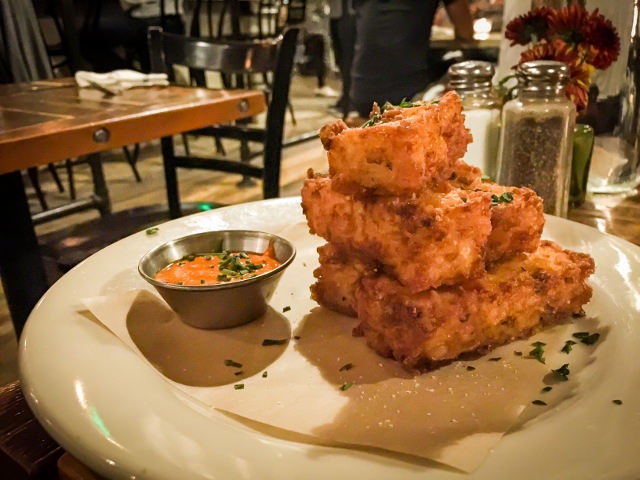 1. Dahlia Bakery's Flourless and Vegan Granola Bar
My number one favorite thing to eat at a weekend festival of eating? On a list that's been dominated by desserts so far, it's probably a gooey dark chocolate molten cake or a vegan Twinkie, right? Nope, it's a granola bar.
After careful inspection and lowering of glasses to the tip of my nose so I could focus up close with my 44-year-old eyes, here's what I think is in these masterpieces: pumpkin seeds, coconut, dates, dried cranberries, currants, millet, dried cherries, pecans, sunflower seeds, and cinnamon. Strangely, I didn't detect any of the usual suspects like oatmeal or brown rice syrup.
I bought one the same day I bought my pie bite. Then I went back the next day and bought two more. If they weren't $3.25 each I probably would have driven home from Seattle with a dozen of these lovelies in my back seat.
Why I Loved It: Dense, perfectly chewy, and not too sweet.
Nutrition Notes: Calorically dense? Yes. But also exceedingly nutrient dense. Nuts and seeds, whole grains, and fruit are food groups we're encouraged to build a plant-based diet on and this little bar is chock full of them.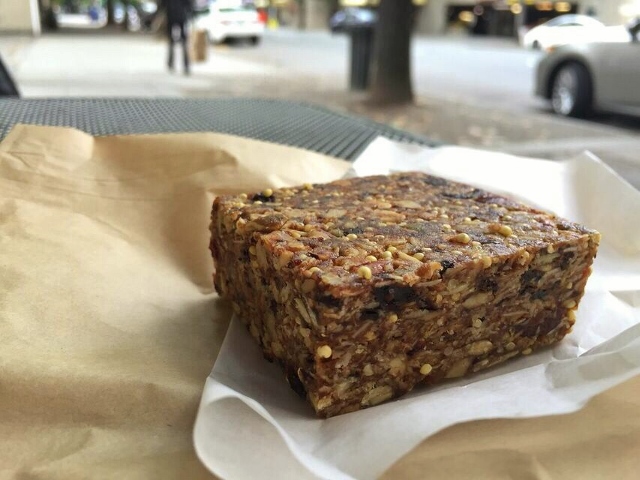 There you have it: the best items I encountered alongside a cadre of food bloggers in a city that loves to eat. Perhaps one of these "finds" will send you on your own culinary field trip, spur you to try something new, or inspire your creative efforts in the kitchen. Or you might just be content to scroll through the photos. Either way, it was a fun-filled 3 days to experience and a fun post to write. I never get tired of talking about food.
What have been your latest culinary adventures? New products, new restaurants, new recipes? Anything you want to share with the rest of us food nerds?
Disclaimer: Most of the products mentioned here were given as free samples or free bites to conference attendees but I don't have any relationship with their companies and didn't receive any monetary compensation for this post. I purchased the Dahlia Bakery items, barbecue tofu, and risotto fries myself. And, while I would have shared my finds with you anyway, I did get a discounted registration fee for agreeing to blog about the conference.