Wouldn't you love to live in a healthy neighborhood?  What would you choose to fill the real estate?  A grocery store that only sold food that was good for you?  A gym or yoga studio?  How about a juice bar, farmer's market, massage therapist, and a whole grain flour mill to boot?  All of that might just make it easier to stay on the diet and exercise straight and narrow.  Well, Stark Street in southeast Portland, Oregon is making this dream a reality, sort of.  In a state where the majority of residents find time to exercise, three vegan businesses have all set up shop, side-by-side to make for one cute and healthy shopping destination.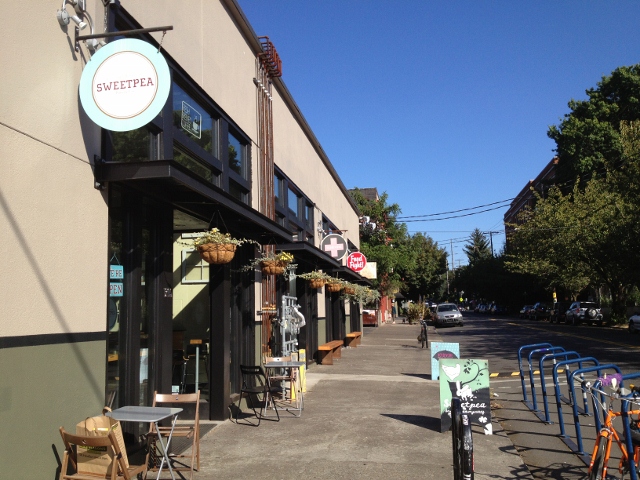 Sweetpea Baking Company:  This 100% vegan bakery set out to prove that you can make a nice, moist cake without the usual suspects (eggs, milk and butter).  They succeeded and have since added muffins, cookies, scones and other delights to their menu.  While these are certainly not health foods, they are a nice alternative that will satisfy your sweet tooth with no cholesterol and less saturated fat (unfortunately, probably not fewer calories).  To round out your nutrient intake, you could preempt your dessert with one of their vegan soups or sandwiches.
While I was there, a family brought their adolescent son in for a treat, fresh from a Saturday soccer game.  While this option is likely to be high in sugar, I'd argue that it's a step or two above stopping at the Golden Arches with the rest of the team.
I took the opportunity to enjoy an unsweetened iced tea and an old-fashioned whoopie pie during my visit.  Actually, I suppose it's more of a new-fangled whoopie pie since it's probably made with almond milk and non-hydrogenated shortening.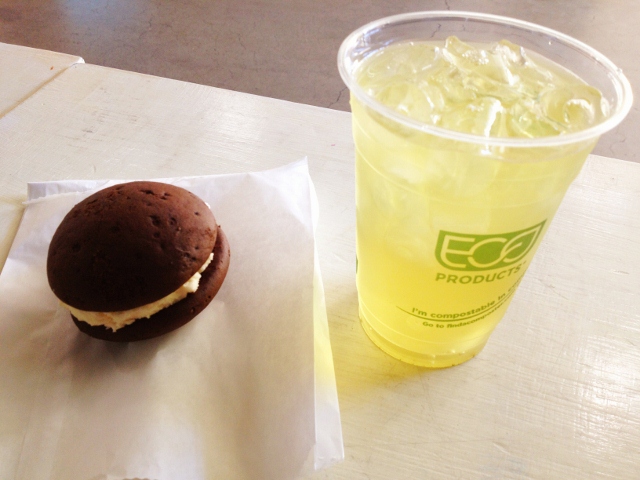 Herbivore Clothing Company:  On the surface, a vegan clothing store might not be your first choice for a health-promoting vendor.  But, this fun retailer has a colorful wall devoted to cookbooks and nutrition books for anyone trying to get more plants on their plate.  It's definitely worth taking a peek.
Food Fight! Grocery:  Billing themselves as a vegan grocery store, Food Fight appears to have consolidated all things edible and animal-free under one roof for your convenience.  Admittedly, they're heavy on junk food, but there are lots of recommended choices, too, like Bob's Red Mill products, kale chips, tofu, hemp seed, and egg replacer.
It's also worth mentioning that there is a fourth business in this hip mini-mall of sorts:  vegan-owned and operated Scapegoat Tattoo…in case buying a gluten-free, soy-free brownie and a copy of "Fresh From The Vegan Slow Cooker" and a didn't offer you enough thrills.
In what is often called a toxic food environment, many of us are struggling to get good, nourishing food to our lips each and every day.  So, I'm happy to support businesses that seem to care about the consequences of what they sell.  I'd love to see more clusters of stores like this get established and have success.  So, while we're at it, let's imagine the ideal.  What else could we add to our healthy street of dreams?  How about a tea house, a filtered water fountain, a spa, a specialty oil and vinegar shop, an organic fast food drive-thru, walking trails and plenty of bike racks?  I know, it seems unlikely, but these creative folks in Portland have already given it a go.  If people interested in health are the entrepreneurs and the customers, anything's possible, right?
What did I forget?  What other additions would round out a healthy section of your city or town?