Do you have some favorite food cities? Where restaurant options seem endless and you're pretty much guaranteed spectacular meals? I've been so grateful to have the opportunity to travel a bit in the last few years, for business and pleasure, and I'm starting to build a list of cities that are worth revisiting if only for the food. I know I'm missing out on some fantastic metropolises here, but so far for me it's Seattle, Portland, Victoria BC, San Francisco, and Rome. (If you want to learn more about the vegetarian food available in my favorite five, click on the city or country names in the tag cloud on the right side of the screen.)
Based on this list, it looks like I've got a good start on the West Coast. I just need to expand my travel horizons to include the Midwest and East Coast. And everywhere else on the planet.
Happily I just spent 3 days in sunny San Francisco for a conference, but realized I'd never written about one of my super deluxe meals from last summer's trip. Figured it was about time I remedied that.
Greens Restaurant has been making vegetarians in the Bay Area happy since 1979 with their locally-sourced, meatless fare. Even though the menu has changed in the 10 months since I was there, the food pictures are still fun to look at. And talk about. And scrutinize for lighting, composition, depth of field, exposure, and focus. But I digress.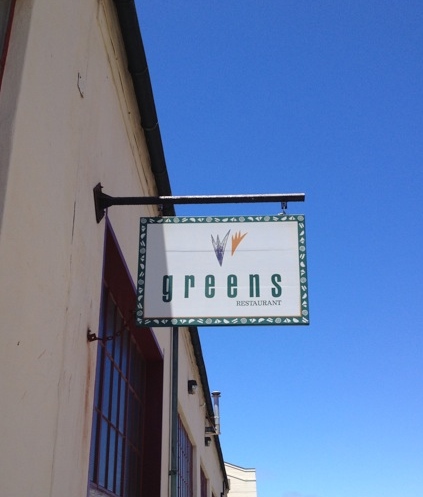 In true summer style I started with a delightful Mango Iced Tea.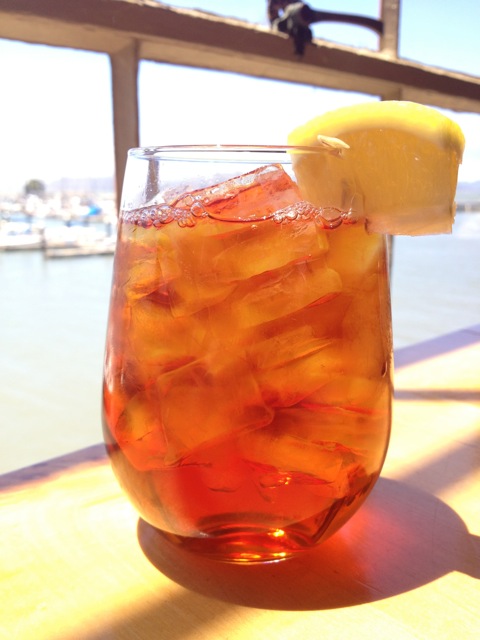 Then it was time to eat. My first course was grilled Blossom Bluff peaches with Bellwether Farms fromage blanc, Snyders honey and watercress.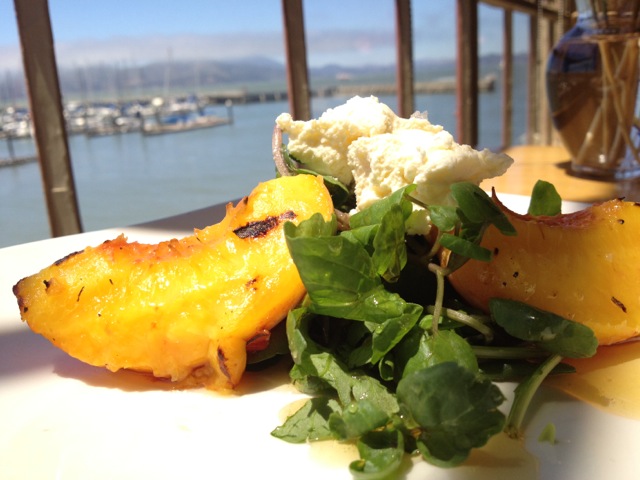 Imagine a peach that's warm and extra juicy, paired with a cheese that's cool and exceptionally creamy (almost fluffy), drizzled with the sticky glaze of a perfect honey. Those classic flavors of fruit and cheese pair so beautifully, and the combination of textures and temperatures was pleasing to my palate. The peach was so sweet it made the honey seem tart by comparison.
The main course was like eating a bowl of spring: linguini with Iacopi Farms snap and English peas, fava beans, spring onions, pine nuts, Meyer lemon butter, Italian parsley, and Grana Padano cheese.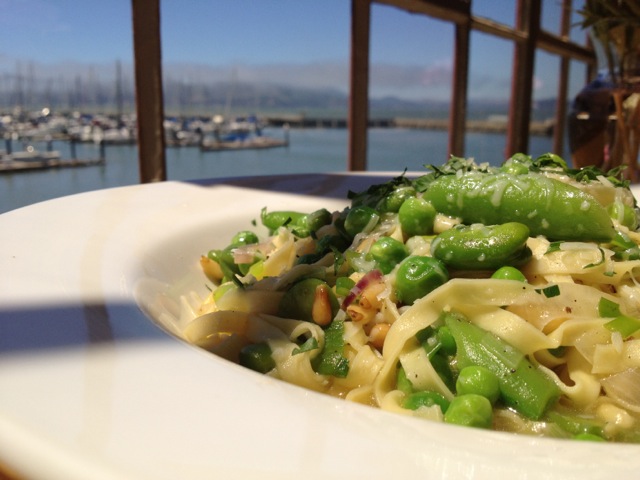 I suppose it was like a monochromatic take on pasta primavera. Each green element brought something different. The fava beans were starchy and al dente. The crisp-tenderness of the extra sweet snap peas contrasted with the English peas which were softer, but together it all just tasted fresh. The whole dish was rounded out with the bite of black pepper and the distinct flavor of the pine nuts. When I started to get full, I made sure to eat out all the peas and leave the pasta. It seemed the nutritious thing to do.
Somehow, though, there was room for dessert, which wasn't so much the nutritious thing to do. The reason I ordered it was partly because I have a weakness for sweets and partly because I love to see what the bakers and pastry chefs are up to in the big city. I also rationalized it because on this day I'd walked myself silly to and from bus stops, not to mention the 3.6 miles across the Golden Gate Bridge and back. (I'm pretty sure it counted as a higher intensity workout since I was fighting against gale force winds both ways.) I also can't say no to cherries in cherry season. Ever. For any reason. Even a high calorie, high fat reason. So, I settled on the chocolate cherry ice cream sandwich. The cookies were super soft which made it easy to eat with a fork…all ladylike and such…and each component was sweet and rich.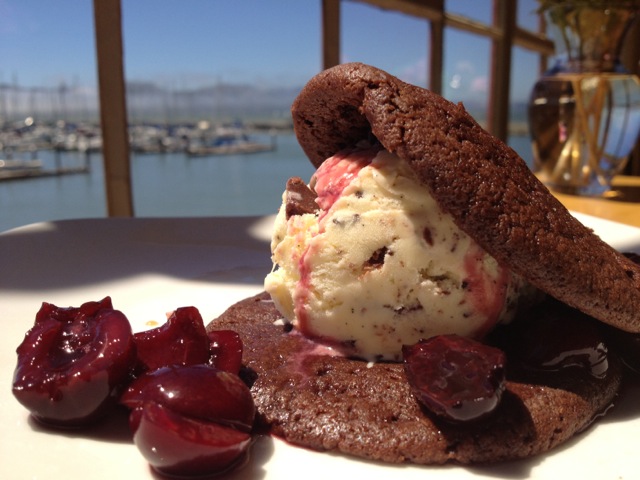 Basically, I had a remarkable meal in a gorgeous locale. So it's not surprising that Greens Restaurant is a vegetarian institution in San Francisco, and it definitely lived up to its reputation for me. Certainly every city has some fantastic food finds, but particular destinations just seem to have a more vibrant food scene, or more options for the vegetarian traveler. In the months and years to come I hope to expand my reach and add generously to my favorites list.
What are you favorite food destinations? Are they close to home or on the other side of the globe?