I am a fan of chocolate. This is because of its inarguably pleasing flavor and because it has some fairly well-established effects on health that appear to be positive. So I'm especially delighted when someone is trying to do chocolate one better. In today's case, I want to highlight Pure Lovin' Chocolate in Victoria, BC who's succeeding at making entirely plant-based (vegan) chocolate.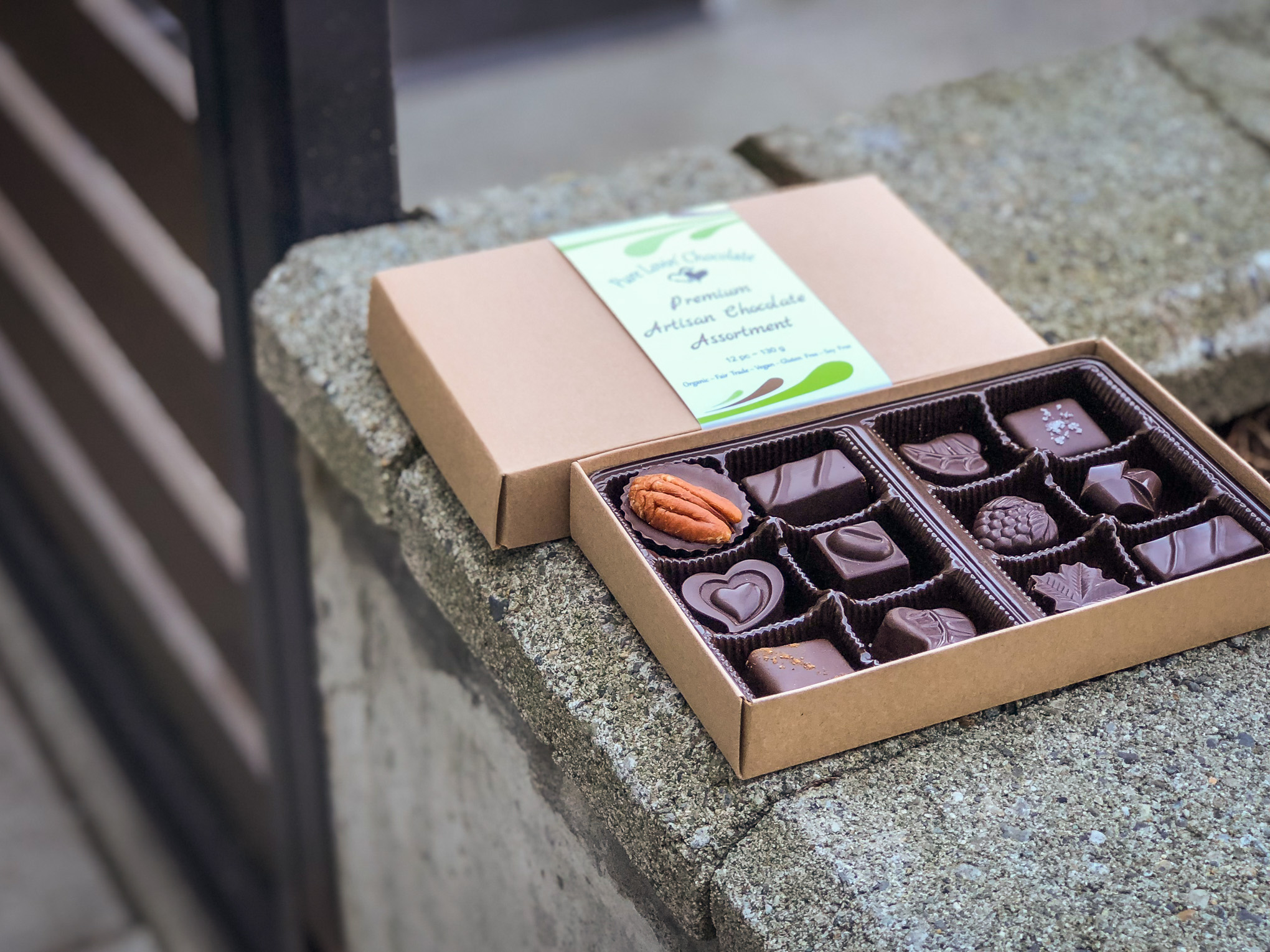 Vegan chocolate means no eggs, dairy, butter, or honey. And since animal bones are often used in the refining process of granulated sugar, Pure Lovin' makes sure to use non-bone-char processed sugar as well. They rely on organic Fair Trade chocolate and coconut cream, in addition to organic fruits, nuts, teas, and spices to create their little nuggets of joy.
I stopped in originally just to check out the place, and bought a few chocolates to sample. I was so impressed I headed back a second time before our visit to Victoria, BC was over to buy a 12-piece box. My justification was that I needed enough chocolates to write about to make for a proper blog post.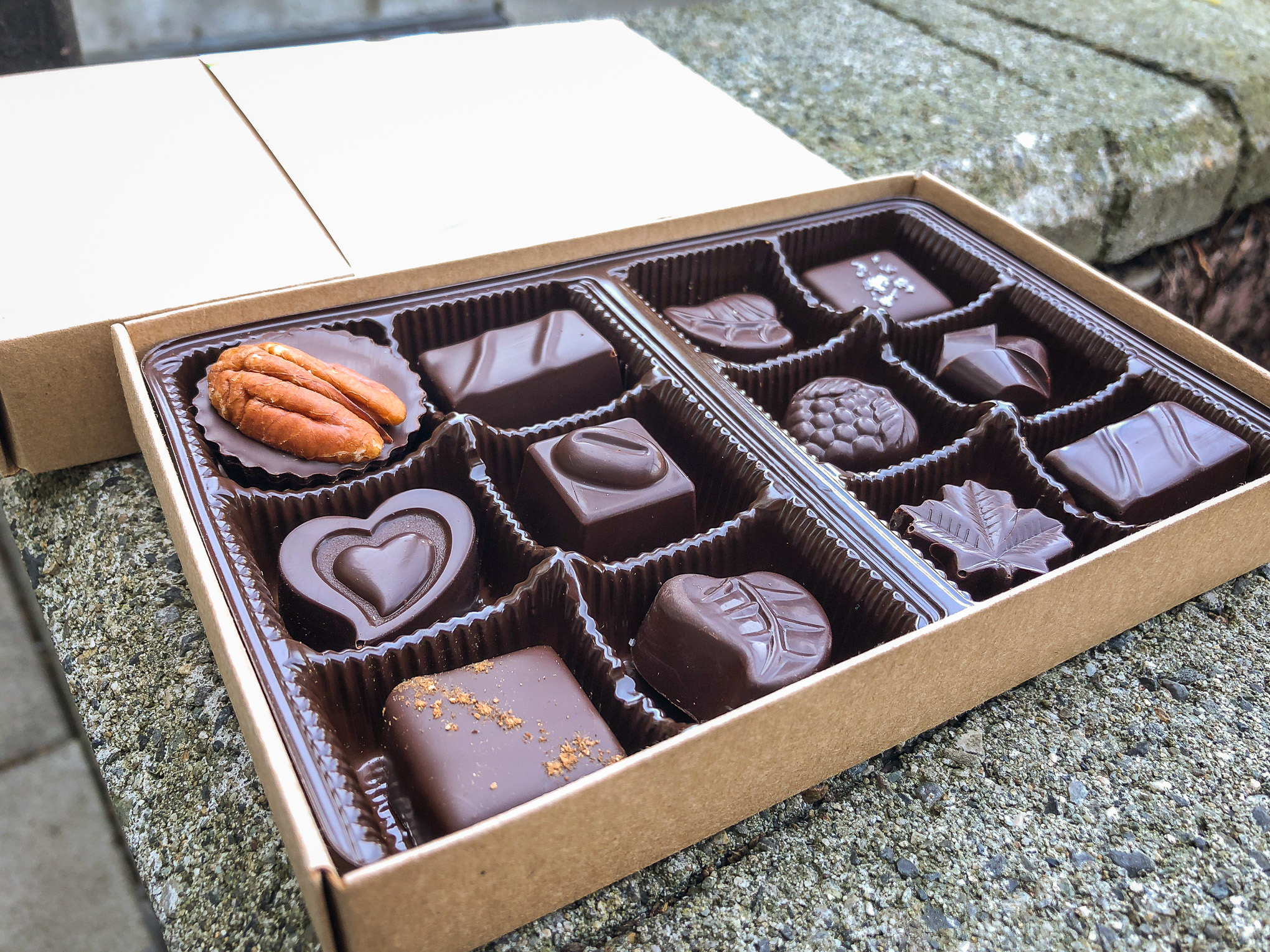 Ready yourself. I just finished binge watching another whole season of the Great British Baking Show, and I'm completely taken with the words they use to describe baked goods and desserts. "Delicious" and "yummy" are tired and worn, America. Since this is a post about Canada (sort of) I'll be opting for British phrasing to level praise on my confectionery.
Here's a rundown of 10 flavors in order from least favorite to most favorite. (There are only 10 because I doubled up on a couple of the best ones.)
Spiced Chai Truffle: This one had a bit of a kick of spice, but was just ho hum.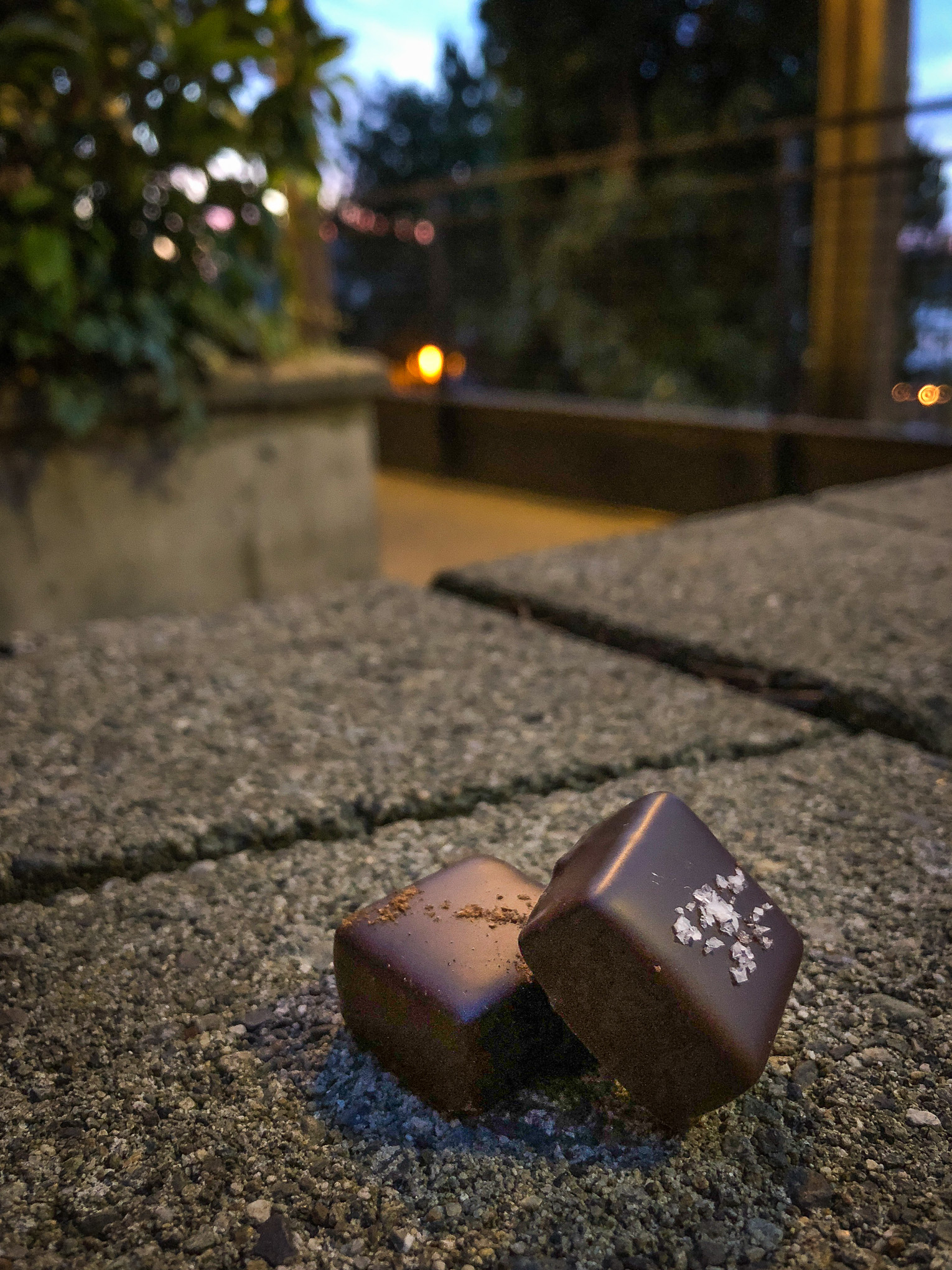 Maple Creme: The filling had some sugar crystals, which was kind of a nice surprise. The maple didn't come through too strongly, so overall it just tasted sweet.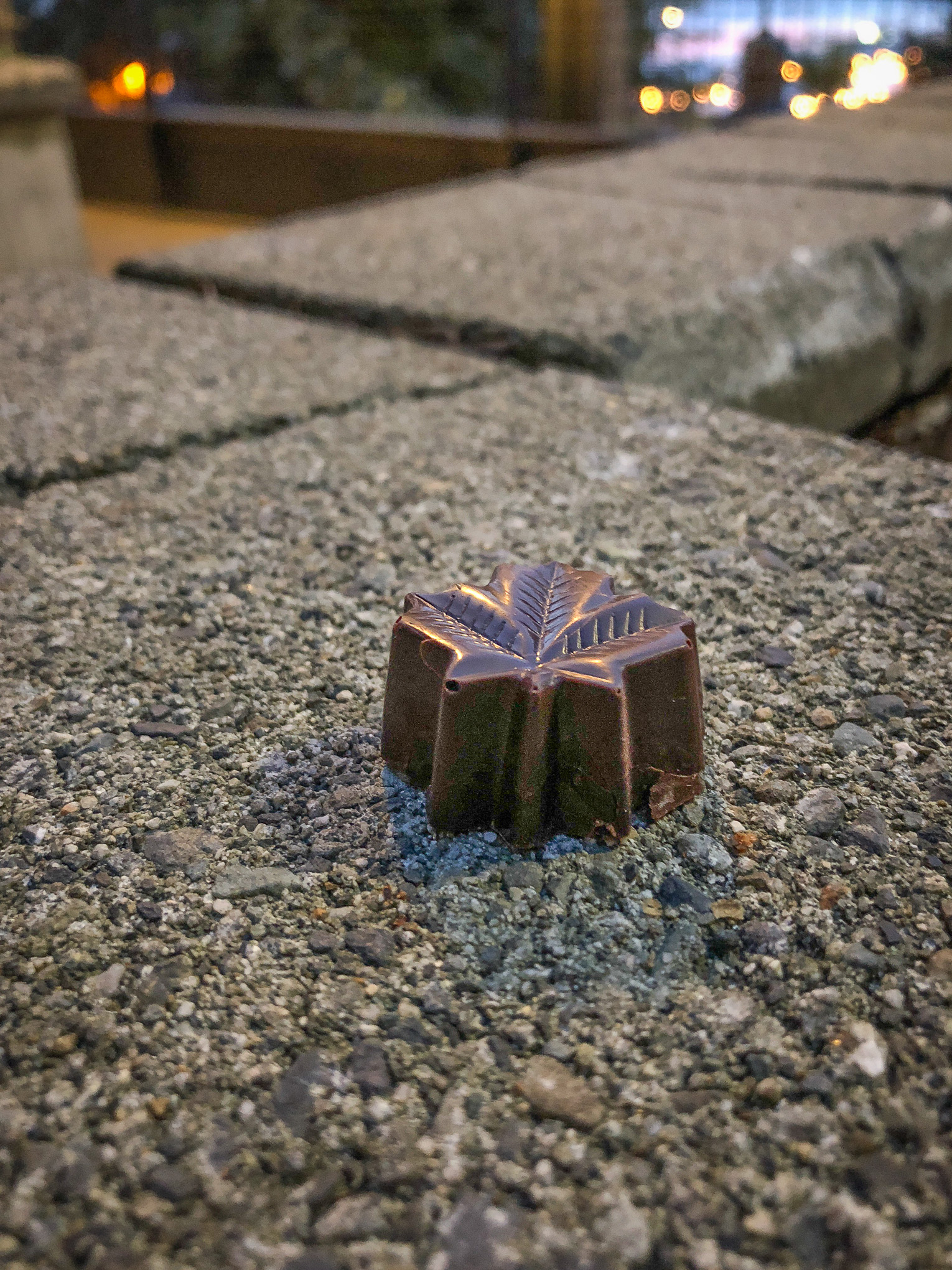 Raspberry Creme: Chocolate and raspberry is one of my very favorite pairings so I had high hopes for this little bugger. My impression was that it needed more raspberry kick, but the texture of the filling was very thick and quite pleasing on the tongue.
Espresso Truffle:  A well-established combination, coffee and chocolate seem to have a natural affinity for each other. This truffle was more bitter than sweet, which gets a thumbs up from me. And the center had the extra creamy melt-in-your-mouth smoothness of a true truffle.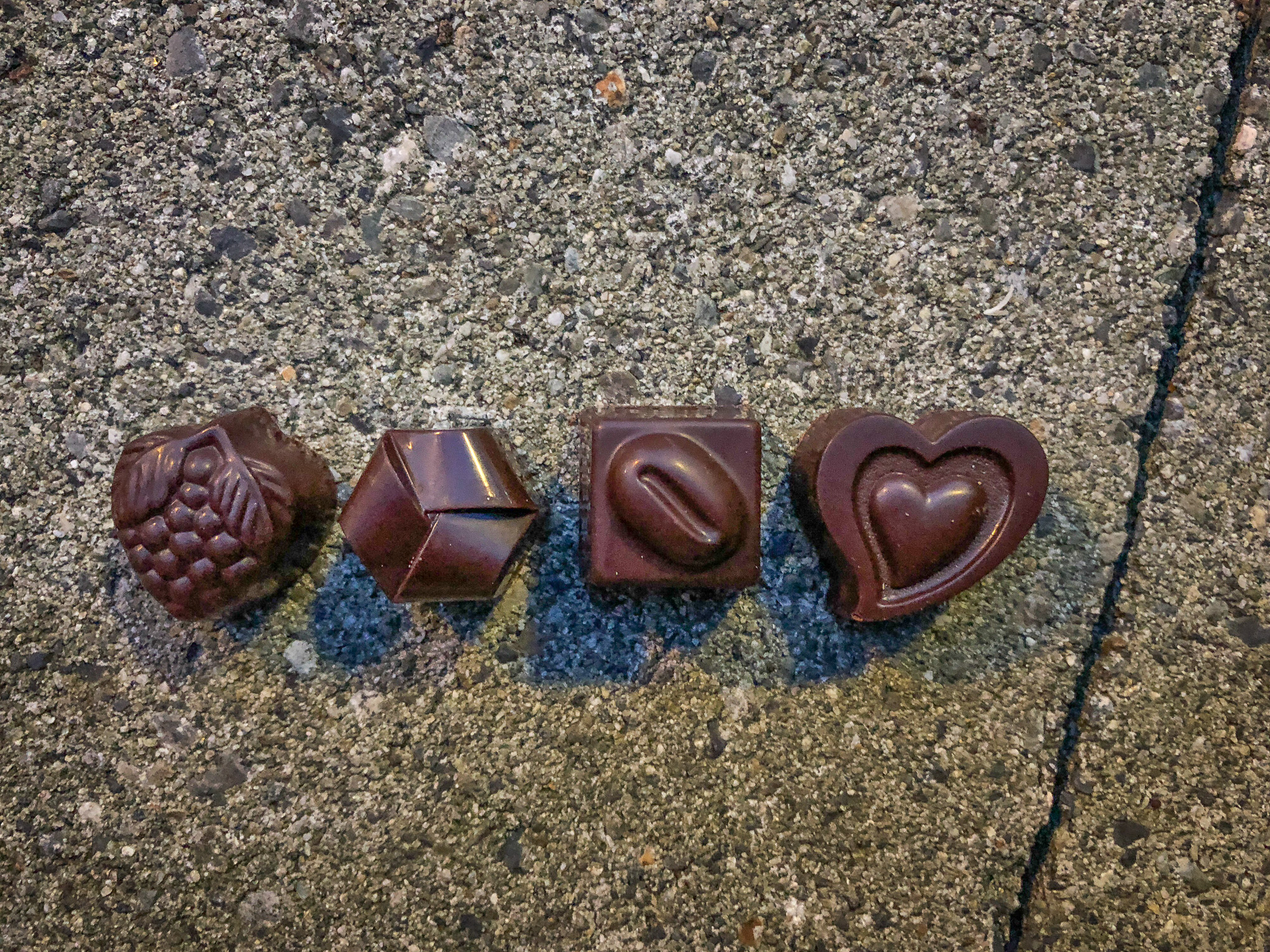 Hazelnut Heart: Now we're getting to the good stuff. This nutty bite was remarkably delicious. The bold hazelnut flavor gets you right off the bat. Essentially it tasted like a chocolate filled with Nutella, and a tiny taste of salt rounded it out perfectly. Scrummy!
Fleur de Sel Caramel: Just like with the Hazelnut Heart, salt makes everything better. This was a very chewy caramel filling with a rich, roasty flavor and the three-way hit of dark chocolate, buttery caramel, and salty goodness made for a most wonderful bite. Simply more-ish.
Pecan Caramel Cup: This was like a one-bite Caramello candy bar, elevated by just the right hit of salt and just enough pecan for a satisfying coarseness. Blimey, it was good.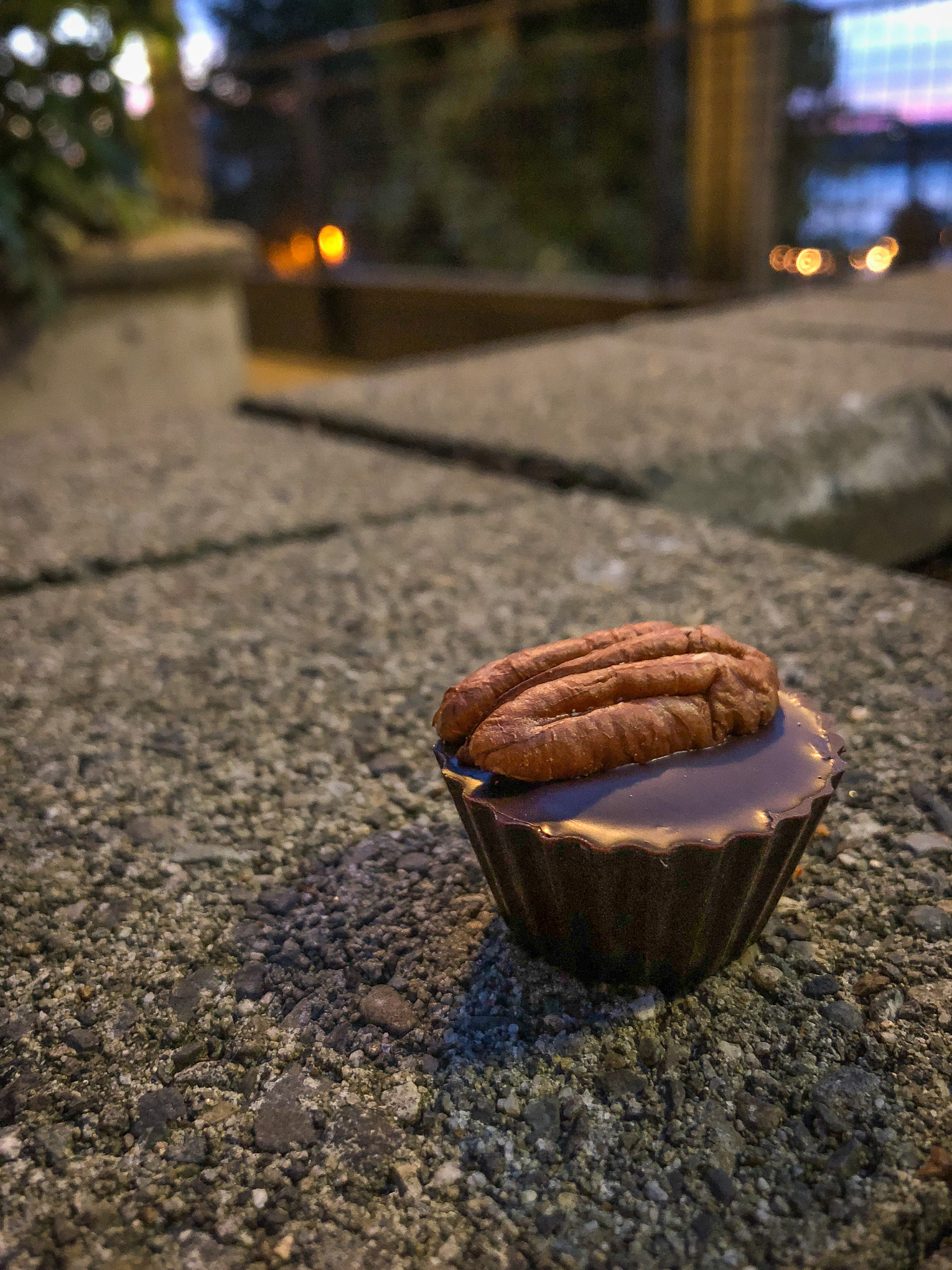 Vanilla Creme: It sort of seems like something so vanilla as a vanilla creme shouldn't land so high on the list. But somehow the simplicity of bitter chocolate and sweetest-of-the-sweet vanilla filling was spot on. Brill!
Orange Creme:  This little guy provided exactly what I was looking for with the Raspberry Creme, which is the magic synergy of fruit + chocolate. The orange essence was so strong it tasted like a piece of chocolate covered orange peel. The filling had no fake orange coloring (because Pure Lovin' doesn't use artificial colorings), and the flavoring tasted true to real citrus with its acidic tartness (because they doesn't use artificial flavorings either). I fancy another!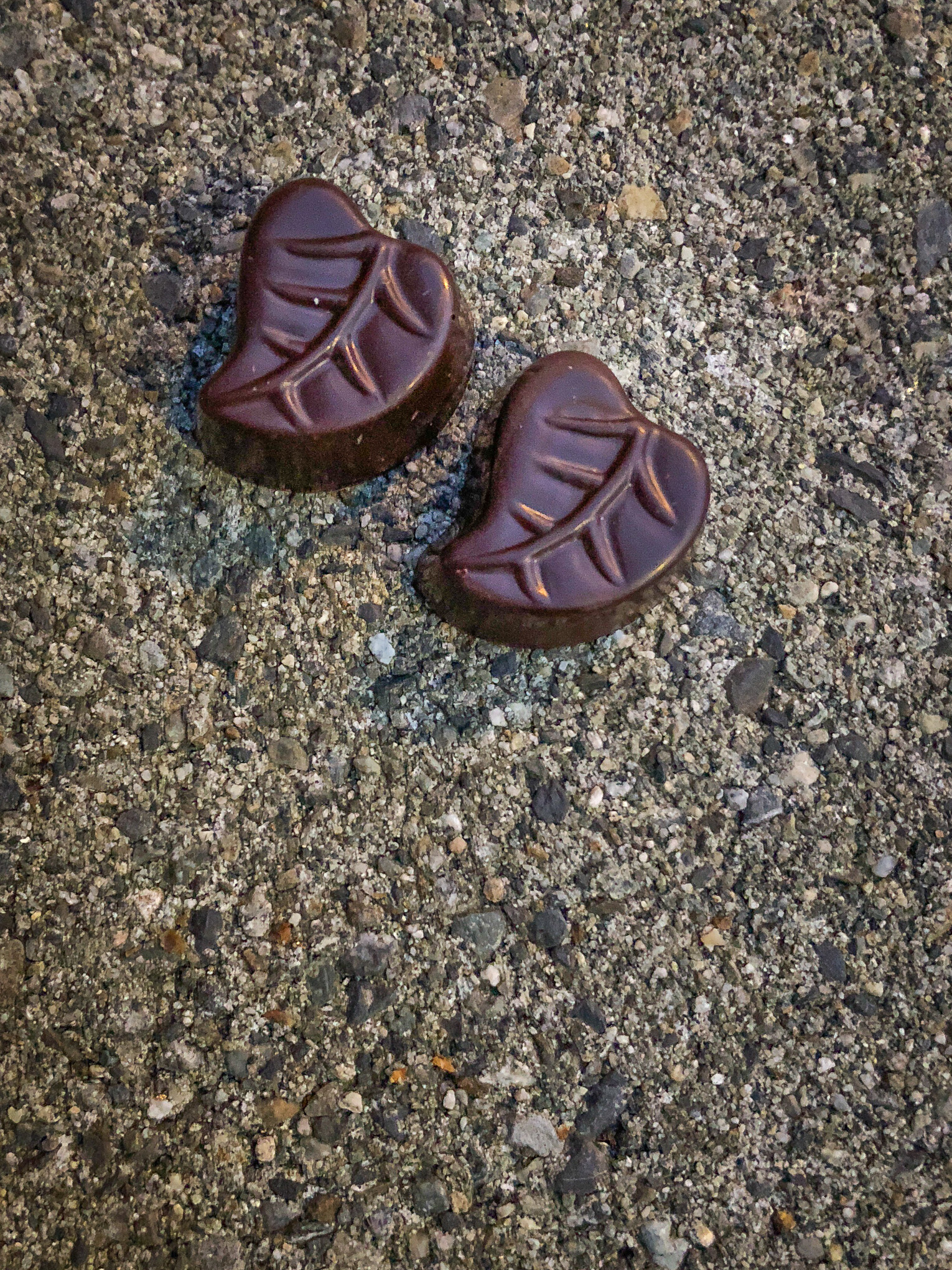 Toasted Coconut Caramel: That brings us to the most perfect morsel in the whole box. This luscious rectangle tasted like the best Mounds bar you've ever had. It was sort of like eating a big glob of the ultra thick coconut pecan frosting that goes on top of German Chocolate Cake (except without the pecans), dipped in chocolate. They should be chuffed about this one.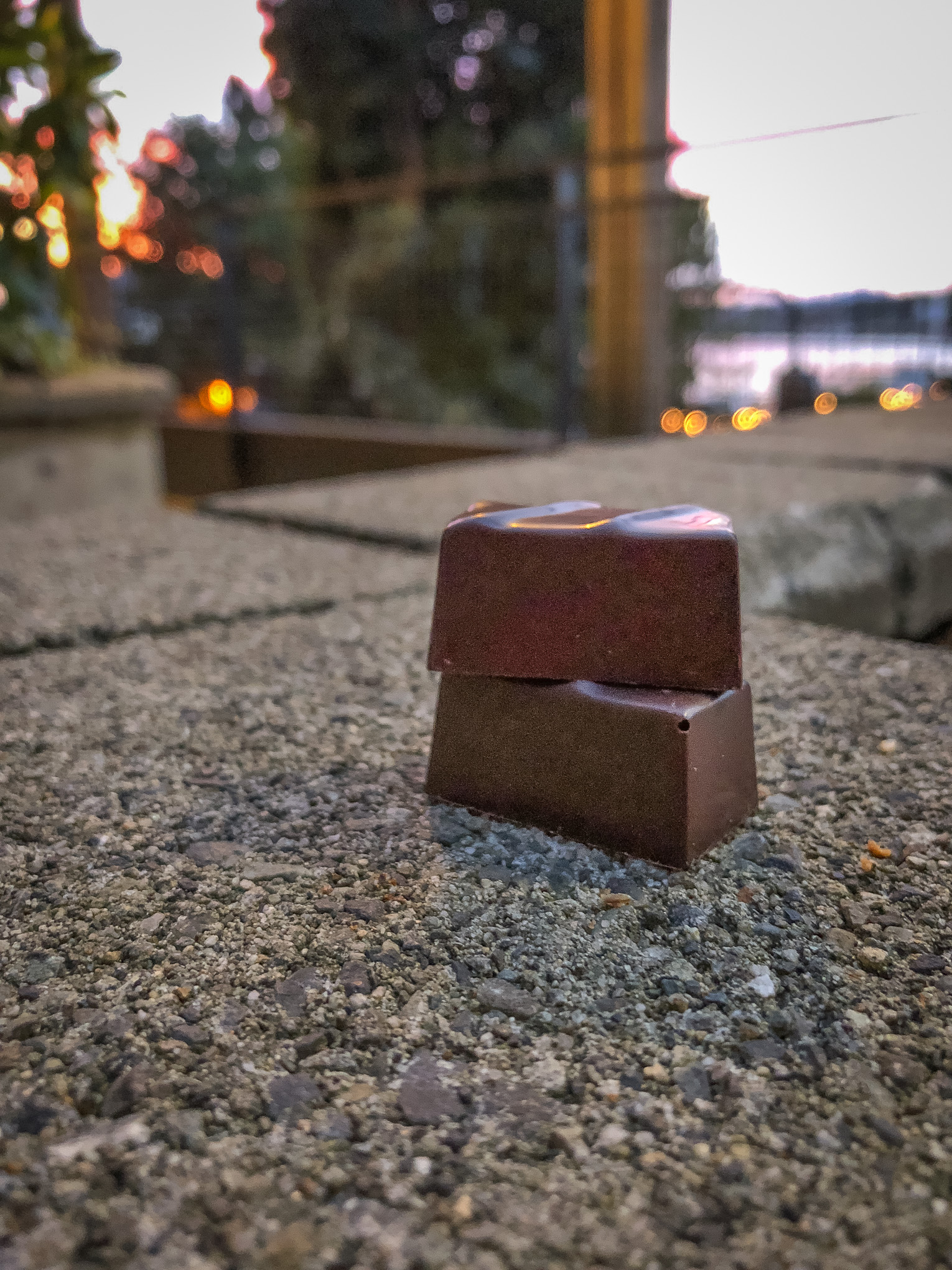 Enough about flavor; what about nutrition? Here's a quick summary. The proposed health benefits of chocolate have to do with something called flavonoids (essentially pigments that give plant foods color) which might help the cardiovascular system by reducing blood pressure, improving blood flow, and nudging blood cholesterol values in the right direction. But as with most nutrition research, the story isn't so simple. This isn't a green light for unrestrained chocolate consumption. Moderation and portion control are valuable here, as chocolate does have calories. And when too many calories lead to excess body weight, this will push blood pressure and cholesterol right back in the wrong direction.
Speaking of calories, Pure Lovin' doesn't have nutrition information available. My educated guess based on the size of the chocolates, the ingredients, and the nutrition facts for my other favorite vegan chocolates, I think each piece is in the ballpark of 50 calories. If you limited yourself to one or even two, it would be very reasonable in the context of a 2000 calorie per day diet.
Here's the bad news. Their only retail shop is in Victoria, BC and they only ship within Canada at this time. But the truth is most every specialty food business starts small and local. So let's hope once Pure Lovin' conquers the Great White North, their vegan treats will make their way across the border and we'll be noshing on toasted coconut caramels before you know it. That would be smashing! Ace! The bee's knees!
Do you know of any small local businesses that are doing something special with vegan food? Or chocolate? Let's spread the word!