A lot of us are getting more of our food delivered these days to minimize trips to the grocery store. I for one am continuing to rely on Green Chef for 3 dinners a week during this unusal time. But breakfast is a consideration too and there are several companies packaging up smoothie fixins and depositing them on your doorstep. I've reviewed Green Blender and Daily Harvest in years past, and today I'm adding Revive Superfoods to the list.
I sampled six of their smoothies, and I'll list them below in order from boring to delicious. Similar to the other brands, you need to add liquid to their cup of frozen bits before blending. Their suggestion is typically almond milk but I opted for soy to boost the protein content.
Strawberry Zen
It's the first one I tried and it turned out to be my least favorite. It was fine but unremarkable. As is often my critique for smoothies, it needed acid. I did like that it was sweet without having any added sweetener. I think perhaps I could have perked it up with toppings if I'd enjoyed it as a smoothie bowl instead of sipping it on its own.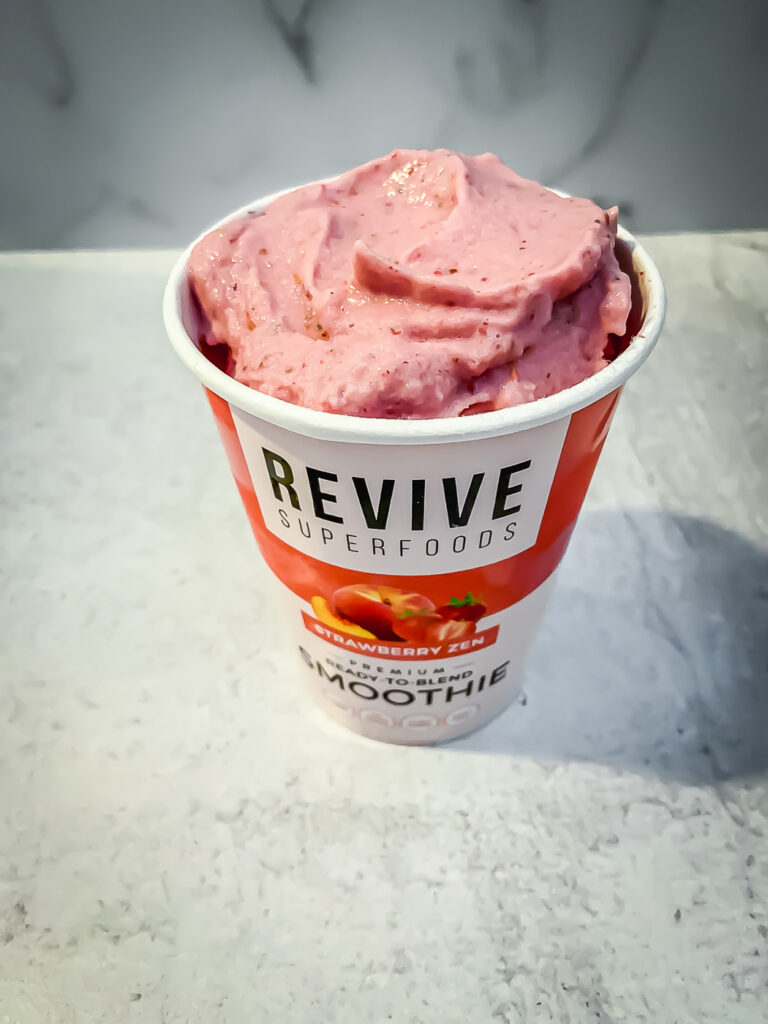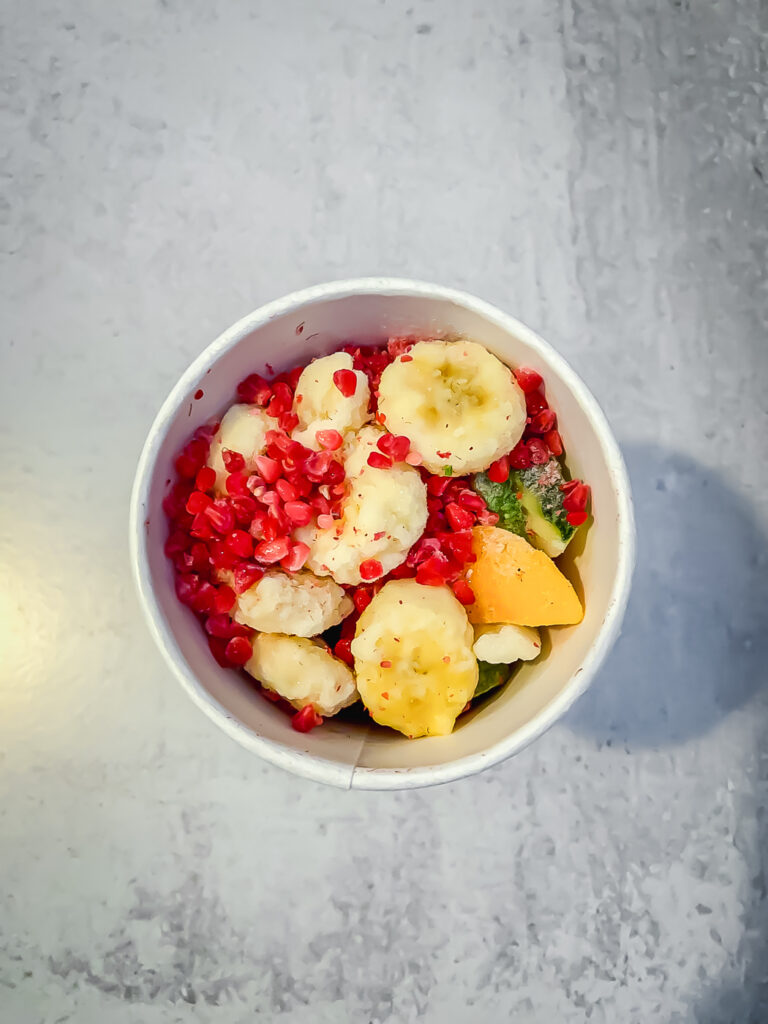 Ingredients: banana, peaches, raspberries, strawberries, zucchini, cranberries, coconut oil, pea protein, chia seeds
167 calories, 7 g protein, 1 g fat, 35 g carbohydrate
Hint of Mint
Very mild and very creamy, which was pleasing, but I wanted it to have more kick especially in the mint department. An interesting ingredient note: while most of the smoothies I chose relied on pea or hemp protein this one used sunflower and flax seeds to amp up the protein.
I decided to enjoy it as a smoothie bowl and add texture with my own hemp seed, chocolate chips, and coconut.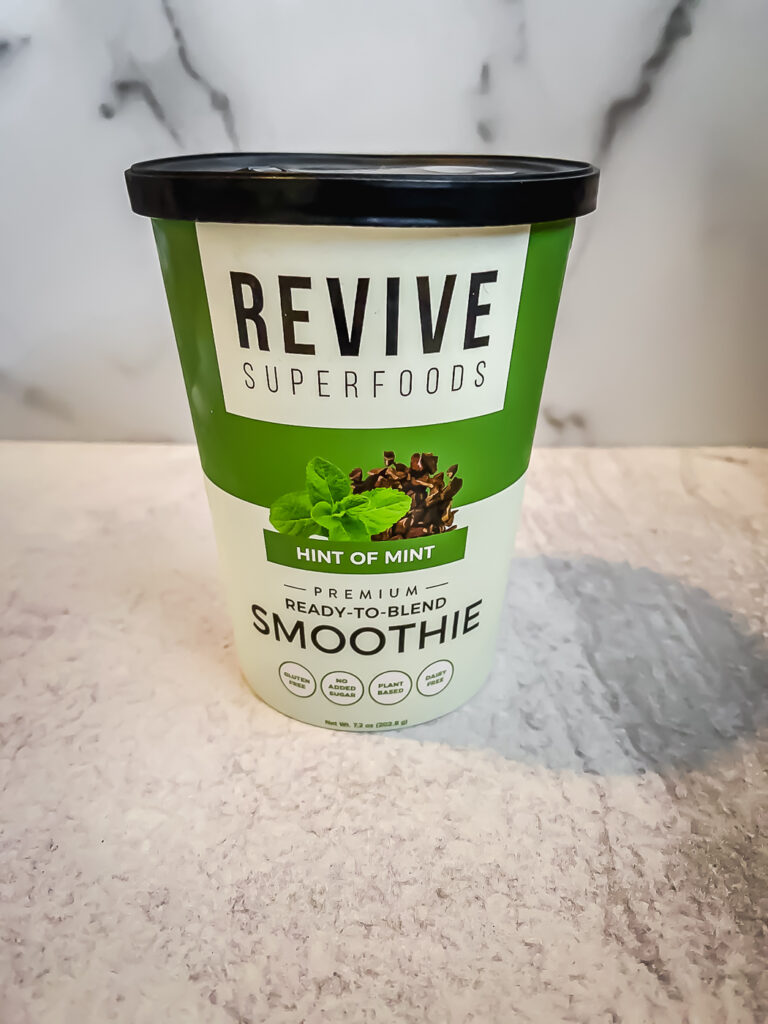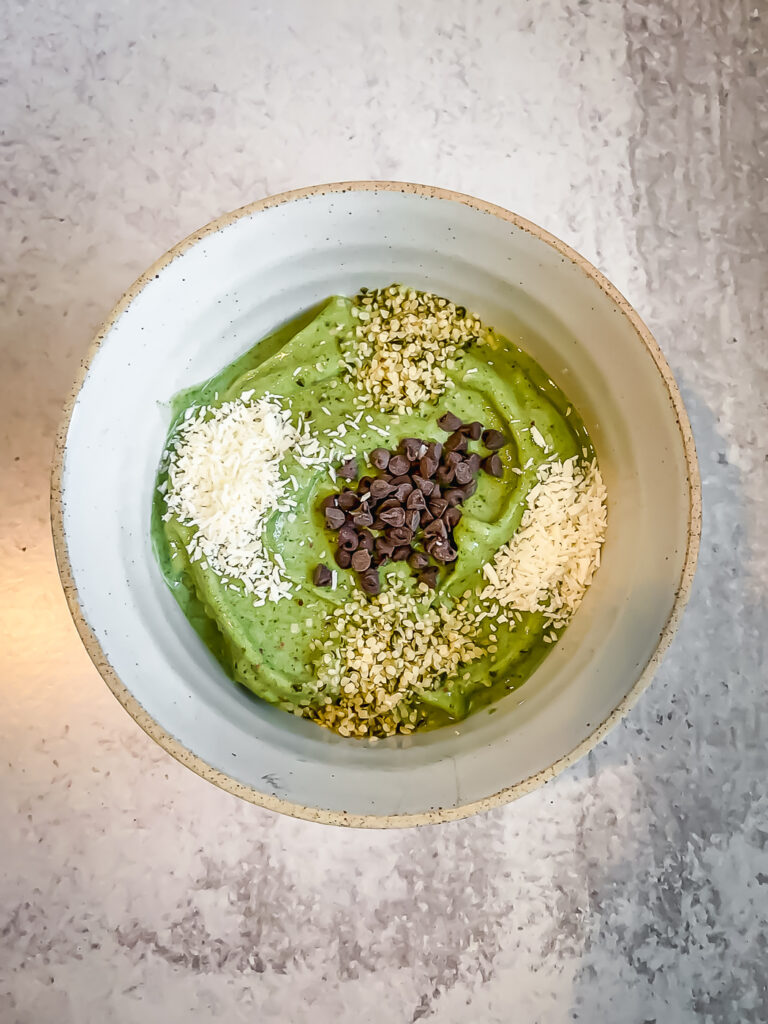 Ingredients: banana, spinach, zucchini, cacao nibs, sunflower seeds, fresh chlorella, flax seeds, peppermint, baobab
201 calories, 11 g protein, 5 g fat, 32 g carbohydrate,
Matcha Maker
Not much to say about this one except that it was fresh and fruity and pretty great. We're starting to turn a corner here with flavor. I zhuzhed it up with hemp seeds, coconut, chocolate chips, and toasted pecans.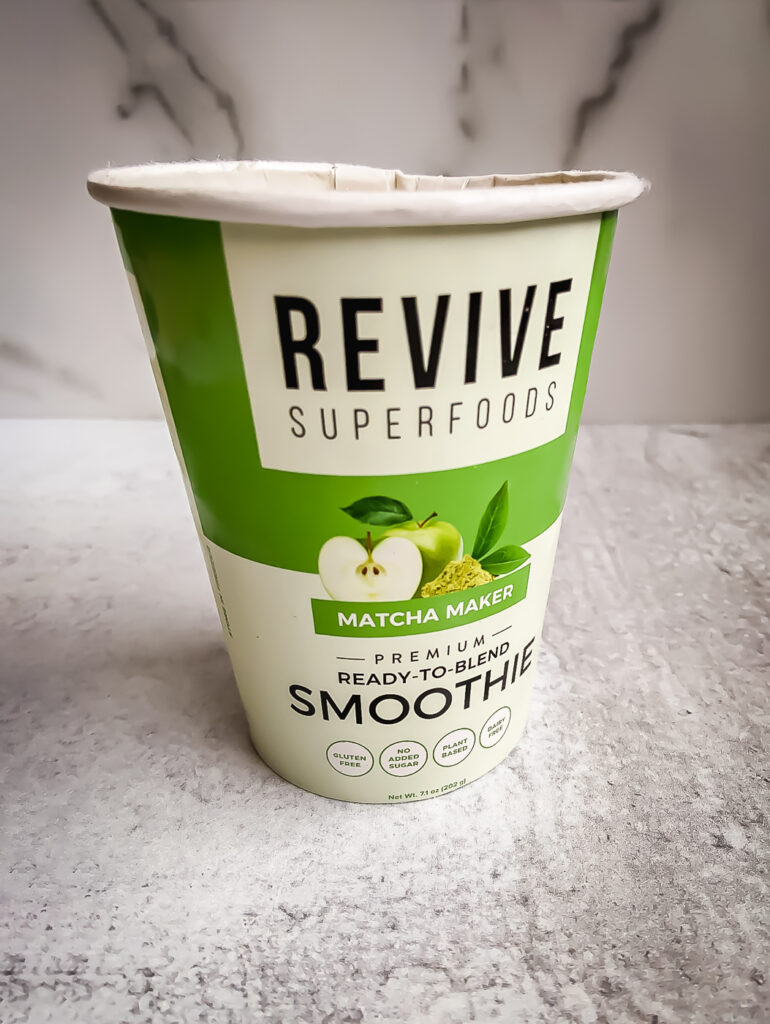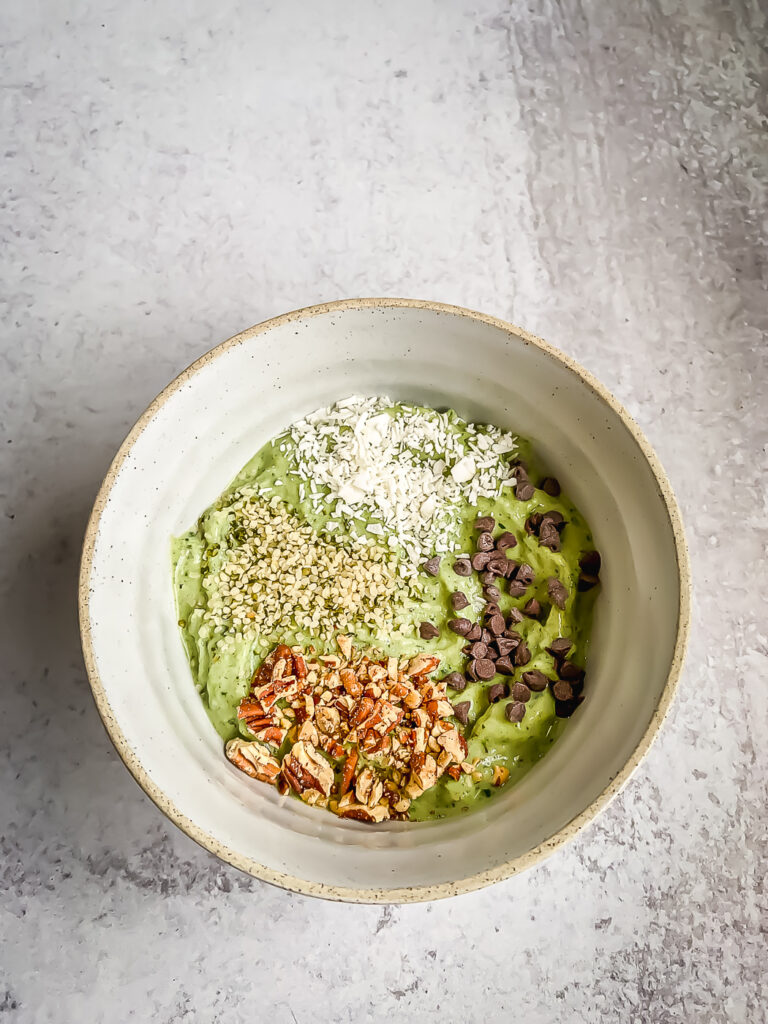 Ingredients: apple, banana, kale, pineapple, zucchini, parsley, hemp protein, matcha, baobab
150 calories, 7 g protein, 2 g fat, 31 g carbohydrate
Blue Cacao
A really nice blend of fruit and chocolate, which is one of my favorite flavor combinations. It was refreshing but also tasted like a little bit of a treat. I was in a rut by now, and ate it as a smoothie bowl with the usual suspects for toppings. But I included the plain jane picture of it so you could appreciate the vibrant color.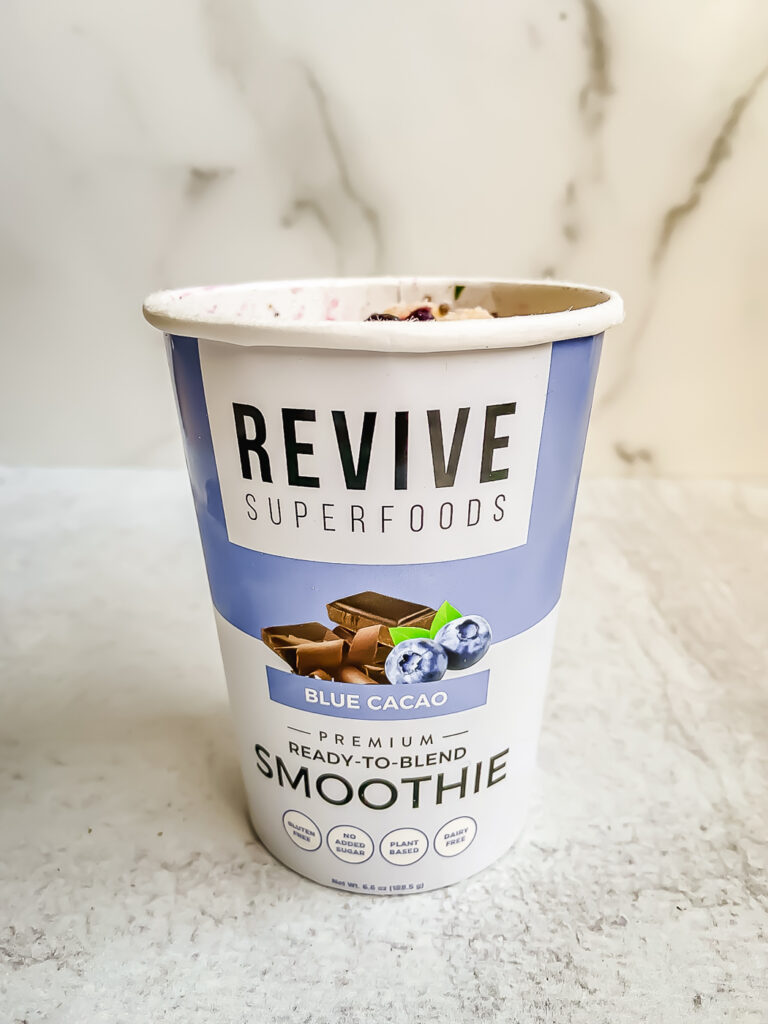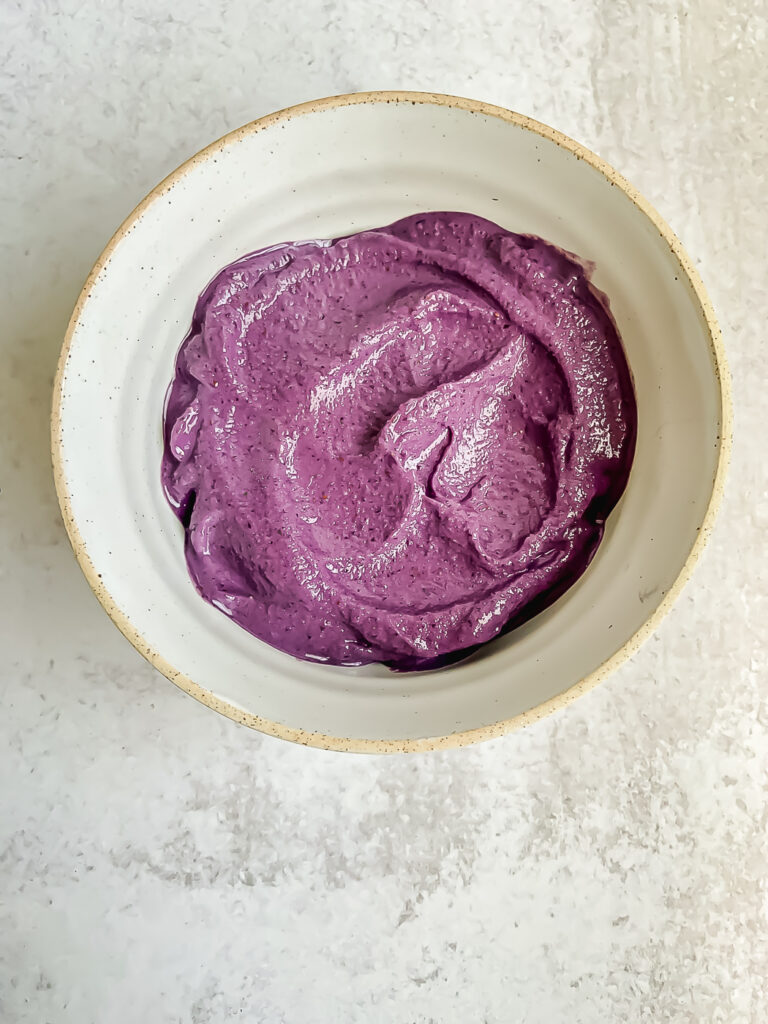 Ingredients: banana, blueberries, kale, dates, avocado, sunflower seeds, cocoa, pea protein, maca
198 calories, 12 g protein, 5 g fat, 31 g carbohydrate
Morning Mocha
We have arrived at my second favorite of the bunch. It was creamy. So creamy. I'm guessing it's the avocado? And despite wanting a stronger punch in the face of coffee flavor, I topped it with breakfast goodness and happily devoured it.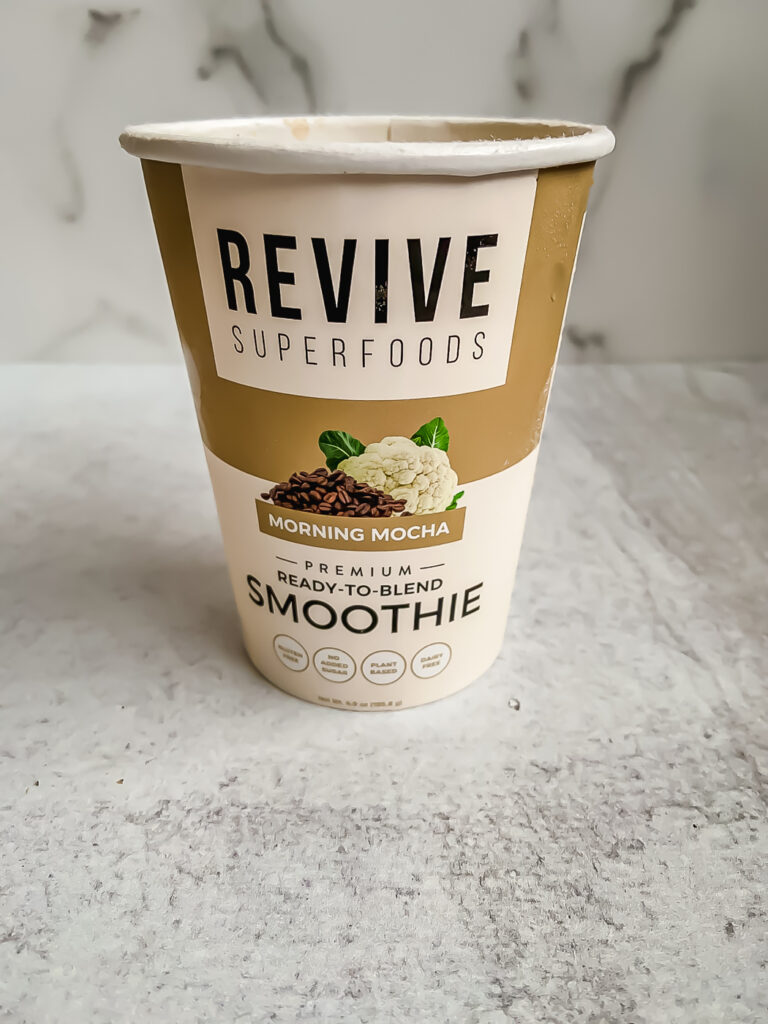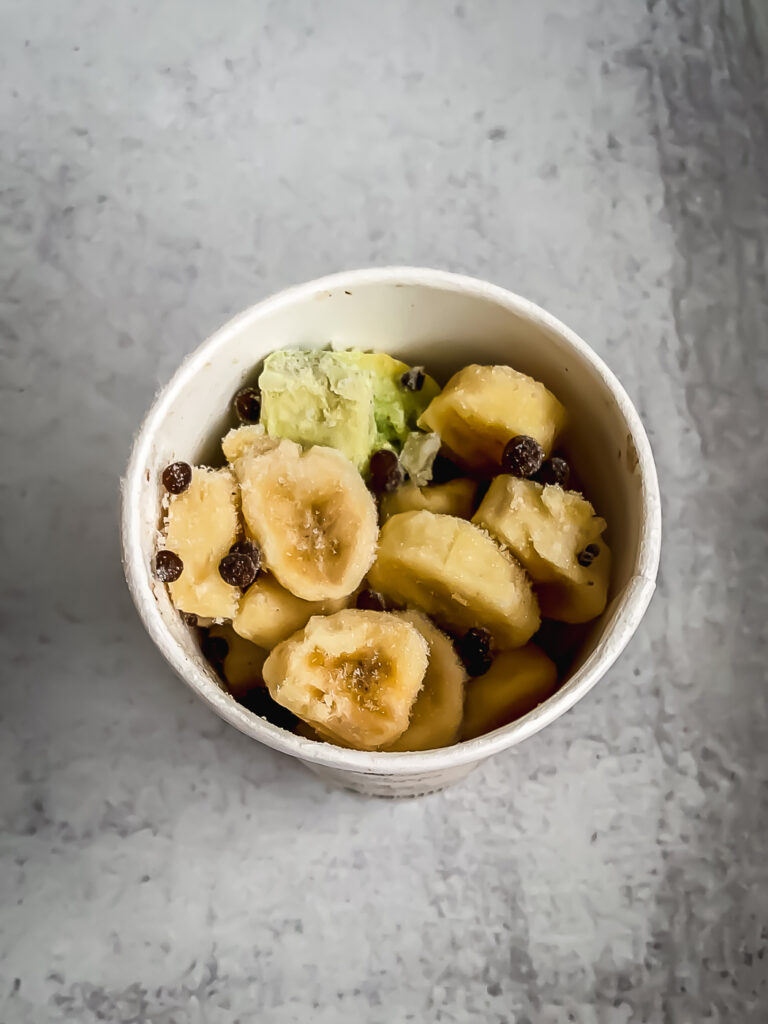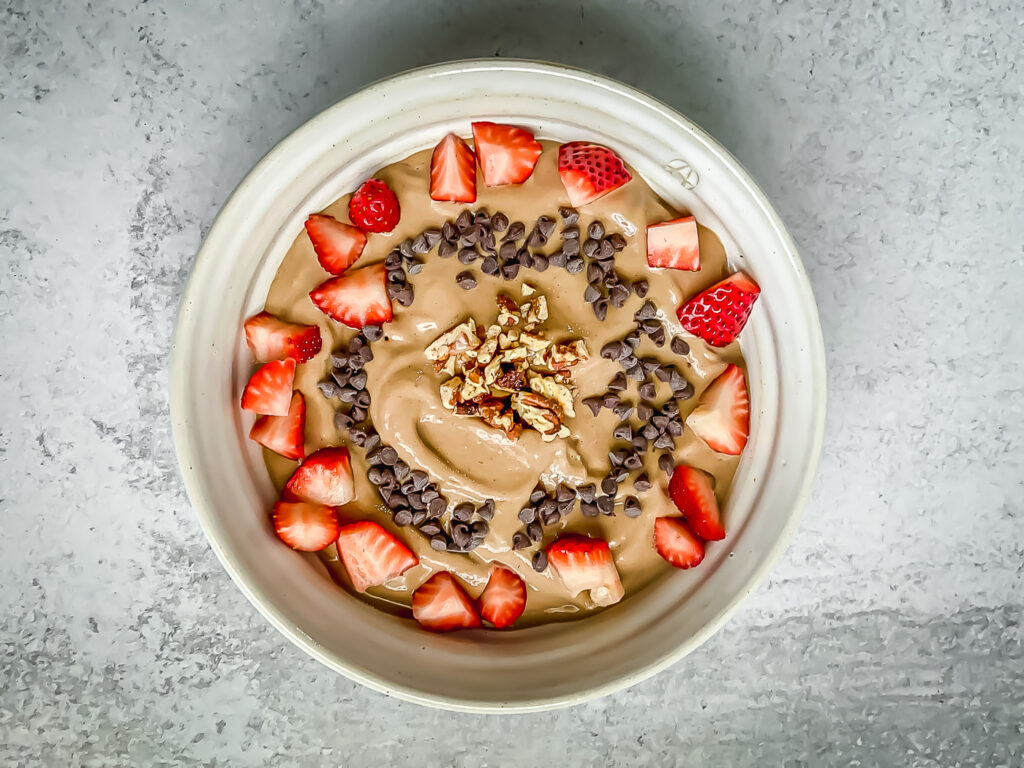 Ingredients: banana, cauliflower, avocado, toasted coconut, pea protein, cocoa, coffee, coconut oil, cinnamon
217 calories, 10 g protein, 7 g fat, 32 g carbohydrate
Acai Twist
Definitely the best, which means I sure wish I had ordered more of these. It was delicious: tart, tangy, and bright. Exactly what I am looking for in a smoothie.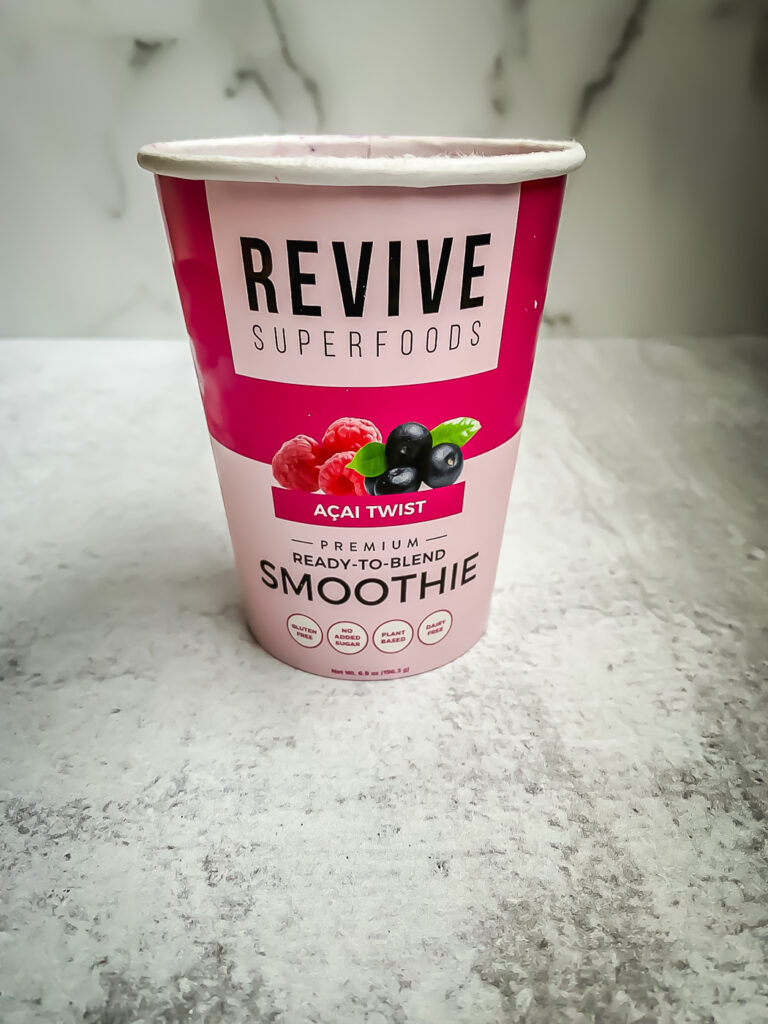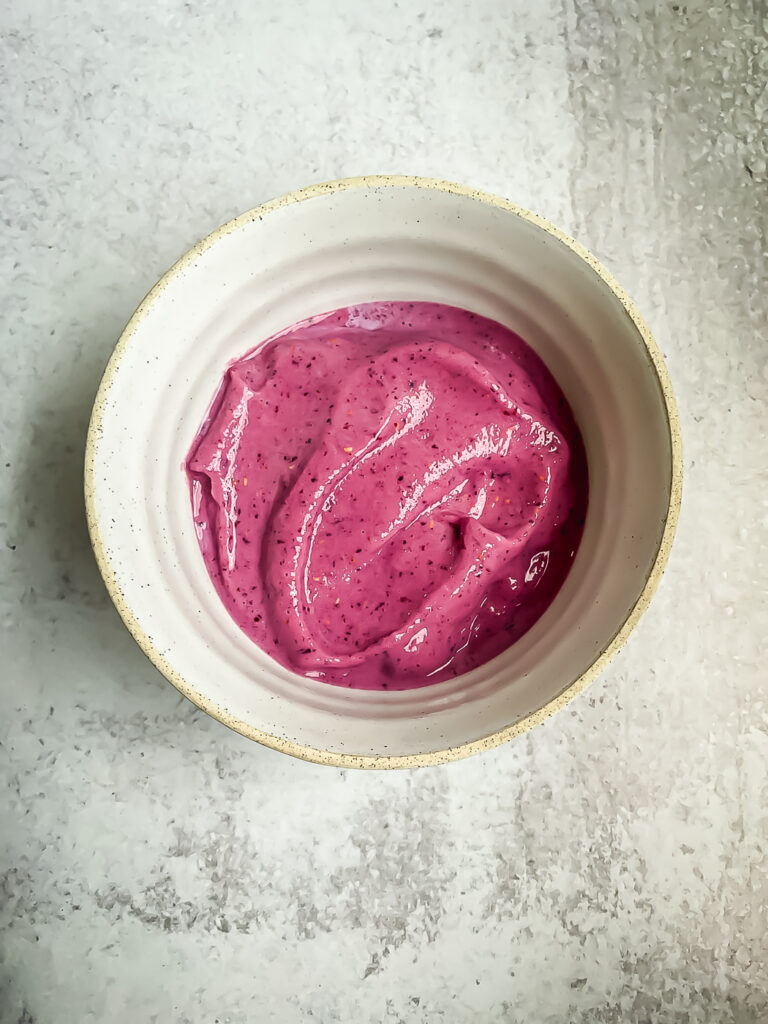 Ingredients: banana, blueberries, cherries, raspberries, acai berries, maca, hemp protein, chia seeds, flax seeds
159 calories, 11 g protein, 2 g fat, 24 g carbohydrate
In terms of taste, there were definite winners and losers. Nutritionally, though, they all held their own in virtually every way. Fiber ranged from 4 to 9 grams which is not a bad showing for breakfast. Vitamin C and A content varied, depending on the flavor, but many were outstanding with 233% or 127% of the Daily Value. Iron and calcium had reasonable contributions and sodium was pretty low, thankfully, across the board. And as you can see by the values listed above, these smoothies started off strong with protein using only plants.
Such a good nutritional profile shouldn't be too surprising I guess. They are essentially cups full of vegetables, fruits, and seeds afterall. This can be made even better, though, if the user chooses a nutritious liquid to blend with. Almond milk is lovely and low in calories, but lacking in protein. Soymilk is more substantial which is why I prefer it. The smoothies end up with a bit more calories, protein, and creamy mouthfeel. And don't forget, Revive's smoothies are vegan and gluten-free with no added sugar.
You can't argue with the nutrition or the convenience of getting breakfast ready in less than 3 minutes. But let's talk cost. They were offering a deal when I signed up so I got 60% off. Normallly, they range from $4.99 to $5.75 per cup and you can choose either a weekly or monthly subscription with options of 9, 12, or 24 cups, depending. You get to pick the flavors that sound best to you (or that were recommended by a helpful dietitian) and build your own box. So a 12-cup box should cost $65.88 but I paid $26.35.
I'm not sure if it would be feasible long-term to get every darn breakfast I ever ate this way, but it would be a nice option to work into my regular breakfast routine for variety, vibrant color, and for getting more plants on my "plate." And, maybe equally important for the time being, saving a trip to the grocery store.
This is not a sponsored post. I paid for, blended up, and slurped down the product myself.