I like to cook. And grocery shop. And meal plan. All the parts of feeding my family make me happy. But that doesn't mean I don't like convenience or streamlining these processes sometimes when it suits my schedule. I use online grocery shopping and mail order dinner kits regularly to help make these weekly tasks a little easier. And I've trialed and reviewed plenty of dinner kits before on the blog. The irony is that my favorite one, the one we've been using repeatedly for months, because it so successfully meets our needs and tastes…I've never written about. I'm going to remedy that today. Here is my official review of Green Chef.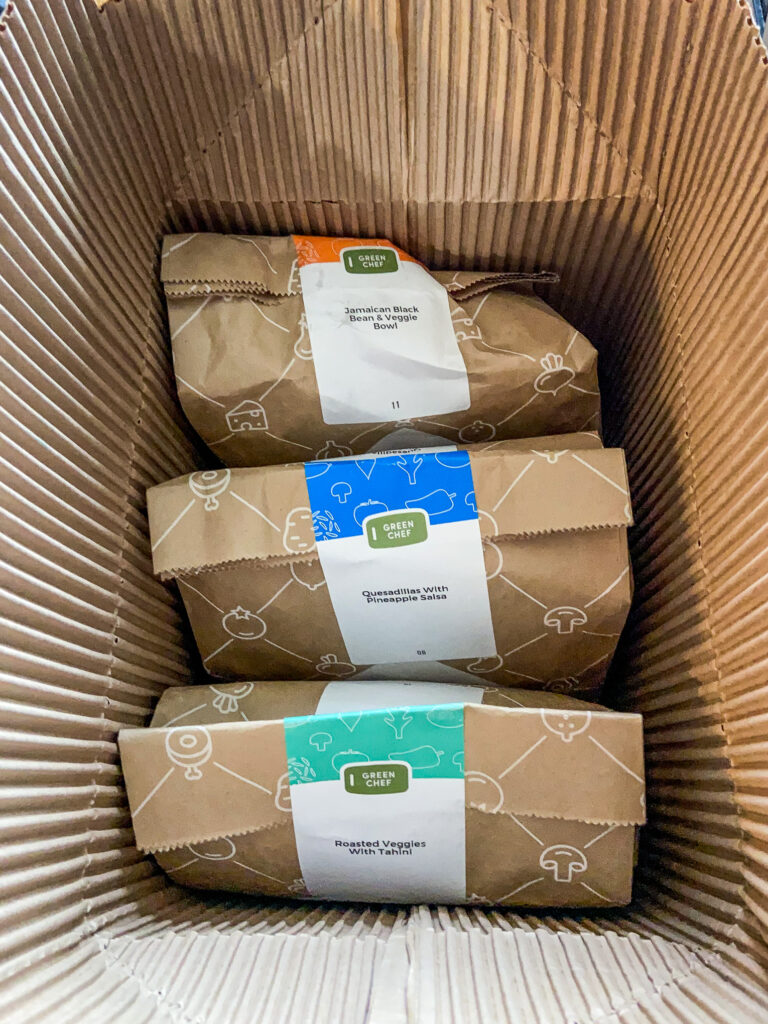 How it works: You sign up for a subscription and they'll deliver a box of ingredients for 3 full meals each week (or 2 times/month or 1 time/month if you prefer). We choose the Plant-Powered Plan with 3 meals per week, 2 servings per meal, but you can pick other types of menus like the Family Plan and you can opt instead for 4 or 6 servings per meal. The Plant-Powered menus include 6 options each week, with both vegetarian and vegan recipes, and we take advantage of, and enjoy, both. You can get the default 3 recipes in your box or go in and pick 3 that look best to you. If you're going to be out of town or you don't like the available recipes, you can just skip a week anytime.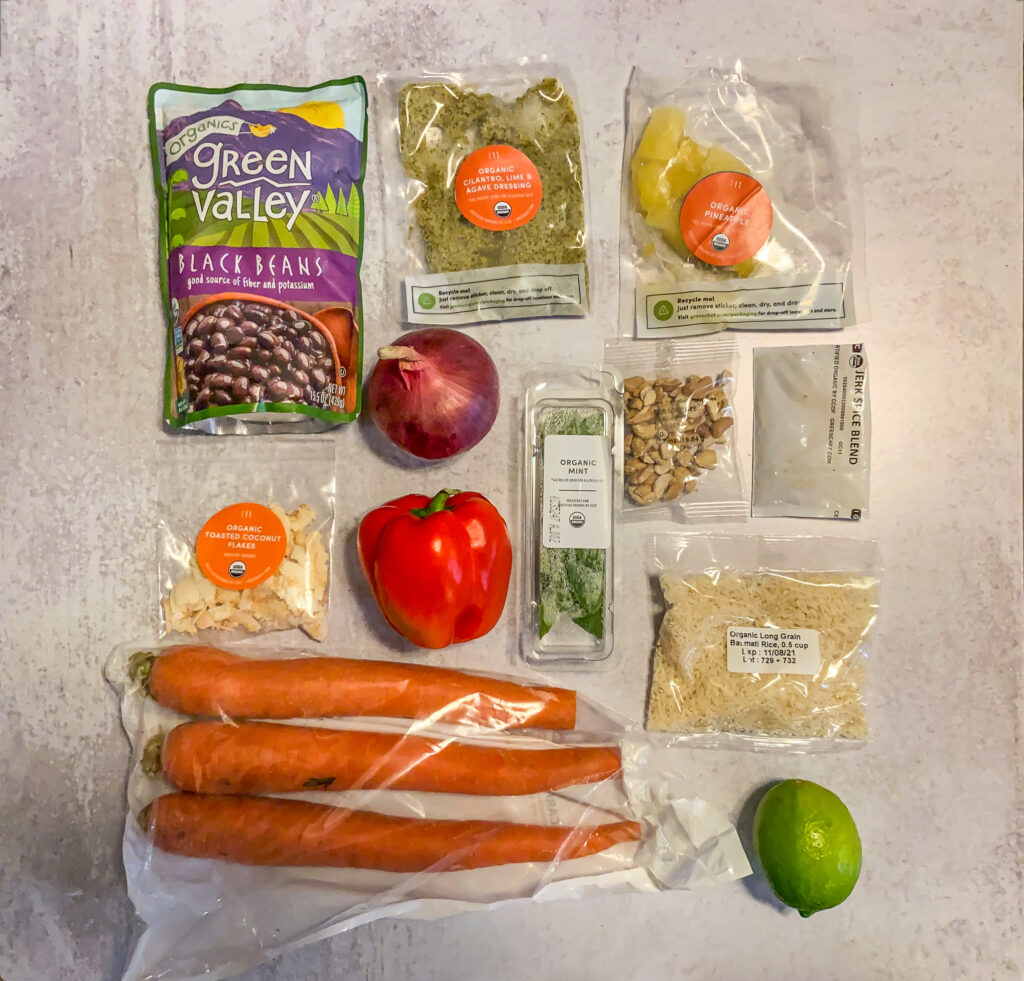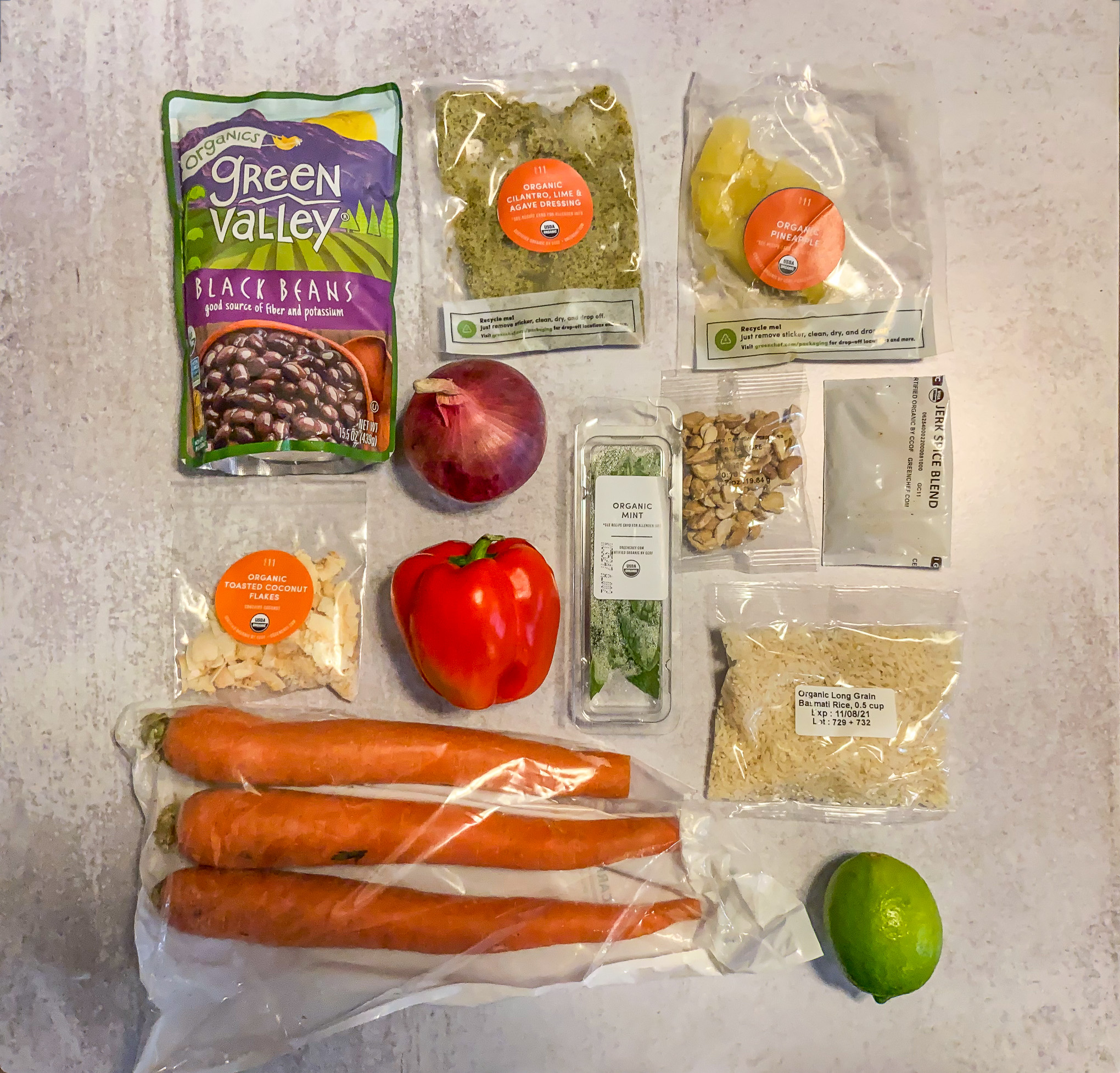 What it costs: Our cost is the same each week: $77.93. That's $11.99 per plate and we get 6 plates per week. Officially that breaks down to $71.94 plus $5.99 shipping.
What we got:
Week 1
Jamaican Black Bean and Veggie Bowl (vegan)
Roasted Veggies with Tahini (vegan)
Quesadillas with Pineapple Salsa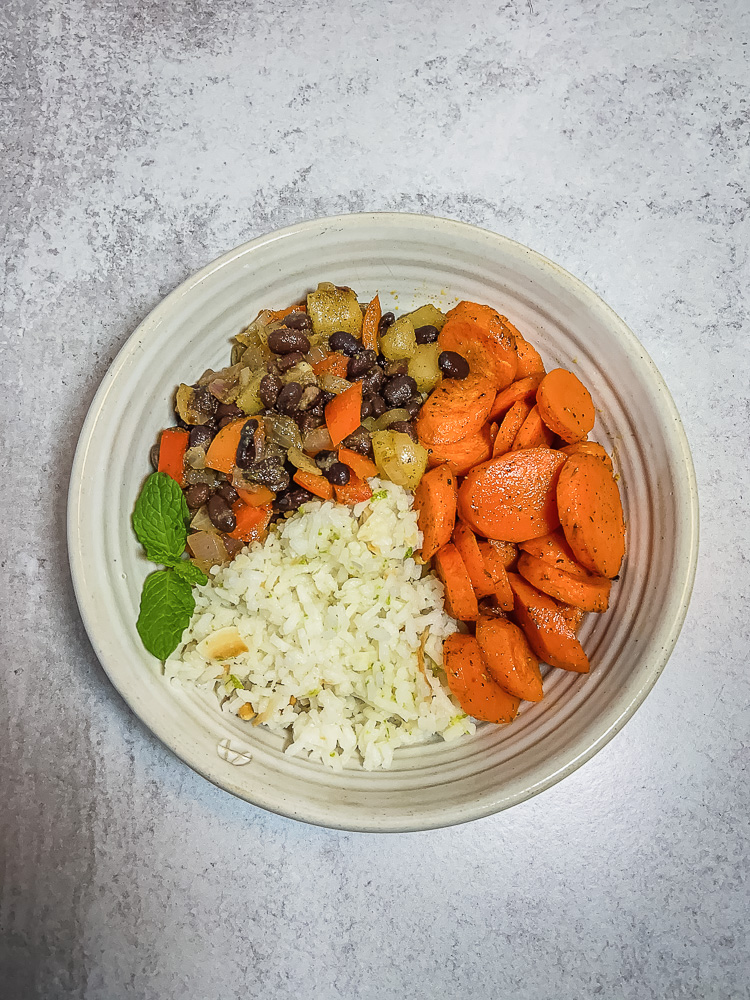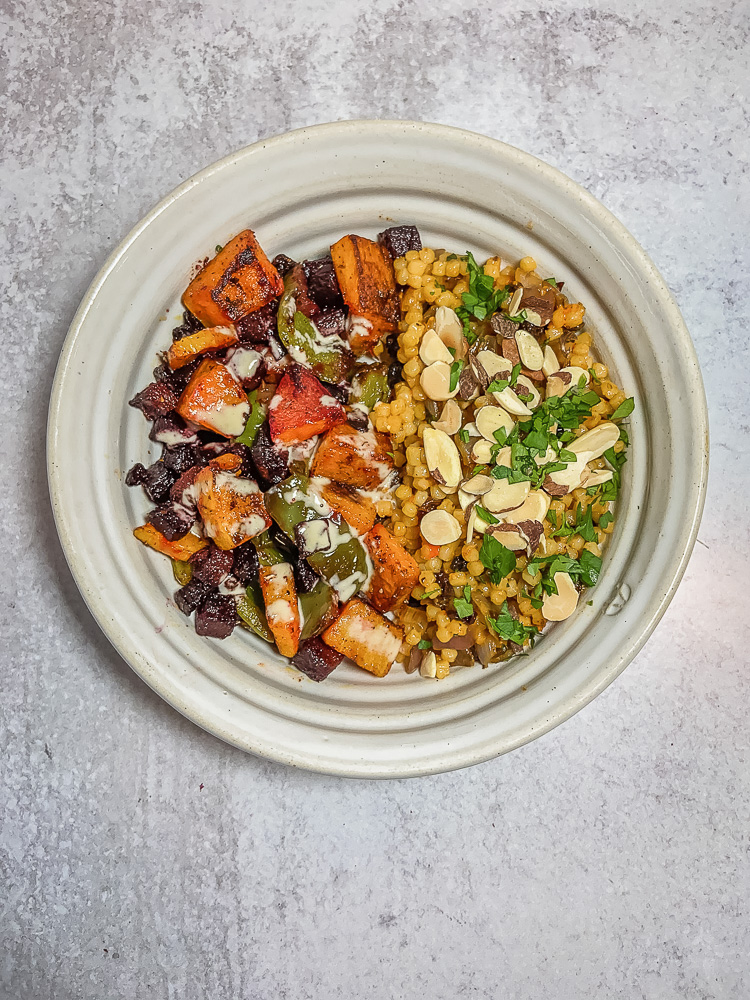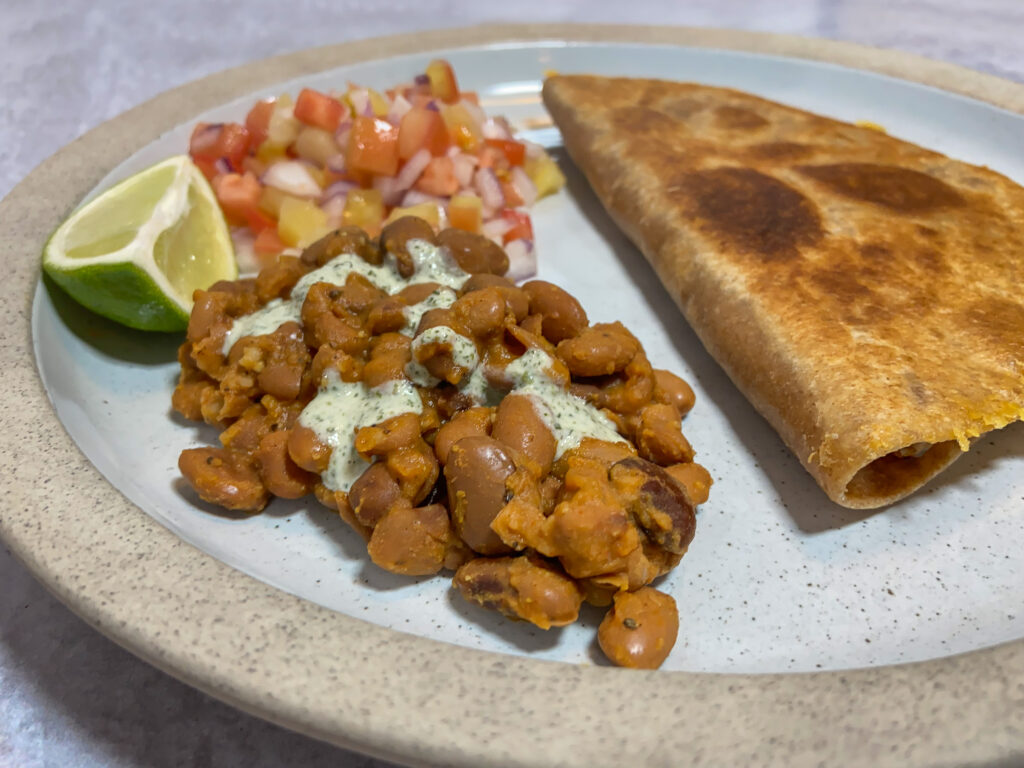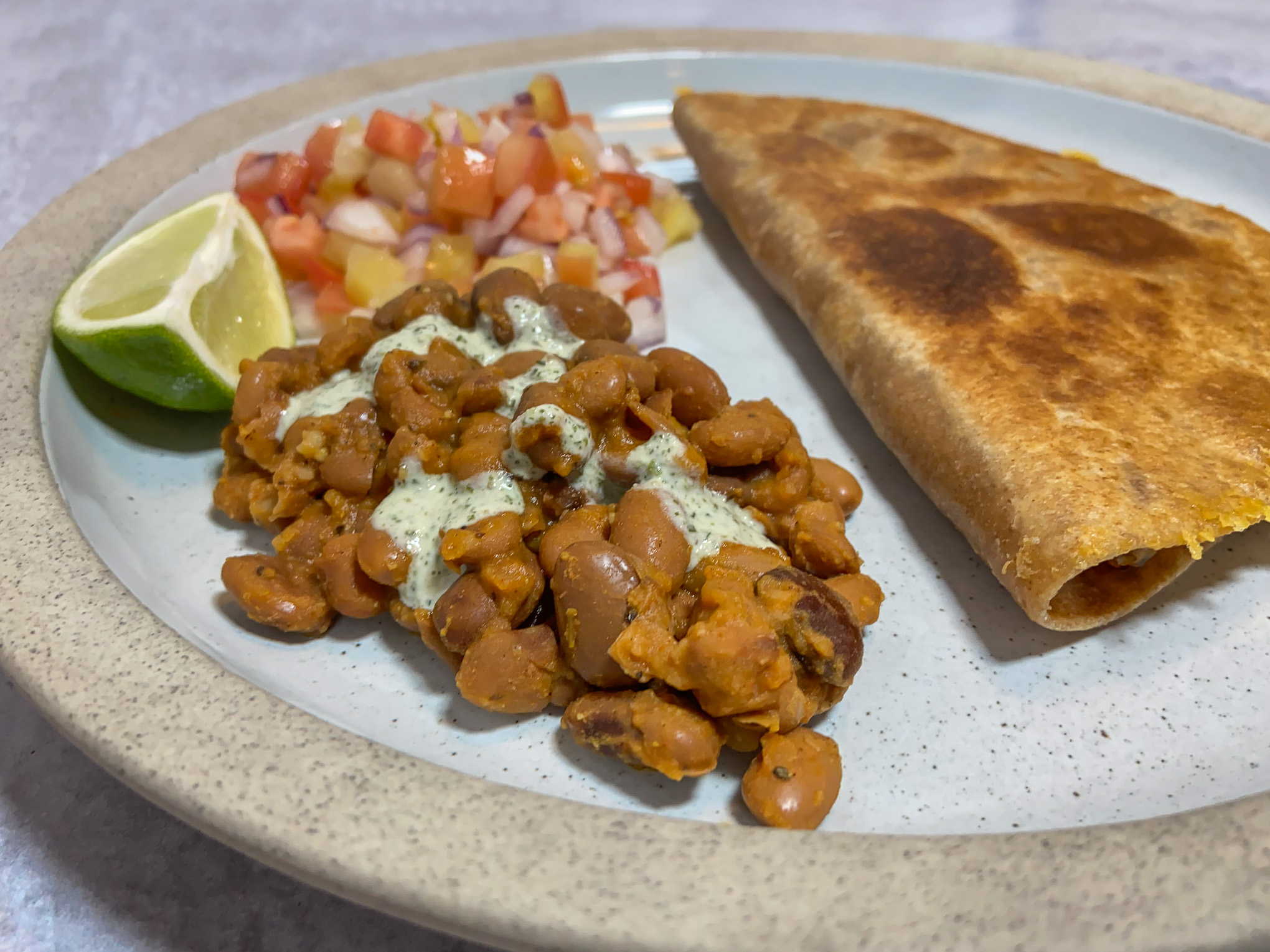 Week 2
Baharat-Spiced Couscous Salad (vegan)
Squash and Farro Power Bowl (vegan)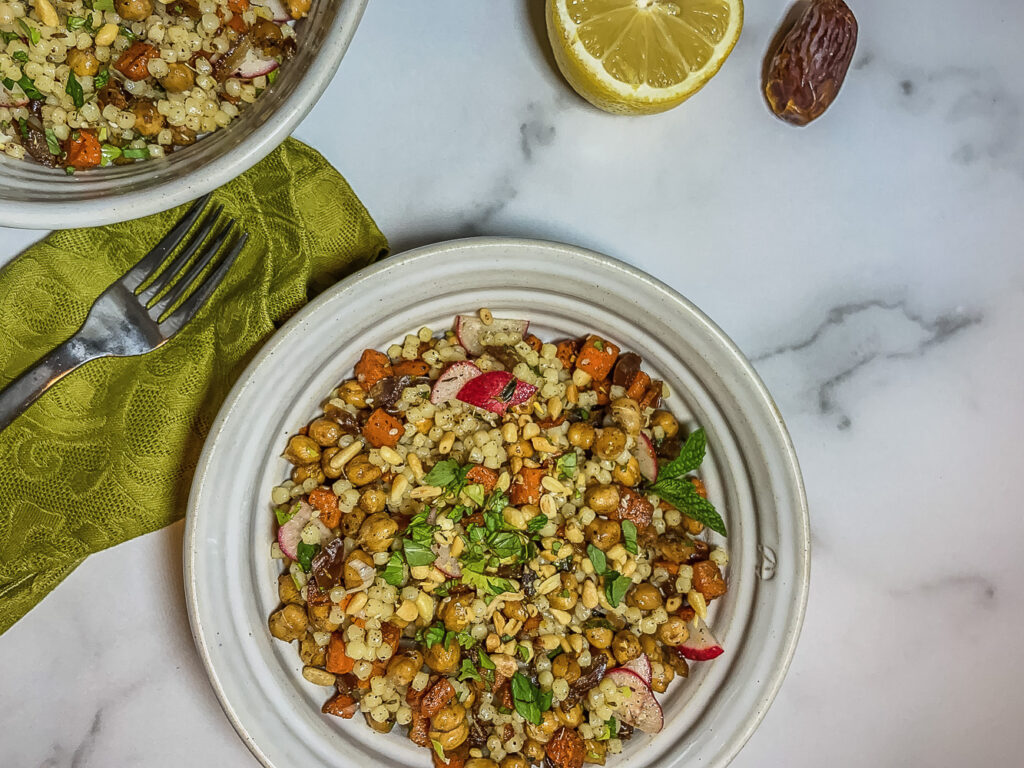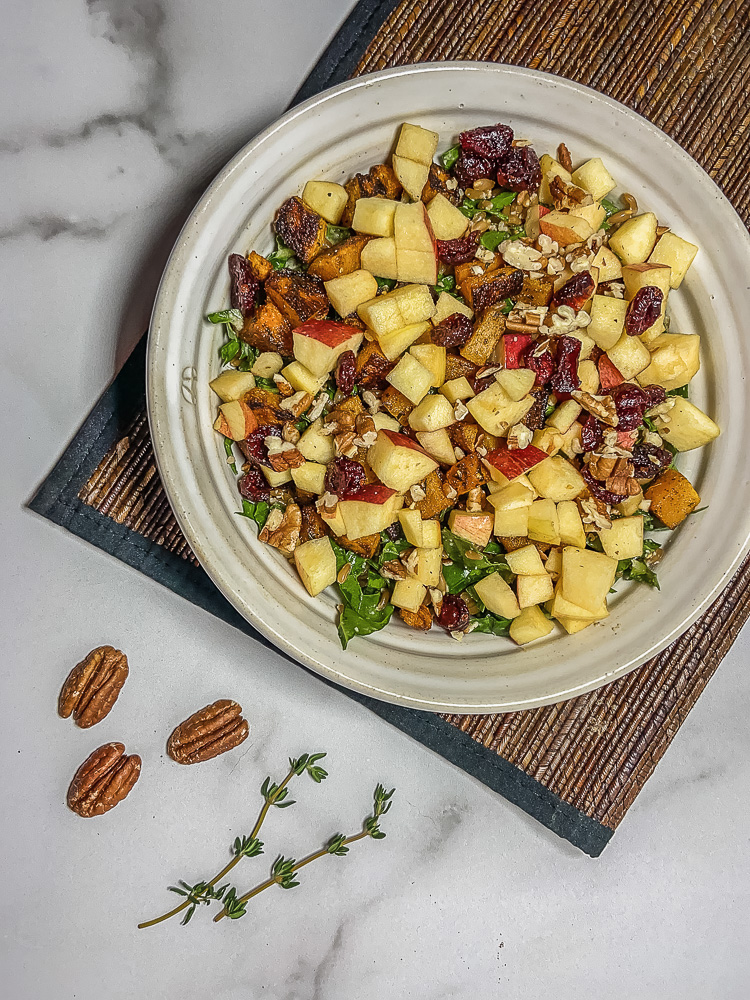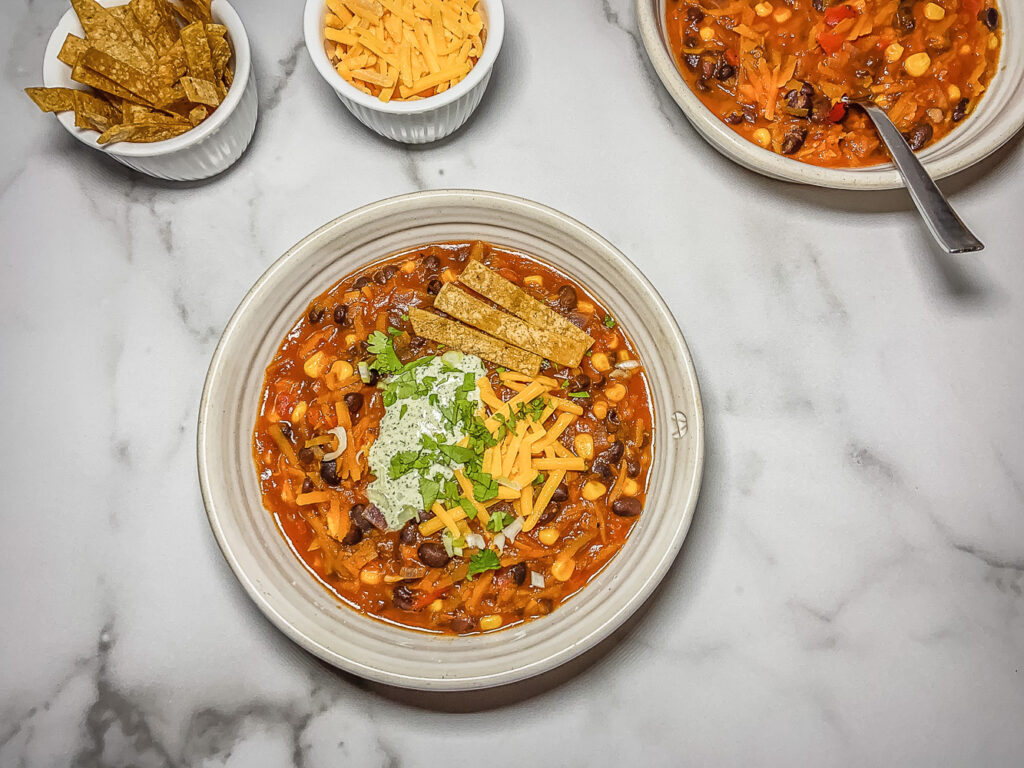 Week 3
Maple Cauliflower Power Bowl (vegan)
Creamy Corn and Potato Chowder (vegan)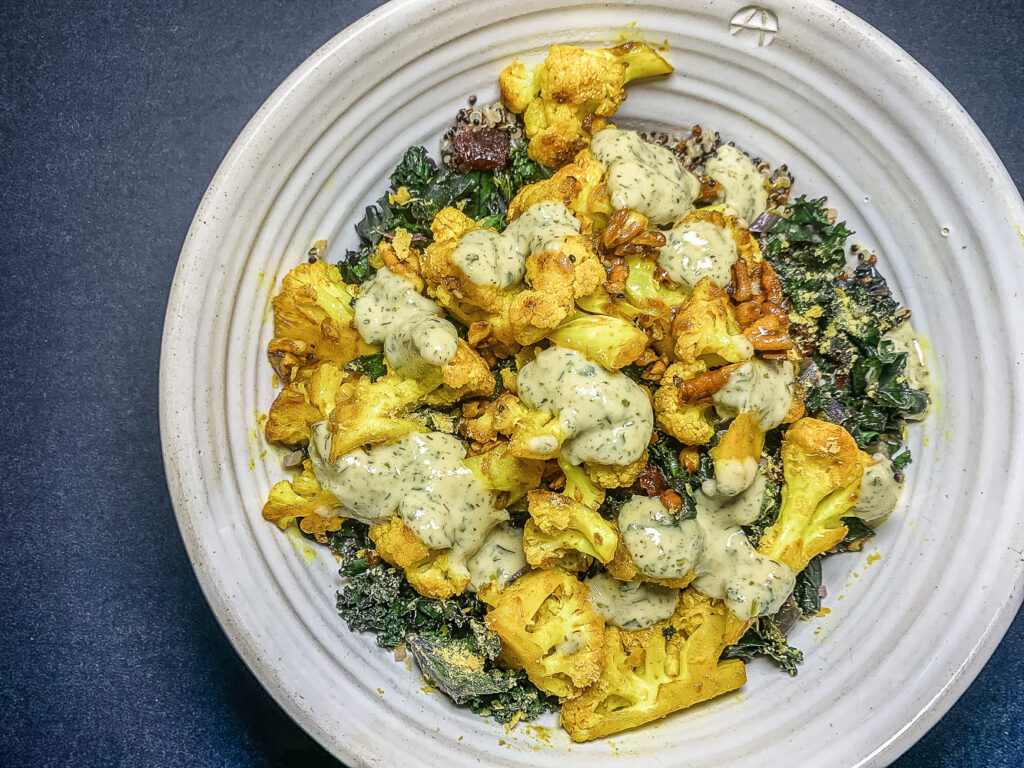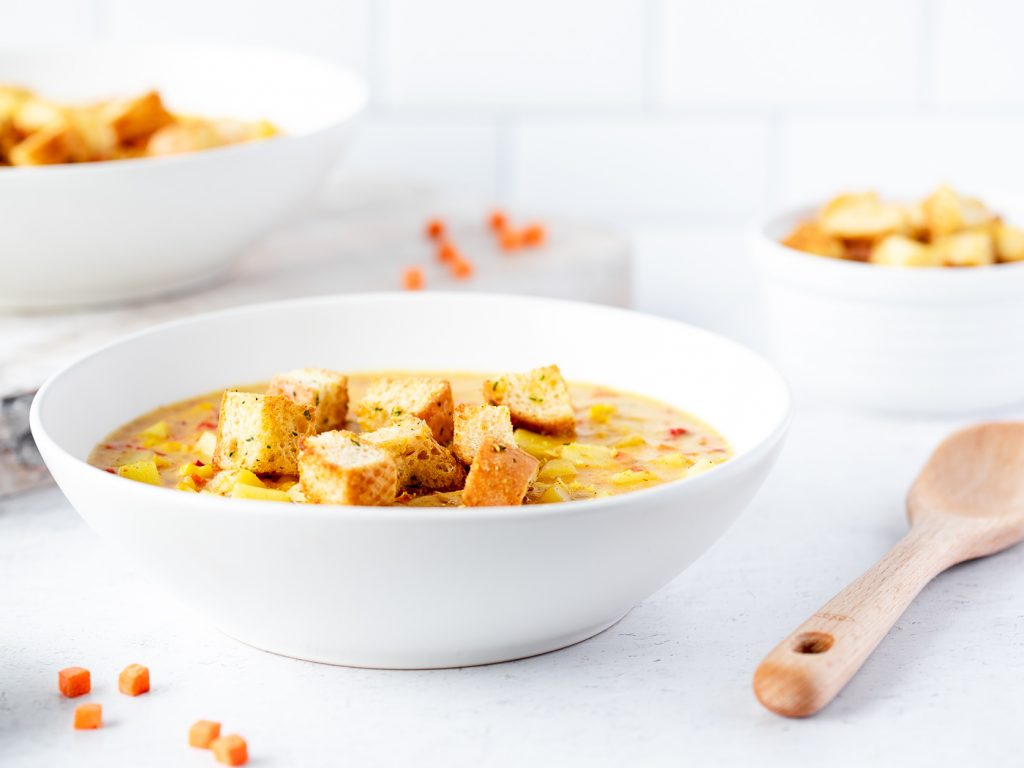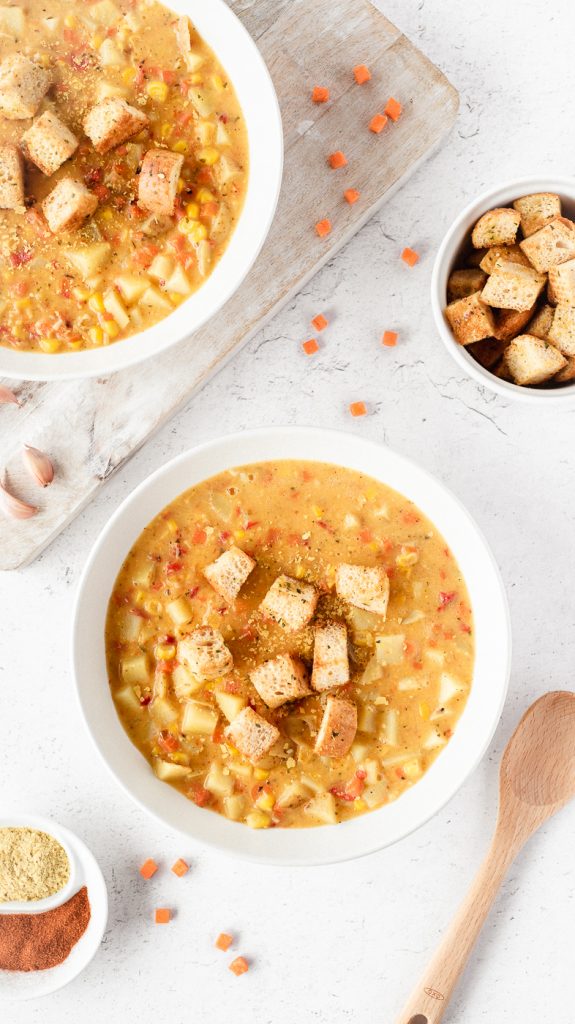 How hard was it to cook?: Not hard. These are straightforward recipes with simple techniques like roasting veggies in the oven or sautéing garlic and onions on the stovetop to start off a pot of chili. The step-by-step instructions on the recipe card are easy to understand and execute.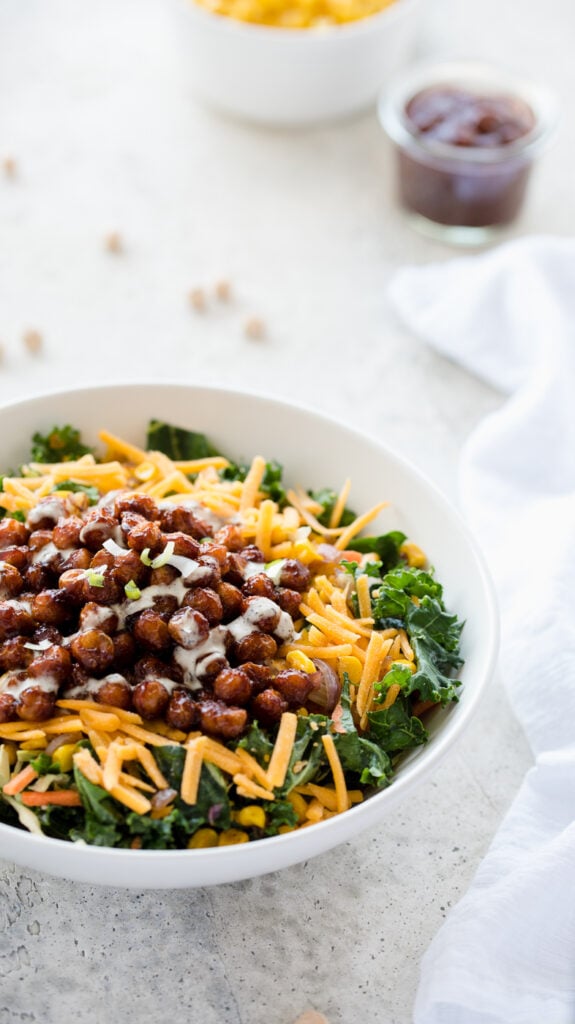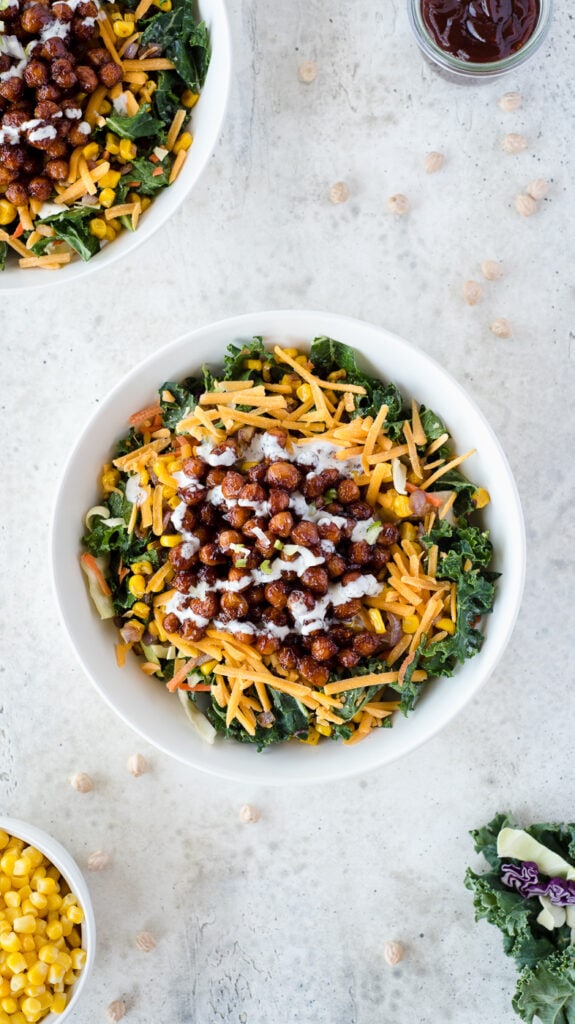 Most meals take 30-45 minutes to make, and each card is clearly labeled with these estimates. So on a night when you're short on time, you can choose the fastest meal of the week. There is a little bit of chopping required but most of the ingredients just need to be dumped right in.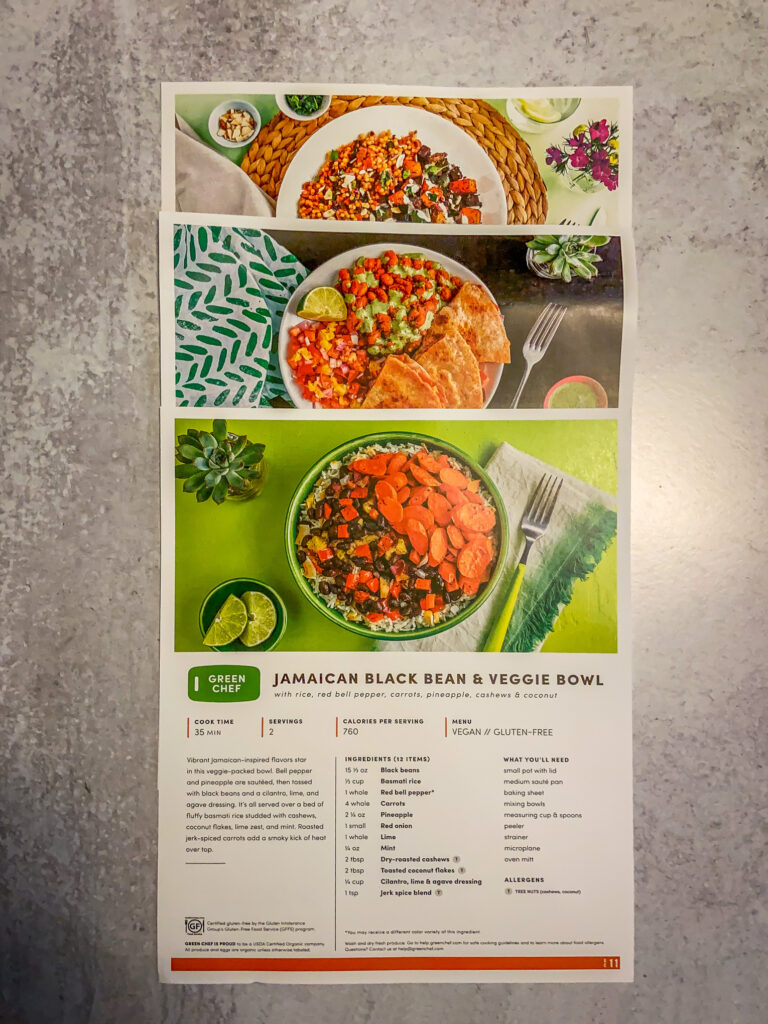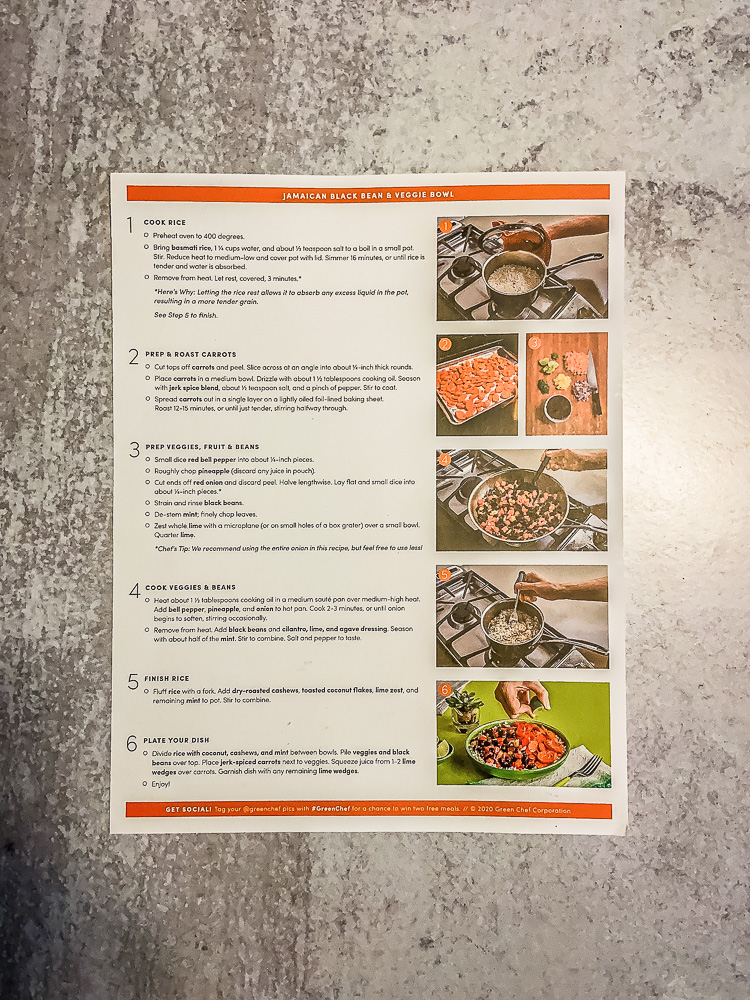 How does it stack up nutritionally? For the 9 meals we had, the calories averaged 625 with a range of 540-760. We often don't use the whole packet of the garnish sauces they provide which cuts down the calories a bit from what's listed.
The nutrient many people are concerned about for vegetarians and vegans is protein and Green Chef provided bountifully for this nutrient. The average was 20 grams per meal with a range of 13-32 grams. It's not surprising really since they base their meals on plant proteins like beans, nuts, tofu, and edamame. A few meals were creeping up on sodium but overall, for a convenient dinner I was impressed at the nutrition facts.
They are hit and miss with whole grains. In the recipes we received this time, there were refined grains like white rice and pearled couscous but also whole grains like whole wheat tortillas and farro.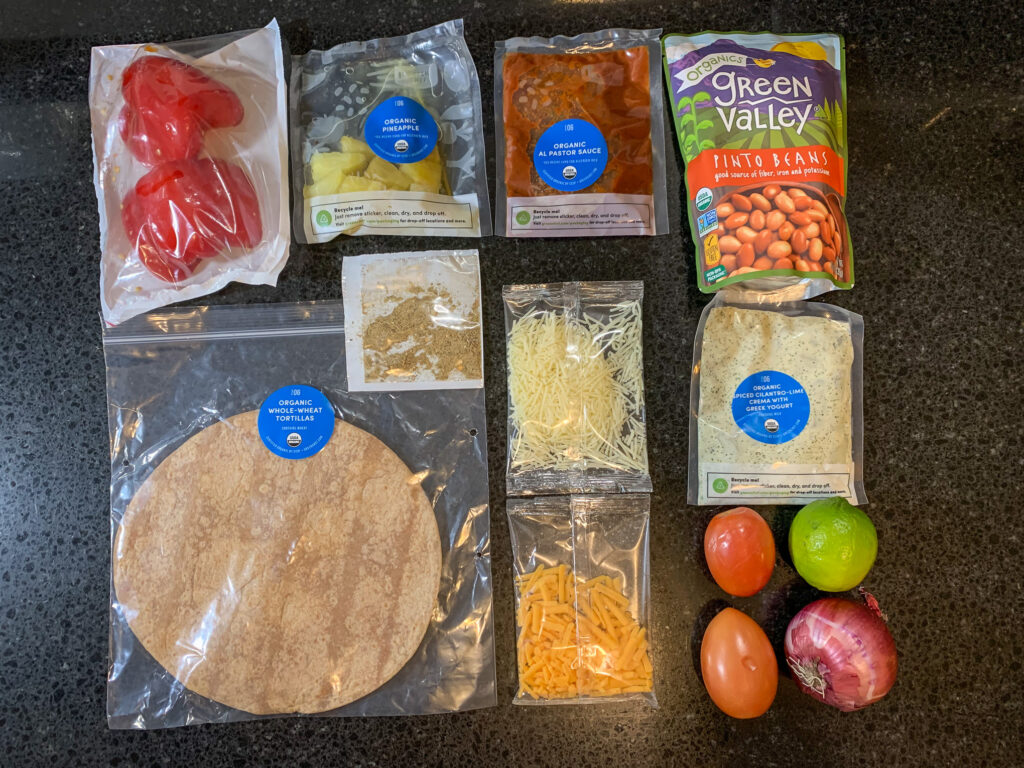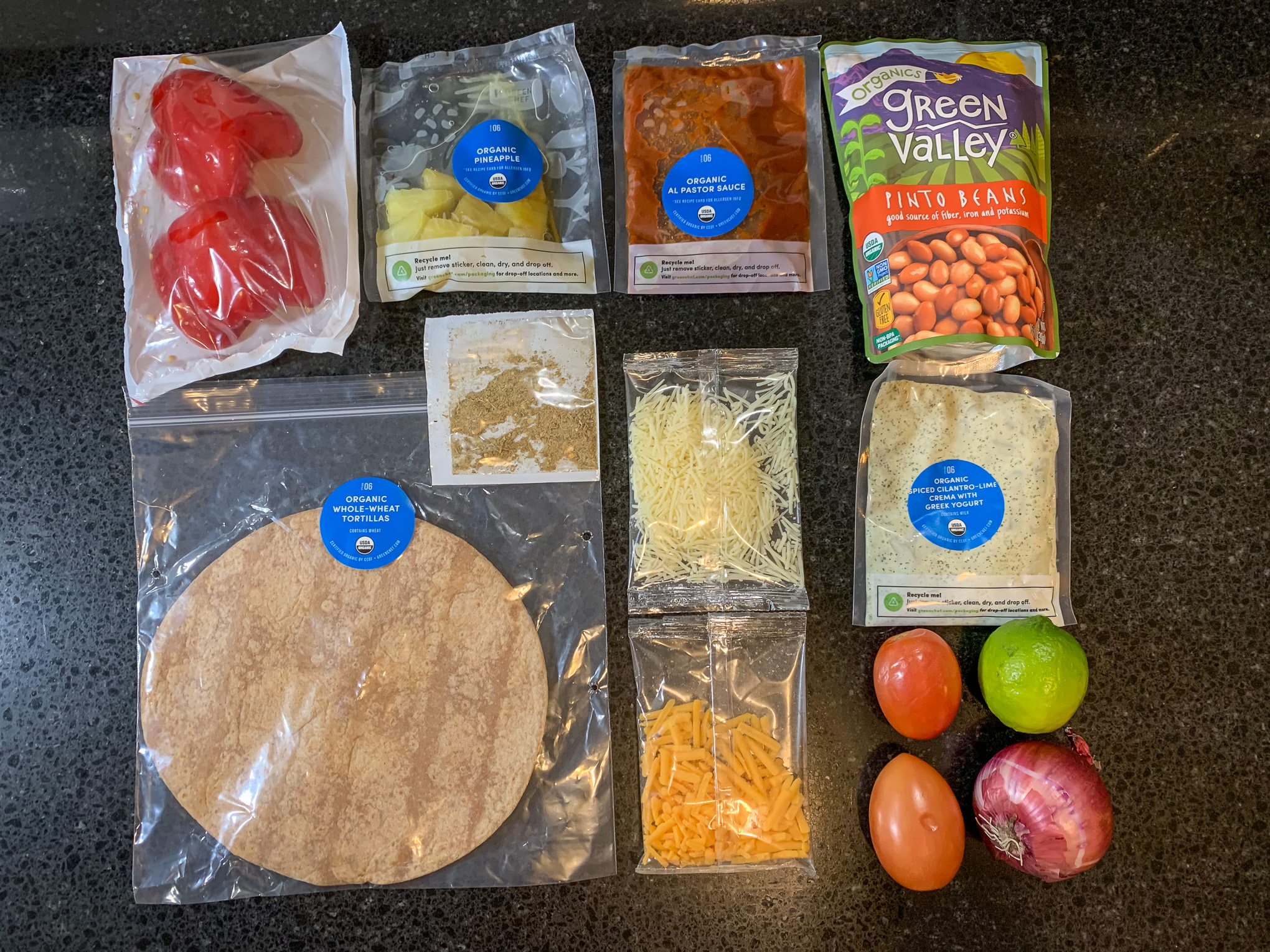 How did it taste? Delicious. Consistently. That's another remarkable quality about Green Chef compared to the other kits I've tried. It's really, really good and I'm rarely disappointed by a meal. They must do some serious recipe testing to keep shipping out winners, week after week.
You can personalize things a bit, too. I don't like mushrooms so if we have a recipe that includes them I uninclude them. And my palate is a bit sensitive to spice, so I usually use only half the seasoning packet if I suspect it might be too fiery.
I like how there is often some fruit involved in the meals. For some reason the little touch of sweetness really elevates the overall flavor for me, whether it's tiny bits of dates in the couscous salad or freshly diced apples in the greens and grains bowl.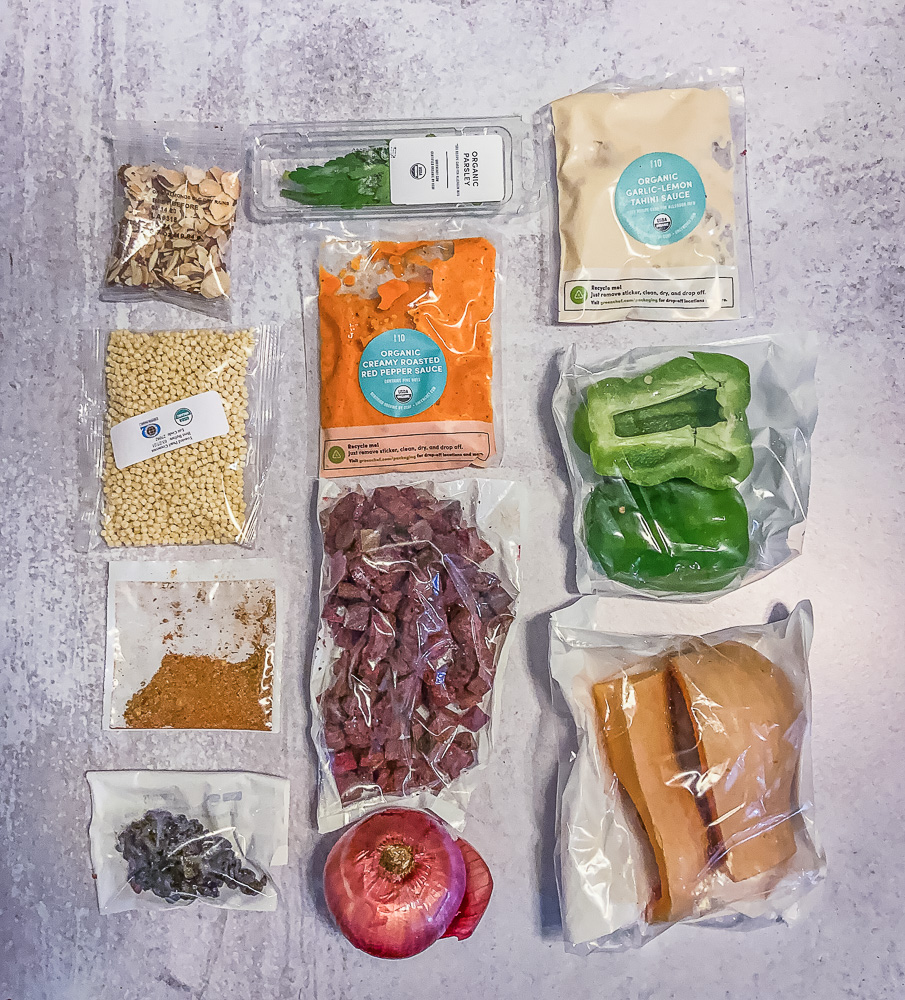 Was there enough to eat? Definitely. But as a rule, there are generally no leftovers. Each meal provides two satisfying dinners, but it's not really a viable option to provide lunches the next day…unless of course we upped our plan from 2 to 4 servings per recipe which would increase the cost as well.
Another notable thing about Green Chef is their attention to side dishes. Many of the dinner kits I've tried provide the main dish only, and I'm left to scrounge for something else to round out the meal like fruit or vegetables. But with Green Chef there is almost always at least 2 items. For the quesadilla meal we had a side of beans and a generous side of pineapple salsa that almost felt like a salad. For the bowl recipes, they feel like complete meals with a main vegetable- or bean-based topping, a cooked grain, and a side vegetable.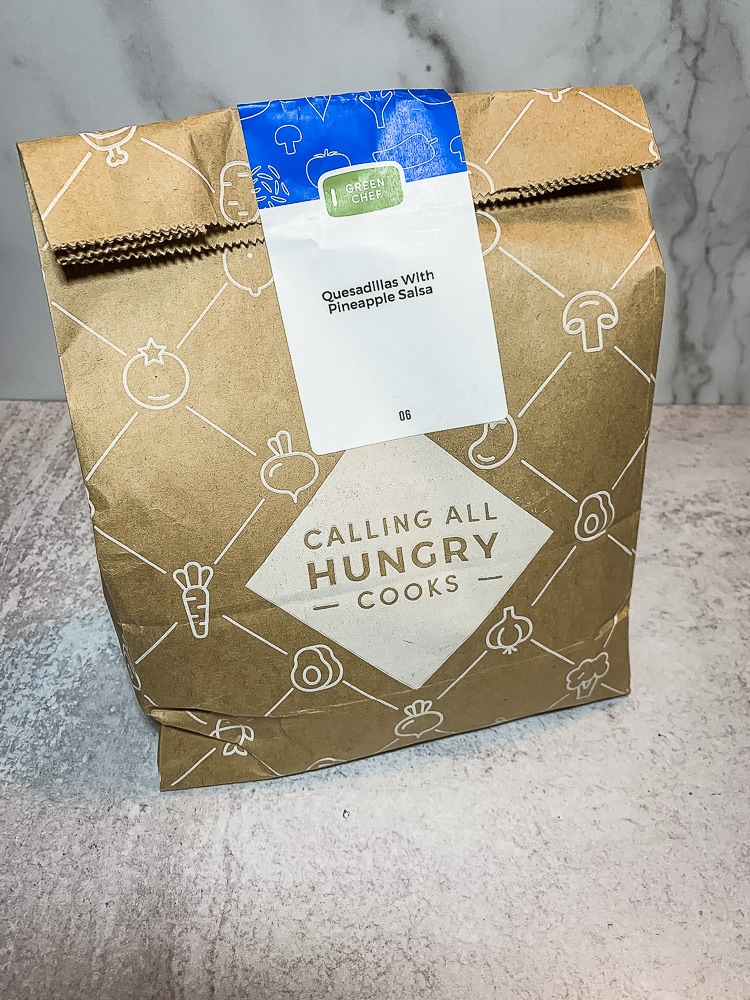 Pros:
The ingredients for each meal come conveniently packaged all together in one paper sack. This isn't true of other companies, where everything for the week comes in the box and it all needs to be sorted or searched for in the recesses of the fridge when it's time to cook. But with Green Chef, if you're having Barbecue Chickpea Bowl for dinner, just grab the one Barbecue Chickpea Bowl sack out of the fridge and start cooking.
The meals are vegetable-heavy. And this is a great thing! Sometimes I feel like the recipes are cooked vegetables on top of more vegetables with a side of vegetables. I know many people struggle to get in enough plant foods and man, does Green Chef make it easy. I'm pretty sure if we compared a week's menu from Green Chef and one that I typically put together on my own, they'd out-veggie me.
They repeat themselves! That's right, I'm happy that they offer favorite meals again. There are a few of their recipes that are spectacularly good, like the Maple Cauliflower Power Bowl or the Butternut Squash Chili, and I love seeing them come through the rotation again.
They use familiar ingredients. Even if some of the recipe names in the list above sound fancy, they're really simple meals. The ingredients are things you probably often have on your regular grocery list: corn tortillas, black beans, cashews, pasta, carrots, cauliflower, potatoes, chickpeas, etc.
I've learned some handy new techniques, like grating butternut squash to get it to cook faster or crumbling and sprinkling a bouillon cube over a pot of chili and then pouring hot water on top!
Cons:
A complaint of nearly all dinner kit services is the wasteful packaging. Each individual ingredient is in its own plastic bag, like the butternut squash, tomato sauce, garlic, spices, etc. So when a meal is over there is a lot of plastic going in the trash. Also, each week's food comes in a cardboard box with some packaging and ice packs that need to be recycled or re-purposed.
Sometimes the ingredients go bad before we get a chance to cook the meal. Our boxes are delivered on Fridays and we utilize the meals throughout the weekend and following week. But there have been a handful of times when we've pulled out a bag on Tuesday night only to find that the red pepper is browning and getting soft. This con isn't unique to Green Chef. It's an inherent problem in getting dinner shopped for and shipped to me across the country before it sits in my refrigerator for 3-4 days before I get around to making it.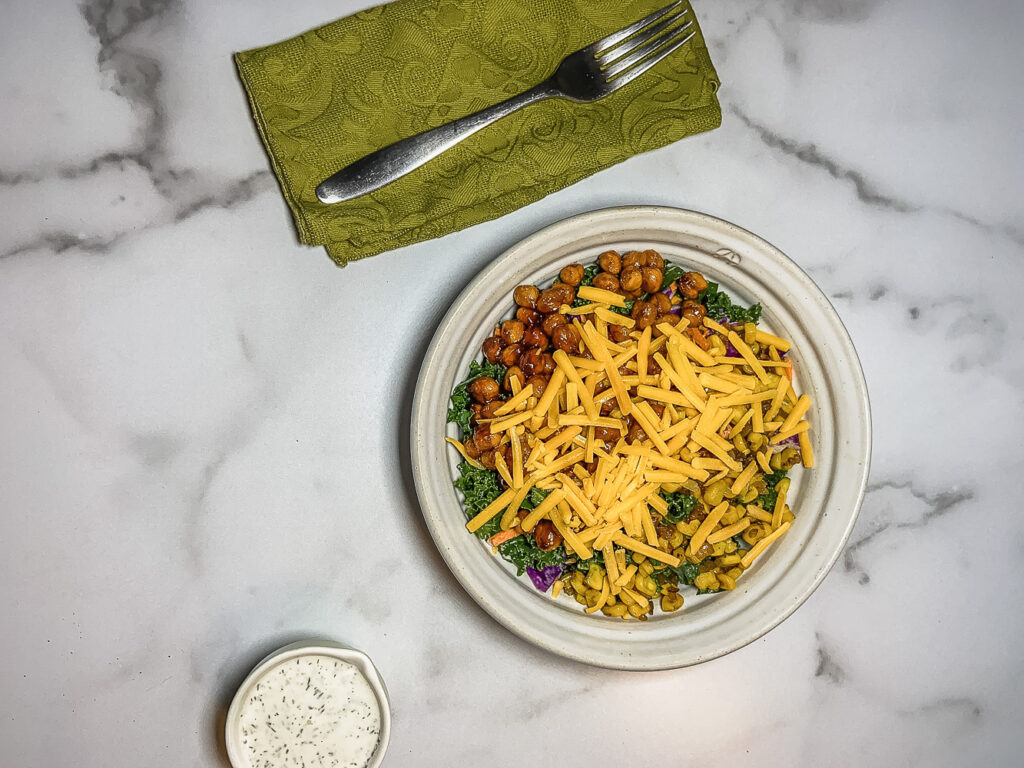 Maybe it's because I love cooking, shopping, and meal planning that I am drawn to these services that make dinner more convenient? Sometimes it feels like cheating. I mean, I am a food professional after all. I sometimes feel like if anyone should be doing the heavy lifting of making the grocery list, walking the aisles, pushing the cart, and whipping up entirely homemade dinners it should be me.
I guess I could also choose to see it as research, though. It definitely gives me recipe ideas and introduces me to unique ingredients and flavor combinations I wouldn't normally be drawn to. And after months of research focused entirely on this one company I can tell you I highly recommend Green Chef to help with your weekly menu. They have taken on plant-based dinners and exceeded my expectations.
This is not a sponsored post. I happily and regularly hand money over to Green Chef to get my weekly boxes of goodness.