This blog includes plenty of product reviews. They're one of my favorite types of posts to write, and according to my analytics, one of your favorites to read. So we should both be feeling pretty chipper about what's in store for today. I've reviewed dinner kits, smoothie kits, and nutella impersonators but today we're highlighting a snack delivery company: Nature Box.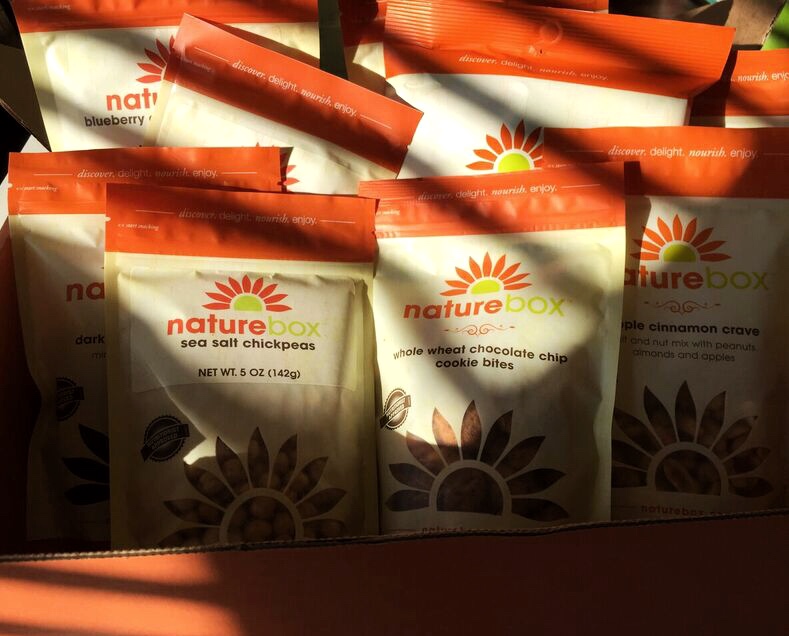 Nutritionally, I'm a fan of snacking. You can minimize overwhelming hunger at mealtimes with snacks and maximize your nutrient intake over the day with snacks. Portion control is key, of course, but in general snacking can be part of a healthy diet.
I signed up for a 10-snack box, and ended up getting only 9. It took me about 2 weeks to realize the mistake and when alerted, the company put my missing Sweet and Salty Nut Medley in the mail ASAP. My medley won't be here for another 5-10 days, so we'll just review the 9 items I did receive, in order of deliciousness, from least to most.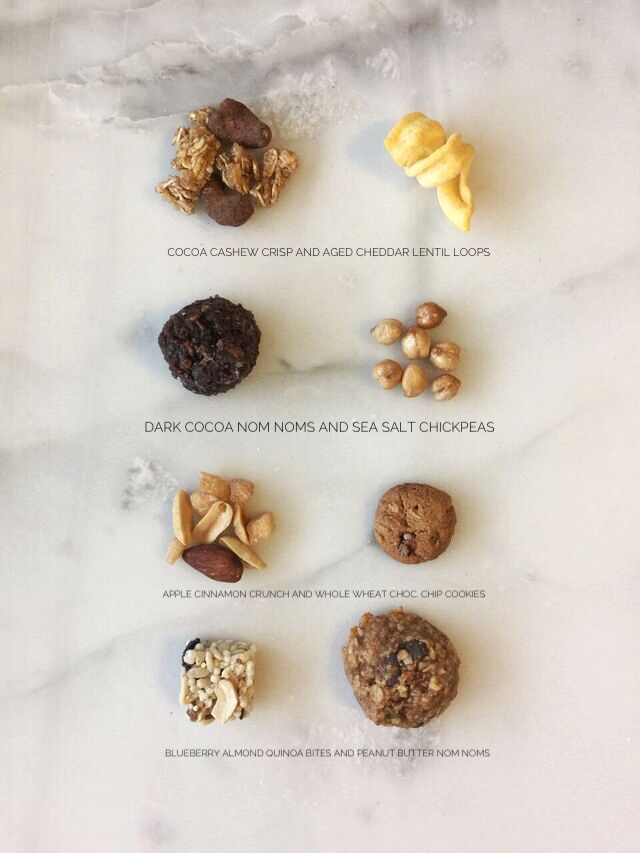 9. Cocoa Cashew Crisp
This snack was simply OK. I like the idea of snacking on granola clusters, because it seems like you're cheating or something by not eating it out of a bowl with a spoon. You're eating it with your hands! Alas, it didn't tickle my taste buds as much as I'd hoped. My best suggestion is that it needs salt or something else to pump up the cocoa flavor.
8. Peanut Butter Nom Noms
I've got a lot of love for nom noms, just not these particular nom noms (see item #2 below). The chewiness was so pleasant and the flavor sort of reminded me of a peanut butter chocolate chunk Erin Baker's Breakfast Cookie, just not as tasty. I can't put my finger on it. It's almost as if they were made with very ripe bananas, like more of a quick bread than a cookie, but mashed browning tropical fruits are nowhere to be found in the ingredient list. Hmmmm. (However, buttermilk and egg whites are, which was unexpected.) Assessment? Not thrilled. On to the next snacky.
7. Apple Cinnamon Crunch
I liked this, I just wasn't overjoyed. Overall it was kind of mild in my mouth, with not a lot of cinnamon flavor. The contrast of chewy and crunch from the dried fruit and nuts was lovely and trail-mixy, and I was transported back to grade school when I realized it tasted a little like Apple Jacks cereal. If you look at the ingredient list you'll see lots of sugars, alongside the apples, peanuts and almonds. I guess this would explain why it tastes like a sugared cereal of my youth.
6. Aged Cheddar Lentil Loops
You had me at lentil flour! Not many snacks get to tout lentil flour as their first ingredient, so I wanted to fall in love with these loops. The crunch was good, the texture was enjoyably light, they were savory in a satisfying way, and the cheese flavor grew stronger the more I ate. The 1 ounce serving seems generous (precisely weighed and pictured below). I expected more of a nutritional punch from the lentils, and it was mediocre: 3 grams protein and 1 gram fiber per serving. Definitely a notch above standard cheesy flavored poofs, though, if you need a snack to satisfy your afternoon hunger.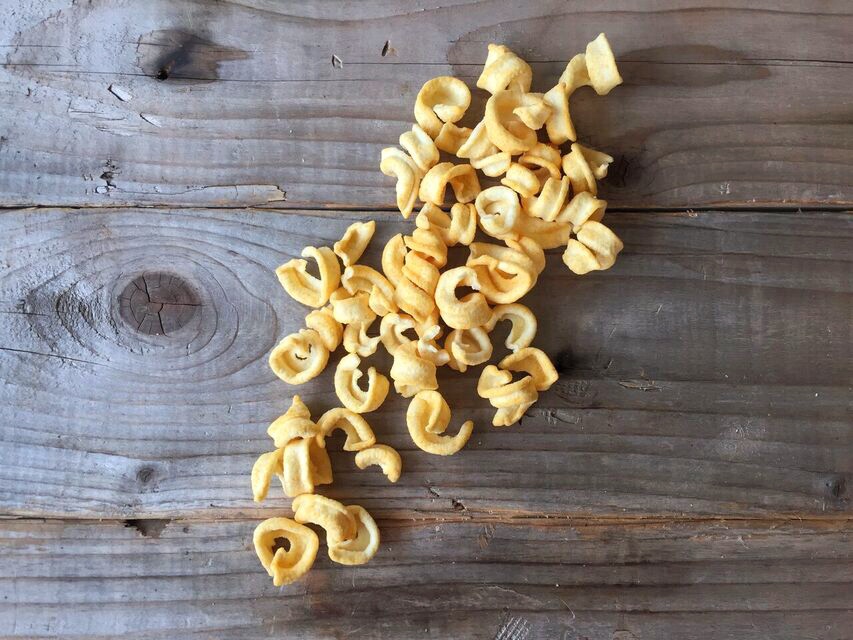 5. Whole Wheat Chocolate Chip Cookie Bites
The husband said these cuties reminded him of the Famous Amos cookies he used to nibble on in college. I read the label first, and was excited to see that 8 cookies is a serving (for a mere 140 calories). I tasted second and was struck by the brown sugar and toasty molasses flavor. It is still a cookie after all, but the use of whole wheat flour boosts this snack to 5 grams of fiber.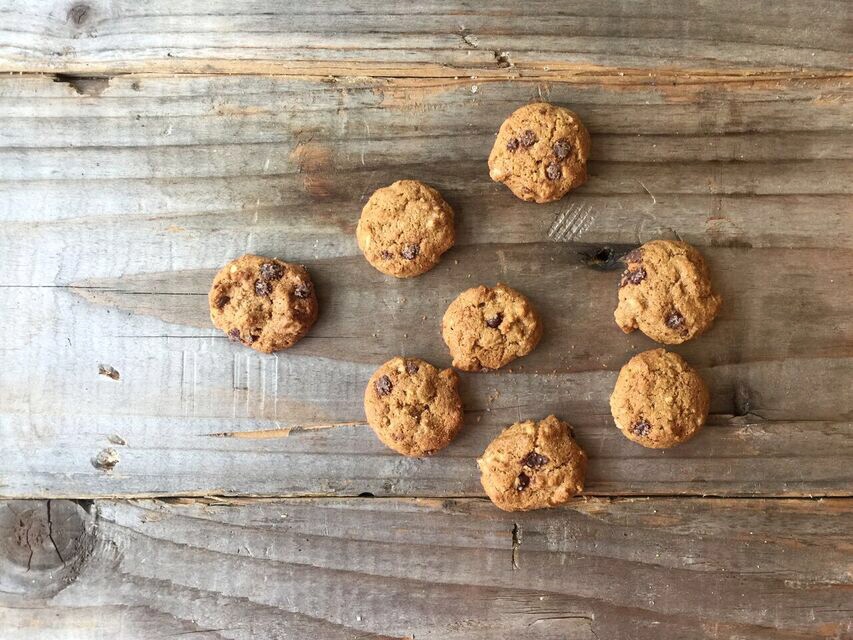 4. Blueberry Almond Quinoa Bites
At first I thought, "Boring, unless you get a blueberry in every bite." Then I noticed that the blueberry flavor tasted like Fruit Loops, which was nostalgic. (What's with all the cereal memories?) Then I noticed that they smelled great. Then, as I continued to chomp, these cubical nibblets started growing on me. To top things off, you get 3/4 cup for one serving (precisely measured and pictured below) at just 130 calories. I'd like to retract my initial negativity and say these are a home run.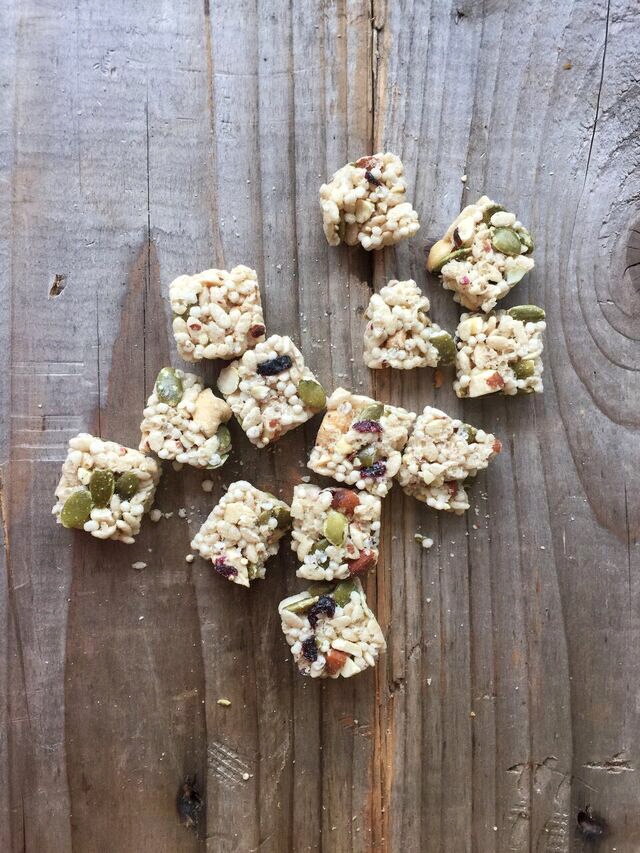 3. Dried White Peaches
The peaches were perfect, in chewy stretchy texture and sweet fruity flavor. Nature Box even left the skins on! These beauties only lasted two days in my house, as they fit perfectly in one of the compartments of my bento lunch box. They rode along with me to work and were devoured…which is why they didn't get to hang with their snack friends in the perfectly captioned photo near the top of this post. They didn't stick around long enough for picture day.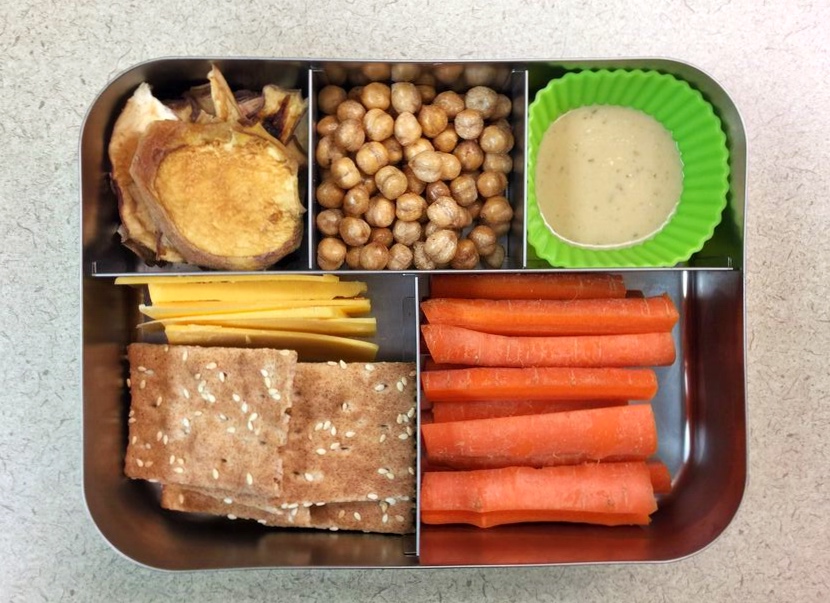 2. Dark Cocoa Nom Noms
I was sad when this bag was empty. Like the peanut butter nom noms described above, they contain buttermilk and egg whites, which are likely responsible for the incredibly tender texture. They aren't too sweet, and they hit the I-need-something-chocolatey-this-instant spot quite nicely. This snack is also a lesson in caloric density: 2 pieces give you 150 calories.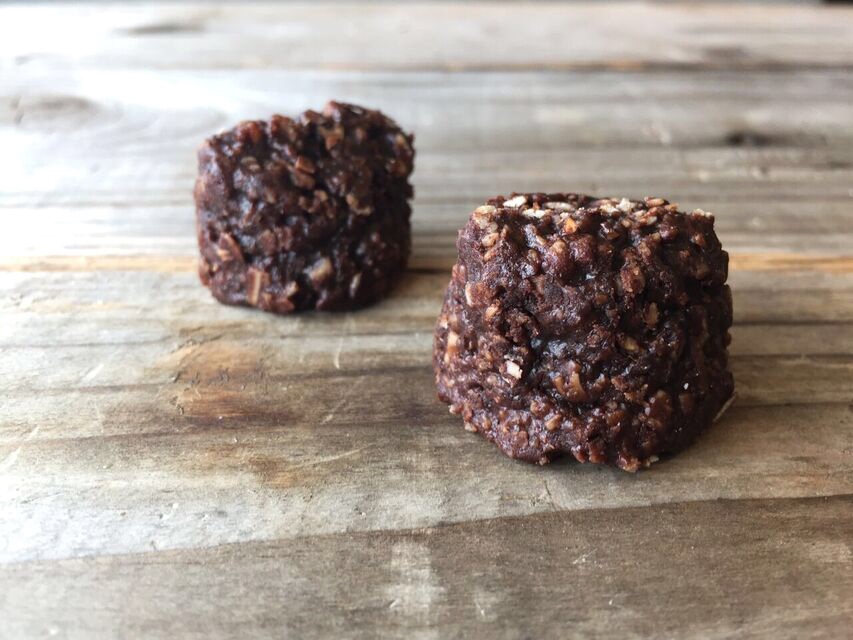 1. Sea Salt Chickpeas
Dee. Lightful. My favorite snack of the bunch. In just 1/3 cup you get 5 grams each of protein and fiber which is marvelous for a snack. These peas also rode to work with me in my bento box, and in a moment of divine inspiration floated on a bowl of pumpkin coconut soup like little nutrient-dense, extra crunchy croutons. Sea salt chickpeas = snacking dietitian happiness.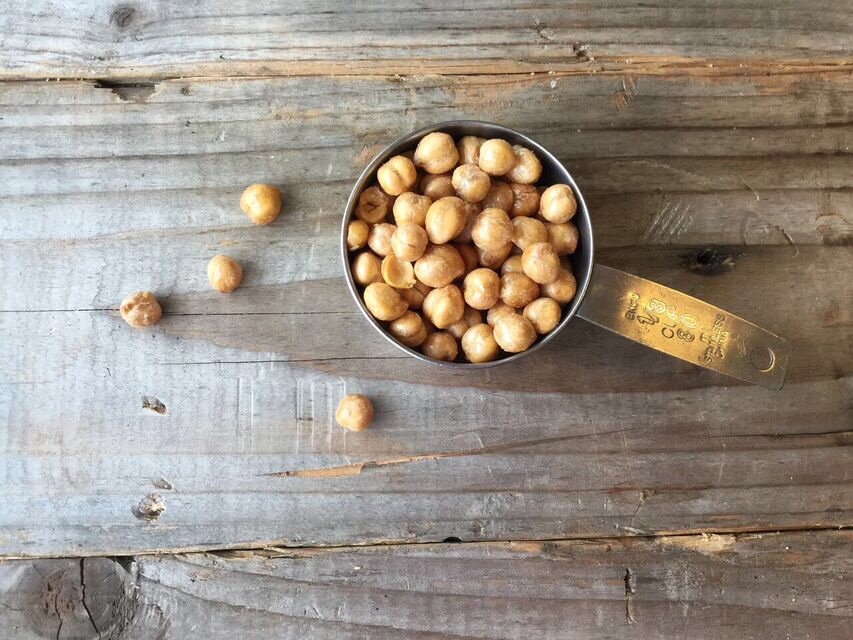 I got to pick these snacks, so I have no one to blame for all the sugar except myself. Once I reviewed my bags upon delivery I realized my choices had ended up more on the desserty side. Nature Box wants to alleviate my guilt though, as their snacks contain no high fructose corn syrup, artificial sweeteners, or hydrogenated oils. And despite the chocolate chips, brown sugar, honey, and rice syrup on the ingredient lists there was also peanut butter, rolled oats, cashews, pumpkin seeds, and chickpeas.
Their claim of less than 200 calories per serving seems to hold true. My snacks ranged from 100 (peaches) to 150 (noms) per serving. Upon further research I see you can refine your selections on their website using filters like vegan, good source of protein, no sugar added, etc. Imagine that.
The 10-snack box is usually $34.95 but I took advantage of an offer that gave me 5 bags for free, so my total cost was $17.47. Typically this service would run you $3.50 per bag or about $1.00 per serving. I signed up for a monthly delivery and then cancelled after my first box, which had been my intention all along as I just wanted to try things out. (Weirdly, as far as I can tell, you can't cancel online on your own. You can only cancel by live chat, during live chat hours.)
If you're one of those people who makes your own granola bars and portions out exactly 1/4 cup of tamari almonds into snack-size plastic bags, you probably don't need someone else sending snacks to your house. But, it's fun to try new things and it's exciting to mix up the snack routine; at least it is for me. I'm not sure why getting boxes of food delivered to my front door is somehow thrilling. but I'm pretty sure I'm going to keep doing it and keep blogging about it until y'all tell me to stop.
How do you handle your daily (weekly, monthly?) snack cravings? Do you cruise by the vending machine at work in the afternoon or keep single serve packs of hummus in your desk drawer?