That's right. I tried another meal kit delivery service. My fourth. I understand some women have a shoe addiction or a purse problem. I keep buying boxes of dinner.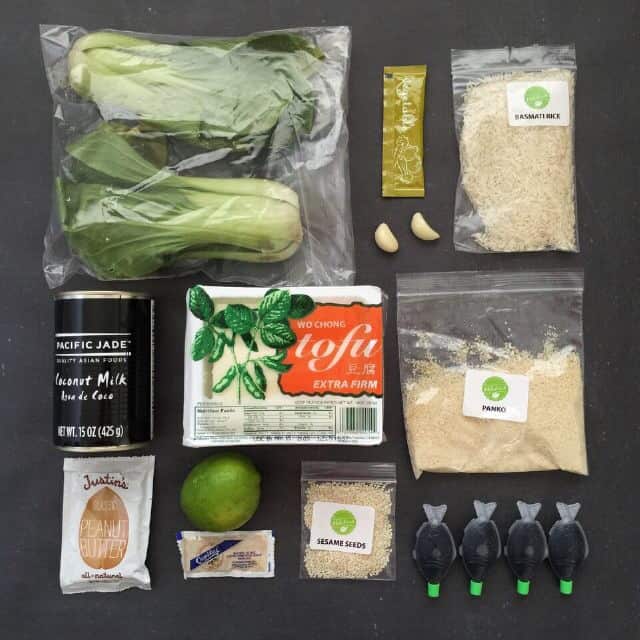 This time I tried two weeks with Hello Fresh, and I was impressed. I took copious notes, with hopes of answering all the possible questions you might have.
How it works: It's a weekly subscription service that lets you can choose between a classic box (for omnivores) or a veggie box (for herbivores), for 2 or 4 people. Each box has all the ingredients for 3 meals, but you provide kitchen staples like salt, pepper, olive oil, etc. Classic boxers get to choose 3 of 5 available recipes, but for now veggie boxers don't get a choice as there are just 3 available each week. Couriers deliver to all states except Alaska and Hawaii and you can pause or deactivate your account at any time.
What it costs: $59 for the 2-person veggie box, with free shipping so it comes out to about $10 per plate. Because I was a new customer I took advantage of a $40 off deal for my first box.
What we got:
Week 1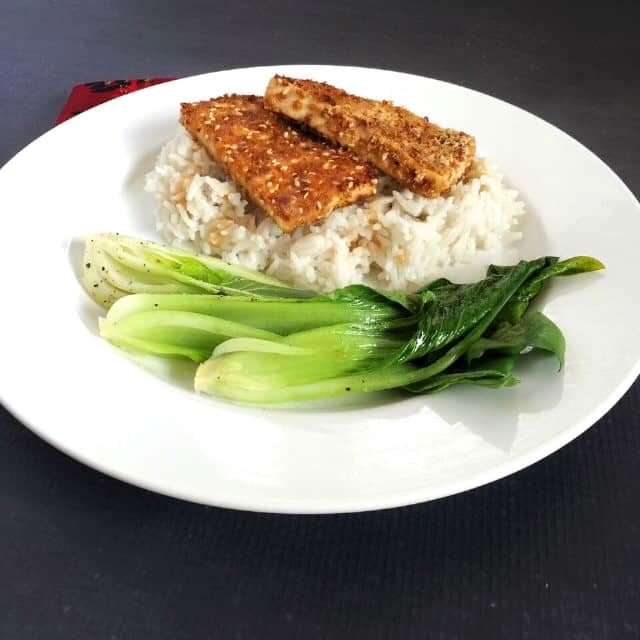 Week 2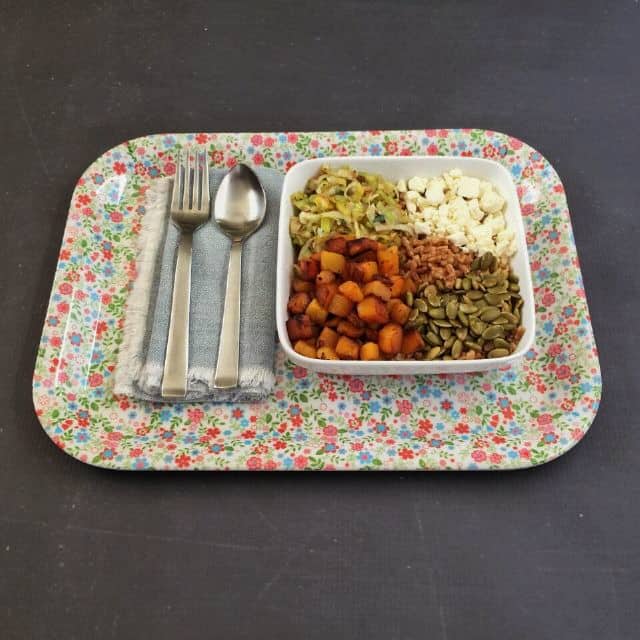 How hard was it to cook? Not hard, but it varied. The tortellini recipe was simple and came together very quickly. There were a lot of steps for the sunchoke salad but it was still ready to eat in under 30 minutes. On the flip side, the tofu recipe was delicious but a little more work.
How does it stack up nutritionally? Not bad. Calories for our 6 dishes ranged from a low of 542 to a high of 785 but most were in the 600-ish range. Of course this would go even higher for the whole meal if you added side dishes like we did. Protein made a fine showing ranging from 14 g in the caponata and pita recipes to 35 g for the tortellini and tofu recipes. And while I was delighted to see seeds and soy front and center on these vegetarian menus, other plant proteins like nuts and beans were only in supporting roles (peanut butter and hummus).
Not surprisingly, since whole grains and vegetables were plentiful, the fiber content was fantastic at at 5-15 g per serving. However there were plenty of refined grains too with white rice, ciabatta, and pasta.
How did it taste?  Great overall. Jeff was a big fan of the tofu recipe. It had lots of our favorite flavors combined into one dish and we will remake this one for sure. The sunchoke salad blew my mind, with its varied textures and mix of flavors. It was my first time eating those little tubers, also known as Jerusalem Artichokes, and I'm totally sold. With veggies, whole grain, and a simple dressing, I will definitely reuse this recipe and technique. Since I'm not a mushroom fan, I used roasted asparagus in my bowl but Jeff happily scarfed double the shrooms.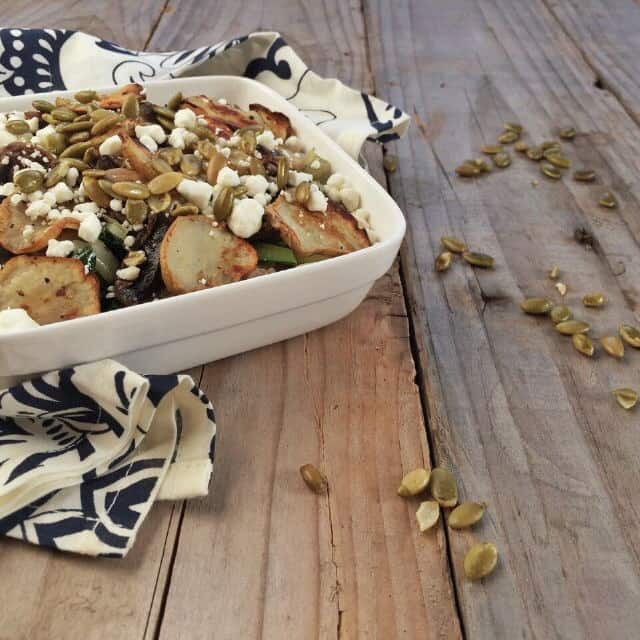 The roasted butternut squash hash from week 2 was very similar to the sunchoke recipe from week 1 with ingredient repeats of farro, pumpkin seeds, creamy white cheese, and veggies. But I can't complain too much because it was still delicious in its second iteration.
As for the eggplant caponata, it was not so yummy that I would make it again but gets strong points for getting me to eat eggplant at all. I almost didn't even try the recipe, but I ended up being sort of pleasantly surprised. Similarly, the pita pockets were pretty good, but not fantastic. However on a warm spring evening it was certainly a nice combination of a savory sandwich with a fresh lemony salad.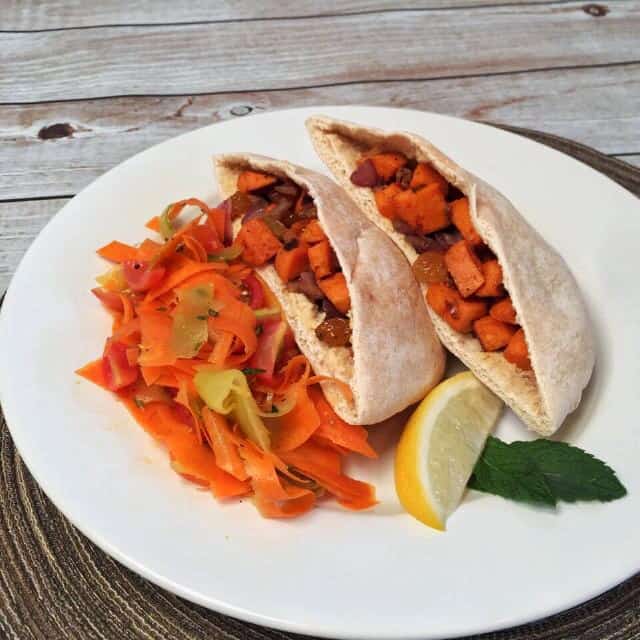 Was there enough to eat? Yes, but like with many of the other services I sometimes added side dishes, and leftovers were hit and miss. For example, the tortellini recipe made two generous servings. We each had half the skillet and added a spinach salad to go with it.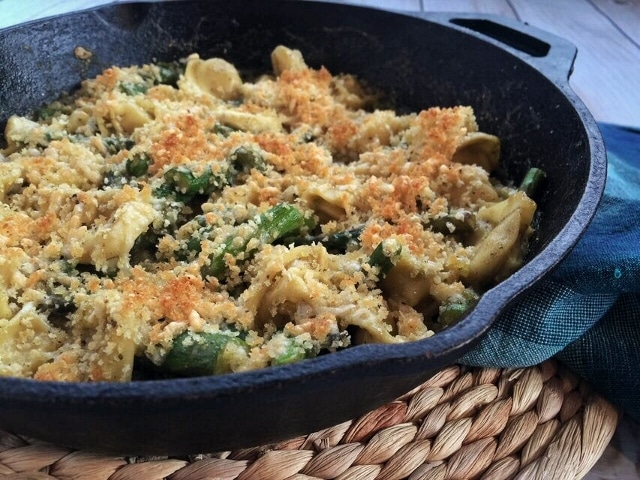 With the tofu dish, there was simply a ton of tofu. Halving the rice and sauce worked out perfectly, but halving the tofu would have meant 7 ounces each – quite a generous portion. We had just two slices each and saved the extra for lunch the next day. And the ratios were similarly off for the caponata components. There was a lot of extra topping that wouldn't fit on the bread and a mountain of extra goat cheese…so again, a bit of leftovers.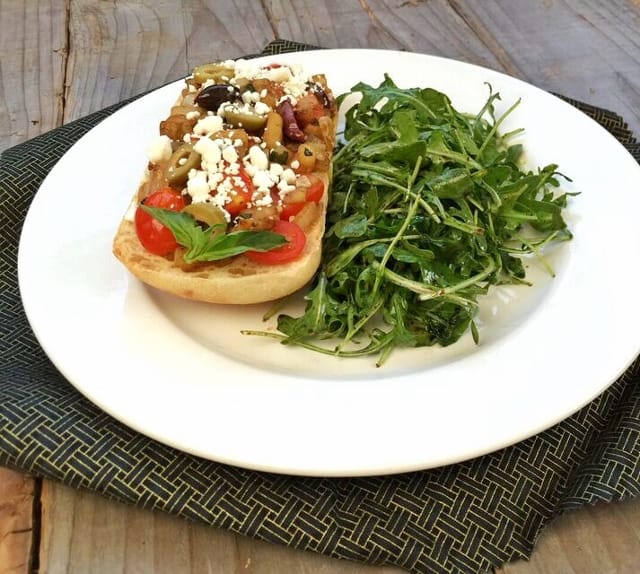 One other interesting note about ingredients: Hello Fresh's technique for providing small amounts of individual ingredients is different than Blue Apron's. They seem to have partnered with companies to get single-use packages versus buying in bulk (I'm guessing) and repackaging in their own all-purpose plastic containers. For example, Hello Fresh provided a little packet of Justin's peanut butter, a small package of (like 8) Olympos pitted olives, miniature bottles of Colavita red wine vinegar, and an envelope of Bonne Maman honey. Man were they cute.
To finish up this review I've got a few additional "pretty goods" and "less goods" to share:
Pros:
Hello Fresh provides nutrition information on the recipe cards and they have a dietitian on staff. Super neato.
They introduced me to a couple of new basic recipe techniques that I can modify as needed based on what's available, like the veggies, grain, and cheese bowls. Also, the tortellini was really good with a rich flavor, and I could remake it with virtually any seasonal vegetable and fresh pasta.
In each box there were two vegetarian recipes and one vegan recipe. Like with the other services, you could make a couple more of them vegan by leaving off the cheese…but then you'd have a bunch a cheese lying around your house that you probably don't want.
They cut up the butternut squash for me! Thank goodness, because it's always such a pain in the @%&!.
Overall, I felt the instructions were easier to read and follow than with Blue Apron.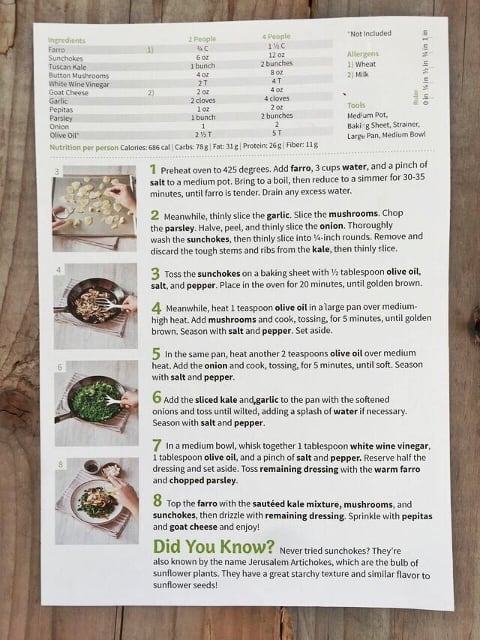 Cons:
The first thing I saw when I opened my box was a flyer for Omaha Steaks. Maybe that shouldn't go in the vegetarian's box?
You have to decide before Wednesday at midnight about the following week's delivery, so in my case you have to be thinking 9 days ahead if you want to pause or cancel your shipment.
I so appreciate that they used super firm tofu, as I think it has a more universally acceptable texture but it was still incredibly delicate to work with and broke easily.
The first box got delivered on Friday. I cooked the tofu dish on Tuesday and the farro dish on Wednesday. By then, some bok choy leaves were already yellow and the mushrooms were starting to turn slimy. It was a similar story the next week. I didn't make the hash until the Wednesday after delivery so half of the mint had died but everything else was still good. Disappointing for sure, but I don't know really how you'd get around it unless you made sure to cook the meals on the 3 successive nights after delivery every time.
I think the assumption from customers might be that the veggies are cleaned and ready to go, since they arrive so beautifully packaged. But the bok choy was really sandy and definitely needed rinsing before using. Not really a "con", just a reminder to check before using.
As with nearly all of these nationwide services, the wonderful food comes with excess packaging and multiple ice packs which could be viewed as wasteful. (The only company that seems to have mitigated this is Acme Farms + Kitchen, which is local to me.)
As noted before, there were some repeating ingredients from one week to the next like cherry tomatoes, farro, and goat cheese. For these particular products, I don't suppose seasonal availability is the reason, so my suggestion would be to keep variety as a priority.
There are lots of reasons to love food that comes to your house in a box: convenience, novelty, time savings, and perhaps even exposure to new ingredients. Because of our CSA subscription I now eat Brussels sprouts, kohlrabi, and beets. And because of meal delivery services I now eat radishes, sunchokes, and eggplant. The cost of all these benefits? About $10 a plate. The value of a vegetarian learning to like new vegetables after 40? Priceless.
(If you want to learn more about my food box affliction, I've gone into great detail about Plated, Blue Apron, and Acme Farms + Kitchen on previous posts.)
Have you tried out any of these delicious deliveries? Do you have a favorite?
If you liked this post, you may also enjoy: