There's nothing like a trip to sunny Phoenix in February to make you consider early retirement.  We recently went for a long weekend to visit my snow-birding parents and ended up having some pretty delicious meals.
As is often the case when we're dining with family, we tried to pick places where everyone could be happy, meat eaters and vegetarians alike.  Chipotle Mexican Grill fits the bill.  I am never disappointed here, probably because I can order my vegetarian Burrito Bowl exactly to my specifications (as you can imagine, dietitians can be a little high maintenance when it comes to ordering).  Chipotle is one of the few fast food companies that makes it a priority to offer organic, local, sustainable and nutritious food, and they recently began offering their cilantro-lime rice in a brown rice version.
Since I wasn't familiar with the area, I used the Happy Cow website to search for other veggie-friendly restaurant options and somehow convinced my parents to drive 13 miles from Sun City West to Phoenix to try the Mellow Mushroom.  Our 12-year-old niece joined us, and everyone agreed: it was definitely worth it.  (Our niece commented that the decor wasn't as "hippyish" as she'd expected.)  I mean, how many places actually have both tempeh and bacon on the menu?
Mom enjoyed a pesto chicken sandwich and Dad couldn't stop talking about how good his salami pizza was.  Jeff ordered the Grilled Tempeh Hoagie and was quite satisfied.  Here's the menu description:
Marinated and grilled tempeh, feta, grilled mushrooms, onions and green peppers.  Served with pesto mayo, lettuce and tomatoes.  Garnished with sprouts.  (He chose a wheat bun.)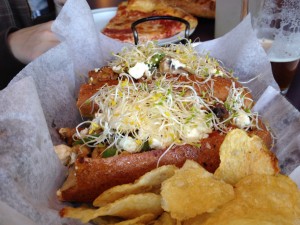 I decided to follow my picky dietitian instincts and build my own 10-inch pizza.  I started with an olive oil-and-garlic base, and topped it with broccoli, green peppers, pineapple, mozzarella, parmesan, and tempeh.  The crust was on the thin side, crispy and chewy, with a very pleasing texture.  The tempeh was crumbled on top which meant the pieces were small enough to chew easily.  Overall, I was impressed.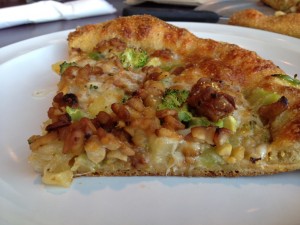 Our only teensy tiny suggestion for improvement would be wait time.  We got a table and put in our order right away.  But we waited probably 30 minutes for our food to be served.  Good thing it was so delicious when it arrived.
You can also build your own calzones and salads, and they seem to be sympathetic to those needing vegan, gluten-free, or allergen-free meals.  Nutrition information is readily available on their website.
Dad said he was going back to the Mellow Mushroom the following week with some friends who'd be visiting.  That's high praise from a retiree.
What's your favorite unexpected pizza topping?