To read more about our full day of food cart eating in Portland, Oregon, check out this summary post.
2:33 pm Cake on a Hot Tin Roof
Update: I think Cake on a Hot Tin Roof has closed.
I'm a sucker for anything sweet, so a trip to Cartlandia at SE 82nd and Harney seemed worthwhile to visit an entire cart dedicated to dessert.  With at least 10 carts, this is a super pod and they've got outside seating (with a big screen TV cart to boot) and real indoor seating in an adjacent building.  Cake on a Hot Tin Roof's cart was very colorful and eye-catching with nice professional-looking photos of the menu options decorating the front, which made ordering a breeze.  After reading up about Cake online before our visit, I was excited to try her most beloved item: the almond cream bienenstich, a German almond cream cake.  Sadly, it wasn't available that day, so we settled instead on the Italian mocha meringue, pavlova with cream and mixed berries, Scottish shortbread and peanut butter apple bar.  (Lest we have sugar overload, we saved the last two for the next day).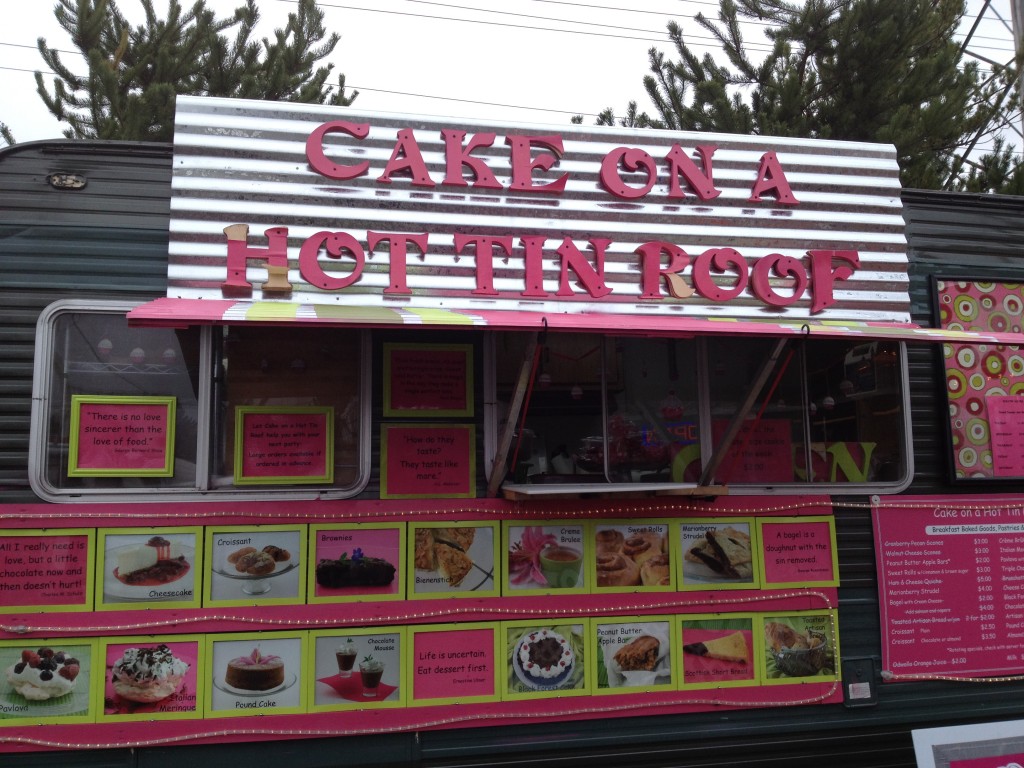 My review is mixed.  Since she assembles each item to order, it did take quite a few minutes to get everything ready to go.  And, sadly, the shortbread and peanut butter bar were nothing special.  However, the other two items were well worth the wait.  The flavor of the Italian mocha meringue was just like tiramisu but with a meringue base instead of ladyfingers; in other words, delicious.  And despite being topped with defrosted frozen berries instead of fresh, the pavlova was fantastic.  (Generally, meringue-based desserts are a healthier choice because the meringue itself is fat free.)  The beautifully food-styled pictures of these fancy desserts may have set my expectations too high as the actual presentation wasn't quite as appealing to the eye.  But, a dessert with a lackluster appearance is still dessert, and we finished every bite.
Next stop:  Roshambo (Indian)
What's your most satisfying, somewhat healthy dessert?
If you liked this post, you may also enjoy: