I love San Diego. I've been just twice, and seen only 2 or 3 of the enjoyable neighborhoods it has to offer, but my recent return trip cemented in my mind that it's my kind of city. It has all the ingredients from which to build a healthy lifestyle: endless sunshine, picturesque walking/running paths, and no shortage of healthful spots to dine. I was particularly enamored with Cafe Gratitude, a 100% organic watering hole of epic plant-based proportions. Despite being in town just 4 days, I visited the Cafe twice and walked away sated and happy both times.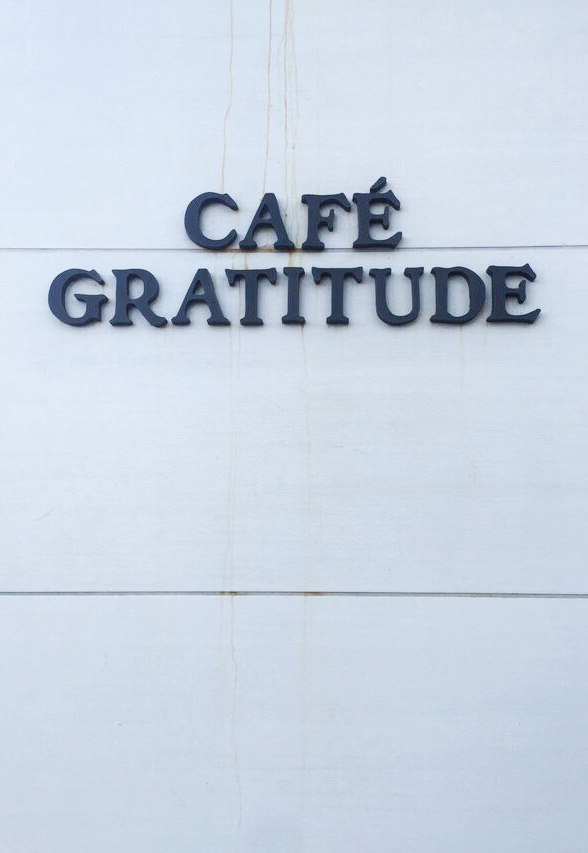 Located near Little Italy, Cafe Gratitude is incredibly welcoming. After finding the listing on my Happy Cow app, I made a beeline to Kettner street on my first night in town. The staff offered me a warm greeting and a seat at the sunlit marble bar. (I'm pretty sure they had no idea I was a blogger and that I was doubly impressed by the food photography lighting afforded by my location.)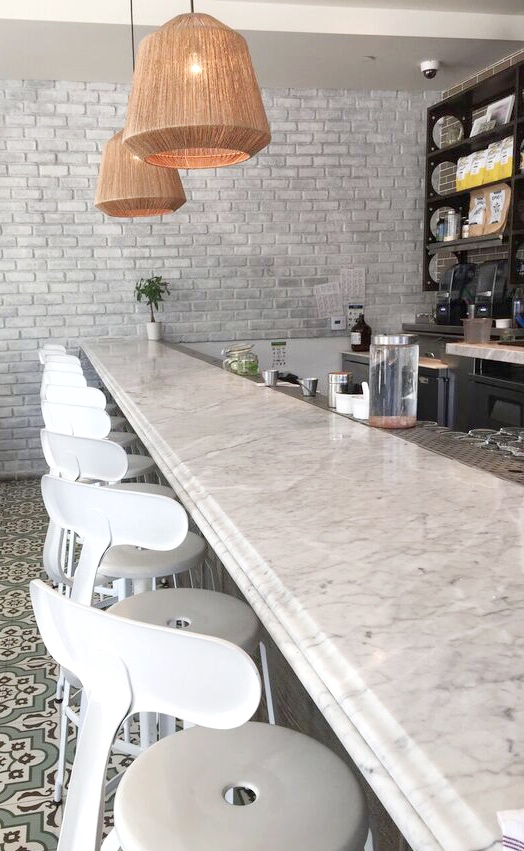 My interaction with the waitress was unusual but so appreciated. After asking if I was a first-time customer, she gave a brief explanation of how things worked. Each menu item's name is an adjective. When you order, they like you to start each request with, "I am" followed by your food or beverage. For example, I started with "I am Splendid" and she returned with an unsweetened citron iced green tea. A novel approach to be sure, and very body-positive, but also a little awkward at first. She went on to explain that they're a vegan restaurant but do use honey in some dishes. And she inquired about food allergies up front.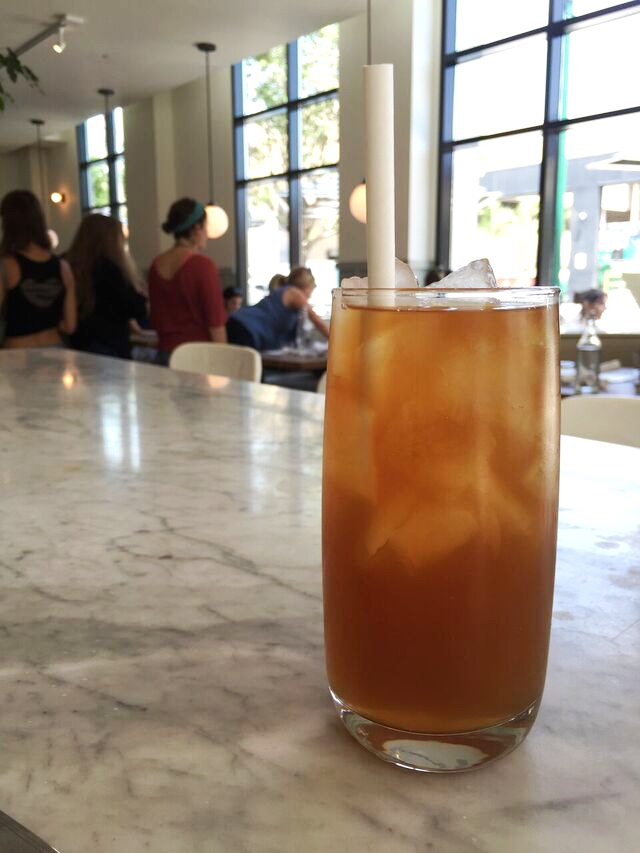 After I ordered I looked around and sort of took it all in. Cafe Gratitude had all the trappings of a healthy hipster paradise, including Ben Harper tunes drifting out of the stereo, nut-based cheeses, ancient grains, paper straws, and kombucha on tap.
The menu was so expansive and so creative it took me forever to decide. I finally settled on the Local (salad) and the Inspired (asparagus risotto), and was happy to take my waitress's suggestion to top it all off with jerk tempeh.
The contents of the Local changes regularly and seasonally based on locally sourced ingredients and boy did I happen to show up on a good day. I was presented with a mile high collection of coconut bacon, peaches, spinach, asparagus, pumpkin seeds, fennel, and cashew mozzarella. The smokey sweet gogi chipotle vinaigrette could not have been a more perfect pairing with this mashup of fresh ingredients.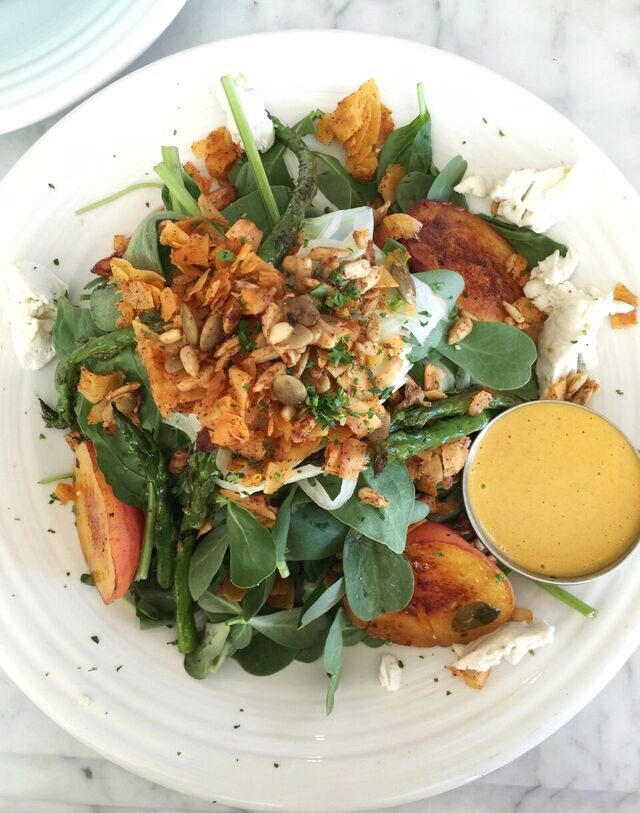 Not typically my favorite vegetable, the fennel added crisp texture and cool temperature, while the pumpkin seeds offered a pleasing crunch, and the peach a surprising rush of sweet wetness.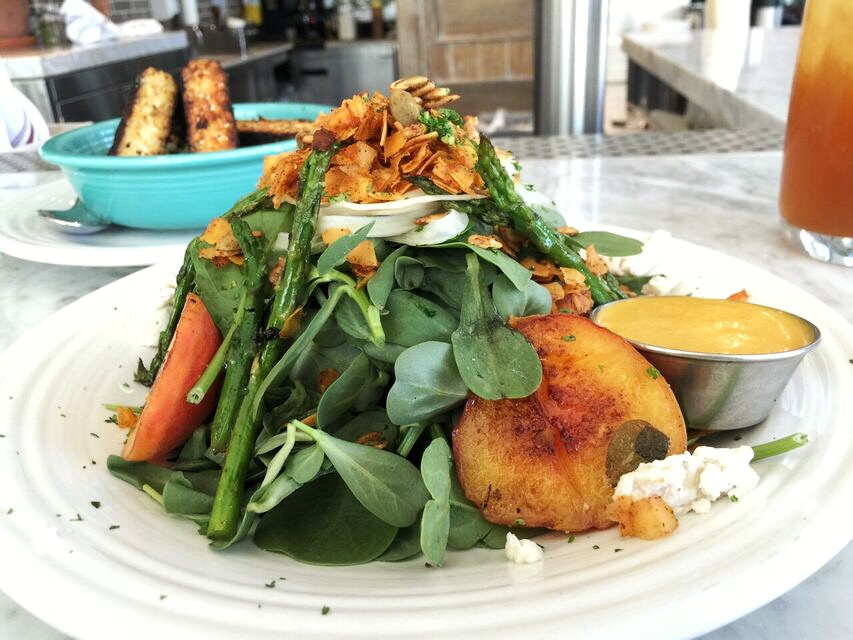 Next up was the asparagus risotto. Keep in mind that traditionally risotto is made with chicken broth (or vegetable broth) and tons of grated cheese. The saltiness along with the slight "chew" of the al dente rice are the hallmarks of a good risotto. By some culinary miracle, the folks at Cafe Gratitude were able to provide the same experience, but using only plant foods.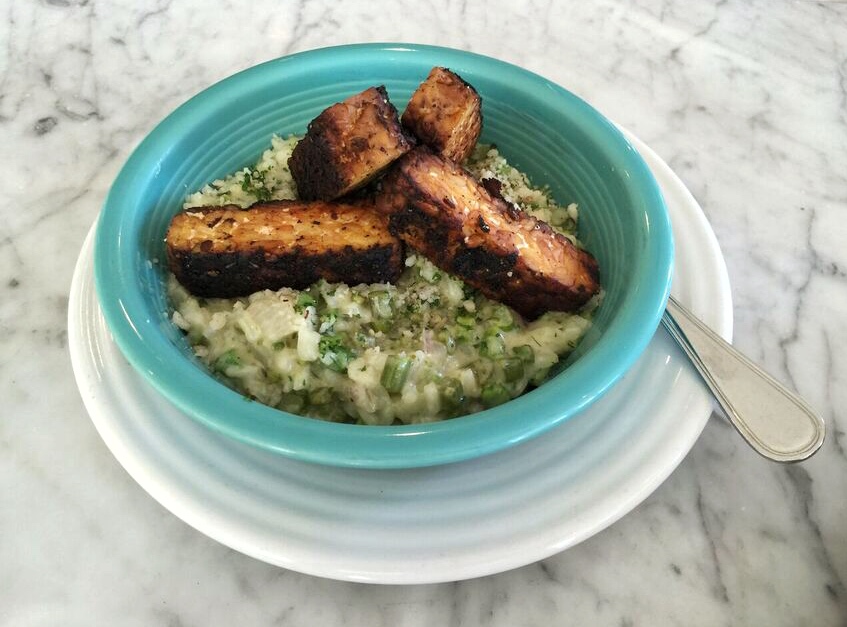 Somehow it was creamy and buttery, with the rice and asparagus cooked to a precise crisp-tender toothsome state. I was so astounded by the savory flavors in the dish I asked for some details. She listed off some of the notable ingredients: cashew crème fraîche, red onion, Brazil nut Parmesan, and gremolata. Lucky for me and my sensitive mouth, the spiciness of the blackened jerk tempeh was soothed by the cheese-less risotto.
While I was savoring every bit of my risotto, my waitress returned with the tiniest milkshake I'd ever seen. Turns out it was a sample of one of their smoothies called the (I am) Cool mint chip shake. It was out of this world good, and possibly the best thing I put in my pie hole that day, which is saying a lot. The menu description reads like this: house-made cashew coconut ice cream, almond milk, vitamineral green powder, and vanilla bean.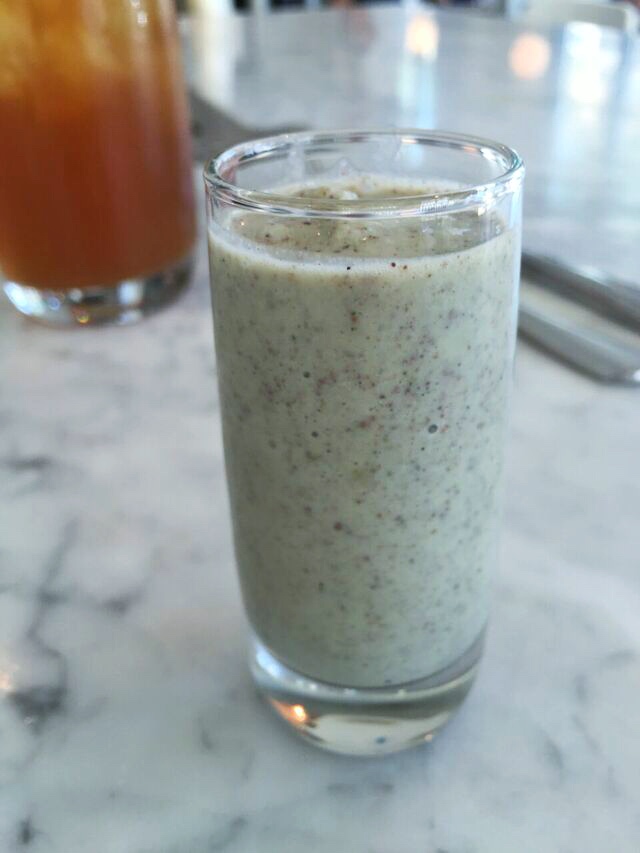 As I finished up, I decided to take a treat back to the hotel with me so I could sample one of their vegan desserts. I opted for the Kind crispy chocolate bar made with puffed rice and quinoa, almond butter, and raw chocolate. My waitress wrapped it up in the most friendly of packaging, and then offered me a refill on my iced tea…to go! They sure know how to make a girl feel taken care of.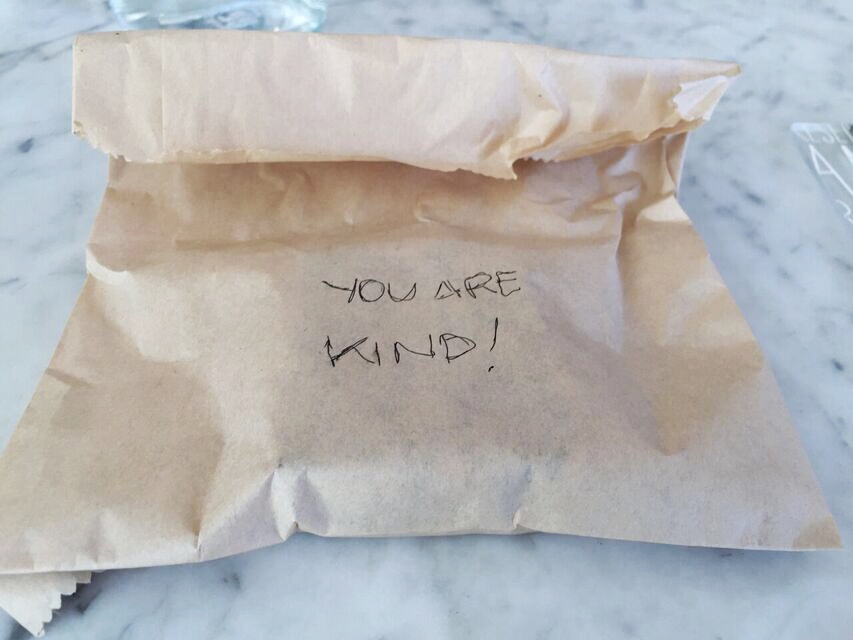 My mind full of fond food memories, I returned to Cafe Gratitude a couple of days later. This time I asked to sit at the outdoor sidewalk seating and thoroughly enjoyed watching the people and cars of San Diego pass me by.
I started with the Peachy smoothie, a simple blend of peaches, dates, almond milk, and vanilla. The peach and vanilla flavors were on equal footing, providing a mellow drink that wasn't too sweet. I wouldn't say it blew my taste buds away, but it made for a glassful of satisfying sips.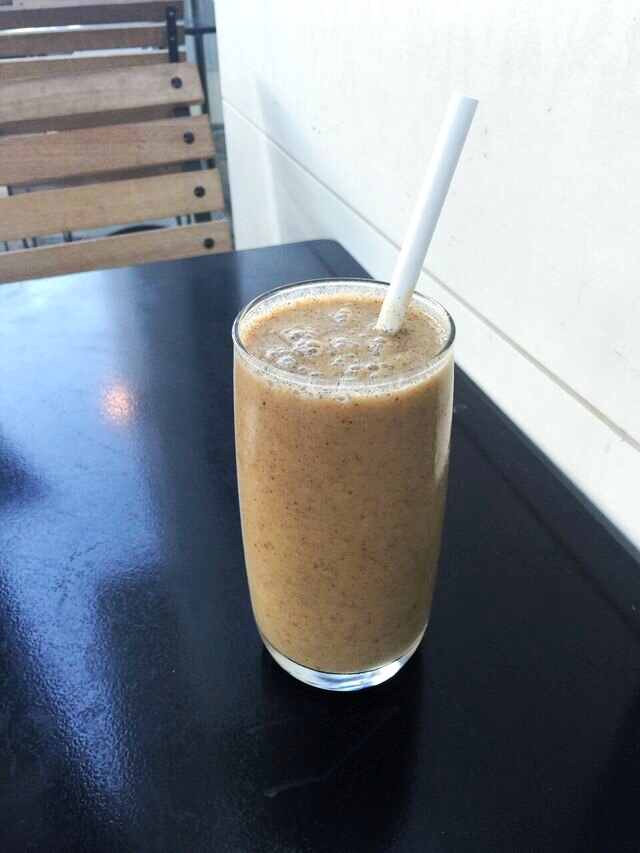 Pizza sounded awfully good, so I opted for the Giving seasonal selection. The einkorn and kamut crust (grains you might never have heard of but who are making a splash on the food scene) was covered with marinara sauce, asparagus, cashew ricotta, cashew cream, basil, and Brazil nut Parmesan.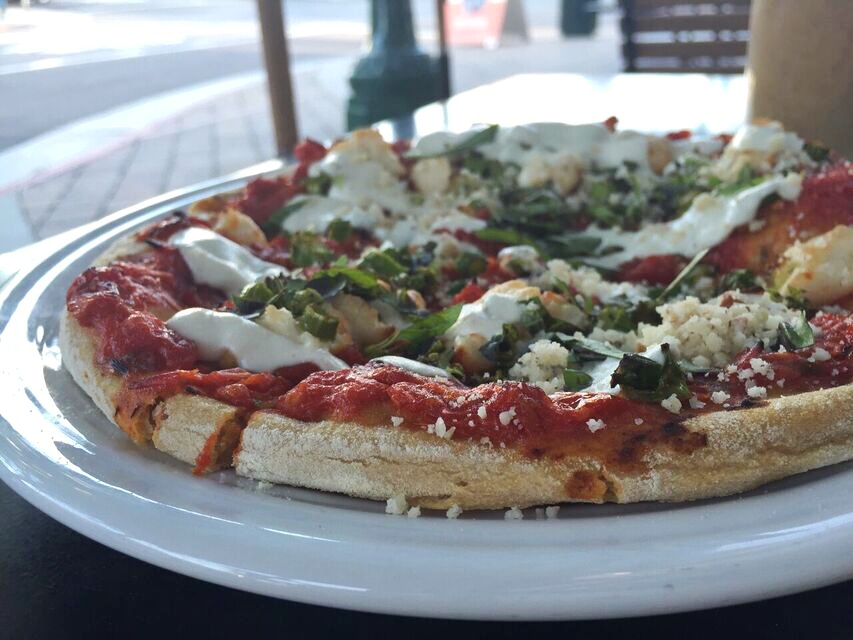 It smelled amazing, and the marinara was unexpectedly flavorful with a concentrated savory tomato flavor and a pleasing earthiness. The crust consistency was tender and chewy at the same time, which is exactly what I'm looking for in a pizza crust, and the whole mess was dusted with freshly ground black pepper.
Two delightful meals on two occasions; this place is batting a thousand. I know. I'm gushing. Unrestrained in my praise. I think it's because in my profession I hear so often that healthy food doesn't taste good and eating well is boring and bland. I have to tell you, I certainly wouldn't be following a healthful diet if that was the case. I love to eat and I love to eat well.
As evidenced by the flavors that fill Cafe Gratitude's menu, you can have taste and nutrition on the same plate. Thank you San Diego for providing yet another example of healthy done right. And splendid. And inspired. And local. And cool. And peachy.
Where else should I have ventured in San Diego for veggie foodstuffs? Any suggestions for my inevitable return trip?