Can you think of your very most memorable meal? Ever? When was it? Where was it? Why do you think it's still taking up space in your mind and your memory?
I've got two kicking around; one was 4 years ago in Italy and the other was 10 years ago in San Francisco. The food in Italy is worthy of its own post (or several) at some later date, but today I'd love to reminisce about Millennium in 2003. I think what made it so remarkable was that we shared our meal with a truly spectacular human being, Erik Smith. He created a northern California visit for us that was thoughtful and fun, taking our likes and dislikes into consideration; the meal at Millennium was a perfect fit.  At the time, I feel like vegetarian restaurants weren't so easy to come by, so a full, creative menu of gourmet offerings – all of which were animal free – seemed like an incredibly lucky find. My fond food memories led me to seek it out again on my recent trip to San Francisco in June.
I'm sure I'm not the first veghead to notice the irony of Millennium's location…right across the street from this place: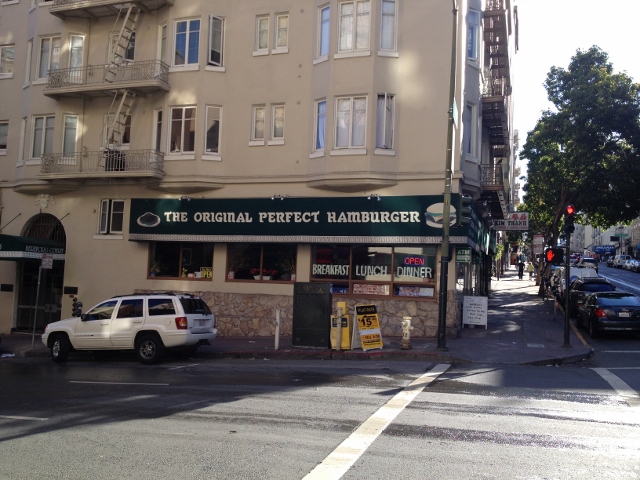 The food scene now is definitely more veg-friendly than it was 10 years ago, but it can still be somewhat challenging to find a high quality restaurant when traveling, let alone a vegetarian one, let alone a vegan one. So, this felt like a rare treat. I was dining alone, I was in no hurry, I was on vacation, and after traveling about 900 miles to get here I was hoping to recreate the magic of that first Millennium meal, so I indulged. I ordered a beverage and dessert and 3 courses in between.
Like a high maintenance blogging nerd, I had called ahead and requested a window table so I could take advantage of natural light for my photos, and the kind staff obliged me. First up for its close-up was my icy cold Creamsicle made with fresh squeezed orange juice, vanilla agave, coconut milk, and soda.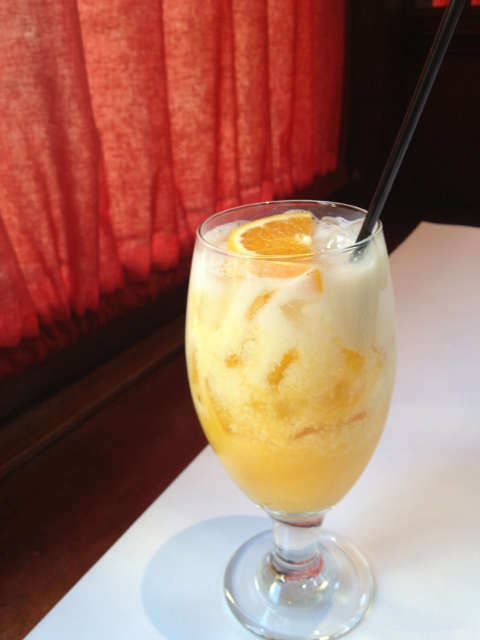 Next came my fresh baked artisanal bread with a spread of French lentils and dill. I tasted caraway somewhere, and together the combination was simple and earthy.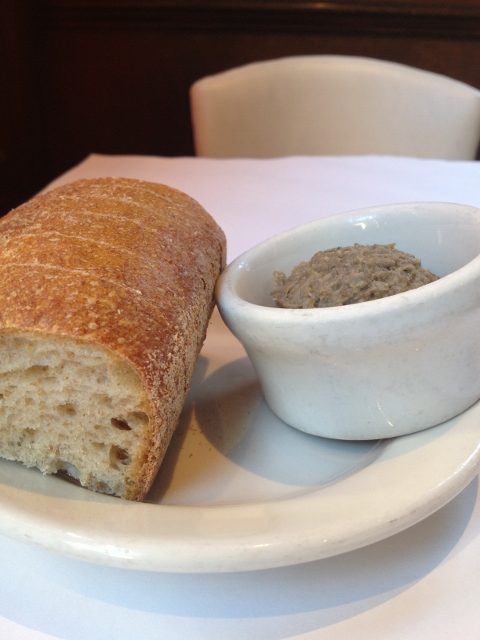 I chose the Wilted Bloomsdale Spinach and Frisee Salad for my official "starter" because of this description: smoked tofu, roasted new potatoes, seared spring onions, castelvetrano olives, Marcona almond, sangiovese vinaigrette and fresh marjoram. Like a classic wilted spinach salad the dressing was warm and the overall flavor was savory, briny, and really smoky, and I was so pleased to find the tofu pieces very firm. (I should mention, to help you get a complete idea of the experience, that my waiter looked like Neil Diamond circa 1975, if he had been born in India.)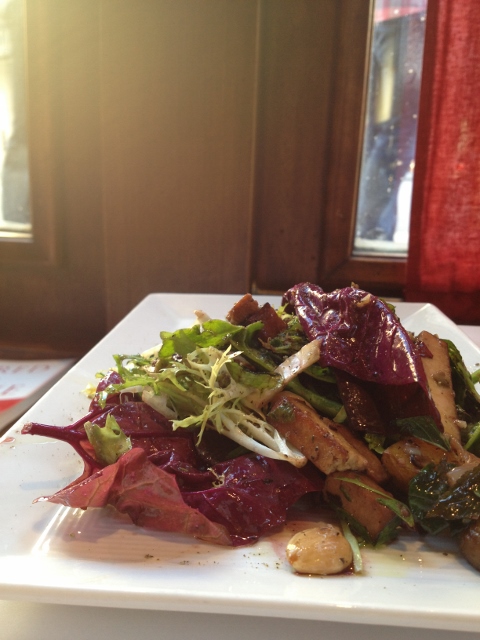 My main dish was the Saffron and Corn Risotto Cake: beluga lentil-coconut dal, corn and zucchini hash, English peas, pistachios, seared cabbage, purslane (a green leafy vegetable, a.k.a. pigweed), watercress, cucumber and methi (a.k.a. fenugreek leaf) salad, and cornmeal crusted squash blossom, with chili oil. This plant-based dish was packed with protein from the lentils, peas, and pistachios, and packed with flavor, from what I imagine is a recipe with a list of ingredients 6 pages long.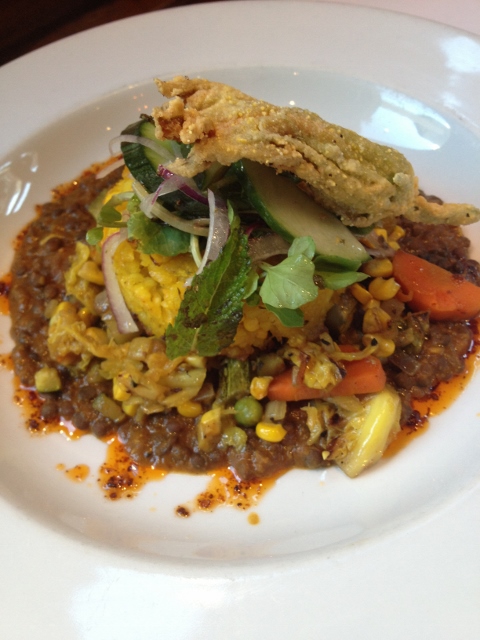 Despite the chili oil, the lentils were none too spicy, and made a perfect complement to the risotto cake. Lentils and rice are a traditional combination but I found this a bit  more interesting. The cake was chewy and starchy on the inside and delightfully crispy outside and really reminiscent of cornbread with whole kernels in it. (I guess you could say that together the flavors were sort of like an upscale chili and cornbread.)
I was pretty full by this point, but I so enjoy ordering dessert, especially fancy vegan dessert. So, I found room to put away a few bites of the Cherry Tartlette with fresh almond ricotta, kirsh ice cream, cherry syrup, and a sour-cherry-Marcona-almond-chocolate wafer.  (You'll see that the ice cream in the picture looks more like vanilla, which it was. When they realized the mistake, the waitperson rushed over a separate dish of the kirsh ice cream.)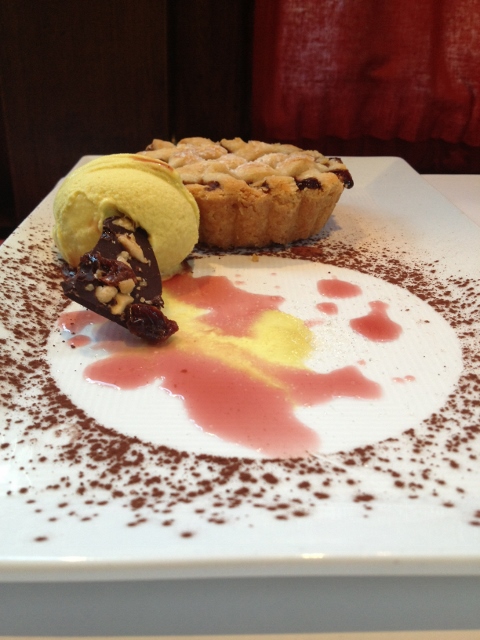 The crust was SO tender! I'm curious about what fat they used because I know it's not butter, and I doubt very highly that it's shortening. Maybe coconut oil?
Millennium is open for dinner nightly, but be prepared for a pricey meal. They use organic whenever possible, but are exclusively non-GMO. The menu changes to reflect seasonal availability so you might find even more creative and colorful combinations when you go. Even though my visit was back in June, the salad and risotto cake are still on the menu.
I guess it's not surprising that Millennium has perfected gourmet vegan food, considering they've been doing it successfully for 19 years. Hopefully, I'll get another chance to taste their memorable creations before 2023 gets here.
What are the salty, sweet, creamy, crunchy details of your most memorable dining experience?
If you liked this post, you may also enjoy: