July 1 is Canada Day. It's sort of like our 4th of July, celebrating Canada's "birthday" when three colonies came together to form the country we know today. You'd think, living just a few miles from the U.S./Canada border and having several Canadian friends, that I'd keep up on these things and plan accordingly. Holidays can make life miserable at the border crossings and disrupt travel plans in all sorts of other ways, even though they're generally considered a time of celebration. Go figure.
I made a spontaneous decision around June 29 to head northward, spend 1 night in Vancouver BC, and eat myself silly. Jeff had an overly full weekend of real estate responsibilities, I was just 2 weeks into summer break, and feeling like I needed an adventure. So off I went, on my own, to savor the smorgasbord of vegetarian restaurants my Canadian neighbors had to offer.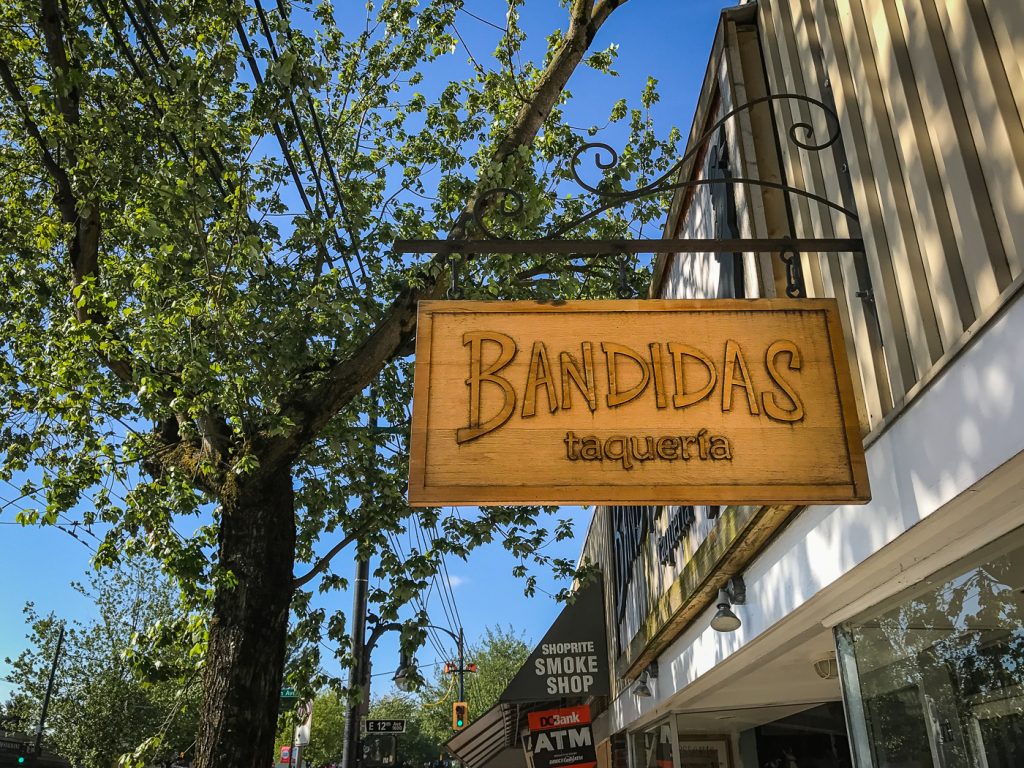 My first stop was breakfast at Bandidas Taqueria and it was quite a kick-off for my plant-based food tour of V-town. I'd been once before and was blown away by this vegetarian restaurant's creative taco/burrito fillings, made from things like chipotle tofu, walnuts, roasted yam, and purple cabbage. (I see now the walnuts are no longer on the menu but a filling with roasted pineapple is!) When I arrived on a sunny Saturday morning there was a line of people on the sidewalk waiting for them to open. Seemed like a good sign.
But let's dig in to breakfast shall we? I ordered, appropriately, a dish called The Breakfast. Here's the menu description:
Two free-range eggs, pinto beans, roasted yam and potato hash, purple cabbage, and fresh-cut tomato salsa, served with cornbread and honey butter. Add guacamole, veggie bacon, or veggie sausage.
This may seem odd for a person who doesn't like eggs, but wait until you see the substitution!
Make any breakfast vegan: replace the eggs with butternut squash and tofu scramble, and the dairy with Daiya cheese, and house-made soy "sour cream." 
I opted for the egg replacement, took advantage of the veggie sausage add-on, ordered a soy horchata, and waited patiently to be impressed.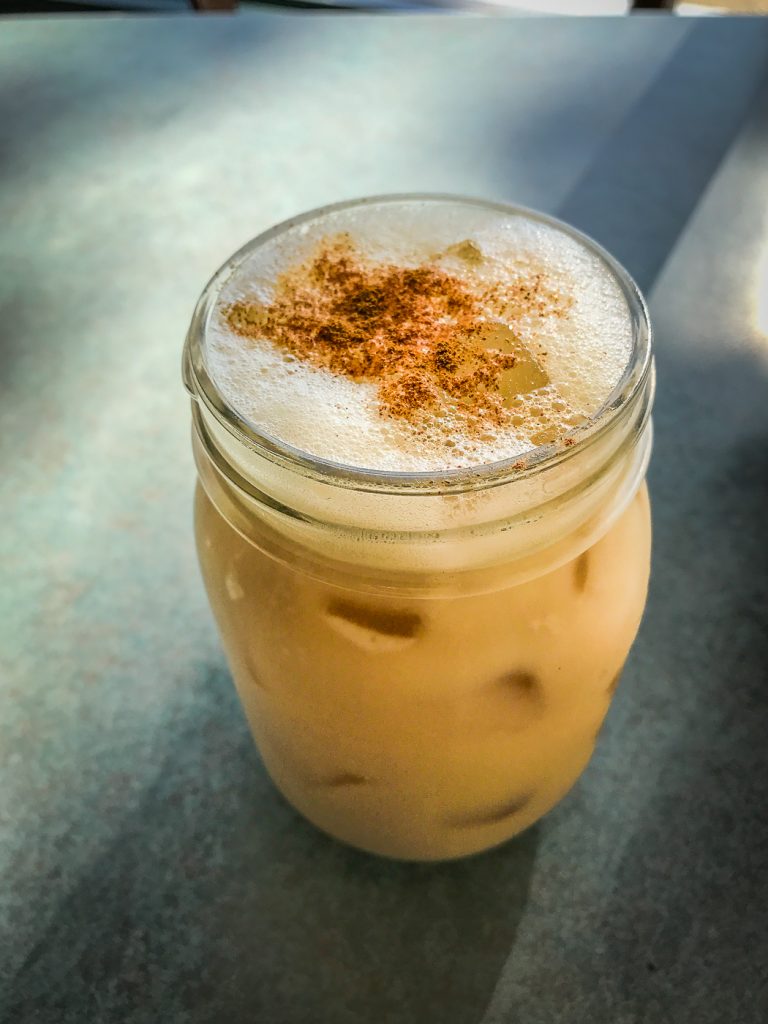 First of all, I was pleased with the plating. It was essentially a pile of breakfast foods but it seemed abundant, and that was pleasing to the eye. I'm also a big fan of a sampler plate, where I have lots of different things to taste and this had 8 different food items waiting for me to get to work. And it turns out everything put before me was vegan.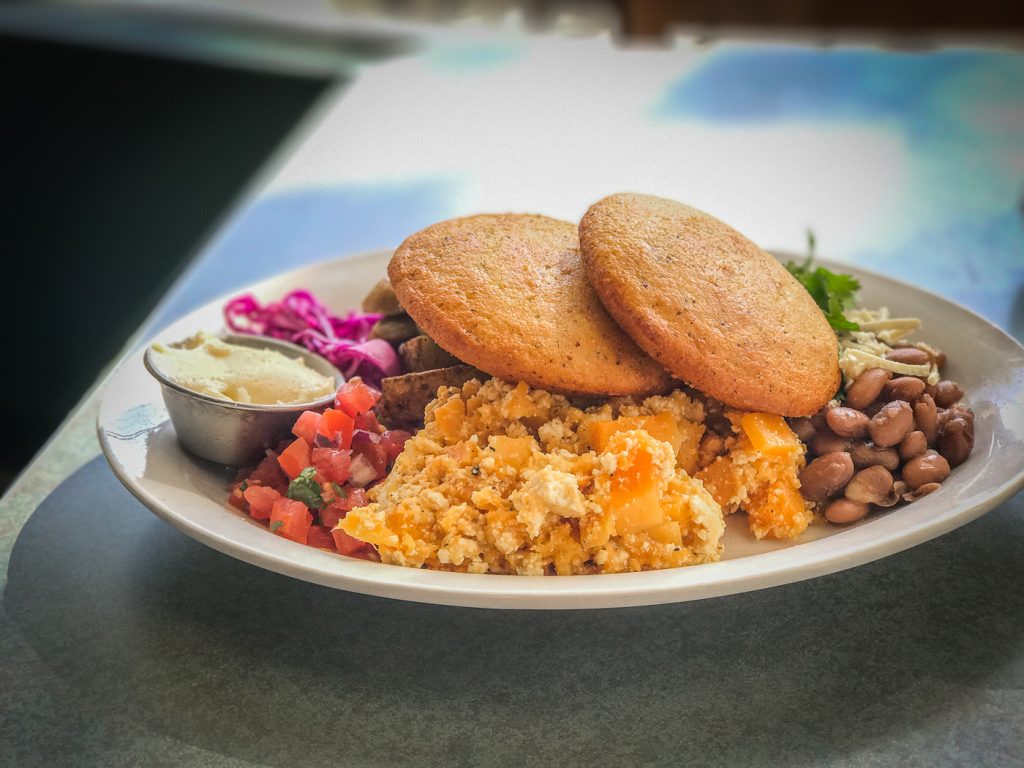 Cornbread. The first thing I wanted to try was the cornbread and it just so happened it was on the top of the stack. The shape was unique, kind of like a muffin top, or a flying saucer, which afforded a lot of surface area for crisp crust and honey butter spreadage and meltage. It was my favorite item from the whole splendid meal.
Honey butter. Since I had the vegan version, my honey butter was actually Earth Balance spread sweetened with vegan sugar. But my taste buds thought it was the real honeyed buttery deal.
Fresh-cut tomato salsa. This was incredibly fresh, so they definitely got the name right. It was more like pico de gallo, and not the least bit spicy so it was perfect for my delicate flower of a palate.
Roasted yam and potato hash. The seasoning on potatoes was more than salt and pepper, but I couldn't identify it. Somehow it just tasted extra savory and potatoey.
Purple cabbage. The cabbage was cooked but served cold, which was a nice contrast to a plateful of hot, steaming goodness.
(7. & 8.) This plate was brimming with plant protein, so let's talk about them all together: soy sausage links, scrambled tofu, and beans. The sausage was just what I was expecting and quite yummy. The squash/tofu mixture was pretty soft and seemed more steamed than browned, and the overall flavor was sweet and mild. The pinto beans were clearly from scratch, and cooked perfectly with a tiny sprinkle of Daiya cheese to top them off.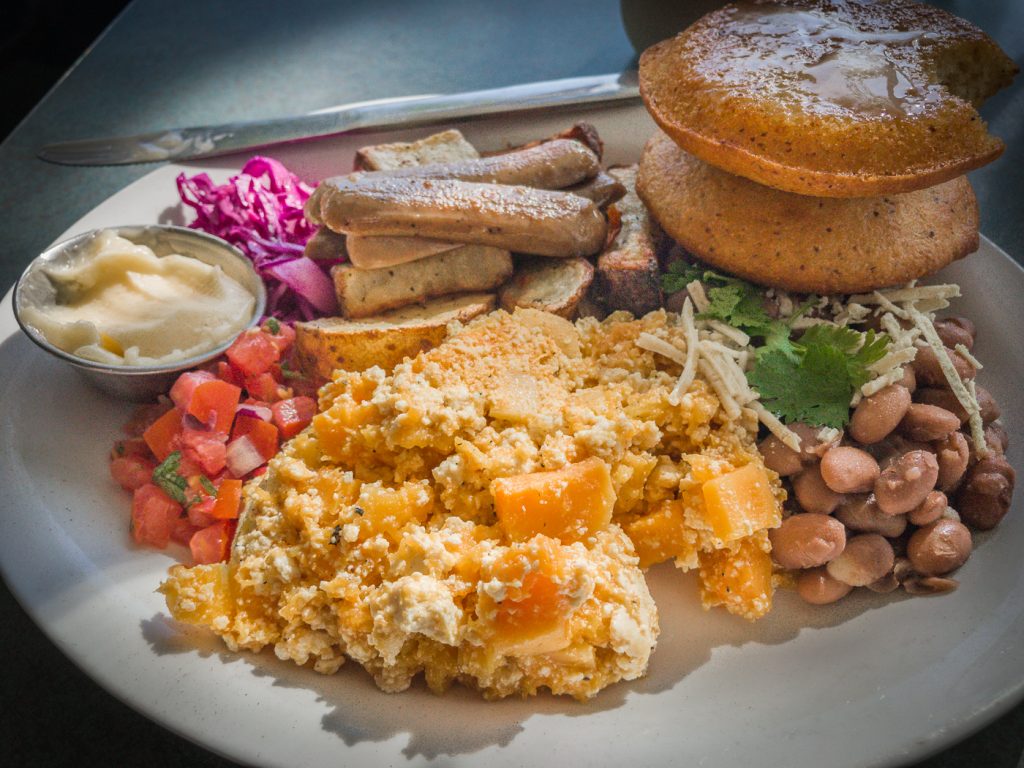 My appetite appeased and my craving for adventure at least initially satisfied, I spent some time in John Hendry Park nearby walking around Trout Lake, browsing a local farmers market, and biding my time until I was ready to eat again. It wasn't until later that day I realized I'd traveled to the City of Glass on one of the craziest, busiest days of the year when I tried to go to Granville Island for more restauranting. It was temporarily off-limits to cars for the day because of buskers, crafting, special Canada day donuts, roving performers, and a parade; essentially ground zero for the city-wide Canada Day festivities. Finding a place to park was essentially an impossibility. So I abandoned my Granville plans and headed off in search of Vegetarian Dining in The Great White North, Plan B.
Luckily my spontaneous travel was only minimally affected by the holiday, and I found plenty to eat during my two-day extravaganza. I'll tell you about my other Canada Day eating adventures (including vegan pizza and high-class vegetarian brunch) and embarrassing international parking snafus in future posts. For now I'll tell you to get yourself to Bandidas Taqueria for some outstanding vegetarian food whether it's a holiday or not. This spot is worth celebrating.
If you've been to Bandidas, what is your favorite menu item? I already can't wait to go back.
If you liked this post, you may also enjoy: