I hold side dishes in high regard. This is because I know I can nearly always make myself happy with a meal built of a side of this and a side of that. I even have a bit of a reputation among certain friends for taking the longest to order. They wait good-naturedly while I'm listing off sixteen (or so it seems) side dishes, pausing in between each one to give the waitperson enough time to get them all scribbled down. It probably started back when I first tried eating out as a vegetarian. Pulling together some acceptable items piecemeal was the norm at many meat-centric American eateries. You have to be willing to look a little deeper into the menu to find them, but you can discover some side dishes that really standout.
I took advantage of this ordering technique recently at Pita Jungle in Phoenix, Arizona. The whole practice is probably appealing because it assuages my indecisive tendencies while letting me dine picnic-style: I get a bunch of small plates and I get to taste more than one dish. It's sort of like do-it-yourself tapas.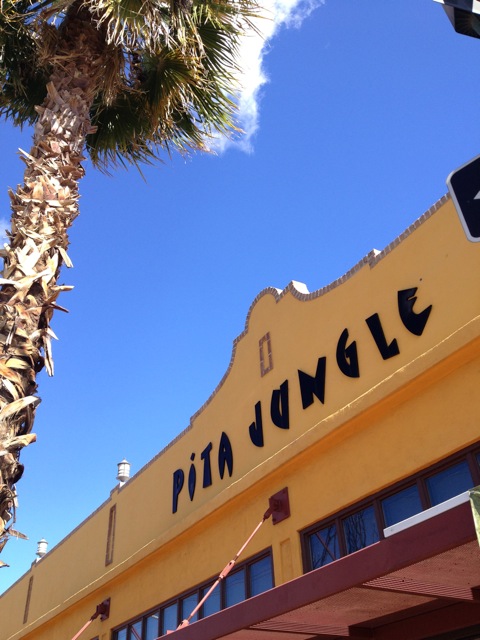 The Mediterranean menu at Pita Jungle is quite extensive. They do serve chicken and fish, but there are as many, if not more, vegetarian options including wraps, salads, and combination plates. If you're following a special diet, I'd recommend reviewing the handy-dandy Vegan and/or Allergen Charts on their website before you go to get your specific ingredient questions answered and help make ordering easy once you arrive. They're a self-declared "Allergy-Friendly Eatery" and they proudly display their nutrition info for each and every menu item online.
On this sunny and windy day in the southwest my disjointed Lebanese smorgasbord consisted of Garlic and Herb Smashed Potatoes, Green Beans, Hummus, and Caramelized Cauliflower with Tahini. (This was technically 3 Side Orders and 1 Starter. It was also technically a starchy vegetable, a couple of non-starchy vegetables, a starch, and a protein, if you're keeping track.)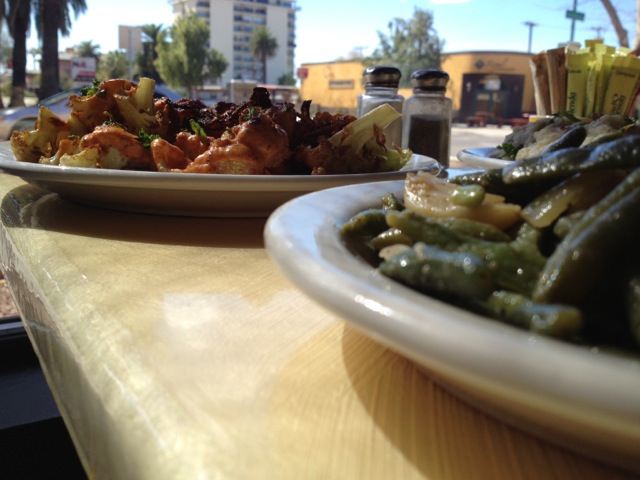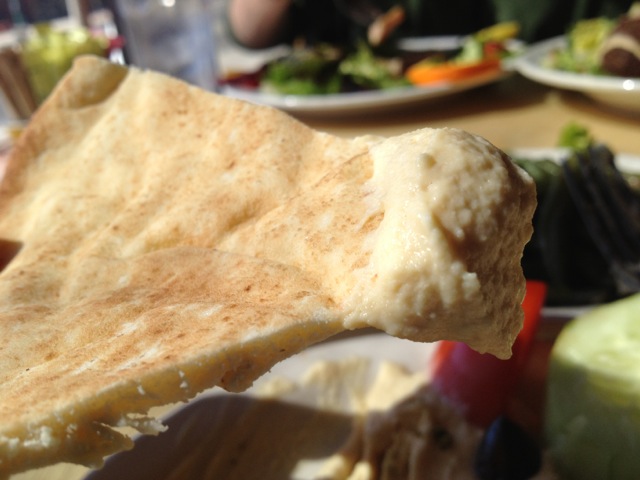 Jeff exercised a little more control and went with the no-nonsense Falafel Platter and a salad. If you count 'em up that's six plates for two people, which meant the tabletop was a little crowded.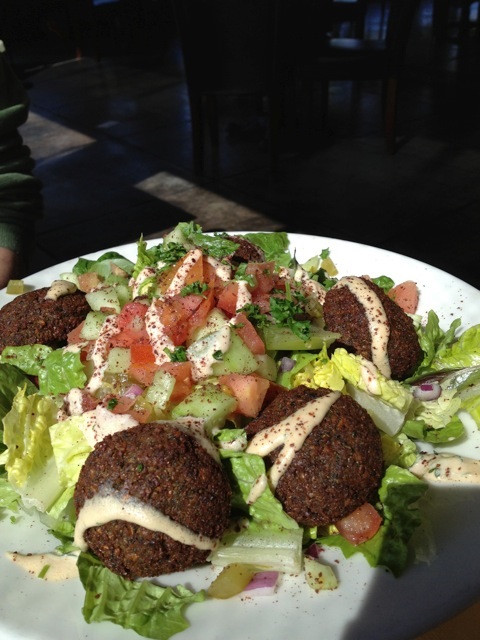 As is often the case with this shotgun approach to ordering, there were some hits and some misses. The potatoes and green beans were just OK, the hummus was lemony and pretty much as expected, but the cauliflower was remarkable. The sauce was bright orange, tangy and lusciously thick, which helped it cling to the oil-coated florets. When I shared my words of praise for this cruciferous creation, the waitperson said it was one of their most popular items…curiously found only on the sides menu.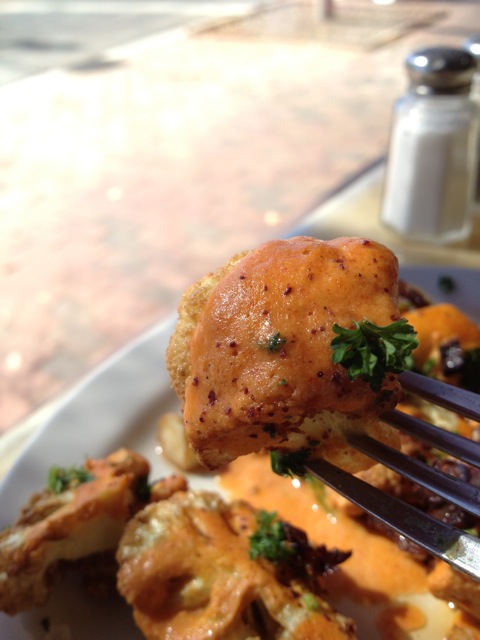 Pita Jungle has 18 locations in Arizona and California and in addition to the great food, their decor is quite contemporary and welcoming. It seems like a place where health-conscious eaters of all kinds could dine together without feeling as though they're settling. Here's hoping the Caramalized Cauliflower's reach will soon expand to the Pacific Northwest. (You can read more about my past Phoenix dining adventures here.)
I suppose another benefit of this haphazard ordering strategy is that it minimizes the inherent risk in dining out. If you put all of your eggs in one basket, so to speak, you could find yourself with a whole plate of disappointment if you end up not liking your entrée. But, if you broaden your culinary horizons and diversify, your chances of hitting the jackpot go up. Just be sure to ask the host to seat you at a big enough table.
Have you ever pulled together a fabulous feast, a la carte style?