Of the eight main Hawaiian islands, Lanai is one of the harder ones to get to. I recently sailed myself there via a 45-minute ferry ride from Maui and went in search of a vegetarian lunch. According to the Hawaii Tourism Authority, Lanai gets about 5,000 visitors a month. If we consider that a recent Gallup poll estimates 5% of Americans are vegetarian then only about 3,000 people a year share my same mission: find meatless food on this remote tropical island. (Wait. Not all visitors to Lanai are American. Wait. Is this some kind of probability problem?) Well, either way I expect about 4 people total to be interested in reading this blog post about my vegetarian lunch at Views at the Four Seasons.
Dining options are limited on Lanai, whose population is estimated at about 3,100 people. I tried my trusty vegetarian restaurant app, Happy Cow, before the trip and came up empty-handed: not a single restaurant listing. Trip Advisor helped a bit more and Views was on my (very) short list of places to scout out, but I decided to definitely give it a go when a Lanai local recommended it as well.
The name Views is apt, as the first thing that hits you when you walk in is that you're looking through the restaurant straight to the ocean. I think the word jaw-dropping is appropriate here.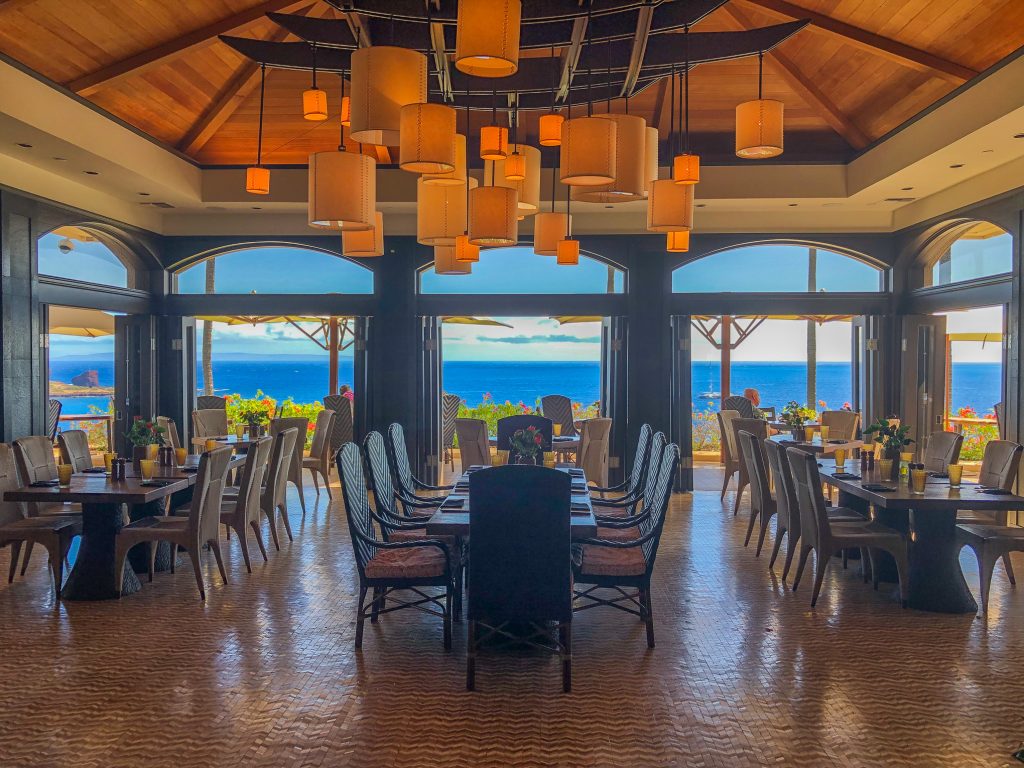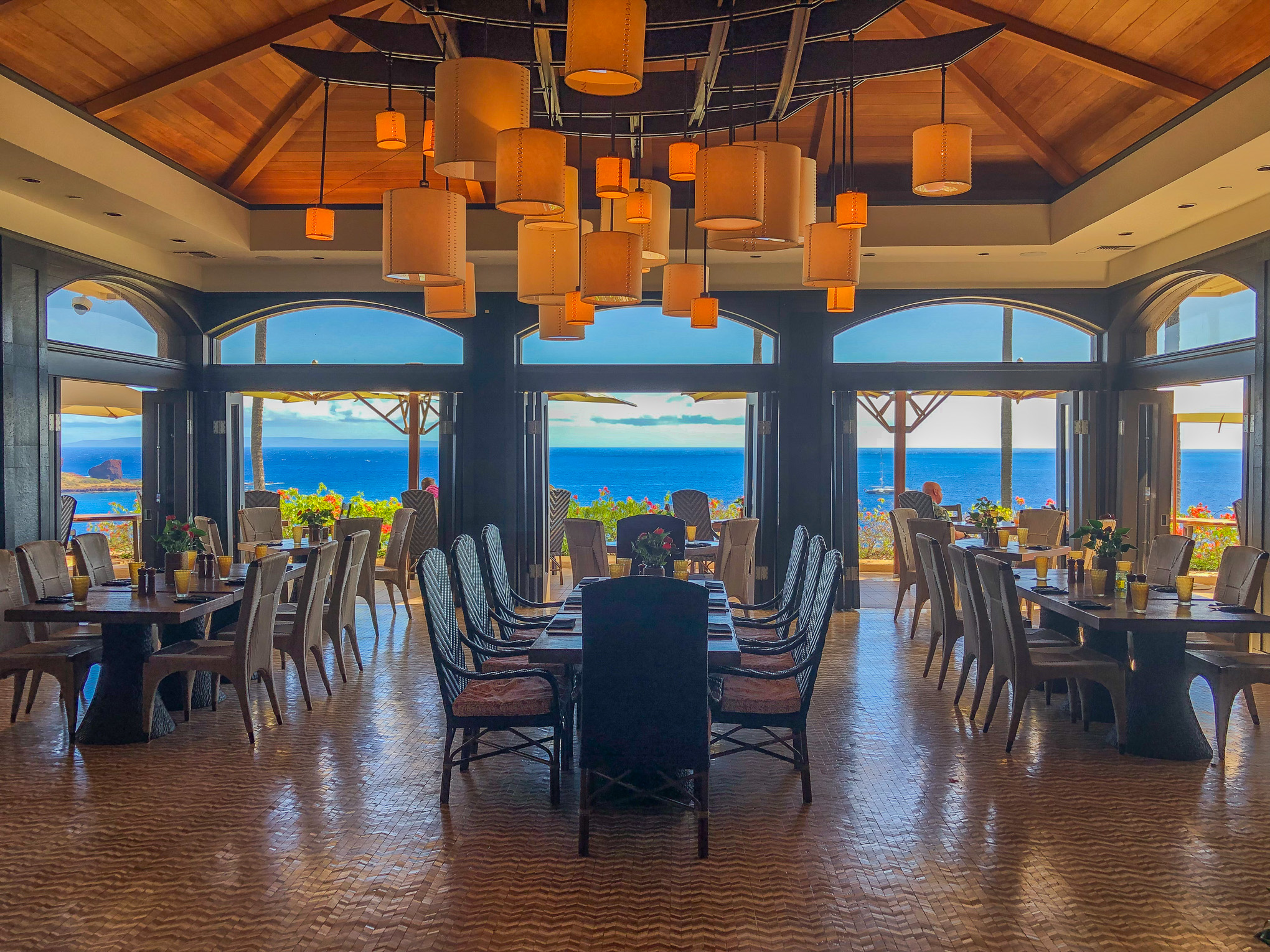 We were quite pleased to be given a table on the patio overlooking the golf course and ocean. Though I am prone to exaggeration, I don't think I've ever eaten a meal anywhere this unbelievably lovely before. Honestly. During the hour or so we were there I just couldn't get over the view, including the vibrant colors and tropical foliage.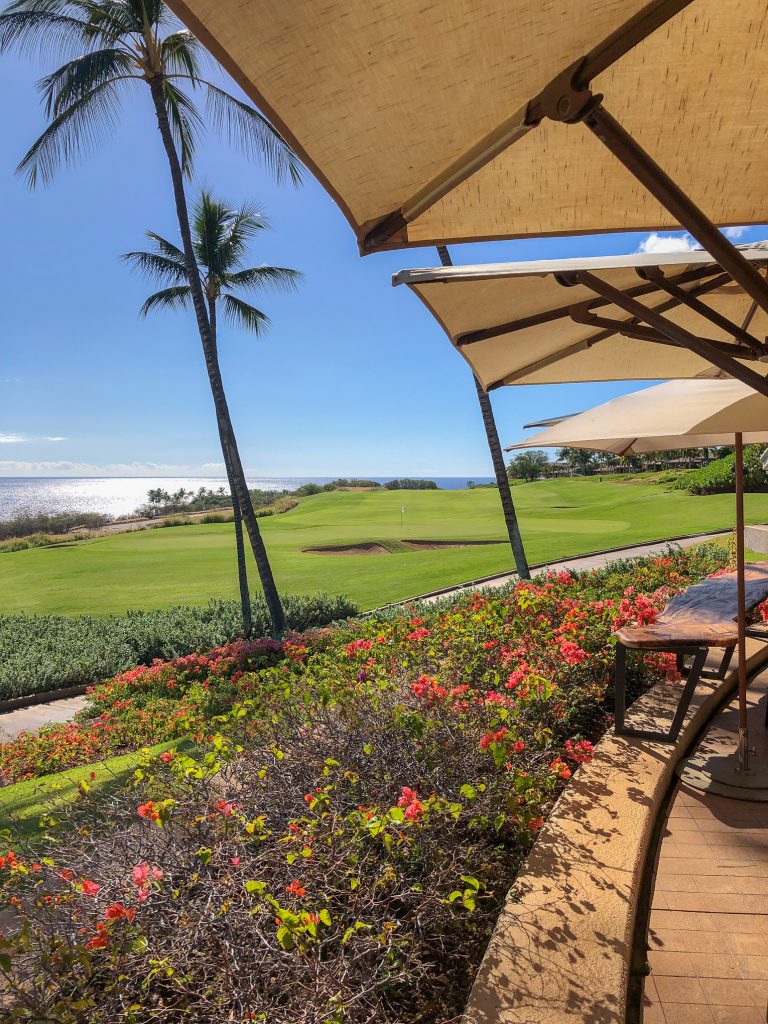 But let's get down to the food, shall we? Or rather, beverages first.
It was rather temperate that day, peaking maybe around 75 degrees. But the sun was a-shining and I was yearning for some kind of refreshing non-alcoholic beverage fit for a sweaty tourist. I opted for the Peach Refresher with lemon, honey, rosemary, ginger, and nutmeg and it hit the spot perfectly. See how vacationy it looks!?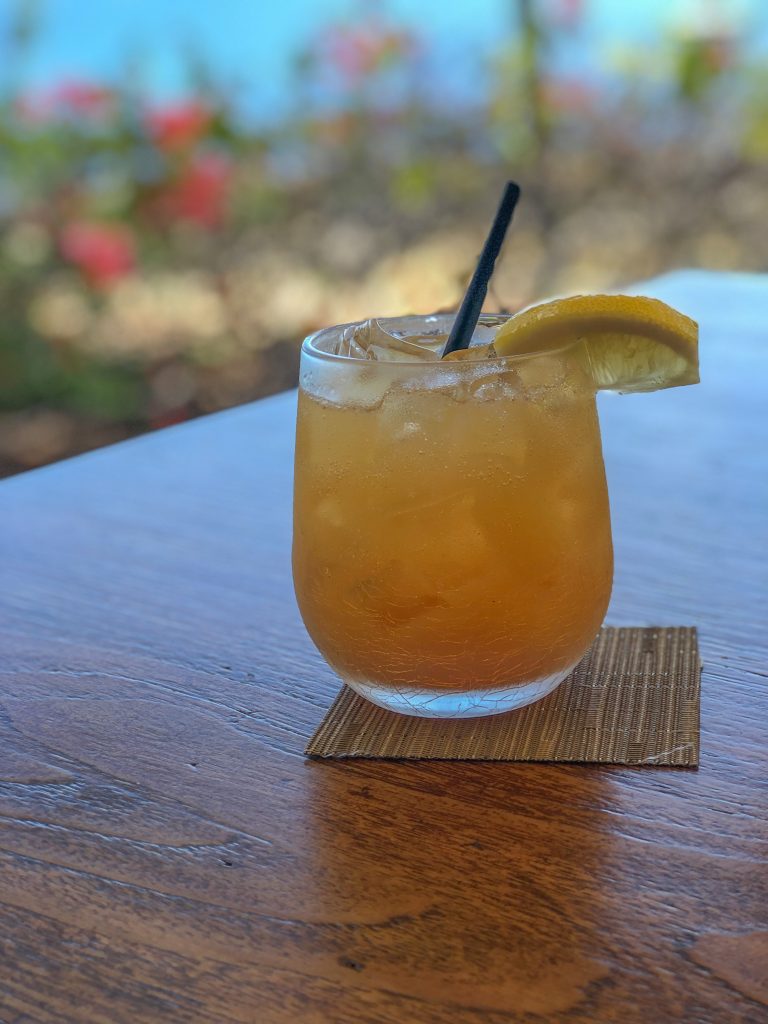 Jeff opted for the Grapefruit Refresher with lime, ginger beer, and cinnamon and was equally satisfied and refreshed.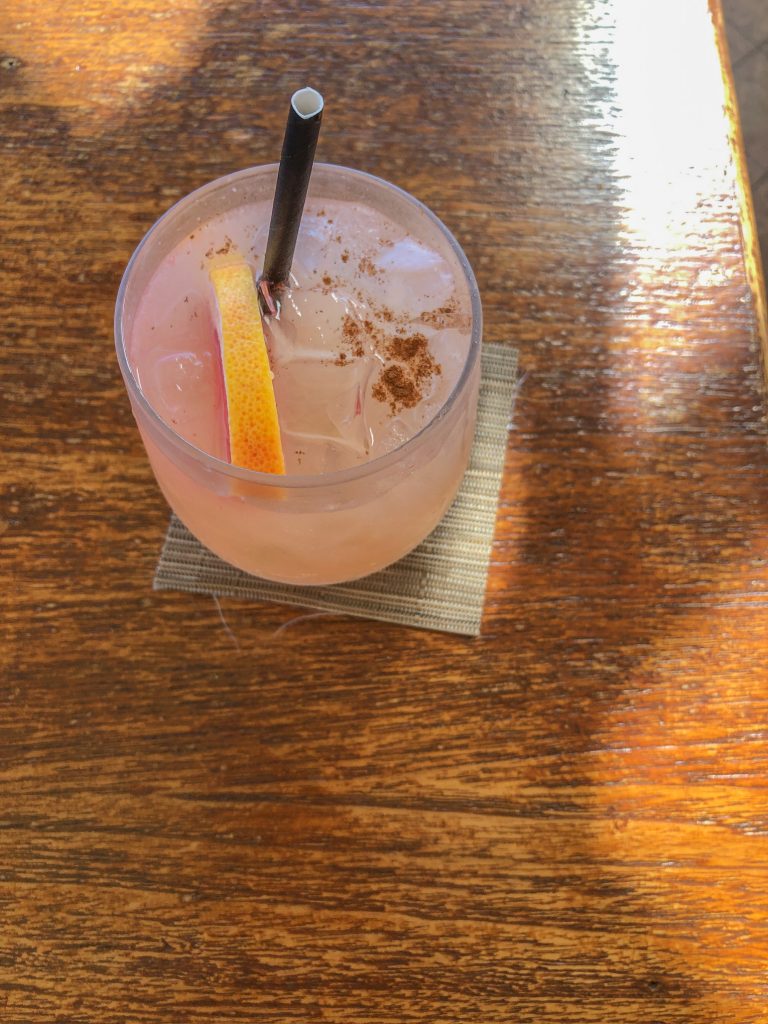 I did fit the vegetarian stereotype by ordering a salad for lunch, but man it was a hearty one. No limp iceberg lettuce here. The Whole Grain Salad had (not surprisingly) two whole grains, along with fruit, veggies, seeds, and nuts. And it was stacked a mile high.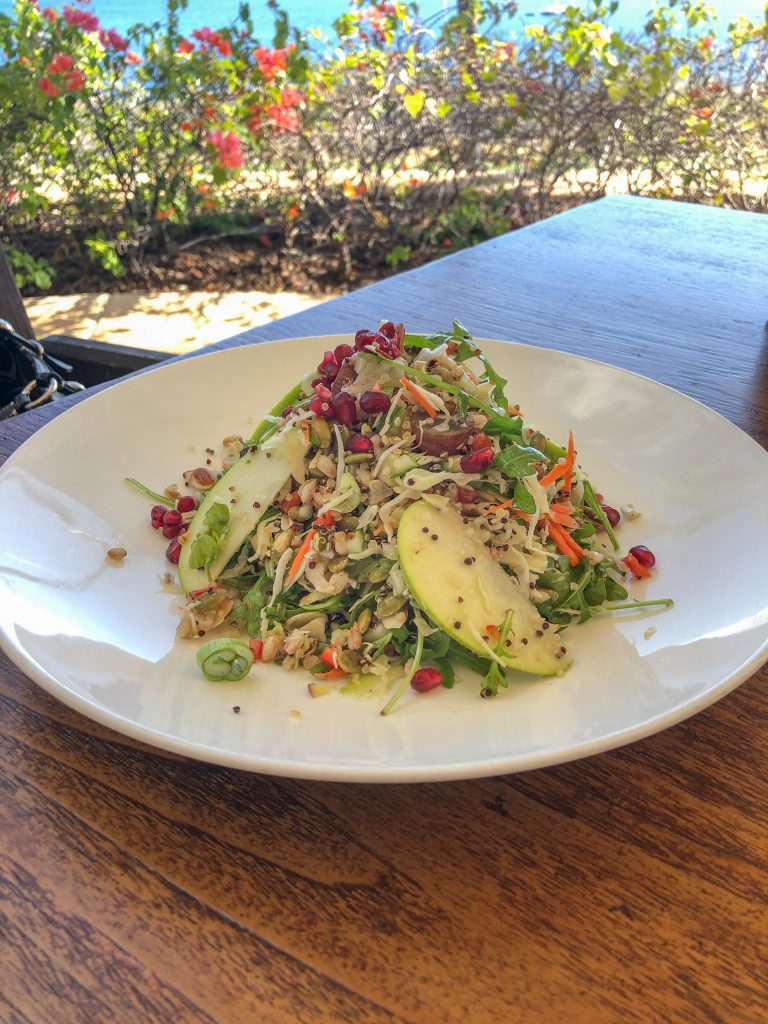 The texture was definitely my favorite part with crunch and crisp and sweet and tart in every bite. I would have loved a stronger maple presence from the dressing, but overall was pleased with my selection. It was such a large, substantial salad I couldn't even finish it.
Jeff ordered the Mediterranean Bowl, which was loaded with plant protein and greens, so he was healthy and happy.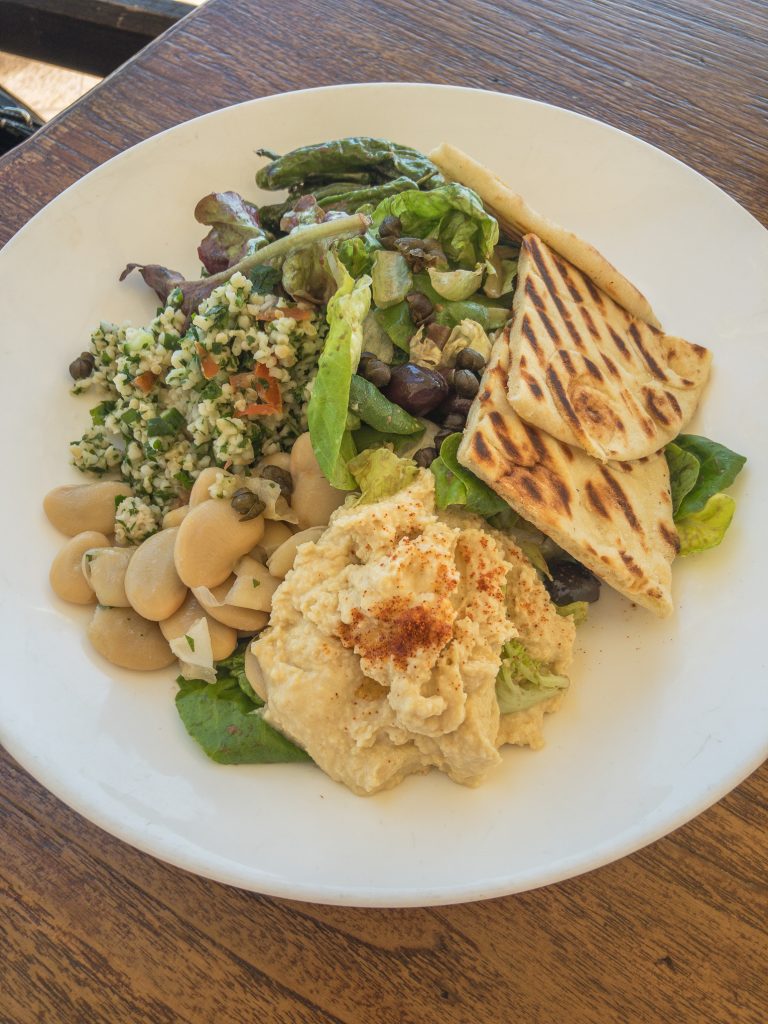 MEDITERRANEAN BOWL Chopped Mixed Greens, Cannellini Beans, Chickpea Fritter, Olives, Butter Beans, Tabouli, Capers, Shishito Peppers Hummus, Pita, Lemon Herb Za'atar Dressing
Keep in mind we were on a remote island at a swanky hotel, so lunch was not cheap. In fact it was the opposite of cheap. You could even say heart-stoppingly expensive. But it also felt like the quintessential Hawaii al fresco dining experience with the wind and the waves and the rays of sun, and I was so grateful for the peaceful afternoon meal in the middle of the ocean.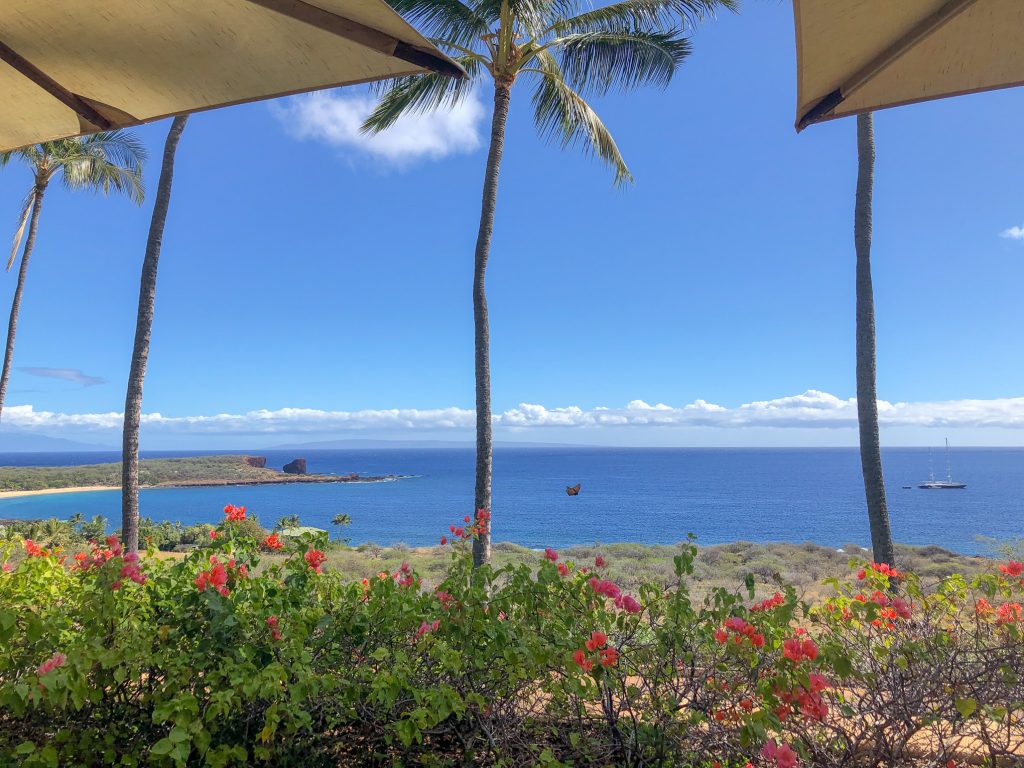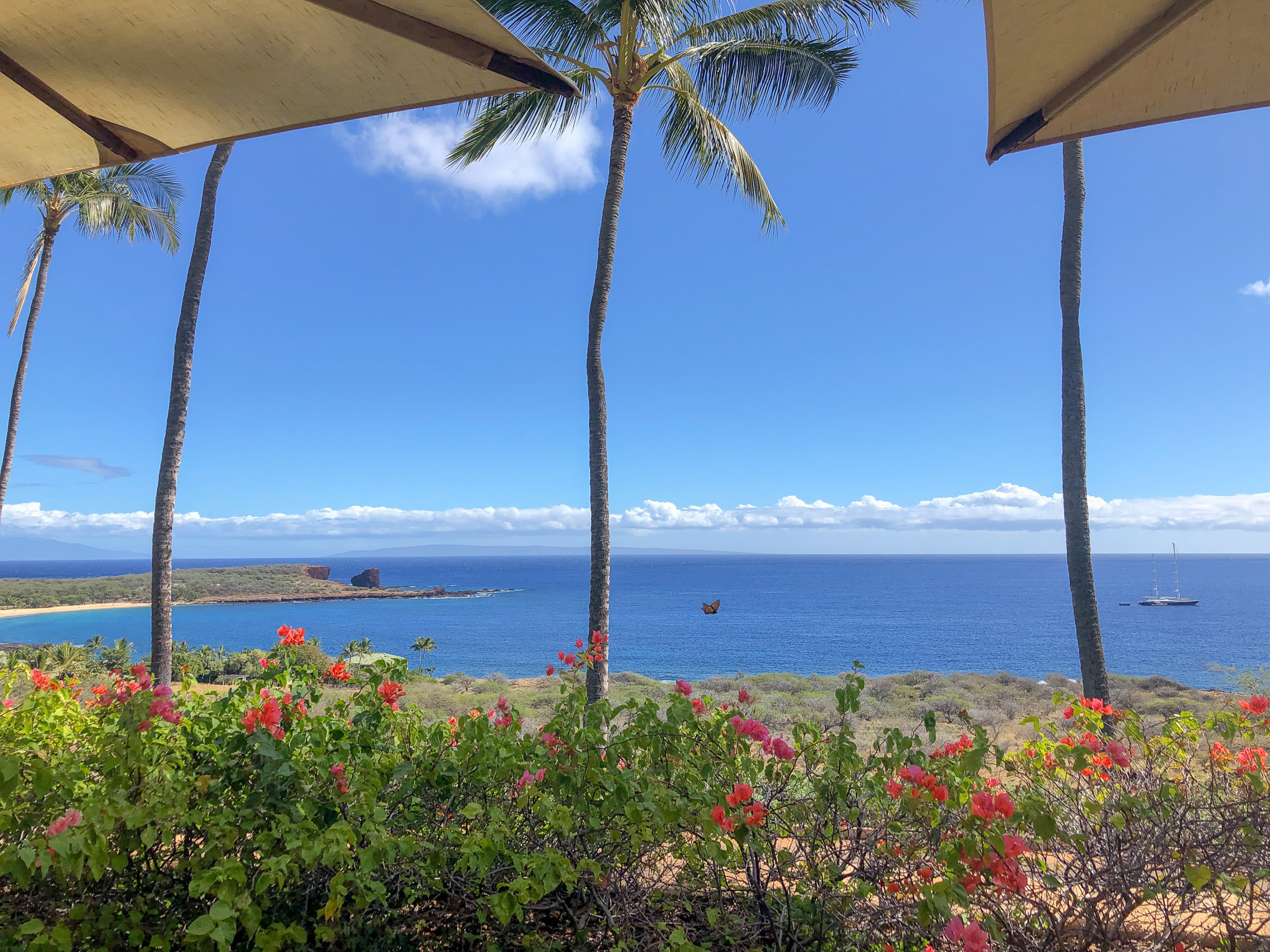 If you find yourself on Lanai anytime soon I hope you'll check out Views, even just for a drink to enjoy the ambiance. I dare say it is unrivaled, at least based on my one, 6-hour visit to the island. I'm planning to add it to the Happy Cow database so the next time one of the 2,996 veg-heads that don't read this blog takes a tropical vacation, they'll know the perfect spot for lunch.