The last time we were on Maui was 2005. Back then it was a challenge to find more than a couple of vegetarian-friendly restaurants. 2018, however, is a different story. We recently stayed for 6 days in Kihei, ate most meals out, and still didn't get to all the spots on my list of possibilities. But one cafe really stood out, and sadly, we had dinner there the night before we left. If only we'd found it earlier in the trip, Harvest Cafe could have made us happy on repeat visits for brunch (they don't open until 10:00 am), lunch, and dinner.
Update April 2019: Unfortunately, this restaurant has closed permanently. 
Harvest Cafe is 100% vegan and gluten-free. It's small, but incredibly welcoming. We were greeted warmly by the owner as soon as we walked in. The menu is enticing and after taking a while to read through everything I was still undecided. I asked for advice and the owner recommended the Mana Bowl, one of their most popular items.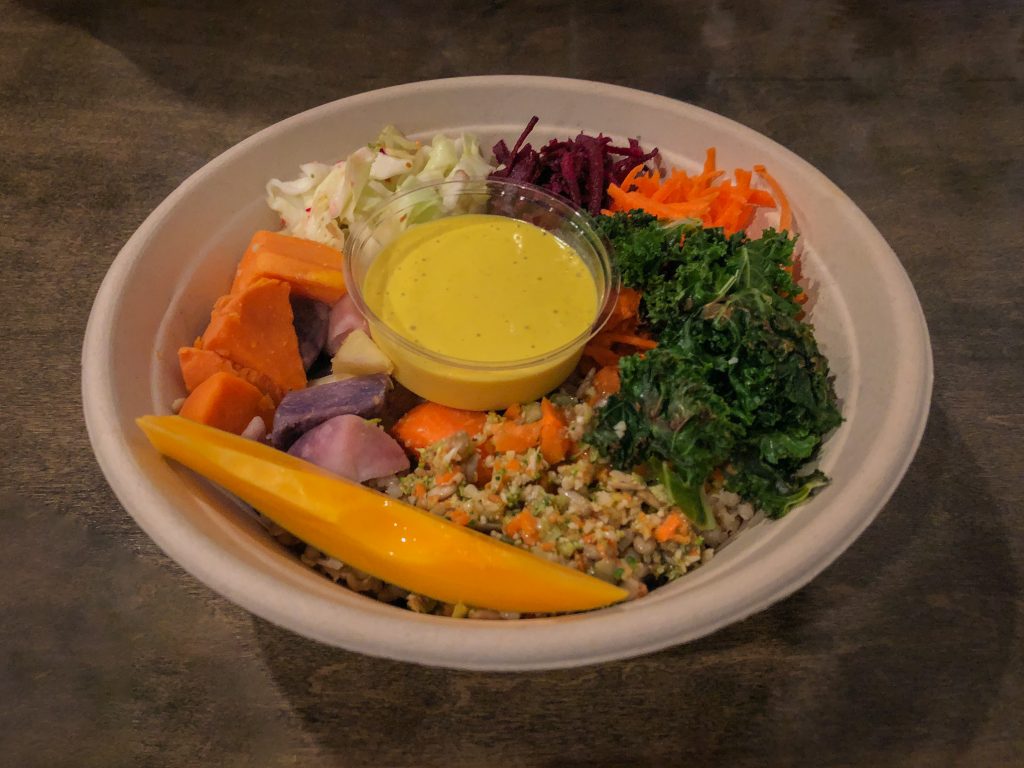 Sweet potato, sautéed green vegetable, Ka' Awa Awa cabbage, avocado, beets, carrots, coconut rice, and tahini-ginger-turmeric dressing. (I opted for no avocado, so they added a slice of papaya.) Served with your choice of veggie sausage or veggie-seed chop. (I went with the veggie-seed chop.)
The veggie-seed chop is a creative menu option that amps up the protein for the plant-based crowd. It's made with pumpkin seeds, sunflower seeds, cauliflower, and broccoli all cut up into teeny tiny pieces.
The Mana Bowl was satisfying and filling and the best part was the tahini-ginger-turmeric dressing. But I didn't pay too close attention to the details of my meal because as soon as I tasted Jeff's meal I was completely sidetracked.
He ordered the Tiki Taco Bowl and it blew me away. If I allowed myself to curse on the blog I'd tell you it was effing crazy good.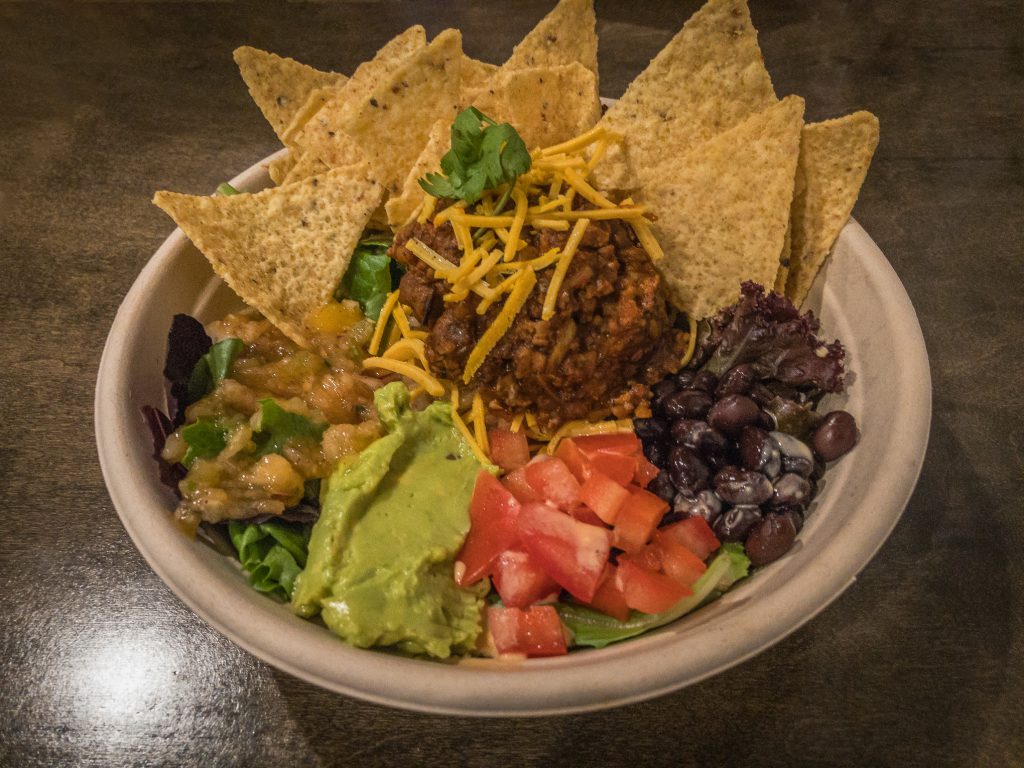 Coconut rice, seasoned veggie ground, tomatillo green chile sauce, lettuce, tomato, avocado, veggie cheese, black beans, Hawaiian salsa, tortilla chips.
The veggie ground was what made the bowl so remarkably good. I asked the owner for the deets and he said it was the Beyond Meat's Beefy Crumbles that they buy and then season in-house. Beyond Meat burgers and crumbles are made primarily from pea protein isolate and canola and sunflower oils, with some additional seasonings. The products were a big deal when they first came out because they are so meaty…for something made of peas. I'd seen articles and tweets and all kinds of press about it but never actually got a chance to taste the product, until now.
As a child, we had tacos for dinner a lot. The standard in our house was ground beef seasoned with those little packets of taco seasoning, stuffed into hard taco shells. Harvest Cafe's seasoned veggie ground was the closest I've come to recreating that taco experience since I've been a vegetarian. I was not expecting that and I was so nostalgically pleased.
I should back up, because before I ordered food, I ordered a beverage. One of my all-time favorite sips is horchata and it just so happens Harvest Cafe makes their own; none of that food-service powdered stuff you mix with water that's grainy and overly sweet. They have created a near perfect mix of organic rice milk, cinnamon, and agave. It was fantastic, it was creamy, and it was the first thing I put in my mouth after we arrived. They started by impressing me with horchata, which set the stage for the fabulous meal to follow.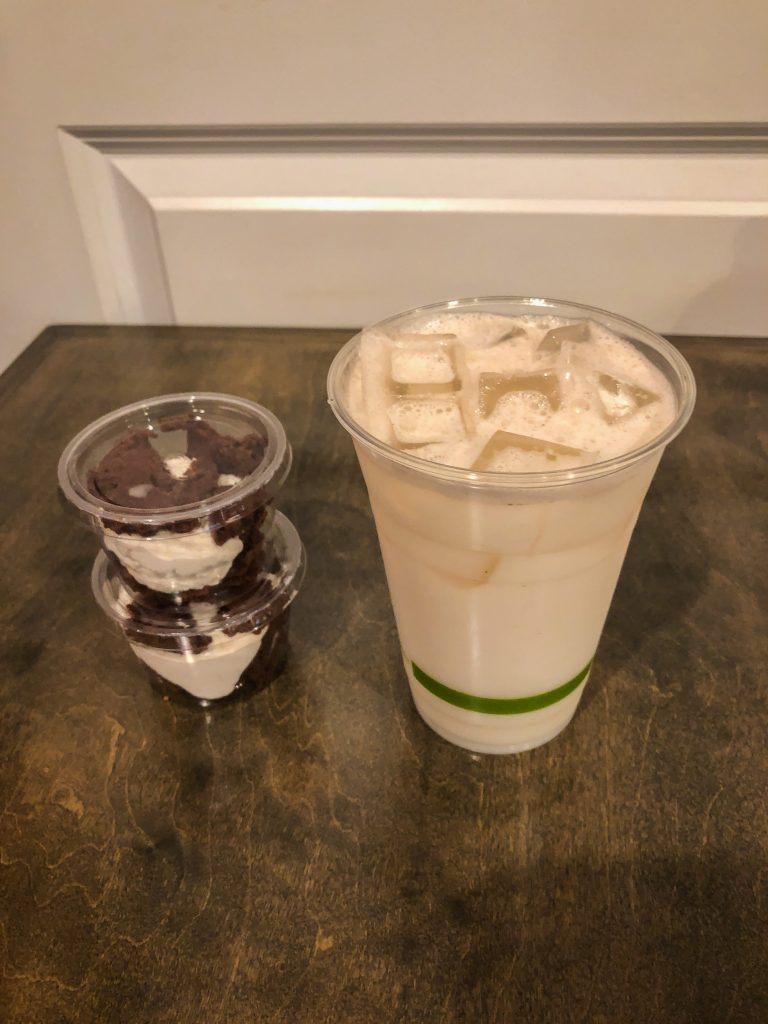 You may be wondering what those little cups are alongside my magical horchata. Well, they are dessert: Cookies and Cream Cups. The cream is vegan, so I'm guessing probably whipped coconut cream. And the cookies are soft instead of crunchy so the whole thing reminded me more of a whoopie pie in a cup than the traditional crunchy chocolate sandwich cookies and cream. Either way, I'm not complaining. It was delicious. Really delicious. Super delicious. And look at the sensible portion size! (Truly, could this place make me any happier?)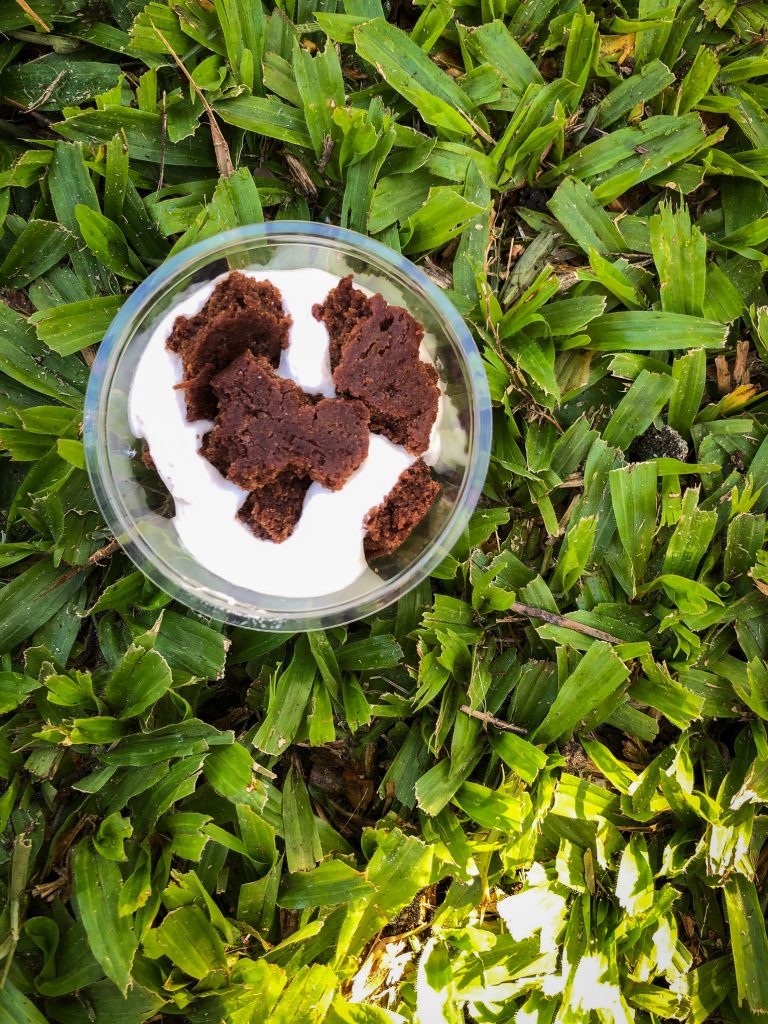 A quick note about finding Harvest Cafe; the restaurant location is a bit confusing. Google Maps took us to a residential area that just didn't feel right. So we tried locating the place the old fashioned way: using the street address and our eyes. We finally spotted it in a strip of businesses along Kihei Road but it wasn't immediately obvious where to park. Turns out there are plenty of spots behind the cafe. You are allowed to park in the guest spaces in the adjacent apartment complex. Trust me, it's worth the extra effort to get yourself to the cafe.
If only we'd found Harvest Cafe a few days earlier, I could have eaten more of their 100% plant-based food and written a much longer post. But I'm grateful we found it at all, grateful that I finally got to try Beyond Burger, and grateful that I can tell you to go there yourself. I've got lots more Hawaiian dining adventures to blog about in the coming weeks, but I started with this one because it was by far the best meal we had in Kihei.
If you liked this post, you may also enjoy: