This isn't just a list of vegetarian-friendly restaurants in Bellevue. It's a list of vegetarian-friendly restaurants in two tenths of a square mile in Bellevue. The hub, if you like, of this bustling city 10 miles east of Seattle. Bellevue is a shopping destination; home to industry giants like Expedia, Drugstore.com, and The Pokéman Company International; and a decidedly welcoming place to eat for the plant-based among us.
My list of 10 is by no means comprehensive. I'd have to move there or start a new blog to cover all of the options in all of Bellevue sufficiently. But for now I'll start with a few of my favorites so that as you're wandering among the bright lights of this big city, food will never be too far away. None of the restaurants I've included are exclusively vegetarian, just veggie-friendly, and they are listed alphabetically below and mapped for your convenience:
With 6 locations in and around the Puget Sound, and 3 in California, Blue C Sushi's clearly labeled vegetarian menu isn't exclusive to Bellevue. And if you're a fan of the sushi conveyor belt, which parades all of your delectables past at eye level, you should be quite happy here.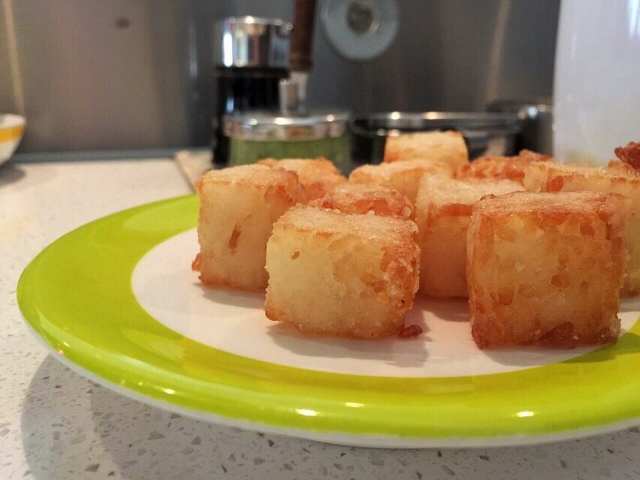 My favorite but elusive sushi roll is the vegetable tempura roll. There used to be a place in Bellingham that turned me on to it, and it was the only thing I ever ordered. I was in such a rut (edamame, green tea, and vegetable tempura roll please) that the staff essentially just started asking if I wanted the usual. They've since closed, and on my quest to locate another source for this perfectly textured roll, it's been my experience that not many sushi places have it on the menu. So I was beyond pleased with Blue C's crispity, crunchity tempura green bean, yam, zucchini, and onion roll.
I also had two so-so items: the edamame puree with wonton chips (sounded fantastic but didn't really deliver on flavor) and the crispy sushi rice (reminiscent of a Japanese tater tot, but just OK). The sesame green beans, however, really redeemed things. They were magnificent, cooked perfectly, and dripping with a sweet and tangy sauce.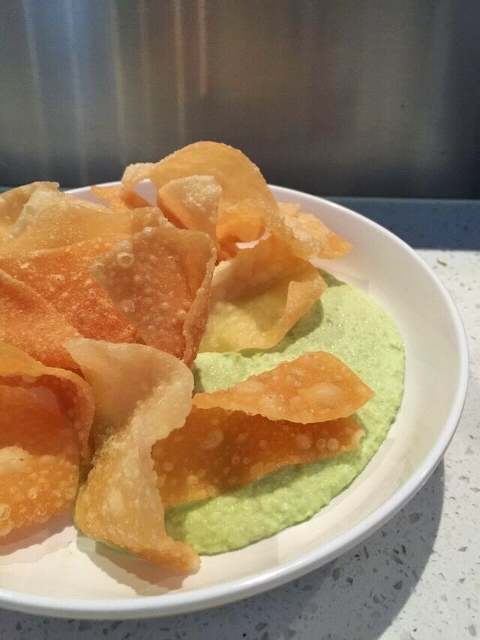 I'm in a bit of rut here, too. I always order the fresh vegetable salad, but after perusing the menu in detail I see so many others I'd like to try next time including the falafel salad, kale and quinoa salad, and the vegan cobb salad. Despite the boring name, the fresh vegetable salad has this colorful list of fixins: asparagus, green beans, tomato, cucumber, roasted beets, apple, edamame, radicchio, romaine and white cheddar all chopped with pomegranate vinaigrette. I don't mean to suggest that salads are the only vegetarian option here. You can build a meal with all kinds of meat-free dishes, including stuffed mushrooms, soy-glazed edamame, Evelyn's favorite pasta (with roasted vegetables), or a roasted pear and blue cheese flatbread.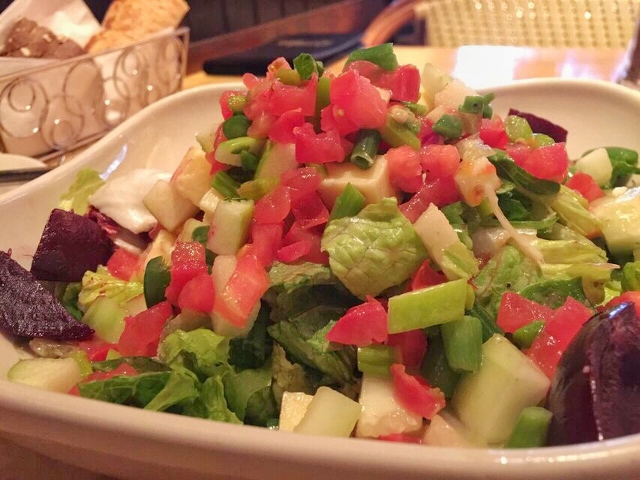 This meal was a nice exercise in contrast. In my mouth. The salad (which met all my sweet, tart, and crunchy criteria) was served ice cold and the bread was served perfectly warm. My only complaint is that I think my edamame was missing. (Can you find any in the picture above?) If you're not a Washingtonian, never come to Belleuve, and so far this list seems essentially useless, this is where it gets good for you: Cheesecake Factories are in virtually every state of the nation.
I've been here a handful of times and I still get confused about how to find the front door. There's no convenient street-front entrance. It's part of the Bellevue Collection, and you enter from a parking garage near Crate and Barrel. But once you get in and get seated, you smell fresh pizza and forget about the maze required to get there. (This location has moved to 10600 Main St. in Bellevue.)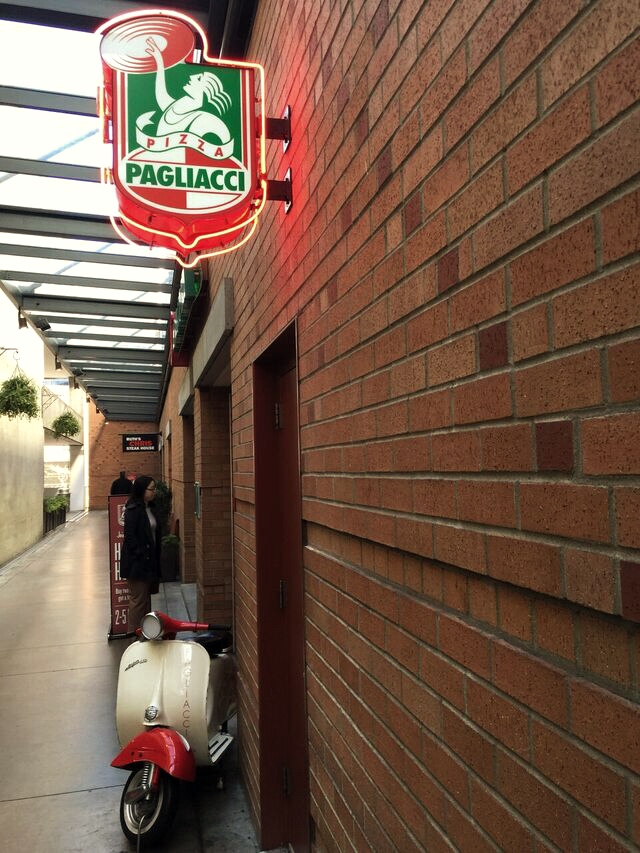 I had a solo lunch recently and made a satisfying meal of soup, salad, and bread. The soup of the day was celery root and potato, vegan, and wonderful. I'm impressed when I see celery root on the menu anywhere, anytime. The spinach salad was incredibly fresh, and not overly dressed, which I so appreciate. However, I had some functional issues with it. Some pieces of spinach were as big as my hand, which made it a rather ungraceful proposition to eat. And when I slowed down enough to look, I surmised that perhaps a single strawberry had been sliced up over the whole salad.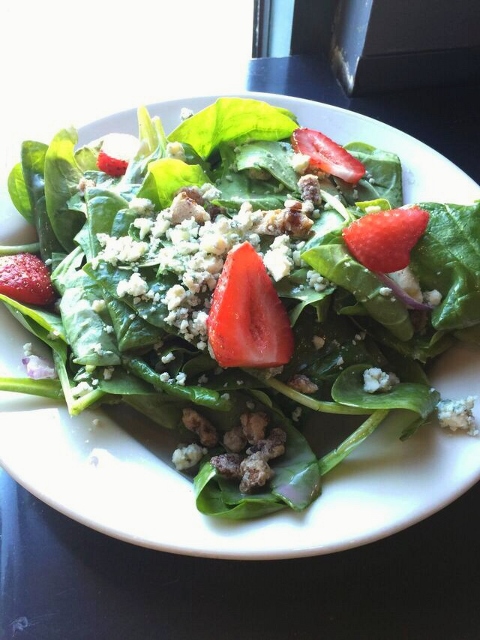 Pagliacci's prints nutrition information on the back of the menu, which is admirable. Be cautious, though. My small salad was listed as 2 servings which made the calories, etc. a bit easier on the eyes but not very realistic. And I ordered the centioli (super-thin pizza crust covered with olive oil, sprinkled with red pepper flakes, garlic, fresh parsley, fontina, and mozzarella) because I wanted a bread-like item, not realizing my soup came with a Macrina Bakery breadstick. (Macrina also makes my beloved hot dog buns for Po Dog veggie dogs.) Turns out it was a bit of carbohydrate overkill. So the centioli came home with me and we had it for dinner that night.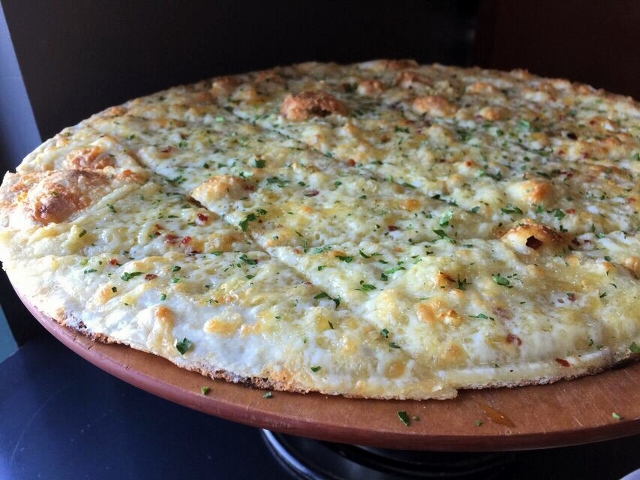 Do you know about shrubs? (The drinking kind, not the green and fluffy hedge kind.) It's a sweetened, fruity drink made with vinegar and fizzy water. They're quite popular around the blogosphere (here, here, and here). A friend and I had a lovely ladies' lunch at Purple a few months back and it was the first restaurant I'd ever been to that had shrubs on the menu. I was very happy with a huckleberry cinnamon number that was beautiful to look at and zingy to sip on.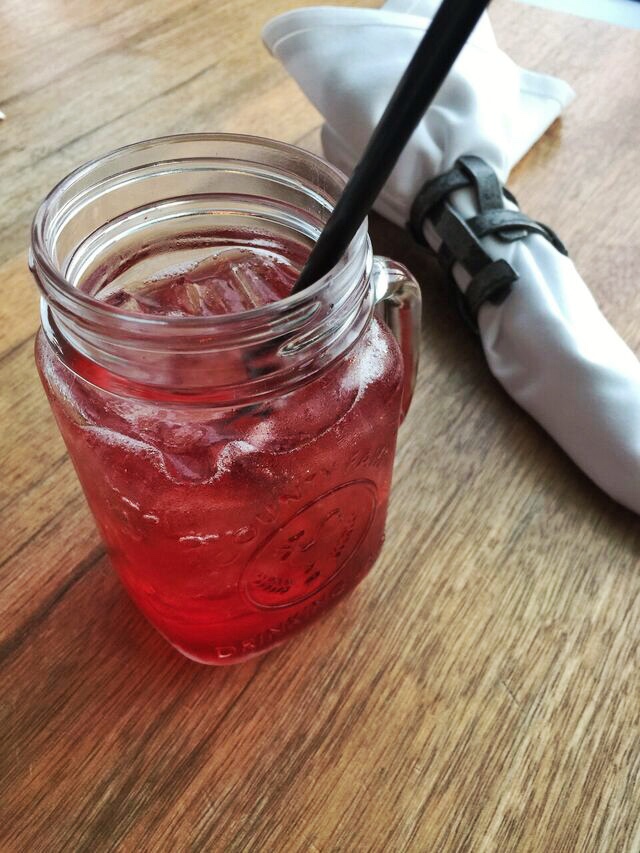 We ordered several different items with plans to share. First up was the highlight: champagne poached pear bruschetta. It has a perfectly crisp top crust but the bread was soft inside. The firm pear topping with just a hint of blue cheese (Cambozola) was generous and not overpowering. It was finished with a dusting of freshly ground black pepper. Simply fantastic.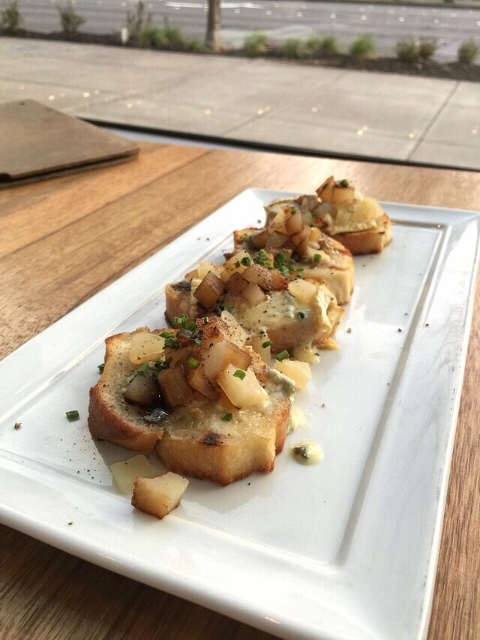 We followed that with the kale Caesar. It was a great mix of romaine and kale, so it was crisp like you'd expect a Caesar salad to be but with a few dark green leafies snuck in as well. The dressing was light and the croutons flavorful. It was a refreshing pairing with the very rich and creamy pesto pasta which finished out our 3rd course. Keep in mind you may not find these exact items when you visit, as the menu changes seasonally. However you will find more Purples in Kirkland, Seattle, and Woodinville.
None of these restaurants making your stomach growl? There are still more possibilities. California Pizza Kitchen, P.F. Chang's, and Wild Ginger also have veggie-accessible menus that should please a wide array of eaters. If you're in need of a quick meal instead, there are a few stops I can recommend in our little centrally located neighborhood:
Once Chipotle gets their food safety mess under control, I'll be back as a regular customer, and they've got a spot in Bellevue.
Evolution Fresh will set you up with what feels like all the fruit and vegetable servings you need for the day in one meal. (I've included reviews of Chipotle and Evolution Fresh in my post on recommended fast food joints which you can read here.) 

UPDATE October 2016: The Bellevue location of Evolution Fresh has closed. They still have spots in downtown Seattle and University Village.

Homegrown Sustainable Sandwich Shop has been successful in Seattle proper and beyond, and now has jumped the pond (Lake Washington) to set up their 10th location in Bellevue. For more deets you can read my review of Homegrown here.
I'd say the bonus to most of these places is that they'd please your non-vegetarian friends and fam too. So, if your Aunt Jean isn't ready to meet you at the all-vegetarian Jujubeet Artisan Juice Bar, you've got some other options where hopefully everyone can be happy. And Pagliacci's makes it easy on you; they have 3 locations in Bellevue alone. With these odds, if you're shopping at Belle Square or conventioning at Meydenbauer Center you may not be able to keep from running into one.
I'm positive there are other good places I've missed. What suggestions do you have for my list for next time?
If you liked this post, you may also enjoy: