Drinks matter. What we choose to swig and slurp can contribute calories and nutrients, be a significant part of our overall meals, and sometimes even serve as an entire meal on its own (smoothies, white chocolate mochas, 1100-calorie Jack in the Box Oreo Cookie Ice Cream Shakes, you know what I'm talking about). And most of the nutrition advice out there about drinks comes across as discouragingly negative: don't drink soda, don't drink diet soda, don't drink too much coffee or alcohol, etc. The main positive message we hear is to drink more water, which is fantastic, but also sometimes boring if that's all we drink 365 days a year.
So I get incredibly excited when I find a healthy recommendable drink to rave about which is exactly what I have for you today. This one's easy and low-calorie, feels kinda fancy and comes in a multitude of flavors. It's called a shrub. I know; the name's kind of homely, and a little confusing (my husband asked why they chose a word that already meant something else), and doesn't really speak to the sparkling potential of this beverage. But stick with me, 'cause this one's a keeper. Sometimes called drinking vinegar, a shrub is just some really delicious and kinda sweet vinegar mixed with club soda. The vinegar can also be used as a mixer in cocktails but the style we're talking about today is non-alcoholic.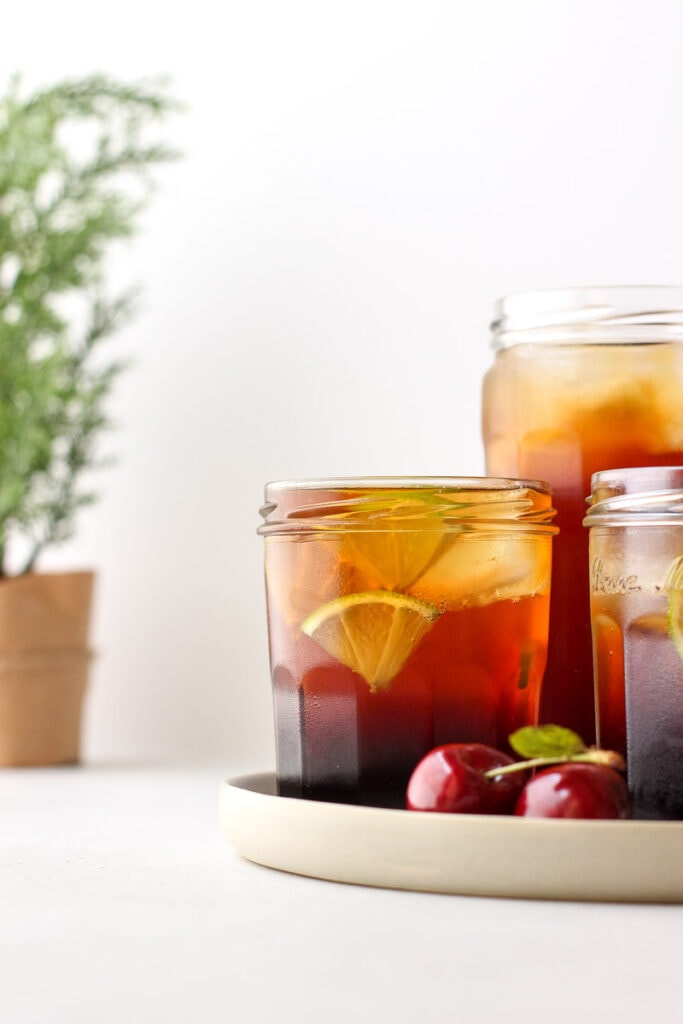 I first mentioned shrubs in my last post along with some links to suggested recipes to make your own vinegar syrups. I recently made a Cherry Vanilla Maple Shrub that was incredible. But if you want to give this a go the easiest way possible, you can just buy the flavored vinegar and stir things up straight away; no waiting for things to macerate and infuse overnight. Or longer. Or until you forget you even made the darn thing and it gets pushed to the back of the fridge behind the mostly empty bottle of hoisin sauce.
But where do you get the special vinegars of which I speak? I'm lucky enough to have a local business in Bellingham called Drizzle Olive Oil and Vinegar Tasting Room. I was there a few weeks ago to buy a gift for some friends, when I saw this sign: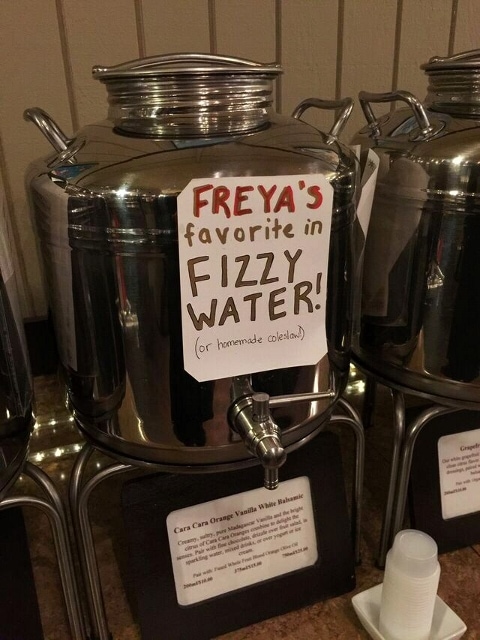 Luckily, they encourage tasting. After sipping the Cara Cara Orange Vanilla White Balsamic straight up, I was convinced: tangy, twangy, crisp, syrupy, and intensely sweet and sour. I took home a 7-ounce (200 ml) bottle of the creamsicley potion and was immediately smitten. I finished it in about a week and was ready to go back for more. This time I asked if by any chance they'd suggest other possibilities for drinking, and that's when I engaged in some more serious taste testing. They said any of their white balsamic vinegars (of which they have 14) would be delicious. I left with 4 more bottles:
Cranberry pear balsamic
Sicilian lemon balsamic
Coconut balsamic
Cara cara orange vanilla balsamic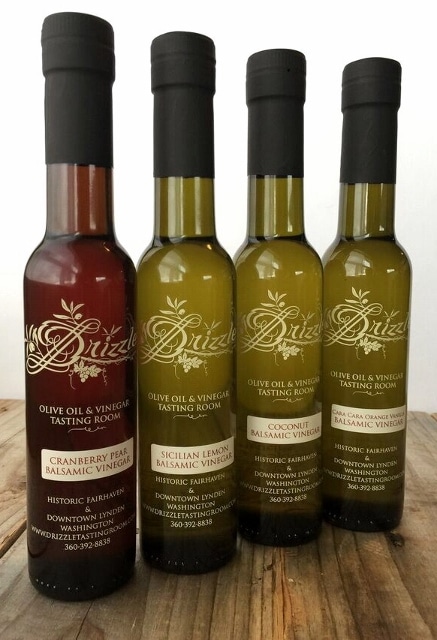 Since then, I've become a regular shopper and discovered some new dark vinegar favorites including black cherry, espresso, and dark chocolate. This brings me to the trend of making a Coke substitute using balsamic vinegar and fizzy water. I experimented a little myself and the dark chocolate balsamic came much closer than traditional "plain" balsamic in creating a passable cola substitute.
The staff let me know some interesting tidbits during my initial visit. First, the white balsamic vinegars are made with Trebbiano and Lambrusco grapes which are naturally very sweet, so the vinegars get their sweetness from this natural fruit sugar and have no added sugar. They also noted that the acidity level of their vinegars was lower than normal at 4.0-4.5%. I did a quick check in my pantry and found that my red wine vinegar was 5.0%, plain white balsamic was 5.4%, and traditional balsamic was 6.0%. They may have a point. And I suppose if palatability is key when sampling a new beverage, this may be significant. The nutrition facts for these flavored vinegars are pretty remarkable, too: only 10 calories per tablespoon and 3 grams of sugar.
It's almost too simple to need a recipe, but just in case, here it is:
Print
Fruity Balsamic Vinegar Shrub
Want something fizzy and flavorful to drink that's not soda? A shrub is just what you're looking for.
Author:
Prep Time:

5 mins

Total Time:

5 mins

Yield:

1

1

x
Ingredients
2

to

3

tablespoons flavored white or dark balsamic vinegar, like cranberry pear or black cherry

2 cups

club soda or seltzer
Instructions
Mix vinegar with club soda or seltzer and serve over ice.
Notes
Nutrition information notes:
The values below are for a shrub made with 3 tablespoons of vinegar. The sodium is coming from the club soda, but this will vary based on which fizzy liquid you make your shrub with.
Nutrition
Serving Size:

2 cups

Calories:

30

Sugar:

9 g

Sodium:

100 mg

Fat:

0 g

Saturated Fat:

0 g

Unsaturated Fat:

0 g

Trans Fat:

0 g

Carbohydrates:

9 g

Fiber:

0 g

Protein:

0 g

Cholesterol:

0 mg
Keywords: shrub recipe, shrub drink, cherry shrub recipe, balsamic shrub, flavored balsamic vinegar
Most of Drizzle's other white balsamics were fruit flavored, but they had some herby ones as well like French Tarragon Balsamic and Oregano Balsamic, which sound quite refreshing. They specifically noted that their Honey Ginger Balsamic makes for a nice alternative to ginger ale. I'm curious to know what options you might come across as you conduct your own vinegar search where you shop. If you don't have a specialty vinegar spot like Bellingham, you might check your local food co-op, natural foods store, or Whole Foods to find a somewhat larger and more interesting vinegar selection.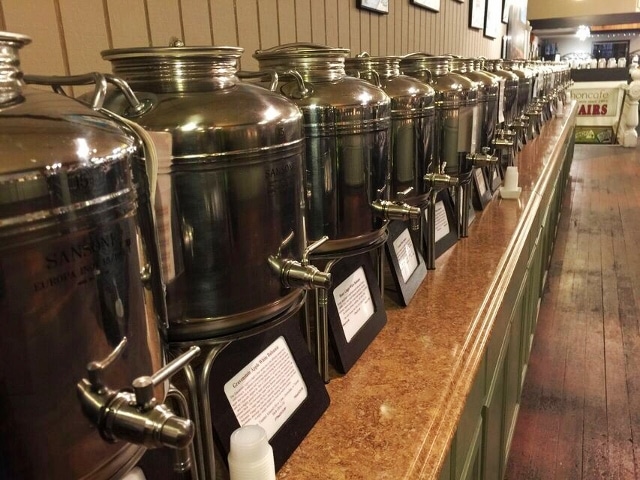 I know some folks drink vinegar (often apple cider vinegar) as a tonic with hopes of having better control of body weight or blood sugar. The best theories we have suggest it might slow down the rate at which our stomachs empty after a meal, or somehow affect carbohydrate absorption. Based on the available research, though, it's too early to recommend vinegar's use for these purposes.  In the meantime, while we wait for the topic to studied more thoroughly, my stance is that vinegar is considered safe for most everyone when used in reasonable amounts.
And medicinal properties are not why I'm excited about this beverage in the first place. It's just that comparatively shrubs stack up better nutritionally than most of our favorite bottled beverages at the grocery store. No high fructose corn syrup, no caffeine, and no artificial colors or flavors. I would think this might be a nice alternative to soda for anyone who's trying to kick the habit since it's carbonated and there are so many flavors to choose from. I also think it would be a great non-alcoholic drink to serve at parties or potlucks instead of punch. You don't even need to tell anyone that it's low-calorie.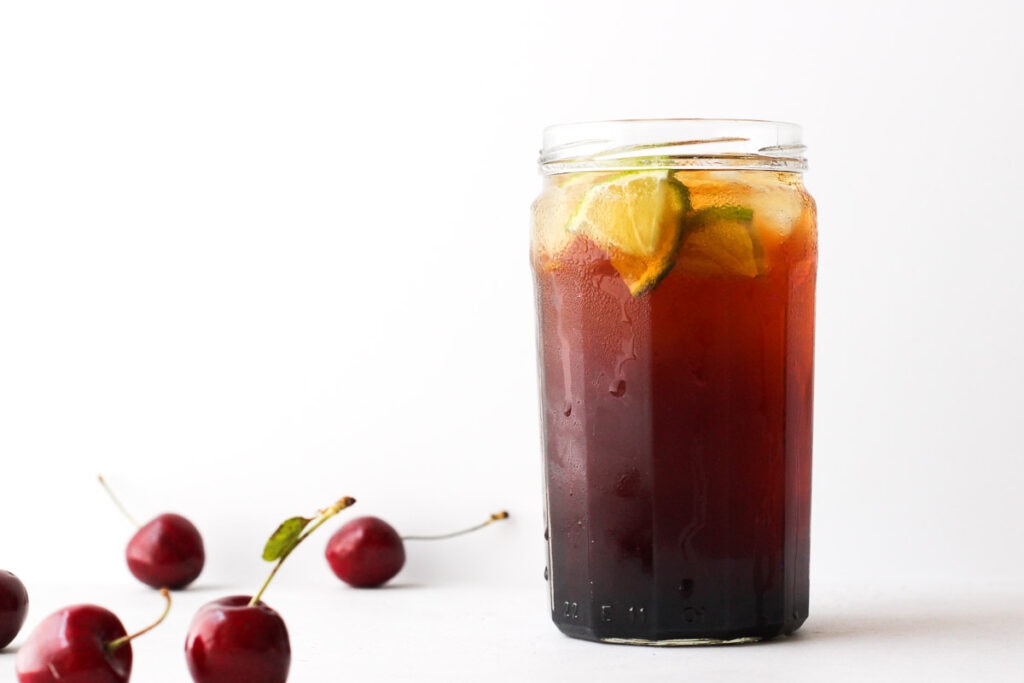 Cost is definitely a consideration. And if we don't want the price of the healthy alternative to be a barrier to behavior change, we should try to be as thrifty as possible. The smallest bottle at Drizzle is $10 which makes about 5 or 6 shrub servings, based on the 16 fluid ounces serving in the recipe. If it becomes a regular habit (like it has for me) it would be more cost-effective to get the larger 25-ounce (750 ml) bottles which would reduce the price from about $2 a glass to $1.50, depending on how strongly you mix your shrub. As of now, I'm buying club soda at the grocery store, but I've got my eye on a SodaStream which might be a smarter and cheaper way to make sparkling water at home over the long term. A friend recently told me he saw one at Goodwill, so I should probably pay them a visit.
Have I convinced you? Can you already taste the fizzy sweet-tartness on your tongue? Are you ready to conduct your own local vinegar search to see what turns up?
Because drinks matter, it pays to put a little time and energy into picking a good one. In this case, I've already done the research for you. So put down the pop bottle, find yourself some strong vinegar, and get busy drinking in the shrub.
Have you experienced this trendy liquid yet? What are your thoughts on drinking something we normally put on salad? 
While it may seem like this post is sponsored by my local oil and vinegar shop, it's not. I'm just choosing to highlight a business that's making a healthy product. I bought all my vinegar myself and I plan to remain a loyal (paying) customer.
If you liked this post, you may also enjoy: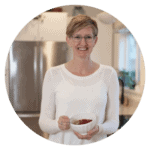 Kristine Duncan, Registered Dietitian
I'm a Registered Dietitian, the author of Veg Girl RD, and a vegetarian who loves to eat. I'm a nutrition nerd who teaches at the University of Washington and Skagit Valley College. I also write about nutrition professionally for magazines and books. If you want to know more, check out my About page.