I confess…I once wasted horchata. I spilled 16 glorious ounces of the white creamy beverage on the passenger seat of my late 80s Subaru XT. The lid wasn't on quite tight enough and I didn't taste even one sip before it was lost; my upholstery soaked up every drop. It's really a shame, considering it takes a little elbow grease to whip up a batch of this luscious, milky non-dairy milk.
Horchata, a drink made from ground nuts, seeds or grains, and common in Spain and Latin America, is one of my very favorites. To me, it is pure refreshment. For some reason, I got out of the habit of making it myself, though I order it whenever I can at a restaurant. I was re-inspired after tasting Suja's Vanilla Cloud Coconut Almond Drink to make some at home, only this time with coconut in addition to the normal rice and almond base. I started with Food 52's Horchata recipe and got about to soaking, blending, experimenting and tasting. I'm quite happy with the result and if you've never tried this cool, cinnamony, non-dairy beverage before, I hope you'll give it a go. After Jeff tasted it, he remarked, "That's one for the cookbook."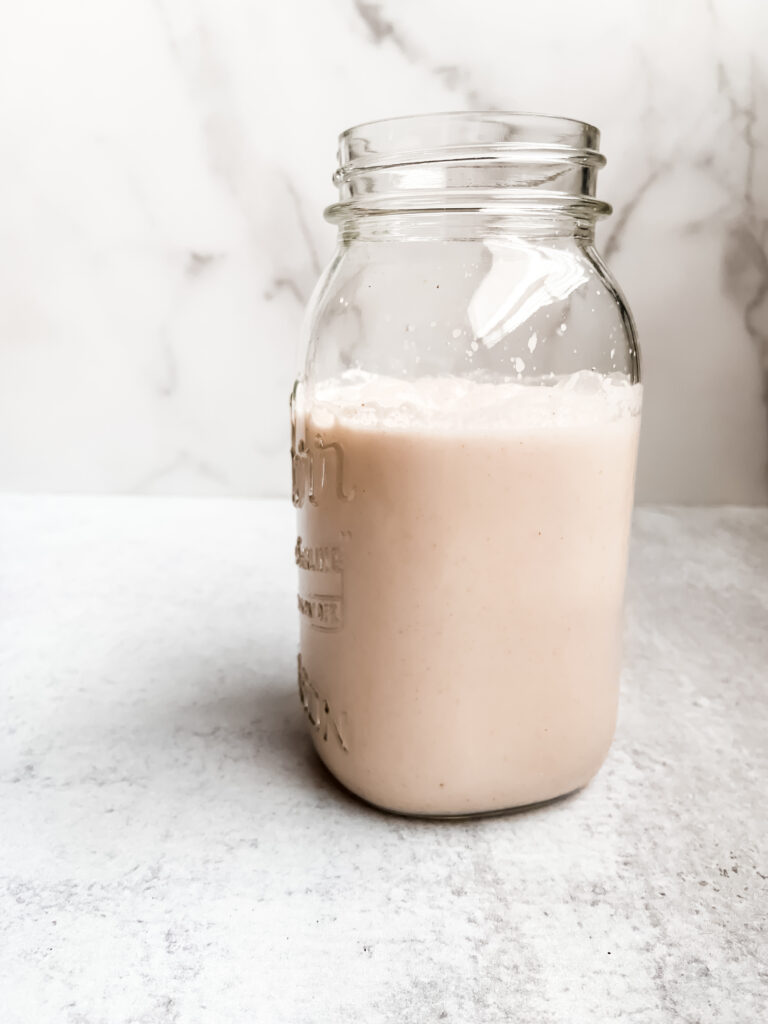 [The nutrition facts included here are an educated guess. It's a bit hard to discern how much of the nutrients transferred from the rice, almonds and coconut to the water. So, I used some numbers from plain, unsweetened almond milk, rice milk and coconut milk (the thinner, beverage kind, not the thick canned kind) and accounted for the honey. I left out numbers for sodium, calcium and iron because I didn't feel confident about them, but my guess is that they're all pretty low. My result turned out quite close to the values on the Suja product, so I'd say we're within spitting distance of accuracy.]
I should probably tell you that I burned out the motor of my 19-year-old blender while testing this recipe. I'm not sure if that's because the cinnamon sticks were too much for a standard blender to bear or because it had just naturally reached the end of its useful life. But, because of the soaking and the waiting and the anticipating, I felt compelled to find a way to finish the process. I ended up running to Bed, Bath and Beyond at 8:45 pm to buy a (high-power) replacement blender so not a single drop of my horchata would be wasted.
Do you have any fun or horrifying horchata stories to share? Or a good idea for using the leftover ground almonds, rice and coconut?
Print
Coconut Horchata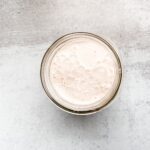 Prep/Total Time estimate doesn't include overnight soak. Makes 1 quart.
Author:
Prep Time:

15 mins

Total Time:

15 mins

Yield:

4

1

x
Category:

Drinks
Ingredients
1 1/2 cups

shredded unsweetened coconut

1 cup

sliced almonds

1/2 cup

jasmine rice (uncooked)

2

cinnamon sticks (each about 3-inches long)

5 cups

water, divided

1/4 cup

honey or sweetener of your choice
Instructions
Heat 3 cups of the water to almost boiling.
Mix coconut, almonds, rice and cinnamon sticks in a large bowl (I use a 2-quart glass measuring cup). Pour hot water over the mixture, stir and let cool for about an hour. Cover and refrigerate overnight.
Add the mixture to a blender, cinnamon sticks and all, and blend for 1 minute. You may have to intermittently stop the blender and stir things up a bit with a spoon to be sure everything is coming into contact with the blades. Add honey and 1 cup of water and blend for another 30 seconds.
Strain half the mixture into a bowl or pitcher by pressing with the back of a spoon through a fine mesh strainer or by using a nut milk bag or cheesecloth. If you can find a good use for the leftover ground nuts and rice, hold on to it…otherwise, discard. Repeat with the last half of the mixture. Stir in your remaining 1 cup of water to finish your horchata.
Nutrition
Serving Size:

1 cup

Calories:

120

Sugar:

19 g

Fat:

3.5 g

Saturated Fat:

2 g

Trans Fat:

0 g

Carbohydrates:

23 g

Fiber:

1 g

Protein:

1 g

Cholesterol:

0 mg
If you liked this post, you may also enjoy: