I've been waiting a long time for this. For years I've been wishing that someone would come up with a fast food restaurant that serves healthy stuff. I'm not the only one, of course. As the connection between diet and disease gained more footing in the health community, more of us started getting hungry for tasty, convenient options that weren't so closely tied to obesity, heart disease and high blood pressure. But, there was always the argument that when push comes to shove, no one really wants to choose salad over French fries just because they should, which meant no one would buy it. Well, the winds of change must be blowing in the right direction, because I can think of 5 great options for meatless (and mostly healthy) fast food meals, easy.
Even food journalist and cookbook master Mark Bittman agrees the time has come. In his recent New York Times article, "Yes, Healthful Fast Food Is Possible. But Edible?" he makes the case that selling this kind of food is now profitable. He thinks "improved fast food" has arrived and "good fast food" is on the horizon.
Jeff and I don't eat fast food a lot; maybe twice a month. But, that's no reason to throw common sense aside and choose poorly, especially when there are so many delicious options available that don't make me feel like I'm settling. So, here are my top 5. I should mention that my experience with drive-thrus has mostly been limited to the Pacific Northwest, so you probably have some different chains or local spots to choose from in your neck of the woods.
I know, I know, there is a lot of fried food and meat on this menu. But, right alongside it are some pretty great vegetarian items.
Nutrition: There are beans on the menu (hooray!) and the option of ordering a whole wheat tortilla.
What They're Doing Right: Posting nutrition information on their menu boards, offering unsweetened iced tea as a beverage option, and limiting their side of chips to only 12 chips. That just happens to be 1 ounce and a very reasonable portion. (Since when are restaurants being reasonable about portions?)
What I Order: Veggie Soft Taco without the ranch dressing or Veggie Fit Hit Bowl with cheddar cheese and a side of chips. And iced tea. Always iced tea.
Cost:  Under $8.00.
Location: The locations in my state of Washington are apparently affiliated with Taco Time Northwest, which is a spin-off from the big chain with stores in the northern U.S. and Canada, and it looks like there are some menu differences.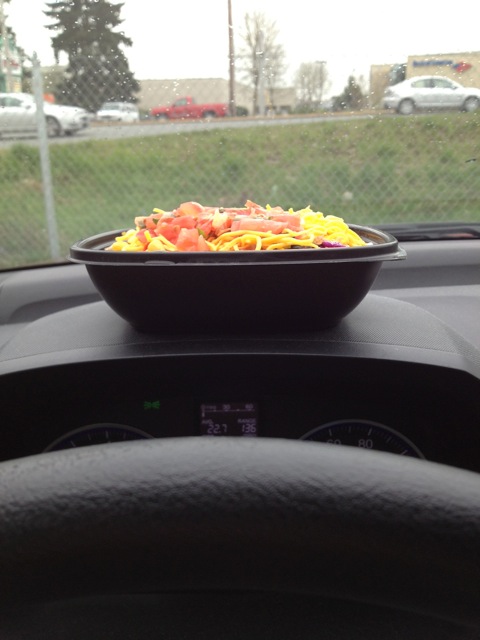 Most places these days offer one requisite veggie burger to appease the meatless among us, but these guys have not one, but two to choose from. I think we're getting somewhere.
Nutrition: The Spicy Anasazi burger is vegan if you order it without mayo or cheese and they offer apple slices or salads as sides instead of fries.
What They're Doing Right: Sourcing many of their ingredients locally, highlighting fresh berries on the menu seasonally, and printing nutrition information right on the receipt.
What I Order:  Yukon and White Bean Basil Burger without the basil aioli, side salad and iced tea.
Cost: Under $10.00.
Location: Burgerville only has locations in Washington and Oregon, but I have hopes that they'll soon take over the world.
I just ate here for the first time last week and I was blown away. They don't have a drive-thru window, but once I ordered I was out in under 5 minutes flat, so I'd call that fast food for sure. (Before ordering, I first spent a great many minutes staring up at the menu, stalled by indecision.) They originally got started with fresh juices, but have added smoothies and food now as well.
Nutrition: Can you think of any fast food restaurants that have lentils and kale on the menu? Please.
What They're Doing Right: Listing nutrition facts on the menu, using lots of organic produce, and breezily helping their customers meet the recommendation to get 5-9 servings a day of vegetables and fruit.
What I Order: Lentils, Wild Rice and Organic Kale Bowl. This is usually a cold dish, but I opted for it to be served as a Hot Simmer with their signature broth. For accompaniments I got the 16 oz. Sweet Beet Juice and Belgium Chocolate Granola Bar (This one's on my list to try to recreate ASAP. It was chewy, chocolatey and fantastic.)
Cost: Pricey. There's no dollar menu here. This deliciously nutritious menu cost me $21.00.
Location: Currently only in Washington (Seattle or Bellevue) and California (San Francisco). I'll try to drive up demand around here so they can make their way to the other 48 states.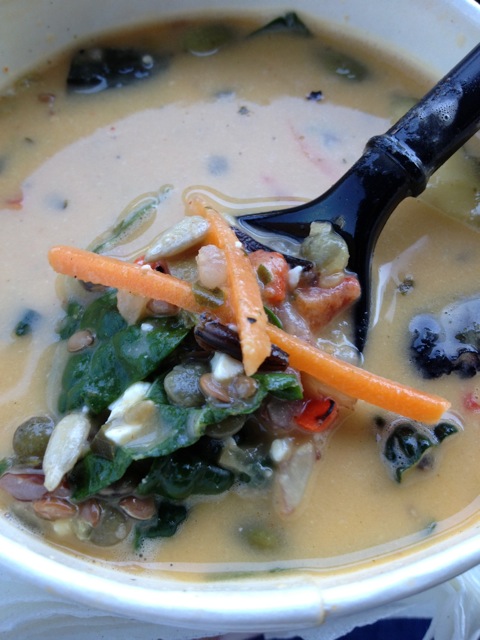 2. Your Local Burger Joint.
Sometimes it pays to look close to home for the real food innovations, instead of waiting for the big chains to figure it out. Our local spot, Fiamma Burger, is a gem.
Nutrition: They offer fresh made whole wheat buns and make their own veggie burgers from scratch with rice, oats and soybeans.
What They're Doing Right: Making their own vegetarian chili from scratch and offering any of their burgers served on a bed of organic greens instead of a bun.
What I Order: Veggie Burger with cheddar-jack on a whole wheat bun, sweet potato fries, and unsweetened iced tea.
Cost: Under $12.00.
Location: Lucky for me, they're just a few miles away in downtown Bellingham. Check out your city or town to see if there's a local business to support, especially if they're supporting their community by offering healthy choices.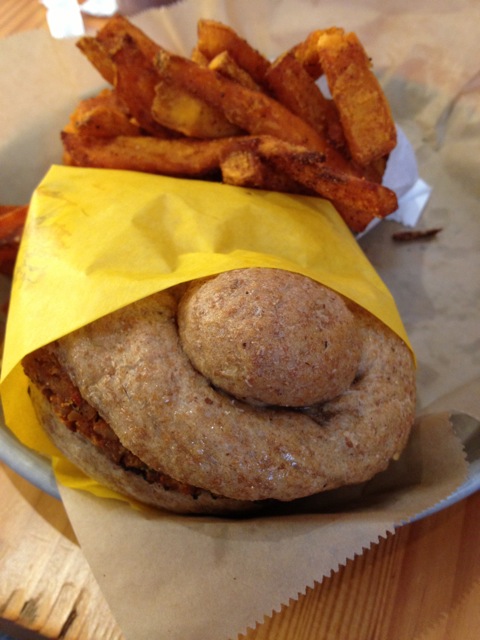 This tops the list at number one because it's my very, very favorite for vegetarian fast food. I think Mark Bittman agrees, since he called them "the best newcomer of the last generation."
Nutrition: They recently started offering brown rice and there are lots of veggies to choose from when building your meal. (Note: their black beans are vegetarian but their pinto beans are made with bacon.)
What They're Doing Right: Printing calories on the menu board, letting customers customize their order by building one item at a time, and sourcing organic and local produce when possible.
What I Order: Vegetarian Burrito Bowl with half white and half brown cilantro-lime rice, black beans, fajita vegetables, cheese, fresh tomato salsa, and romaine lettuce, with chips and iced tea. (The bag of chips here is 4 ounces, which is 570 calories, so Jeff and I split it.)
Cost:  Under $10.00.
Location: Basically everywhere. And Canada.
UPDATE August 2013: They've now added tofu to the menu in select locations!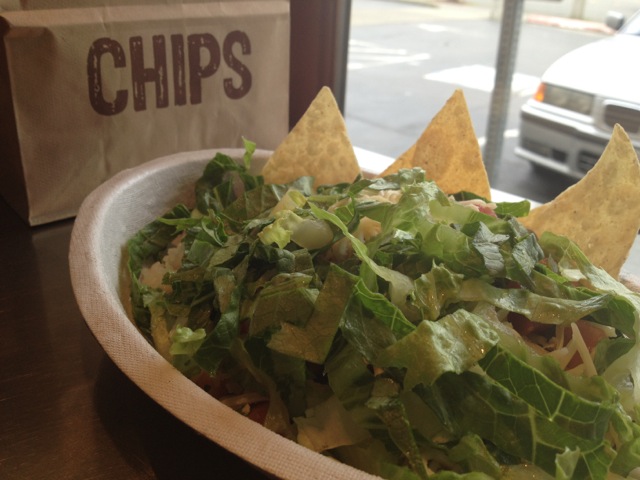 Starbucks should probably get a mention here too, as we often enjoy their Protein or Cheese and Fruit Bistro Boxes, along with Subway and their Veggie Delite sandwiches. If you start looking, there are actually quite a few options out there. That means I hope to expand this top 5 to a top 10 in the future and one possible contender is Veggie Grill, a vegan premium fast casual chain that just moved into my state. I don't want to speak too soon, but I think the wait for healthy fast food might be over.
Want more? I did get around to updating this list in 2015 and added 6 more favorite spots for veg-heads, including Veggie Grill. Check it out here.
Where do you find yourself grabbing a quick and healthy bite when you're in a hurry?
If you liked this post, you may also enjoy: