This is groundbreaking, earth-shattering, pigs-flying kind of stuff: tofu is now available at a fast food restaurant. And it happens to be delicious, vegan and organic. I am so impressed I almost can't stand it. I have never been shy about my love for Chipotle Mexican Grill, but now they've gone and upped the ante. After first testing Tofu Sofritas in California, they just recently expanded to all stores in Oregon, Washington and Vancouver, B.C. If it goes well in the Pacific Northwest, this shredded, chili-kissed topping will be available everywhere.I'm not sure how the other customers felt about seeing this often misunderstood food on the menu, but I almost started jumping up and down. I took Grant Butler's advice and only ordered half a scoop, fearing the spicy kick, and it was perfect alongside the black beans and all the other goodness in my Burrito Bowl. A full-size serving of the sofritas is 4 oz. and has 145 calories, 3 g fiber, 11 g protein and 8% of your Daily Value for calcium. Not bad. It is, however, a bit high in sodium, which is probably why the first bite reminded me of my mom's homemade tacos and the magical, orangeish powder that is McCormick's Taco Seasoning. Man, I love that stuff. Only Chipotle uses real chilis and peppers (with some salt) to get their authentic flavor.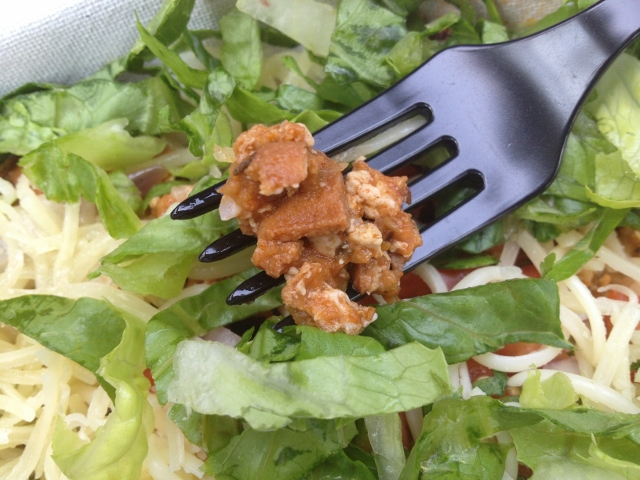 When I teach nutrition classes, I often get asked about tofu: what to do with it, how to learn to like it, etc. I hear a lot of stories about people who were interested in trying it and bought tubs of the stuff  with good intentions. However, the story usually ends with the tofu rotting in the fridge because folks get stuck trying to prepare it. My advice is to let someone with experience cook it for you the first time so you can taste it at its best: crispy tofu satay at a Thai restaurant, creamy tofu chunks paired with rice noodles and rich vegetarian broth in Vietnamese soup, or now, braised and tucked inside your favorite burrito.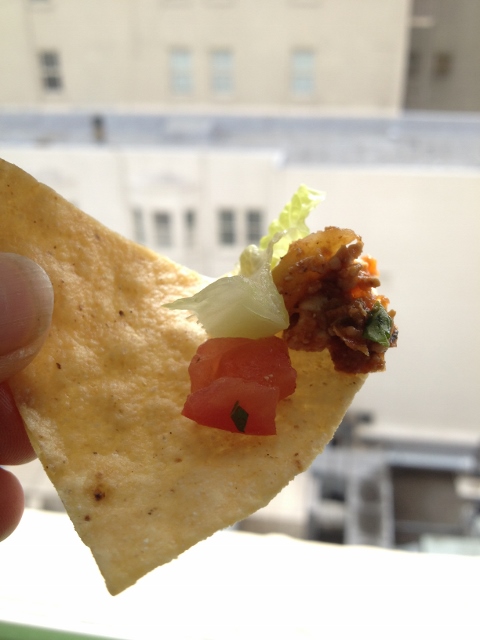 People who want to eat healthfully also crave convenience and flavor, so being able to order a delicious, fast meal with tofu on the go is the best of both worlds. I'm always in search of more smart menu choices without meat that are accessible and tasty, for those times when I'm not able to cook at home. The list is always being updated, but you can read more about my latest discoveries here: My 5 Top Picks for Mostly Healthy and Vegetarian Fast Food.
Thinking that Chipotle has started a significant shift in healthy fast food offerings is likely a little Pollyanna-ish. But, somebody has to be first. And I, for one, am going to vote with my dollars by buying it every chance I get.
Maybe Chipotle isn't all that revolutionary. Can you get tofu in some fast food form in your neighborhood?
I don't have any financial arrangement with Chipotle.  Just love their stuff, buy it with my own cash money, and try to spread the good word when I find something that's healthy and yummy.
If you liked this post, you may also enjoy: