It's a cliche. Spending an embarrassing amount of money to buy a drink at Starbucks. Well, I took that budget-busting experience a couple of steps further. I went to the mothership of Starbucks stores in Seattle and paid an exorbitant sum for a measly 6 ounces. I've never before dropped so much cash on a single beverage, but I'm not ashamed of my novelty-seeking behavior. Would I do it again? Yes. In a heartbeat. I did, in fact. Three more times in three days. Perhaps it's my culinary version of retail therapy during a pandemic: spend a lot on something special and feel instantly better. And I'm happy to share the extravagant details.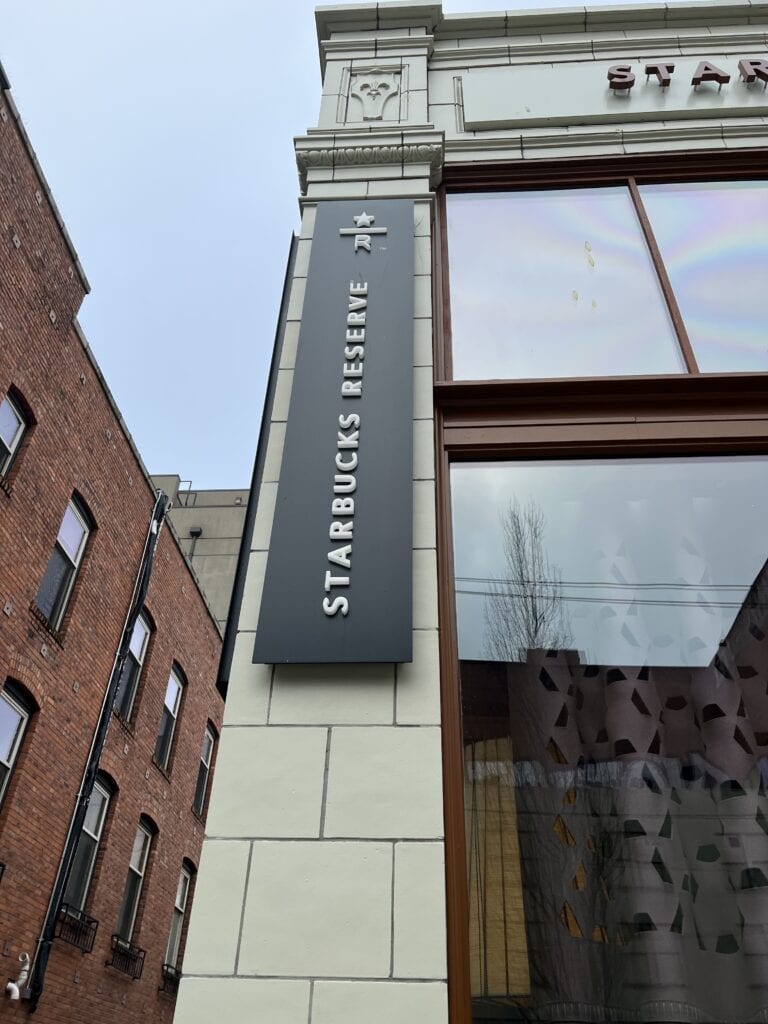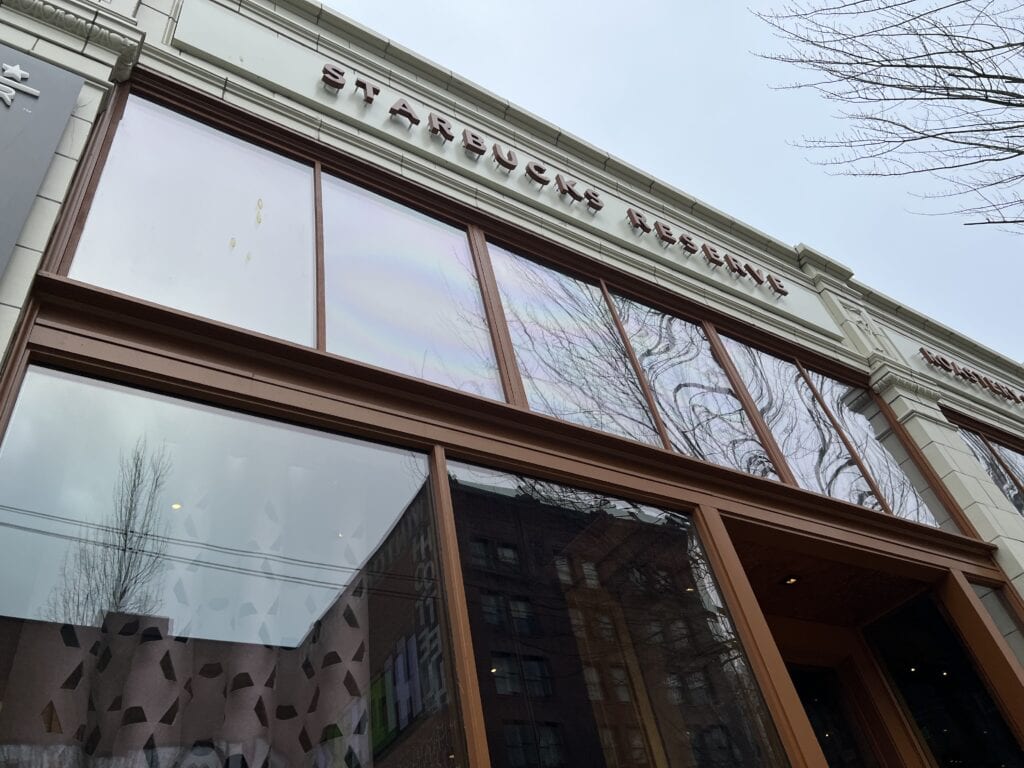 They call the reserve stores "theatrical, experiential shrines to coffee passion." Maybe that helps explain the $13 price tag? I was buying a ticket to an experience AND a beverage. It definitely has a different vibe than a regular Starbucks location. The Seattle Reserve Roastery in Capitol Hill is grand, high-end, and bustling. It ticks all the boxes. It smells good, looks good, and sounds good. The real draw for me, though, was the specialized menu filled with coffee and tea beverages you can't find anywhere else.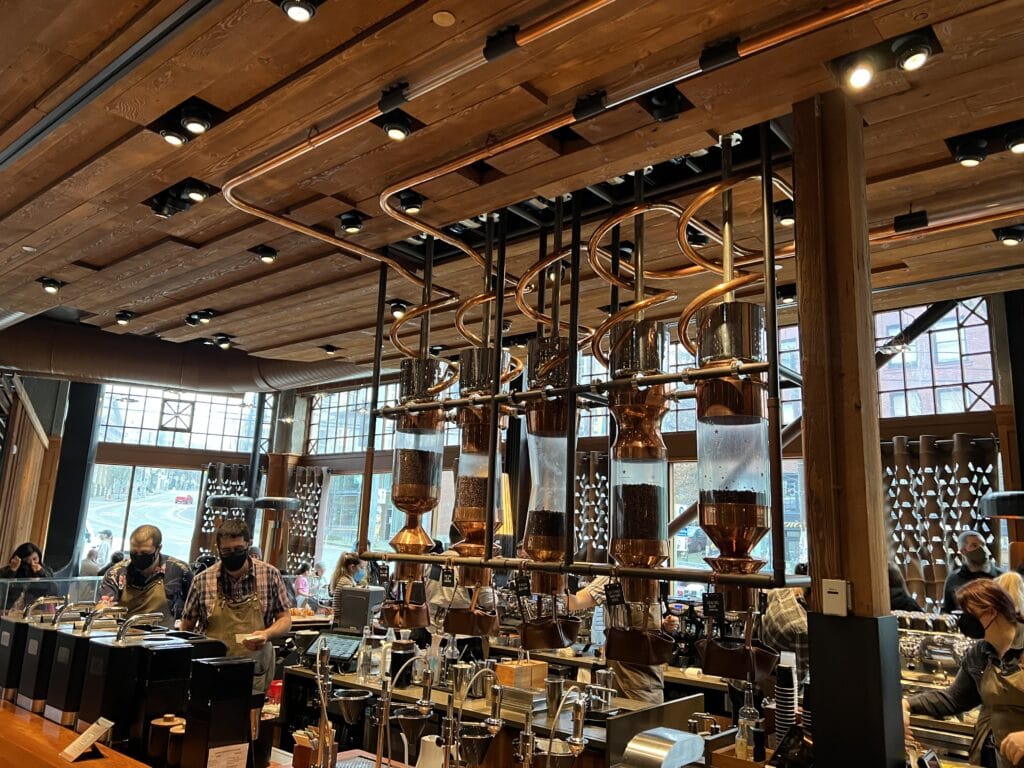 Starbucks describes a roastery as "a place to treat yourself to superb food, rare coffees, and everything in between." Don't mind if I do. I had recently seen a dietitian on Instagram raving about the barrel-aged coffee and for some reason that had stuck in my brain as something to seek out the next time I was in Seattle.
So on my first visit, I ordered the Cold Brew Trio Flight. $13 for 10 ounces of coffee, or about 3 ounces each of Whiskey Barrel-Aged Cold Brew, Reserve Cold Brew, and Nitro. I'd had the Nitro before and loved it, but the Whiskey Brew was mind-blowing. The rich, malty aroma of whiskey filled my nostrils before I could even get the first drops of pricey brown liquid to my lips. Coffee smells good, of course, but this was something entirely different. It smelled like liquor and I liked it.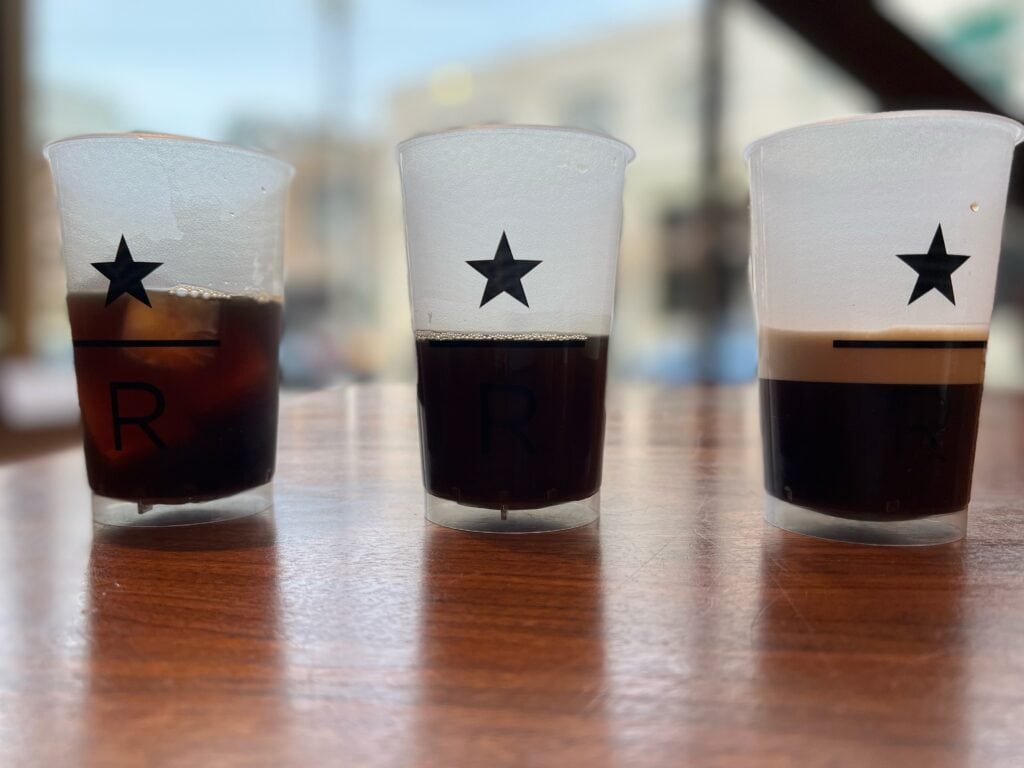 In describing this boozy brew, the menu says "spirit-free coffee creations featuring Starbucks Reserve Whiskey Barrel-Aged Guatemala Beans." They actually want to specify there is no alcohol present because you'd swear there was. The beans are aged in Knob Creek Kentucky Straight Bourbon Whiskey barrels, which imparts more syrupy/toffee flavor than I would think possible to carry through to the final brewed product.
I know I am prone to exaggeration, but I can comfortably say this is the best coffee I have ever treated my tastebuds to, outside of some spectacular sips on a trip to Italy many years ago. I liked it so very much, I went back each and every day until I'd tried all three menu items they make with it. It's ultra-smooth, with essentially no bitterness, and just so damn nice on the tongue. Starbucks describes the coffee as having notes of chocolate, oak, and stone fruit. I'd say I detected more hints of caramel and vanilla and most definitely the woodiness of whiskey.
Day two was just a straight-up Whiskey Barrel-Aged Cold Brew, since it was the star of the tasting trio. $10.50 this time but for 8 ounces. The menu lists this item at 50 calories and it tasted lightly sweetened, so that's my guess, but I'm clueless about which syrup they chose. And I asked for a splash of soymilk for yumminess and some dramatic swirling.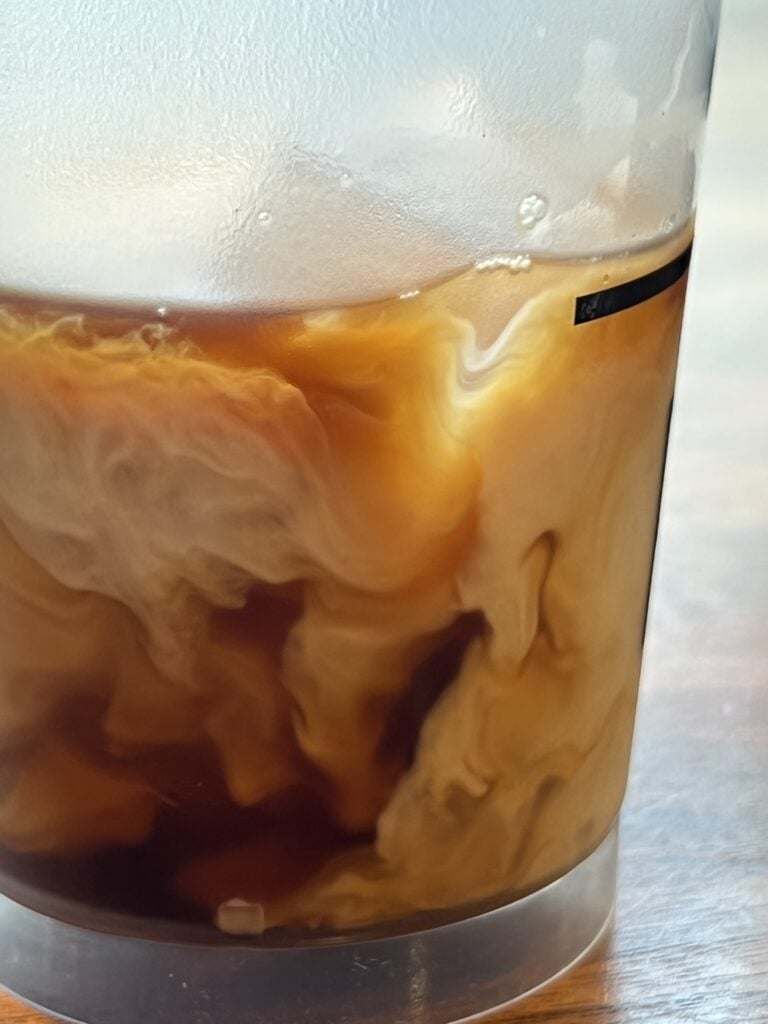 On day three it was time to try the hot version, the Irish Con Crema. This is described as "pour-over coffee topped with aromatic velvety cold foam." There isn't a dairy-free version, just the standard cold foam made with skim milk. This was officially the over-the-top coffee ordering moment of my life. $13 for 6 ounces of coffee. I drank it very, very slowly so as to appreciate every single swallow. I mean, good gravy, it cost $2 an ounce! And I was legitimately sad when it was gone.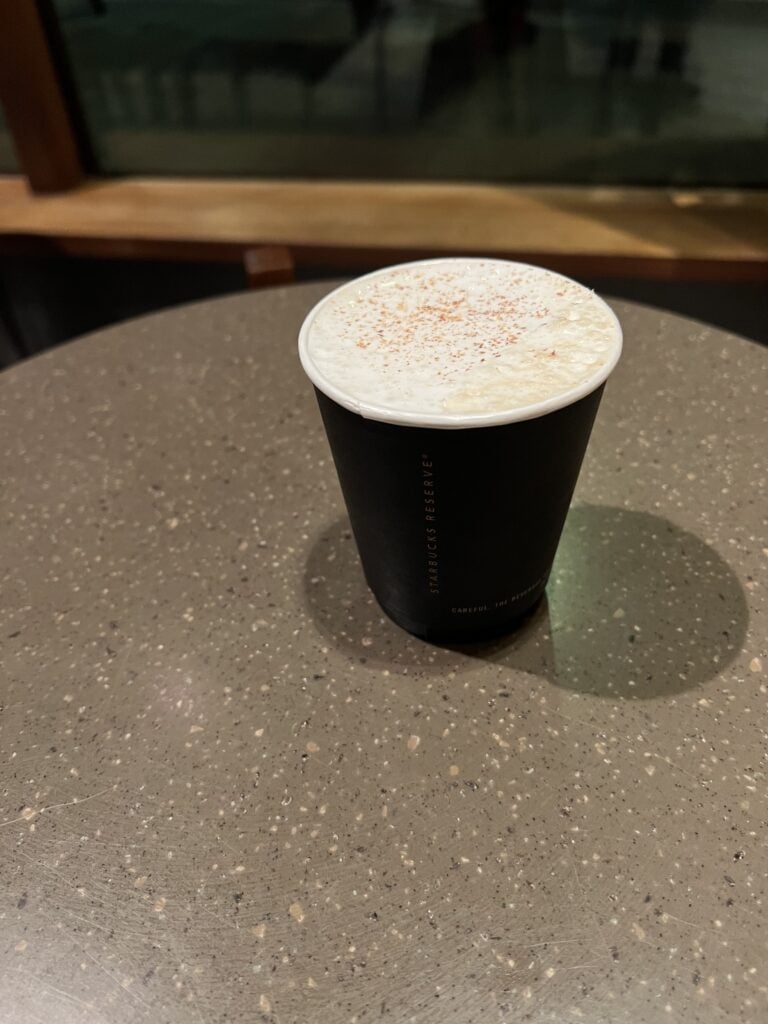 To appease my sorrow, and try to keep the coffee party from coming to an end, I bought an 8-ounce bag of the Whiskey Barrel-Aged beans to take home with me…for $42. They are not kidding around with this stuff.
And after some very costly experimentation, and disappointment, I discovered I can't brew it like Starbucks can. The full-bodied aroma and flavor that I got at the Roastery are not reproducible, at least by me.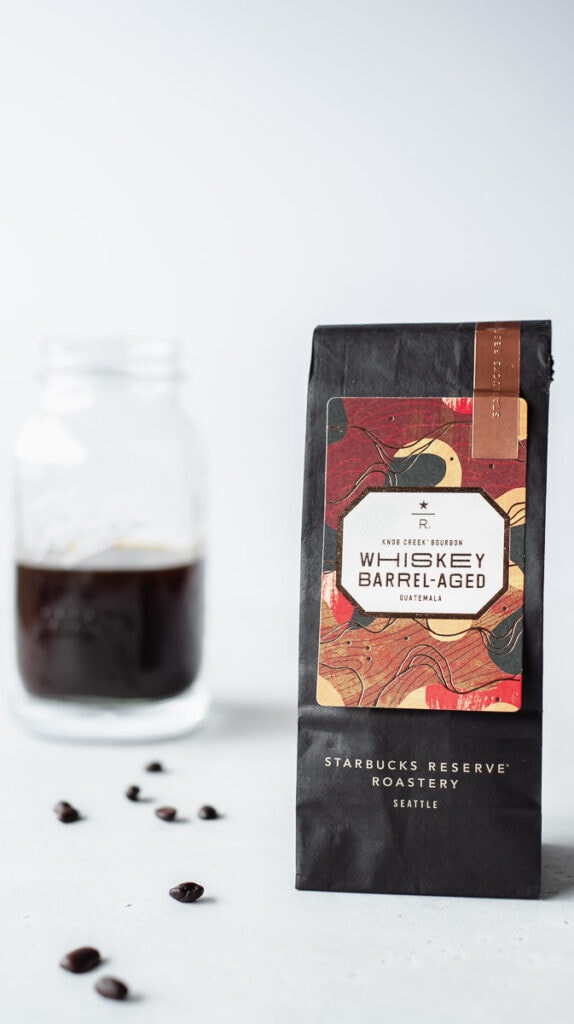 The tastiest format I've succeeded with is cold brewing it overnight in the fridge (using Starbucks cold brewing tips) and then mixing 1/2 cup with about 2 cups of fizzy water from my SodaStream. It's pleasantly flavorful and it's helping me make the precious beans last as long as possible. But to recreate my perfectly brewed experience, I'm going to have to head back to Seattle and let the experts make it for me.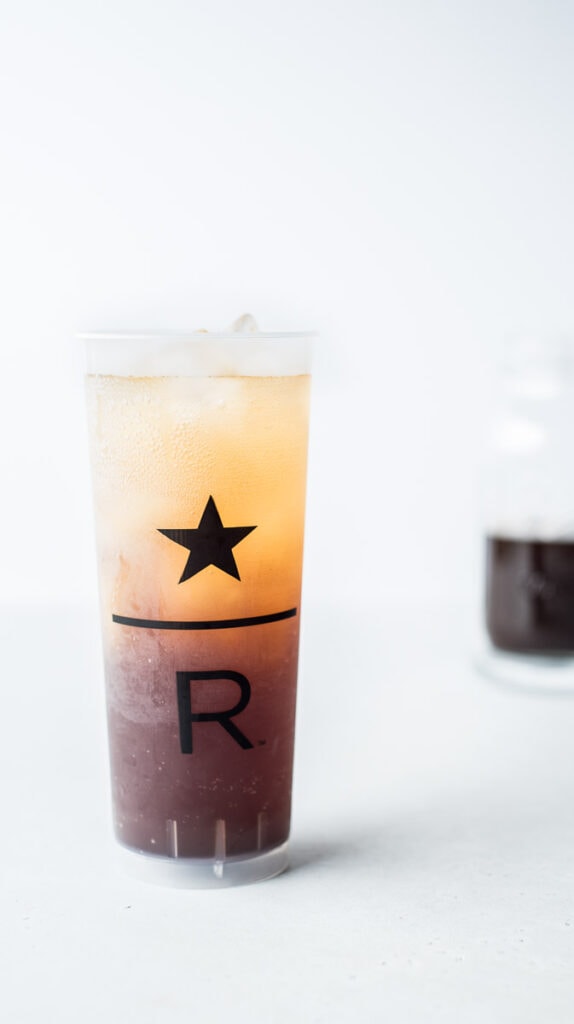 If you decide to visit, I've got a couple of pro tips:
The Seattle Roastery opens at 7:00 am and I'd recommend going early. By 10:00 am they're overrun with like-minded aficionados, especially on weekends.
Be prepared to love the Roastery's special cups. I'm not sure why it matters, but it's definitely part of the whole experience. I liked my disposable cups so much I saved them, and I use them to sip my fizzy cold brew at home.
Also, be prepared to wait a few moments to enter. Not because there's a line out the door, but because everyone is either trying to take a selfie in front of, or a reel of themselves walking through, the massive, star-emblazoned wooden doors.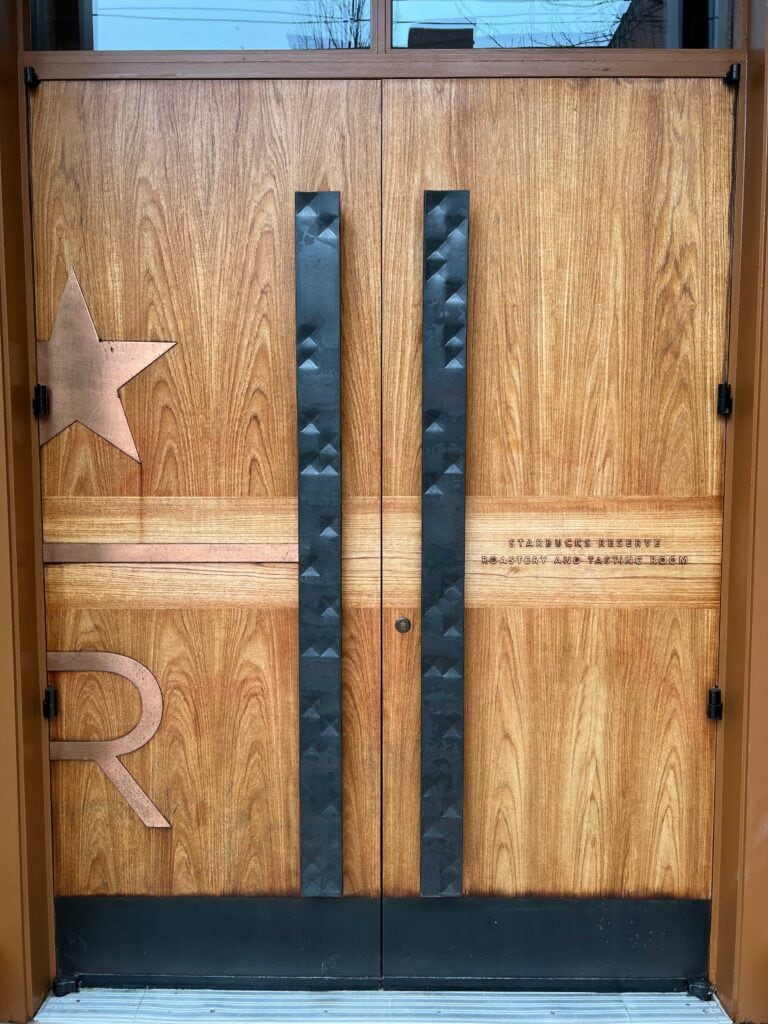 So, if you're tallying along with me, I spent $78.50 on coffee in 3 days. This means I felt immense gratitude for the Starbucks gift cards I'd received at Christmas. It's easier to spend gift card dollars instead of real debit card dollars on something as grandiose as this, at least for me.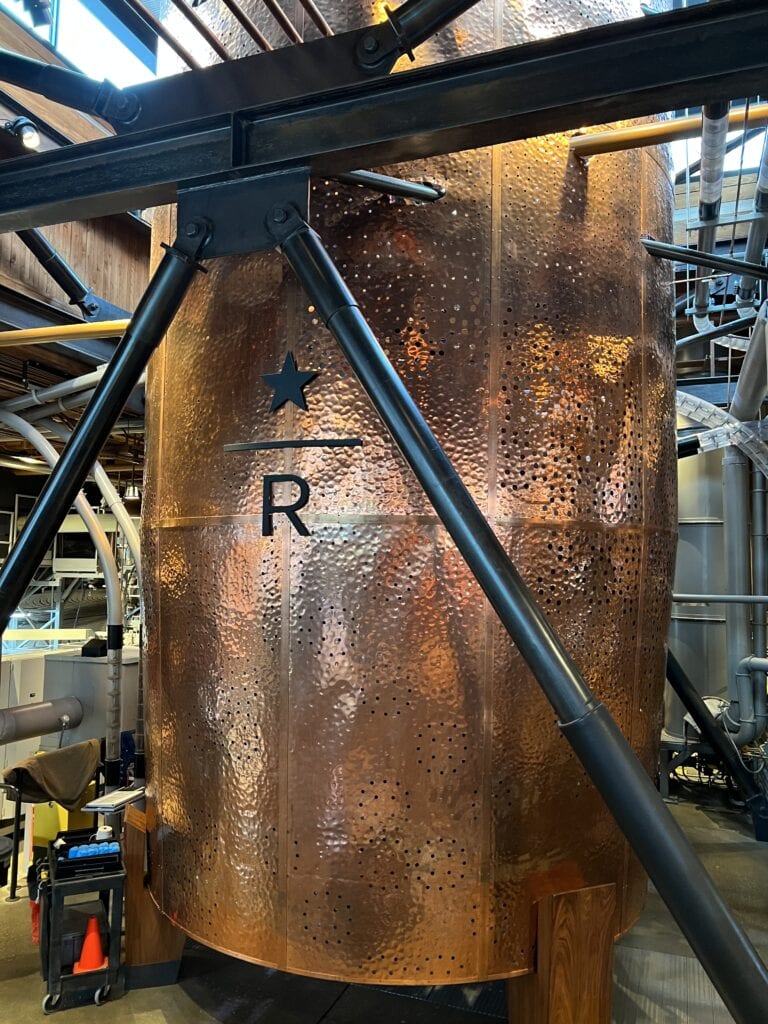 And it was a highlight of my few days visiting Seattle, where someone else might have chosen to spend their sightseeing funds at the Museum of Flight, Space Needle, or Chihuly Garden and Glass. As a person who loves to eat and drink, it was a uniquely joyful Seattle experience that I managed to spread out over three glorious days. And think of it this way: the Roastery has coffee roasters and silos on display, not to mention a Coffee Library, and a sort of gift shop. Let's call it what it is. A coffee museum.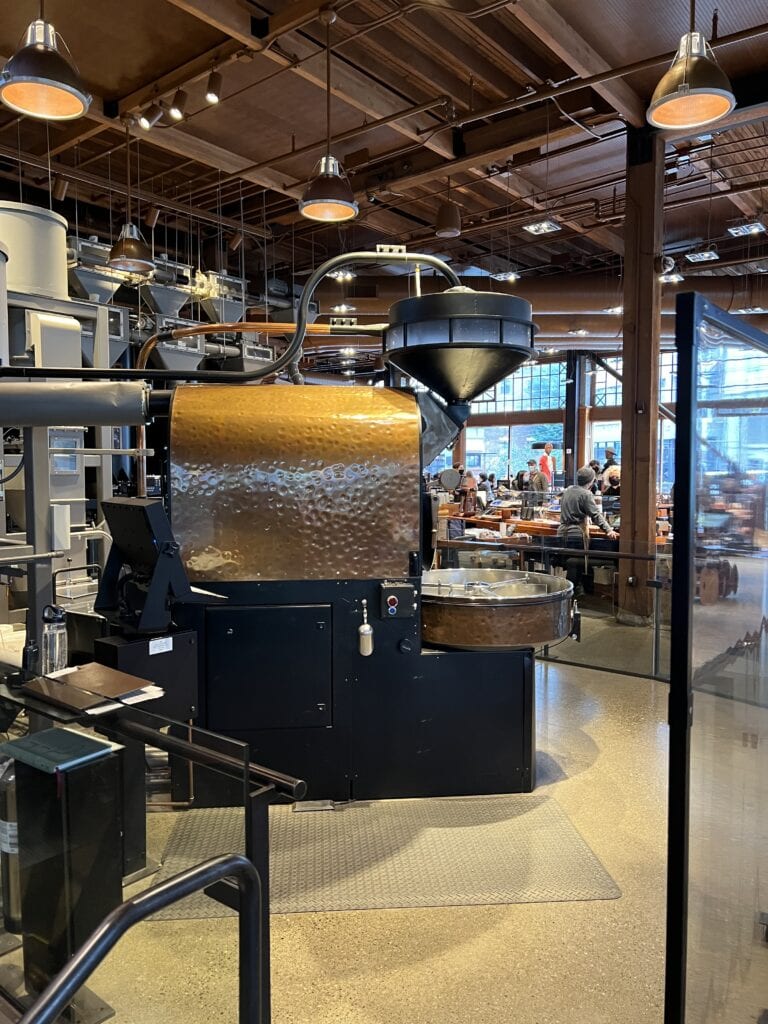 There's really not much I can say to justify spending so much on coffee. Except to acknowledge that it's easy to love the emotional rush we get when we make an especially special purchase. I clearly do. And as a person who seeks out food factories, interesting restaurants, and the like to visit, the Starbucks Reserve Roastery is like Disneyland for this dietitian. I wonder if they sell season passes?
This is not a sponsored post. I think it's clear I paid the crazy money myself, with excellent results and no regrets.