Something is up. Burger King just took soda out of kid's meals. McDonald's might add McKale to their menu and Subway is serving up two new vegan sandwiches. Apparently, Chipotle's tofu sofritas were just the tip of the fast-food-can-be-sort-of-nutritious-while-also-convenient iceberg. But even with their well-intentioned nutrition upgrades, if you're hungry (or hangry) and in a hurry, I believe you can do better than the BK or McD drive-thrus.
Especially if you expand your definition to include "fast casual food" and you're willing to pay a little more for better quality and fresher ingredients. According to The Chipotle Effect: Why America is Obsessed with Fast Casual Food you'll pay $9-13 for this slightly upgraded meal-on-the-go vs. $5 at a traditional joint. And I am totally on board with that.
It's been almost 2 years since my original post on this topic, and it remains one of my most popular of all time. Apparently, I'm not the only one on the lookout for vegetarian fast food options. So, with changes afoot at the national franchises, I figured it was a nice time for a reboot. I give you my next top 6 picks for mostly healthy and vegetarian fast (casual) food:
As diets go, the Mediterranean diet has received a lot of praise for its health benefits and palatability over the long term. Zoës Kitchen has tried to make this style of eating convenient and available for the masses.
Nutrition: They've put together a well-rounded plant-based menu full of Mediterranean staples like olives, spinach, tomatoes, cucumbers, garbanzo beans, lemon, capers, and feta cheese. They also have a generous selection of menu items under 500 calories.
What They're Doing Right: Offering sides like braised white beans, roasted vegetables, and seasonal fresh fruit. Are you kidding me? Clearly marking vegetarian, vegan, and gluten-free items on the menu for customers.
What I Order: Hummus Trio ($6.79) and Quinoa Salad ($6.99) and Unsweetened Iced Tea ($1.59)
Cost: About $15, but with plenty of leftovers to make a second meal. (Choosing just one of these menu items plus a side would make for a filling and less costly meal.)
Location: Fifteen states in the southern and eastern U.S. including: AL, AZ, FL, GA, KY, LA, MD, NC, NJ, OK, PA, SC, TN, TX, and VA.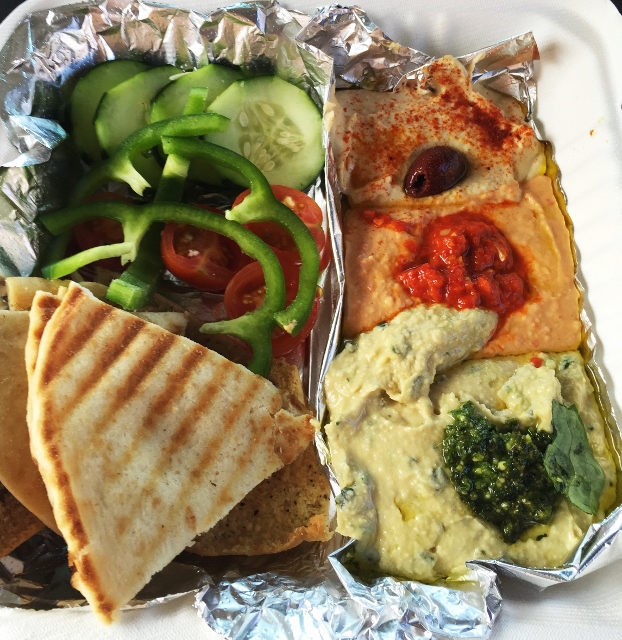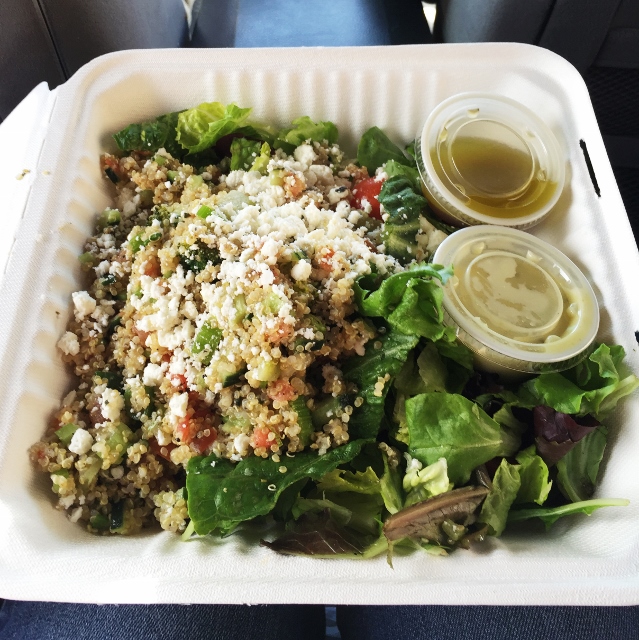 5. Starbucks or your local coffee house.
They started out with coffee, but they've now expanded to offer smoothies, tea, juices, sodas, and even food. Since many Starbucks have drive-thrus and they're sort of what you'd call widely available, this coffee giant can be a speedy pit stop for other meals besides breakfast. Of course your local coffee house may be worth a second look as well. Many are upping their food game to try to compete with the national behemoth and get you to visit them again after 9:00 am.
Nutrition: My sandwich was made with multigrain bread, which probably accounts for the 5 grams of fiber. And for a vegetarian option, it was super high in protein and calcium (hooray) but also sodium and fat (boo). Starbucks is very upfront with their nutrition information on menu boards, in their app, and on their website.
What They're Doing Right: Expanding their food menu with things like a Hearty Veggie and Brown Rice Salad Bowl, Roasted Tomato and Mozzarella Panini, and two meat-free Bistro Boxes that can be satisfying meals for vegetarians and non-vegetarians.
What I Order: Old-Fashioned Grilled Cheese ($5.25) and fresh blueberries ($1.25) and Evolution Harvest freeze-dried fruit ($1.95) and Iced Venti One Pump Classic Black Tea with a splash of soymilk ($2.65)
Cost: About $12.00.
Location: Everywhere. Simply everywhere.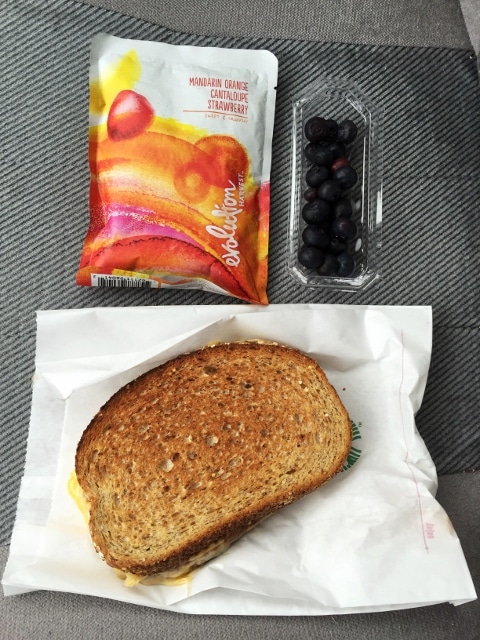 Everyone likes pizza, but in the past your options were essentially dine-in or delivery. Take out is possible too as my husband and I can attest. Back in our college days, in a pinch we'd pick up a Pizza Hut pizza on the road and eat it in the car. Well, now there's a better way. Spring-boarding off of Subway's assembly line idea that lets the customer personalize their sandwich, MOD (Made On Demand) has a similar model for quick, easy pizza on the go.
Nutrition: I was pretty excited to have garbanzo beans available as a topping to boost the fiber and protein in my meal. But beware the calorie-bomb they call a milkshake with 900+ calories.
What They're Doing Right: Offering a good tasting, thin and crackery crust with a little bit of chew, which cooks fast and has fewer calories than traditional or deep dish crust. Being open to special requests, even for vegans: the pizza dough is dairy-free, and so are the BBQ sauce and garlic rub, but there is cheese in the red and pesto sauces. And like Subway, putting vegetables on the menu: onions, spinach, artichoke hearts, peppers, mushrooms, arugula, and jalapenos. Load up on them; the price remains the same. Also, you can order online to make pick-up really handy.
What I Order: Mini crust pizza with red sauce, fresh basil, green pepper, pineapple, garbanzo beans, and feta cheese ($4.47) and half-sweetened/half-unsweetened iced tea ($1.97)
Cost: Under $7 bucks.
Location: AZ, CA, CO, IL, MD, OR, PA, TX, and lucky for me, 19 stores in WA.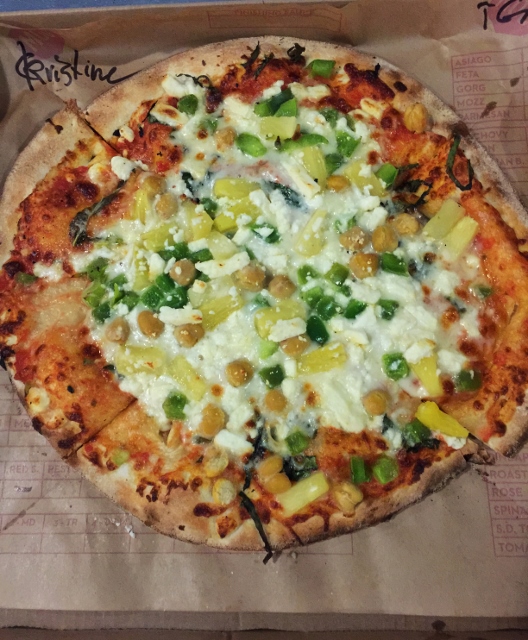 With their recent bread controversy put to rest, Subway remains one of the few fast food spots that puts vegetables front and center. The stores are easily accessible from almost anywhere, and sandwiches are universally familiar and crowd-pleasing choices for a group of friends or a family in need of quick nourishment. And because you get to build your own, everyone can be happy, including the meat free among us.
Nutrition: Subway was one of the first food franchises to make their nutrition information available to consumers, which was really ahead of the curve. And now they have a handy "Calculate Yours" tool online that lets you figure out the nutrition facts for your particular (fussy, vegan, or sauce-laden) order.
What They're Doing Right: Offering sides like apple slices and "baked" potato chips, in addition to lowfat or fat-free sauces like light mayo, vinegar, mustard, and sweet onion. And for a little monounsaturated fat, which is hard to find in fast food restaurants, making avocado and olives available as toppings. Expanding their menu with two new vegan patties at select locations: Black Bean and Malibu Garden. Outstanding.
What I Order: 6-inch Veggie Delite on 9-Grain Honey Oat bread with spinach, green pepper, tomato, cucumbers, lettuce, Monterey Cheddar, Parmesan, salt, and pepper ($4.50) and baked BBQ Lays potato chips ($1.00) and unsweetened iced tea ($1.50)
Cost: $7.00 when ordered "as a meal".
Location: Their website notes 43,685 stores in 109 countries, so you shouldn't have to look far.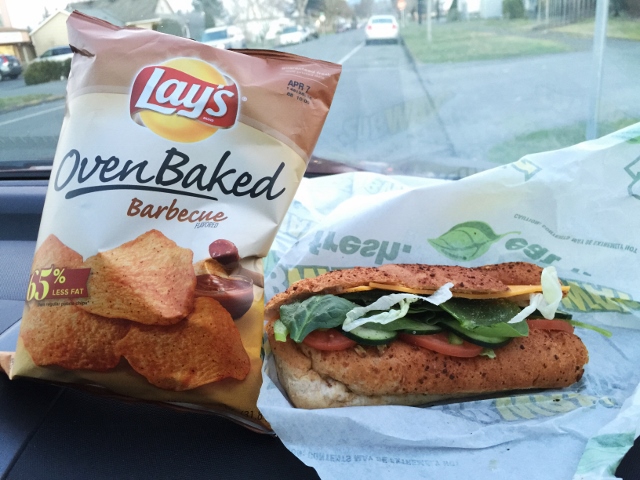 Veggie Grill is most definitely leading the way. They're a fast casual restaurant that serves no meat, dairy, eggs, or other animal products. So they're essentially vegan (they seem to prefer the terms "veggie positive" and "celebrate the vegetable" instead). But they provide comfort foods like Buffalo Wings, Mondo Nachos, Fish Tacos, and Crab Cakes. Seems like a formula for success.
Nutrition: Look carefully at the nutrition facts – calories, fat, and sodium make a strong showing. My medium-sized salad clocked in at 750 calories (if ordered as-is from the menu, which included avocado). On the plus side, you don't need to worry about protein. Even though it's vegan there is plenty of tofu, tempeh, Gardein Chickin', Field Roast sausages, nuts, and seeds throughout the menu.
What They're Doing Right: I went with family, which meant meat-eaters and vegetarians dining in harmony. Everyone was happy with their meal, which seemed like a small miracle. My 10-year-old niece gave a big thumbs up to the Cauli-Mashed Potatoes and Gravy and said she would totally eat them again. And you'll find millet, quinoa, brown rice, and buckwheat on the menu. It's whole grain craziness. I'm pretty sure you're not going to see that at KFC any time soon.
What I Order: Savory Kale Caesar with no avocado ($9.45) and a side of Mac-n-Cheese ($4.65) and Organic Pomegranate Sweetened Green Iced Tea ($2.45)
Cost: About $18. Sheesh.
Location: Currently only in CA, OR, and WA.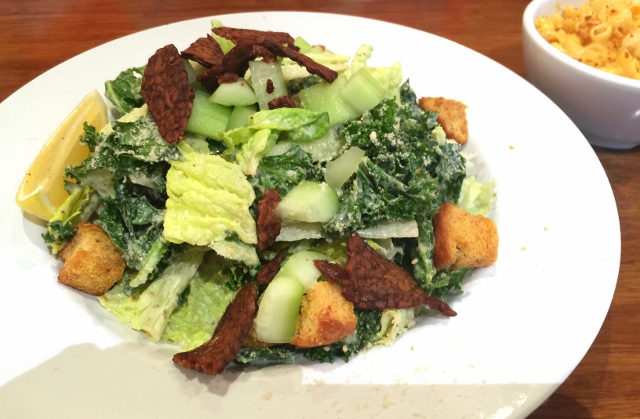 1. Whole Foods or your local natural foods store/food co-op.
Besides exorbitantly priced groceries, Whole Foods also has a big selection of ready-to-eat foods including a salad bar, hot food bar, freshly baked pizza, deli items, and sandwich, burrito, and macaroni and cheese lines. And if you widen your perimeter a bit , you can pick up a nice variety of other foods to round out a meal. For example, in the specialty cheese section they sell tiny cheese niblets, individually wrapped, and just right for a side dish.
Nutrition: It really depends on what you choose, but for the most part you're going to be ahead of the curve. That is if you can walk past the homemade marshmallows and the gluten-free brownies in the bakery to the olive bar and grab-and-go salads. It's most definitely a step up from the golden arches. And they can accommodate nearly any food allergy, intolerance, special diet, etc. That's their gig.
What They're Doing Right: Continuing to lead the way in providing organic, seasonal groceries…but also cooking and/or pre-packaging some of those groceries for you so you can eat them on the go. Highlighting vegetables and fruits, and cooking up a massive number of vegetarian options and other unique dishes. You will be pleasantly overwhelmed with healthy options.
What I Order: Miscellaneous hot and salad bar items ($5.93) and Beecher's Yule Kase cheese 1-ounce wedge ($2.24) and 365 Organic Peach Oolong Tea ($1.48) and berry mango fruit cup ($3.67)
Cost:  About $13. (While I spent some time searching for the smallest and hence, least costly, fruit cup, I could have bought a banana or apple for substantially less money.)
Location: All over the damn place. Am I right?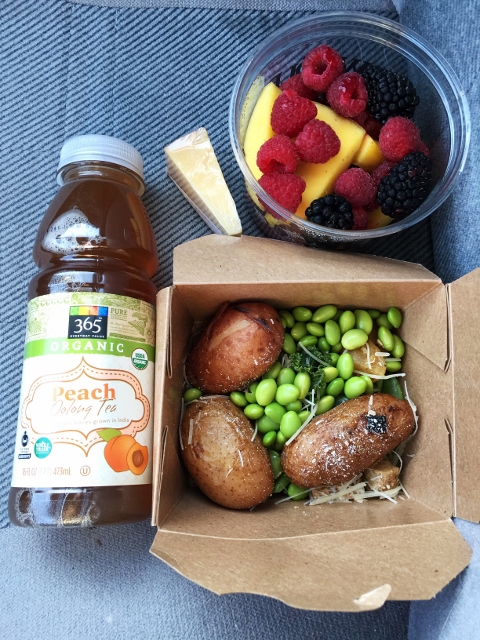 I know, I know. Fast food isn't good for you. But I think we can agree it's getting better, partly because we've expanded the definition. "Food you can get and eat fast" has come a long way in the last few years. I'm definitely taking advantage of it and trying to support the innovators with my dining out dollars. Let's hope the trend continues because like at no time in the past we have options. Fruity, veggy, beany, grainy, nutty, and yummy options.
I'm sure I've missed some good spots that deserve a mention. What's your tried and true meat-free mecca that gets you fed fast?